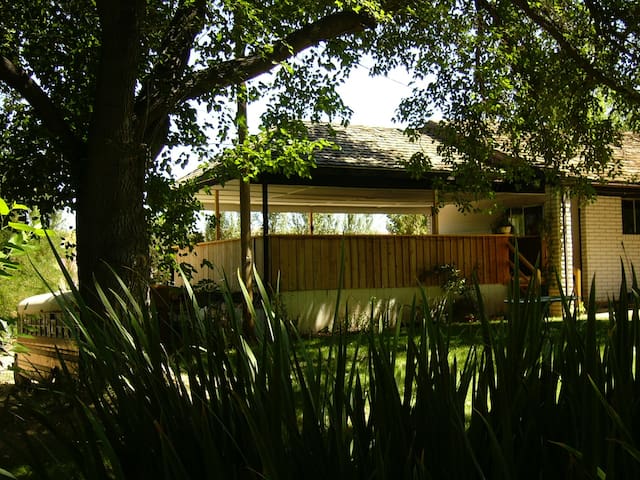 Our home is on four lush acres with a rare artesian spring, giant trees, a historic adobe, just one mile south of town center. Already a small b&b when we bought it in '98, we hosted thousands of guests over ten years. Now, we offer only our one finest room only thru Aribnb. We've just hosted our 150th couple, inn just our first 180 days !! Every guest has been a pleasure to host and the (rare) ciritique is a chance to improve.
房源
The "Living Room" : This beautiful, oversized room - once our living room - is rich with wood floors, beautiful antiques, and persian carpets. Our once front door is now your private entrance with a private bath just a few steps down the hallway.
We built a nice kitchen-ette & breakfast nook just outside your door next to the house kitchen for your use only, and offer you light kitchen use, too.
Also just near your room is our giant covered deck set up with tables, couches & chairs (and even a cozy bed in the corner). The largest trees in the county shade & cool our place when the sun is scorching the desert around.
The key quality here is ...... its cool & quiet!
Our spring water is "especially sweet", ancient underground water. Please take you as much as you can drink and take with you. Its a special opportunity, a rare spring in this area. I completely understand that you buy bottled water where you live and/or when you travell but, Moab's water is good. Good from the tap anywhere in town and especially good from our spring and a few other springs around town. Refill your water bottles from any local tap. Moab gets its water from springs & pumped wells. You need not fear drinking moab's tap water. Matrimony spring has the added quality that if you drink from there - and a zillion people do ...... you become betrothed to the moab valley.
We trust your stay will be lovely. NO added 'cleaning fee' !!! We try very hard to keep our place nice and are working at making the property more inviting. We are VERY pleased with our guests and they seem to be with us. We have hosted one hundred fifty-six couples since we started w/ AirB on March 10th. I take suggestions to heart. A recent feedback suggests that we "arent as pristene as described" !?! I get that! The landscape is rough. Someone is sure to find (minor) faults, ... and has. We take suggestions to heart and work to improve the property all the time. We've hosted 156 couples since march and generally, no one has been disappointed and most have positive reviews and, .... everyone has been so nice!
房客使用權限
We are listed as a Bed & Breakfast and we DO offer breakfast - a nice variety of options (see our menu below) but, i don't cook a full breakfast every day.
A private "kitchen-ette" with coffee, tea, a microwave & toaster, and a private full-size refrigerator just outside your room. You will find cereal, bread & bagels & cc, juice, yogurt, fruit, etc. I am usually availible to make certain you get a good breakfast but, everything you need for a variety of options is in your ... ette! Our guests have access to a giant covered deck, just off the kitchen for a quiet breakfast or evening relax. We are on 14 beautiful acres, and have plenty of huge shade trees in our back yard.
We cool our house with an "evaporative cooler".
Here's our "Breakfast Menu"
Coffee / Tea (you make for yourself whenever you want)
Orange Juice – Apple Juice – Milk (in your fridge)
Cereal: a nice "natural" cereal mix
or
Organic Oatmeal (you have to boil water)
(with banana & raisins)
Bagels or Whole Wheat Toast
(with cream cheese or butter & jam)
Eggs
(you cook your own, unless I cook for you)
You are free to use the kitchen lightly like anyone else if you want, except after hours.
Your "guest-ette" is for your use only.
I am happy to help cook your breakfast, so if you want my help, ding
me w/a text or call out my name but - i'll be around, but only until 9:00 am.
Stack your dishes in the sink for me to wash.
Thank You
與房客互動
We live here. So do several 'locals' in our rooms downstairs. Please don't tease the animals .... i'm kidding. For many years, we have been a "nightime-quiet" house. For this reason, we ask that you be considerate after hours. Only after hours, please remove your shoes, walk quietly, and keep voices low.
其他注意事項
"With you along our strip of herbage strewn which seperates the desert from the sown" ..... (Ruhbayat). That is exactly what we are blessed with; thirteen of the largest trees in the county and a pure artesian spring (30 gpm) make our place .... unique.
There are more than 150 AirB nightly rentals in Moab not counting hotels !?! Most are condos, many are homes, some are friends of ours. The places that are special (not condos) - imo - are the homes near a creek with some trees & land. I recommend narrowing your 'search perameters to "private rooms", (excluding condos).
We are very pleased with our offering. Having only one overnight room really makes this easy too - even fun! ... rather than cleaning & laundry for five rooms; we've DONE that !
Many places post their 'price' but ADD a 'cleaning fee'....! We are extremely grateful for our rate and take the maintenance as part of our generous income! Thank you to every guest who supports the AirB community in Moab !!!
I can't say enough about the AirB Community. Each guest we've hosted is as nice as the last.
Yes, we have a dog, a chihuahua. She's a people person but understands limits. there's a picture, she's really funny.
---
---
不適合兒童(0-12歲)或無法為兒童提供安全的住宿環境
- We live here. So do several 'locals' (downstairs). So, we ask that you appreciate quiet hours from 9pm - 7 am. For the same reason, we ask that you remove shoes during quiet hours.
---
Marc and Terry's place is relaxed and welcoming. We stayed there our first night in Moab, before heading off to camp in Canyonlands, and it was a nice place reorient ourselves after being on the road for a while. Marc was fun to talk with, and he gave us good tips on where to find dinner, which was very helpful since we did not know our way around Moab.
---
Marc and Terry were great hosts. They were flexible with check in time while we were trying to optimize our time at the parks.
---
Marc and Terry's place is clean, comfortable, and relaxed. It is very quiet and we had a private bedroom and bath with a shared kitchen. There are people that live downstairs, but you can't hear anything. There is no TV, but we were OK with that. The location in Moab is close to Arches and Canyonlands park. Marc is a friendly host. We enjoyed our stay.
---
Marc is a northern california boy. I've always been 'the grasshopper', living for the day! The first great pivotal moment in my life was the day i heard Louis Armstrong. i was ten in 1964. I played trumpet all thru high school but, then i discovered bicycles. I rode & raced …