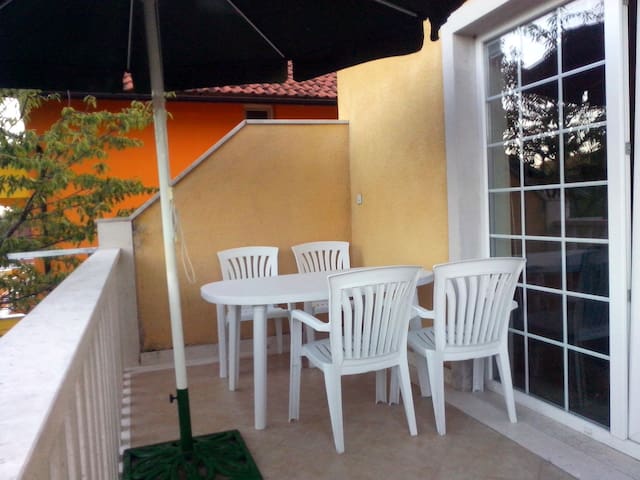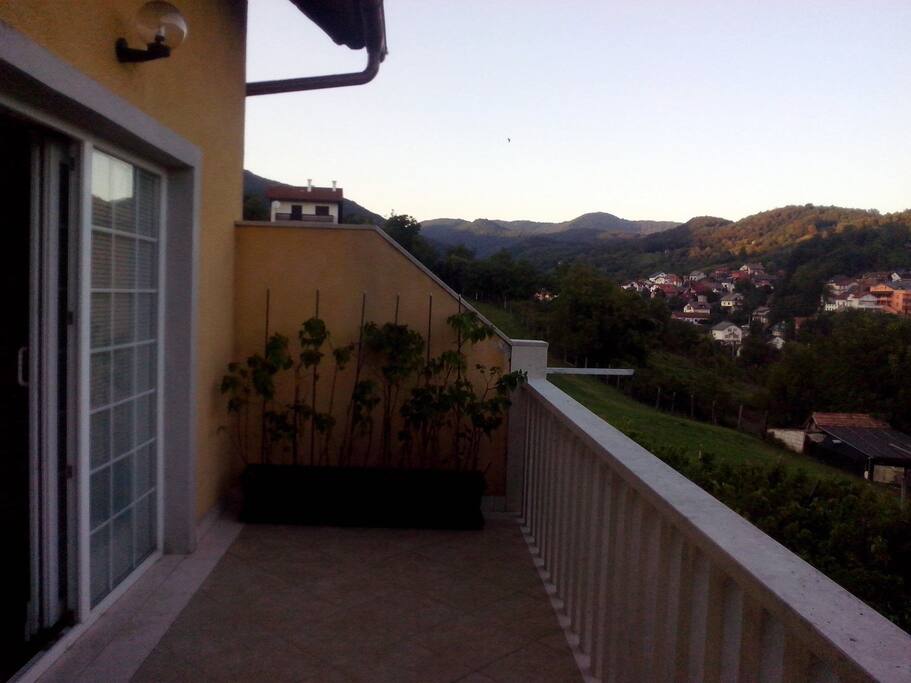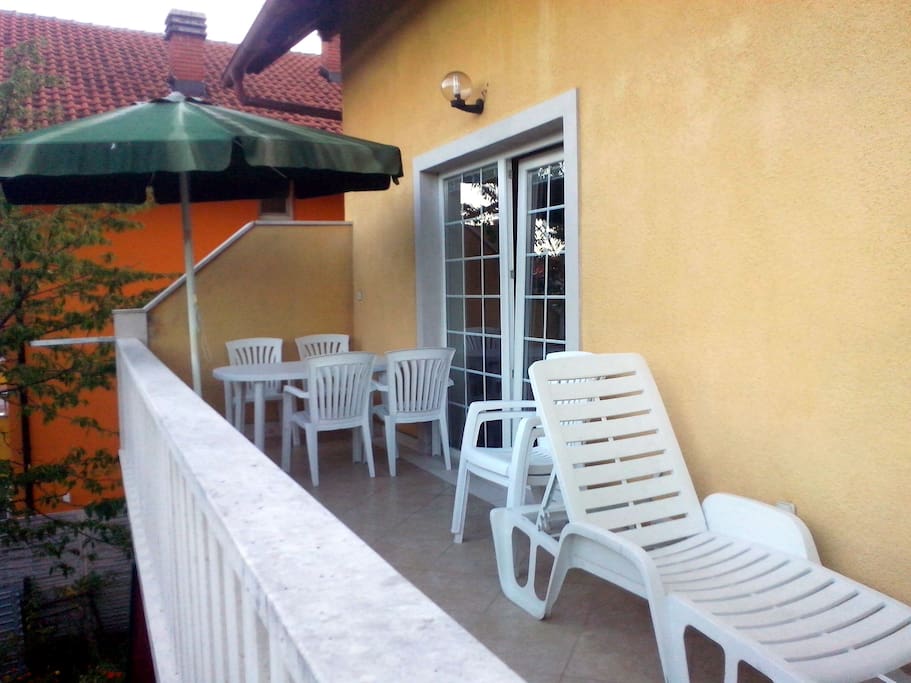 House only 12 km from centar of Zagreb. Entrance to park of nature Medvednica.
The apartment is 100 m2 with a terrace. It consists of a bedroom, living room, bathroom, kitchen and large terrace of 20m2. It has a beautiful view of the mountain with trees.
The apartment is modern with lots of artificial lighting that can be regulated. Large glass windows that provide lots of light.
The apartment is part of a house with a beautiful view of Medvednica.
房源
Neare to here is
- food shop (2min. walk)
- coffe bar (2min. walk)
- few very good and chep restoran (4min by bus)
- macadam road that enters the forest ideal for jogging and walking the dog (5min walk)
- source water in forest (water can be drunk) (30 min walk)
- mountain lodge Gorščica (1.30h)
- stream with watermill (5 min. walk)
- close are two playgrounds (one 5 min walk) (second 10 minutes walk) next to which there are football and
basketball court
How to reach us?
You can reach us by car, taxi or bus with two lines (lines 205 - bus station is 2min walk) (line 208 - bus
station is 5 min walk).
We had a n amazing stay in Zagreb ! We're 4 girls from Germany and we arrived at the busstation which is a bit far from the flat but Leopold picked us up and drove us there which was really nice ! The flat is beautiful with an amazing and really big balcon. The area is really quite and pretty with possibilities to hike and enjoy the nature (there is a really lovely hut with a little restaurant that you can get to easily by walking about 1 -2 hours! It's a beautiful trip Ansbach we recommend it) and it's not far away from the city centre and easily accesseble by bus and tram. We arrived a bit late and forgot to check the opening times of the little market wich is a minute away from the flat so we kind of had a problem to get food since there aren't many restaurants close to the flat. We were confused with the bus schedule so we thought we wouldn't Be able to get any food that night so we contacted Leopold and his lovely parents helped us. His father, a very friendly, intelligent man, who spoke German quite good took us to a Huge market by bus and helped us pick a few groceries which was really really nice. We've been travelling around for quite a while now and These people were the nicest we've met so far ! ;) At this point we want to say thank you for the lovely stay, all the help, the fresh vegetables and also the tasty palacinkis which Leopolds mother brought us that one night ! We definitely reccomend this flat for a stay in Zagreb (especially if you want to enjoy both - nature an den a silent area and the city and its beautiful centre) We'll try to come back as soon as possible :)
---
Leos Unterkunft war wie beschrieben, ruhig gelegen und mit allen angegebenen Sachen ausgestattet. Wir waren sechs Nächte untergebracht und ich konnte mich in Ruhe von meiner OP erholen. Das ist der ideale Ort/Unterkunft, um die Natur zu genießen (der Hiking-Trail Gorscica - auf dem Medvednica Berg - ist in nur einige Meter vom Hauseingang entfernt) und Kraft zu tanken. Die Wohnung ist mit allem ausgestattet, was man braucht (Kühlschrank, Herd, Waschmaschine, Fernseher, usw.). Leider war Leo an unserem Ankunftstag nicht in Zagreb anwesend, und deshalb wurden wir von seiner lieben Mutter, die uns die Woche über mit Gemüse aus dem eigenen Anbau versorgte, in Empfang genommen. Ich würde die Unterkunft an jeden weiterempfehlen, der auf der Suche nach einem ruhigen Plätzchen am Berg und netten Gastgebern ist. Vielen Dank Leo :)
---
We lived in Leo's house for 4 weeks. Everything was great. Beautiful nature around. Very pleasant and quiet place. Very nice people around. The house is fully equipped for a longer stay. In the house there is an interesting dimmable light in the rooms. Leo and his parents are very attentive and nice people.
---
My wife and I stayed at Leo's place for almost 2 months. We loved everything about the place especially the nature thats surrounding the house. we walked almost everyday for just 20 minutes and we had natural mountain spring water that has many health benefits. The hospitality we received from Leo and his parents who live in the house on the first floor was beyond warm and incredible! They really went the extra mile to make sure we were comfortable and happy staying there. We didn't only find a great place to stay at in Croatia but we found amazing people that we are going to know forever! the house and the interior is exactly how it is on the pictures. Great, comfortable furniture and very comfortable bed. A selection of all appliances that you could possibly need including a juicer. Whatever we didn't have Leo made sure we had it right away the next day. What can I say overall a very great experience and we miss you guys already!! Thank you Dimitri and Leeza
---