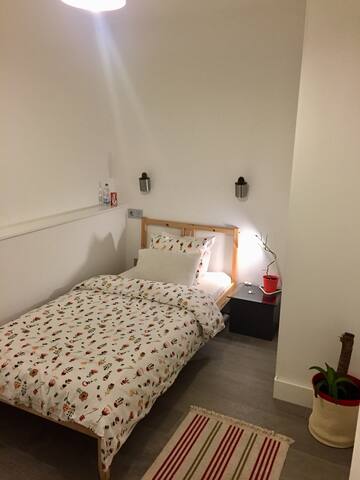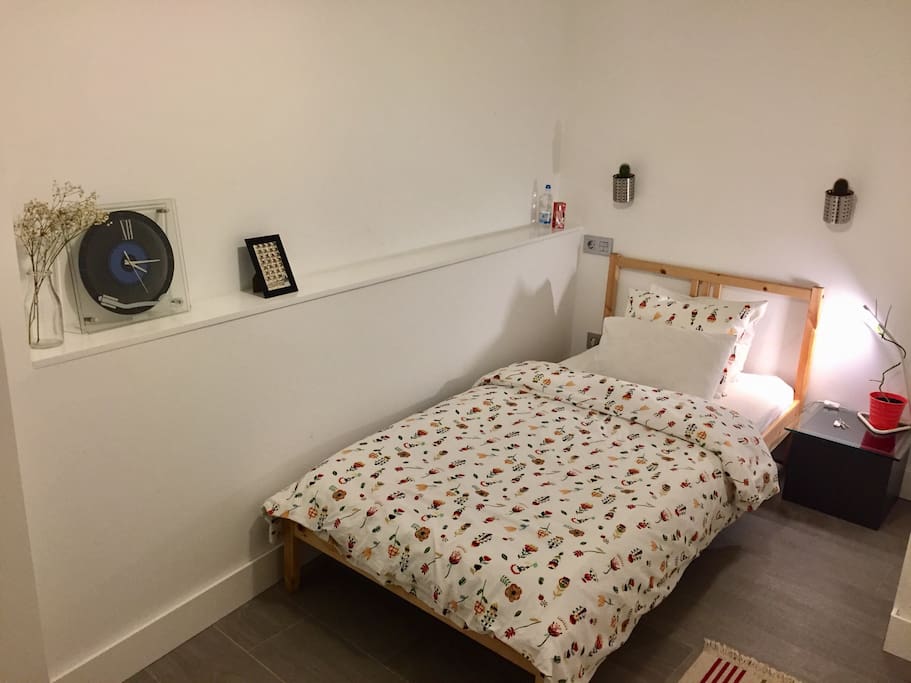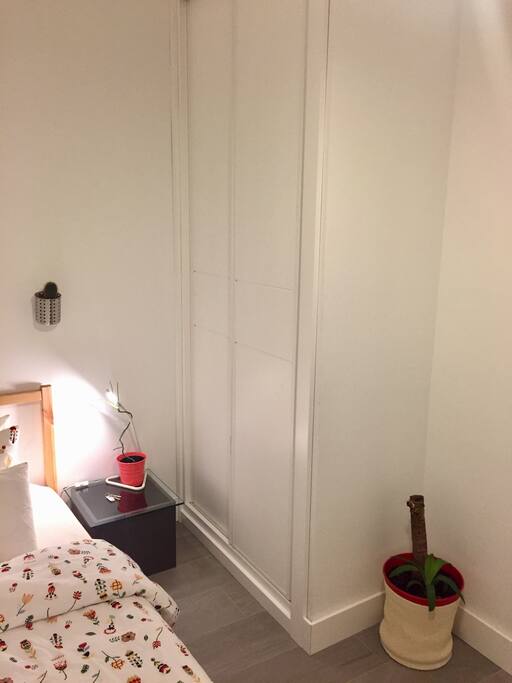 關於此房源
Nice single room, bright, very quiet and intimate. Share bathroom with other guest room. Very spacious house and decorated with very good taste. Located in the heart of Madrid, between the cool neighborhoods of Malasaña and Chueca. In a strategic place of shopping and leisure, in the popular street of Fuencarral, two minutes walk from the Gran Via. Many museums and typical places of interest pretty close, such as Puerta del Sol, Museums (Prado, Reina Sofia, Thyssen), Plaza Mayor, Palacio.
---
---
---
---
房源
I care a lot about the comfort of my guests. I guarantee a quiet, spacious, modern, clean, bright and comfortable place to rest after a hard day of sightseeing. It is a house with much peace and in the best location of all Madrid.
The appartment is located in a renovated historic building in the center of Madrid, our guests should know that it is a third floor and there is no elevator.
We are located between the neighborhoods of Malasaña and Chueca. In a strategic place for everything.
The whole area is pedestrianized, making it a very quiet street with no traffic or people noise.
Many fashion shops, supermarkets, trendy cafes, terraces, bars and cool clubs nearby
街區
The two inner-city barrios of Malasaña and Chueca are where Madrid gets up close and personal. Here, it's more an experience of life as it's lived by madrileños (people from Madrid) than the traditional traveller experience of ticking off from a list of wonderful, if more static, attractions. These are barrios with attitude and personality, barrios where Madrid's famed nightlife, shopping and eating choices live and breathe and take you under the skin of the city.
其他注意事項
The guest profile that i am looking for my home, is a person who basically comes to enjoy the city.
Profile as a tourists, also, all who come for some work.
The reason is that i spend a lot of time at home working.
---
- Check in from 1pm till 10pm. But you must notify me of your exact arrival time
- Check out till 11pm.
- Smoking is not allowed.
- Eat take away food or food that can stain inside the room is not allowed
- The room and the house access is for the person or two persons who book it, don't invite.
- Energy Conservation.
* The lights that are not in use should be off.
* The radiator have an automatic program on and off, not manipulate it.
* Be considerate with your shower time and duration and keep in mind that you are sharing the house with more people. It is appreciated not to shower after 11pm, or before 8am, it is a bathroom located between two rooms and the noise produced by the shower can affect the rest times of other guests and the host. If you need to take a shower during this time period, you should consult me first.
- The kitchen is only for use the basic stuff and to prepare something simple, don´t meals, Cooking is not allowed. Before 9am and After 10pm the kitchen will be close for guest. For reservations of one and two nights there is no availability of the kitchen.
- You will have your own set of keys so that you are independent, but please take care of them, if you lose or don't give us back the keys, you should to pay for a new key set 15EUR. This will be reclaimed through airbnb.
- Please don´t go up or lower your suitcases by dragging the stairs, We want to avoid damaging it and disturbing it with the noise it produces. If you need help with your luggage, to go up or down, i will gladly help you.
Please use the stairs of the building in silence, especially at night.
- Please don´t take my room like a hotel room
- The lounge is a private area for my leisure and work time.
---
中等
提前旅程開始5天取消預訂可獲全額退款,包括服務費。
---
---
---
I stayed only 1night. Chalie's home was really really clean and well organized. I loved his interior! There are many attractive items and he has a really good sense for design. and the location is great. it is really close to Granvia station. Some rules are strict, but it can make everyone comfortable and safe. it would be perfect if there is an elevator, but comparing price, it is absolutely the best choice in Madrid.
---
Alojamiento céntrico, tranquilo y cómodo. Charlie me brindó consejos muy utiles. Tienes que mirar al reglamento para asegurarte de que las condiciones proponiendo para tener una buena estancia te convienen. Eso fue mi caso y entonces recomiendo su habitación!
---
Reservation according to Airbnb and message exchange in the chat: 5 days + breakfast Apartment: beautiful, comfortable and clean, otherwise it is not permitted to access the living room, kitchen and use the table. It is only permitted to access the bedroom and the bathroom. Bedroom: beautiful, comfortable, clean, very quiet. Bathroom: beautiful, comfortable, clean. It is not permitted to take more than one shower a day and you have time to do that (not too long). It is only permitted from 8am to 11pm. Guest: Rude. Barely says "good morning" or even "good evening". My stay period: On checking day, I requested the host to storage my bags around 10am in the apartment, because I'd just arrived from the airport. He answered me that would not be available too early to get them, because the checking time was only after 1pm.   I got in the apartment around 1pm and sent a message to the host. He answered me and told that was having lunch and will be only after 3pm in the apartment to receive me. After that, he sent another message asking to NOT wait him in front of the building, because he and his neighbors do not approve anyone waiting there. At 3pm, I was there to checking. The host gave me the keys and set some rules, such as: - do not touch the bags next to the wall; - it is not allowed to use the kitchen, table, fridge and living room; - it is only permitted to take a bath from 8am to 11pm - if you want to take a walk, turn the keys once (if there is someone in the apartment). If not, turn the keys twice. Issues during my stay: 1) I have followed the apartment rules and had a surprise when the host approached me asking if I had took two baths in the same day. I confirmed, and he got nervous and yelled to me saying that it was not permitted to take more than one bath a day (this was not a pre established rule at Airbnb). 2) When I asked him about the breakfast, he told me that does not offer it. I showed him the apartment description at Airbnb website and he said that had some troubles and had changed the rules. Also, he complemented saying that was his place and change the rules whenever he well understands. Considering that I have paid for the period, stay, bed. And for this reason, I had extra expenses by taking my breakfast out there. 3) On April 25, he requested that I should be out the apartment by the afternoon because he would receive some friends and did not want anyone at his home. I suggest if he does not want this, do not rent the bedrooms. At last, the stay is being paid and not for free. Conclusion: If you are looking for a clean place to sleep and take a bath, that's ok. You should...
In the information of my profile it is clear which are the zones of my house that are of private use, if you have read and accepted this previously to make the reservation, as it forces airbn-b, I do not know why later you Complaints. My prices are too low for the quality and location of the space that I offer, and the space I offer, is a room with a bathroom and depends on the time of the reservation, I give you the option to use the kitchen for basic things and a table for that, oviously, such as Detail in the information of my profile, which is also clear, that a responsible use of water should be made, which you have not done, considering and knowing that you are not the only guest at home and that I have other 5 guest. think if the rest of the guests showered twice a day, that is 1 hour each day of shower, as you, are 6 hours of shower daily, you do not know what that is for the economy of a house. To clarify that since im not a hotel service, and we are a private house, airbnb gives us the option and right to change our rules at any time and more when they change due to bad experiences. Clarify as I explain here, that during the period in which you made the reservation, offered breakfast, but it was not included in the price in low season, all this information was clear in my profile, so in the price of your room , Breakfast was not included. However, I gave you the option of buying your own breakfast to do it at home, to which you answered me, not, that you would do it outside, but then you claim me 10 euros / day for the 5 days of your stay, 50 Breakfast costs euros when in my city, a good breakfast, does not cost more than 5 euros, 10 euros cost a brunch .. with what, what are you trying? I think that you have completely confused the concept of my house, without respecting too much the right that we have all the host in our house to be able to have our moments of intimacy, and I believe That for the next time you should look for a space for you alone, be it a hotel or your own apartment. I think that this guest, from the first moment I entered my house, did with a bad feeling, because I refuse to make a reduction the price of the reservation, to also refuse me to bring a guest for 2 days To home no longer accept the claim of 50 euros, which was spent on breakfast outside, also could have spent much less ... As I told you at home, I imagined this and the rest of my evaluations speak for themselves of the space I offer and the type of host I am. You forget to mention in all this, that the time of your check out, at 4am. You rang the bell again and again, waking the whole house.
---
Hi!. We are Charlie and Sonny. Charlie is graphic designer and Dj in some downtown clubs and Sonny ...well, he just enjoy the life!