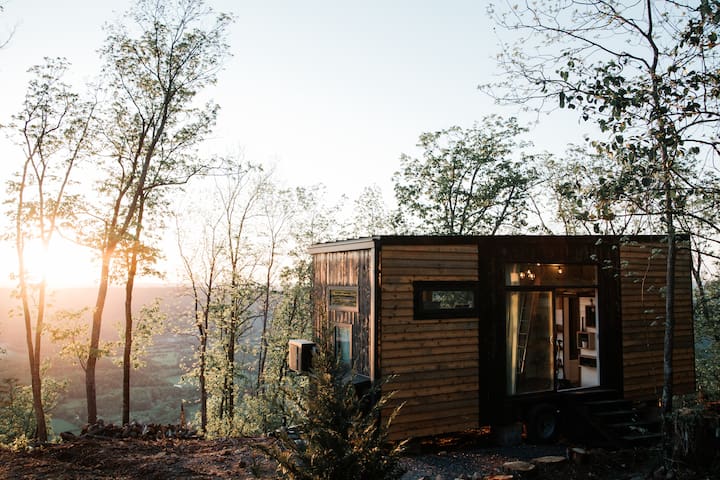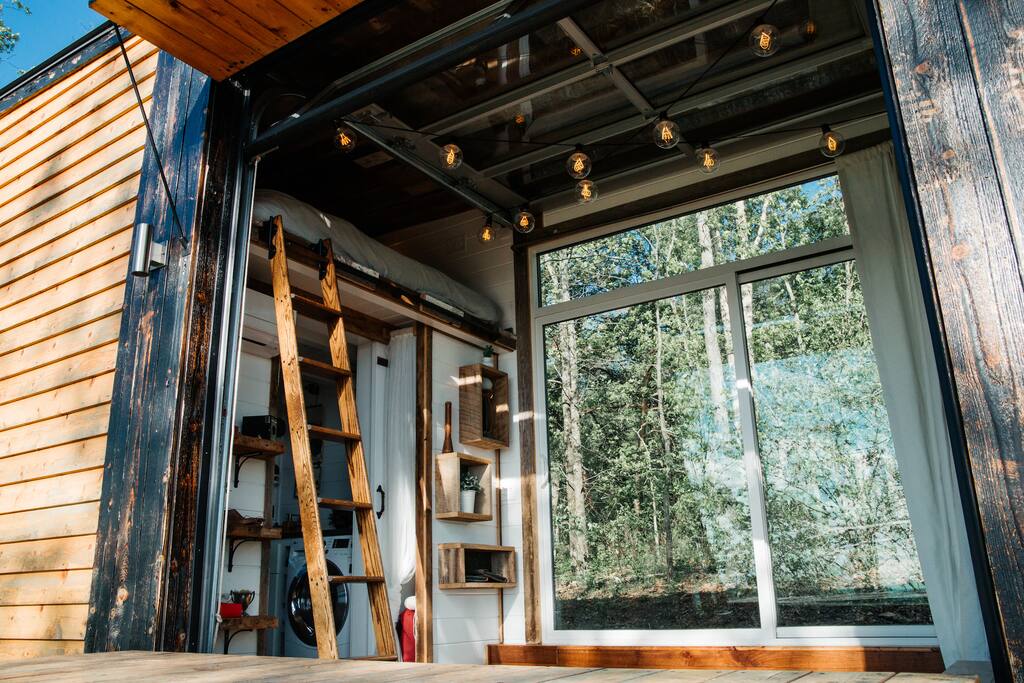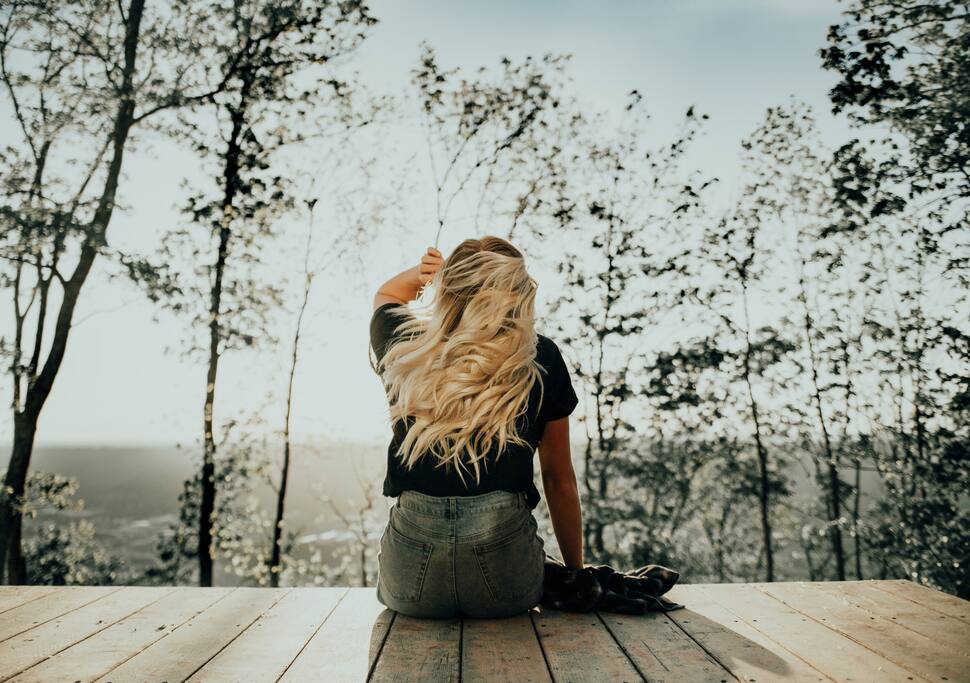 The most luxurious tiny house in the world by New Frontier Tiny Homes! The Alpha, star of HGTV's "Tiny House, Big Living," is the last addition to our mountaintop tiny house retreat, just outside of Chattanooga! Enjoy breathtaking sunsets from the best views on the bluff of Lookout Mountain! Our secluded location is just off of Scenic HWY, in close proximity to Chattanooga's coveted outdoor adventures! Rock City, Ruby Falls, and Cloudland Canyon (Waterfall Hikes) are within a 10 minute drive!
房源
Built and designed by the famous David Latimer from New Frontier Tiny Homes, the Alpha is a beautiful, innovative tiny house that gets her looks from the wonderful contrast of material and style. Its modern aesthetic is contrasted with beautiful natural, textured materials: clean modern lines and large glass windows, shou sugi ban cedar siding and mechanical seam metal roof, hardwood floors and reclaimed barnwood ceiling. Coupled with closed cell spray foam insulation and Typar rain screen and moisture barrier, you'd be warm and dry at the bottom of the ocean. Among the Alpha's stand out features is a custom fold down deck and awning, tempered glass garage door, and a giant sliding glass door, with a secret hidden cuddle bed under the stairs. Multi functionality and a maximization of space are the calling cards of this tiny house. Everything about the design and materials in this home are the highest luxury.
BEDROOM / LOFT:
Custom Oak Library ladder with custom sliding hardware
Custom reclaimed barn wood shelving
King sized bed and 4 dimmable lights
KITCHEN:
Huge Ariel® Stainless Steel farmhouse apron sink
Large Whirlpool® Stainless Steel Fridge
30" GE® Profile Built­-in Induction Cooktop (4 Elements, Digital Touch Controls, Melt Setting, Kitchen Timer)
Cuisinart® Convection Toaster Oven
Hidden Dishwasher
Custom Drop Down Kitchen Cabinets
Stainless Steel Shelves
Peacock Gold Granite Countertops
Custom Cabinetry (with hidden-lock Hafele® knobs)
BATH:
Custom Sliding pocket door for bathroom with backside full length mirror
Jacuzzi® tub and shower (full size)
Subway tile in kitchen and shower
One of a kind antique bathroom mirrors
Washer/Dryer Combo
PrecisionTemp RV-550 Tankless Hot Water Heater
Mini Split HVAC unit
MAIN STRUCTURE:
Charred (Shou Sugi Ban) cedar siding / Red Western Cedar siding (triple coated with Spar Urethane)
Mechanical Seam Metal Roof - The most leakproof metal roof available
Custom Drop Down Deck and Awning (Aluminum Framed)
Closed-Cell Spray Foam Insulation
Typar® Rainscreen and Housewrap
Tempered, Insulated Glass Awning windows
Tempered, Insulated Giant sliding glass door (8'x9')
Tempered, Insulated Custom built glass garage door (8'x8')
Reclaimed barnwood wall and ceiling
Custom light package (dimmers; LED lighting: strips, lamps, and Edison bulbs.)
Tongue side custom storage box
24' Custom Trailer - dual 7500 lbs. Axel
Solid Walnut Hardwood Floor (hand hewn)
Outdoor deck furniture and dining table
2 Benches, Storage System with hidden bed sleeps 1 comfortably, or 2 cuddling
Shiplap Wood Siding throughout interior
房客使用權限
We have a hot tub on the best part of our sunset cliff with an incredible 180 degree view of Lookout Valley. As our whole retreat is designed around enjoying nature and community, we have a central fire pit, where friendships are cultivated and great memories are made. At 2,000 feet, we do sometimes have inclement weather, that is best enjoyed inside, while the outdoor activities take a rest.
---
---
不適合嬰幼兒(2歲以下)或無法為嬰幼兒提供安全的住宿環境
Live A Little Chatt
5867 Scenic Highway
Rising Fawn, Ga
Thank you for choosing to support us so early on and to book your stay at Live A Little Chatt! We're so excited for you to stay with us. Familiarize yourself with our directions and our policies below. 

* As we have a very personalized tiny house experience, we pride ourselves in the quiet and secluded environment we have created. For this reason we do not offer tiny house tours for those that are not staying with us.
* Check-in is no earlier than 4 PM unless previously worked out with the host. We both have very dynamic full time jobs outside of Live A Little and are not always present at check in. Please touch base with us the day of, so we can organize getting you your key. We stay in great communication, and want to make your vacation the best yet!
* Please make sure you familiarize yourself with the layout of the land past the big sunset bench. We have a dangerous 200+ foot cliff 30 feet past the hot tub enclosure, and sometimes it gets cloudy at our altitude, reducing visibility. This is especially important if you have children with you.
* Due to the nature of our cliff side resort, and the nature of tiny houses, we do not allow our furry friends on the property. We have had guests with extreme allergies, have almost lost a dog running close to the hillside, and it is much harder to clean after a pet has been all over the tiny house. Lets admit it, tiny houses are super fun, and we want to play in every space of them!
* If you decide to build a fire in the fire pit, please make sure there is little or no wind, and please keep it to a manageable size. There is a hose in front of the Wandering Gypsy House that we use to put the fire out.
* Check-out is no later than 11 AM unless otherwise worked out with the host, this gives us the time we need to prepare the for our next guest and leaves some turnaround in case something breaks, so we can have it ready for you!
* We have room in our driveway for 1 car per booking. If you have multiple vehicles, please park the additional cars on the right of way next to the road.
Please remember to send us your estimated time of arrival and call us @((PHONE NUMBER HIDDEN) when you're about 20 - 30 minutes away from arrival. That way, we can get you settled in comfortably and quickly. Feel free to give that same number a call if you have any questions or special requests before and during your stay.
Thanks again, and we look forward to seeing you soon!
~ Brian and Joe
Live A Little Chatt
((PHONE NUMBER HIDDEN)
---
Joe and Brian's place was amazing! The view, aesthetic, and comfort of the tiny home can't be beat. They were extremely accomodating, and even made a "Happy Anniversary" sign for my girlfriend and I to help us celebrate. In addition, they provided any and all essentials that we could have possibly needed. Will definitely recommend to friends!
---
So I thought we had already left a review. But never completed it. Sorry about that guys. We were in town for work, and had a very busy schedule while we were visiting. This place was great! It was our first time with the tiny house atmosphere, and we loved it. I can only imagine how this property looks with good weather! We will have to come back and see. Thanks for the help getting our car pushed out of....the flat parking spot I was on?!? No clue how that happened, lol. Thanks again! Highly recommended.
---
What an amazing place! We loved this location and the views. The house had everything we needed and more. Bryan was available during the stay and we even had a community fire with the other guests. I have already recommended this place to two people and hope to return myself. Just a short drive to Cloudland Canyon and Lula Lake Land Trust.
---
Excellent location to rest and relax, with gorgeous views and lots of local attractions to enjoy. The house is beautiful...just like the pictures...and the views each morning and evening were amazing. A bit dark up the road and upon arriving if at night; would check-in during the day next time if travel and commute time allows.
---
The views from this place are awesome. Pictures can't really do it justice. Also, if you drive back into the mountains, it's so beautiful. We didn't get to explore much since our trip was so short, but we did end up eating at Artzy Cafe and it was some of the better food we've had in a while (lots of fried food and burgers). The tiny house itself was super clean and I couldn't believe how quickly the stove boiled water for coffee. We ended up meeting one of the owners, Brian, and he said that we can look around the two tiny houses that were empty that night. I think next time we'll stay in the one with the roof top porch. So cool. We definitely want to come back soon. Thanks, Brian!
---
We are two extremely hard working and ambitious young entrepreneurs. Tiny Living has given us the opportunity to realize what is really important in life! We love the outdoors, love meeting new people, and are dedicated to sharing our passion and lifestyle with you and your famil…