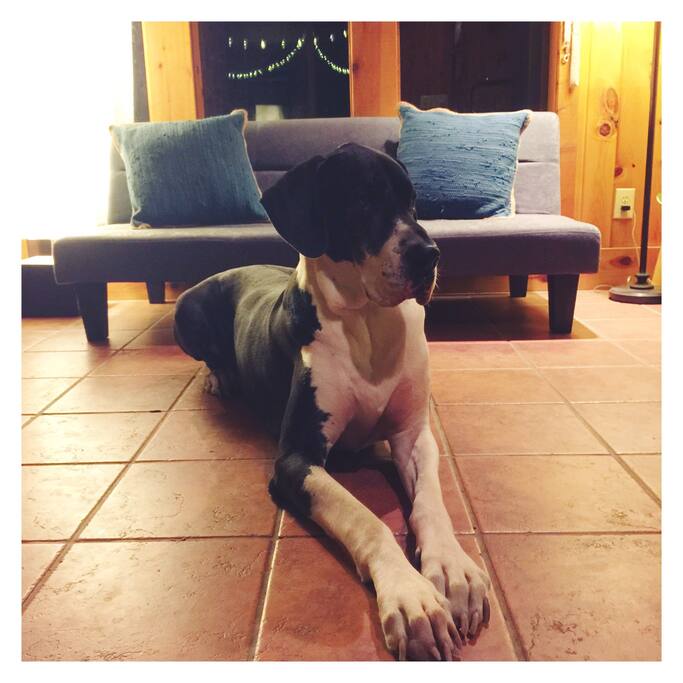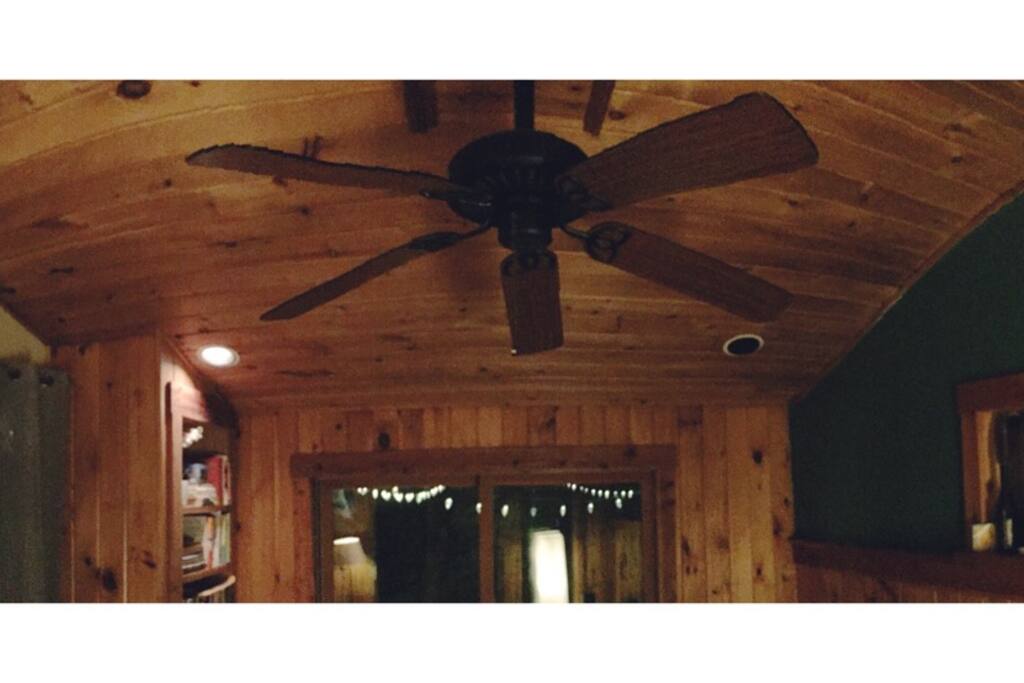 Fox Den II - single w/ private deck
Welcome! There are a few things you need to know about the room up front. First, there is a dog who lives in our home...A GREAT DANE. His name is Butler and he is very friendly, but will not come in your room so you will have "space". The bed is a futon and it is not particularly cushy but we provide bedding and pillows that give it enough cushion to sleep on for a single person. The room has a large deck off of it and woods in the back.
房源
The space is on the far side of the house off the kitchen. There are curtains that block the French doors so you will have privacy and being on the far side of the house it should be very quiet. The bathroom is a short walk through the kitchen and down the hall on the right.
Towels are provided as well as sheets and other bedding.
The room also features a bookcase that you can peruse and a large desk, making this a great space for contemplation, yoga, studying, reading or just relaxation after a long day of adventures.
There are windows on all sides of the room which provides excellent light and at night you can use the Japanese screen to give you privacy on the neighbors side of the room. The backside is simply forest so there are no curtains on those doors.
There is a ceiling fan and a little Electric heater if needed. Or just open the door and listen to the crickets :)
房客使用權限
You have access to the living room, kitchen, and bathroom in the house. There is also the deck off of your room as well as a deck off the front.
與房客互動
We are a very personable household. There is often a two year old here and always a Great Dane. Both will certainly be curious and want to welcome you here, but after the initial meeting we are very quiet unless you need us
其他注意事項
The driveway is steep, but in the summer it's easy to navigate even for low landers :)
---
Perfect location for visiting my daughter at App State. The room was super cozy and cute and I slept very well on the futon (and I am almost 6 foot tall). I was amazed with the book shelf, filled with books that I have either read, or have wanted to read (if only I had time to read while I was there). Beautiful deck right off my room, wooded beyond that. If you walk up the trail from this home, you will end up at the Community College and you will see the most amazing sunsets! Courtney was awesome, more like staying at a friends house, but without the constant girl chatter, lol! I fell in love with her Great Dane, and spent a lot of time with him (Butler). We can call him the "Welcoming Committee" haha. (He is great to talk to also! ). I even brought my college daughter over to meet Courtney and Butler. Courtney is down to earth, smiley, informative, and just fun to be around. Will certainly stay here again.
---
I really enjoyed my time at Courtney's place. Although, it was my first time visit to Boone, I felt this place is centrally located to everything and not far from other things that I was doing during my visit, to restaurants and malls (may be 2-4 miles) and ASU. Yet it had amazing calm & quietness I need to seclude myself from my routine of work-life. This room on upper deck has amazing views and a private hike up the hillock where you get some sunset glances; and one could just lay down in sun read books at the deck (which is what I did) or bonfire in the evenings near the deck. And the road going down the hill on white oak or up to 105 bypass highway are both nice for evening walks. Only tricky part was on day1 I was bit terrified with my parking on the private alley (as I am not used to driving in hilly areas), but now I have learnt a new skill ;-) which am certainly proud of! Courtney is amazing host, right from her communications to making sure I had everything I needed. She was very helpful on guiding some of the things to do, very friendly & kind. Other members in the home were warm and welcoming too. Right from living room, bath and kitchen were all open for my use. Of course, last but not least -Butler boy!!(Butler is Courtney's pet). I miss his company now, he is such a sweet heart very amicable soul, if you are into dogs or even if you are not you would start loving them more. Overall, I had great time, I would love going back to place in future if I happen to go to Boone again and I would recommend this place to others too.
---