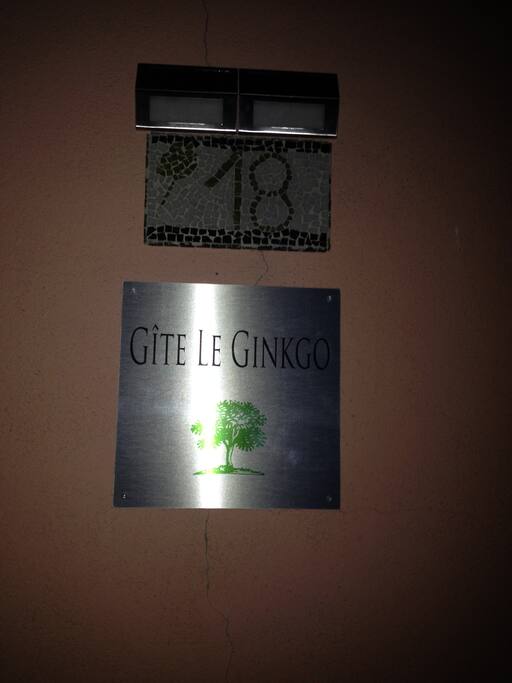 COTTAGE " LE GINKGO" Welcome ...
Geraldine and Francois are pleased to welcome you.
The cottage "Ginkgo" is located at the foot of the Ballon d'Alsace in the Natural Park of Ballons des Vosges in the quiet and flowered village of Rougegoutte (4 flowers - European Winner). You are
---
Merci à Francois et Géraldine pour leur parfait accueil. En plus d'être très sympathiques et attentionnés, ils ont su donner une atmosphère chaleureuse à leur gîte. Les équipements sont très modernes, le gîte est spacieux et tout est prévu pour qu'on ait juste à déposer ses valises et profiter de son séjour ! Merci encore !
---
Un accueil exceptionnel! François et Géraldine ont vraiment été aux petits soins avec nous, tout en restant discrets. Ils sont multiplié les petites et grandes attentions à notre égard (pâtisseries, vélos, conseils, prêts de cartes et guides, petit cadeau de départ... incroyable). Le gîte est très agréable, vraiment très soigné, très bien rénové, confortable, avec une décoration très chaleureuse, et hyper-équipé. Il y a plein de belles balades à faire dans le coin. Que du bonheur!!!
---
Francios and his wife greeted us like family and did everything they could to make us feel welcome. They even provided lovely fresh cake (a local speciality) for us for breakfast. The unit was beautifully furnished with everything we could want to make it a wonderful stay. At the end of our visit Geraldine gave the two ladies a beautiful perfumed momento. Thanks for making our visit such a pleasant experience.
---
Our stay at Le Ginkgo was our first Air B&B experience, and we were so impressed. François and Geraldine were very welcoming from the beginning to the end. They first got us oriented and presented us with a welcome kugelhof (pastry)....delicious. They followed with a tour of the apartment. The space is open and bright, with a soothing, zen-like decor, working in the ginkgo theme. The bedroom is very comfortable, with nice storage spaces. The living area is spacious, and a lot of thought has been given to the needs of the traveler. There are books and maps of the region, games, and first aid and sewing kits! The kitchen is well equipped with everything you might need to prepare meals, and we did so most nights and mornings. The local supermarket, Intermarche is less than two miles down the road. Just past there is the town of Giromangy, with a few shops, restaurants, etc. as well as an interesting mining history. You can also visit the fort there as well. As for the village of Rougegotte, where Le Ginkgo is located, there is a boulangerie with good bread, plus some small grocery items if you don't want to go too far. There's plenty to see in the area, and the apartment is a relaxing spot to return to after a day of touring.
---
ancien professionnel dans le tourisme . A votre service si besoin pour vous renseigner sur les sites touristiques à visiter .(Franche Comté , Alsace , Suisse et Allemagne
語言:
English