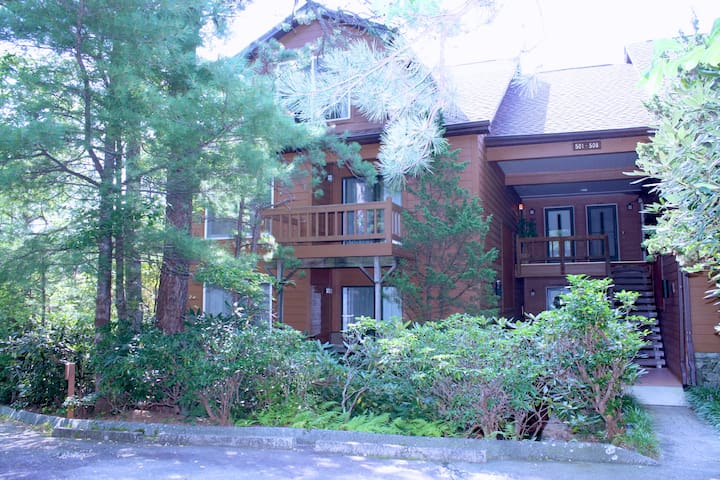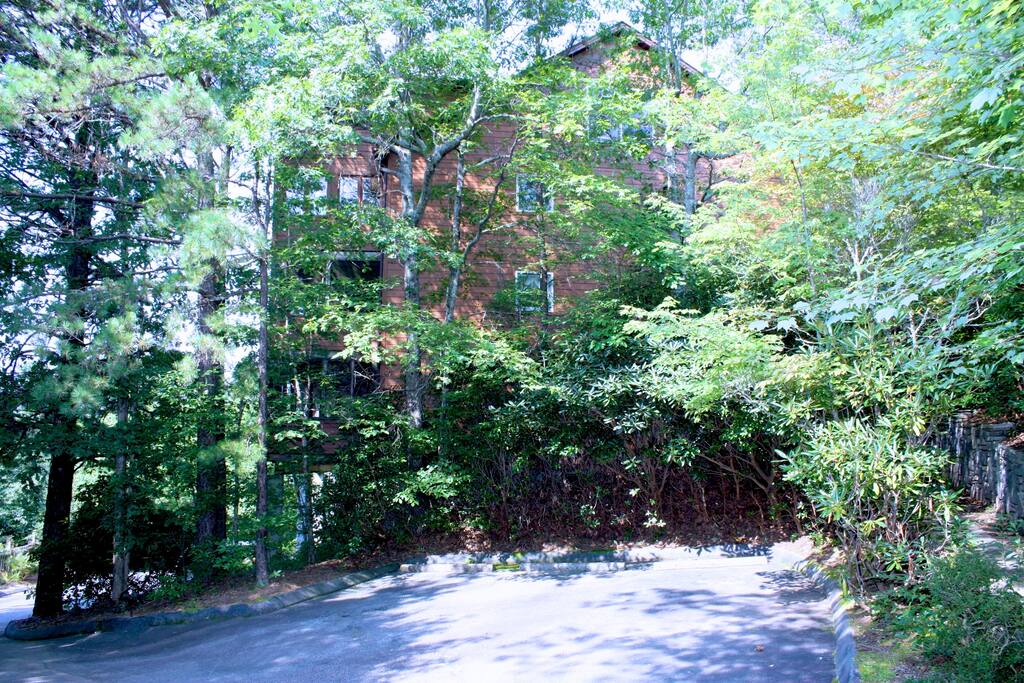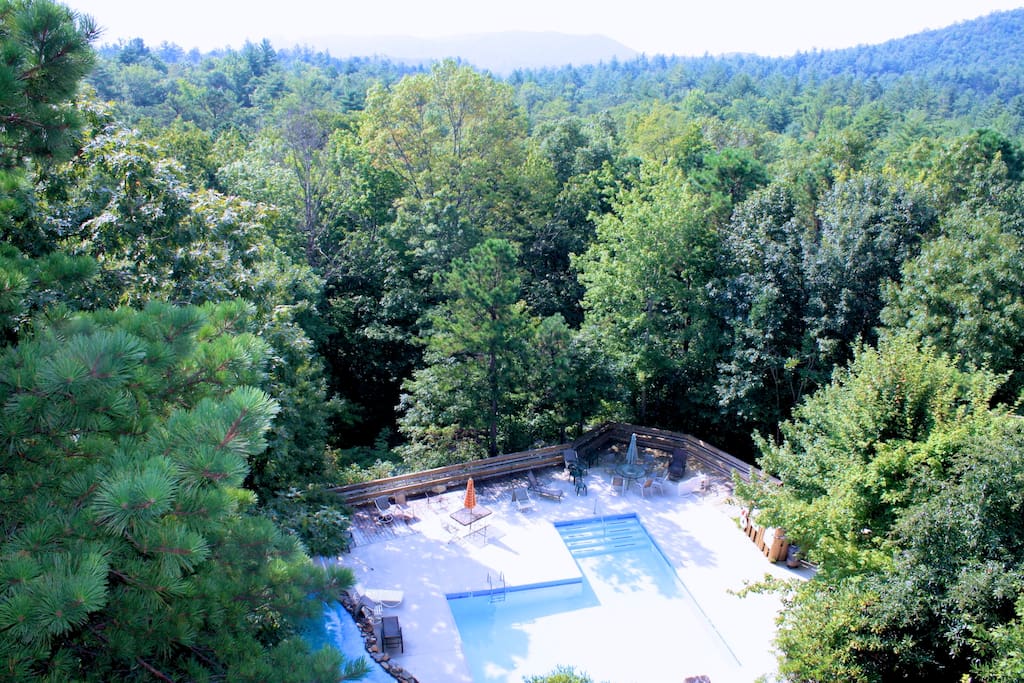 Escape to the magnificent Land Of The Waterfalls. One of the most spectacular views in all of North Carolina! At 3,300' elevation, this mountain top condo features unobstructed wide - range views for 125 miles…..all the way to South Carolina!
房源
Newly remodeled in spring 2016, this 1 bedroom 1 1/2 bath is big on both space and style. Completely furnished- including linens, and kitchenware. it comfortably sleeps 4 with queen bed and queen sleeper sofa in fireplace room. New wood floors, native stone gas fireplace, enclosed porch. A large flat screen television and blu-ray, stereo, hi-speed internet access, plus a collection of books and magazines and games. Fully equipped Kitchen, all new stainless steel appliances, Dishwasher, Refrigerator, Washer & Dryer Garbage Pick-up Central heat & Air Conditioning.
Swim and sunbathe in the gorgeous, heated swimming pool
Relax with a good book next to the waterfall area
Bar-b-que at the grill available for parties and cookouts
Play a few games of tennis - courts on property
Hike in the Blue Ridge Mountains just in your back yard.
Activities on site or nearby: Hiking, Rock Climbing, Biking, Golf, Fishing, Hunting, Wildlife Viewing, Horseback Riding, Shopping, Antiquing, Arts & crafts shows and galleries, Fantastic Restaurants, Live Theater, Cinemas, Sightseeing, Swimming, Rafting, and Downhill Skiing.
其他注意事項
Rate $800/week
Tax: $7%
Cleaning $70.00
Ask about our special offers.
Treat the condo like you own it.
On 10/5/14 we arrived at the "newly renovated" property in Toxaway Views, Lake Toxaway, NC. We rented the property for one week. As stated in the description the view from the "patio" was indeed beautiful (SEE PHOTO). Unfortunately we encountered many problems during our stay. The list is long so for the most part we will just list the issues but a few warrant description. 1. VERY IMPORTANT is the fact that you must walk up 2 full flights of stairs (15 steps up to the second floor of the building followed by 14 steps inside the condo – SEE PHOTO). Carrying your luggage, supplies, groceries etc. to get into your unit is more than a chore. This means if you are elderly or physically impaired the unit is not for you. This very important piece of information was not disclosed in the description & would be imperative to know prior to renting it. Having Multiple Sclerosis, this was an awful situation. 2. Before being able to put ANY food in the refrigerator/freezer we had to clean them both. There was food frozen on the floor of the freezer that had either dripped or leaked. The refrigerator was in great need of being wiped out thoroughly, it was just plain dirty. Unfortunately, we cleaned both, as best we could, before thinking of photographing them. 3. The oven was beyond dirty. There was so much burnt on grease in it, that to use it was dangerous. (SEE PHOTO) 4. The stove top burner drip pans were nasty. (SEE PHOTO) 5. In the interest of politeness we will not describe the commode, the picture speaks for itself. (SEE PHOTO) 6. While the description states that the condo is "well equipped" there was (URL HIDDEN)no toaster (URL HIDDEN)no broiler pan (URL HIDDEN)no mixer (URL HIDDEN)only 2 kitchen butter knives (URL HIDDEN)very few kitchen towels (URL HIDDEN)only one potholder (URL HIDDEN)ancient, nasty kitchen sponges (SEE PHOTO) (URL HIDDEN) - only 3 bath washcloths & one of those was bleach stained (URL HIDDEN)no bath soap (URL HIDDEN)no dishwasher soap (URL HIDDEN)We were going on vacation, not wanting to set up housekeeping! The unit was advertised as sleeping 4, but that was a stretch. The sleeper sofa, if opened would put the foot of the sleeper just about in the fireplace. If 4 adults were renting this, it would not be pretty. There was only one small four drawer (only three usable) dresser (SEE PHOTO) We had to live out of our suitcases for the week. I don't know where 4 people would ever put their clothes. We have rented many vacation homes over the years & have NEVER had an experience like this before. As renters, we have the right to expect, at a minimum, cleanliness! The basic necessities should be available. THIS PROPERTY DID NOT MEET THE MINIMUM EXPECTED STANDARDS!!! We believe we should be refunded our money. $853.00 is exorbitant for what we received.
---
Phone, internet, property manager.
Hi, we're Terry and Sandy, the caring (and hands-on) owners and managers of Anna Maria Beach Condo. We've been here for years, so we know Anna Maria Island, the island's condos, and our island's guests. We understand you – what you need, what you want, and what you'd really like to have. With us, every stay balances the rigorous requirements of professional managers with the enthusiasm, pride and personal touches of an owner-managed rental. That means that with us, you enjoy the dual benefits of an in-the-know local combined with the professionalism and expertise of a serious company. Come on down and experience the difference for yourself.

Our family fell in love with Anna Maria Island the first time we visited in 1989. Every summer since, we've spent our vacations on this island, and in 1995, we bought our first condo here. Having a young family at the time meant we had to rent our condo to offset ownership costs. Thankfully, by offering luxurious accommodations at an affordable price, we were able to keep the condo booked for an average of 50 weeks a year. These steady bookings allowed us to purchase our second condo in 2013, and a third in 2014. While opening up these homes has allowed us to keep returning to the island—and even better, to a house that feels like home—we also truly enjoy offering a place to guests to discover Anna Maria Island and feel at home here, too.Terryandfamily

We were honored when TripAdvisor and recognized our dedication to providing a top-notch rental experience with a "Top Rental Property" award two years running. More than anything, we appreciate that positive reviews from past guests determine the award winners.