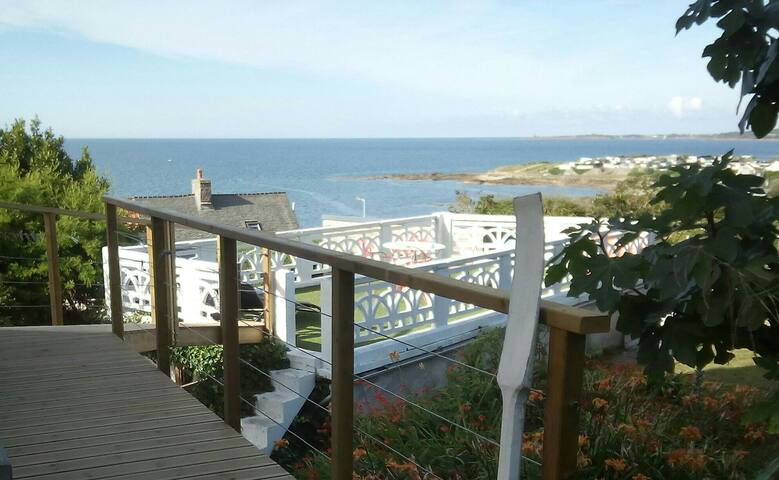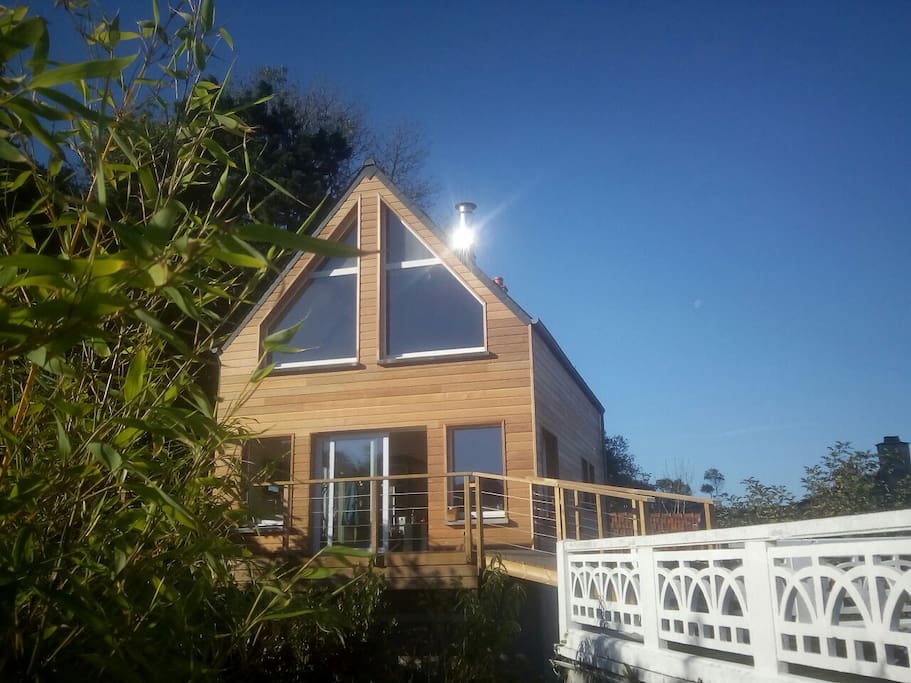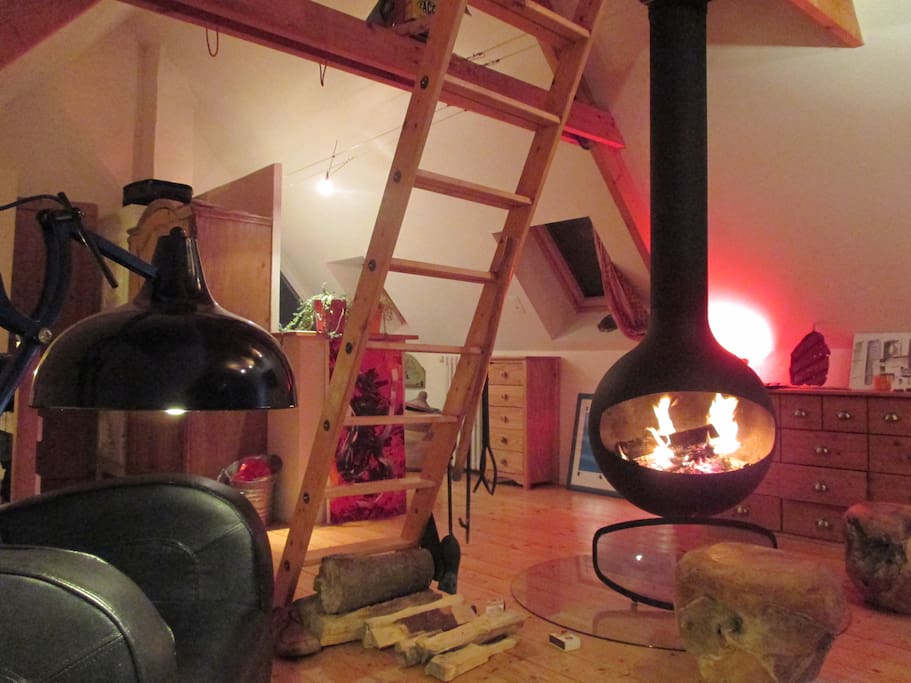 Loft et sa vue mer...
Lumineux...car la dernière apparition du soleil date de la canicule !
Chaleureux...car après une balade ponctuée d'un vent polaire et de 17 averses consécutives un bain bouillant devant la cheminée est bien mérité !
---
This is a beautiful wooden coastal hut of generous size in a quiet residential area close to Cherbourg. It is set on 3 floors and my favourite is probably the ground floor (or the middle floor). Open kitchen, diner and living space surrounded by decking walkway, eating/BBQ/sunbathing area, and garden. It was great because it has the sea view and the children played all around whilst we were in the kitchen, and it was lovely to eat with such a view. Upstairs or top floor is a close favourite. It is very cosy and has that sea view. There is a tv, you can sleep there or lounge there, and there is a log burner. There is also an open bath area and a ladder leading up to another double sleeping area on an upper mezzanine level. Ultra cosy! The basement or lowest floor has a room with a double bed and a bunk bed. There are black out shutters which really give total darkness. There is also a shower room, toilet and washing machine and tumble dryer. The floor is tiled so less cosy than upstairs which are floorboards. It is the coolest part of the house due to less sun exposure, but I can imagine this is advantageous in the hot weather. We had to sleep down there as we had young kids that slept in the bunk beds. I would definitely choose to sleep in the top floor if I had the choice. The house is filled with vintage and quirky paraphernalia. It is homely and mostly cosy on my favourite floors. The kids loved the outside space and going up and down all floors was fun for them. They adored having a resident cat there too! We just loved eating in and just felt like home. We travelled to barneville-cataract and portbail (t want to go the same direction the next day. Stéphane was such a kind and thoughtful host. He left us some essentials in the fridge as we arrived late on a Sunday when everything was closed. This was such a lovely holiday, made perfect with this lovely home with sea view.
---
Nous avons passé un séjour magnifique et avons beaucoup apprécié l'hospitalité et la flexibilité de Stephane. Cette très belle maison est parfaite pour profiter en famille de cet endroit. Vue splendide assurée!!! Un gentil petit chat nous a accueilli et a bien voulu rester dehors pour éviter aux personnes allergiques d'eternuer. Nous recommandons donc et reviendrons sans hésiter!
---
L'arrivée fut agréable avec toutes ces superbes vues. Mais le retour fut entaché par des incompréhensions concernant le plan de travail en bois jouxtant l'évier mais pourtant sensible à l'eau ainsi que sur le fait que bien que j'avais payé le ménage et que j'avais rangé au maximum avant de partir, il y eu des reproches.
---