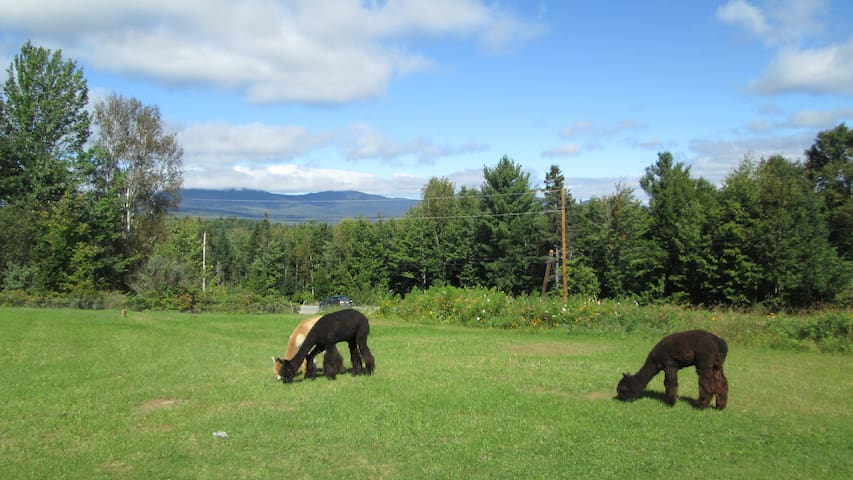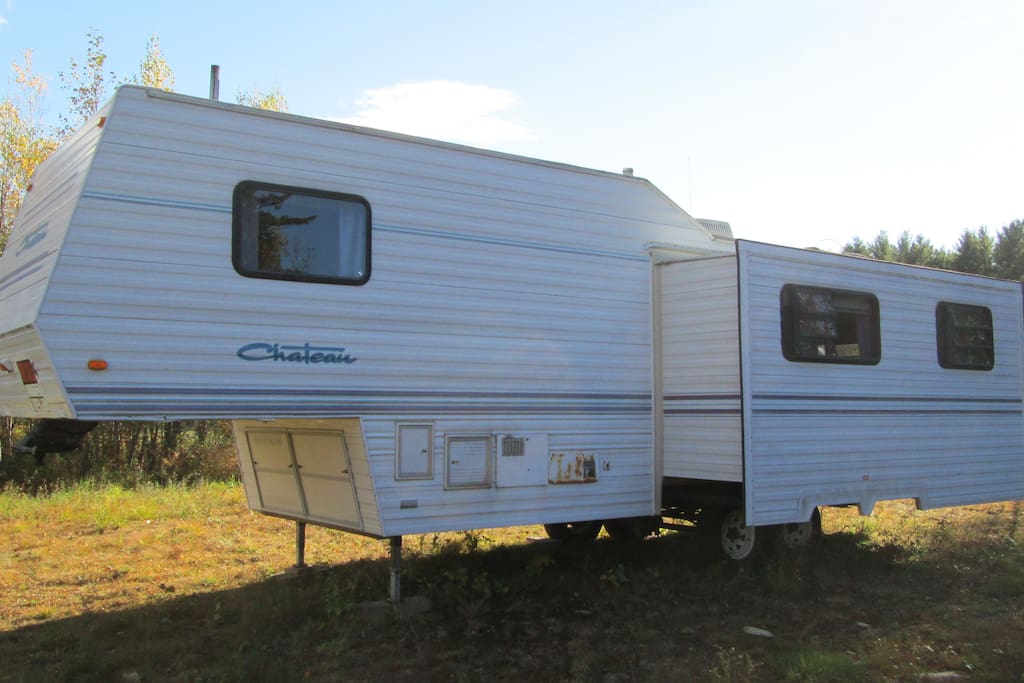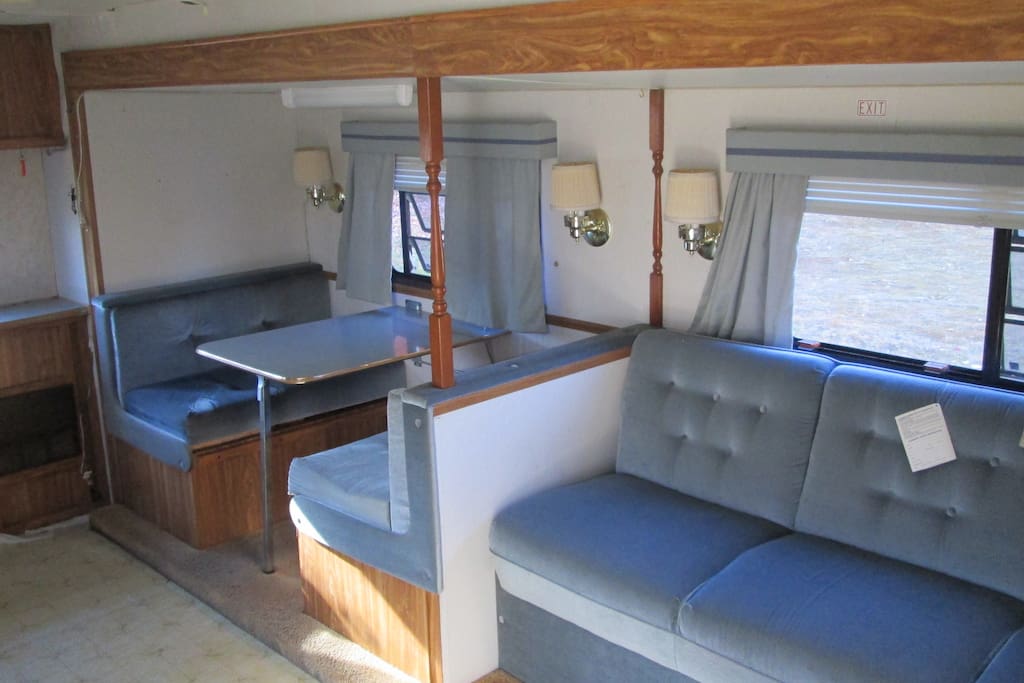 You are always welcome at Alpacaville. Now in beautiful Maine, where our alpacas enjoy the incredible beauty of the mountains of the High Peaks Region. The Chateau trailer is very clean, cozy and comfortable. Perfect for an adventure getaway.
房源
Yes, the chateau is a camper. The camper though has an incredible view of the mountains and is surrounded by our wonderful array of animals. Usually the alpacas roam free around our house, camper and barn as do the chickens, ducks and the turkey. The goats can be trouble makers as they roam free as well so keep your car doors closed! The camper itself is very clean and original and has running water, electricity, and a bathroom. Remember it is an older RV, not a five star hotel, but we do our best to keep it in working order.
房客使用權限
The chateau is all for you of course, but I'm sure most of your time at Alpacaville will be spent exploring the 96 acres or taking selfies with the alpacas. You will have full access to the property and the barn, feel free to talk to the animals or take a hike in the woods. Several special places for you to visit out in the woods would be the little fish pond, the ancient "Sugar Mama" maple tree, and "Mawe Tatu" vista point.
We also have an AT&T micro cell tower that lets anyone that uses AT&T within a 60 foot radius of it to use their phones, wifi closer to the house will work as well. We are working on that for the chateau.
與房客互動
My favorite line when guests arrive is simply this, "we're here if you need us, and we'll dissapear if you don't."
其他注意事項
Pet owners. We do have two dogs that roam freely around the property as well. One male and one female, both mongrels. They are both older now, each over ten years old, but still quite active. Bouncer, the male, will enjoy running with friends and although he barks at strangers he is quite passive. Tibby, the female, a smaller besenji mix may get testy with other female dogs as she feels this is her territory. She mostly stays indoors and we can always separate her if needed.
We also have five wonderful children. They are very respectful of our guests. In the past some of our guests have had children, which has always been an added bonus for them as well as our children.
---
---
There are no real set house rules. We hope that our guests will leave the chateau and property as they found it. We do like to keep rubbish separate from any recyclables. Please be respectful of our animals, our children and the chateau. Thank you!
---
Jeff and Maureen's Alpacaville is situated in an amazing location that provides breathtaking views of the mountains. There's many options for outdoor activities such as hiking various mountains or visiting Angel Falls or Smalls Falls. There's also spectacular lakes that provide an array of water sports. Phillips is a really friendly town with amenities such as gas and a local grocery store. For more restaurant options, Rangeley has a bit to offer. The RV provides a comfortable bed, a clean bathroom and all other basic amenities. The mountain view with alpacas and goats grazing in the morning is amazing. Jeff and Maureen are very helpful and knowledgeable about the area. Overall Alpacaville is a perfect getaway with a touch of remoteness and we would definitely stay again.
---
The Seabergs are magic. Exhibit A: Alpacaville. Exhibit B: the golden limo by which they ferry their five kids to town and back. I spent two nights at Alpacaville in the early fall with my four-year-old daughter and an auntie visiting from Louisiana, and from the minute we arrived, Jeff and company made us feel like part of the family. My daughter and the Seabergs' six-year-old were fast friends, and spent the two days bouncing around the farm, feeding chickens, jumping on the trampoline, and just having a grand old time together. We even got to welcome a new calf and cuddle a baby alpaca. Jeff and Maureen seemed more like old friends than airbnb hosts, and they were terrific, top to bottom. Seriously, in two days, we left the farm once, and not for very long. Jeff and Maureen may be two of the coolest people I've ever met, and their kids are already well on their way to becoming the same. Thanks for an amazing weekend!
---
The Alpacaville Chateau is a special slice of heaven on earth. Yes, it's a camper. Jeff isn't kidding in his description of the place - which is the biggest draw! Your camper abode is set up with everything you need. Comfy bed, warm blankets, kitchen, and amazing views. The coffee pot makes enough for four good size cups and I suggest sipping whilst watching the animals graze in the morning. Jeff facilitates love and pictures with the alpacas, goats, ducks, chickens, et. al. The crazy turkey claimed my car but was fairly agreeable about letting us use it. Lots of excellent hiking and views in the area - Quill Hill should not be missed. If you don't feel like cooking Rangeley has lots of options. Overall this was the best weekend getaway we could ask for. Jeff, Maureen, & kids are excellent hosts!
---
We visited Alpacaville with our 6 and 8 year olds and had a great time. The kids had the unique experience of hours of hands on interaction with all of the animals and unlimited exploring of the farm and surroundings. Jeff and his family were very friendly and accommodating. Our kids had a lot of fun playing with his kids. They spent many hours running around the farm area, on the trampoline, driving power wheel cars, and interacting with the animals. Great scenic views all around and not far from grocery stores and restaurants.
---
The value was tremendous and we loved staying at Alpacaville. Jeff was easy to be in touch with before our arrival, and was there to greet us when we arrived late at night. He let us know if we needed anything, not to hesitate to ask, but also that he would stay out of our hair if that was our preference. When we had trouble starting a fire the second night, he came out with newspapers to help us out, which was greatly appreciated. The animals were lovely: beautiful but shy alpacas, friendly goats, various breeds of chickens, some sort of pheasants, a loud rooster, ducks, bunnies, a crazy turkey and a sweet, watchful dog. The views were incredible, such a stunning sight to wake up to and appreciate while having a cup of coffee. The location was a perfect starting point for us to head to the Rangeley lakes region, the reason for our visit. Along the way, we stopped at the breathtaking Smalls Falls (recommended by Jeff) and got a brisk swim in. We went on a seaplane tour of the area, highly recommend Acadian Seaplanes, and ate at Sarge's Sports Pub & Grub, which was quite good. We then went to Quill Hill for the most stunning mountain top vistas, followed by a long drive through the Carrabassett Valley. Staying at Alpacaville is well-worth your time, just don't expect hotel accommodations. I'd say it's like half-roughing-it. Sort of like camping, but with basic modern amenities like running water and electricity. Be prepared to bring all that you need for food, drink and camping supplies, as the camper is very basically stocked. Jeff recommended nearby Edmunds Market, which we popped into, to pick up some provisions. For me it was the perfect cost-effective lodging option, so that we could splurge on a few things, like the seaplane tour, and still have a great little getaway. We look forward to our next visit to Maine and would definitely stay at Alpacaville again.
---
My name is Jeff. I am an artist and an alpaca farmer. My wife Maureen and I decided that we would add something a little foreign (the alpacas) to the property, bringing a sense of peace and calm to our sometimes hectic lives here in the United States. Having traveled throughout Europe and Central America, staying in hostels, hotels or with friends I can appreciate the idea of connecting with regular people rather than staying at a resort. I would rather talk to the locals than to sit at the pool. Hopefully we can bring that type of experience to others. We are here if you need us or hidden if you do not. Bee Happy and Keep the Faith - Jeff
語言:
English、Español