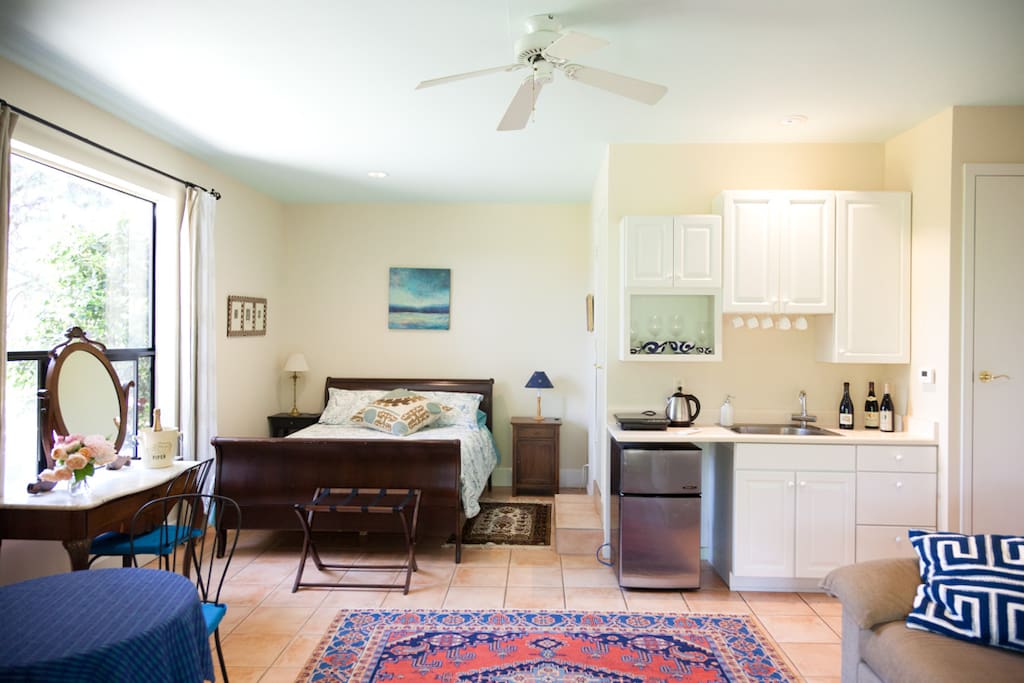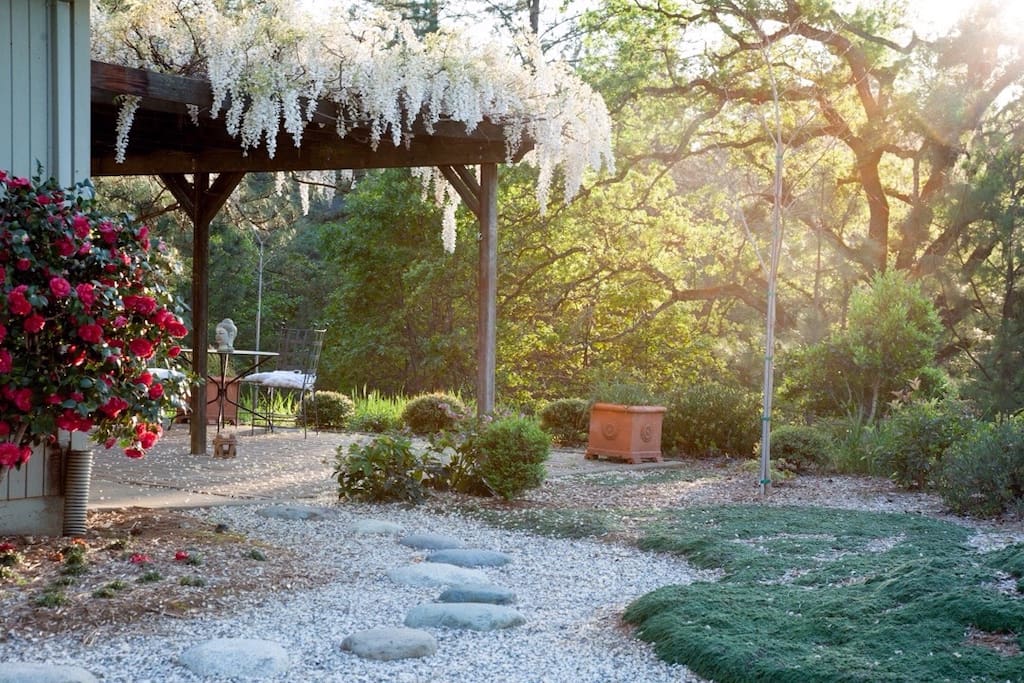 Romantic getaway or personal retreat - a private studio with patio. Japanese garden now blooming. Comfortable queen sleigh bed, 1/2 kitchen & in house espresso. Natural light. View to the lake, meadow & US Forests. French doors to patio for dining, recliner and hammock for relaxing. Wisteria pergola. Nearly carbon neutral in a highly energy efficient home. Small but beautiful local food and wine scene & agri tours. Yuba river hiking, Lake swimming. Yoga optional ;) Tesla charger. All welcome.
房源
The studio apartment adjacent to the house is private with it's own access and patio with shaded wisteria pergola. The room is spacious and cozy, 18' x 18' with a good ceiling height. You may hear many natural sounds, Canada geese, bull frogs, barn owl and coyote's when its a full or new moon.
Induction single burner cooktop, kettle
Coffee, Bodums and teas in your kitchen area. Nespresso and milk frother, microwave & convection in the shared laundry area one step from your room. Electric Grill on the patio. Cooking pots, pans and all equipment and seasonings & slow cooker in the cupboard.
Thursday - Sunday, Herve our local Patissier, offers croissants to rival Tartine, and we deliver them to your doorstep around 9 am, complimentary first morning. You choose from Frangipane (almond cream), Pain au Chocolat or plain and pre-order.
Fresh raw milk straight from the cow daily next door. Authentic Italian wood fired pizza for Friday delivery. Awesome local bread fresh Saturday noon delivery.
Sofa (not a sofa bed) sleeps a small person, 5'5'' or so, or ask for my Indian camp bed, which is FIRM for a third person option.
Beautiful views of a pastoral meadow and small lake/very large pond below. A Japanese strolling garden wanders around the house adding a serenely Zen beauty. Camelias flowering February - April, wisteria later March - April.
The green thyme ground cover changes to a mass of pink flowers with butterflies and honey bees during June & July. White crepe myrtle blooming in August. Big sky with Tahoe National forest on the horizon. November and December olives are harvested all around us and you can tour Apollo Olive Oil's exceptional press facility and purchase world class oils. Organic Persimmon & Sweet Chestnut orchard on the property, harvesting October & November.
Walking distance to Clos Saron Winery and Grant Marie Wines, and superb local olive oils (appointments to taste).
Working craftsmen share the five acre property in a separate wood-shop making beautiful pieces from recycled wine barrels. Occasionally there is machine saw or sander noise. If you need quiet, please just politely request that and we can arrange it!
Rices' Crossing Road is below but it's not a highway, the traffic is low to medium volume and the speed is supposed to be 35 max.
房客使用權限
Japanese strolling garden, it's auspicious to walk around the full circle at least once! Deck views of meadow out of yoga class time. Lie on the Deck to see the glorious stars away from city lights. Follow the paths you find. Ask me for morning/evening walks/jogging advice.
Yoga classes ($10) in the Laskhmi Home studio - Beginner level:
Mon 9.00am - 10.30 am, Tues 5.30 pm - 7.00pm, Thurs 9.30 am - 11.00am
Private class or practice time by prior arrangement. Mats, blocks, belts, blankets and wall ropes available. There are usually no classes scheduled on the weekends.
Tesla charger is $10 per overnight.
Local chef will deliver meals if you desire, ask for email menu. Raw cow or water buffalo milk available for purchase on neighbors farm locally daily most months. Bring a take home bottle or I can lend you one for your stay.
Laundry is shared washer, dryer, iron & board, sink and outdoor clothes line.
與房客互動
Some when not teaching yoga. If you wish complete privacy for a personal retreat, just let me know. Or, let me help you book for restaurants, tastings, massage or other excellent local therapies.
Likely I will be here, some weekends I am away taking yoga teacher training. Happy to try to answer any questions you have.
其他注意事項
T-mobile and a few other urban carriers have no reception here.
Low impact pet visits OK. Please add a $10 post pet cleaning fee if you bring a pet.
My cat can handle a short term other pet visit, but no dogs that chase cats thank you.
Well water is fine to drink from the tap, the house water supply is ozone treated and filtered for sanitation.
Be aware of poison oak & avoid contact when hiking, and check your body (and dog) and clothes for ticks. Put hiking clothes in the dryer or washing machine after to be safe.
Street address works for courier deliveries, otherwise please ask me for my PO Box as there is no USPS street delivery.
All are welcome who respect the rules, care for the space and are honest.
I live quietly and don't appreciate loud music (or shouting), although the apartment has some soundproofing. Nice if you don't create much dust in the driveway, and take care of other vehicles when entering and exiting. Let me know of any damage or breakages and please pay for these.
Cooking - no extractor fan, so for the next guests, please take it easy with raw garlic etc.!
Please wash your dishes and leave the room tidy to help keep the cleaning fee minimal.
Pets - please leave $10 additional to cleaning fee.
Towels for going swimming in the wardrobe. Please return them!
Please ask me before you borrow any other items.
The apartment and patio are your private space during your visit, however if for any reason it is necessary to check something for safety, security or wellbeing, I will ask your permission to enter therein.
No third party bookings, if you are not coming to stay, please ask those who wish to book to do so via their own account, or open one to do so.
您還必須確認
可能會有噪音 - Very occasional machine saw noise in the wood shop. If it's a problem let me know.
房源內有寵物 - Cat lives in my house. Does not go into your apartment unless you want him to!
需要共用部分空間 - The laundry is shared with me in the main house. Welcome to the washer/dryer, Nespresso machine, iron & board there.
Originating from New Zealand, like most Kiwi's, I love travel. Having lived on five continents, I settled here at this address in Oregon House 19 years ago. My property is almost carbon neutral and I can show you the energy efficient measures that made this possible. As well as the Japanese Strolling garden I have a collection of deer-proofed old English and French roses which I hope you can enjoy blooms from in your room. I enjoy Indian classical music. I am friends with local vintners as I spent five years working at Renaissance winery.
At the entry to my driveway you see "Pax & Copia" which means Peace & Abundance, two of the Hindu goddess Lakshmi's attributes which I hope you too may find daily. It is also the motto of my families' name, Reid.
I am a longtime student of Iyengar yoga, and more recently became a Hatha Alignment Yoga Teacher with 500 hours training.
We have three yoga classes a week here in the Lakshmi home studio.