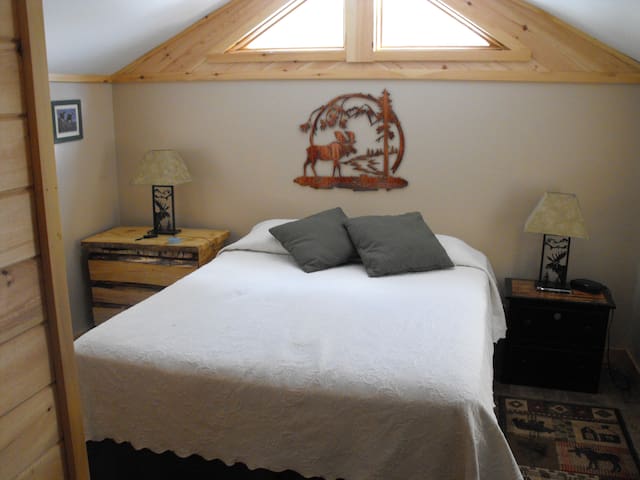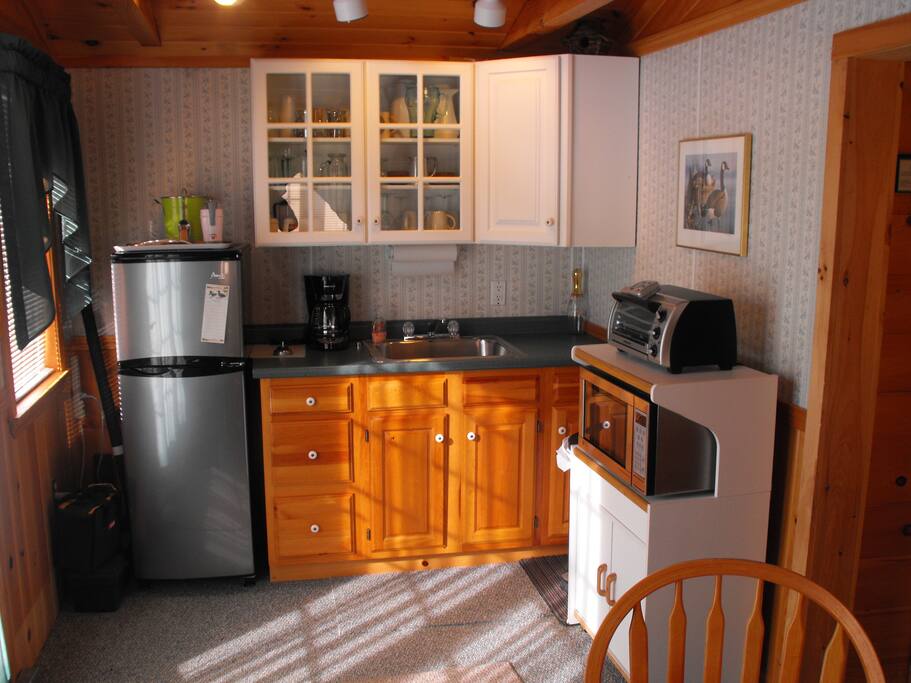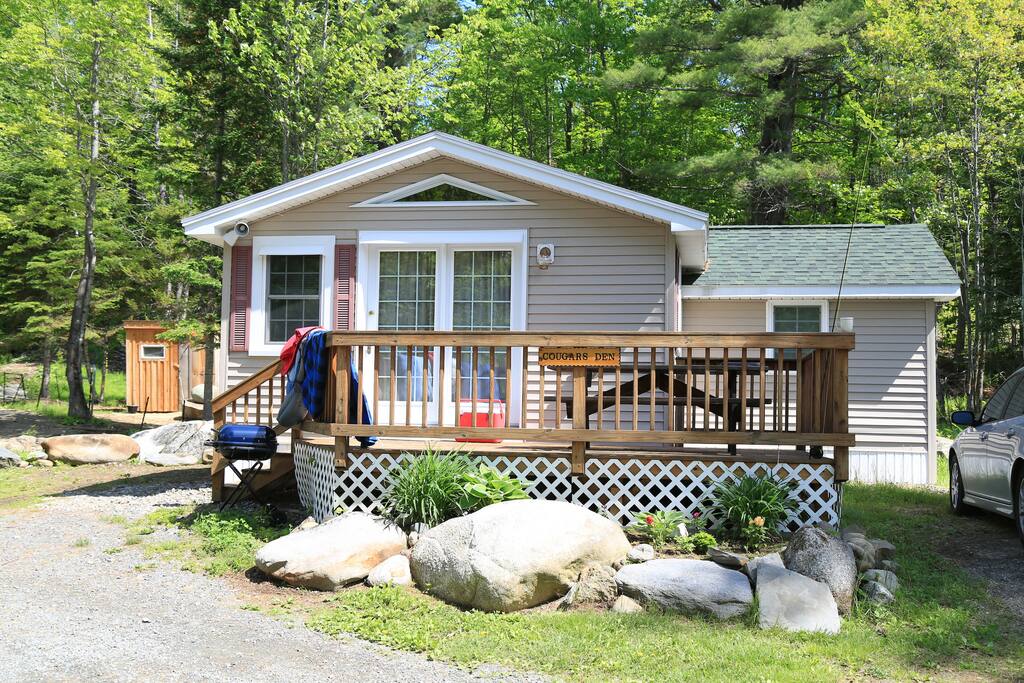 COUGAR'S DEN
Three rooms with ¾ bath (shower only)
Master bedroom with queen size bed, Bunkroom – twin size bunk beds
Full kitchen with table and 4 chairs, stove, microwave, coffee pot, full size refrigerator
10 X 14 Deck, Charcoal grill, AC
房源
Enjoy the fishing, hunting, wildlife and the great outdoors in the Western Mountains of Maine.
Fox Carlton Pond is a private 5 acre trout pond located on 63 acres. Our property runs beside 3800' of Sandy River waterfront.
We welcome sports people, weddings, reunions, company outings and those who just want to get away.
We have RV sites, 4 cozy cabins and one guest room with views of the pond. Each cabin has a bathroom with shower, refrigerator (mini up to full size), microwave, toaster, coffee maker, outdoor charcoal grill and picnic table. Come for lodging, leaf peeping, fishing, bear hunting, deer hunting, rabbit/hare, turkey, partridge or moose hunting, ATV riding, hiking, mountain/ road biking, swimming or just a peaceful getaway. We have direct trail access and plenty of parking for vehicles and trailers. Come visit the great outdoors of Maine's Western Mountains and stay with us.
房客使用權限
As our guest, you will have immediate, exclusive access to our private 5 Acer Pond and amenities. You will enjoy complimentary use of our kayaks, Canoes and fire-pit, Adirondack chairs, Charcoal grill, boat dock, and picnic table.
All linens are provided to include bath, hand towels, and bed linens.
其他注意事項
We are located less than two miles from downtown Phillips. The quaint village boasts numerous sights and activities, from shopping and antiquing, to museums and historic sights. The town is equipped with a local grocery and farm-stand for necessities and delicious fresh produce.
Our property is situated within 10 miles of several hikes - Smalls Falls, Angel Falls, Bald Mountain, the Appalachian Trail - ranging from easy day hikes to advanced multi-day excursions. Both Route 4 and Route 17 leading to our property are National Scenic Drives, with picnic sites, scenic overlooks, and moose spotting a-plenty.
..the region is known for its abundant landlocked salmon and brook trout. Whether dedicated fly fishing, leisurely boat trolling, or throwing a lure in off our dock, you're bound to enjoy the experience.
---
---
FOX CARLTON POND SPORTING CAMPS
RULES & REGULATIONS
The following rules are intended to provide an enjoyable outdoor experience for you and your neighbors. Parents are expected to inform their children of these rules and are responsible for their supervision. Violators of these rules will be asked to leave the premises without a refund.
1. REGISTRATION: All campers, visitors, guests and pets must immediately register at the office upon arrival and/or prior to entering the grounds, per Maine State Law. All fees must be paid in advance. Registered campers are responsible for ensuring their visitors, guests have properly registered in the office, and that all campground rules and regulations are followed. You must have at least one person in your party that is age 21 or older.
2. SPEED LIMIT: 7 MPH! WATCH FOR CHILDREN AS YOU DRIVE THROUGH THE AREA.
3. CHILDREN: Parents are responsible for the actions and safety of their children. No rock throwing anywhere on premises. No bicycling after dusk on any campground road. Children are to be at their site by 8:30PM and not to be left unsupervised.
4. RENTAL UNIT CHECK-IN TIME: 3:00PM / CHECK-OUT TIME: 11:30 AM Please note we do not allow pets or smoking in any of our rental units.
5. CAMPSITE CHECK-IN TIME 2:00PM / CHECK-OUT TIME: 11:30AM
6. RESTRICTED DOG LIST: The following dogs are not allowed on premises. Rottweiler, Pit Bull, Doberman, German Shepard, Boxer, Mastoff or any mix thereof. Bully breeds are not welcome at Fox Carlton Pond Sporting Camps.
7. PETS: Owners will be totally responsible for their pets at all times. Pets cannot be left unattended and must be on a leash. All pet litter must be cleaned up immediately. Noisy pets will not be allowed to stay, and only one warning will be issued prior to request to remove pet from premises. Please call in advance for specific breed restrictions. You are totally liable for your pet should there be any claim.
8. CAMPFIRES: There are no campfires allowed except for the common area fire pits. Flame must be kept under 2 ft. high. Wood must fit within the fire ring.
DO NOT MOVE FIREPLACES: Never leave a fire unattended even of a few minutes. Also, it has been our experience that glass and metal do not burn, so please do not put them in the fireplaces. Please do not peel the bark from Birch trees. It will kill them.
9. FIREWOOD/TREES: Firewood is sold at the office. No cutting of trees/firewood is allowed in the campground or adjoining properties. Please do not drive nails into, or disfigure trees. Additionally, please do not tie clotheslines to trees or shrubs. Firewood is no longer permitted to be brought in to the state of Maine, per Maine state law, and must be purchased within 50 miles of location to be used. For further information, go to (website hidden).
10. SINK (GREY) WATER: The discharge of grey water into the environment has been found to be a significant risk to public health. Grey water can have a population of bacteria approaching or exceeding the populations of black water. Health Department regulations do not permit draining sink water on the ground or into open containers.
11. BOATING: No motor operated boats (gas or electric) are allowed in the pond.
12. GARBAGE: Please bag your garbage and use the can nearest to your site. Only household generated garbage should placed in the cans. Broken furniture, grills, rugs, etc. are not considered household trash and should be taken with you. This is our home and we take pride in the cleanliness of our area. Please do not litter. This includes cigarette butts and cigars.
13. SWIMMING AREA: The swimming area closes at dusk. No diving in swimming area. No glass containers allowed in swimming area. No rock throwing. Swimming is at your own risk, and children 14 years old and under must be accompanied by a parent.
14. CAMPING VEHICLES: Always use septic chemicals in your toilets and holding tanks. Never dump directly onto the ground. Washing automobiles, ATV's, motorcycles, or camping vehicles is forbidden on site. NEVER PUT ANY KIND OF WIPES, TAMPONS, PAPER TOWELS INTO YOUR HOLDING TANK.
15. QUIET HOURS: are from 9:00PM to 8:00AM. During the day, noise must not overflow into other campsites. If you plan on a late night party please do not register.
16. RADIOS/TV'S: or VCR's are allowed but must be inside an RV or Cabin.
17. PICNIC TABLES & GRILLS: May be provided and must not be moved.
18. DISCHARGE OF FIREARMS, FIREWORKS OR SPARKLERS IS PROHIBITED. EXCEPT IN DESIGNATED AREAS.
19. DRUGS, PUBLIC INTOXICATION, LOUD OR PROFANE LANGUAGE WILL NOT BE TOLERATED. ANY INDIVIDUAL OR GROUP WILL BE ESCORTED FROM PREMISES BY OWNERS, OR FRANKLIN COUNTY SHERIFF'S DEPARTMENT.
20. Please respect the privacy of others. Do not walk through any occupied site.
21. FOX CARLTON POND REQUIRES VISITORS TO PURCHASE A FISHING PERMIT. Permits are $15 for a half day and $20 for a full day. 1 (one) PM make the end and beginning of the half day. Permits can be purchased at the office.
22. CAMPING EQUIPMENT: We allow only one RV and no more than two camping units per site. You may have an RV and tent on a site, a pop-up and a tent, or two tents maximum per site.
23. Campground owners are not responsible for loss, damage or injury to persons or property. Guests also certify that all motorized vehicles, including but not limited to ATVs, golf carts, motorcycles, cars, trucks, RV's are properly insured.
24. ORDINANCES AND STATUES: Guests shall comply with all statutes, ordinances and requirements of all municipal, state and federal authorities now in force or which may hereafter be in force, pertaining to the premises, occasioned by or affecting the use thereof by Campground Owners.
25. RIGHT TO TERMINATE: The campground owners have full authority to remove anyone from our property.
26. VISITOR FEE

There is a $5.00 daily visitor fee for all persons over the age of 3. If a visitor would like to fish in our pond then a fishing permit from Fox Carlton Pond Camps would be in addition to the daily visitor fee.
4-hour fishing fee is $15 and full day $20. Fox Carlton Pond is a fly fishing pond only.
THE ABOVE RULES WERE COMPILED FOR EVERYONE. PLEASE OBEY THEM AND HAVE AN ENJOYABLE STAY.

WE APPRECIATE YOUR BUSINESS
---
We love getting to know our guests! We live on site and are happy to provide directions and guidance to local attractions and excursions, but will also completely respect your privacy. We will be there upon your arrival to show you the property and answer any questions you may have.