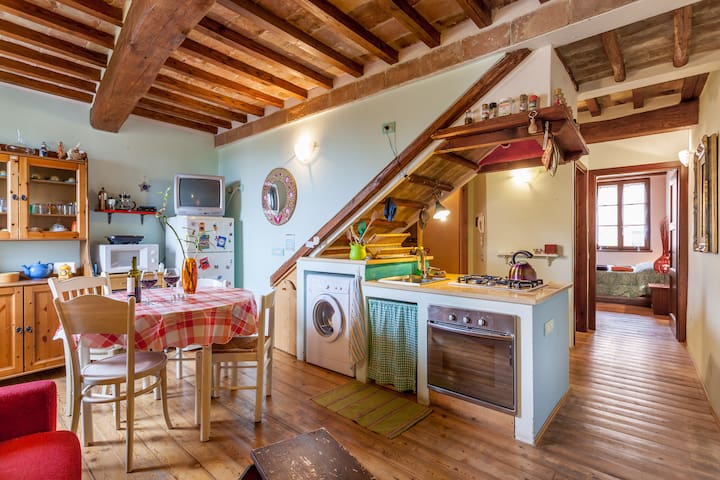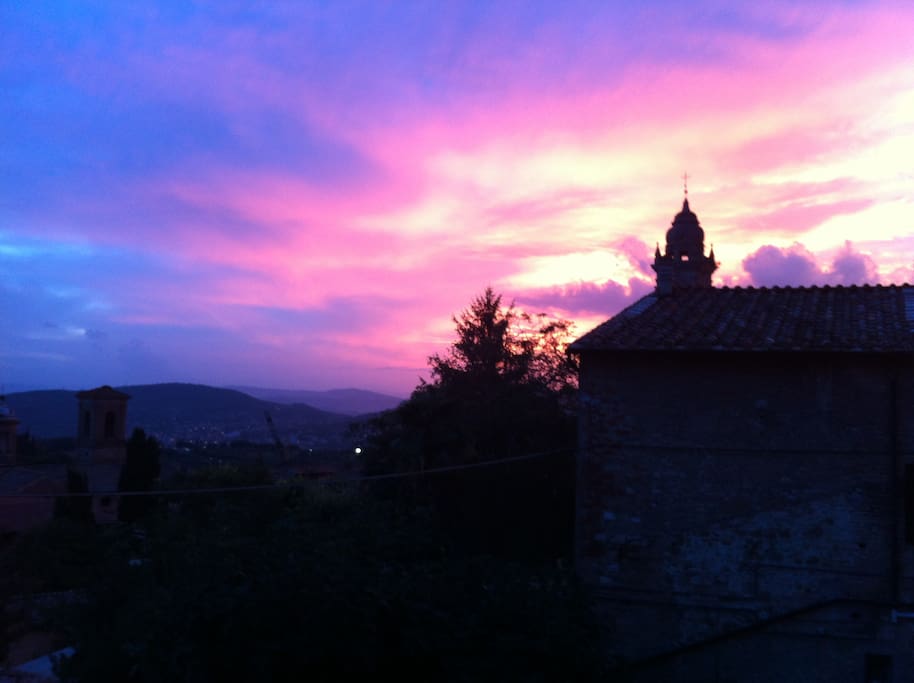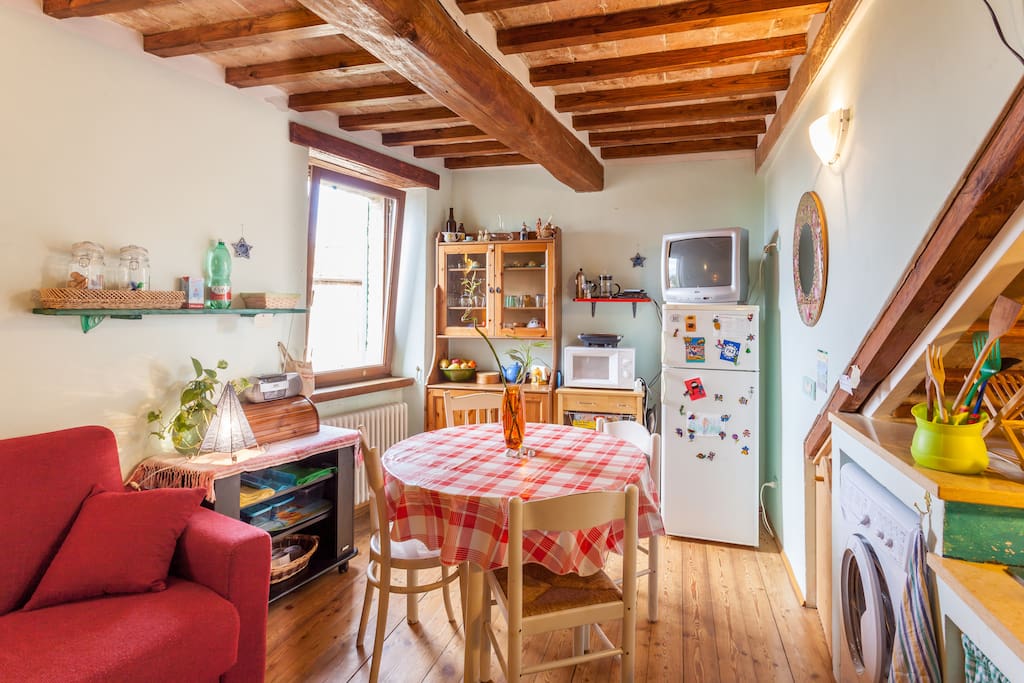 房源
位於二樓的全景公寓,明亮而安靜,木地板,雙層玻璃,由安吉洛和他父親翻新,集中供暖,包括一間配有全新大號床(160x190cm)的雙人臥室;對於小孩子,我們有一個嬰兒椅和一個帶嬰兒床床和枕頭防窒息的露營床;浴室;廚房和客廳配有一張新的紅色大號沙發床(160x190cm)。 公寓有新的免費無線(Line Telecom Fibra 100 MB),電視,收音機,風扇,洗衣機,內部和外部乾燥架,吹風機,烤箱,微波爐,攪拌機,烤麵包機,菜餚。我們為您服務各種基本香料(胡椒,鹽,粗鹽,糖,咖啡,茶,洋蔥,大蒜,辣椒等)以及我們生產的特級初榨橄欖油和醋。我們還提供床單,毛巾,衛生紙,肥皂(手和菜)等。 位於城市中心的最具特色的社區之一,附近有許多設施,包括一個小型的當地超級市場,幾乎在公寓前面的小型電影院,葡萄酒商店,餐館,比薩餅店和外賣店等。公寓位於聖安傑洛港(Sant'Angelo),Tempio Sant'Angelo,Arco Etrusco和Universitàper Stranieri之間(步行5分鐘),方便客人搭乘公共交通工具(巴士和機場)。 Corso Vannucci(老城區的主要街道)步行5-10分鐘。 這間公寓是欣賞美麗日落的理想場所,同時享用一杯葡萄酒。 我們的房子位於有限的交通區域(ZTL)。從星期一到星期六可以從(電話號碼隱藏)訪問,而星期天從(電話號碼隱藏)打開。 停車處: 免費:在Porta Sant'Angelo外面有5分鐘步行路程,有一條可以停放的街道(通常沒有發生)。 否則,車庫Sant'Antonio有停車費(步行5分鐘),但靠近中心。價格是每天16歐元 每小時1.40歐元。無論是通過ZTL,都可以達到這兩者。 如果你乘火車到達: 您可以坐車站外的C巴,停靠在Fortebraccio廣場,幾乎位於每個Stranieri大學前面。尋找Corso Garibaldi,這是大學旁邊的街道,我們的房子走了兩分鐘。 我們可以提供您需要的任何信息來度過愉快的時光。
Panoramic apartment on the second floor, bright and quiet, wooden floors, double glazing, refurbished by Angelo and his father, central heating, consisting of a double bedroom with a brand new queen-sized bed (160x190cm); for the little ones we have a baby chair and a camping bed with a baby cot mattress and a pillow anti-suffocation; bathroom; kitchen and living room with a new red queen-sized sofa bed (160x190cm).
The apartment has new free wireless (Line Telecom Fibra 100 MB), TV, radio, fan, washing machine, interior and exterior drying rack, hair dryer, oven, microwave, blender, toaster, dishes. We put at your service various basic spices (pepper, salt, coarse salt, sugar, coffee, tea, onions, garlic, chili, etc.) as well as extra virgin olive oil and vinegar produced by us. We also provide bed linen, towels, toilet paper, soap (hands and dishes), etc.
Located in the heart of the city in one of the most characteristic neighborhoods, with many amenities nearby, including a small local supermarket, a small cinema almost in front of the apartment, a wine shop, restaurants, pizza places and take-away etc. The apartment is located halfway between Porta Sant'Angelo, the Tempio Sant'Angelo, the Arco Etrusco and the Università per Stranieri (five minute walk) and is easily accessible by public transport (bus and minimetro). Corso Vannucci (the main street of the old town) is a 5-10 minute walk.
This apartment is an ideal place to appreciate beautiful sunsets while enjoying a glass of wine.
Our house is located in a limited traffic area (Z.T.L). It can be accessed from Monday to Saturday from (phone number hidden), while Sunday is open from (phone number hidden).
Parking:
Free: there are two options 5 minute walk just outside Porta Sant'Angelo, there's a street where you can park (usually nothing happens).
Otherwise, there's the garage Sant'Antonio with a parking fee (5 minutes walk) but closer to the center. The price is €16 per day and
€ 1.40 per hour. Both can be reached without passing through the ZTL.

If you arrive by train:
You can take the C bus outside the station, stopping at Piazza Fortebraccio, almost in front of the Università per Stranieri. Look for Corso Garibaldi, it's the street next to the University, our house is two minutes walking.

We are available to provide any information you need to have a great time.
---
---
---
Please leave clean and moderate noise during the night.
---
---
Da Sara e Angelo chi ci va non ne voule partire! Gentilissimi, disponibilissimi con la casa esattamente come e' descritta, pulitissima, in pieno centro storico di Perugia, con una vista meravigliosa, che non vuoi andar a dormire per non perdere un minuto da essa! Ma le parole non bastano per descriverne la cortesia e il calore amichevole di Sara oppure la capacita' di Angelo a prevedere di quello che hanno bisogno gli ospiti. Persino prorpie verdura fresca e buonissimo olio fatto dalle mani di Angelo dispone la casa. Noi abbiamo goduto il suo te' e ne abbiamo bevuto alla sua salute! Siamo stati a casa di Sara e Angelo come se fossimo a casa di buoni parenti! Ve la consigliamo in modo asoluto! Anzi, chi va a Perugia e non ci va da Sara e Angelo sicuramente perde! Grazie ragazzi di nuovo!
---
This is a great apartment. We were a party of 2 and stayed here 6 nights. It was close to all the locations we wanted to visit (on average an hour or less to Assisi, Orvieto, Montepulcino etc.) so it was a perfect spot. It was also close to down town Perugia, easy walking distance to main square and restaurants. Sara and Angelo thought of everything when they equipped this apartment. They even supplied us with a platter of delicious fresh vegetables and home made olive oil and balsamic vinegar from Angelo's parents farm. So good, was a real treat. Any questions we had were answered quickly, they live upstairs so they were there when we needed advice. Lots of towels, comfortable beds, quiet location. Would not hesitate to book this apartment again.
---
Sara and Angelo have a beautiful apt with amazing views. They were so helpful and left us beautiful fresh vegetables from their garden. We were able to wash our clothes and enjoyed being in such a special place. We have stayed in many air bnbs and this was definitely one of our very favorites. Sara and Angelo were so responsive and accommodating. We highly recommend them!
---
Sara and Angelo's apartment is situated in a quiet, cool residential area just beyond the city centre. It's a pleasant walk away from the hustle and bustle of the centre affording great views over the city. Quiet and safe at night and shaded by day, we enjoyed retreating to it after our busy days of sightseeing. The apartment itself is comfortable, well-stocked, cosy and ideal for three, possibly four. Sara and Angelo were charming and helpful hosts and answered our questions fully and graciously. One evening they were kind enough to return from their supper out to let us back into the apartment when we had left the keys inside! Perugia is well worth a visit as is Sara and Angelo's recommended restaurant Il Giardino on Corsa Garibaldi ( the street where the apartment is situated).
---
Sara und Angelo begrüßten uns sehr herzlich. Die Wohnung ist fantastisch. Dies ist Airbnb höchster Standard. Die Wohnung hat sehr viel anzubieten, ist sehr schön aufgebaut, familienfreundlich und sehr liebevoll mit vielen schönen Details gestaltet. Zudem ist die Wohnung zentral gelegen und ein kostenloser legaler Parkplatz ist nur 5 Gehminuten entfernt. Wir können diese Wohnung nur weiterempfehlen und würden jederzeit wieder hierher kommen.
---
Thank you for welcoming us in Perugia! Especially for your patience with our arrival issues. Sara and Angelo helped us a lot to find our way to their home that is situated in a narrow street and has an amazing view. Perugia is a charming old city, but very steep and with very, very narrow streets, a lot of them oneway drives or only for pedestrians. What is very appreciating to take stunning walks, but you should have this in mind if traveling by car. The apartment of Sara and Angelo was just *****!
---
We are Sara and Angelo, I'm from Mexico and Angelo from a small town in Umbria with three hundred people.

I came to Perugia for my master degree in anthropology and Angelo is passionate of agriculture, especially he likes to do oil and wine.

Both of us love nature, cooking, traveling and picnics, as well as watching movies and listening to music.

We really like to meet people from all over the world and share the beauty of life.

語言:
English、Español、Français、Italiano