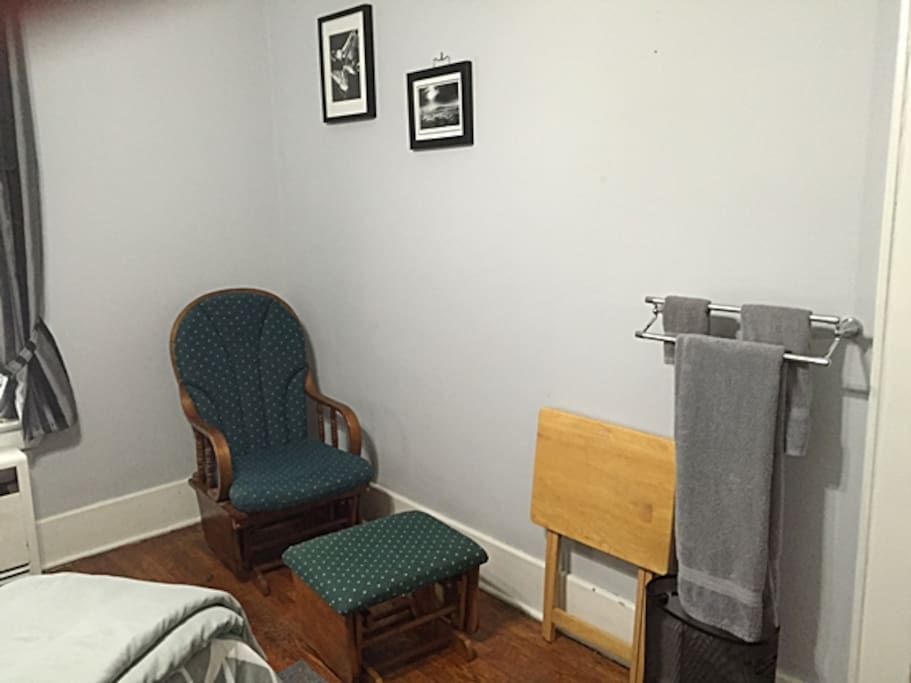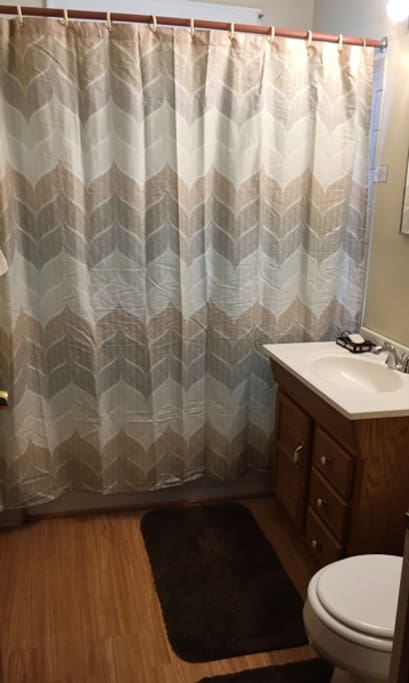 Calming room with large closet
This room has high ceilings, hardwood floors and a door mirror at the opening of a larger walk in closet. You have your wifi/laptop station, recliner night stand with lamp and storage in a space below. You'll have clean towels for your use. Wifi is in every room, samples of Shampoo, tissues and more come in a basket for your use. Check out photos of our fully adpatable kitchen without any conventional stove!
---
---
---
---
Respectful guests are our best, who also like to share conversation. Students, nurses on internships or professionals in transitions or relatives visiting others for events. We don't allow overnight guests under any circumstances.
Being an energy conserving household, we ask that guests take only one shower per 24 hour period. One either in the morning, for example or the evening, but not both. Our very affordable rates offer clean , usually quiet and accommodating surroundings, and our practice of conservative water and electric practices, helps keep our air bnb affordable and our place a contributor to needed resource conservation. It also help contribute to world reserves.
---
---
---
---
Perfect place in a quiet neighborhood for a brief overnight before an early morning flight! Convenient location makes going into town or to the airport a breeze. Loved the nice firm mattress with comfy bedding options, calming color scheme, and a cute little desk that was great for getting some work done. Friendly and communicative host. All around great spot if you need to be near the airport and downtown!
---
This was my first time using Airbnb very economical, will use it again . The room was neat and it looked exactly as it does on the picture . The mattress could've been more comfortable however the room work for me , I was only there a few hours at night to rest . I liked the fact that when I would come in late at night the back door entrance was well lit .
---
Value is probably about right. You're getting what you pay for. No frills. A fairly stiff uncomfortable bed. Spend $100 and get a twin memory foam from Walmart. Only one shower a day. The host charges for off street parking at $5 a day There was too much in way of rules and oversight of my actions. There are several signs around the bedroom and bathroom stipulating rules such as only one shower a day, or don't flush the toilet too many times or we'll charge you. Also, note that there's no AC in the room, which is more of a shame on me for not checking the listing. Luckily it cooled off pretty well at night, and there IS a ceiling fan in the room. For a couple that has run hotels, their space and vibe certainly didn't feel hospitable. On the first day, as I was leaving the host interrogated me on whether the shoes I was wearing I had left at the door previously (no shoes in the room at all), and also stood and watched me to make sure I locked the rear door correctly. Seriously? Again, for a couple that's been in hospitality, there's a lot to be desired in terms of a warm and inviting vibe. Minimize the signs around the house. Don't set rules for the shower or the toilet. The host needs to understand that there's a level of maintenance and regular wear and tear that comes with hospitality and real estate that you just have to deal with. it's part of the business. Up the listing by a dollar, and take down those signs. Or at least change the messaging to be more inviting.
Thanks for feedback, Jason. Regarding room signs, lots of people have appreciated tips that help us keep our prices low. No shoes in the rooms just helps your breathing too and keeps bacteria low. To check for a locked door is protecting our guests safety, sorry that it seemed overbearing to you as it's really an attention to safety for you. We do advertise that we have no AC so that I find it in necessary for you to mention it in the review. We clearly state no AC and that ceiling fans do the cooling. If you absolutely need AC of course , you are welcome to book somewhere else as we make no false pretenses. We have had most everyone but two guests feel good with the beds, but I'll take it upon investigation to see if another mattress might be better for one room and then offer the other room with a firmer mattress. I remember talking to you and being very interested in your mission here when you came in. I find that your comment that we didn't put out " an inviting vibe" is pretty much contradictory to 95 percent displayed in reviews found. Wear and tear is certainly an accepted part of our business , but common conservation is a principle that we clearly enforce in the profile to preserve this earth we live in. But you have a point , the price is low and if you want to burn resources and have luxury beds , you can go to a hotel -- from $70.00 , here you keep some money in your pocket and save 1/2. I think you might be happier in a hotel and we are sorry that our space did not meet more pricey standards. Thanks for the feedback !
---
10 min away from Syracuse airport. Very clean and a pleasant stay! I'm not someone who deals too well in urban environments, but Diane's place was a comfortable shelter that I enjoyed. Thank you!
---