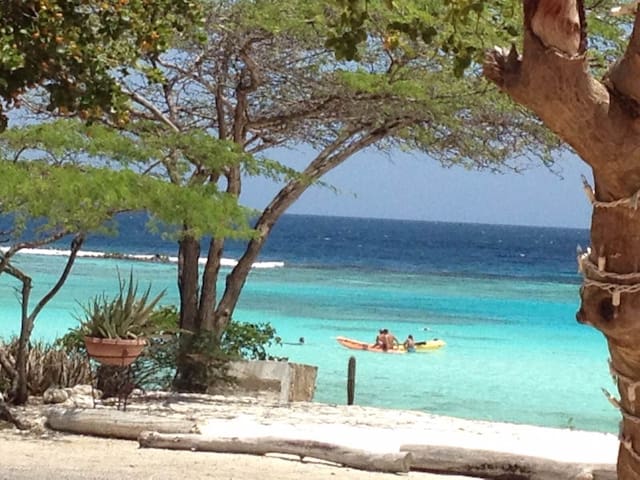 Explore the wonders of Aruba, staying right on the most preserved beach in Aruba. Our lovely apartment gives you the true Caribbean experience. waking up to the ocean washing up on the rocks just waiting for you to plunch in and start your adventure.
---
The spot was perfect - not too big, not too small, with everything we needed and nothing more. I loved that the sleeping area had a/c which kept us cool when inside. It's located in a lovely backyard courtyard (with another units, which we weren't expecting but wasn't an issue). The location itself is in a different area than the hotel row - more off the beaten path, which we loved. I recommend renting a car in order to explore, but you don't need one if youre looking for a lowkey vacation (there's a private beach across from the house and a little grocery store in walking distance). Will definitley be coming back when we can.
---
If you enjoy simplicity, pristine ocean views, snorkeling, lazy afternoons in hammocks with birds and iguanas and lizards and tortoises all hanging out with you, then you will love this place. You can really feel time slow down and all of your cares melt away. John is the host here, and is a fabulous one, at that. You can tell he enjoys greeting each guest and making them feel welcome. He will share tips about the area, and maybe even make you a delicious cup of coffee. My favorite quotes from him are, "Nothing is too much trouble in Aruba." And, "You do not complain when you are living in paradise." He will be sure to say hello or wave each time he sees you and check to be sure you are having a good time. The ocean view here is incredible. You will be able to relax on one of the many chairs and chaise lounges at the oceans edge and enjoy the view of the water and the amazing sunsets. If color inspires you, your eyes will never cease to find your favorites among the many blues and greens of the sea and sky, and the warm hues in sunsets and flora. There are several ladders, a dock, and a sandy beach just a short walk away for your choosing a how you'd like to enter the cerulean waters. If snorkeling and exploring the ocean floor is your thing, you will find that John has the gear all ready and waiting for you at your unit. He also has tips about where to go for the best underwater sights. And if you are timid about snorkeling, he may even be kind enough to offer to take you on a short guided excursion so you do not miss the beauty of the snorkeling in that area. The water is so clear! The ocean life is so colorful! There is even a sunken ship out in the deeper waters. There are several units that have a common courtyard in the back of the main home. Here you can enjoy time in the shade of a giant Watapana tree or under one of many canopies. You'll be surrounded by many orchids, Bougainvillea, and other lovely flowering gardens. You can choose to meet some of the other guests and share stories, or enjoy privacy. We always felt we had our own space, but could visit with others when we chose. We were concerned about the comments regarding mosquitos, but we came armed with repellant and only really noticed the mosquitos out in force when it was a still day with no breeze. Even then, the repellant worked and did not keep us from enjoying the outdoors. With this unit there is a small kitchen that is outside the sleeping and lounging area -- just off of the lovely wrap around porch. It's actually very practical, as any heat created from the little 2 burner stove top stays outside. There is a small...
---
We could be more happy with the location and beach in Savaneta. We had a rental car, and went all over the island, but it was really hard to find better and more accessible snorkeling than what's right out in front of the house. The house had cold air conditioning, which helped us sleep, and the kitchen and outdoor space was pleasant. We spent most of our time either on the move or sleeping. Our advice is that you use some of the money you save over a resort or hotel to rent a car and get out. Go to the park, go to the lighthouse. Spend some time at the museums in Oranjestad. There's a lot to see. When you get tired, just chill out in front of the house in the water or collection of chairs on the beach. Perfect stay.
---
We loved staying at Alessandra's place! Such a beautiful setting for our first stay in Aruba. We had perfect accommodations with an air conditioned bedroom and island breezes surrounding us in the kitchen and courtyard. A lot of thought and care went into making such a beautiful place for us to enjoy. The Spanish Lagoon is right out front and perfect for snorkeling or wading in the crystal clear water. Marie was such a delight and we looked forward to our conversations with her. She was there each day to make sure we were taken care of. We truly were able to relax and refresh our souls. I highly recommend this spot for those who are looking for a true "happy island" experience. When we come back we will stay at this beautiful tropical paradise! Thank you for such a memorable and wonderful vacation!
---
If you like private beaches, quiet, solitude, and calm than book this place right away! We LOVED the location - in the community of Aruba not the hectic area of the high-rise hotels. It could not be more perfect. A few things to know: - the place is not on the waterside of the road. That is, you can't see the water from the courtyard or your room. You walk a few steps down a little path and across the road (light travel, no problem with that). Then you'll find a little sand, large beautiful rocks and a jump (or steep ladder) right into the most crystal blue ocean. -there is no hot water. But for some reason you don't really need it. The water isn't freezing cold - it's just the perfect temperature. -there were a few four legged visitors in the outdoor kitchen (it is an outdoor kitchen after all) so keep all food in the fridge. -you will need a rental car. Which is great! Check out the national park, the aloe plantation, visit lots of different beaches, then come home to your "house" -there's a small grocery store walking distance. Really....if this place is available, book it. Be ready to exhale deeper than you have in a long while.
---