魅力与和平在马利布山!老式的家庭,美好的地方忙碌一天后休息你的头在周边地区 洛杉矶和Malibu。探索葡萄园,海滩和我们非常附近的国家公园(3!)
我们提供的阿古拉山/马里布山的非建制地区在一个不错的3级家用的房间。房间是在第三级,并从房子的其他部分提供隐私。还有三楼的大型电视室以及,深受大家共享,具有巨大的沙发,55"LED三星电视。房间本身包含一个小梳妆台,书桌和2个双人床的一张床是一个完整的,另一种是双胞胎,最适合一对夫妇带一个孩子。你将有浴缸和淋浴一楼以及进入三楼一间共用浴室自己的私人浴室,厨房位于一楼,是新用大理石台面和新设备改造。我们提供的早餐食品,咖啡和各种茶为我们的客人。洗发水,提供化妆水和肥皂,还有吹风机,在你的私人浴室。 房子坐落在圣莫尼卡山脉,从101高速公路6分从太平洋海岸高速公路和马里布海滩14分钟。佩珀代因大学只有15分钟的路程。步行距离之内有两个新的酒厂名为"SIP"和"康奈",以及作为一个伟大的餐厅,被称为"老地方"。也有美丽的地方近加息。三大国家公园靠近,一是位于只是在街上。虽然有很多工作要做,面积和邻里是非常和平和安静。我们有一个大的,美丽的甲板是开放给所有的放松和来访。 允许吸烟以外,但不是房子内。 我们是三(妈妈,女儿27,儿子-29)的包容,温馨的家,并乐意与你谈论的地方和场所退房。我们也有一个名为IHOP和梅森两只狗,都非常旧,但很友好。 房子有一个游泳池,您可以自由使用,但是它不加热超过变暖盖等。在夏季,泳池很清爽了躺椅和漂浮在放松。在冬季,你必须非常勇敢,非常耐寒它游泳! 我们希望您和我们呆在一起,并期待着与您见面!
我们住在圣莫尼卡山的安静,安静的地区 - 酒厂和许多不错的餐厅,现场娱乐和购物10-15分钟的步行距离。 我们地区是著名的婚礼和我们有很多不离不弃,我们是在当地参加活动。 停车:停车是在大街上或在我们的门/家门前。 请不要在我们邻居的房子前面停放或阻止他们的车道。
Karen was an excellent host. She is a very kind and caring human being. She does her best to make your stay a comfortable one and she is great at doing it. This was my first time using Airbnb and it has been an incredibly positive experience thanks to Karen. The location is a 15-20 minute drive from nearby beaches and hikes and very close to charming restaurants and cafes. I would absolutely recommend this listing to anyone of my friends or family. And breakfast was amazing too! 5 stars!
Lane
2016-08-02T00:00:00Z
Thank you Karen & Chase for easing the pain of sending our youngest to college. Your warmth as a hostess was radiating from the moment we arrived (early) with 12 bags full. Andy & I really feel like we have friends in the Santa Monica mountains. We loved the room and the comfort of your home. You knowledge of the area was invaluable and I wished Andy had checked with you before we hit Decker Canyon Road, at night, after a long day. We look forward to another stay in the not to distant future. Stay safe and we will see you soonest. Warm regards The Q's
Debbie
2015-08-27T00:00:00Z
Only stay at Karen and Chase's place if you want a wonderful experience. I would go so far as to say this was the ideal Airbnb experience. This is a family home, using Airbnb to help pay the bills, and doing so with a warm and friendly experience. In all my Airbnb stays, I have never seen such an agreeable array of breakfast items made available. They had excellent communication beforehand, met us when we arrived, and recommended two terrific local places to eat. We could not have felt more welcomed. Understand that this is a bit out-of-the-way if you are trying to explore Los Angeles. You can get into Los Angeles from here (45+ minute drive), but I would recommend using it as a base to see the countryside north of LA. There is some fantastic nature nearby (take a drive or bicycle on Mulholland Highway), but you are near enough to "civilization" if you would like. Karen in particular has lived in the area for years, so she is a fount of information. My best recommendation is that many of her guests are repeat visitors.
Chip
2016-04-08T00:00:00Z
Chase and Karen have a lovely home. They are fantastic hosts and I recommend their place to anyone. Thank you Chase and Karen.
James
2013-08-03T00:00:00Z
Don't get me wrong. I love staying at an Airbnb that has good reviews, but there were so many great reviews for Karen and Chase that I thought it might be too good to be true! But after staying with them I can honestly say that all the positive reviews barely do them justice. My stay was amazing! I was in Malibu on business and needed a place to stay for a few days and Karen and Chase's place was perfect! The house was beautiful, clean, and she had more toiletries available and at my disposal than if I would have stayed at a 5 star resort. Every morning I left, there were fruit, bagels, hard boiled eggs, croissants, coffee, tea, and more left for me for breakfast. And they were beyond helpful with sharing with me how to get around and everything I could possibly need nearby. I think they are by far the friendliest and most helpful AirBNB hosts I have had to date and that says a lot because I use the site often. My bed was so soft and comfortable and I slept like a baby every night. Towards the end of my stay on the second to last night, I found out I had to leave a day early and wouldn't be able to stay the last day. Which to be honest would've been half a day, because it would've been my checkout day. But Karen, being such a sweetheart tried relentlessly to get the site to give me my money back (even after I told her it was completely fine since it was so last minute) and promised that if the site didn't end up giving it back to me if I ever come back that she would give me a free night! I have never had someone work so tirelessly to make certain I was happy, taken care of, and had everything I need. Karen and Chase should run a hospitality workshop for other hosts, because I have never been so well looked after in my life. I had such an incredible stay with them, that I've already started looking at vacation days so I can go back! Well done Karen and Chase! I'm thoroughly impressed and I will definitely be back!
Tiffany
2014-09-08T00:00:00Z
Karen était géniale ! Sa grande maison magnifique avec la piscine était belle et accueillante. Elle nous a fait se sentir comme chez nous, j'y retournerai volontiers si je retourne à Thousand Oaks
Amélie
2015-09-04T00:00:00Z
This is an ideal location if you want to visit the Santa Monica Mountains and the Malibu beaches. It is only about an hour away from LAX. We could have stayed another week because there is so much to see in this part of California. We took Karen up on her suggestions of some places for sight seeing like the Paramount Ranch, where many old westerns were filmed, and Malibu Creek State Park. Pack your bathing suit because there are swimming holes there. Karen was approachable, friendly, and accommodating. We felt very welcome by Karen and Chase and would definitely visit here again.
Katie
2015-02-21T00:00:00Z
Our second visit so far... Staying at Karen and Chase's is the same as 'coming home'. If you're looking for comfortable, safe and the reassurance you're being taken care of... then this is the pillow you want to place your head. The kitchen alone becomes a hotspot for conversation (great breakfast options with little snacks to accommodate). Plenty of 'comfy' seating options throughout (in and out of) the house. The grounds are very private. A nice place to relax!
Gary
2016-02-26T00:00:00Z
馬里布, 加州, 美國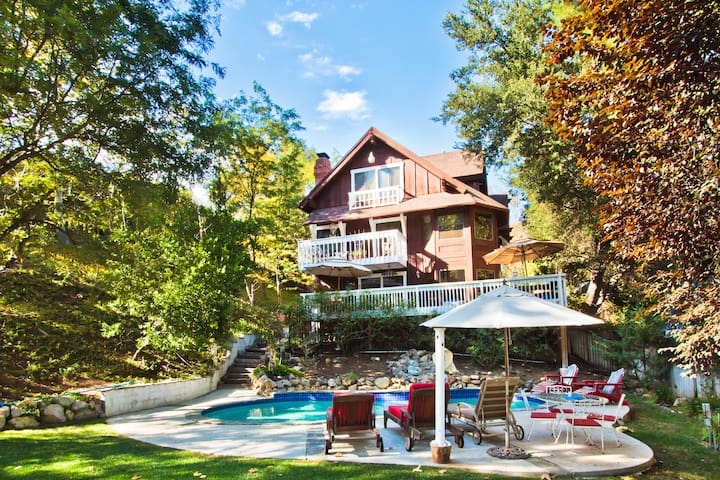 誰愛大自然和老式的美國標誌的人的獨特體驗。有點土氣,但大大有益的。請閱讀整個上市並查看豐富的圖片庫,以確定是否這個場地符合你的物質享受商。
山丘上與太平洋,卡塔利娜,聖巴巴拉島和聖莫尼卡山脈的壯麗360度的遠景,度過傍晚看日落了骨多的山,因為它漸黑。星星出來了millions-和你看的彗星和衛星從舒適的阿迪朗達克椅子開銷傳遞。 你退休以'ALUMILODGE'- 1957年AIRSTREAM22英尺飛雲舒適的半恢復內飾,並插入您的iPod到百色Acoustimas音響系統開啟時的你在一個葡萄園之旅獲得當地葡萄酒冷藏瓶子。扇子設置為您在板載廚房和燃氣灶準備一頓浪漫的晚餐。之後再看看銀河系,你退休的大號後床提供優質的床單和羽毛duvet-新鮮的海風太平洋您哄騙在寂靜中只有遠處偶爾貓頭鷹的叫聲"或土狼嗥叫破睡。你醒了體驗日出與我們的法式咖啡機和另一天在你無法想像的天堂是如此之近,又從洛杉磯至今。 該地區還提供葡萄園之旅,品酒室,一流的餐廳,徒步旅行/自行車主幹小道,小道所有乘坐分鐘之內。 游泳池(季節性),並為客人提供互聯網熱點。 我們是寵物友好。我們入住的寵物期間收費為以現金支付預訂額外一律$ 15個清潔費。 ****對於電影和照片拍攝,請事先聯繫到主機****預訂 它在這裡!! 由於"飛行雲"的普及,我們已經準備了另外一個場地上,這一個1971年AIRSTREAM 31 FT"。 SOVEREIGN它位於一個樹木繁茂的草甸。查看列表: "AIRSTREAM VINTAGE ADVENTURE-第2篇"。 https://www.airbnb.com/rooms/1077343 其他禮賓服務可用 - 詢問: - 新鮮出爐的羊角麵包巧克力,咖啡和週日上午LATimes交付。 - 預定在當地的餐館,高爾夫球場。 - 騎馬步道遊樂設施。 - 山地車
很農村,有很多驚人的風景客場之旅的機會!
I surprised my husband by renting the Airstream for his birthday. When we arrived we were in awe of the location of the trailer and the magnificent views. The Airstream is fully stocked with all we needed for our time there. We sat outside way past sunset, admiring the view for as long as we can. Then went inside to make dinner and play scrabble. Cooking on the stove top really warmed up the trailer so we didn't even need to use the heater during the night. We made sure to look up sun rise time and got up in time to see it peek over the mountains. We will definitely be back here! Thanks Murray and Kay for a wonderful experience and sharing your treasures!
Debbie
2015-02-01T00:00:00Z
My girlfriend and I had an amazing getaway at the Murray and Kay's Airstream Trailer!!! It's a no brainer to book this airbnb. You're secluded in the mountains of malibu and and beaches are just a 15-20 min drive away. We cooked every morning, afternoon and night. Probably one of the best vacations I've been on in awhile.
Maddison
2015-11-23T00:00:00Z
Had an incredible time up in the mountains. Murray was nice and friendly and let us be. A definite recommend.
Jonathan
2015-04-13T00:00:00Z
My wife and I had a wonderful experience on our 5 day stay in the Air stream on top of the hill. Trailer was comfy with incredible views and sunsets looking out over the ocean and Malibu hills (along one night of awesome stargazing on one of the warmer nights). We did plenty of hiking in the hills and on the nearby beaches. Murray was a great host and we hope to be back sometime in the coming years.
Tim
2016-01-02T00:00:00Z
My partner and I had a very relaxing time--wish we had had a few more days to enjoy the solitude. Murray was an excellent host--relaxed but attentive and easy to talk to. Even though we arrived pretty late in the evening, he made sure we how to find the hiking trails which we took advantage of early the next morning. We also managed to get in a little surfing at Zuma Beach. Thankfully, as advertised, the airstream has a very comfortable bed! Very clean, very cozy and would recommend this to anyone.
Eleanor
2014-03-10T00:00:00Z
Amazing, one of a kind experience. Murray is a great host. He helped us find great spots around the area and was highly accommodating. Very clean, very cool place to stay. Incredible views. Thanks so much Murray!
Tyson
2015-09-12T00:00:00Z
We could not have had a better weekend! This airstream and location is truly an incredible experience... the views were stunning, the airstream was packed with everything we could possibly need, and Murray was the nicest and most accommodating person ever! We will DEFINITELY be back!
Jenna
2014-12-22T00:00:00Z
The airstream is inside of the owner's yard and not far away from the house which owners living in. The airstream is clean and Fully equipped. Really nice view there, gorgeous night sky!!!!! Don't miss!
Chloe
2016-10-03T00:00:00Z
房間類型
整套房子/公寓
---
房源類型
露營車
---
可住人數
2
---
卧室
馬里布, 加州, 美國
This is a 600 square foot private apartment with oak floors throughout, plenty of parking onsite. It's above a 3 car garage with beautiful views of Boney Ridge + Charmlee Wilderness Park. Ocean views from kitchen, living space, bathroom shower, and deck. There are hiking trails, wineries, places to hear live music, and great beaches 10 minutes. There's a bar b que, with granite table, 5 chairs, two lounge chairs, beach towels, cooler for beach and swamp cooler on your deck if a hot day.
This is an open space with a separate bedroom with a cal king. The bunk beds and queen mattress are in living space with a futon on the couch. There are white oak floors throughout with spectacular views. It includes HD Direct TV. wireless internet. No pets allowed.
This spot is high up in mts. but only 7 minutes to the beaches El Matador, La Piedra and El Pescador. Come see surfers all year round at Nicholas County Beach and Neptune's Net.
Amazing views every which way you turn your head. The place was clean and cozy and the porch + view exceeded expectations. Wifi worked great and beds were very comfy. 10 mins from beach, 25 from Malibu, 45 to Santa Monica/Venice. 10/10 would stay again!
Alexander
2016-12-03T00:00:00Z
Dana's place is amazing. The views are a must see. The place is very warm and cozy, perfect place after a hike. Dana as a host is wonderful. She accommodated us on a last minute booking.
Ryan
2017-02-04T00:00:00Z
The place is as is written in the description. It's a very nice home with a nice view at Malibu. And the host is absolutely amazing with communication. Offered us help, responded very quickly, etc. I definitely recommend this place.
Mark
2017-01-22T00:00:00Z
Very cute romantic weekend getaway for couples.
razia
2017-03-12T00:00:00Z
Dana's place was very cute and had killer views of the hills and the ocean! Secluded in the Malibu hills, quiet and remote -bring your own food or plan to drive a little ways for meals. You're sharing the property but we didn't run into anyone or have any sound issues. Be aware that there are some animals on the property so those with bad allergies be warned! Perfect place for our anniversary, thanks again!
Marls
2017-02-15T00:00:00Z
We had a very rainy foggy night time drive up a winding road that wraps the mountain this property sits on. Scary! We recommend a daytime arrival, and come with food to prepare or stop for food before making the drive up the mountain. gorgeous view and balconies. Wifi and cable made winding down and handling business away from home easy for us.
David
2017-01-05T00:00:00Z
A great private place to relax at.
Cody
2017-02-08T00:00:00Z
Yes, we felt welcome and the description was accurate. Beautiful location. Heard Coyotes one night.
Elizabeth
2016-10-14T00:00:00Z
馬里布, 加州, 美國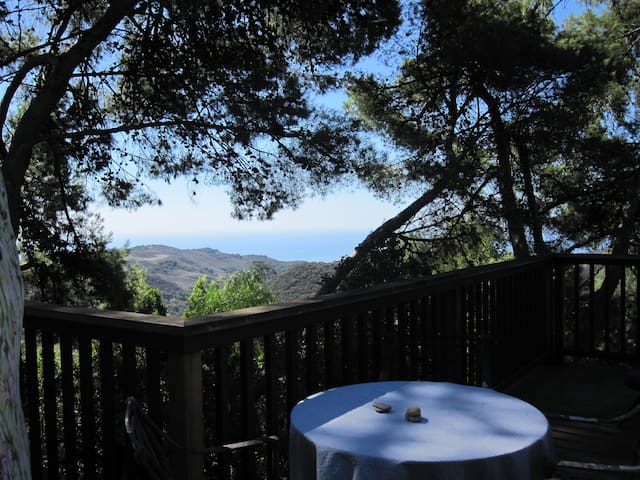 小屋是一個僻靜的浪漫與一間小屋,欣賞海景。該木材燃燒爐和熱水浴缸,使其成為完美舒適的週末度假地點。足夠接近的城市,但感覺十萬八千里!
馬牧場/葡萄園莊園私人的秘密海景艙。美國國家公園所環繞這個浪漫的客艙寬敞而舒適。它有一個浴缸,一個設備齊全的廚房,大號床和沙發床的一個完整的浴室。機艙是簡單,但佈置舒適,有一個木材燃燒爐和卡特琳娜景色的熱水浴缸。到達目的地後,你會發現一瓶自己的酒 - 西拉或長相思,奶酪,餅乾和水果。也將有來自牧場雞雞蛋,鬆餅等早餐。 我們提供衝浪課程,瑜伽,按摩,當然品酒及! 我們可以安排馬回課或騎馬遊本地。有登山步道右出艙門的接入主幹徑與馬里布溪州立公園。山地自行車可以在當地租用。 我們通常有一個2晚住宿最少但在感恩節和聖誕節假期,我們有一個4晚最少入住。
隱私權,安寧,空地,公共綠地,海景,和平與寧靜!
A beautiful place - we really enjoyed the quiet and the hikes near the property. Hope to go back one day.
Kenley
2016-08-08T00:00:00Z
The listing was referred to me by a friend who already has stayed twice and I quickly learning why. Gabrielle and the neighbors were all delightful. The cabin itself is totally private, so you can feel alone in the canyon total tucked away, but then you're a short walk to a pool and neighbors to meet and chat with really kind people. Gabrielle was an absolute pleasure to deal with. I was planning a nice getaway at her cabin after surprising my gf with a proposal in malibu (now fiance--she said yes!). Gabrielle went above and beyond to help set up flowers and get the right wine and make sure we had champagne and more. It was tremendous. All I needed to do was show up and a beautiful set-up was waiting for us. While at the cabin, Gabrielle was helpful throughout. We needed advil one night, and she responded quickly and gave us a small travel pack. She even invited us to have massages in the nice air conditioning of her home (just a FYI for hot months the cabin currently has no AC). There is a nice pool to use and cool off w/ if it's hot outside. The list of positives goes on and on--I give the cabin and Gabrielle my strongest endorsement.
Zach
2014-09-15T00:00:00Z
Unglaubliche Ruhe, der Natur zuhören, dem Wind, den Vögeln lauschen, Sonnenaufgang und Sonnenuntergang bestaunen. Dann die hübsche cabin bewohnen, alles gut eìngerichtet. Gabrielle so hilfsbereit, mit einem warmen welcome. Unvergessliches Erlebnis. Aus Zürich, Switzerland, Doris und Jürg.
Jurg
2016-11-12T00:00:00Z
Gabrielle's cabin was the absolute perfect getaway. The cabin sits high up in the mountains with a beautiful view of the ocean. The garden in front is filled with lavender and lovely little places to sit and relax in the sun. The cabin itself is adorable - there's an antique wood-burning stove to keep you toasty, the decor is beautiful and the bed is super comfy. Lots of candles for ambiance. Also loved the very special touches -- a vase with lavender and rose, the fresh eggs from the property's chickens, etc. I really loved meeting the beautiful chickens and horses too. We went on a hike -- the views were insane. I could go on and on. Definitely coming back!
Moni
2017-01-09T00:00:00Z
Wow! Gabrielle's place is enchanted, secluded, quiet beautiful cabin in Malibu mountains, a fairy tale spot. Perfect for a couple romantic gate away or a small family, (Gabrielle has another guest house for six). Image waking up to a beautiful morning, birds singing, bees and butterflies busy with the gorgeous Lavender and Jasmine flower. You and your loved one cozying us in the private hot tub under the skies, moving back into the house infront of the fire place.... You get my point. Awesome for writers or anyone who wishes to get away, and be somewhere where it is quiet, full of beauty and peace. You will recharge and return with a peace of mind and body. Try Gabrielle's wine and fresh eggs, they are excellent. Gabrielle is a wonderful and thoughtful host. She prepared wine, cheese and crackers and us as well as fruits and eggs. She communicates clearly and timely, attentive to your needs, yet leaves you undisturbed. We loved the place and will be back !
hagai
2017-04-04T00:00:00Z
Fantastic place and extremely comfortable. I would definitely stay again! Only thing is that it's about a 15-20 minute ride up the mountain and the streets could be a little scary!! Very peaceful and Gabrielle is so sweet and helpful! Absolutely wonderful stay!
Taylor
2017-03-29T00:00:00Z
Lovely, quiet, peaceful retreat - we had a great time relaxing and getting away from it all at Gabrielle's place.
Rich
2017-03-20T00:00:00Z
We stayed in the cabin the first two nights of our honeymoon and loved it!! Very clean and uncluttered. Small and quaint, perfect for a weekend getaway or a few nights. The view is beautiful!! We found the jacuzzi to be in working order and clean. All appliances working and everything in order. The cabin is nicely secluded on the property for privacy. This place gets highs recommendation for anyone looking for a cozy get away!!! Cory & Tatum
Gina
2017-03-13T00:00:00Z
房間類型
整套房子/公寓
---
房源類型
小木屋
---
可住人數
3
---
卧室
馬里布, 加州, 美國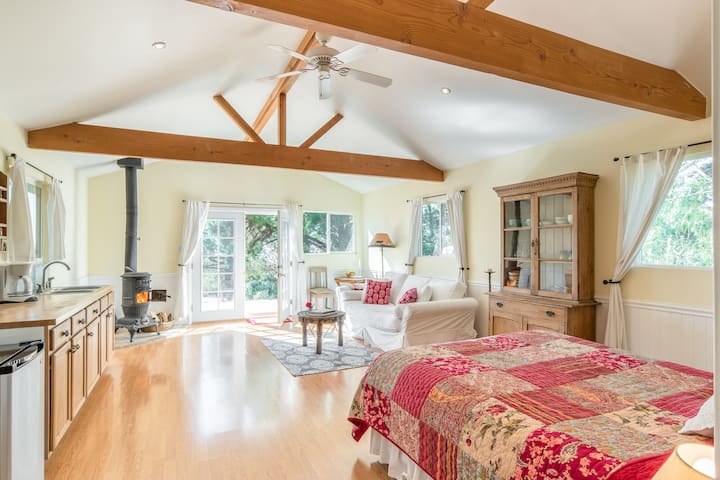 All that Malibu has to offer including beach, shopping, Pepperdine University, and of course, Los Angeles - this Tuscan villa has panoramic views of the Pacific Ocean and the Santa Monica mountains. Beaches are within minutes of the house making this home a perfect retreat for family-friendy activities. Local restaurants include Nobu Malibu and Geoffries at the Beach. My place is good for couples, solo adventurers, business travelers, and families (with kids).
Carmelo's house above Malibu is a beautiful work of art. Carmelo's warmth and generosity made our stay memorable. Highly recommend for a relaxing stay in the Malibu area.
Paul
2016-10-14T00:00:00Z
I just cannot say enough good things about this home, Carmelo and the area. Everything perfect start to finish. We love it here.
Gloriane
2017-01-25T00:00:00Z
This home is stunning, I don't think the pictures do it justice. Everything from the sweeping views of the ocean, to the gorgeous mosaic artwork makes this home a Malibu treasure. Our family loved spending mornings & evenings on the patio, taking in the spectacular scenery. The house is a short drive (just minutes) from the beach, restaurants, and any nearby activity. The decor and attention to detail in Carmelo'a home is impressive. The kitchen and layout allowed for great conversation and entertaining. We will definitely be back!
Rachelle
2016-11-14T00:00:00Z
Wow! One word is all that's needed here . . . but let me elaborate. First of all, this place is beyond description really . . . Magnificent is an understatement. Carmelo, the host, personally built this home and you can tell the guy is a master artist. The mosaic work is like something out of an Italian dream. The house is spacious and open with high ceilings and a VIEWS for days! I spent most of my time OUTSIDE on the terrace under the pergola sipping wine while taking in the clean air and ocean view. I woke up in the morning and jumped in the hot tub (very clean and nice) in the back of the house and looked out over the Santa Monica mountains. The Master Bedroom is spacious and welcoming, as is the Master Bathroom. The kitchen is obviously the kitchen of a chef. Carmelo offered to cook for me and I took him up on his offer. LET THIS GUY COOK FOR YOU! I have eaten in some of the best restaurants in the world but this meal was done by a true master . . . absolutely makes me want to book the house and the owner AGAIN! In summary: Amazing Home . . . spacious and private Artistic details abound through out the house Beautiful views of both the Pacific Ocean and Mountains Close to EVERYTHING in Malibu . . . especially Cross Creek and Nobu Close to the famous beaches Close to incredible mountain hikes Great HOST! (Thanks again Carmelo!) One of the best AirBnB experiences I've had.
Jon
2016-06-03T00:00:00Z
Everything about this home, location and your host, Carmelo, is just amazing. This is our second time to stay here, and we will be back again. Views, fresh air, beautiful home, great wifi. It's all wonderful.
Gloriane
2017-01-03T00:00:00Z
As you can see, we love Carmelo's home. Besides the stunning views, the home itself is built with love and that quality is seen throughout. There are so many unique design features, created by Carmelo himself. If you love to cook, you have everything you need in his wonderful kitchen. The tile work is magnificent and everything is laid out to be easy to use. Having now stayed in multiple Airbnb homes, Carmelo's place is by far the very best. It's amazing to find a place that has it all: beauty, location, views, comfort, quality and ease. We'll be back!
Gloriane
2017-02-06T00:00:00Z
Nice house wonderful owner. Carmelo is a great host.
Brian
2017-02-26T00:00:00Z
Carmelo's home is incredible. Built with love and care. You feel it in every corner from his exceptional tile work to his amazing artwork. We had amazing memories with our kids and we hope to be back year after year! The majestic views of the ocean will sweep you away. Thanks for your special space!
monica
2017-02-20T00:00:00Z
馬里布, 加州, 美國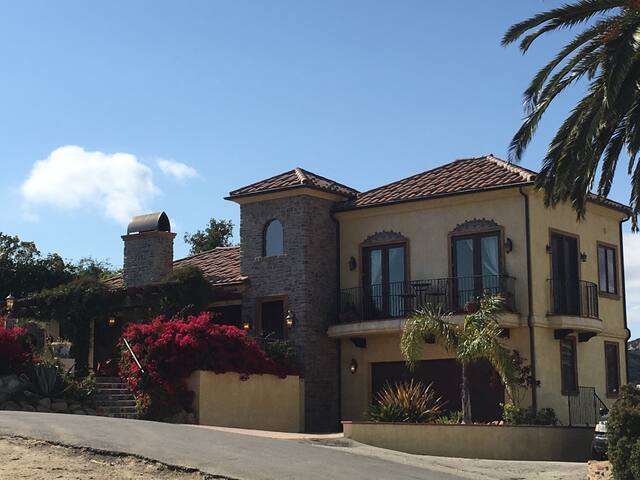 Malibu funky-delic, converted bedroom canyon apartment underneath family home. Private entrance, bathroom, bedroom, fridge, microwave, patio and hot tub. Private mountain views, 2 miles from PCH and beaches, Pepperdine, shopping. State park land and hikes 5 minutes away without having to go down hill.
Private in every way yet part of a family home, this space allows for kick back privacy, while not worrying about tip-toeing around.
Crickets, frogs, coyotes and deer are your neighbors in this canyon community, yet you are only 2 miles from the PCH and Malibu's beaches and shopping. We are also only 45 minutes from LAX, 25 minutes from Santa Monica, Venice, and any number of local famous stops on your list. Our neighborhood is tight and friendly--you can step out your door and likely find the kindly neighbor walking their dog, willing to offer any number of recommendations for your day. State park hiking and biking is literally a 5-minute car ride outside your door, with numerous trails, rocks to climb, and caves to explore in the Santa Monica mountains--some of the most exquisite outdoor experiences for the beginning or advanced hiker/explorer. Waterfalls and famous hiking trails greet you at the bottom of the canyon at PCH as well, along with some of the most exquisite views in the world as you drive up.
We really enjoyed our stay! The room was very clean and it was like your own little apartment with your own bathroom and kitchen supplies. The bed was also very comfortable and the hot tub was great! Thank you for hosting us!
Clark
2016-11-05T00:00:00Z
She made us feel very welcome with her note. Also, greeted us at the gate, but didn't bother us during our stay. Perfect hosts for Air BnB!
Seth
2014-09-22T00:00:00Z
Amazing location! Cindy was an excellent host and even left breakfast and snacks in the fridge for us. Perfect location if you want to hike and experience Malibu. There was three of us during our stay and we felt that we had enough room.
Patricia
2016-02-22T00:00:00Z
Cindy went above and beyond. The place was clean, private, and she even had wine for us the the fridge! It was easy to find thanks to her detailed instructions, and, despite a warning of possible noise from teenage boys, was peaceful and quiet. We have a lovely stay.
Irina
2016-08-22T00:00:00Z
I very much enjoyed staying in Cindy's very comfortable, private guest apartment. All the comforts of home are provided including a toaster oven feature under the microwave, a coffee maker and coffee. I went to Malibu for rest and rejuvenation and that was accomplished in spades. The privacy, beautiful views, and the hot tub really aided in that mission! Cindy was a very hospitable and considerate host. It was a wonderful stay and I highly recommend it for any traveler.
Angelique
2015-04-25T00:00:00Z
This place is incredible! Cindy's place is nestled in the mountains--a very scenic, if windy, drive up from the coast. There's unbelievable hiking only a short drive from the house, and if you're more of a homebody, the view from the hottub's not half bad either. The bed was comfortable, and I felt very at home.
Megan
2017-03-04T00:00:00Z
First time using airnb and I absolutely had the BEST experience. Cindy was an amazing host I unfortunately didn't get to meet her but the communication was very clear and so were the instructions on how the place works. If needing a place in Malibu for a nice romantic getaway definitely this is your place.
Susie
2017-02-06T00:00:00Z
There aren't enough stars on here for Cindy and Seth and their wonderful place. I have stayed with them numerous times for lengthy stays and the experience is always top notch. I cannot recommend the place more highly!
Chris
2017-04-06T00:00:00Z
馬里布, 加州, 美國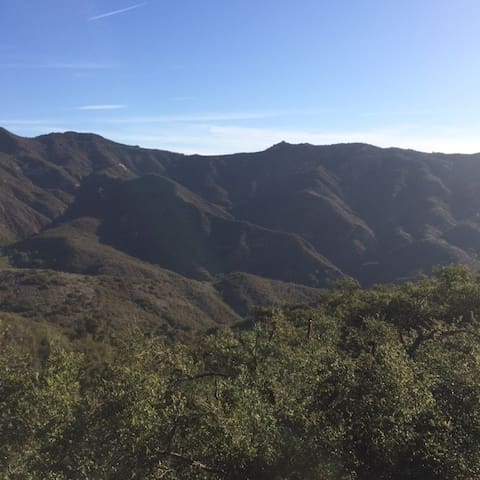 Perched atop a stunning Malibu Canyon Home is a unique studio ideal for a elusive, healing or very romantic getaway. Those seeking a special environment with open vistas, fresh clean air, expansive & elevated ocean views, and access to the Coast & Wine District in less then 3 miles will appreciate the turn-key commodities this space offers. You can "escape" and turn if all "off" OR you can elect Uber and WiFi phone if you need to be "on." (NOTE: Driving directions are required reading.)
The suite is approximately 780 square feet. It includes a walk out patio veranda that is the perfect place for either an evening barbecue or to connect with the sun in the eastern horizon as it comes up in the morning. It has a Mediterranean aesthetic and a broad vista architecture. Truly a unique space that reminds me of a tree-house because of its elevation and seclusion to the main house. The property is a working Ranchitta with goats, chickens, and horses. A generous private bath with a jet bath tub & walk-in tiled shower is what sets this space a part from the rest. This space is perfect for the environmentally conscious and those looking for healing. If you are interested in serenity and opportunities to go hiking, ride horses, relax, and enjoy your own space, this is the perfect spot for you. I'm equestrian and enjoy several horses, goat and chickens on my property and private trail access in the Santa Monica Mountains. Mountain & street biking opportunities abound. The infamous Latigo Canyon biking loop a 360 degree vista as well as a secluded creek oak covered moderate hike are out your back-door. The neighborhood is incredibly quiet and watchful -thus Malibu Escapes. However, the "Bu" scene, Zuma & Surfrider Beach, spectacular coastal drives and 365 degree views of the ocean, islands, and Santa Monica mountain range are out your back-door. In addition to all the amenities listed, the suite also is equipped with WiFi cell phone & date capabilities, Uber access, bubble bath for the jet bath tub in your Suite. If you wish, a local wine is made available upon your arrival and fresh ground coffee and authentic free range fertilized organic eggs you may gather in the morning. If you have horses and wish you bring them, please contact me about arranging extra corral space. Additionally, there is an exterior Jacuzzi hot tub - available upon request by special arrangement only. Additional fees apply. (I will need Use is at your own risk, and please you need to notify me 24 hours ahead of time if you want to use it.) The sofa easily accommodates an extra person. Drought conditions in California require me to assess extra fees for excessive water usage. (Brief daily showers and/or Jacuzzi use every three (3) days is considered acceptable.)
这个社区提供支持灵性和自然的连接了独特的美国原住民的历史。有大量的新鲜空气和自然采光。你会发现各种各样的和平和灵感。这是完全位于太平洋海岸公路和州际101之间,给你全方位地获取大洛杉矶地区。您可以远足,骑自行车,冲浪,游泳,冲浪板,去品酒,以及所有在10-15分钟内参观佩珀代因大学。还有一个美丽的河步道沿线物业。
Amazing place!
Hess
2017-03-01T00:00:00Z
Susan was very helpful in getting us setup with directions, meeting our car to guide us among the winding roads after dark, and showing us the spacious studio's features. The bathroom is excellent with 2 sinks, huge tiled shower, and a large bath/spa. Bed was comfortable, large closet space, and a large corner work desk with office chair that came in very handy. The succulent gardens on the property hillside are quite beautiful and make the front balcony a great place to sit, relax and enjoy the silence. Highly recommended.
Conrad
2016-06-12T00:00:00Z
Amazing neighborhood. I loved our stay here!
Elijah
2016-02-15T00:00:00Z
We absolutely LOVED our stay at the Cloud Suite! Susan went above and beyond as a hostess! We talked the day before our arrival and she gave me directions to grocery stores and ideas about what to bring up to the Suite. She had fresh cut flowers, a bottle of wine and a bouquet of roses for us (for our anniversary) when we arrived and coffee for the next morning. We were coming from the East and were a bit nervous about navigating the Latigo canyon Rd...but it was s(PHONE NUMBER HIDDEN) easy and VERY close to PCH yet nicely tucked in the canyon so you felt like you were a world away from everything. The views from the Suite were phenomenal..you can see throughout the canyon all the way to the ocean. This place was awesome and we would definitely stay again!
Meagan
2016-11-04T00:00:00Z
Truly wonderful experience. Falling asleep in the mountains and waking up with those views is a very relaxing experience. Couldn't have been happier. Susan is a wonderful host and made us very welcome.
Heath
2016-09-19T00:00:00Z
Susan's place is beyond beautiful, it's a lovely place to get away. She was very welcoming upon arrival and tried to make our stay exactly what we wanted. I can't say enough about the (URL HIDDEN) really a special secret place.
joni
2015-11-15T00:00:00Z
Great location in the hills of Malibu!
Johnathan
2016-06-06T00:00:00Z
Susan is lovely.. She is so communicative and made the whole trip easy for us. Her kindness and care shine through in every conversation. she really wants us to have a lovely and peaceful time.
justine
2016-08-20T00:00:00Z
馬里布, 加州, 美國
独立的八角楼~依偎德克尔峡谷中的山丘之上马里布!用大山观景台一个和平的,私人的世外桃源空间。被大自然包围,鸟儿~金光在下午加观星与月亮看着夜晚!
Peaceful, private bohemian - chic rustic space! A magical environment designed for enjoying the nature, meditating, yoga on the deck, hiking, surfing, wine tasting, relaxing or simply just "being" .. you will be embraced by the mountains and blanketed by the stars! However, if you are seeking activity ~ there are many great wine tasting rooms & cool, hip restaurants nearby ~ The Sunset Restaurant, Malibu Wines, The M Cafe, The Old Place and The Cornell Winery are some of our favorites! For a super affordable "Happy Hour" you can drive down to Westward Beach and check out the Sunset Restaurant ~ A Malibu Local Favorite :) Vintage Market, Zuma Sushi, Spruzzo's Restaurant ~ Sunlife ~ Acai bowls, fresh soups etc.. Duck and Dive for great food and music are all located nearby between Zuma Beach and Point Dume ~about a 15 minue drive. PS ~ The second bedroom is a "Sleeping Loft" with a Queen-size bed~ it's like sleeping in a Tree House :)
马里布海滩,马里布葡萄酒产区,登山步道,自行车(有沿太平洋海岸公路,复古杂货店对面祖马海滩..about有15分钟车程的商店和餐馆自行车道.. 餐馆内。 -Ollie的鸭和Dive-良好的共鸣,在一些周末的现场音乐。 在马里布Pier-有机美味-The农场位于马里布码头的尽头,在水面上。一定要去,看,吃的喝的。 -The Sunset-真棒欢乐时光和美丽的海滩环境。确保在时间去赶上日落。或精致的餐饮上楼。 -The老占位质朴,牛郎,行家,丝丝凉意。艺术家,音乐家,模特,演员和一个混账偏心人群喜欢这个隐藏的宝石。位于马里布山/葡萄酒乡的中间约20分钟的路程。预约。书快,是非常小的和亲密。 -The马里布间咖啡厅巨大的,美丽的,质朴的户外环境。位于马里布山/葡萄酒乡。湖,鸭,人力船,神奇的在阳光早午餐,饮料和寒冷。给自己一两个小时在那里。理由是如此美丽!日落~戏剧性挂闪烁的灯光在晚上之前黄金时间:) -Neptunes网络这是一个具有里程碑意义。它一直在这里永远!摩托车,冲浪挂出。新鲜的海鲜,蛤蜊汤,鱼和薯条等......位于PCH对面的海滩。步行和秩序。 -Ollo-刚开业。髋关节,时尚,前卫和冷静。令人难以置信的菜单。令人难以置信的饮品。 -Spruzzo Pizzaria-家庭意大利语。火坑。吃海洋上层观景台上用餐。 -Nobu-需要我多说了。它的Nobu餐厅。最美味的寿司,髋关节,热的A-list的人群,坐落在沙滩上。华丽的设置。 -Tradinoi-家庭拥有意大利。位于十字小溪。孩子们可以在公园,而你坐在外面吃玩。 -Zuma寿司 - 当地人聚会的场所。寿司美味。 -Coral海滩Cantina-当地的墨西哥菜。 -Taverna Tonys-难以置信的喜悦希腊!下闪烁的灯光华丽的室外环境。 -CaféHabana-当地的一线明星,辛迪·克劳馥和朗德格柏拥有。总倒退到古巴在50年代。神奇的食物。卡拉OK在某些夜晚。 -Johns花园 - 新鲜,三明治,沙拉,奶昔等,这是不是一个坐下。你打电话或去下订单,外面捡起来吃公园。 -Bui寿司 - 美味寿司,饮料好,臀部的人群。 -Cholada-泰国菜下降托潘加。 披萨递送- D'AMORES Spruzzo Sunlife- 有机新鲜果汁,阿萨伊碗,冰沙,健康,滴咖啡等... Lilys间咖啡厅 在墙上马里布本地孔得到一个该死的好早餐卷饼。但重哦,这么gooood。并确保得到他们的黄辣椒酱的一面!不是一个伟大的室内环境。外面吃或外卖。 - 如果您的驱动器在威尼斯......这些都是我们的一些的收藏的: -Gjelina -Tasting厨房 -salt空气 -Superba 当地Markets- -Vintage杂货店 -Pavillions -Ralphs 农贸市场- 位于马里布倒在市民中心路中间附近,每个星期日10-3 当地的酒厂和酒TOURS- 当地葡萄酒之旅在我们的马里布葡萄酒之乡在线看。这是广袤而美丽和美妙的方式来度过一个下午。 -Malibu家族葡萄酒 -Cornell酒厂 等等…
The Octagon was such a fun mountain retreat for my girlfriends who were visiting for a wedding weekend. The twinkle lights on the patio were a welcoming touch when we drove in and made a perfect ambience to bundle up and hang out at night. Kathleen's decorative touches and little extras made this a nice experience- fully stocked kitchen, cozy blankets, movies etc. The giant stone shower was a once-in-a-lifetime experience...Take me back! I would definitely recommend this place. Kathleen was a gracious host and helpful communicator!
Hannah
2015-11-07T00:00:00Z
Kathleen was great. Called us while we were on our way to make sure we were all good. The Dolphin Octagon was more than what we were expecting. As peaceful a place as you could ever imagine. The fresh eucalyptus on the deck was a nice touch.
Bill
2016-02-11T00:00:00Z
This is such a wonderful place to stay. It is cozy, well-decorated, and unique. The location is great with easy access to the beach and hiking, as well as access to LA which is a short drive. Kathleen is so easy to work with and is very friendly. Highly recommend!
Geneva
2016-11-26T00:00:00Z
The space is great - just be prepared to be in the middle of nowhere - Kathleen was a great host however and the trip was wonderful!
Kasey
2017-02-26T00:00:00Z
We loved our experience at the Dolphin Octagon - such a unique and charming space. We loved having all the breathing room in the canyon and yet being able to drive down to the beach easily in ten minutes. Beds were very comfortable, kitchen well-stocked, and all the art! I read all the Gagosian and Malibu magazines. Plus the bathroom/tiled shower is a treat. Great outdoor decks and garden. We would love to return to stay here again. Highly recommended. Had a minor glitch with the hot water and the owner's son came down immediately to fix it. Thanks for a wonderful experience in Malibu! We'll be back.
Sarah
2016-10-17T00:00:00Z
The Dolphin Octagon was exactly what we needed for our girls weekend. It was quiet and secluded, with easy access to restaurants and anything we wanted to do!
Vonnie
2016-06-06T00:00:00Z
Staying at The Dolphin was a great experience in every way possible. Zero complaints here and I'm looking forward to our next visit.
Lionel
2016-05-16T00:00:00Z
Great place! Everything was just perfect and we had everything we needed. Easy to communicate with the host and there were no problems. A peaceful and beautiful place.
Laura
2016-11-13T00:00:00Z
馬里布, 加州, 美國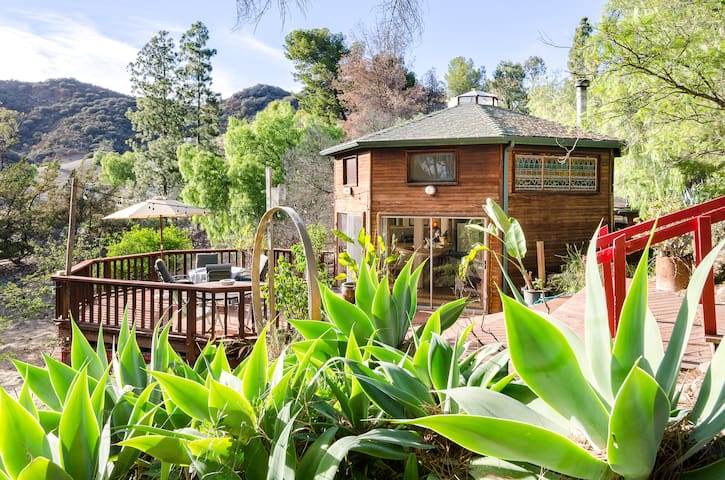 使自己在家里,享受我的家在马里布的中心!没有什么比看着太阳落下从阳台露台在我家的海洋。 五张病床(3 bdrms)和两个浴室(已满),大型厨房和开放式的计划。按摩浴缸和烧烤在那里为你使用的!停车库+车道停车。超快的WIFI用的SmartTV。洗衣机+烘干机,所有新家电。 从PCH,Solistice峡谷,佩珀代因大学,延生,苏荷馆和海洋分钟!伟大的大集团!
The home was beautiful and clean. The view alone is incredible. Definitely recommend staying here. Will visit again myself.
Mina
2017-03-03T00:00:00Z
Beautiful home with a tremendous view of the ocean and mountains. Host was very nice and helpful. Would definitely stay here again. I certainly recommend it!
Adnan
2017-03-22T00:00:00Z
Fantastic value for money!
Jacob
2017-04-04T00:00:00Z
Amazing
McKinley
2017-03-20T00:00:00Z
House was amazing. I could sit on the balcony all day. Great stay while in Malibu.
Hakeem
2017-01-21T00:00:00Z
We are two families from China. It was a wonderful experience in living here. Beautiful house and great view.
靖
2017-03-12T00:00:00Z
Very nice location with beautiful views. Andrea was able to accommodate us with just a four hour notice. Note if you are expecting a jacuzzi it is an inflatable one.
Niko
2017-01-18T00:00:00Z
Beautiful place! Host was very nice and accommodating with special requests. There was lots of parking and the grill worked flawlessly. Highly recommended!
Tony
2017-02-19T00:00:00Z
馬里布, 加州, 美國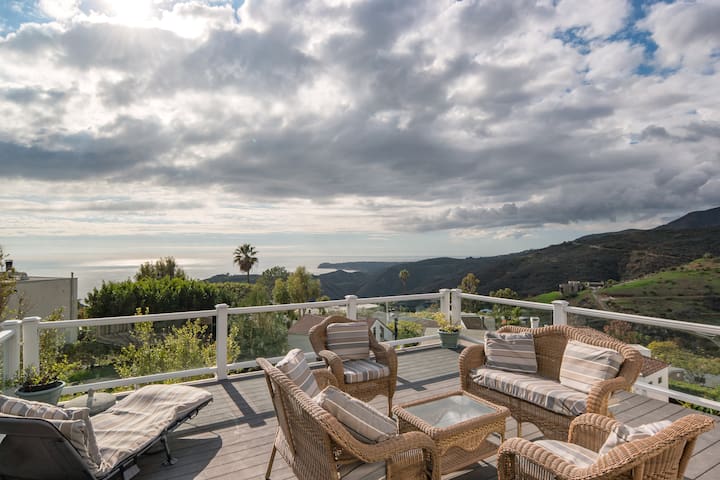 令人惊叹的建筑房子收回玻璃开到令人惊叹的海景和山景,室内室外的感觉墙壁。主卧套房(上图),主要FL。瓦特/时尚的厨房,浴室,包装甲板,底部佛罗里达州。客房瓦特/浴室,洗衣房。
三层楼的房子的玻璃正立面墙上以令人难忘的海景看着窗外。房子是一个建筑杰作,位置很安静,平和。
宁静,安详,宁静,平和,平静,安全的......这是一个真正的社区,那里的邻居寻找出对方。我纵火关注的一员,法律官员和第一响应者居住的街区,所以你会感到安全。
Amazing place to stay, high in the Malibu hills. Spectacular views, once in a lifetime location. Is every bit as good as the pictures and descriptions.
Jimmy
2015-06-20T00:00:00Z
To be in the actual house is an entirely elevated experience then looking at the gorgeous photos. From the drive up to the estate to the moment we set foot in the house we knew we've arrived at an enchanted special place. The natural lighting interacts with the architectural brilliance perfectly, which made our filming experience a pleasure. You can't have a more graceful, elegant and attentive host than Jennifer. Our film crew and client had a wonderful time at the luxurious Scorpiesse.
Toby
2016-02-10T00:00:00Z
The Scorpiesse is perfect for a relaxing weekend getaway!!! Jennifer, the owner, is so nice and always willingly to help. Jerri, the housekeeper, is so kind and thorough. Astonishing view, cozy rooms, modern interior and great location, everything here is EXTRAORDINARY! We've already planned on coming back in the near future because we can't keep thinking of this pleasant stay since we left. Overall, highly recommend. Please don't hesitate and enjoy! Every penny you spent on will worth! And again, merci Jennifer and Jerri for everything! Amy Fu
Xiaoge
2015-03-29T00:00:00Z
Place is off the chart amazing!
Greg
2017-04-02T00:00:00Z
Unbeatable views of the canyon and Pacific Ocean! This is the perfect spot if you want to be away from the crowds and highway, but close enough to town to enjoy the restaurants and beach. Great hiking in the area. Sunrise and sunset from the home are outstanding. Jennifer and Xavier were gracious hosts and their communication was outstanding.
Anne
2016-12-06T00:00:00Z
Scorpiesse is a wonderful home that has amazing views that allow you to enjoy the true beauty of Malibu and Southern California. The home was just as we had envisioned in the photos and video. We were not able to meet Jennifer but Xavier was able to assist us in accessing the home as well as being available at all times if we had questions or just needed a recommendation. We will be back to Scorpiesse soon as we loved the stay.
Robert
2016-06-25T00:00:00Z
It was GREAT! Most beautiful house I have ever stayed in! View is just not describable!!!! Jennifer was very helpful in any questions we had even though I did not get a chance to meet her this time. Full privacy!!! Thank you Jennifer it was amazing!!!
Arsen
2014-09-30T00:00:00Z
I set up a plan to propose to my girlfriend in Malibu and one of the elements was to have a beautiful house to bring her afterwords. This place was PERFECT. I secretly arranged for her best friends from the east coast to be in the home when we arrived. They were able to check in easily with Jennifer while I was proposing nearby. She is a great host, very accommodating. The plan went off without a hitch and we all enjoyed the amazing house all weekend. The views are incredible. The inside is clean, spacious and beautifully decorated. We took advantage of the grill and ate outside, taking in the views. Would recommend this place to anyone who needs a relaxing luxury getaway or backdrop for a very special occasion.
aaron
2016-10-23T00:00:00Z
馬里布, 加州, 美國
從這個閃閃發光的乾淨,明亮,安靜,現代,私人2 BR,1 BA間位於3層的地中海家馬里布位於一樓的公寓壯麗的海景和山景。新改建瓦特/大型私人圍欄碼和室外休息區。理想的氣候全年。 6分鐘。從海灘。最佳徒步旅行在世界第一右出了大門。儲備充足的瓦特/冰箱,爐灶灶,戶外燒烤,餐具,炊具,沙灘椅,沙灘巾,和每一個細節,讓您享受舒適
我們的評論不言自明。最安靜,漂亮的,友好的地方,你可以想像的。我們的氣候非常好 - 大約70度平均在夏季和60度在冬季的平均水平。它很少下雨這裡。每一個細節都經過深思熟慮,下至豪華的長袍,洗浴用品,沙灘巾,沙灘椅,咖啡機與星巴克咖啡,和太多的設施列出。我們真的去超越,以確保我們的客人有最愉快的體驗。
這是地球上最美麗的地方之一。我們邊界的開放空間一平方英里。我們坐在右邊,在世界上最美麗的徒步旅行和騎自行車的地區的心臟地帶,距離海灘僅約6分鐘的路程。我們是從佩珀代因大學和大多數餐館和商店在馬里布約10分鐘路程。
Our stay with Jerri and her great family in Malibu was wonderful. She welcomed us with open arms, and her signature smoothie :) The location was central, but we still felt secluded, and we had a beautiful view that was refreshing to see everyday. We can't say enough good things about our host. She was easy and quick to communicate with about anything we had questions about or needed, and she even watched our 11 month old so we could go out to eat one night! She was beyond welcoming to our little girl, and even had a baby pool, pool/beach toys, a high chair, and all the beach equipment we would need to head out with a baby in tow. The sectional in the living room and ottoman were perfect for our little one to walk around without us worrying about bumps and bruises and we could relax watching her there. We loved our stay here, and definitely recommend to anyone, and was definitely baby friendly which was a huge plus!
Rebekah
2016-06-08T00:00:00Z
We travel often and have stayed at many places nationally and internationally. Jerri's warmth, hospitality and attention to detail is extraordinary. She welcomed us to her clean, beautiful home with attention to every possible idea that makes a vacation stay outstanding. She arranged for a surfing lesson, suggested restaurants, activities and checked in to be sure we were comfortable. The apartment was appointed with anything you might need while away from home, including drinks in the frig, toiletries, and fine linens. I would highly recommend Jerri's lovely apartment to anyone who appreciates beauty, thoughtfulness and comfort. Beds are so comfortable, you will get a great night's sleep! A perfect place to stay when you're visiting Malibu and surrounding areas.
Roger
2016-07-27T00:00:00Z
Wow where to start. This was a trip we had been planning for a long time and was hoping it would be at least close to the pictures and description. I'm here to tell anyone thinking of going to Malibu this is the place to stay. The house is gorgeous the accommodations immaculate and the view is amazing. Now for our hostess. Jerri made you feel like you were at The Four Seasons! She welcomed us with a big warm smile and made sure we had any and everything we needed. She also offered a wonderful tour of Malibu which we accepted and enjoyed fully. She pointed out the best places to eat, get coffee, groceries etc. Way more than what we expected from our hostess I must say. Jerri made us feel more like family than house guests. The next day she gave us an invite for paddle boarding and told us about some wonderful hiking trails very close by. We had coffee every morning overlooking the ocean and mountains. Absolutely amazing! We were so surprised when she arrived in the backyard with a warm key lime pie out of her oven! Homemade from her own lime tree. Who does that? Jerri does. I promise this will be hands down the best choice for your Malibu trip. We are already planning another for spring. Thanks Jerri for well exceeding our best expectations. You made us feel like part of your sweet Malibu family.
Karen
2016-09-07T00:00:00Z
Jerri was a real super host! She welcomed us with open arms and with delicious house made cockies and donuts. The apartment is just incredible, clean and in a nice neighborhood with a breathtaking view. We highly recommend a stay in jerri's and frank's comfortable apartment. It was the best stay we ever had with airbnb.
Nadine
2016-06-12T00:00:00Z
We are so glad we chose to stay at Jerri's house. Her description and the reviews are all accurate. The only surprises are the good kind; the kind you don't expect and appreciate all the more. We were so comfortable and the place was just incredibly beautiful. I highly recommend it to anyone who is looking for an authentic Malibu experience.
Kristin
2016-11-22T00:00:00Z
Two of my friends and I had a Girls' Weekend that revolved around the Malibu Triathlon and Jerri's home was a wonderful space for relaxing in the sun and for preparing for my Tri. The mountains were a gorgeous respite and Jerri was incredibly attentive and giving, and clearly takes great pride in her home, her land and her Airbnb service. She's very knowledgeable about the area and its amenities, too. It's a bit of a winding road to get up there but it's well worth the drive. I look forward to returning for a romantic get-away with the hubster. Thank you, Jerri, for a memorable weekend!
Vicki
2016-09-19T00:00:00Z
Jerri is amazingly hospitable. She goes above and beyond to make it as convenient as possible to arrange check in as well as activities. She even helped us organize a surf lesson and brought us a bottle of advil when needed.
MIssy
2016-10-16T00:00:00Z
Staying here was an absolute treat. The setting was absolutely gorgeous. To wake up in the morning and take a short walk around the mountains and look out into the hazy sky was breathtaking. There are even a couple benches out in the mountains to have coffee or read and relax. The hammock hanging between the palm trees was another great treat. The quality of everything that Jerri had in the apt was top notch form the towels to the sheets to the pillows. She also had coffee, cream and sugar, chips bagels, cereal, tea and oatmeal- definitely enough to not to have to drive down the mountain right away in the morning for breakfast. I would absolutely come here again! So blow away by Malibu Hills- I thought this was even more beautiful than Hawaii!
Stephanie
2016-09-10T00:00:00Z
馬里布, 加州, 美國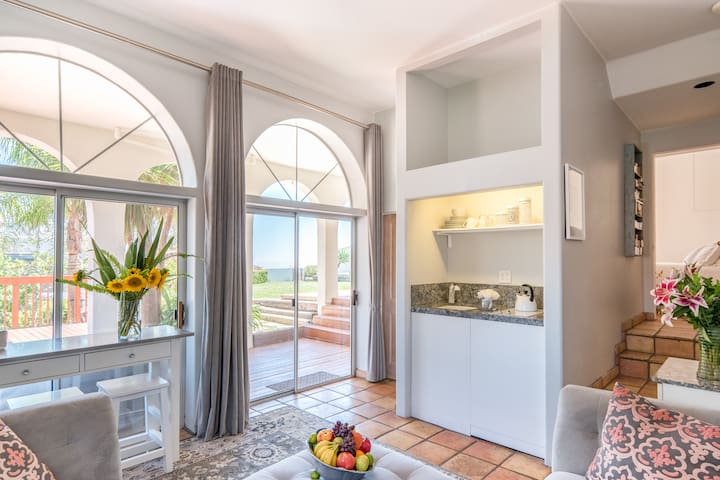 我们可爱的复古气流是一个很小的家庭放置在一个山顶上10英亩,可俯瞰马里布海岸线的土地。我们只是完成一个改造的第一阶段与禅宗,波西米亚风格别致,古朴的风格。到2017年预订。
A vintage trailer off grid on a peaceful Malibu mountain top with an ocean view. This unique experience is for nature lovers, zen seekers and romantics with a sense of adventure. We have had multiple writers and creatives looking for some peace quiet and to focus away from the city. Our listing has the earliest check in and latest check out that we've seen. (2pm check in noon check out). The perfect staycation spot that's just 25 minutes north of Santa Monica. Full futon mattress with memory foam with fresh clean sheets (cotton or microfiber), blankets/comforters (down w/duvet), pillows, electric space heater (heats it up in 15-20 minutes) fan, electric water heater/tea kettle, kitchenware, snacks, drinks, spring water, ice box and towels, paper towels, candles, and a bottle of local wine are all included. Two burner stovetop, pots & pans, cutting boards, knives/utensils inside as well as two burner propane cook stove outside and mini propane BBQ. Full outdoor kitchen and separate spa style bathroom with claw foot tub coming soon. Bring your personal belongings and food to cook and your Bluetooth boombox. There is electricity and electrical outlets to plug in your laptops or charge your phones or other devices. Wifi works on a Verizon hotspot with unlimited data so feel free to stream some great tunes while relaxing on the lounge chairs outside. This trailer is off grid so there is not a full bathroom. There's a composting toilet inside and always the "water the trees" nature option. No shower at this point. There will be a solar shower by beginning of the busy season in May. A composting toilet is a regular toilet. It's not flushable but works just like a regular toilet and you don't have to do anything to it other than use it like a regular toilet. It's thoroughly cleaned and wiped down with cleanser every time and have had no complaints. Now accepting photo shoots productions events etc! please see House rules section for details and pricing Unless there's a bad rainstorm/thunderstorm during your dates you'll be able to pull up and park right next to the airstream. We do live on a dirt road though so if there's s bad rainstorm there's a good chance your reservation will be cancelled for safety and liability issues. If you're looking to book Easter, Memorial Day, 4th of July, Labor Day or any other major Holiday weekend the rates will be booked at a flat rate of $200 per night. LOCAL ATTRACTIONS Restaurants: At the beach:Sunset Restaurant – elegant beachside dining in Point Dume. Neptune's Net – seafood and snacks – surfers' and bikers 'hangout. Spruzo's Café – pizza and Italian dining with beach view. Kristy's Café – oven roasted dinners with panorama sea view Malibu Seafood – world famous Malibu outdoor fish dining with sea view Paradise Cove – beach-side dining and take-out on the beach More Local Cafes: Sunlife Organics - organic smoothies and health food Lily's Café – Mexican breakfast and lunch. A local hangout. Zuma Sushi – Delicious and reasonable – a Zuma favorite Mexican Café – Margarita happy hours In the Canyons: Calamigos Ranch – Romantic indoor/outdoor canyon dining The Old Place – Wild West dining – good for brunchSaddle Peak Lodge – elk, bison, ostrich – great atmosphere Rock Store – local hangout – good for beer and burger Malibu Golf Club – quiet place to mingle with Malibu locals In Malibu/Pier area: Nobu - Sushi with the stars! Malibu Farm Cafe - all organic at the end of the Malibu Pier Down the beach towards Santa Monica 15-20 minutes away: Reel Inn (fish) (our favorite), The Chart House, Gladstone's, Cholada's Thai Beach Cafe Farmers' Market in Topanga Canyon– Friday mornings Famous beaches: El Matador Beach - gorgeous beach with natural arches Leo Carrillo – another beautiful beach with natural nooks and crannies City of Malibu – check out local shopping mall - great kids playground – fancy shops – Cuban restaurant. LA Westside (15-20 minutes drive)Santa Monica Pier3rd St. Promenade – walking street – flagship stores – movie theaters - restaurants Venice Beach "Boardwalk" - fun street vendors, funky, great shopping.
马利布峡谷是南加州的家中最隐蔽和著名地区当地的酒厂和名人的喜爱之一。我们的酒店有马里布海岸线,圣莫尼卡南方和海峡群岛外海的一个惊人的山景和海景。
Beau was a great host; very was easy to make arrangements with and the air-stream is a fun alternative to the busy hustle and bustle of L.A. It's quiet and secluded and the basic amenities were easy to use. As long a you're prepared for more of a camping-like experience you won't be disappointed. The views are amazing. I would definitely recommend staying here!
Brooke
2017-01-27T00:00:00Z
Beautiful place, would stay here again!
Chelsea
2017-02-13T00:00:00Z
Beau was very helpful in familiarizing me with the trailer. Super cool space on a gorgeous plot of land in the Malibu mountains. If you get car sick easily prepare yourself for the very windy road up the mountains but the view is so worth it.
Sarah
2017-03-21T00:00:00Z
We had a great time at Beau's spot. It was so beautiful and secluded and he had everything we needed right there. He gave us lots of tips on how to make our stay even better and was very friendly, flexible, and accommodating. The area is somewhat far away from the hustle and bustle of Malibu, but that's what we were looking for. Highly recommend.
Claudia
2017-03-02T00:00:00Z
Very quaint and secluded. The air stream is nestled up in the hills, down a dirt path on a nice plot of land. If you're looking to get away, you can definitely find that here. Great views, nature, stars, and quietness. 10/10
Joseph
2017-03-17T00:00:00Z
Beau was super easy to communicate with and the place was exactly what we thought it'd be. Had a blast.
Brandon
2017-03-26T00:00:00Z
It's awesome experience in a classic airstream RV, Especially on the top mountain of malibu beach. It is so great view sight of Pacific Ocean! Thanks to Mr Beau so nice to wait for me and detailed directions!
Jiang
2017-03-06T00:00:00Z
Beau's place is exactly as described and so rad! The location of the airstream is a short windy trip up the mountain and so worth the fresh air, beautiful views and wide open space all to yourself. The setup is simple and perfect. Has any necessities you may need on your airstream stay, just remember think "camping style". We checked in at 2, Beau showed us the digs and then offered to drive us to Malibu Wines, which was a short ten min drive away. Not only that but Beau offered to pick us up too - for just a small fee, this was so rad of him considering Uber's and taxis are super difficult in this area. The sunset was beyond beautiful in the evening and the airstream provided us the coziest little spot for the night. Recommend this spot 110%! Thanks Beau
Chelsea
2017-04-06T00:00:00Z
房間類型
整套房子/公寓
---
房源類型
露營車
---
可住人數
2
---
卧室
馬里布, 加州, 美國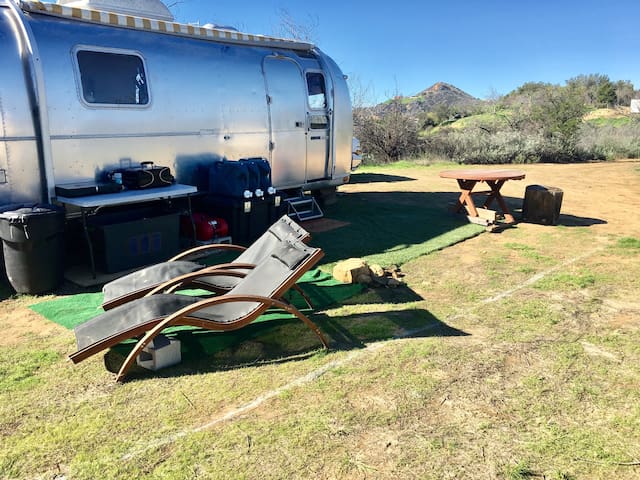 Relax in your private room after a long day of hiking or fun in the city. Our house is located in the Santa Monica Mountains with beautiful canyon views and a short walk to sweeping views of the ocean. We are located 2.7 miles off the Pacific Coast Highway and close to Malibu's best hiking, beaches and restaurants. The large private room with comfy bed has own bathroom with shower right outside the room. Enjoy a glass of wine on the decks or a Nespresso in the morning. We look forward to sharing our space with you!
Very quiet, beautiful views, tranquil yet close to everything Malibu.
House is ~3 miles off the PCH (pacific coast highway) and in the Santa Monica Mountains. Some guests who are not familiar with California topography might be uncomfortable with the drive up - there are a couple hairpin turns. However, the roads are good and most people have no issues. It is a bit secluded but that's what makes it beautiful and unique. Neighborhood is very safe.
This was a great find in Malibu! Perched in the mountains, you will like this if you enjoy nature and some seclusion from the everyday. Be sure to pack some goods with you on your way up so you can save a trip to the store as it is a bit far. Jennifer and Marco are around the house and are open and friendly. They have an awesome cat and dog too!
Jacqueline
2017-02-24T00:00:00Z
My friend and I had an amazing stay! We absolutely loved the room and Jennifer was SO accommodating and really made us feel welcome. The porch and the view were incredible. Highly recommend.
Kristen
2017-03-04T00:00:00Z
Absolutely loved this place. It was nice to experience the quietness of Malibu living. The bed and pillows are to die for.. so comfy. We had the entire upstairs to ourselves to enjoy and a lovely view of the mountains. The shower is tiny space and the rod is love but it gets the job done. Anyone will enjoy this place.. because I did.
Monica
2017-03-18T00:00:00Z
This house was very relaxing and away from the city. When you look across the canyon you don't see any houses just nature. I also really liked listening to the frogs at night.
Kyle
2017-03-12T00:00:00Z
Our stay at Jennifer place was awesome! It is absolutely beautiful. The view is amazing. The room was very clean and spacious. Would definitely stay here again!!
justine
2017-03-22T00:00:00Z
Jennifer was really welcoming and her place was clean and comfortable. There is a beautiful view from the bedroom, the bed felt extra comfortable after a long day at work, the AC worked great, and I enjoyed the sound of the frogs outside as I went to bed. Loved her cat and dog! Above all, I appreciate her working with me and my constant changing work schedule. I would definitely consider staying here again if I'm in the area.
Monica
2017-03-15T00:00:00Z
This was a decent stay for the timing and cost. The location is very secluded and the drive was a slight challenge.
Lauren
2017-03-27T00:00:00Z
Our visit exceeded my expectations in every way. Jennifer and Marco were wonderful hosts, and their house was beautiful up in the mountains. We were allowed to check in early, Jennifer gave us some wonderful tips about things to do, and we loved their pets. I can't recommend highly enough!
Laurie
2017-03-23T00:00:00Z
馬里布, 加州, 美國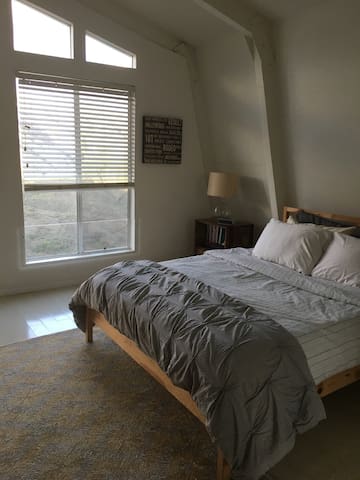 This lovely spacious suite with private entrance & private bathroom is the ground floor level of the main house on 10 acres on a rural property in the Santa Monica mountains with it's own waterfall & canyon views. Close to horseback riding, the famous backbone trail, hiking & biking, Malibu wine safari, Saddle Rock Garden Dinners, Malibu wines & tasting. Short drive to beaches and Malibu restaurants. A beautiful drive to Pepperdine University activities, Malibu Pier and famous Surfrider beach.
这间宽敞的套房设有私人入口和私人浴室,更像是一个大号床和一个非常舒适的大拉出床的一室公寓。房间里有一个Keurig咖啡机,星巴克咖啡,烤面包机,微波炉,水壶和一个小冰箱和水槽。不过空间没有厨房,或烹饪设施。 这是一个定制的家庭,设计和建造业主楼下的地面上。享受由手工定制的木制品被包围的感觉。 欢迎您到四周散步,用吊床和休息区的树下。还有就是你的前门外的池塘,这只是我们套房的客人旁边的私人休息区。完美的地方的早晨咖啡或小酌一杯。 这是任何人谁想要脱身,放松身心,完美的作家,以美和自然包围的理想去处。我们有一个山寨水疗中心,这里的财产。预订面部或按摩,并在和平与安宁浸泡。 大容易进入停车场。 注*如果保留是两个人,但你需要第二个床(拉出沙发),你需要申请预订时,所以我们可以把它你的到来弥补之前。 注*有一个额外的费用为3&4人 *注:手机连接在峡谷非常参差不齐。您可以使用我们的土地上线的紧急电话号码。 免费无线网络连接。 只有成人,没有12岁以下儿童,没有宠物。
我们的家"Sequit瀑布牧场"位于圣莫尼卡山国家休闲区(SMMNRA)之内。有许多美丽的远足/自行车道包括世界著名的骨干开拓者,我们是一个方便的过夜中转站。我们位于国际骑自行车,包括环法自行车赛等大型自行车赛事训练训练路线之中。 (URL HIDDEN) 我们也接近"马里布的葡萄酒"的葡萄园,品尝位置和葡萄酒Safari浏览器。 马里布有一些伟大的餐馆和商店,当然还有世界著名的海滩,美丽的6英里峡谷驱动利奥卡里略海滩和国家公园和太平洋海岸公路。我们约。从环球影城,威尼斯海滩和Santa Barbara和大约1小时。从迪士尼乐园和诺茨浆果农场1个半小时。我们约。从圣地亚哥海洋世界21/2小时。洛杉矶国际机场是约。 1小时15分钟,沿太平洋海岸公路可爱的车程。
Please come here. It's amazing.
Jake
2017-03-24T00:00:00Z
This is a brilliant country house. Clean and beautiful. The hosts are really nice. If you like country life, this is the perfect place for you. But you'd better arrive the place in daytime. It's hard to find during the night and there's no signal around.
Cissie
2016-12-27T00:00:00Z
We had a great stay here. The suite is beautiful and very spacious. Gary and Ali were very welcoming and kind. The local area is great too.
Nicole
2016-09-19T00:00:00Z
My girlfriend and I came here for our two year anniversary and couldn't be more happy about our choice. I can't say enough good things about this place. The property was awesome with an amazing waterfall, and lots of little trails to explore. The suite was spacious and comfortable. Gary and Ali are extremely friendly, warm and hospitable hosts. They make you feel at home, while giving you all the privacy you could ask for. I highly recommend staying here, and I can't wait to come back.
Michael
2016-05-23T00:00:00Z
Gary and Ali were super sweet and great hosts. They even left some fresh squeeze organic orange juice that was the best I have ever had! They also left some snacks which was very nice of them. Their property is beyond beautiful and they make you feel comfortable wandering around. I would highly recommend this luxury suite! I know we will be back!
Brittany
2017-01-29T00:00:00Z
Very pleasant stay. Comfortable and clean. You can tell the owners take pride in their home. They were also very kind to lead us to their property when we were slightly lost.
Kent
2016-09-17T00:00:00Z
This was a perfect getaway for us. The hosts were very friendly, personable, and informative. They provided us suggestions for places to see. I never visited Calamigos Ranch even though I grew up near this area, so that was a great suggestion from the hosts. One of my favorite places is Paradise Cove, so it only took about 15 minutes or so to get there. The room was perfect after a long day of hiking. There was an option for the queen bed or a couch bed, which looked larger. We decided to sleep on the sofa-bed because it felt more comfortable for us. I probably had the best sleep there then I have had in a long time. I loved the organic juice, little treats, and "welcome" food basket in the room. It made our entrance into the room feel very cozy. The testers of lotions, soap, etc. were an exciting treat. I love the smell of lavender, so that lotion was my favorite. Location and room are very private. The grounds were perfect for us because we like to explore and go hiking. We enjoyed our stay immensely. I showed my friends photos of the area and hiking spots and now they all want to stay there too. I hope you're ready for a lot more bookings. :-) This place is on the list of locations to return to again and again.
Jenna
2016-05-31T00:00:00Z
They reached out to us in advance and helped suggest locations for local hikes. The day of they reached out to ensure they could be home when we arrived. In the room they had a welcome basket filled with snacks and her hand-made soaps along with fresh fruit cups and organic orange juice.
Kirsten
2016-05-29T00:00:00Z
馬里布, 加州, 美國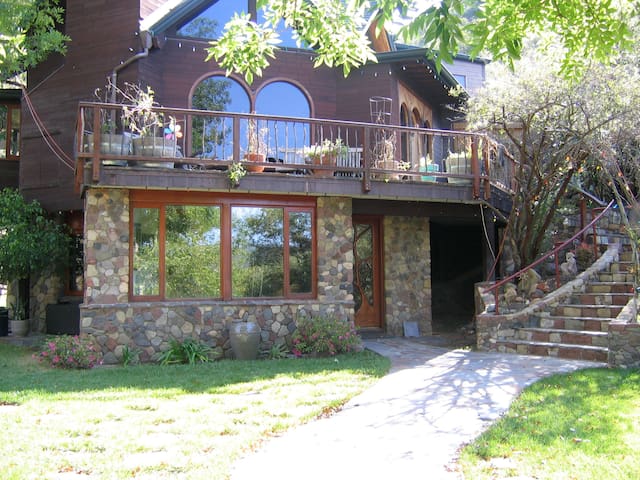 Charming small one bedroom guest cottage w/ loft on horse property in the Malibu Mtns. Get away from the traffic and the city madness and spend some time sipping wine and watching the sunset in the beautiful Malibu Mtns. The Cottage is an ideal destination for wine tasting, hiking, mtn biking, street cycling, beach going or just relaxing in peaceful seclusion. Experience the magic of the Santa Monica Mountain Range all year round. We are 10 miles from Malibu and 5 miles from the 101 freeway.
Note: I have made a couple upgrades since 02/10/2017. There is now a door on the bathroom and there is a gas stovetop. :-) The main part of the Cottage consists of a kitchen with a mini fridge (FYI mini fridge is small and has an even smaller freezer), a 4 burner gas stove top, toaster oven, microwave, coffee maker, etc. There is a dining area and a small sitting room with a tv and a small movie collection (sorry there is no cable tv). There is a loft and a quaint bathroom with a stall shower. Separate from the main living area there is a small bedroom that has it's own entry (see bedroom pictures). There is a queen bed in the bedroom and a double bed in the loft. Unfortunately there is NO wifi so bring a book and enjoy unplugging from the matrix :-).
The grounds here are beautiful and the magic of Santa Monica Mountains is gentle and inspiring. While being 10 minutes to civilization, it feels like another world. Everyone enjoys the beauty of having coffee or tea in the morning out on the deck in the peace and serenity of the ranch. This is a great place to write, use as a base camp for recreation adventures, do yoga, plan local wine adventures, or just chill. The evenings are glorious, a star filled sky, a big moon, and nature all around. The neighborhood, if you could call it a neighborhood consists of homes scattered throughout the mountains. There are a couple homes on adjacent properties fairly close but you will feel like you are peacefully secluded and privately tucked away in your own mountain world.
This was the perfect place for a quiet mom and daughter weekend. Rafael made sure to give us good directions and we had no trouble getting there. The setting is picturesque and we loved the sounds of the horses munching and moving around. We had everything we needed and really felt at home in the cottage.
Gigi
2016-10-17T00:00:00Z
A beautiful location not far from the coast made for a great girls' weekend retreat. Waking up to a gorgeous sunrise, having breakfast on the deck just yards away from horses having theirs - for a city girl, that was just way too exciting, but our host was patient with the horse questions. A great spot to explore the beach, the Getty Villa, and local restaurants and vineyards!
Teresa
2016-10-03T00:00:00Z
Great spot if you want to get away from the city. The cottage feels like home, the host provided with everything you need. Definitely will come back in the future
Kevin
2017-02-20T00:00:00Z
This place is absolutely amazing. It is so quiet and peaceful and exactly what we were looking for. Rafael was easy to contact and answered any questions we needed. He had juice, coffee and bagels provided for breakfast which definitely came in handy the next morning as we arrived late the previous night. It was easy to find using our GPS and Rafael's directions also helped when we arrived. The views are breath taking. This place does not disappoint. Highly recommended!
Luke
2016-11-03T00:00:00Z
Three of us stayed here for one night girls getaway. The place is just as described, very clean and comfy. It is located right next to horse pastures and sitting outside in the morning to enjoy the scenery was lovely. It was close to where we wanted to go (Malibu Wines and Malibu Cafe) and we really enjoyed our stay. Rafael was great with communication and left us some breakfast foods and coffee supplies, which was so nice to have. Would highly recommend!
Ashley
2016-11-20T00:00:00Z
Could not have been happier with my stay at Rafael's place. Perfect location, great view, and lovely home. Communicating w Rafael was easy, and being there was incredibly relaxed. Definitely a place I hope to stay at again.
Azazel
2016-10-23T00:00:00Z
This was a fantastic getaway for the long weekend & Raphael was a wonderful host! He kept in touch during our stay to ensure that we were happy and went out of his way to assist us with check-in when our plans changed (we had to check-in later than originally scheduled). The breakfast items in the fridge were a very thoughtful touch as well (bagels, orange juice, milk etc). The cottage is really lovely and caters to everything you could want (it is quiet, secluded, very clean and has a great little kitchen for cooking). The location was perfect for us as we did a tour at the Saddlerock Ranch/Vineyard, which is only a couple of miles down the road. A+ all round – would love to stay here again in the future!
Genevieve
2016-09-07T00:00:00Z
We had a really nice stay, our beds were comfortable, the cottage was very nice, the location perfect. Our host, Rafael was friendly, although we did not meet while we were (just a night), he provided us with all the essential information and made himself available for further questions. Wish we could stay longer! I totally recommend staying here.
Daniel
2016-10-22T00:00:00Z
馬里布, 加州, 美國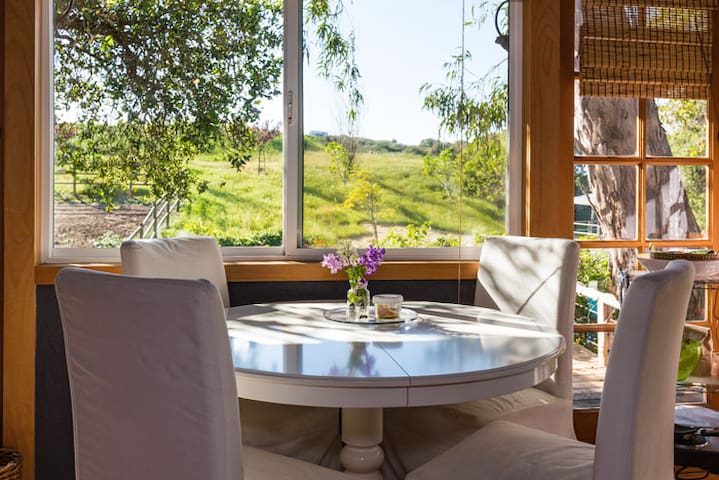 A cozy, guest studio apt. in an oak lined Malibu canyon. Private entrance, small kitchen with full sized fridge, Keurig system, toaster oven, microwave and grill. Travertine bath. Complete ent. system with 55" flat screen, Direct TV and internet.
This apartment is basically a very large home theatre space, that has comfortable seating and a queen bed. We have work space available, internet, and it's own heating and AC system. It is a wonderful space for a couple.
Our neighborhood is nestled in the Santa Monica Mountains, surrounded by thousands of acres of open space. Fire roads, hiking trails, and fabulous road cycling rides await you. There are several rock climbing possibilities nearby as well. Of course if you choose, Malibu's famous surfing beaches are just minutes away. This is also a large viticultural area, and wine touring is available, just minutes away! We can direct you to all of the best hidden destinations!
Bruce and his wife, Mary, are lovely, warm people. The guesthouse is beside their home in spectacular Latigo Canyon. The spotlessly maintained guesthouse is beautiful, with top line finishes and gorgeous grounds. And fruit bearing orange and lemon trees! We were greeted by this lovely couple, their 2 charming and calm Whippets, fresh blooms in the house, and a kitchen stocked with coffee, cream, fruit, and yogurt. The kitchen is very nicely equipped. The stunning bathroom is stocked with toiletries. This was a terrific find. I only wish we had stayed longer.
Linda
2015-03-24T00:00:00Z
My wife and I were in LA caring for our son who broke his ankle climbing. After 11 days, it was definitely time for Chay and I to get away. I wanted to try the Malibu area and wanted to try a airbnb property. I found Bruce and Mary's guest room and immediately liked what I saw. An email to Bruce was returned promptly and Chay and I were off. We arrived later than expected but communication was smooth and we arrived to our property a little tired but ready to relax in the hills of Malibu. The room is really closer to a small apartment and serves as Bruce ' s theater room and film editing office. The beautifully finished space includes a nice 5.1 surround system with a 55" LCD screen, a really comfortable bed (Mary takes pride in creating a sumptuous sleep experience for their guests), a nicely stocked small kitchen complete with snacks, breakfast scones and fruit, yogurt, granola, etc. I really got the sense Bruce and Mary had stocked the property as if they were the guests. We only had 1 night but both Chay and I quipped that we will need to come back after another week and a half taking care of our son. In all sincerity, if you want a quality property near Malibu, hosts that are warm, helpful, and friendly, look no further. Highly recommended.
Jim
2014-09-07T00:00:00Z
We loved staying at Bruce's studo! So relaxing and the space is awesome. He is a great host and made sure we had everything we needed. We wish we could stay longer!
Jennifer
2015-10-29T00:00:00Z
After driving through the Malibu canyons a couple weeks earlier, I wondered what it was like to live there. I saw Bruce's guest studio apartment, and I couldn't resist the opportunity. From the photos, the place looked amazing. And it lived up to the pictures! The place provided 100% privacy, was impeccably clean, and incredibly comfortable. Bruce was an amazing host. He was very responsive throughout my stay. I couldn't have asked for anything more. It was a great experience. I give Bruce and his studio highest marks.
James
2016-02-17T00:00:00Z
Amazing place!! Bruce and Mary are fantastic hosts and made our weekend getaway absolutely perfect, they exceeded all of our expectations. The bed was comfortable and everything you needed was on hand. Downtown Malibu is a short Uber or Lyft away. We ate at The Sunset Restaurant and had an amazing dinner. The next day we drove into town and bought steak and salmon at the vintage grocers and used the grill to make a very nice meal. Bruce and Mary made us feel like family and can't wait to come back again!
Douglas
2017-03-13T00:00:00Z
The apartment was very comfortable and the bathroom luxurious. We loved the Malibu canyon location. Mary and Bruce were so welcoming we felt like relatives - little treats like smoked salmon, coffee and pastries were warmly appreciated. We were sorry to leave so soon. We will be back!
Peter
2015-07-12T00:00:00Z
Our stay at Bruce's apartment tucked away in Malibu was a highlight of our trip. The location provided a quiet, tranquil haven. The bed was very comfortable and the kitchen well-equipped. We shopped in Santa Monica on the way from the airport but there are food stores along the Pacific Coast Highway if that works better for you. Bruce supplied great coffee for the provided Rolls Royce of coffee-makers, along with OJ, eggs and chocolate! The freshly picked roses were a lovely touch. Bruce was very accommodating with both our check-in and check-out times. We wouldn't hesitate to recommend this hideaway retreat. Thanks Bruce!
Sarah (Sally)
2015-09-28T00:00:00Z
Bruce was a fantastic host who was very welcoming and accommodating. The amenities of the room were all top notch (TV, internet, AC) and the room was extremely clean upon arrival. The surrounding areas were very quiet, peaceful, and the views were especially impressive. I couldn't have asked for a better place to stay in Malibu!
Kris
2016-09-06T00:00:00Z
馬里布, 加州, 美國
可爱的小屋风格的家居在马里布山麓海景提供了许多设施,如4间卧室,壁炉,按摩浴池,10x16游泳池,烧烤,无线网络连接,电视和阳台。靠近海滩马里布和餐饮。客人可以从一个上锁的房间内,火塘(非活动的安全性,但好围坐)全面进入家庭备用。你一定会喜欢,因为宁静的地点和意见的这个马里布度假胜地。适合情侣,家庭(含儿童),和小团体。有些海滩项目包括。
So wonderful! Had a small NYE gathering there. The bedrooms are on the ground floor, with an incredibly spacious kitchen / dining / living area above. Absolutely loved the view and the briefest hike up to see the ocean. We really had a blast, everything was clean, and Cassandra was incredibly helpful!
Maya
2017-01-01T00:00:00Z
This place is awesome!!! Great value.
megan
2016-08-26T00:00:00Z
Place was secluded and peaceful. Would recommend.
scott david
2016-10-23T00:00:00Z
Do you want a break from Hollywood or Los Angeles, and do you enjoy the best beach in the pacific area, then the Malibu Canyon Resort is a place to talk your family for a nice retreat. We enjoyed and relaxed in the spa, and pool and saw several shooting stars from the lovely terasse with a scenic view of the canyon.
Peter
2016-07-29T00:00:00Z
Very nice retreat in the beatific Mountains in Malibu, Cassandra was an awesome host thank you so much
Kevin
2016-07-26T00:00:00Z
Great, Tahoe style Malibu Canyon retreat. Great value with plenty of room for all. If you want an ocean view, I'd recommend elsewhere. Very quiet neighborhood with relaxing hot tub and balcony.
Nathanael
2016-08-07T00:00:00Z
Wonderful home for a group or family to enjoy. Peaceful setting. Great ocean view from observation chairs. Great stars from hot tub.
Susan
2016-11-27T00:00:00Z
This place is pretty great and a heck of a deal compared to the surrounding area. Fairly secluded and away from everyone. The driveway is incredibly steep, but there's a parking area below the house. I definitely recommend it if you're looking for a quiet getaway. Most phones have no reception, but the internet is great so you can stay in touch if you want.
Maxwell
2016-12-18T00:00:00Z
馬里布, 加州, 美國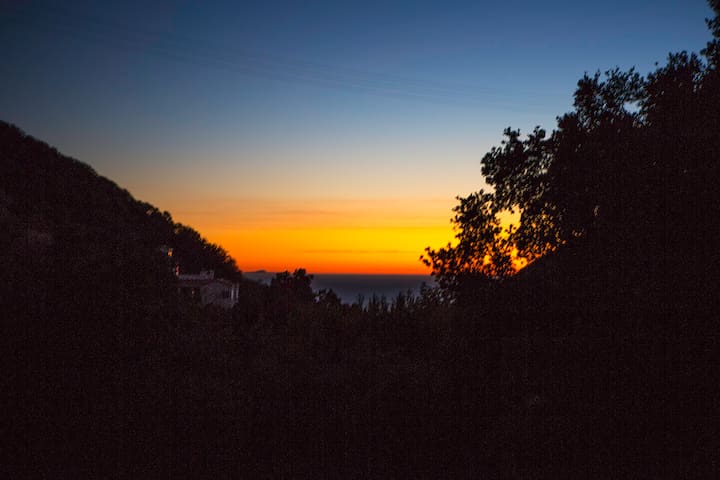 Our "PINK" room has designer linens, Shower, Bathroom, comfortable cast Iron Antique bed Frame. Overlooks private Palapa Patio. En suite refrigerator and Neurig Coffee Maker. Soap, Towels, Shampoo all provided. Spacious bathroom.
Rancho Chiquita is a 250 acre Estate located in the Malibu hills. It has sweeping views of the Pacific Coastline and also of the local mountains. It is an extremely private and romantic getaway. This magical Estate is only 10 minutes away from the center of Malibu with its boutiques, galleries and world class beaches, surfing, hiking and top notch restaurants. The views from all points of the Ranch are stunning as is the night sky lit up with stars.
This is a close knit family neighborhood nestled in the Santa Monica Mountains. It is only minutes to beaches, surfing, great shopping and world class restaurants.
What a wonderful host. Geraldine was so gracious and kind. Her recommendations of the local area were spot on for what we were looking for. A very laid back and relaxing place to stay. Her rescue dogs made it feel like home. We will definitely be back. Highly recommended. Thank you, Geraldine.
Kristin
2015-05-25T00:00:00Z
This place was breathtaking!!! Serene and beautiful. The design was inspired! The host, a rare breed of wonderful. Rancho Chiquita is hospitality at its peak of perfection. I took my 73 year old friend and she had the time of her young life (an experience she had never experienced even in her youth.) Spanish style design atop the mountain, unplugged from all her stressors. We lived like locals in Malibu as Geraldine showed us how. She guided us to the right sites, restaurants and must have experiences. We told everyone we were not visitors but that we lived in Malibu for 2 days. The Sunset Restaurany, Paradise Cove, Getty Villa... The host, Geraldine, is a sweetheart. Her philanthropic spirit is infectious.
LaTrice
2016-06-30T00:00:00Z
Geraldine was really helpful from the moment she confirmed our booking. Giving us tips / recommendations for lunch and dinner which were all v good. The room was exactly as described and she was even kind enough to provide crumpets, coffee and tea for the morning. A great host! A great stay! Would definitely recommend - a fantastic ranch and place to stay.
Simon & Rhiannon
2016-04-12T00:00:00Z
The place was exactly like the pictures. Very nice, clean and comfortable in a gorgeous location. Views were amazing. Geraldine was great and very helpful. She gave us a wonderful restaurant recommendation, Ollo's. Food was great and only about 15 minutes from the house. The next night we went to her restaurant, Lula's, and had great Mexican food and awesome margaritas as well. It was a great stay.
Alex
2016-04-17T00:00:00Z
The visit was delightful. The property on which the room is located is magnificent. The house if beautiful and the room itself was cozy. The hostess was attentive to all details.
Rosie
2016-02-21T00:00:00Z
Host was extremely welcoming, the place was beautiful, beyond what we expected, very safe and friendly place.
Mary
2015-08-02T00:00:00Z
Geraldine is a gem, and her place is equally as charming. Tucked away in the hills overlooking Malibu, her villa feels like a Spanish hacienda. (Turns out, much of the tile throughout the property was imported from Mexcio.) We stayed in the "Pink Room", which was clean, comfortable with a private courtyard perched high above the Pacific. The shower had great water pressure, bed was comfortable and the grounds are 5-star. We can't wait until our travels take us back to Malibu so we can return!
Anneli
2017-03-26T00:00:00Z
The guest suite was exactly as it looks in the pictures. Spacious and well appointed. Great patio and great views from the property. Geraldine had light breakfast and coffee and wine for us upon arrival and was a great hostess.
Brian
2016-03-15T00:00:00Z
馬里布, 加州, 美國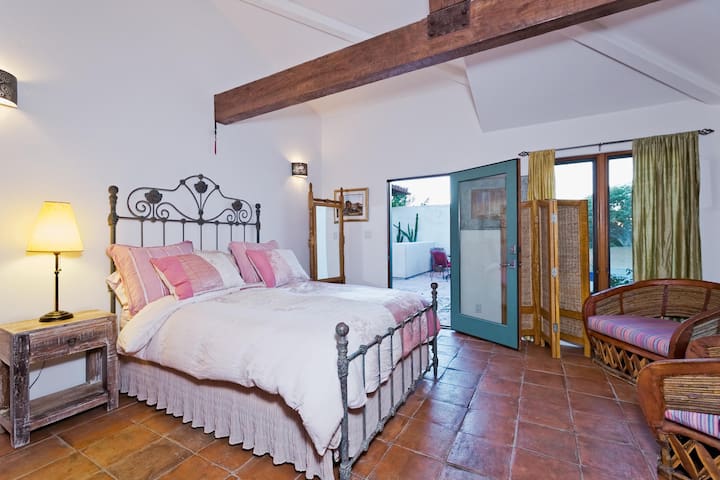 馬里布 - Airbnb
:
在

1886

位房客的評價中,平均評分為

5

星(滿分為

5

星)