Dormitory ULS self catering 19-34 persons, 7 multiple Bedroom 4-4 bed and 3-6 bed rooms, all provided with bathroom, kitchen, dressing, ice-cube Lounge Terrace and parking. plus heating costs from October 1 to May 31 2.00 Euro Pers./Day Please do not forget to bring sheets, towels or sleeping bag with linen cloth. (Hire 5.00 Euro linen and towels 2.00 Euro) Tourist tax 1.70 euros over 18 years and citytax 0,20 euro Pers./Day
The house is located in a small suburb of Bad Rippoldsau in a beautiful natural landscape. Here you can still recover and experience nature. The group apartment has 4-4 bed, 3-6 bed rooms, kitchen and lounge. Groups such as clubs, bikers, families, etc. are welcome.
Our house is situated in a quiet part of Bad Rippoldsau in wood forest. Quaint Restaurant Alte Tränke 2 km away from us.
房間類型
整套房子/公寓
---
房源類型
公寓
---
可住人數
16
---
卧室
Bad Rippoldsau-Schapbach, Baden-Wurttemberg, 德國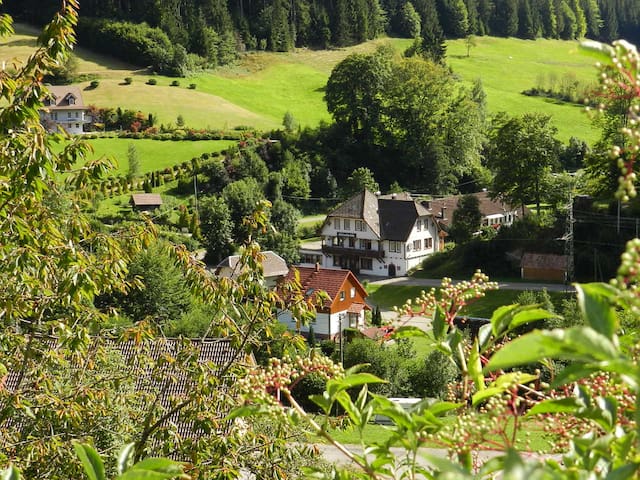 Das Neu erbaute Ferienhaus verfügt über 2 Wohnungen für gehobene Ansprüche. Die Wohnung im 1. OG hat 2 Schlafräume für max. 6 Personen. Die Wohnung im 2. OG hat ein großer Schlafraum für bis zu 4 Personen. Des Weiteren einen großzügigen Koch und Wohnbereich sowie ein modernes Bad mit Kopfdusche und einen überdachten Balkon. Internet WiFi, Sat TV, DVD ist inklusive. Kinderbett und Hochstuhl gehören auch zum Inventar. Weitere Infos unter fewo-beilerstaedtle-oppenau
Die neuen Ferienwohnungen für gehobene Ansprüche befinden sich in der Nationalpark Gemeinde des Luftkurortes Oppenau. Die Ferienwohnungen befinden sich in zentraler und dennoch ruhiger Lage mit Einkaufsmöglichkeiten im Herzen von Oppenau. Bahn und Bushaltestelle sind in 3 Fußminuten erreichbar. Für Ausflugsmöglichkeiten aller Art sind Sie hier genau richtig. Beliebte Ausflugsziele sind Baden-Baden, Europa Park in Rust, Straßburg und Freiburg. Mountainbiking, wandern, Gleitschirmfliegen und Skifahren sind attraktive Freizeitmöglichkeiten bei uns vor Ort.
Oppenau, 巴登符騰堡(Baden-Württemberg), 德國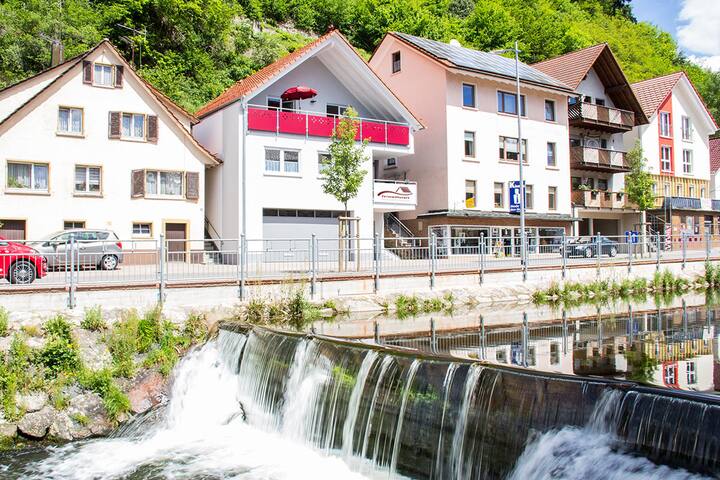 Small welcoming 1 bedroom apartment with new fitted kitchen and modern bathroom. Very quiet location in the heart of the Black Forest. Small lovely 1 room apartment with kitchen and bathroom. It is located in the heart of the Black Forest.
Our little lovingly furnished one-bedroom apartment is located in Baiersbronn in the Black Forest. The apartment has a new kitchen and a bright and modern bathroom. The living and sleeping area is spacious and bright. The Garden Route invites you to relax and in the evening you can enjoy the beautiful sunset in the Black Forest. Public transport such as buses and trains are within a few minutes. The nearest supermarket is a 5 minute walk; Also there are some culinary highlights nearby. The area is ideal for long walks, hiking and mountain biking. In winter, a comprehensive network of trails groomed with enough snow and several small downhill slopes are prepared. The local tax is included in the price. As an extra feature the KONUS guest card buses and trains for free in the transport association. Our small lovely one room apartment is located in the heart often the Black Forest. The apartment includes a brand new Kitchen and a modern, light-flooded Bath- and living room. Public transport like bus and train are only a few minutes by walk. The next supermarket is just around the corner Which takes about 5 minutes. by walk. The area is known for it's big variety of walking tracks aswell for biking. As a guest of us you can enjoy the benefits often the "KONUS Guest Card" which Allows you to use public transports in the "Black Forest" for free.
Beautiful Walking Stick and culinary diversity A wide range of walking routes and culinary variety.
El apartamento se encuentra en una pequeña colina tranquila y tiene una agradable vista al hermoso bosque negro, que es lo primero que se ve al despertar. Sabine y su esposo fueron muy amables y atentos en la recepción. El apartamento está lleno de pequeños detalles (dulces, bebidas, frutas y otros alimentos) que son una muestra de su generosidad y amabilidad. Cada mañana además, me dejaban panes frescos en la puerta y hasta probé el pastel de ruibarbo de Sabine. El pequeño jardín te recibe además con sus rutilantes manzanas. El apartamento es acogedor, limpio, práctico y perfectamente dotado hasta para una estadía de emergencia. Muchas gracias Sabine y Stefan. Espero volver!
Eliana
2016-10-14T00:00:00Z
Such a beautiful apartment and in a great area. We loved staying in the Black forest and Sabine was such an amazing host ! We had a great time. Its very spacious and relaxing! Theres a nice apple tree outside of the apartment, the fridge had beer and water, soda ect. And some other treats and lollies in the house. It was like a hotel but just much better ! She also brought us fresh bread every morning which was amazing and so sweet of her. The last night she gave us a nice slice of apple pie she made, and it was amazing ! We truly had such a nice time there. We went to a place near by where they blow glass definitely something i would recommend! Its very interesting to see how they do that. Would definitely stay here again!
Inge
2016-10-08T00:00:00Z
Sabine, Stefan and Laura are very very nice, the flat is just amazing with a beautiful view on the Black Forrest. When we arrive, Sabine has prepared a lot gift for us. Baiersbronn and Black Forest are beautiful, there is a lot of hiking to do and many landscape to discover . It was really relaxing. Everybody is very nice. Laura gives us many advise about what we could visit or do when it's raining. We could also recommend this appartement for the wonderful homemade marmelade !!
Galatée
2016-06-19T00:00:00Z
Das Appartement ist sehr liebevoll eingerichtet, dekoriert und sehr sauber. Es bietet alles, was man für einen erholsamen Aufenthalt braucht und vieles mehr. Bei unserer Ankunft am Abend, hatte Sabine schon Kerzen angezündet, um uns in Empfang zu nehmen. In der Wohnung warteten schon allerlei Leckereien. Die Gastfreundschaft hat uns überwältigt. Die Lage ist absolut ruhig und ein perfekter Ausgangspunkt zur Erkundung des Schwarzwaldes. Ein großes Dankeschön an Sabine und ihre Familie. Wir kommen bestimmt wieder und empfehlen sie mit ihrer Wohnung uneingeschränkt weiter.
Stefanie
2016-12-04T00:00:00Z
sehr schönes Appartement mit wunderbarer Rundblick. Freundliche Empfang und viele leckere Sachen lagen für uns bereit. Ein modernes Haus in uralte wunderschöne Landschaft.
Zsuzsanna
2016-05-07T00:00:00Z
Wir haben ein tolles Wochenende in einer wunderbaren Wohnung verbracht. Die Wohnung war sehr gut eingerichtet, sehr sauber und hat einen fantastischen Ausblick. Aber der beste Aspekt ist eigentlich, wie nett Sabine und ihre Familie sind. Wir haben uns sehr wohl gefühlt. Die morgendliche Brötchentüte an der Tür war eine schöne Überraschung! Wir suchen schon nach einem Vorwand, wieder zu kommen!
Daniel
2016-09-04T00:00:00Z
A well-equipped apartment, made extra special by all of added amenities. The cupboards and refrigerator were filled with fruit, vegetables, food, drinks + Sabine's wonderful homemade jams - there was even homemade plum cake upon our arrival. We also enjoyed sitting in the peaceful garden evenings. The family are VERY gracious hosts, and gave us really good hiking tips for the area. Our favorite hike was to the Wanderhütte Sattelei for lunch, to the Blockhütte for cake, then to the Seidtenhof for ice cream. We really had a vacation feeling here.
Ross
2016-08-25T00:00:00Z
Sabine spoiled us with fresh flowers, a packed fridge, sweets and fruits and fresh bread in the morning, even a piece of freshly baked cake on our day of departure. The apartment is very well equipped and lovely decorated. It has a great view over the valley and mountains and lots of sun. Recommended.
Ole
2016-09-02T00:00:00Z
Baiersbronn, 巴登符騰堡(Baden-Württemberg), 德國
Enjoy your vacation in our newly renovated holiday apartment in Bad Peterstal-Griesbach in the beautiful upper Rench valley. The apartment is furnished for 2 to 6 people. From our location, you can very well end finish the Black Forest. You can hike, accessible by car, train and bus loads of great goals or relax in the apartment and in the garden or on the terrace.
.Our House is on the outskirts of Bad Griesbach facing south, surrounded by garden and lawn overlooking the Kniebis. The comfortable and newly furnished apartment includes a living room, up to three double bedrooms, kitchen incl. Dishwasher, shower / WC, sep. WC and private terrace. Free parking spaces are available, on request, parking in the carport. It is very well suited for 2 to 6 people. The apartment has been classified "4 stars" by the German tourism association.
Our place has a very good cuisine, the nearest restaurant is only 200 meters away. Around the house is a large garden. It has beautiful views of the surrounding Black Forest mountains. is about 200 m to the train station and the nearest bus stop.
Eine Unterkunft in der man sich rundherum wohl fühlt. Es ist alles perfekt! Die Wohnung ist sehr geschmackvolle eingerichtet. Wir sind sehr selten in so einer sauberen und großzügig geschnittenen Ferienwohnung gewesen. Die Gastgeber sind sehr freundlich und zuvorkommend. Man bekommt gute Tibs für Wanderungen, Restaurants, Geschäfte usw..
Ulrike
2017-02-21T00:00:00Z
Die Wohnung ist genauso schön wie sie auf den Fotos wirkt. Es fehlt an nichts. Von Magdalena und Georg wurden wir sehr freundlich empfangen und sie waren ansprechbar für Wünsche und Fragen. Wir haben uns sehr wohlgefühlt und würden auch gerne nochmal wiederkommen.
Helga
2017-03-04T00:00:00Z
Die Wohnung ist wie in der beste Fachzeitschriften stilvoll, sorgfältig und großzügig eingerichtet. Magdalena und Georg sind sehr gastfreundlich und hilfsbereit. Die Lage ist super. Gerne kommen wir wieder.
giancarlo
2017-01-29T00:00:00Z
We had a nice stay at this large apartment. The hosts were very friendly and helpful. The place was very clean and a fully equipped kitchen. Nice garden too. Great central location for exploring the area. Local light rail is right across street.
Michael & Lesley
2016-07-14T00:00:00Z
Perfecto !!!! Todo, la familia, la casa , la ubicacion. Ha sido una suerte poder disfrjutar de esta magnifica casa, amplia, recien reformada con un gusto exquisito y super limpia, acogedora y cómoda. Magdalena y George son encantadores, ofreciendo su ayuda para cualquier cosa que hemos necesitado. Llevabamos excursiones preparadas para hacer, pero cambiamos planes para realizar una de sus sugerencias (Wilde Rench) y fue una autentica maravilla. Magdalena y George pusieron a nuestra disposición una carpeta con valiosa información acerca de transportes, restaurantes, excursiones, etc. que resulto ser muy valiosa, asi como mapas de la zona y distintas publicaciones de la oficina de turismo. En definitiva, un sitio super recomendable para ir y descubrir las maravillas de Schwarzwald y a esta encantadora familia. Danke schön Magdalena und George !!
Manuel
2016-08-21T00:00:00Z
The house is perfect for a family with kids. You can feel as you are in your own home. The place is really nice and calm, perfect for a relaxing holidays!. You can do a lot of activities close to the house and there is a playground next to the house for the kids. The hosts are very kind and help you in all the questions you may have. Even if you dont know what to do around,they can help you providing all the information. We really enjoyed the time there!
Rocío
2016-05-09T00:00:00Z
Great experience! The apartment is very big and organized. Very clean and beautiful. The village is lovely and the host is friendly and helpful. 6 stars!.
Adi
2016-08-02T00:00:00Z
We Was having great time and we love the place ,very clean ,good location, big space, good for family , and the most important thing is owner are very kind and friendly ,we was having very nice experience with them , our kids like the place .
Fahad
2016-07-21T00:00:00Z
Bad Peterstal-Griesbach, 巴登符騰堡(Baden-Württemberg), 德國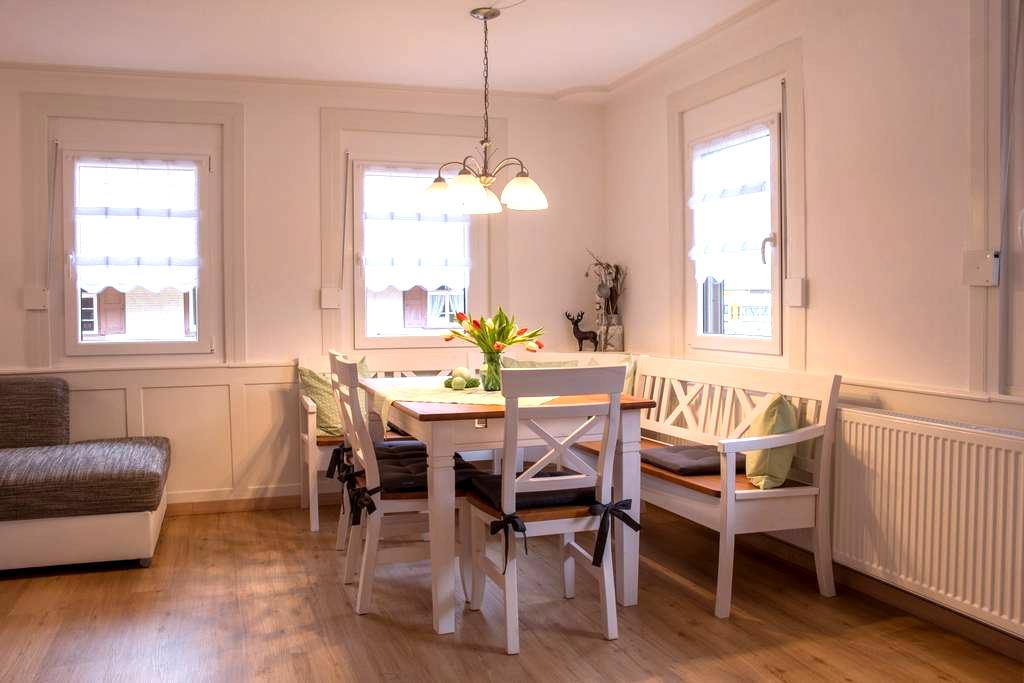 Das Neu erbaute Ferienhaus verfügt über 2 Wohnungen für gehobene Ansprüche. Die Wohnung im 1. OG hat 2 Schlafräume für max. 6 Personen. Die Wohnung im 2. OG hat ein großer Schlafraum für bis zu 4 Personen. Des Weiteren einen großzügigen Koch und Wohnbereich sowie ein modernes Bad mit Kopfdusche und einen überdachten Balkon. Internet WiFi, Sat TV, DVD ist inklusive. Kinderbett und Hochstuhl gehören auch zum Inventar. Weitere Infos unter fewo-beilerstaedtle-oppenau
Die neuen Ferienwohnungen für gehobene Ansprüche befinden sich in der Nationalpark Gemeinde des Luftkurortes Oppenau. Die Ferienwohnungen befinden sich in zentraler und dennoch ruhiger Lage mit Einkaufsmöglichkeiten im Herzen von Oppenau. Bahn und Bushaltestelle sind in 3 Fußminuten erreichbar. Für Ausflugsmöglichkeiten aller Art sind Sie hier genau richtig. Beliebte Ausflugsziele sind Baden-Baden, Europa Park in Rust, Straßburg und Freiburg. Mountainbiking, wandern, Gleitschirmfliegen und Skifahren sind attraktive Freizeitmöglichkeiten bei uns vor Ort.
This is the greatest place to be staying. Oppeneau is a sweet town.
mary
2017-04-06T00:00:00Z
Bianca ist sehr hilfsbereit , freundlich und warmherziger Mensch. Die Mieter waren sehr glücklich. Die Zusammenarbeit mit Bianca ist schnell und einfach. Sicherlich auch mieten wir eine Wohnung mit Bianca.
Małgorzata
2016-12-17T00:00:00Z
Awesome place!!! Super clean and new. Bianca received my family really well even offer a crib for my son. Best place if you are going to Baden Baden or black forest.
Jose Daniel
2016-10-29T00:00:00Z
The lovely apartment was spacious, modern and we'll equipped. Bianca was a great host; very welcoming and helpful. We would definitely recommend to anyone looking to visit Oppenau in the stunning Black Forest
Taree
2016-11-17T00:00:00Z
I like the view from the balcony.Also, her furnitures are new . So, you can see the mountain and revere when you have a coffee at balcony.
Ahmed
2017-03-31T00:00:00Z
Bianca ist eine tolle Gastgeberin. Ich kann den Ort und die Wohnung nur empfehlen! Es waren zwei wunderschöne Tage. Vielen Dank.
Gökmen
2017-04-09T00:00:00Z
The apartment is beautiful - new, clean and had plenty of room for our family of 6 (incl a baby). Oppenau is a pretty little town and the apartment is directly across the road from the river. Supermarket is 200m away and train station is 3-4 minute walk although Hans dropped us and our bags back to the train station early Sunday morning. Bianca and Hans were great hosts, very willing to help but also giving us privacy. We travelled by train however a car might be better for exploring the Black Forest. Highly recommended.
Jennifer
2017-03-19T00:00:00Z
Oppenau, BW, 德國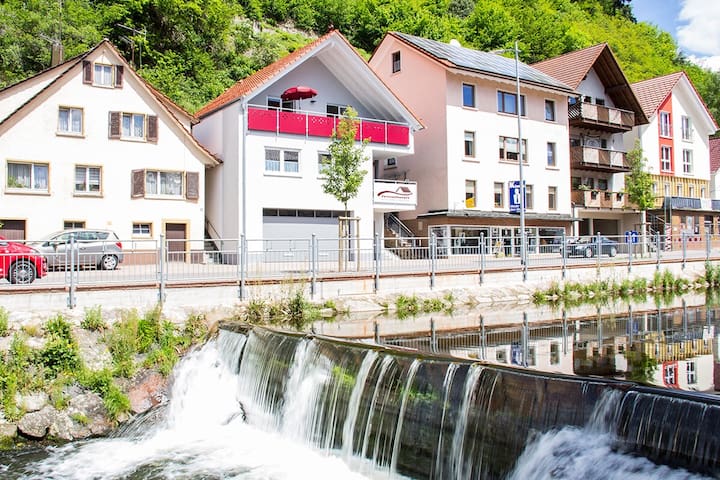 我的空間是公共交通,公園和市中心附近。因為它坐落在一個安靜的街區和舒適的看你會喜歡我的地方。從花園裡走進森林。舒適的客廳。廚房設備齊全,寬敞的冰箱冰櫃和微波爐,4環電爐和oven.T他2臥室精巧公寓有2個舒適的雙人床。適合高個子的人。基於2人,額外人5歐元PP還兒童和嬰兒的速率。
它山嫵媚保持得很好的公寓,裝飾爽口。房子坐落在一個完美的地方 - 只是一對夫婦從特里貝格公里,在一個和平和街頭綠地 - 在黑森林的一個驚人的區,鎮pictoresque各地參觀和探索。所有的景點都長達兩小時的車程,非常適合在黑森林度假。
特里貝格(瀑布),弗賴堡,蒂蒂湖,根根和希爾塔赫美麗的地方參觀
Me, my girlfriend and our friends were delighted to stay in Barbera and Jisk's house! It s a charming and very well kept apartment, tastily decorated, in a stunning area of the Black Forest, with pictoresque towns all around to visit and explore. The hosts were very friendly and welcoming. The house itself, as mentioned, was very comfortable and pleasant to stay in. I would thoroughly recommend to anyone wishing to have a quiet and pleasant stay in the Black Forrest.
Tiago
2016-10-05T00:00:00Z
This apartment was so cozy and definitely true to words. Prefect location with the town centre a short walk away and the forest backing on to the property. Jisk and his wife were so accommodating and drove us to the train station. Would definitely recommend this air bnb to anyone wishing to visit the Black Forest.
Saskia
2016-11-15T00:00:00Z
Bugüne kadar kaldığımız onlarca Airbnb evlerinden en iyilerinden birisiydi. Oldukça temiz ve keyifli döşenmiş bir ev ve rahat. Ulaşım arabayla çok rahat. Ev kara ormanın hemen hemen merkezi olan Triberg merkeze 2 dk. Jisk ve Barbera çifti iyi ve sevecen bir çift. Herşey için teşekkürler. Kesinlikle tavsiye ederim.
Barış
2016-08-27T00:00:00Z
Jisk greeted us right away, explained how everything worked, how tourism paperwork for Triberg ready to go, and he even helped us carry bags inside and showed us around. It was above and beyond. Made it much nicer than staying in a hotel. The place was nice, the amenities were as described, and we had no issues while staying at Jisk's place. They took the time to chat with me, my wife, and our boys. They also made sure to have a great parking spot for us right at the property. That kind of thing will cost a lot at a hotel. We look forward to staying at Jisk's place again in the future.
Jim
2016-10-10T00:00:00Z
UNSER KURZER FERIENTRIP BEI BAEBERA UND JISK WAR WUNDERVOLL:BEIDE LEGEN VIEL WERT AUF DAS WOHLGEHEN IHRER GAESTE:DIE WOHNUNG IST MIT VIEL LIEBE ;ARBEIT UND GESCHMACK EINGERICHTET WORDEN:WUNDERSCHOEN:DANKE VON UNS ALLEN
Eva
2016-11-05T00:00:00Z
Beautiful place in a very beautiful town with some perfect hosts! Can't wait to get there for the "Winterzauber" you recommended. :)
Tea
2016-11-01T00:00:00Z
Jisk and Berbara are perfect hosts. They were very friendly to us, even invited us to your their lovely appartment located upstairs. The house is located in a perfect place - just a couple of kilometers from Triberg, yet in a peaceful and green street - ideal for a vacation in the Black Forest, all the attractions are up to two hours drive away. The appartment is spacious, fully equipped and highly recommended.
Shlomo
2016-09-06T00:00:00Z
Esperienza meravigliosa. Posto incantevole ed appartamento stupendo. Ottima accoglienza. Da consigliare sicuramente
maria luciana
2016-12-11T00:00:00Z
Triberg, 巴登符騰堡(Baden-Württemberg), 德國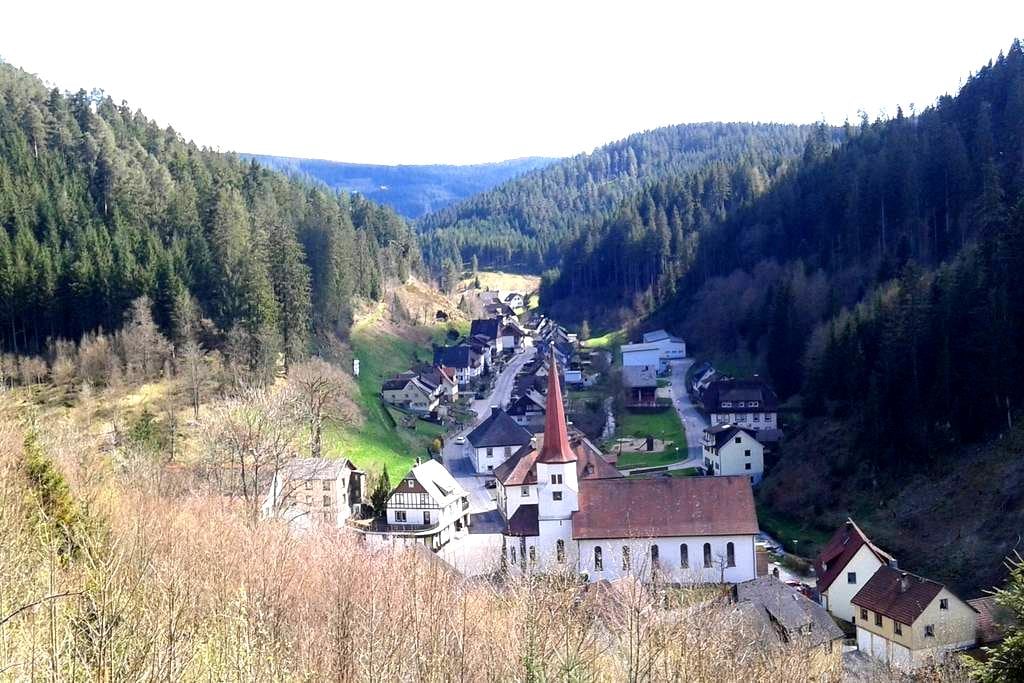 Schönes, modern eingerichtetes Appartement. Sauna und Hallenbad im Haus zum Freibad nur wenige Minuten. Radwege und Loipen in unmittelbarer Nähe. Restaurant nur wenige Minuten entfernt. Im Winter Ski fahren, im Sommer mountainbiken oder wandern.
Modern eingerichtet und Platz für bis zu drei Personen (2 Erwachsenen und ein Kind). Die Unterkunft verfügt über ein großes Bett für 2 Personen und einen Schlafsessel. Die Küche ist voll ausgestattet, Geschirr, Töpfe und Pfannen sind vorhanden. Außerdem ist ein Wasserkocher und eine Dolce Gusto Kaffeekapselmaschine vor Ort. Pool und Sauna (wird mit 1 Euro Münzen betrieben - ca. 3 Euro für einen Saunaabend) sind im Haus. Waschmaschine steht im Keller gegen Gebühr zur Verfügung, bitte bei der Buchung angeben wenn Nutzung erwünscht ist. Kurze Wege zum Freibad, Loipe, Ski-Lift und Restaurant. Der ideale Ausgangspunkt für Langlauf, Abfahrt, Schneeschuhwanderungen, Mountainbiketouren, Wanderungen. Egal ob im Sommer oder im Winter hier gibt es immer etwas zu unternehmen. Vor Ort sind noch 2,20 Kurtaxe pro Person und Nacht zu zahlen.
Super Preisleistungsverhältniss, sehr gemütliche Wohnung, super ausgestattet, Wunderschöne Gegend, höchst empfehlenswert! ..war begeistert von dem Pool und Sauna. Danke Monika, ich komme wieder.
Zbigniew
2017-01-21T00:00:00Z
Wer eine hübsche Unterkunft in ruhiger Lage im Nordschwarzwald sucht und von dort direkt wandern, langlaufen oder Schneeschuhwandern will, dem sei dieses Appartement empfohlen. Als besonderes Highlight nach anstrengendem Sport ist die hauseigene Sauna zum entspannen.
Peter
2017-02-12T00:00:00Z
Der Check in war völlig problemlos und gut organisiert obwohl Monika nicht anwesend sein konnte. Die Wohnung ist klein aber fein. Alles war sehr sauber und wir haben uns sofort wohl gefühlt. Für ein spontanes Wochenende perfekt.
Anja
2017-04-02T00:00:00Z
Charmante, komplett renovierte Altbau-Ein-Zimmer Wohnung, für zwei Personen absolut ausreichend, bei dreien wird es doch kritisch eng. Es war alles da was man brauchte, frische Handtücher, Bettwäsche, ausreichend Geschirr und sogar eine kleine Kaffeemaschine. Der Handy-Internetempfang ist auf fast 1000 Metern Höhe wie zu erwarten, eher mäßig; Routen sollten man zuhause oder unterwegs planen. Für ungeübte Autofahrer sind so manche Bergstraßen in der Umgebung eine Herausforderung, aber auch damit sollte man in den Bergen rechnen. Alles in allem ein liebevoll eingerichtetes Appartement, absolut weiterzuempfehlen!
Marlon
2017-03-03T00:00:00Z
It was a very nice place in the middle of the Schwarzwald. There's a pool inside the apartments with natural water where you can relax. The apartment is small and well decorated. We recommend the experience to anyone who wants to rest some days.
Natalia
2016-12-12T00:00:00Z
Nous avons passé un excellent séjour chez Monika ! L'appartement n'est pas très grand mais bien conçu et suffisant pour nous 2. Il est très propre et bien refait. La piscine et le sauna disponibles apportent un réel + et permettent un moment de relaxation après les activités de la journée. La communication avec Monika a été parfaite aussi bien avant que pendant notre séjour. L'accueil par une tierce personne a été très bien organisé et ne pose aucun souci. En ce qui concerne le coin, on ne peut qu'aimer ! Parfaitement situé dans la foret noire, point de depart de nombreuses randonnées. Un coin vraiment tranquille et qui permet de se détendre pendant tout le séjour. A 60km de Strasbourg et 90km de Stuttgart, cela permet aussi de visiter.
Gwenaelle
2017-01-01T00:00:00Z
Ein wirklich schönes Apartment, gute Lage (sehr nah am Wald), relativ gute Nahverkehrsanbindung, und das Skistadion ist in Laufnähe :)
Alexandra
2017-02-20T00:00:00Z
Tolles 1-Zimmer-Appartment, gut ausgestattet, sehr sauber und definitiv zu empfehlen. Falls die Sauna benutzt werden soll, braucht es Ein-Euro-Stücke - entsprechend ist sie auch nicht umsonst. Der Kontakt mit Monika war reibungslos, sie war sehr zuvorkommend und hilfsbereit! Vielen Dank!
Jan
2016-12-10T00:00:00Z
Kniebis, 巴登符騰堡(Baden-Württemberg), 德國
位於黑森林,距離市中心一公里,你是在一個小的,新裝修的公寓,有許多設備和主食廚房。臥室,兒童床和一張沙發床。
它位於市中心,在Rötenbach的地區,從19世紀新裝修的舊建築用40厘米厚的牆,不允許不受外界干擾。 該網站是直接位於公寓。現在,我們已經漸漸的休息區有蓋入口。在花園對面,他們可以建立躺椅。很高興他們可能會,也從花園裡種植。 直接在上面的公寓是導致城市中心,可以在10分鐘內到達的路徑。我們有一個古老的本篤會修道院那裡,有啤酒博物館和其他博物館啤酒廠。接下來修道院他們發現了一個可愛的咖啡。 他們也有機會獲得許多遠足小徑。椽路徑從洛斯到阿爾皮斯巴赫沃爾法赫去。室外游泳池也只有10分鐘的步行路程。
在阿爾皮斯巴赫本身,我們有Roessle,在那裡你可以吃得很好。從公寓100米處可以找到阿德勒,在這種家庭式的烹飪熟。 從這裡你可以黑森林北部,與塔特的縣城(最大的市場在德國舉行)和毗鄰的自然公園Nordschwarzwald探索。 同樣,南部的黑森林與他們弗賴堡美麗的大學城等。 我很高興地給你其他優惠和技巧周圍的信息。
Super schöne Wohnung, sehr gemütlich (URL HIDDEN) hat uns sehr gefallen, auch nette Kommunikation mit Marlis und ihrem Mann.
Eugenia
2016-11-20T00:00:00Z
We were so comfortable in Marlis's place! Everything was perfect for us! Marlis herself is warm and friendly and generous! She made lovely treats for us and even though she works full time she obtained everything we needed immediately and was extremely attentive. I can't recommend her enough as a host! The location was perfect for us! We have traveled freely by train from one unspeakably adorable town in the Black Forest to the next. We hiked extensively, however, if you like to bike this is an amazing place for that too! If you like to shop for one of a kind hand crafted clocks or other gorgeous items or just relax by the lovely river, this will definitely be your kind of place. I was amazed at the cleverness and artistry found everywhere! We scheduled for another week because we were having so much fun! I would have scheduled more days too but Marlis was already booked for the summer. We'll be back soon I hope! Thank you Marlis!
Enola
2016-06-25T00:00:00Z
Wir kamen erst um 21:00Uhr an und Marlis war da und hat uns empfangen. Die Wohnung ist neuwertig ausgestattet und richtig gemütlich. Wir haben uns sofort richtig wohlgefühlt. Die Ausstattung war komplett und noch mehr. Für das Frühstück am nächsten Morgen, auch (SENSITIVE CONTENTS HIDDEN) für die Kinder, war auch alles da....vielen Dank dafür. Sogar zwei Flaschen der lokalen Brauerei waren im Kühlschrank, lecker:-) Insgesamt ein sehr angenehmer Aufenthalt mit einer super Gastgeberin. Unseren nächsten Aufenthalt im Schwazwald würden wir gerne wieder bei Marlis verbringen.
Frank
2016-10-02T00:00:00Z
Marlis si è mostrata molto simpatica e disponibile; la comunicazione è stata chiara e non abbiamo avuto problemi né con il check-in né con il check-out (ci è venuta addirittura a salutare di persona prima della partenza!). La casa è ben tenuta e molto pulita, oltre a trovarsi in un luogo tranquillo e silenzioso. Al nostro arrivo abbiamo trovato nel frigorifero la colazione per i giorni successivi e un paio di birre prodotte in loco (c'è un birrificio lì vicino). Il paese è in mezzo alla Foresta Nera, in una posizione centrale, che ne facilita l'esplorazione. Bisogna pagare una piccola tassa di soggiorno, ottenendo però in cambio la possibilità di utilizzare gratuitamente i mezzi pubblici del luogo. Assolutamente consigliato!
Emiliano
2017-03-23T00:00:00Z
Sehr nette Begrüßung und tolle Lage. Die Wohnung ist neu renoviert und es fehlt an nichts. Klare Empfehlung!! Wir kommen gerne wieder!!
Daniel
2016-04-25T00:00:00Z
Marlis is such a genuine person. Very helpful and a phenomenal host. Her place is Lovely, cute and super cozy. Perfect for a relaxing nature vacation. Also has a nice fire place for the winter. Super close to the Kloster. Only about 10min walk. We will definitely come back.
Nicklaus
2016-10-23T00:00:00Z
Que decir de Marlis y de su casita!! Marlis dispuso a nuestra llegada todo lo necesario para cenar y desayunar al dia siguiente. Su cerveza fresquita nos hizo sentir tan bien!! La casa esta justo en el centro de la Selva Negra, por lo que se puede usar de campamento base y visitar todo a una hora o hora y media. La casa es tal y como se ve en el anuncio, preciosa. La cama como el sofa son muy comodos. Dispone de lavadora y lavavajillas que te facilitan la estancia en tiempo y comodidad. Nosotros hemos estado 15 dias como si hubieramos estado en casa. Desde un principo conectamos todos con Marlis. Mis hijos disfrutaron mucho de ella. Tuvimos muchas conversaciones en los escalones de la casa, bajo el cielo tan estrellado de la selva negra. Marlis se ofreció a acompañarnos a pasear, junto a Lily, su perrita, por la selva negra e hicimos un recorrido de 12 kilometros. Fue un placer conocer a Marlis!!! y los vecinos de arriba dos abuelitos encantadores, y simpaticos. Gracias a Marlis nos llevamos un recuerdo muy grato de Alemania, y de la Selva Negra!! Se lo recomiendo a todo el mundo!!! Y Marlis ya te dije que mi casa es tu casa...cuando quieras vienes a Barcelona!!
alicia
2016-08-27T00:00:00Z
très bon accueil avec de quoi manger dans le frigo. Nous avons aussi eu des brownies le jour du carnaval et un bon feu réchauffait la maison. Le chemin qui mène au bourg est très agréable et évite la route. Location à conseiller vivement, les couettes en plumes sont excellentes ainsi que la literie, et tout ce qu'il faut pour cuisiner. Merci à Marlis.
florence
2016-02-12T00:00:00Z
Alpirsbach, 巴登符騰堡(Baden-Württemberg), 德國
My accommodation is about 3-5 minutes walk away near the town center. For therapy center Iven are walking 3 minutes. My accommodation is good for couples and families (with children). Cot also available. Accessible, Wheelchair accessible apartment on the ground floor with sep. Entrance and terrace. Car parking space in front of the house.
Living in the mask carver! We can show you the studio by appointment.
In our idyllic terraces - garden relaxed enjoy the holidays!
Perfect place to stay.
Konrad
2017-03-17T00:00:00Z
Le logement de Cornelia est super, spacieux, confortable et très bien équipé. Cornélia nous a accueilli très chaleureusement, c'est une hôte idéale, nous avons eu grand plaisir à faire sa connaissance.
caroline
2017-04-07T00:00:00Z
Der Aufenthalt hat uns sehr gut gefallen, die Wohnung war ausgezeichnet, mit großem Wohnzimmer und Küche. Der Parkplatz vor dem Haus war ein guter Zusatz. Die Gastgeberin war sehr freundlich und engagiert. Bei dem nächsten Aufenthalt in Baiersbronn würden wir wieder diese Unterkunft wählen.
Tobias
2017-03-04T00:00:00Z
Wir hatten einen äußerst angenehmen Aufenthalt bei Cornelia. Die Wohnung ist sehr großzügig und prima ausgestattet, der angrenzende Garten liebevoll angelegt und idyllisch. Das Preis-Leistungs-Verhältnis dürfte unschlagbar sein. Wenn wir wieder einmal in Baiersbronn zu Besuch sind, werden wir auf jeden Fall bei Cornelia übernachten.
Claudia
2017-04-09T00:00:00Z
On a été bien accueillie par Cornelia, appartement un peu vieillot mais conforme à la description. propre et en très bon état. Le logement est situé au calme. Tout le nécessaire y est , rien à redire !
Brice
2017-03-12T00:00:00Z
Es war eine sehr saubere und geräumige Wohnung. Die Gastgeber waren sehr freundlich und hilfsbereit! Die Unterkunft ist sehr zu empfehlen, wir würden sie nochmals buchen :)
Jasmin
2017-04-02T00:00:00Z
Baiersbronn, 巴登符騰堡(Baden-Württemberg), 德國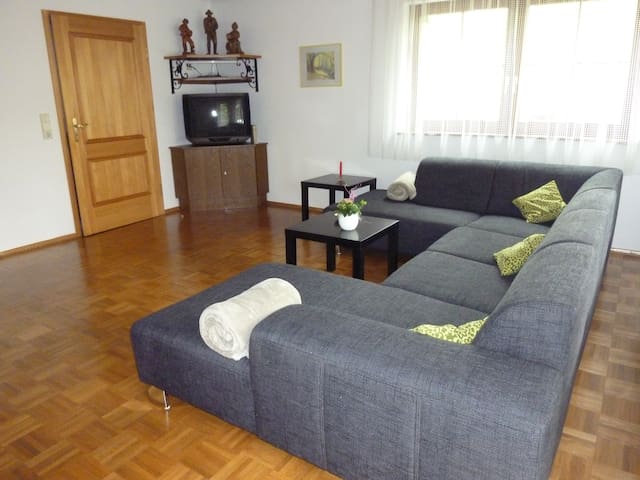 Ofrecemos un apartamento para sus vacaciones recreativas en un hermoso lugar. Un lugar idílico y tranquilo, comf. amueblado, rodeado de naturaleza en estado puro. Pasar sus vacaciones más valiosos con nosotros! Nuestra agua del grifo es suministrada por un manantial de montaña clara.
Nuestra casa se encuentra a 608 metros sobre el nivel del mar. La calle principal que conecta tiene sin tráfico. De este modo se puede disfrutar de nuestra idílica "Glenfairy" en una atmósfera tranquila y apacible. En nuestra propiedad tenemos una gran chimenea que se puede utilizar por el arreglo. Un parque infantil también está disponible para sus hijos la alegría. Directamente a través de nuestra propiedad lleva una pista de esquí de fondo. En los alrededores Ubicado son senderos en muchas direcciones diferentes, lo que hace que sea fácil para usted para planificar sus excursiones individuales. El "Parque Nacional Bosque Negro" es sólo un paso de distancia.
Muchas oportunidades de recreación, tales como el "Parque de los osos", la "pista de trineo de verano", el centro de ocio "Mehliskopf", el "Tiro al plato Ranch" y un número de diversas estaciones de esquí están a poca distancia corta y más larga. La región del bosque negro le invita a una amplia gama de muy buena comida alemana. A sólo 2 km de distancia de nosotros se encuentra el "Gasthof Mohren" donde el chef prepara todo por sí mismo, se puede cenar muy buen estilo de casa-cocina-comida. En los "Forsthaus Auerhahn" unos 3,5 km en la otra dirección, las comidas se sirven en un sofisticado circundante. El famoso "Traube Tonbach", que ofrece comida de calidad gourmet, cocinada por alto arte culinario, está situado a unos 25 minutos el tiempo de conducción de distancia de nosotros. La panadería más cercana está a 6 minutos y el supermercado más cercano (en "Klosterreichenbach") 15 minutos de distancia. Varias otras posibilidades comerciales como "DM, Aldi, Lidl" y más están a unos 20 minutos en la distancia de conducción.
My family and I had a beautiful stay at Reimund's place, very cosy and very clean house. Suitable and functional for 6 persons. Perfect relaxing spot to feel in tune and surrounded with local nature and landscape, large beautiful view over the woods from the house. Well located to start hikes in the Black Forest. Authentic local villages nearby. Excellent for spending family time together!
Fanny
2016-12-28T00:00:00Z
Reimund ha sido un perfecto anfitrión, ayudándonos en todo momento. La casa era lo que esperábamos, se ajustaba perfectamente a las fotos y ha cumplido con nuestras expectativas. Buen sitio para visitar el norte de la selva negra, así como para el relax. Salón muy confortable, bien decorado y menaje adecuado para las personas que ocupábamos la casa.
Carmen
2015-08-30T00:00:00Z
The appartment is really elegant and comfortable. It's located very near to the forrest, 2 minutes by foot, which is astonishingly beautiful in the season. There is also a small river near by. The appartment is decorated with wooden ceiling, wooden kitchen, fireplace and big bright windows. All in all, great place for vacation.
Xiaojing
2015-10-31T00:00:00Z
We found Reimund and Daniela welcoming and helpful. They live in a beautiful, quiet and relaxing area of the Black Forest. Everything the four of us needed was available and access to a washing machine was wonderful. The apartment was clean and comfortable. We thoroughly enjoyed our walks along the river and being outdoors after visiting larger citiies around Europe. Thank you, we hope to visit again one day.
Annegret
2016-10-09T00:00:00Z
Reimund and Daniela are wonderful hosts. They made us feel home. The rooms are clean, decorated with taste and high quality. The location is super, particularly if you feel like to be in solitude. We highly recommend it.
dex
2015-10-28T00:00:00Z
The location of the appartment is beautiful as on the photos. Perfect for the kids too. Very quit. The appartment itself is large enough for 6 persons with a nice view from the living room.
Guy
2016-04-10T00:00:00Z
Great stay in the Black Forest. Apartment is very spacious and has great views of the Forest from most windows. Excellent facilities and Reimund was very kind to provide us with a high chair and stroller for our little one. Easy parking at the front of the apartment and good access to Baden Baden and many other towns in the Black Forest region. Very peaceful and tranquil setting just footsteps from the woods. Highly recommend and wish we could have stayed longer.
Patrick
2015-10-10T00:00:00Z
Reimund ist einer super Host, er hat uns herzliche willkommen und zeigte uns die Wohnung mit ganz die klaren Informationen. Die Wohnung ist super super cool und genau was geschrieben sowie in Airbnb. Die Nachbarschaft mit richtig Natur und Ruhe ist super in der nähr von Schwarzwald, wo du kannst die Stimmung der Fluss hören : - D
Xina
2016-06-13T00:00:00Z
Baiersbronn, 巴登符騰堡(Baden-Württemberg), 德國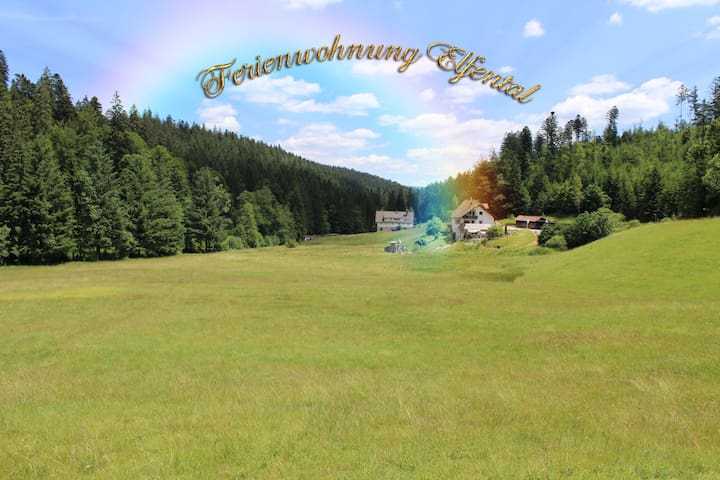 Cozy and comfortable apartment; lovely green and natural surrounding; all daily needed stuff is available in max. 2 km. Just 3 km hiking trail to Triberg; with the Konus card free use of railway and busses f.e. to Strassbourg, Baden-Baden, Freiburg.
apartment on organic farm in center of Black-Forest; ideal for two adults and max. two kids. In 2 h all sightseeings are reachable by car: Alsace, Europa-Park, Lake Constance, Titisee, Feldberg, Freiburg, Baden-Baden, Rheinfall. Arround the farm therer are many hiking and biking trails in lovley and amazing nature; green meadows with lucky cows and green forests wherever you walk...Relaxing is guaranteed!
Schonach ist ein kleines Schwarzwalddorf mit viel intakter Natur: die duftenden, dunklen Tannenwälder, denen der Schwarzwald seinen Namen verdankt, saftige grüne Wiesen und Weiden, eine bezaubernde Mittelgebirgslandschaft, die das herz jeden Wanderers und Mountainbikers höher schlagen lässt. Gastronomie und Einzelhandel sind reichlich vorhanden.
Appartement agréable, très confortable, sont fournies des serviettes pour la douche, et tout le nécessaire pour la cuisine. La ferme est très sympa ! Super vue.
Margaux
2016-04-17T00:00:00Z
Our family of four, including 2 young children, stayed at Petra's farm for four nights in May-June. The apartment is as seen in the listing, clean and comfortable in a beautiful setting. We did a lot of cooking at the apartment and found that the kitchen had everything we needed. Staying on the farm was very relaxing and a real departure from our day-to-day life. My kids enjoyed sitting on the patio and watching and listening to the animals, especially the cows. I really appreaciated that there was an outdoor play area for the kids (slide, trampoline, etc.) and some toys for rainy days. Our whole family felt welcome.
Alexander
2016-06-04T00:00:00Z
Lovely stay in the Black Forest!! Petra has an amazing estate in a great location of the Black Forest. It's private and secluded, but also a very close drive (or hike!) to nearby towns like Triberg. My partner and I had a wonderful cozy and spacious hiking trip here and loved her farm. She takes excellent care of her rental apartments and her property. I wish we could have stayed longer. Highly recommend! :) PS: Make sure to buy some of her honey! It's delicious!
Nora
2016-10-01T00:00:00Z
Muy buena atencion por parte de Petra, vivienda muy confortable, entorno muy bonito, los niños disfrutaron con los animales de la granja.
reyes
2016-05-16T00:00:00Z
We had a great time at Petra's. The apartment is very cozy and very quiet. We took our pug and it was very pet friendly. I was able to walk right into the Black Forest from her farm and did so every morning with our dog. We hope to go back in the summer.
Aaryn
2016-11-14T00:00:00Z
Danke Petra für die wunderschöne Zeit bei euch! Wir haben es sehr genossen und konnten uns wunderbar erholen! Sehr gerne wieder!
Jonathan
2016-07-03T00:00:00Z
Our stay here for three nights was wonderful. Petra's daughter was very welcoming and helpful. The apartment was warm, large, very clean and well equipped. We were the only guests in the house at the time, it was very peaceful and charming. We didn't get the chance to have any, but they sell their own breads, honey, milk and apple juice for very reasonable prices. We would have loved to stay for so much longer and settled into the environment. The kittens were delightful, and it was nice being able to see the cows, goats and rabbits. The scenery was beautiful, the seclusion of the farmhouse mixed with the rolling hills and pine forests made it feel like we were miles away from the cramped cities. There was plenty of snow whilst we were there and whilst this made it harder to leave the house and explore, it was very beautiful. We did not have a car and so walked to the house and back from the village and bus. It is about 1.8km up a hill most of the way, so not easy but not hard either. There is a slightly shorter but more difficult track through the forest to the bus stop and supermarket. The village of schonach is decent. There are a few grocery stores, restaurants, a skiing field, tourist information, and one of the large cuckoo clocks. It is not touristy and rather quiet, but the nearby triberg has plenty of tourist shops, restaurants and its famous waterfalls. Lake titisee is a couple hours by bus. The konus-guestcard, which you get for free by staying with registered accommodations (including this guest house), gives you free public transport (bus, train, skilifts) in and around the black forest. As we didn't have a car this was great, and an advantage over staying at other airbnbs. We really enjoyed staying here, and it's a highlight of our trip. Thank you Petra and Elena for the experience.
Rory
2016-02-20T00:00:00Z
Petra nous a accueilli dans sa ferme. Le lieu est un peu isolée mais cela permet une grande quiétude. Les logements sont modernes et très agréables. On se sent très vite comme à la maison.
Armin
2016-08-28T00:00:00Z
Schonach im Schwarzwald, 巴登符騰堡(Baden-Württemberg), 德國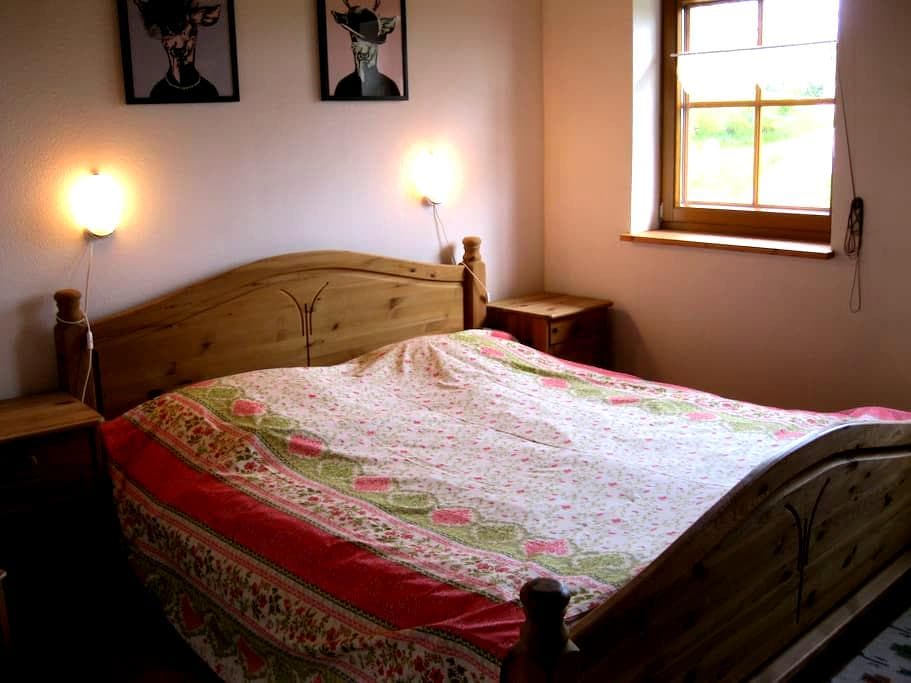 我們完全裝修的公寓,最多可容納三個人。中央位置,方便進入高速公路(5分鐘)目標,黑森林,歐羅巴公園生鏽或斯特拉斯堡交通十分便利。 住宿是適合情侶,有子女的夫婦,商務旅客還是那些人,是因為靠近公路旅客的理想選擇。
度假公寓是很容易從高速公路出口達到,所以酒店也為長途旅客的完美停留。 眼前的地區,有一些事情,如做... ...歐洲公園拉斯特 斯特拉斯堡... ...或者國家公園黑森林 公寓有兩間臥室,一個現代化的浴室和一間設備齊全的廚房,用餐區和帶電視的舒適起居區的起居室。 該床是新鮮的,提供乾淨的毛巾。 順便說一句,在隔壁的房子有兩個其他公寓6或8人,這也是在這裡找到在製作的Airbnb。當你點擊"我們的公寓"在我的個人資料。
房子坐落在一個美麗的風景線。您可以直接從公寓,自行車慢跑,或採取在森林散步。附近的黑森林和葡萄園用自己的中世紀城堡非常適合遠足和放鬆。鄰近地區有許多商店和超市。
Patrick was very good host! It was a really nice stay :)
Titas
2017-04-11T00:00:00Z
Patrick ist sehr nett und die Umgebung ist wunderschön. Genau das richtige für Menschen, die Natur genießen.
Carsten
2017-04-02T00:00:00Z
Patrick is a really good host, always available if we have any questions, the place was amazing, quiet and clean. We really enjoy our stay ! 100% recommanded !! Vielen Danke Patrick !
Jérémy
2017-02-12T00:00:00Z
Ganz wunderschön an einem Teich gelegen. Wunderschön ruhig und angenehm.
Christian
2017-02-10T00:00:00Z
Die Wohnung war sehr neu. Das Bad ist super. Wenn man im dunklen ankommt ist es gewöhnungsbedürftig, aber zu finden. Sehr netter Gastgeber!
Marc
2017-02-27T00:00:00Z
Very nice apartment!!
soledad
2017-03-12T00:00:00Z
Clean and comfortable room. We had a very nice stay!
Fia
2017-04-06T00:00:00Z
- freundlicher Empfang des Gastgebers und kurze Erklärung der wesentlichen Punkte - sehr saubere und ordentliche Unterkunft - gut ausgestattet und neue Einrichtung - empfehlenswerte Unterkunft, allerdings nicht ganz einfach zu finden
Franziska
2017-02-01T00:00:00Z
Offenburg, 巴登符騰堡(Baden-Württemberg), 德國
房间适合单身,夫妇,并用1-2儿童的家庭。住宿是在一个大单间的基本知识eqiupped,靠近黑森林(黑森林)国家公园。登山步道开始就在门前,或仅仅是几分钟的车程。远足,山地自行车,滑雪和其他户外运动爱好者一定会喜欢的地方。 有一个轮椅入口。我们使用相同的入口和走廊作为我们的客人。
这是不可能的,从04月08日检查 - 15(2017)。然而,这是没有问题的,在此期间过夜或退房。 客房由一个安静的睡眠区和烹饪和饮食又宽敞的面积。厨房设备齐全。客厅内饰很简单,没有架子或特殊的存储区域。我们有板条地板2温馨matrasses,但没有床架。根据要求,我们提供一个第三床垫和/或婴儿床。厨房是最有用的物品供应。如果你是在缺乏或儿童玩具的任何家居用品,我们很高兴为您服务。您可以访问我们的Wi-Fi。 带淋浴和厕所你自己的浴室是在地板上一个单独的房间。我们提供毛巾和毯子。
我们生活在从拜尔斯布隆一个小村庄6公里。我们的酒店坐落在森林附近一个美丽的山谷。附近还有用马,牛和鸡养殖场。半小时穿过村子走下来到河边与指挥意见总是值得的。 咨询后您的孩子可以对物业玩。我们除其他事项外,沙坑,秋千和一个小幻灯片。车,雪橇,风筝等玩具可能会喜欢被录用。 屋后的草地邀请秋天放风筝,一个冬季雪橇。 休闲娱乐区域 拜尔斯布隆位于黑森林,一个田园诗般的任何大城市远,但却又是坐火车很方便。最近的火车站有10分钟步行路程。 许多步行路线就在镇上开始。徒步旅行者和山地自行车爱好者的目标是安静的森林湖泊,美丽的景色,树莓蓝莓的原因。也有来自Landgasthof酒店都非常好茶点星级美食。 拜尔斯布隆紧邻国家公园Nordschwarzwald。 在温暖的月份吸引与河流和众多游泳池畅游屡获殊荣的自行车道(环MURG),在冬天滑雪缆车和徒步小径部分。 一些国际知名的美食厨师(包括哈拉尔德·沃尔法特)使优秀国产的本地产品(山羊奶酪,冰淇淋,蜂蜜)。 在恶劣的天气,去一趟附近的塔特(Panoramabad,咖啡馆,镇教堂,游客矿,镇图书馆和一个有看头市博物馆)。 更多黑森林村,历史悠久的老城区阿尔滕斯泰希(音乐和戏剧),阿尔皮斯巴赫(修道院啤酒厂),巴特维尔德巴德(温泉镇与温泉浴场),和希尔塔赫,HORB,卡尔夫附近。特色博物馆包括乌尼莫克博物馆在Gaggenau和Vogtsbauernhof在古塔赫(黑森林露天博物馆)。那些希望游览较大的城市,应该导致更多的行程安排,例如,巴登 - 巴登(50公里),蒂宾根(65公里),斯特拉斯堡/法国(75公里),卡尔斯鲁厄(80公里)或斯图加特(90公里)。
It was a pleasure staying at Cosima's and Christoph's house in Schwarzwald! They are very welcoming and warm hosts. The room is very nice, spacious, independent and has everything you need. I definitely recommend this place for travelers in Schwarzwald and hiking enthusiasts.
Nikolas
2016-11-01T00:00:00Z
Die Übernachtung bei Cosima und Christoph war alles andere als laut :-) Sehr herzliche Menschen ... und das alles oberhalb von Baiersbronn. Der Raum inkl. Bad sind sauber und die Wäsche duftete so frisch. Hmmm Britta
Britta
2016-10-24T00:00:00Z
Wir haben uns bei Cosima und Christoph sehr sehr sehr wohl gefühlt. Alles hat ganz unkompliziert geklappt und wir wurden herzlich aufgenommen. Die Unterkunft hat alles was man braucht und ist wirklich hübsch gelegen. Auch wenn das Wetter nicht so ganz auf unserer Seite war haben wir uns wunderbar entspannt. :-) Danke für die schöne Zeit!
Lisa
2017-02-06T00:00:00Z
Bestens zur Entspannung und Erholung geeignet, sehr sauber und nette Kommunikation! Auch in der Küche ist alles da was man so braucht. Wir hatten eine gute Zeit!
Andreas
2017-01-31T00:00:00Z
It was just as great as we expected! The area is beautiful and we felt very welcome. Thanks again for your hospitality!
Jonas
2016-11-22T00:00:00Z
Cosima & Christoph sind super Gastgeber: sehr zuvorkommend, kommunikativ und herzlich. Trotz Großfamilie, war es sehr ruhig in der Wohnung. Uns hat es an gar nichts gefehlt. Preis-Leistungsverhältnis ist wirklich unschlagbar. Wir werden jederzeit wieder auf sie zurückgreifen wenn wir in der Gegend sind.
Arlette
2017-01-10T00:00:00Z
La casa y la habitación son aún mejores que lo que se ve en las fotos y la descripción. Es más espaciosa, confortable y acogedora. Realmente es un mini-apartamento (con una parte destinada a cocina y comedor, y otra a dormitorio) que comparte la entrada principal con el resto de la casa, pero que tiene toda la independencia y privacidad. El suelo de parquet y el aislamiento de la estancia proporciona un confort térmico muy agradable. La cocina está totalmente equipada (cocina, nevera, armarios, etc.). Los anfitriones muy atentos, cariñosos y agradables, son una familia encantadora muy detallista. La casa está ubicada en un pueblecito de montaña en medio de la Selva Negra, en un entorno precioso, rodeado de maravillosos bosques y muy cerca del Parque Nacional. También está cerca de Freudenstadt, donde hay más servicios. Nosotros hicimos una caminata hasta uno de los lagos de la región (el Huzenbacher See, precioso, rodeado de un anillo de nenúfares) y ellos nos proporcionaron el mapa senderista y muchas otras guías e información.
Marc
2016-10-03T00:00:00Z
Die Unterkunft bei Cosima und Christoph ist sehr weiterzuempfehlen. Wir wurden sehr herzlich in Empfang genommen und sonst war auch für alles gesorgt, z.B. waren in der Küche auch Kaffee, Brötchen und was man sonst so zum Frühstücken braucht bereitgestellt. Außerdem haben wir uns sehr gut mit ihnen verstanden und wie zuhause gefühlt. Alles in allem eine sehr nette und problemfreie Unterkunft.
Nils
2016-10-12T00:00:00Z
Baiersbronn, 巴登符騰堡(Baden-Württemberg), 德國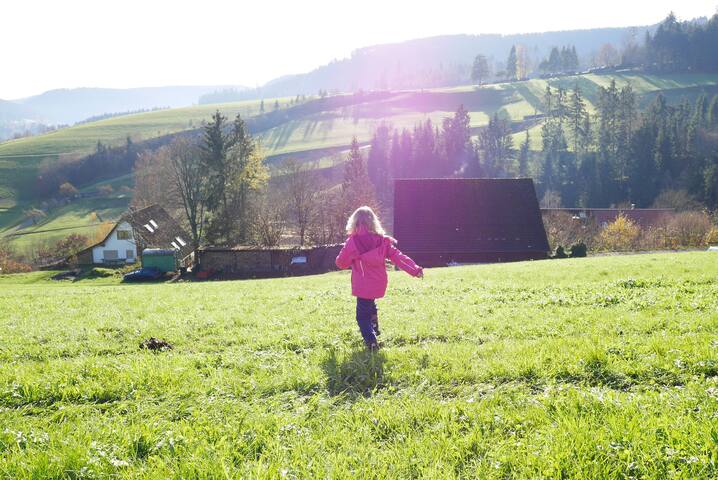 有吸引力的屋頂公寓95sqm在絕對安靜的位置,在黑森林於720米高空的中間有一個全面翻修前農場。該公寓是適合情侶,單身旅行者,自然愛好者和商務旅客。徒步旅行,並直接從家裡騎自行車。 完整的廚房,烤箱,迷你吧,Nespresso咖啡機,微波爐和洗碗機。浴室/洗手間有淋浴。 免費WiFi。 衛星電視,DVD /藍光播放器。 單獨進入公寓。
位於自然界的在720米高度的中間。關閉Winzeln-施拉姆貝格的波場。
我們的房子位於黑森林的心臟地帶,著名的鐘錶業與原來的本性。直接從我們的農場,你可以步行或騎自行車長途跋涉。附近有許多旅遊景點。 各種休閒活動,如遠足,騎自行車,滑翔是可能的。
This was a wonderful place to stay in a beautiful setting - inside and out. We will be recommending this place to friends and family who come to visit this area.
Benjamin
2017-01-08T00:00:00Z
Exactly the relaxing Black Forest vacation we were looking for. Roman and Connie were fantastic hosts, and the place was quite, private, spacious, and clean, with great views in every direction. Roman and Connie provided bikes for exploring, maps for hiking, and tips for sight seeing in the surrounding areas, not to mention interesting conversation from a world-traveling, documentary-producing couple. The house is about 2 km from fresh milk and eggs, and great hikes of varying difficulties (from easy to challenging) sprawl in every direction from the front door. If you are looking for a quiet place to recharge your batteries, we highly recommend this place.
Kevin
2017-01-01T00:00:00Z
I couldn't have asked for a better place to stay while in the Black Forest. The hosts were very hospitable and generous, even bringing me breakfast from the bakery when I didn't have anything to eat that morning. Beautiful, quiet home, with a lot of room to relax. I would definitely stay here again!
Christine
2017-01-24T00:00:00Z
A lovely rural location close to the village and Roman and Connie are excellent hosts. The accommodation is very comfortable and very well maintained.
Margaret
2017-02-26T00:00:00Z
Roman and Conny were great and were always on hand if we had any questions. We had a really enjoyable stay and it was the perfect place to relax for the weekend.
David
2017-01-29T00:00:00Z
This location is AMAZING!!! Roman and Connie are wonderful host. My family and I were looking for a quiet, relaxing vacation, and this provide just that. There are views everywhere you turn in the apartment. Snow was very plentiful while we were there. Roman and Connie provided some cross-country skies for my husband and me, and snow boots for my daughters. We had a blast heading out into the forest. If you like running there are endless possibilities for some good trail running. We thoroughly enjoyed our stay. I highly recommend staying here!
Stacey
2017-01-16T00:00:00Z
Aichhalden, 巴登符騰堡(Baden-Württemberg), 德國
Romantic & individual & spacious: 5 ***** Apartment in historic Garden- Villa in Gengenbach, one of the most beautiful small german cities, very close to France & Switzerland . An ideal place for your personal timeout: Hiking & Cycling (Rent a bike, where the bike was invented ) & gourmandise (Restaurants & Wine taverns in the Old city. Well appointed & tasteful holiday home!
Romantic 5 ***** apartment for max. 2 persons. 2 rooms with spacious bedroom. (Kingsize bed), well equipped kitchen & bathroom in a unique historic villa within a romantic garden, close to the old town of Gengenbach & close to the woods & several hiking trails.
Our "Garden Villa" is located in the southern triangle between France, Germany and Switzerland. An ideal position to explore nearby cities like Strasbourg, Mulhouse (F), Baden-Baden, Freiburg (D) or Basel and Zurich (CH).
What a fantastic stay we had at Juergen and Iris's beautiful historic villa. They were brilliant, helpful and nice hosts with some excellent recommendations on the local area. The accommodation itself was just what we needed and wanted - extremely clean, a lovely garden to get lost in, a charming and friendly dog (Max) and a beautiful view. A must visit is the Schloss Staufenberg (recommended in the hosts guidebook) where the views are breathtaking and the food and wine delicious. We could go on... A five star relaxing experience for us. We will be recommending this part of the world and this accommodation to our family and friends. Thank you for a wonderful stay! We are truly relaxed from this brilliant holiday in your idyllic villa.
Chris & Sarah
2015-08-09T00:00:00Z
Mein Freund Matze und ich haben ein paar wunderschöne Tage in Gengenbach in der kleinen Parkvilla von Jürgen und Iris verbracht. Die Wohnung ist einfach ein Traum-wir wollten sie manchmal gar nicht verlassen um die Gegend zu erkunden. Insgesamt ist alles sehr liebevoll und großzügig eingerichtet, so dass wir uns sofort heimisch gefühlt haben. Ganz besonders ins Herz geschlossen haben wir auch Max :) Iris und Jürgen sind super Gastgeber und konnten uns unzählige Tipps und Empfehlungen geben. Ein Highlight war die Bootsfahrt im nahe gelegenen Taubergießen! Wenn die Grillhütte steht, kommen wir wieder vorbei :P
Naja Pipaluk
2015-07-06T00:00:00Z
This place is fantastic! We had a very friendly welcome by Juergen and the dog Mr. Max. Max gave me several high fives ;-) Juergen immediately showed all the best spots to sit in the garden for breakfast, the lunch and diner. We stayed here for a week and we had just not enough, we could stay here for a very long time! The old city of Gengenbach is easy to reach by foot, a nice stroll with al lot of stairs brings you to this beautiful center, which was above our expectations. The apartment was very spacious, clean and well equipped. Juergen and Iris are very social and friendly but respect your privacy; they have hospitality in their blood.
Kirsten
2016-07-30T00:00:00Z
Juergen's villa was perfect. It was 100 times better than I'd expected and my husband and I grew to love it as though it's our very own home in Germany! We were really sad when we had to leave eventually. We went in winter and every room was excellently heated. The home itself was very inviting and welcoming, equipped with everything you could possibly need to feel at home. The bed and sofa were very roomy and comfortable, the kitchen utensils first-class, cups and dishes so cute and lovely, bath towels were big and warm, hair-dryer was superb. We used the radio very often. The sound system was awesome and classical music fitted the whole area very well. Juergen fetched us personally at the train station and was very kind to also fetch us to the train station on our last day, along with the great Mister Max. Juergen was a great host. He showed us a very good restaurant which we tried and loved, and showed us the christmas market which we loved too! Villa is in a terrific location - about 12 minutes walk to the train station, which itself is in a great location. We did plenty of day trips while staying in Juergen's place. France (Strasbourg) was only about 40 minutes away. We realised we should have stayed longer here because there are plenty of places nearby to explore. Gengenbach is a beautiful place, even in Winter. There is a good number of restaurants, cafes and a big supermarket a few minutes' walk away. Will definitely return again and I highly recommend anyone who is thinking of exploring the Blackforest region and border countries to book Juergen's place without hesitation. My husband and I truly, truly loved it. It's very clean and well-taken care of. We cannot think of any reason anyone would not love it. Thank you Juergen for giving us an opportunity to stay in your great home and we hope to see you again soon! :)
Apple
2016-12-10T00:00:00Z
The experience was amazing: a beautiful house (actually, the pictures in the listing, although being true, do not reflect its full beauty!), breathtaking views and nature, great location (city, railway station, walking paths, restaurants, etc - with a variety of helpful hints from the property owners). The hosts were very welcoming (to tell the truth, we rarely meet such welcoming people), instantly made us feel at home and even shared some local delicacies with us as a Christmas/Silvester present! The wifi connection was also strong and stable. Overall impression is simple: we would definitely come back. We can't wait to come back.
Alina
2016-01-03T00:00:00Z
Es war ein tolles Erlebnis in der Villa Wanderlust! Wir haben uns sehr sehr wohl gefühlt - das Ambiente ist einfach unbeschreiblich; man muss es selbst erlebt haben. Jürgen war super hilfsbereit, stand immer mit tollen Tipps zur Verfügung; Gengenbach selbst ist wunderschön und die gesamte Gegend ist ein Traum!!! Wir kommen gerne wieder!
Katja
2016-09-01T00:00:00Z
This was a fantastic place! We were warmly welcomed by Juergen and his dog Mr. Max. Juergen knows a lot about the area and had lots of good tipsfor us. The holiday house itself is in the beautiful garden of Juergen and Iris' home, full of cozy places to sit. The house itself had everything we needed, from a fully equipped kitchen to a very good shower. And even when it was 30 degrees outside, it stayed nice and cool inside. The house is located on a hill, but it is an easy 10-15 minute walk to the Altstadt of Gengenbach. We would definitely stay here again during our next visit to the Schwarzwald.
Peggy
2016-07-20T00:00:00Z
Wir sind überaus herzlich empfangen worden und Jürgen hat uns gleich alles gezeigt. Für den ersten Abend stand eine Flasche Weißwein und Mineralwasser für "Schorle" bereit und auch für das erste Frühstück haben Jürgen und Iris mit Kaffee, Tee und selbstgemachtem Johannisbeer-Gelee (superlecker!) gesorgt. Es gab frische Beeren und ein Empfangs-Dessert. Überall standen frische Blumen oder Kräuter in Vasen und Töpfen. Auch schöne Windlichter mit frischen Kerzen konnten benutzt werden. Die sympathischen Gastgeber haben einen Sinn für Details, so dass es in der geschmackvoll eingerichteten Wohnung, teils mit Antiquitäten und Designerstücken, viele schöne Dinge gibt, die über Basics weit hinausgehen. In der Ausstattung ist alles da, was man braucht und mehr (z.B. Picknickdecke, leistungsstarker Fön, Bügelbrett, WLAN-Radio, scharfe Messer! Eieruhr, Lesestoff ... natürlich alle Sorten Handtücher usw.) oder auch verbraucht (Kerzen, Streichhölzer, Spüli, Tabs, Wattepads, Kosmetiktücher, Kaffee, Tee, Gewürze, Salz, Zucker...). Wir haben uns in der geschichtsträchtigen Villa unter den großen Bäumen sehr wohl gefühlt und kommen sicher wieder!
Sibylle
2016-08-09T00:00:00Z
根根巴赫(Gengenbach), Baden-Wurttemberg, 德國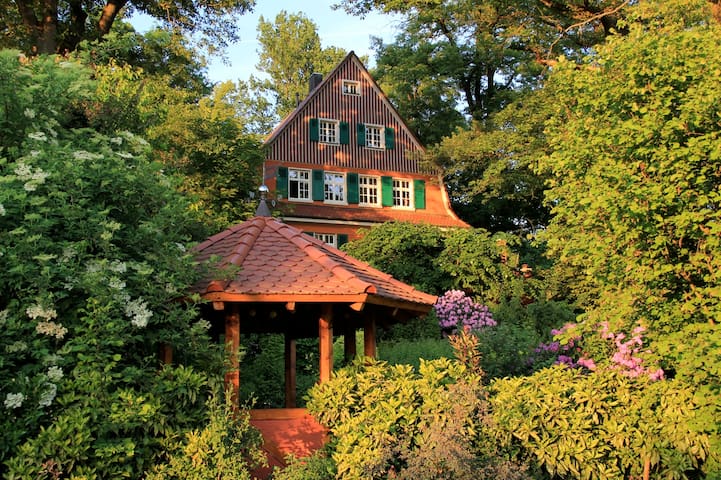 與手工製作的木製家具新近裝修。 It'sa完全獨立的平板,最多5人+ 1寶寶的空間。該農場毗鄰door-不客氣去看看! 該單位位於郊外的滕嫩布羅恩,所以你需要一輛車到那裡。 重要的是要知道:it'sa安靜的地方!在大自然中,黑色的森林。完美的自然愛好者和徒步旅行的人。 同樣完美的,如果你喜歡動物,想看看一個農場是如何工作的!沒有Wi-Fi!
舒適的平板,包括廚房,浴室,獨立衛生間和起居室。 2間臥室,5人+ 1寶寶的空間。此外可能性在沙發上,如果你要睡2更多的人。看到一隻陽台,準備坐下來聊天,也有燒烤。對於孩子會有一個小操場,一個蹦床+很多看到和體驗在農場。 40歐元的價格包括2人,包括KONUS卡 - 它提供了你的條目很多供認在黑森林和黑森林免費使用公共交通系統的旅遊景點。 清潔費,只是最多3晚。如果您入住4晚,there's不收費的清潔費。其他兒童每晚3歐元。成人5歐元。 我們做對有小孩的家庭特別優惠,或者如果你停留更長的時間,然後4晚。我會自動改變報價,使其適合你,因為到目前為止,製作的Airbnb didn't提供特殊兒童的費用。
只是樹和草左右。一個鄰居農場在那裡,另一個農場是10分鐘。步行(他們也有馬)。這是真的很安靜那裡,沒有路燈,你可以看到星星真的好(如果不是陰天)。
9 wunderschöne Tage liegen nun hinter uns. Die Kommunikation die im Vorwege mit der Christina gelaufen sind , waren schnell und unkompliziert. Bei der Ankunft sind wir dann herzlich von Frau Weisser der Mama in Empfang genommen worden. Die Unterkunft entsprach voll und ganz der Beschreibung. Alles war sauber und mit viel Liebe hergerichtet. Unser Sohn (fast 9) fühlte sich ebenfalls sau wohl bzw. bessergesagt Kuhwohl:-). Ob morgens oder abends, Mattes war im Stall. Wir können nur sagen: DANKE für eine wunderschöne Zeit und wir freuen uns, wenn wir wiederkommen dürfen. P.s. die dort erworbenen Erzeugnisse (Wurst und Schinken) sind weiter zu empfehlen und einfach ein Gaumenschmaus
Daniela, Christian & Mattes
2016-04-07T00:00:00Z
A very quiet home set deep in the woods and upon a hill, Christina's flat was nothing short of spectacular. We arrived to a very clean and organized set up with fresh bread and tourist discount cards. The home was large enough for 4 adults and 3 kids! We all enjoyed our evenings, had fresh eggs and bacon from the farm and Christina's mom was extremely helpful. Overall, one of my favorite holiday experiences!!
Joshua
2016-11-14T00:00:00Z
Ich habe mich rundherum wohl gefühlt während meiner Winter-Rückzugs-Woche an diesem so ruhig und naturnah gelegenen Ort. Auch die Fewo ist mit allem ausgestattet, was einen erholsamen Urlaub ermöglicht. Herzlichen Dank nochmal an alle Beteiligten, die alles so schön und liebevoll hergerichtet haben. Ebenso tat es gut, Menschen (besonders Christinas Mutter) zu treffen, die freundlich und offen waren für ein Gespräch zwischendurch (und alle Fragen...); aber auch in Stille meiner Wege gehen zu können. Ein Urlaubsort so wohltuend wie er beschrieben ist.
Rena
2016-02-20T00:00:00Z
Die Wohnung ist optimal für einen Ausflug ins ländliche. Wir wurden sehr herzlichen empfangen, die Wohnung ist super gemütlich und mit Herz eingerichtet. Die Umgebung ist wunderschön, direkt vor der Haustür liegt der wunderschöne Schwarzwald. Die Gastgeberin kann viele Tipps zu Wanderwegen etc. geben, auch Broschüren sind vorhanden. Alles in allem haben wir uns sehr wohlgefühlt. Für Naturliebhaber nur zu empfehlen :)
Clara
2015-12-06T00:00:00Z
In idyllischer Lage haben wir eine hübsch eingerichtete Ferienwohnung vorgefunden. Inklusive leckerem Willkommensgruß, nettem 'Familienanschluss' und 'Mitmach-Bauernhof'. Sehr zu empfehlen: für die Brotzeit auf der Wanderung oder das Abendessen beim Hofladen einzukaufen. Alles in Allem ein sehr angenehmer und erholsamer Aufenthalt!
Gabriele
2016-08-08T00:00:00Z
Absolut fantasitisch! Wir haben uns sehr wohlgefühlt in der schönen Wohnung, durften im Stall mithelfen und haben eine schöne Wanderung in der tollen Umgebung gemacht. Die Wohnung inklusive Küche ist super ausgestattet, es fehlt an nichts. Um hinzukommen brauch man aber wirklich ein Auto (oder Wanderstiefel), der Hofladen Weisser ist aber ganz gut ausgeschildert. Gerne wieder - und dann auch länger!
Elsa
2016-05-17T00:00:00Z
We were warmly received by Christina's mother. She made a delicious cake and showed us the ins and outs of the apartment. She lives next door so if we had questions we could just walk by. They are very friendly and hospitable. We had the plan to go skiing, and christina got us the day after a paper with tips and travel information. Great service. I would really recommend this place!
Roel
2016-03-04T00:00:00Z
Christina's mom greeted us and showed us around the flat, making us feel very welcome despite our late arrival! We absolutely loved the flat and it was a perfect size for 2 couples to enjoy a getaway. The location was absolutely perfect for what we wanted and it was so lovely to stay on the farm. We enjoyed the cats coming to visit us and the delicious eggs, milk, and meat we purchased from the farm shop. The flat was very comfortable and had everything we needed. Thanks so much for a lovely time!
Alicia
2016-12-22T00:00:00Z
Schramberg, 巴登符騰堡(Baden-Württemberg), 德國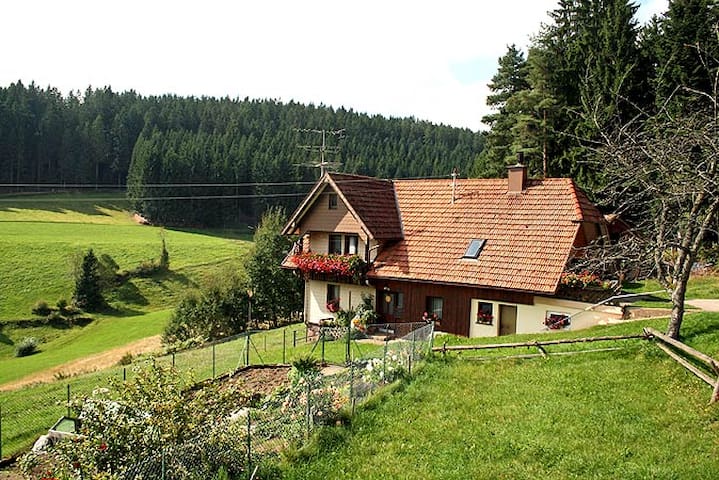 In the heart of the Black Forest, right on the edge, but close to the center of Alpirsbach (2 km) Our hotel is a Ferienwohnug that guarantees you peace and relaxation. to explore an optimal starting position to the Black Forest.
Located in the idyllic, undisturbed by neighbors, have magnificent views, plenty of sun. Even before breakfast they can jog directly in the forest, walking or walking. There is plenty of room on our property to play as badminton or grill. In just 700 meters away there is a public pool.
You should look absolutely the Benedictine monastery in Alpirsbach from the 11th century, the brewery museum, the historic print shop, the visit Subiaco Cinema (housed in the monastery) or classical music in the cloister enjoy. See they necessarily the Black Forest Open Air Museum Vogstbauernhof in Gutach (25 km) or the Clock Museum in Furtwangen (50 km) to. Zeller Ceramics Factory is also the children who can paint a cup itself, inspire (40 km) or the Mineral Museum in Oberwolfach. Also countless mines waiting to be explored (eg God's blessing in Haslach - 25 km). Talk to us, we have for each a good tip.
We visited Alpirsbach in last week of October and we choose to stay at Aldona's apt. She and her husband are very accommodating , huge apartment kitchen equip , the family are staying on the upper floor. The road to the house is a bit stiff and elevated but the view is all worth it, we rented a car and used the navigation so finding their house was so easy. There is a church over looking from house and chimes every hour. The hosts speaks only German, luckily my partner speaks a bit of German so communication when we need something is easy. They are available always when you need them. Thank you Aldona for sharing your beautiful house, till next time. Cheers
Dada
2015-11-03T00:00:00Z
Such a warm welcome, we arrived to a whole cake (still warm), two bottles of the local beer and the fire burning. The whole family were friendly and helpful, they went out of their way to give us lifts to/from the station, show us short cuts to town and just check we were okay. The house was clean and cosy in a beautiful valley. Absolutely wonderful, we would definitely recommend this.
Patrick
2016-04-28T00:00:00Z
Very warm and welcoming host. Nice place with beautiful views in a quaint and quiet black forest town. I would definitely stay here again.
Mathu
2016-06-12T00:00:00Z
We had a great time, comfortable bed, all the amenities we needed. Great suggestions for excursions, notably the Allerheiligen falls. We loved our breakfast and dinner on the terrace.
Peter
2016-07-24T00:00:00Z
We had an amazing time staying with the Armbruster family! They are the warmest most welcoming family. You will have an excellent time and you will not find better hosts. I highly recommend!
Daniel
2016-10-04T00:00:00Z
The town is extremely picturesque and the house only a 15/20 min walk or 2 min drive from the centre. The house is spacious, fully equipped and clean. Aldona and her family went above and beyond to help us with our travelling, driving us to places and providing us with all the information we needed to travel the Black Forest. We were extremely happy with the stay and would highly recommend to anyone.
Conor
2016-08-08T00:00:00Z
Our family of 3 stayed here for 2 days and we really enjoyed ourselves. Aldona and her family were warm and welcoming, greeting us with a freshly baked, still-warm cake and the apartment had been made toasty warm by the wood fired stove - such a welcome sight on the cold days we visited. The apartment is well equipped with heating in each room and Aldona even sourced a cot for our toddler to make our stay more comfortable. The location is close to town but remote enough to be peaceful and perfect for exploring the Black Forest. We'd definitely stay here again for future adventures in the Black Forest region.
Trina
2016-05-07T00:00:00Z
A beautiful and cosy home. My daughter loved the big piano in the living room. She played for hours.... So many board games to keep kids entertained .... Aldona and her son were extremely friendly and helpful gave us suggestions about how to go about the city and things to do and where to eat. Excellent location..... Breathtaking views of the mountains from the house..... Thank you so much. We are definitely planning to come there again when our parents come to visit us.
Baku
2016-10-25T00:00:00Z
Alpirsbach, 巴登符騰堡(Baden-Württemberg), 德國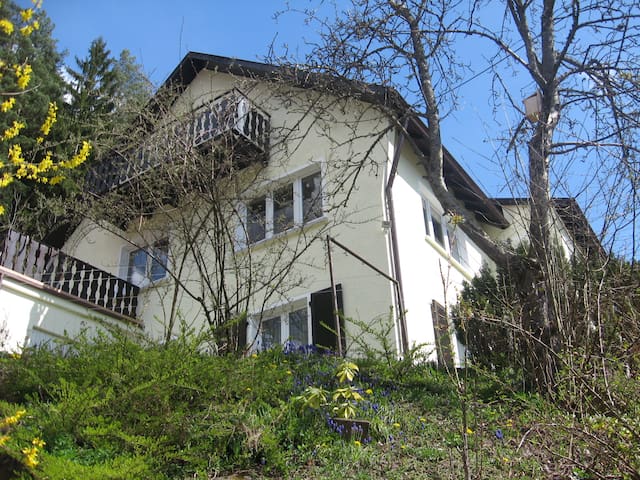 Die schöne Ferienwohnung mit "Nationalpark Schwarzwald"- Blick bietet Gästen Gemütlichkeit und Ruhe.Der erholsame Schlaf in angenehmer Umgebung macht Sie fit, die Natur zu genießen oder die nahen Städte Baden-Baden oder Straßburg zu erkunden.
Ökologische Bauweise (Holzständer, Lehmwände und Lehmputze)
PERFECT ! We stay to nights in this place. Everything was perfect !! The house is really clean and confortable ! This is full equiped with everything you need to cook ! Whatever you want to cook, you will find the ustensil you need ! Moreover, the environnement is amazing, in the earth of the black forest ! So relaxing !! Directly from the windows, you will enjoy the amazing view on the montain and forest ! The only negative point of this big nature is the lack of mobil reception ! Any text or call or internet research was possible ! So plan it for your trip ! I recommend this place and for sure we will come back !
Perrine
2017-03-12T00:00:00Z
Fantastic house and location. Step outdoors and take any trail as far as you want. Thomas was a perfect host. The house is incredibly spacious, views are fantastic and Thomas has lots of extras available. His house is perfect and very cozy. The little village is perfect as well. In the winter there is skiing close by. We came in April and enjoyed hiking, tranquility, clean air and beautiful surroundings. I highly recommend Thomas´s place!
Laura
2017-04-06T00:00:00Z
The lodge is set in an ideallc valley, the drive up to it and through the small village was lovely. The actual lodge looks very new with perhaps some places still needing very minor work but overall it was beautiful, an ideal place to set the worrys of the world aside. The lodge is larger and more spacious than you would think and is very well insulated. The beds are comfy and provided a good night's sleep. The bathroom was good with the shower having a good water pressure and shower and toilet amenities be provided. The kitchen comes fully stocked with everything you need for cooking and Thomas even has a small cupboard full of bits of food such as baking supplies and sauce making materials encase we ran short. The stove and oven work really well thus making food was a joy. Thomas was a very friendly and easy to talk to man who couldn't do more to help us during our stay, he also owns a very lovely dog. The nearest shop is far away so bring all the food you will need for your stay. If you are looking for phone reception and WiFi this isn't the place for you but if you are looking to escape the world and do some hiking in the black forest then you will love it. I would recommend this place to all my friends.
Samuel
2017-03-07T00:00:00Z
Sehr schoen!
Jakub
2017-03-26T00:00:00Z
Voll ausgestattete, saubere Unterkunft in schöner Umgebung mit. Wir fühlten uns wie zu Hause.
Ondřej
2017-03-16T00:00:00Z
Thomas's house is absolutely lovely. It's the perfect little chalet for up to 4 people, with beautiful scenery all around. The house was very comfortable, clean and warm. It's easy to find but there isn't much in the village, so it's advisable to buy food/supplies in advance. There is no wi-fi or phone signal either, which is a good thing if you really want to have a break. I wish we could have stayed more time!
Linda
2017-04-02T00:00:00Z
Forbach, BW, 德國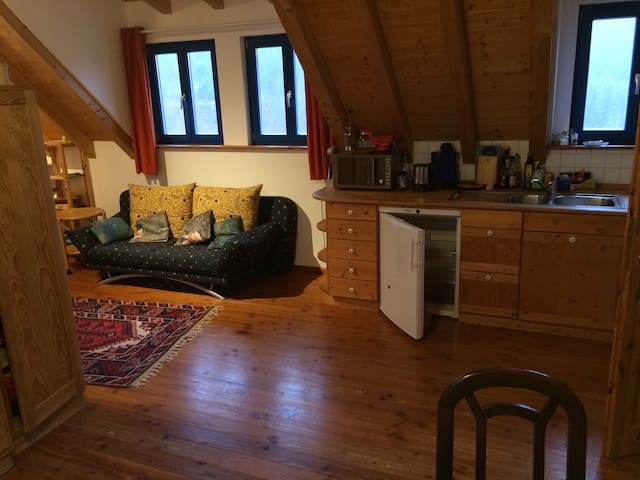 輸入日期以查看總價格,包括其他費用,可能會加收稅費。