輸入日期以查看總價格,包括其他費用,可能會加收稅費。
今年的7月和8月,從這100個涵蓋所有價格級別的房源中選擇一個入住,去體會當地人眼中的索諾瑪。 24小時入住、即時預訂還有2; 當地美酒美食,您什麼都不用做,輕鬆享受旅程即可。
Family home offers spacious kitchen, 3 living areas, 3 & 1/2 baths, walkout patio, and attached 2 car garage. There is a charcoal grill available for use as well as a fire pit.
sleeping available: King size bed in master child's room #1 full size bed child's room #2 bunk bed with a full size on bottom and twin on top. Also a twin bed. hide-a-bed couch in TV room (full size) entire home yes I am available for help or questions.
Carroll is a very safe, relaxing town. My home is located on a corner lot and there is a very large empty lot across the street. Multiple taxi services offered in Carroll.
The host canceled this reservation 31 days before arrival. This is an automated posting.
Tanya & Douglas
Beverly was at the house waiting on my when I arrived, we exchanged pleasantries and gave me the lay of the land. Very friendly and found out we're actually alum of the same college, GO CATS! House was clean and stocked with all the usual things you'd expect from a normal home.
Mat
August 2016
We got there a little early and Beverly was at the door for us. She was very friendly and the home was very comfortable. Our children of four had plenty of room and toys to play with. We were very happy with our stay! Thank you!!
Kallie
November 2016
Beverly met us at the door when we came. The information I had read about the house was correct. The house is in a very nice safe neighborhood. We enjoyed the space and how clean she keeps her house.
Patricia
October 2015
I had not seen my family from California in over three years since I was working in South Korea, and I chose Beverly's house to give my family a sense of home and comfort. A week prior to our check-in date, Beverly contacted me to discuss when I wanted to check-in, things-to-do in the area, and some complimentary items/ amenities. For my mom, having access to the garage and the washer/dryer were huge. My grandmother had her favorite coffee available with some delicious creamer she had not tried before. We were all pleased with the spaciousness in the house and outside areas, as it left us to ponder about where we would congregate each day for more family time, "Where should we have coffee and apple pie? How about that game we used to play?" The décor was well planned in the outside areas, the family rooms, and the master bedroom. As for comfort, I believe the most comfortable bedroom in the house was the master bedroom where my newlywed husband and I stayed. The bed seemed to embrace me. And no matter how my mind ran about making breakfast or preparing for the day's activities, I could barely lift my eye lids; so heaving my entire body out of bed seemed to happen more around 10 am rather than 6am. In short, this is a great place for a family to stay; and the host is very hospitable.
Trevina
October 2015
Carroll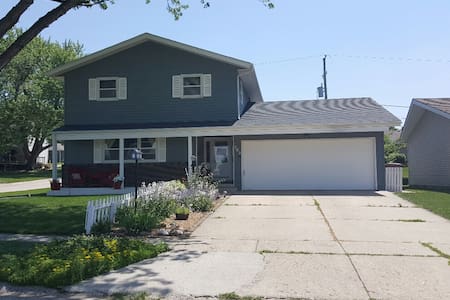 This apartment space is perfect for anyone passing through or enjoying an extended stay in the Carroll area. The fully furnished room allows you to make yourself at home in a clean and quiet environment. Bonus—you're just a five-minute walk from the Santa Maria Winery and the Carroll's downtown shopping area! This is a good place for couples, solo adventurers and business travelers.
Alyson did an excellent job communicating with Email and text mesages. We arrived after 10:00 PM, but she left us a key and sent us instructions about getting in. I'm not sure how old the building is, but it appears to be newer so it is in excellent condition and is very clean. The neighborhood looked good and seemed perfectly safe. The apartment is spacious... very large living/dining/kitchen area. The rectangular bedroom is a bit narrow (like it shows in her pictures), but we could still get into the queen size bed without any issues. The bedroom also had a twin bed at one end. As Alyson noted in her description of the apt, there is no window in the bedroom, but that didn't bother my wife or me. The apt was very quiet, clean, and smelled fine. This apt was perfect for AirBnb because it had a private entrance, and we didn't have to interrupt any homeowners we we entered or left the apt. I highly recommend it to anyone visiting Carroll or one of the nearby towns.
Jim
August 2016
Great host, easy check in and arrival. Incredible value. Safe, pleasant location. Easy parking. I'd absolutely stay here again. My family was very comfortable staying here for two nights. Easy walking distance to restaurants, movie theater etc. Compared to local hotel options this will feel like a castle.
Sarah
August 2016
Carroll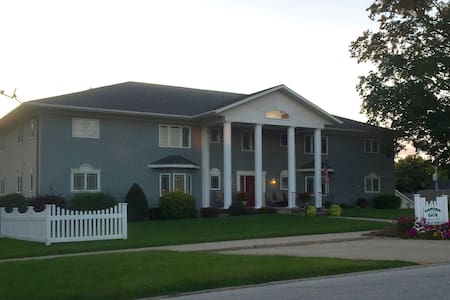 My place is close to family-friendly activities. My place is good for couples, solo adventurers, business travelers, and families (with kids).
Prairie Whole Farms Airbnb is in rural Iowa in the heart of corn and soybean fields, near concentrated pork facilities, and inside a major wind turbine farm. Prairie Whole Farms Airbnb is located within 15 minutes of many local attractions including Prairie Peddler Gardens, a beautiful garden for weddings and also Old Town Winery a great spot for an event, The Skate Palace also an great venue for an awesome corporate function or wedding reception Guests have a private outside separate keyed access to the basement apartment from the back door of our ranch home through the garage. We are available help you plan your stay which would include catering meals. We can offer recommendations upon request. However if you prefer privacy will acknowledge that also.
The Prairie Whole Farms Airbnb is located in a rural Iowa setting. Eateries -Zimmy's Bar and Grill, Ida Grove, Mexican Mi Rancho, Ida Grove, Pizza Hut on the lake, Prairie Whole Farms Airbnb is located within 20 minutes of many local attractions including a fantastic wedding venue, Prairie Pedlar Gardens (URL HIDDEN) Also Prairie Whole Farms Airbnb is near another nice local venue for gatherings Old Town Winery (URL HIDDEN)
Ida Grove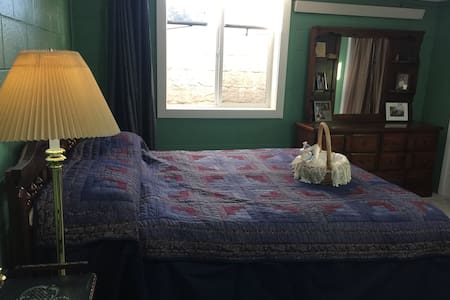 My place is close to parks. My place is good for couples, solo adventurers, business travelers, and families (with kids).
Lohrville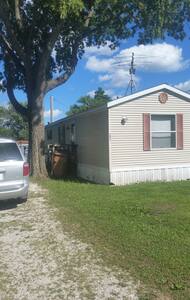 Our newly renovated rustic cottage is a quiet retreat in the heart of the Middle Raccoon River Valley. Situated on our acreage, the cottage overlooks a prairie and vegetable garden. With close proximity to Whiterock Conservancy, guests can easily access hiking and mountain biking trails, or float the nearby river.
This building used to be a flower shop and was built using reclaimed barn board and other re-purposed materials. It has comfortable heated floors and an air conditioner. We converted it to a guesthouse in 2016 by installing a new bathroom shower, toilet, and vanity; adding a mini-kitchen with basic amenities (sink, fridge, microwave, toaster, coffee maker, electric skillet); and furnishing a living room and bedroom. The Rookery Cottage can sleep up to six guests. There are two queen beds and a futon. The name "rookery" refers to a community nesting site for herons, a beautiful bird common to this area in the warmer months. Please note: There is no television or wi-fi at the cottage yet! 30+ miles of hiking and mountain biking trails at Whiterock Conservancy. Easily accessible stretch of the Middle Raccoon River. Dark skies for stargazing. Prairie and oak savanna. Quaint town of Coon Rapids, population approx. 1200. Our home and small engine repair business are located on the same acreage. We are people-persons and enjoy meeting new guests.
Driving distances: 4.3 miles to Coon Rapids. 25 miles to Guthrie Center, Audubon, Carroll or Jefferson. 60 miles to Des Moines. 100 miles to Omaha. Rural setting, no public transportation. Our acreage is home to dogs, chickens, cows and honey bees. We also share our space with wildlife. In the evening, it is not uncommon to hear coyotes, owls, whippoorwills, and occasionally a bobcat.
Emily was easy to get ahold of and was super flexible when we had to change our arrival time. The space was as advertised but she neglected to mention how gorgeous the views were from the bedroom window. It was charmingly rustic. She said they are continuing to work to improve the space but it already met the needs for our girls' weekend away. Parking next to the cow pasture and getting a friendly moo when we arrived as well as having farm fresh eggs from the chickens we drove past was just another part of the charm this place offered. The space is conveniently adjacent to Whiterock Conservancy which has awesome hiking and biking as well as stargazing. We totally recommend the yummy burgers at the bowling alley in town.
Betti
September 2016
The Rookery provided everything I could have wanted, peace and quiet, dark skies and no hectic city noises. I slept through the night waking up refreshed and ready for a new day. That's no small feat, I've had many high end hotels have fallen short of providing the rest and relaxation that your cottage offered. Thanks for making this available to the community. I will highly recommend The Rookery to anyone looking for a local place to spend a nice quiet weekend, or if they are planning to spend some time exploring the local area.
Christopher
November 2016
The cottage was adorable! Slept all 6 guest which was perfect since we were in town for a wedding! The hosts were very helpful and welcoming! I loved everything about my entire stay there :)
Jessica
October 2016
I absolutely loved everything about my stay @ The Rookery. Emily and Matt are wonderful hosts and have put their hearts into transforming their cottage into a relaxing, welcoming retreat in the middle of a beautiful nature preserve. Upon arriving, we kicked back at the fire pit which is just steps away from the cottage. There were countless twinkling stars on a clear night and we even witnessed a shooting star. This comfy cottage is a perfect place to unwind after spending an adventurous day hiking, canoeing or fishing. The bathroom is fully remodeled with a new walk-in shower (including good water pressure), vanity and fixtures. The bedroom is outfitted with beautiful, modern furniture which compliments the rustic trim and reclaimed wood, giving it lots of character. The cottage is spacious and has a kitchenette equipped with a small fridge, microwave, toaster and coffee maker. The surrounding property is beautiful. I started my morning waking up to a beautiful sunrise and sipping my tea on the deck, enjoying the fresh, airy breeze. The Rookery is a delightful gem in the middle of White Rock's Nature Preserve and I recommend it 110%. I will definitely return for another stay! Thank you for your gracious Iowa charm and hospitality, Emily & Matt!
Nichole
September 2016
Emily was right there, ready for me with a flashlight and a smile even though I arrived later than expected. The cottage was cozy and quiet with beautiful views of the morning sunrise and great stargazing at night.
Heather
November 2016
I did extensive research into cabins within a 3-hour radius (of Lincoln, NE) to accommodate myself, my husband, and our two couple friends. I was in search of an affordable, unplugged weekend full of laid-back fun, board games, movies, and scenery - we got everything we asked for and more! Emily was quick to communicate and answer the many questions I had. There isn't a tv/DVD player available currently, but they were happy to let us bring our own. The cabin is ADORABLE and offered the perfect amount of relaxing/table/sleeping space (sharing one bathroom amongst 6 people was interesting, but that says more about the amount of people we had than the space itself, haha). Matt and Emily had a welcome board and s'mores supplies ready for us - such a cute touch! And they stopped by to welcome us and give us additional info about the cabin/area/in-town. Unfortunately, windy & cold November weather didn't really permit a fire pit, but we look forward to utilizing it next time. You can buy their farm fresh eggs in every morning, which we used to make some awesome breakfast burritos. We also wandered down the trails and enjoyed the beautiful river scenery as well as the night skies. The boys were especially enthralled with the dogs, chickens, and cows ;) Finally, the "master bedroom" bed was maybe the most comfortable bed I've ever slept in, I wish I could've taken it! Can't say enough good things about this cabin, super highly recommended:)
Jenelle
November 2016
Had a great stay! Beautiful location, nice place to get away and relax
Bryan
October 2016
It was wonderfully cozy place to stay!! The little wonderful space as well as the trails and beauty surrounding!
Karen
October 2016
Coon Rapids
My place is close to the lake and has a small beach. I have sit on top kayaks and a SUP. There are family-friendly activities and restaurants and dining near by. My place is good for couples, solo adventurers, business travelers, and families (with kids).
Jeff was a fantastic host with a breathtaking view! Waters edge best describes the location of the house.
Dave
July 2016
湖畔(Lakeside)
The Lake House is on beautiful North Twin Lakes....Iowa's "best kept secret" nestled among the corn fields and small communities of Iowa. A seven mile bike bath encircles the lake, also a 9 hole golf course, excellent fishing and boating and of course peace and quiet.
The Captain's Quarters is a self contained unit with queen feather bed, on suite bath with jetted tub and separate shower. There is a private entrance, sitting room with wide screen flat TV and a private deck with hammock and adirondack chairs. If there are two couples, we have two lake side bedrooms, both with on suite baths on the upper floor. There is a private sitting room and deck, but no seperate entrance. If available, guests have use of kayaks and bikes. Frisbee golf is available as well as several lawn games. Free Wifi. Upon arrival, we will greet you with beverage of choice and an appetizer. Breakfast will be served where and when requested. As hosts, we will be on site, but we have plenty of space to give you privacy. If available, guests have use of kayaks and bikes. Frisbee golf is available as well as several lawn games. Free Wifi. Upon arrival, we will greet you with beverage of choice and an appetizer. Breakfast will be served where and when requested. As hosts, we will be on site, but we have plenty of space to give you privacy.
Price includes 12% tax
Highly recommend this lake house. Beautiful house, accommodating host! Very comfortable, fun, and relaxing! A do-over.
Barbara
July 2016
Carla has a beautiful house on a beautiful lake. I highly recommend it if you are just passing through or you are looking for a place to stay a couple of days. It was wonderful to be able to sit by the lake, enjoy a glass of wine, and pet an adorable dog after a long day of driving. If we had had more time, we would have definitely taken them up on kayaking in the lake. A delicious breakfast capped off a great night in the lake house!
Allison
July 2015
Carla is a wonderful host. She welcomed us with wine, cheese and crackers. The first year she gave us a tour of the lake in her boat. She appears when you need her but you hardly know she is there. She is a wonderful cook with a very professional presentation.
Kim
July 2016
Carla is a terrific host and has thought of everything in the guest rooms ! She lives on the ground floor and is available nearly anytime for assistance. She is a thoughtful chef and accommodated our special diets without hesitation. She is always laughing and smiling, as well as is a gracious, intelligent, informed host. This is the best property on the lake with stunning views.
Sandy
June 2016
We are just back from our wonderful stay at The Lake House. We were lucky to enjoy all that this spot offers. With nice weather we had a true lake experience. The host worried about every aspect of our stay. We can't wait to go back.
Diane
August 2016
Carla was a wonderful host. She made my wife and I feel right at home and have a beautiful home. We felt relaxed the moment we arrived. We will definitely be back!
Ryan
September 2016
This place is a must! The house is beautiful and very clean, tastefully decorated and has stunning views over the lake. More important though, we got to meet our very kind host Clara, and her sweet elderly dog Diesel. Who were kind enough to let us stay after season as the only guests. Higly recommended!
Kurt
September 2014
Our stay for a long 3 day weekend was fantastic! Couldn't ask for a kinder host, it was a great location with a spectacular view of the lake, and Carla is a great cook! The living quarters were perfect. I would recommend The Lake House to anyone looking for a really nice getaway.
Lynette
August 2016
曼森(Manson)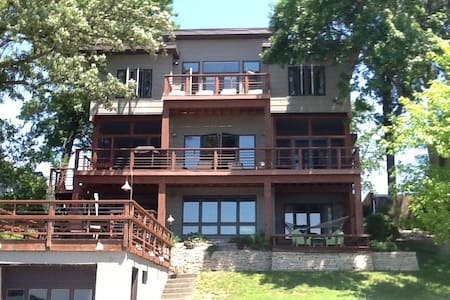 Experience a one-of-a-kind adventure in Iowa when you stay at this outstanding 3-bedroom, 3.5-bathroom Lake View vacation rental house. With room to comfortably accommodate 10 guests, this lakefront home offers endless entertainment and all of the amenities needed for a rejuvenating stay!
Once you set your sights on the breathtaking exterior of this home, which boasts a handsome architectural design and lovely brick, you'll immediately want to make another reservation. Ideally situated on the serene Black Hawk Lake, this home features sensational views and a peaceful atmosphere that will help you forget about all of your worries. Early risers will look forward to preparing a steaming mug of coffee in the morning and enjoying the warm sun rise above the lake waters. After an invigorating day of splashing around in the lake, you'll love coming home to rest up on one of the private balconies with your favorite beer in hand. On chilly evenings, gather around the fire pit with your loved ones and share stories. Throughout your stay, you'll love coming home to a wealth of conveniences to keep you relaxed and entertained! The interior has been designed to fit every need, making it perfect for a large family or group who is looking to create special memories. With 3,400 square feet of elegantly appointed living space, you'll easily be able to escape your group for some much needed alone time. Make your way into the game room to challenge your friends to some friendly competition with a game of pool, ping pong, foosball or basketball arcade. Start your mornings off with a refreshing workout in the fitness room on the Bowflex, treadclimber or treadmill and then step into the sauna to soothe your muscles. Even the most discerned chefs will love constructing culinary masterpieces in the kitchen, equipped with all of the necessary pots, pans and appliances. Later, kick back and relax on the upper deck, equipped with infrared heaters to keep you warm and cozy on cool nights. At the end of long vacation days, retire to any of the bedrooms for a great night of sleep! Evolve Vacation Rental Network is on a mission to make vacation rental easy for travelers. Every property in our network has been vetted and verified so you can book with confidence. If you have questions prior to your trip, we are happy to assist you 7 days a week. During your stay, your local contact will be available 24/7 to help with any issues that may arise.
From the property's magnificent location, an abundance of remarkable attractions are within close reach! Black Hawk Lake offers a plethora of fun activities, including swimming, fishing, and water sports. Also, a canoe and paddle board are available at the home for you to make the most of your day on the water. It's only a short 5-minute walk to Camp Crescent Beach, where you can lounge in the soft sand and watch your kids enjoy the excellent swimming. Specialty shops and a tasty restaurants on Main Street are all just a 5-minute walk away in Lake View's friendly downtown area, and 2 additional restaurants can be found just a short drive away allowing you to experience all the local cuisine. Explore the natural splendor of the nearby area on one of the 6 bikes the owner has provided. Make sure to visit the historical piers to learn about their intriguing past and to catch a show at one of the monthly concert series. You won't have to venture far for fun with sensational community amenities, such as a basketball court, miniature golf and sand volleyball - and the kids will love spending time at the children's park only a 5-minute walk away. However you decide to spend your time here, this picturesque Lake Views vacation rental house ensures an unforgettable trip! Key Residence Features: - Amenities include a private dock and decks, patio furniture, fire pit, game room, canoe, paddle board, fitness room, 5 TVs, wireless internet access, 2 fireplaces, fully equipped kitchen, air conditioning, and much more - Unbeatable location - within close proximity of the best attractions Lake View has to offer! Bedroom Configuration: - Master Bedroom: King-sized Bed - Bedroom 2: Queen-sized Bed - Bedroom 3: Queen-sized Bed Additional Sleeping: - 2 Queen-sized Sofa Sleepers can accommodate 4 extra guests - 2 Air Mattresses can sleep 2 extra guests
Lake View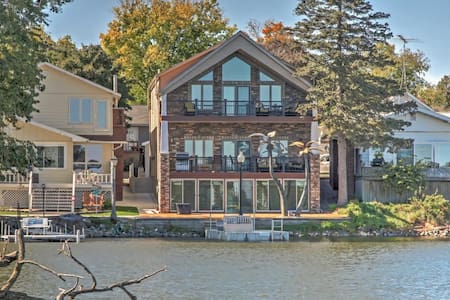 Small town, Cute house, fenced yard for those who need space for a pet or just want to hang out on and relax on the very large deck. Spare bedroom available, shared bathroom, access to entire home. Lgbt / gay friendly
I had a very nice stay at Greggs. He was very help full prior and at my arrival and during my stay. The description is accurate. It's a very quite area. Everything was just perfect for my situation, A base camp for at visit to Elk Horn.
Daniel
May 2015
Greg was so great with communication! He made sure we knew exactly where to park and how to get to the house. He was extremely welcoming when we got there, offering refreshments and helping us get settled. We had a nice chat out on his back deck where our two big dogs got to romp around in the gorgeous fenced yard of his with his lovely pup! The house was quiet, bed was comfortable and we slept well. It is a little ways off of 80 but was the perfect launching pad for going to see Ashfall State Park in Nebraska. Greg was up with us early in the morning with coffee, made sure our dogs had plenty of water and made sure we were taking the fastest route. We had a great time talking about the country and enjoying the immense yard!
Johanna
July 2015
Very warm and inviting home. There was a rain storm during the night and we did not hear a thing, very quite and comforting. It was a smokers home, but if I had not been told I would have not even noticed.
Vicky
May 2015
Gregg was very welcoming. The dogs enjoyed the large backyard and we had a couple very nice walks around the quiet little neighborhood. The room and bathroom were very clean and Gregg even made dinner, despite our late arrival.
Rachel
November 2015
Greg was great. He accommodated our late arrival and engaged us in interesting conversation. Greg was extremely hospitable and we will definitely consider staying in Audubon again with Greg.
Grant
August 2015
Gregg was very accommodating as we arrived very late in the evening to his residence. He had the grill running and offered its use to us and had the backyard all set and ready for a inviting and comfortable social hour. He had everything ready in the house for myself and one other guest. He was able to accommodate two separate sleeping quarters with a fold-out couch which worked great. He had a brand new set of sheets for my use. He made coffee and offered up some fruit and granola bars for breakfast. His dog was very nice and I never heard it bark once. I couldn't really tell that anyone smoked on the property.
Eric
June 2015
I had a delightful stay at "cute house" with Gregg. I was graciously welcomed and made to feel at home instantly. Gregg's genuine hospitality, allowing me to use the kitchen to cook my own food and grilling dinner really helped me relax after a full day of driving. It was a comfortable oasis at the halfway point of my travels!
Patty
September 2015
Gregg was a great host. He bbqed with us and served us fresh vegetables from his garden. The room was cozy and clean. Overall a very good experience.
Taylor
July 2015
Audubon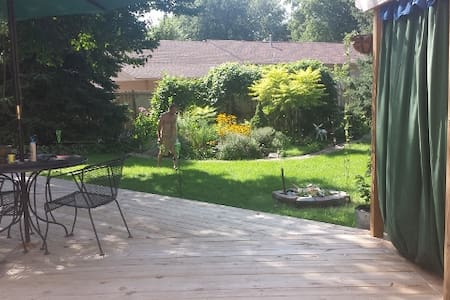 Travel back in time. The Hometown Hideaway allows you to slow down and experience a quiet and friendly Midwest farm town of yesterday while retaining the modern conveniences you enjoy. Perfect for writers, artists, or people in need of a retreat.
The Hometown Hideaway is a 140 year old historic home in the heart of central Iowa (an hour and 15 from Des Moines) that used to be the telephone switchboard for the community. This small, cozy home retains many of its original features with some modern touches. Besides the bedrooms there is a large front porch perfect for cool summer evenings, a library office, seating room with a big screen TV, DVD player and Netflix capability, a fully functional kitchen and a nice dining area. Guests have access to the entire home including a one car garage for their vehicle. When staying at the Hometown Hideaway guests will be greeted by a host who is off property but always near when needed. We have the option of home cooked meals if you want to pre-order.
The Hometown Hideaway is a historic home in the heart of central Iowa (an hour and 15 from Des Moines) that used to be the telephone switchboard for the community. This small, cozy home sits opposite one of Paton's two churches and the town's central park making a quiet and beautiful setting. With under a population of 300, this tiny town is unique. You will need your own vehicle when visiting the Hometown Hideaway. Though Paton is a small town it does have a significant gas station/ convenience store, an active library, and the finest restaurant for 60 miles in any direction. The town is 30-minutes away from movies theaters, bowling, fishing, roller skating, the Wild Rose Casino and Resort and several other interesting places of discovery.
It was a nice, quiet place to stay. Neighborhood was also very quiet. The beds were nice and comfy. I really liked the style Shawn was going for, made me think of all those nice childhood memories. At first I didnt think i would like not having any cable TV, i dont watch much tv but my kids do, however it was nice to have everyone "talking" to each other. The only thing that I didn't like was only having one bathroom and having to wait. Other than the mentioned it was a great stay and price was even better. Thanks!!
Gina
May 2016
Cozy, warn and comfortable in below zero winter weather. We will be back!
scott
December 2016
Great place to stay
Shane
September 2016
I totally enjoyed my stay at the Hometown Hideaway in Paton, IA! First off, the house is totally furnished with comfy furniture, all kitchen items for cooking and dining, good book selection to browse, and fresh flowers on the table to greet me. The house looks over a pleasant park to one side and a church on another. This house was like visiting a Grandma all over again (mine passed in 1976) with the special touches and peaceful ambience. Shawn has communicated so well with me throughout the process of staying here. The housekeeper Donna stopped by to welcome me and offer her help with anything should I need it. This very small town is pleasant, very quiet, and peaceful. A perfect spot for a mini-retreat, having a based for visiting with family and friends in the area, being comfortable when visiting other nearby cities such as Fort Dodge, Ames, Des Moines, Boone, or Jefferson. A very good value and wonderful stay!
Marti
June 2016
Very easy to arrange check-in. Shawn was very accommodating! The house had just about everything you could ask for (movies, board games, full kitchen with dining ware, washer and dryer, etc). Everythzing you could ask for in a home away from home!
Katie
December 2016
Quiet and relaxing
Ethan
November 2016
The host canceled this reservation 22 days before arrival. This is an automated posting.
Nathaniel
Great house, Shawn is great, and all in all a perfect experience
Dani
April 2016
Paton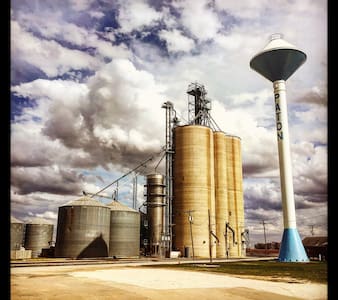 An alternative place to stay, that offers a homey feel. $85 for one bed and $120 for both rooms. There is an attached garage and full use of kitchen and laundry.
I would definitely recommend anyone to stay in Tracey's place. The house is tidy, carefully treated, has modern furniture and everything you want for a comfortable trip. Not to mention how nice Tracey waited for us for a very late check in. Tracey offered us one of the best experience we have in our airbnb trips. My friends and I are all enjoyed the stay. I will definitely visit again if I'm near again.
Zehua
December 2016
Clean, quiet, comfortable, and exactly what we needed. Tracy was a perfect host.
Priscilla
June 2016
Audubon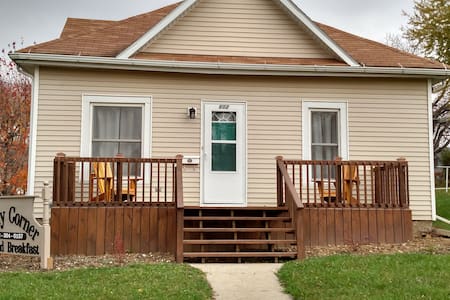 Your home away from home. Tom and Anna's House is a beautifully restored 1912 craftsman style home with 5 bedrooms, 7 beds, 2 1/2 baths and a beautifully finished attic. Sleeps 13. There are four queen, 2 full and 1 twin bed. 1st floor has master bedroom and new bathroom and kitchen. 2nd floor has 4 bedrooms with walk-in closets, 1 full and 1 half bath. Attic has 2 full size beds and Pottery Barn writing desk.
After graduating from Iowa State University with a degree in Veterinary Medicine in 1950, WWII veterans Tom and Anna Flynn moved to Anna's hometown, Kimballton, Iowa, to start his large animal veterinary practice and to raise their growing family. Tom had been an officer with the 28th Infantry Division and seen combat action in the Huertgen Forest and the Battle of the Bulge prior to being taken prisoners. He was liberated April 30, 1945 and was promoted to Captain after returning stateside. Anna had been a 2nd Lt Army Nurse, which is how they met in 1942 and a story all by itself. They purchased this home in 1952 and raised eight children here. If the walls could talk, what stories they would tell. The home is now owned by their youngest daughter, Alice, and was restored in 2014-2015. All renters will receive a complimentary copy of Tom's biography, Unforgettable: The Biography of Captain Thomas J. Flynn by Alice M. Flynn, which is available on-line.
Tom and Anna's House is the perfect lodging for out of town guests, family events and local celebrations. Kimballton, established in the 1880's by Danish immigrants, joins the neighboring town of Elk Horn in celebrating our Danish heritage. The home is now owned by Tom and Anna's youngest daughter, Alice. She is passionate about holding onto her family's connection to Kimballton and so restored the house in 2014-2015. The Bennedsen family has lived in Kimballton since her maternal grandparents, Neils Bennedsen and Bertha Clausen emigrated from Denmark in 1901. A brick and stonemason from Jelling, Denmark, Neils was hired by the Lutheran congregation to build the Immanuel Lutheran Church, very similar to the one he had just built in Luck, WI. 18 year old Bertha Clausen left AEro, Denmark the same year headed for her sister, Maren Clausen-Jorgensen's home who lived just north of Kimballton. Working as a seamstress, she would live with each family for several months at a time while making their new clothes. In 1915, Neils completed their new brick and stone house on the top of the hill on the south end of town and they were married in August of that same year. Neils and Bertha had five children. Anna was the 3rd and the only one to return to Kimballton after WWII.
Kimballton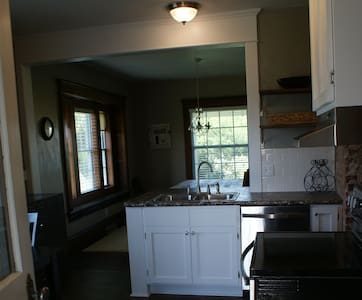 David Block Design Passive Solar home with a beautiful country view. Grill on the deck that over looks the pond or a campfire on the beach. Spend the day swimming or fishing, catch and release! 4 bedrooms with bath available, 2 rooms with lofts and 3 sleeping bags in each. Queen size Murphy Bed also available. $15per guest per night over 10 guests over age 18. Additional fees apply for special events. Please contact us for details.
House is very spacious. Appliances, such as, washer, dryer, stove, microwave, and refrigerator available for use! 4 bedrooms available with full bath. Each room has queen size bed, 2 rooms upstairs have lofts with sleeping bags in each loft for kids (12 and under) to enjoy! Each additional guest is $15/night (over 10 adult guests 18 and older) Space available for tenting Someone will be available for assistance during your stay, if not at the house, will be available by phone.
This beautiful home is located on 8 acres, black top drive is 1/4 mile from the road. Your only neighbors are corn/soybean fields! There is no public transportation available in this area. Booklet of local attractions will be available at the house. We are 60 miles from the Old Market and Omaha Airport in Omaha, NE. Harlan is 100 miles from Des Moines, Iowa. Dog Kennel available-NO PETS ALLOWED IN THE HOUSE
10/10 BEST group vacation home in the Nebraska/IA area! There is no write-up that can do this property justice. It is gorgeous! My husband and his best friends went for an overnight and had the time of their lives. They said it was like staying on a resort! I was able to see all the videos they took during their stay and it was SO cool. I mean, glass doors on a dock over a private pond? It doesn't get cooler than that! Not to mention the unique things that make the house so neat like a fire pole in the center of the home, hidden doorways to nooks, entertainment area, pool, shuffle board and so much more. The outside offers tons of activities from basketball, fishing, paddle boarding and of course the pond. Now I will tell you the best part for any AirBnBer that may want to stay here...Amie! She is the host of the property and manages it for the owners. She made it feel like the home had a personal concierge. She even coordinated a golf trip for the guys! Her communication was outstanding and I was able to bounce questions off her weeks in advance. She met with the group at check-in and did a walk through. Everyone said she was awesome! As an AirBnB host, I told Aime that she inspired me to even improve how I host guests. She's fantastic and if you book their property you can rest assured you will be in great hands. We are planning on booking for our family reunion next year. Can't wait :)
Auburn
September 2016
Wonderful house with so many fun things to do. Felt like a resort in that everything we needed was available and we had no need to leave. Large enough that even with 10+ people we never felt cramped. Gary and Diane were very nice, friendly, and helpful to us during our stay. I would definitely stay there again.
Lee
September 2016
Love, Love, Loved it. Held our company retreat here for Memorial Day. 3 families and the kids and never felt like we were on top of each other. So much room, so much to do. The kids loving having the 'super cool' lofts to sleep in. The lake is awesome...very clean, full of fish, and the water trampoline was a blast. The grounds are manicured flawlessly. Inside we had shuffleboard, pool table, and of course the fire pole was a huge hit. Gary and Diane met us on arrival and I'm glad to say we now consider them good friends. Amazingly nice and easy going. We'll definitely be back.
Clint
June 2016
Breathtakingly gorgeous, high-end home. The only picture that didn't do it justice was the outside lighting: with all the lights on, this house is a showcase at night! I also liked that the inside lights have dimmers. it's easy to get to, with a blacktopped driveway. It's on a hill, with a spectacular, peaceful panoramic view of the rolling hills of lush farmland. We have a ladies family reunion every year and everything about the house and property exceeded our expectations and actually generated excitement with some fence sitters who made the last minute decision to go because of the venue. There was plenty to keep us occupied without needing to go for activities off the property. Lot's of privacy and also lots of big space for a larger group to be together around the kitchen table, and in both the upstairs and downstairs living areas(URL HIDDEN)appreciated the attention to detail in the kitchen gadget provisions. Gary was kind to move a reclining chair for one of our aunts so she could sleep at night.
Debbi
August 2016
Harlan