My apartment about 25 kilometres from Valencia airport and is a 5 minute drive outside of Bunol, a typical Spanish village famous for the tomatina. You'll love my place because of the ambiance, the outdoors space, and the neighborhood. My place is good for couples, solo adventurers, business travelers, families (with kids), ( I have facilities for babies ie high chair, cot bed, car seats etc.) and groups of up to 6 people sharing, I also provide a welcome pack on arrival.
The apartment has 2 bedrooms, one with a double bed and 1 with twin beds, there is also a bed settee in the lounge. The bathroom has a toilet, wash basin and shower. All bed linen and towels are provided, I also provide towels for the pool and am happy for you to use them if you wish to go to the beach. There is a kitchenette with a fridge, microwave, toaster, kettle and sink unit, the kitchen contains dishes, cutlery and drinking glasses. The bedrooms and Lounge have ceiling fans.There is a Kitchen in the Paella house which has a gas cooker and washing machine which I am happy for you to use.
As I have already stated we live in a very rural setting and are surrounded by olive and almond trees. We are situated 25 kilometres from Valencia airport and a five minute drive from the village of Bunol which is a typical Spanish village with charming winding streets, a castle and beautiful church. The castle often in the summer months has concerts in the courtyard, these are often free. Bunol has 2 supermarkets and of course a number of smaller shops. There are many restaurants and tapas bars. There are several banks with cash point services and 3 theatres, one of which is a beautiful open air arena, this theatre hosts the famous Mano Mano concert in September. There are festivals throughout the year, the most popular being the world renown Tomatina which is held on the last Wednesday of August. This last week of August is a week of festivity with parades, music and competitions. March brings the Fallas with its huge statues and bonfires. The parades, statues and illuminations in Valencia are a must see. The villages all hold there own celebrations with statues and bonfires at this time. June has the medieval fair and music concerts many of which are free or just a few euros. October has the final motor bike grand prix in Cheste, a 15 minute drive or 20 minutes by train. Typical cuisine in this area comprises of the Valencian paella (chicken and rabbit) and of course the fish paella. For the more adventurous there are caracole (snails) and the many tapas dishes.
Diane and her husband are very nice and helpful and they always respect your privacity. They are very flexible with the check in and check out times . The house has everything you will need during your stay and the swiming pool is nice and very clean, we used it a lot. This place is perfect for a relaxing weekend , exactly what we were looking for. I strongly recommend you to book with them. Diane y su marido son muy majos y hacen todo para que te sientas como en casa pero siempre respetando tu privaciadad. También son muy flexibles con la hora del check in y check out y eso es de agradecer. La casa tiene de todo y la piscina es estupenda y muy limpia, ademas siempre la usamos nosotros solos. Es el sitio perfecto si quieres pasar unos dias de relax fuera de la ciudad , 100% recomendable.
Nuria
2016-08-28T00:00:00Z
We had a really nice time in Bunol with Diane and Victor as Superhosts
saida
2016-08-24T00:00:00Z
Diane y Victor son estupendos. Todo perfecto y sin problemas,resolviendo cualquier posible duda y atentos en todo momento. Vivienda limpia,preparada y con todo lo necesario para disfrutar. Sin duda seguiremos en contacto con este matrimonio encantador. Diane es una mujer muy cariñosa y te hace sentir como en casa. Diane and Victor are great. Everything perfect and smoothly, resolving any possible doubt and attentive at all times. Clean house , prepared and everything you need for housing. Certainly we keep in touch with this charming marriage. Diane is a very loving woman and makes you feel at home .
Alba
2016-07-03T00:00:00Z
Diana ist eine freundliche Frau.
Rex
2016-09-01T00:00:00Z
Buñol, 巴倫西亞自治區(Valencian Community), 西班牙
我们在布尼奥尔中心公寓是享受八月度假的理想场所,并与他们的西红柿大战的地方,也是podreis享受了摩托车大奖赛,也有适合度假的自然景观。您可以访问布尼奥尔的城堡,在Turche洞穴的考古博物馆或洗澡!布尼奥尔位于约25公里,距首都瓦伦西亚。
las espectativas del alojamieto a sido muchos mejor de lo que esperabamos, nos atendieron muy bien y la casa esta genial los alrededores tranquilos y todo perfecto. Gracias por todo
Cristina
2016-09-18T00:00:00Z
Estancia correcta, coincide con las fotos y la anfitriona nos trató muy bien, dando muchas facilidades.
Enrique
2016-08-23T00:00:00Z
Buñol, Comunidad Valenciana, 西班牙
Attractions: Motorcycling Circuit, near the city of Valencia, the beaches, the lagoon, the airport, Bonaire shopping center, Turia river, mountain hiking, horseback riding, etc .. My accommodation is good for couples, adventurers, business travelers and pets.
Los dueños son super amables y estuvieron pendientes de nosotros en todo momento, también decir que se aparca en la puerta a cualquier hora.
Jose
2017-03-20T00:00:00Z
Fuimos a Cheste a correr un evento deportivo. Fran se adaptó perfectamente a nuestras necesidades horarias y fue muy atento. No dudaría en volver a Cheste con él!
ALBERTO
2017-01-08T00:00:00Z
La casa es tal y como aparece en las fotos. Dispone de todo lo necesario para pasar una noche agradable y sentirse como en casa. Fran ha sido muy atento en todo momento, muy recomendable!
Irial
2017-01-01T00:00:00Z
Fran es muy amable y hospitalario. Está muy atento para que te sientas muy cómodo en su casa. Todo han sido facilidades. Así da gusto viajar con airbnb :) El apartamento es coqueto, con entrada independiente. Muy limpio, con muchos detalles y novísimo!!!
JOSE MANUEL
2016-12-10T00:00:00Z
Cheste, Comunidad Valenciana, 西班牙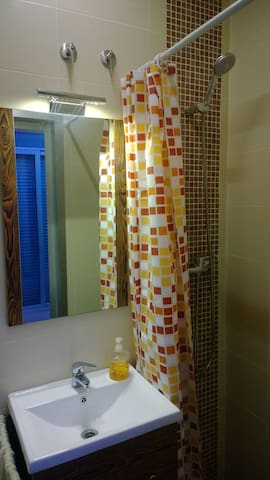 Our apartment in the center of Buñol is the ideal place to enjoy the August holidays and with them the Tomatina place, also podreis enjoy it for the moto gp and also has natural spots perfect for a lark!
It is a unique space because you can enjoy the tranquility and have the capital to 25 km.
Todo ha sido, incluso mejor de lo esperado. Un verdadero acierto.
Javier
2016-08-01T00:00:00Z
It was a great experience, despite the check in being somewhat on the late part (5 pm ish, but it is true that we were warned about this) the apartment was amazing, it's very spacious and with a perfectly central location, the hosts where even as friendly to give a parking plot with the rent, even if we didn't need it
Quentin
2016-09-01T00:00:00Z
Rosa y su novio fue muy hospitalarios y simpaticos. El apartamento fue limpio y exactamente como las fotos lo describian. Se siente como en casa. De nuevo, gracias para todos y hasta luego.
Loïc
2016-08-18T00:00:00Z
Nuestra experiencia en el apartamento de Rosa ha sido del todo positiva. Su apartamento es muy estiloso e incluso más espacioso de lo que parece en las fotos y equipado con todo lo necesario. Nos recibieron Rosa y su madre con mucha simpatía y nos recomendaron lugares para visitar, entre ellos un restaurante al lado de su casa, al que fuimos y salimos encantados. En la nevera de su amplia cocina tuvieron el detalle de dejarnos bebidas y aperitivos, aparte del café del desayuno. Un apartamento totalmente recomendable a todo tipo de huéspedes en el que te darán ganas de no salir de él. Sin duda es la mejor opción para hospedarse en Buñol. Gracias Rosa y repetiremos seguro.
Frank
2016-07-23T00:00:00Z
Ce fut parfait! L'accueil était remarquable . l'appartement est moderne, aucune fausse note, très propre et très bien équipé. Merci à notre hôte.
Lio
2016-08-21T00:00:00Z
Although the place was great the level of communication wasn't what I expected. Had a few troubles understanding the key and lock system. But had a fun and lovely stay in Bunol
SIDDHARTH VIJAY
2016-08-31T00:00:00Z
Buñol, Comunidad Valenciana, 西班牙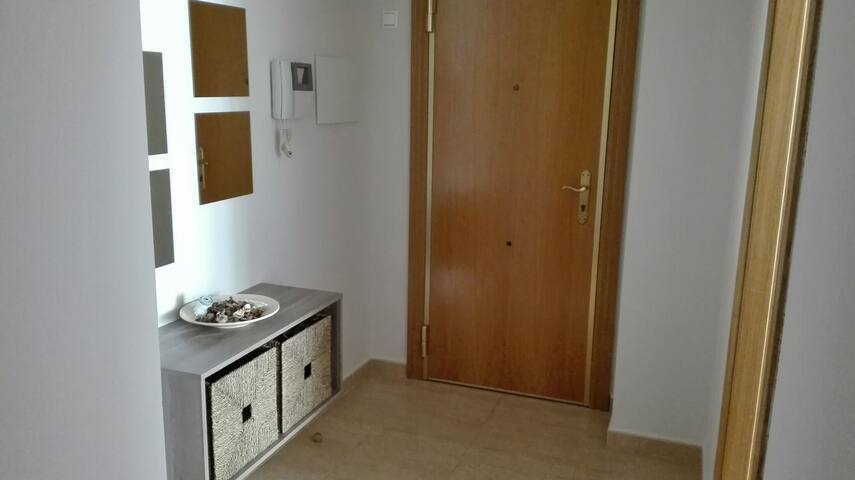 located in a quiet pedestrian 50 meters from the train station street WiFi minimum 2 nights
Room for 2 people in a pedestrian street noise does not bother bikes
Amador est tout d'abord venu me chercher à l'aéroport et m'y a reconduit le jour de mon départ. C'est vraiment gentil de sa part car ce n'était pas prévu dans les conditions d'hébergement. Le soir de mon arrivée, un repas chaud a été préparé par sa charmante épouse Lily et m'a été offert. J'ai d'ailleurs eu la joie de manger plusieurs avec eux. L'appartement de mes hôtes est lumineux, moderne, très propre et décoré avec goût, WiFi disponible gratuitement. Ma chambre donnait sur une terrasse et la salle de douche avec WC était à mon usage exclusif, disposait de tout le nécessaire y compris une sortie de bain. Ma brosse à dents et matériel de rasage auraient suffis dans ma trousse. L'hébergement se trouve dans un quartier calme dont la rue est piétonne et exclusivement réservée aux vehicules des habitants et services de la municipalité. Commerces, bars, restaurants, bus, gare etc accessibles à pied. Valencia est accessible en bus et en train. J'ai aussi eu la chance d'y être conduit par Amador et Lily qui m'ont servis de guide à 2 reprises. Super!
Jean-Claude
2015-11-10T00:00:00Z
Cheste, 巴倫西亞, 西班牙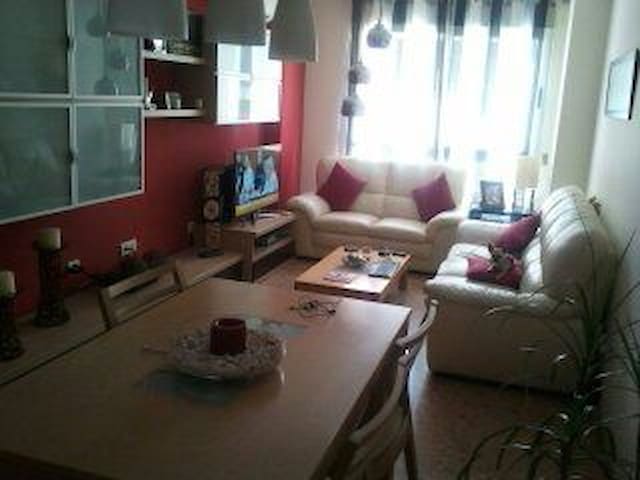 Apartamento en planta baja con llave propia. Baño completo compartido con bañera, agua caliente con butano. Dos habitaciones dobles con camas individuales y armarios. Luz natural.
Corner semidetached with 2 Apartments and a big terrace on the top: one apartment is the ground floor with three rooms, a bathroom with hot water and a little kitchen and a second apartment-flat upstairs, with one common entrance door. New electrical lines al over the house. Small kitchen downstairs with bottles of gas, upstairs other better kitchen with electricity. Full furnished. Study tables, wardrobs, shelters...a lot of space, sunny On bathroom downstairs with tiles One shower room smaller upstars with tiles Downstairs: Small kitchen with one fire and cabinets in the dinning room, wich is near one room and the kitchen The dinning room has two windows a dresser and a big wardrobe Three rooms, one single, and other two rooms with two single beds each one. One of the rooms with quite big wardrobe Upstairs: Two rooms with two simgle beds each one. A Big terrace on the top of the building with some plastic furniture. This is a quiet neighbourhood of semidetached houses for families in a quiet street. Quite near there is a bakery, a perfumery, a grocery and greengrocery The town is not very big, with a small walk there is the train station, supermarkets, internet coffee, restaurants, bars, pubs, computers shop.. Train and buses from Valencia city: TRAINS: Train Station "Cheste" short walking. (URL HIDDEN) (URL HIDDEN) BUS: Bus stations all around the town. (URL HIDDEN) OTHER BUSES LINES: (URL HIDDEN) We have a piece of land where we grow fruits and vegetables, and a small forest of pines, we use to go there often for having fun and fresh air. We invite you to join us. We use to have fresh fruit (plums, figs, apples, grapes..), some vegetables like tomatoes or peppers seasonally, instant coffee, organic olive oil and we are having bottles of wine recently because you people are asking for them!
Es un típico barrio de pueblo español, con muchos vecinos mayores y algunas familias jóvenes. Tiene tiendas básicas y un supermercado. Andando un poquito están los supermercados más grandes. Hay una Iglesia grande en lo alto de la colina en medio del pueblo, se puede visitar dando un paseo.
Teresa is probably the best host you could wish for. She is a very friendly and open person and made us feel very welcome during our short stay. She happily showed us around Cheste and took us to her farm with fruit trees. We chose to stay at Theresa's because of La Tomatina (The Tomato Fight) festival taking place in the neighbouring town Bunol (only 15 min drive from Cheste). Teresa's house is big, rooms are nice and spacious. There is a separate bathroom and kitchen downstairs. You can also use a big terrace on the roof. We were traveling around Spain for two week staying at different locations but our visit at Teresa's house was by far the best of all.
Agie
2012-08-31T00:00:00Z
i had a lovely time in cheste! its a very nice village and i had a great time visiting the organic farm especially eatin the fruit straight off the tree! the room was nice and very big apartment to myself! the kitchen downstairs only has one hob but Teresa was kind enough to let me use the upstairs kitchen! The terrace was beautiful too! had a great time and would go back!!! Teresa was worried about the noise as it was fiestas during the time i was there, including a corrida de torros through the city! that couldnt be helped and the noise wasnt a problem i had ear plugs!
Catherine
2012-07-31T00:00:00Z
Theresa is a very nice and friendly person. She was very helpful with everything and made the stay pleasant for us. Everything was arranged in a very short time. Perfect :)
Mark
2012-07-23T00:00:00Z
The place was very well located in the center of Cheste. The house had all we nedeed and Teresa has been always available answering any questions and receiving us when we arrived. I woul be back.... Muchas gracias Teresa.
Giuseppe
2015-11-08T00:00:00Z
We stayed at Theresa's for tomatina 2015! It's 15 mins away from Bunol by car ! Though Theresa wasn't well she ensured she received us at Valencia and guided us with maps and directions to her place ! The house was cozy and comfortable and we shared space with another wonderful couple ! Theresa is extremely caring n was constantly calling to check if everything was fine!
Poornima
2015-08-26T00:00:00Z
Good for a first experience!
Tamás
2012-03-20T00:00:00Z
Nosotros estuvimos un par de días en esta casa. No la recomendamos en absoluto. Es una casa dependiente de un piso de arriba que está habitado por una familia, con el baño (asqueroso, nada equipado, y con una bañera enana y con cucarachas) enmedio de la zona común con el piso de arriba. La casa se divide en dos habitaciones que se cierran con llave (menos mal, para que no puedan entrar las otras personas del piso superior). En una parte están dos habitaciones con dos camas cada una, a cual peor, sucias, con humedades y con las camas sin hacer, y en la otra parte hay un comedor con una nevera enmedio, un sofá y un mueble (sin tele, sin mesas ni sillas). También una cocina, por llamarlo de alguna manera, sin fuegos para cocinar, sin menaje alguno y sólo dispone de una pila, una lavadora y un calentador que es común al piso de arriba de butano. Además de que esta casa no está para alquilar, por todo lo descrito, la dueña se quedó a comer con nosotros y quería esperar a que su padre viniera a recogerla (desde mediodía hasta la tarde noche) en la casa que nosotros le habíamos alquilado. En fin, una cadena de despropósitos, si alguien quiere alquilar esto, que se lo piense dos veces.
Sara
2016-01-01T00:00:00Z
Had a fabulous time. The apartment is big and the beds were comfortable. The kitchen has a hot plate but you can only do limited cooking there. That was OK with us. It was noisy at night because we were there during Las Fallas Festival. Otherwise it would be very quiet I think. The owners were great. They picked us up at the train depot and showed us around town. It was a very special experience and one of our highlights in Spain.
Coral
2012-03-19T00:00:00Z
Cheste, Comunidad Valenciana, 西班牙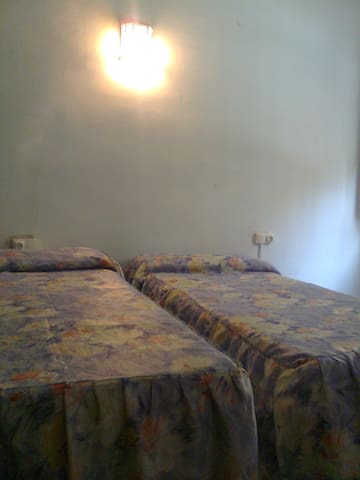 Apartamento con mucha luz y buenas vistas a la montaña, lugar tranquilo y con vigilancia las 24 horas el cual todos los huéspedes vengan de donde vengan serán bien recibidos.
The house was beautiful and modern with everything we could ask for including wonderful little dogs
Niamh
2017-03-20T00:00:00Z
Chiva, Comunidad Valenciana, 西班牙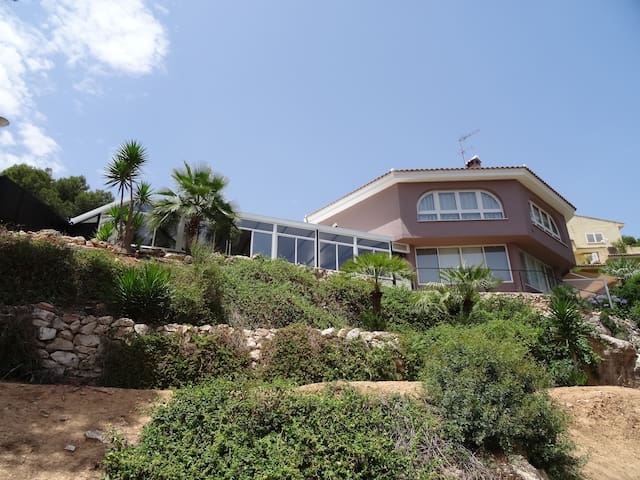 Piso céntrico en la localidad de chiva, a tan sólo 15 min de Valencia, y a 20min de la playa del Saler y Pinedo. El apartamento es amplio y muy luminoso y tranquilo. Perfecto para una escapada, familias con niños, grupos de amigos.
Amplio piso en el centro de chiva, con 3 dormitorios, dos baños y cocina- comedor con barra americana. El dormitorio principal cuenta con baño privado y vestidor. Perfecto para familias con niños o grupo de amigos/as. Hay dos habitaciones con cama de matrimonio y con una cama individual auxiliar. La tercera habitación cuenta con una litera.
Recomendable 100x100 todo súper limpio muy bien situado ,y a tan solo 20 m de la playa del saler ,tanto Sonia como su madre hicieron que todo fuera súper bien y sentirnos como en nuestra casa ,muy amables y coordiales ,seguro que repetimos muy pronto
Javier
2016-08-15T00:00:00Z
Chiva, Comunidad Valenciana, 西班牙
Lovely apartment right on the best golf course in Valencia. 15 minutes drive from Valencia city, airport and beaches. We have disposal of 8 apartments in total for rent on weekly basis all year long.
Lovely top floor apartment right on the best golf course in Valencia. Just 10 minutes drive from Valencia City and 15 minutes from one the best beach in the area. The apartment has a large open kitchen in line with the living room and nice big bathroom. Penthouse apartments have large balconies overlooking the golf course. All apartments have air conditioning and fitted wardrobes. The large pool area is just 30 meters from all apartments. El Bosque is known for its tranquility and its exclusivity. There is only one way to enter the urbanisation and the area has its own guard 24/7/365. The golf course is one of the best in Spain's.
Valencia has it all
Sascha's husband came and picked us up promptly at the gate as this was a gated community. The unit was accurately photographed. The cooking and other facilities were really good apart from the noisy heater.
Michael
2014-12-02T00:00:00Z
Chiva, Comunidad Valenciana, 西班牙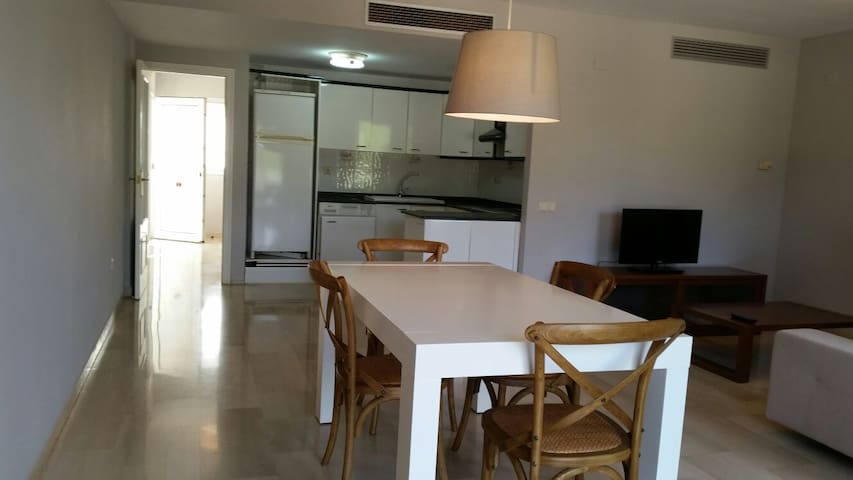 Dos espectaculares apartamentos unidos y totalmente amueblados y equipados, con accesos independientes y comunicados. Vistas increíbles en un entorno de naturaleza en primera línea del campo de Golf El Bosque. A pocos minutos del Circuito MotoGP de Cheste y del Centro Comercial BONAIRE y a 20 minutos de Valencia capital.
2 apartamentos de golf para disfrutar en familia o con amigos en un entorno de naturaleza y tranquilidad. Con opción a venta
瓦倫西亞, Comunidad Valenciana, 西班牙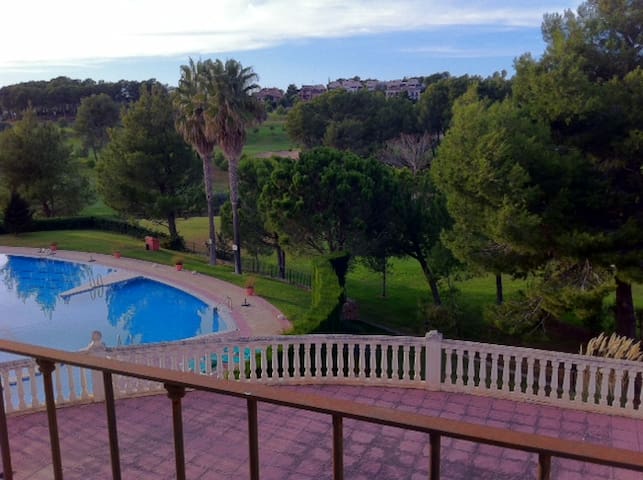 Apartamento nuevo, de 2 habitaciones con cama de matrimonio, una de ellas la cama es de 1.35m. Comedor cocina amplio con mucha luz.
Turís es un pueblo muy tranquilo pero con todos los servicios necesarios. Está muy bien comunicado con Valencia y la playa, se puede llegar en unos 20 min. Si lo que queréis es disfrutar de la montaña también es un sitio ideal ya que está muy cerca.
Turís, Comunidad Valenciana, 西班牙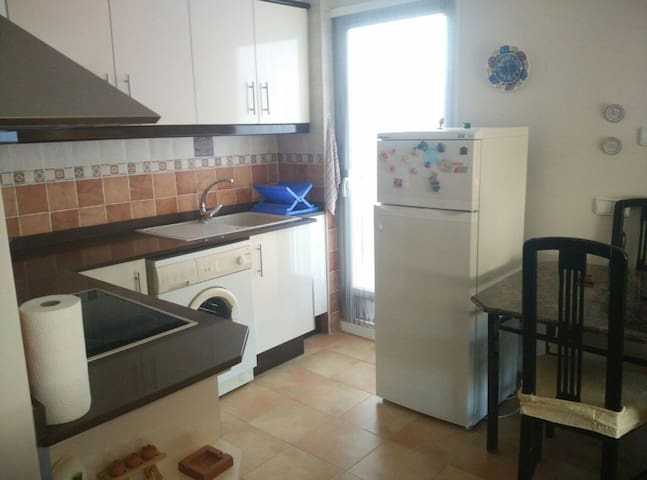 This beautiful single story Villa is set in 6.000 Sq. meters. consisting of Open plan sitting room & dining room with plenty of space and comfortable furnishing, with wood burner for our winter guests. There two double bedrooms one with en-suite and a twin bedded room with family bathroom. The Casita is set almost adjoin the main house. It has an open plan concept consisting of sitting room again with comfortable furnishings, double bed, bathroom and kitchen with hob, fridge and microwave etc.
Turís, Comunidad Valenciana, 西班牙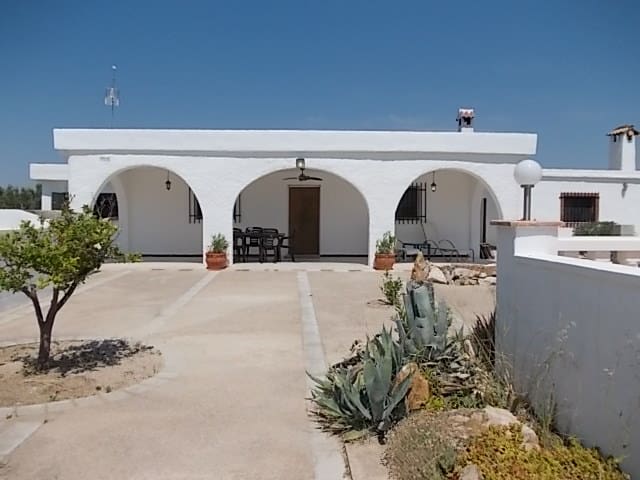 Casa en alquiler en una zona donde poder relajarse disfrutando de sus rutas senderos cuevas ríos, perfecto para pasar un fin de semana de desconexion. La casa tiene una terraza interior.
Zonas para poder visitar: - Cuevas de las Palomas. - Nacimiento del río Mijares - Río Magro - Río Juanes - El Motrotón - Embalse de Forata - Casco antiguo y castillos por alrededores - Cueva Truche - Ruta del agua - Peñón de Mijares - Ruta de los Molinos - Alojamiento ideal para Circuito Ricardo Tormo en Cheste - Ciudades como Valencia y disfrutar de sus playas . -Realizar deportes de montaña como escalada o senderismo, de agua como Kayak o rafting y disfrutar de la naturaleza haciendo hípica.
Alborache, Comunidad Valenciana, 西班牙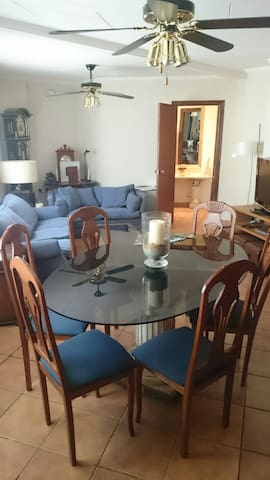 My place is close to the city centre, art and culture, and parks. My place is good for couples, solo adventurers, business travellers, and furry friends (pets).
Valencian Community, 巴倫西亞自治區(Valencian Community), 西班牙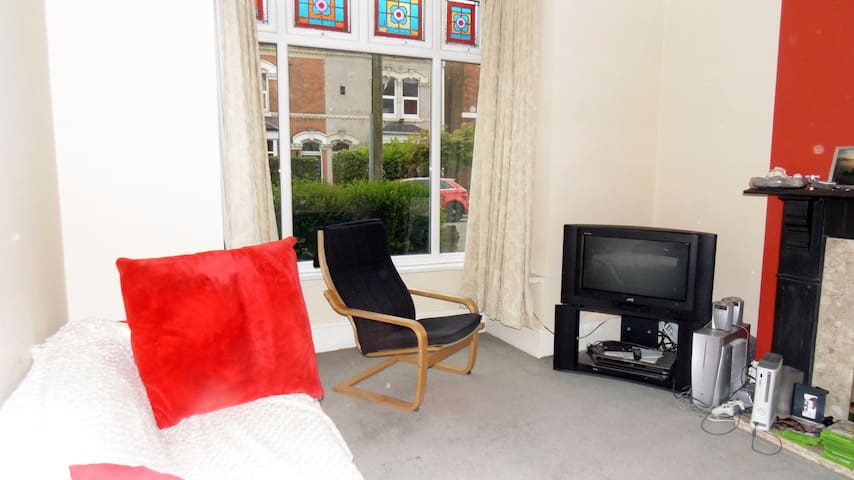 We rent out 8 modern apartments close to Valencia. Price is for 2-4 persons per apartment and minimum 4 apartments per reservation! Ideal for big groups, companies, golf clubs or a group of friends who look for a place close to Valencia.
Holiday apartment right on the golf course. El Bosque is just 15 minutes drive from Valencia airport and close beach and city center. 8 apartments with room for 2-4 persons The apartments has a large open kitchen in line with the living room and nice big bathroom. The have large balconies/terraces overlooking the golf course. All apartments have air conditioning and fitted wardrobes. The large pool area is just 30 meters from all apartments. El Bosque is known for its tranquility and its exclusivity. There is only one way to enter the urbanisation and the area has its own guard 24/7/365. The golf course is one of the best in Spain's. There is also a Country club with Tennis Courts, Football Field, Great pool area with a 50 meter track, Horse Riding Club and cozy restaurants which also provides Paella to the door.
Valencia has it all...and more
房間類型
整套房子/公寓
---
房源類型
公寓
---
可住人數
16
---
卧室
Chiva, 巴倫西亞自治區(Valencian Community), 西班牙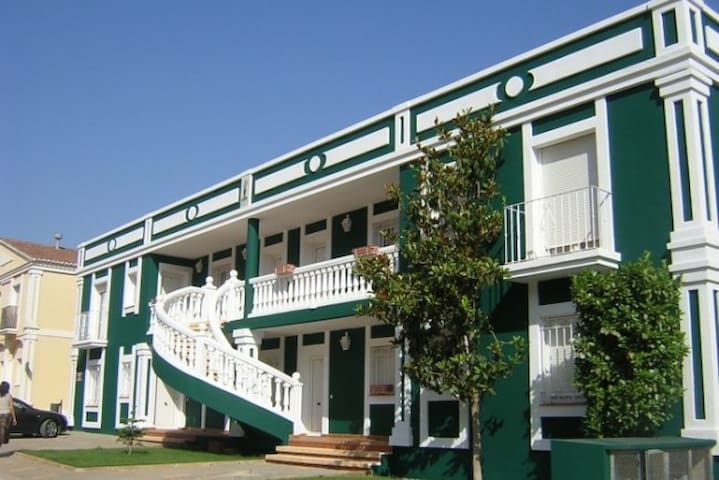 Atico en una de las mejores urbanizaciones de Valencia a 20 minutos en coche del centro a 15 minutos del aeropuerto y 5 a minutos del circuito de motociclismo de Cheste.
Atico en urbanización El Bosque con amplia terraza y vistas al campo de golf y a la piscina. El apartamento dispone de 2 baños completos, dos habitaciones, comedor, cocina office y esta totalmente equipado ( sabanas, edredones, toallas, manteles y electrodomesticos). Hay piscina ( disponible de Junio a Octubre ambos inclusive) y amplios jardines con zona infantil.
Wonderful place and people. We arrived slightly earlier than we anticipated which actually worked out perfectly as we were able to meet andres and noelia. A lovely couple who welcomed us to their beautiful home. A very peaceful place but not too far from all that you could need.
robert
2016-11-18T00:00:00Z
quiet and nice place;and Andrés is reactif just before one problem with heating. enough problem to go another time and special in hot season for the swimming pool Thank you Andres
Alain
2016-11-20T00:00:00Z
Siamo stati molto bene nella bella casa di Andres e Noelia. Ideale per un coppia, anche con un figlio, è situata in una bella posizione, a un passo dal campo da golf, all'interno dell'Urbanizacion El Bosque, a una trentina di minuti, o meno, dal centro di Valencia. E' una casa ben attrezzata e arredata con grande gusto. Provvista anche di garage al chiuso per la macchina.
Francesco
2016-01-05T00:00:00Z
Nos sentimos como en casa desde el primer día, Andres y Noelia son personas muy atentas y detallistas, lo tienen todo perfecto, muy bien decorado y limpisimo, el lugar es muy tranquilo y bonito, se respira paz, nos hemos quedado con las ganas de pasar algún día mas pero seguro que repetiremos y lo recomendamos sin ninguna duda.
Maribel
2015-09-14T00:00:00Z
accueil très chaleureux ... appartement très sympa , propre et calme . merci à nos hôtes .
antoine
2015-11-10T00:00:00Z
Nous avons passe un excellent sejour dans cet appartement. Tres moderne et bien equipe, rien ne manquait. Andres et Noelia sont tres accueillants, sympathiques et disponibles. L appartement etait très propre. Nous recommandons cette location très calme et sécurisée. Merci a vous et a bientôt
Faouzia
2015-07-31T00:00:00Z
Todo perfecto. Hemos estado una semana como en casa. Volveremos sin duda.
Ana
2017-01-07T00:00:00Z
Excellent
Artan
2017-03-22T00:00:00Z
Calicanto(Chiva), Comunidad Valenciana, 西班牙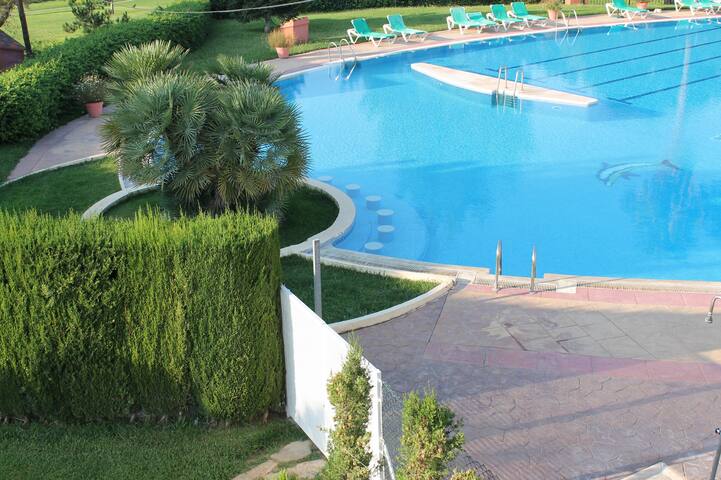 This lovely apartment is located in a quiet and relaxing spanish village . Spending your holidays in "Siete Aguas" means enjoying the real Spanish life. The town offers everything you need ; shops, bars and restaurants . Nice mountain views.
It has a small balcony where you can see the mountains.
The food is very typical and very worth trying different restaurants. Hiking also recommended to explore the natural fountains that the town offers. The area is very famous for its wine Utiel-Requena.
Really lovely apartment and genuinely lovely people. Very helpful and very accommodating. Thank you so much!
Bradley
2015-11-09T00:00:00Z
El apartamento es exactamente como se ve en las fotos, para una pareja está perfecto. Neelam no nos pudo recibir pero lo hizo su padre que estuvo muy atento enseñándonos todo lo referente al apartamento y también nos explico los horarios de los comercios del pueblo y nos dio consejos sobre los restaurante en los que se comía bien. Buen fin de semana en Siete Aguas.
Fernando
2016-11-14T00:00:00Z
Siete Aguas, Comunidad Valenciana, 西班牙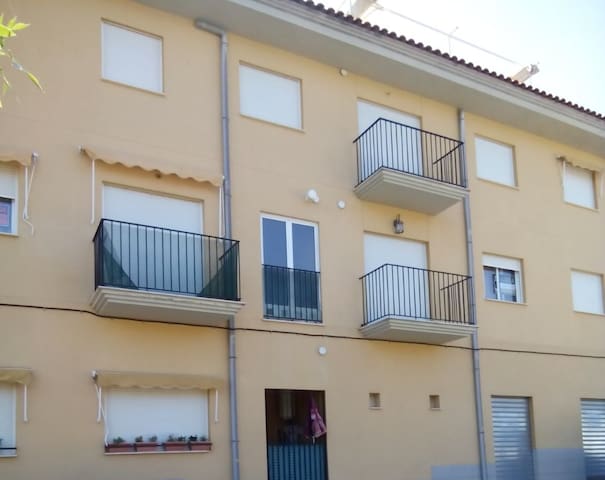 Golf property in one of the best areas of Valencia for rent. Terraced property situated in the prestigious residential estate El Bosque, Chiva and just 20 minutes from Valencia city centre. There is 24 hour security and a manned barrier entrance to the estate, easy access to the A3 motorway and just 10 minutes from Manises airport.
The property includes a beautiful communal swimming pool, 20m² covered terrace, walking distance to the golf fairways and surrounding countryside. The kitchen is fully equipped and has direct access to the sitting/dining room which leads out to a wide covered terrace. The apartment has 3 bedrooms – one of them the master suite which has a full bathroom and walk-in dressing room. There is a second large double bedroom and a smaller bedroom with a single bed which share the second bathroom. The property is constructed with quality materials, marmol flooring and hot and cold air-conditioning and double glazing throughout. There is included a garage with parking for 1 car.
Hoya de Buñol, Comunidad Valenciana, 西班牙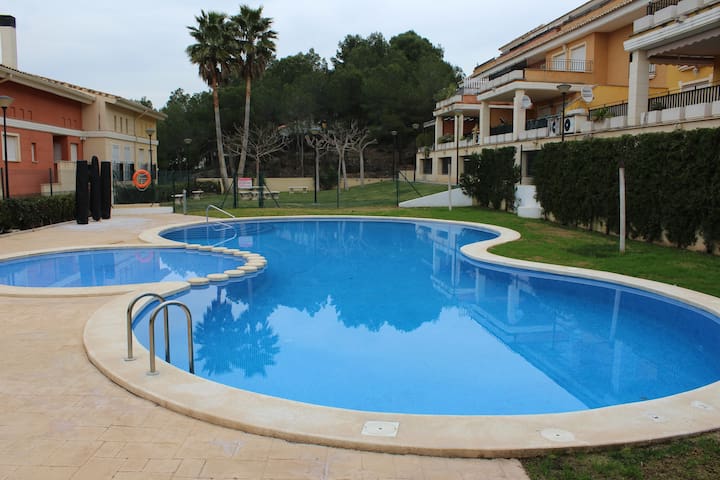 輸入日期以查看總價格,包括其他費用,可能會加收稅費。