在隆重的传统居住的一居室公寓散发着魅力和舒适。抛光木地板,高耸的天花板,美食厨房。分钟到悉尼机场和6站到CBD的火车,它在一个极其舒适的大床睡两个。
温特沃斯和格莱斯顿,一副宏伟的维多利亚梯田,建于1880年,今天是遗产名录。当地的地标,他们是专为出租'好做'租户。格拉德斯通,在左边,现在是一个单身公寓,而温特沃斯,在右边,经过精心分为公寓,其中四个为租度假住宿。最近经过重新装修,温特沃斯二是这样的一个公寓。它在温暖而温馨的方式装修。该设置可能是古董,但公寓设有一个设备齐全的现代化厨房配有微波炉,燃气灶,电热风扇强制烤箱和设施,包括平面电视和无线网络。浴室,为您独家使用,完全与镶嵌的瓷砖和洗衣机,是关闭了大厅。法式门通往后阳台的砂岩和俯瞰后方和私人花园。而对于初来乍到的客人,你的第一天早上的早餐是'房子'。你将被带到挤满了刚加热羊角面包,磨咖啡或茶川宁手榨橙汁和牛奶什锦早餐托盘 - 给你一个很好的开始在悉尼的第一天。
安克利夫的位置有很多提供。一方面,它是足够接近城市和主要交通连接方便客人驾车到城市和超越。也许你会想开车到蓝山的一天吗?或游览我们美丽的南海岸?或者 - 如果你很高兴步行到最近的车站[我有10分钟的步行路程,我63] - 它坐火车可方便前往机场,中央商务区和东部郊区[访问邦迪。但是,这也是远远不够远离城市喧嚣,提供一个安静和平静的地方您在悉尼逗留期间给家里打电话。
Where do I start... Firstly the house and the apartments are absolutely stunning. Step back in time to a lost era with modern cons is all I can say. It will take your breath away the moment you drive up to the house. Judy and her husband are 2 of the most beautiful hosts you could ask for. Answering any and all questions at any time. Accomadating is an understatement. I loved the house, the gardens, the hosts and everything there was about the stay. Working in Sydney on a regular basis I have truly found a home away from home!!
Jenae
2016-05-19T00:00:00Z
Judy and Tony were exceptional hosts. As a mother of two small children, I rarely get a moment to myself and staying at their house was an absolute treat. The room was everything I could have needed and more. Judy has a real eye for making a room warm and elegant. She was so kind to offer to bring me breakfast the night before so that I could warm it up in the wee hours of the morning before I went to a conference in the city. And then Tony went above the call of duty to take me to the station at 7 am so I did not have to stress about leaving the house in a rush to catch the train. Judy kindly offered to pick me up from the station if I was unsure of my way, but Banksia station was a short walk to their house and very convenient. Five stars is not ample enough to score this Airbnb gem. What a great find. Next time, I will be sure and bring my husband so we can enjoy some kid free time together.
Regina
2016-05-05T00:00:00Z
Another great stay at Wentworth. I can't decide which of the apartments I prefer . They are all lovely. A great airbnb experience. Thank you Judy
John
2014-09-17T00:00:00Z
We loved our stay in Judy's lovely apartment. It was very comfortable, and beautifully decorated. We felt very welcome. Breakfast was a treat. We will definitely stay again. Thanks!
Nat & John
2016-10-11T00:00:00Z
We stayed here on two separate occasions as we liked the place so much! Very comfortable, cozy, clean space with lovely decor. It is close to the train station for travel. Judy was a gracious and considerate host. We enjoyed our breakfast that was provided to us each morning, and appreciated the lift to the airport. I highly recommend staying here!
Melissa
2016-01-22T00:00:00Z
Such a gorgeous place you have! The stay was so lovely and was perfect for what we needed. Parking was also handy being at the back of the property. Breaky was also much appreciated, beautiful gesture. We will definitely be back.
Alina
2016-01-10T00:00:00Z
We had a great time in Wentworth app. What a lovely place beautiful decorated and everything we need for a couple of days. When we arrived we felt welcome, nice music was on lights were burning. The communication with Judy went very smooth. The breakfast was delicious and brought every morning to the room, what a luxury. We left the car home and took the train to e city which was very easy to do. We surely recommend this place and we will be back here whenever we ill be in Sydney again.
Janny
2016-01-16T00:00:00Z
Host made us feel welcome on a cold wet night by heating the apartment for us and having some lovely music playing. The apartment was lovely, very clean and quiet with everything that you may need. We discovered some Lebanese pastry shops and an excellent falafel restaurant close by.
Barbara
2016-06-21T00:00:00Z
阿克利夫(Arncliffe), 新南威爾斯州, 澳洲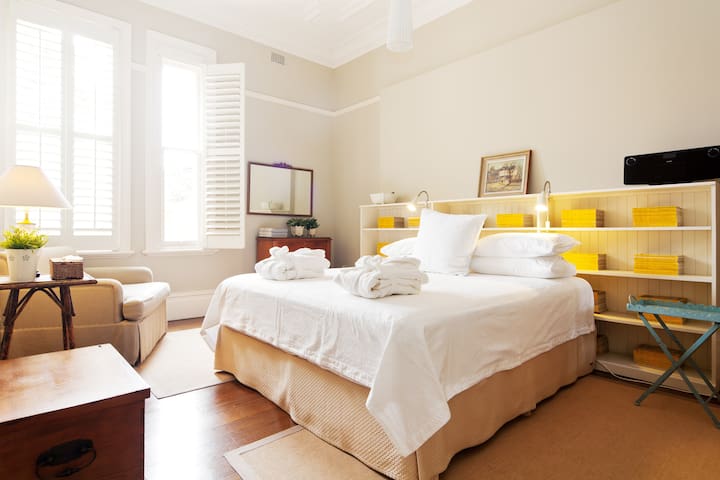 光線充足,明亮的一間臥室的公寓,在一個盛大的傳統住所。享受綠葉前景,喚醒鳥的聲音。帶浴缸的大浴室,獨立的淋浴。美食廚房。分鐘到悉尼機場和6站到CBD的火車
溫特沃斯和格萊斯頓,一副宏偉的維多利亞梯田,建於1880年,今天是遺產名錄。當地的地標,他們是專為出租'好做'租戶。格拉德斯通,在左邊,現在是一個單身公寓,而溫特沃斯,在右邊,經過精心分為公寓,其中四個為租度假住宿。翻新和裝修一年前,這是一個這樣的公寓。本來僕人的宿舍,這個單位有親密關係,並呼籲所有自身。它舒服地睡兩個在其大號床。醒來的時候,枝繁葉茂的世界觀和鳥鳴聲。公寓設有一個設備齊全的現代化廚房不銹鋼檯面,微波爐,燃氣灶和設施,包括平面電視,WiFi和在全尺寸的浴室,前端裝載機洗衣機,浴缸和獨立淋浴。對於初來乍到的客人,你的第一天早上的早餐是'房子'。你將被帶到擠滿了剛加熱羊角麵包,磨咖啡或茶川寧手榨橙汁和牛奶什錦早餐托盤 - 給你一個很好的開始在悉尼的第一天。
安克利夫的位置有很多提供。一方面,它是足夠接近城市和主要交通連接方便客人駕車到城市和超越。也許你會想開車到藍山的一天嗎?或遊覽我們美麗的南海岸?或者 - 如果你很高興步行到最近的車站[我有10分鐘的步行路程,我63] - 它坐火車可方便前往機場,中央商務區和東部郊區[訪問邦迪。但是,這也是遠遠不夠遠離城市喧囂,提供一個安靜和平靜的地方您在悉尼逗留期間給家裡打電話。
Judy and Tony were very welcoming and helpful. The apartment was as described, very clean and very comfortable. It had everything we could possibly need for a long stay. The location is convenient to public transport, which we found excellent. A good choice!
John
2015-02-22T00:00:00Z
Absolutely amazing place, exactly as the pictures show. Judy was amazing and picked us up from the train station and dropped us off at the airport the next day. She showed us around the area and informed us about good places to eat. The unit was immaculate and had a really nice cosy feel to it. Would definitely stay again
Michael
2014-11-05T00:00:00Z
The apartment is so nice, which is more than 100 years history but we did not feel any inconvenience, big bathroom, kitchen, heater, washing machine, WIFI… almost everything as I wanted. 10 minutes' walk to tram station (both Banksia and Arncliff) and Groceries, that area is quite suitable for walking. The most important, Judy and Tony, the best hosts I even met, they made my stay in Sydney comfortable and prefect. Tony picks us up from Airport, and drive me around to show us tram station and groceries, introduce us how to go to down town and harbor in detail. Judy prepares breakfast for us everyday, and answers lots of question through SMS. Our departure flight is 8:00AM, Tony drives us to airport at 5:30AM in the morning… I cannot image if without their help, how my trip would be…
Ying
2015-08-16T00:00:00Z
I almost hesitate to reveal - this place was AWESOME! The best AirBnb I've had the privilege of staying at so far. Judy was just the nicest hostess, going out of her way at every step. I felt like I was pampered from the moment she picked me up at the airport, to the moment we parted. I wish only that I'd had longer to spend at this beautiful residence. I will definitely come back - while it rained all night in Sydney town, I was snug and cosy in my accommodation, not in the least inclined to venture out! Judy and her husband have paid every attention to detail and make your stay such a delightful, welcoming one. Thank you Judy - you are a gracious, welcoming human being who clearly has enormous (and justified) pride in your places to stay.
Nicky
2014-06-07T00:00:00Z
Judy and her husband were most welcoming and the apartments I stayed in were completely fitted with every possible need. Breakfast in the morning every day was more than welcome and the airport runs were most helpful. Convenient for Sydney and the airport. My nephew booked in many of his wedding party when he saw the excellence of the accommodation. Highly recommended for anyone visiting Sydney. I will for sure be back.
Julia
2016-01-11T00:00:00Z
Judy is a kind of woman.She is passionate very much,help us vech much.When we arrived her husband go to airport to take us.There are breakfast (URL HIDDEN) so delicious!
JIAQING
2016-09-06T00:00:00Z
We had a wonderful 4 night stay in this special very well equipped appartement. The everyday breakfast was delicious and Judy's husband provided us with a look around tour of the area at our arrival day.
Claudia
2016-11-13T00:00:00Z
Judy was very helpful and even though she was unable to pick us up from the station and drive us to the airport for our flight, she left funds for us to take a taxi, which was very kind of her! The apartment was beautiful and clean with gorgeous bed linen and a wonderful big bathtub! We would definitely stay there again!
Cathy
2014-09-07T00:00:00Z
阿克利夫(Arncliffe), 新南威爾斯州, 澳洲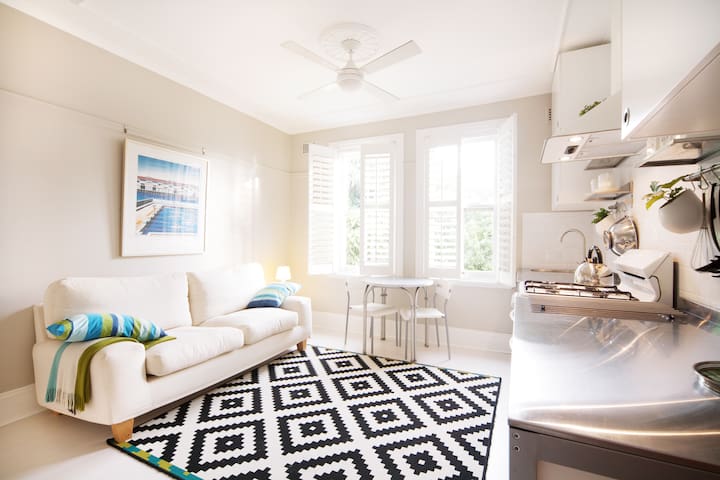 優雅,迷人的一間臥室的公寓,在一個宏偉歷史住宅擁有大理石壁爐,拋光木地板,高聳的天花板,美食廚房。分鐘到悉尼機場和6站到CBD的火車,它舒適地睡兩個風格。
溫特沃斯和格萊斯頓,一副宏偉的維多利亞梯田,建於1880年,今天是遺產名錄。當地的地標,他們是專為出租'好做'租戶。格拉德斯通,在左邊,現在是一個單身公寓,而溫特沃斯,在右邊,經過精心分為公寓,其中四個為租度假住宿。最近經過重新裝修,這是一個這樣的公寓。它已經在懇求折衷的方式裝飾。該設置可能是古董,但公寓設有一個設備齊全的現代化廚房配有微波爐,燃氣灶,電熱風扇強制烤箱和設施,包括平面電視,WiFi和前裝載機洗衣機。而對於初來乍到的客人,你的第一天早上的早餐是'房子'。你將被帶到擠滿了剛加熱羊角麵包,磨咖啡或茶川寧手榨橙汁和牛奶什錦早餐托盤 - 給你一個很好的開始在悉尼的第一天。 客人將有機會獲得安全的街邊停車場,共用晾衣繩和一個公共花園。但是,這一切將被共享。在溫特沃斯一個報價一切是獨家使用你的客人。這不是別人的家。有沒有鎖櫃,在抽屜裡旁若無人的襪子 - 只有你的! 在您入住期間,我一般會提供幫助,你可能有任何疑問。我們住在隔壁所以我們從不遠處但是房子溫特沃斯從我們家,格萊斯頓,和你的公寓,溫特沃斯一個完全獨立的,是完全獨立的。 安克利夫的位置有很多提供。一方面,它是足夠接近城市和主要交通連接方便客人駕車到城市和超越。也許你會想開車到藍山的一天嗎?或遊覽我們美麗的南海岸?或者 - 如果你很高興步行到最近的車站[我有10分鐘的步行路程,我63] - 它坐火車可方便前往機場,中央商務區和東部郊區[訪問邦迪。但是,這也是遠遠不夠遠離城市喧囂,提供一個安靜和平靜的地方您在悉尼逗留期間給家裡打電話。 班克西亞火車站距離溫特沃斯一個10分鐘的步行路程(雖然步行返回山上才能真正得到抽了血!)。往返於機場運輸可應要求提供。 由於這個盛大的老房子目前的業主,我們看到自己作為其監護人,這是為了能夠與溫特沃斯的嘉賓一起分享這個美妙的建築充滿了樂趣。快來親自體驗其慷慨的比例,它的空間感和窮,過去的時間相呼應。 客人將有機會獲得安全的街邊停車場,共用晾衣繩和一個公共花園。但是,這一切將被共享。在溫特沃斯一個報價一切是獨家使用你的客人。這不是別人的家。有沒有鎖櫃,在抽屜裡旁若無人的襪子 - 只有你的! 在您入住期間,我一般會提供幫助,你可能有任何疑問。我們住在隔壁所以我們從不遠處但是房子溫特沃斯從我們家,格萊斯頓,和你的公寓,溫特沃斯一個完全獨立的,是完全獨立的。 安克利夫的位置有很多提供。一方面,它是足夠接近城市和主要交通連接方便客人駕車到城市和超越。也許你會想開車到藍山的一天嗎?或遊覽我們美麗的南海岸?或者 - 如果你很高興步行到最近的車站[我有10分鐘的步行路程,我63] - 它坐火車可方便前往機場,中央商務區和東部郊區[訪問邦迪。但是,這也是遠遠不夠遠離城市喧囂,提供一個安靜和平靜的地方您在悉尼逗留期間給家裡打電話。 班克西亞火車站距離溫特沃斯一個10分鐘的步行路程(雖然步行返回山上才能真正得到抽了血!)。往返於機場運輸可應要求提供。 由於這個盛大的老房子目前的業主,我們看到自己作為其監護人,這是為了能夠與溫特沃斯的嘉賓一起分享這個美妙的建築充滿了樂趣。快來親自體驗其慷慨的比例,它的空間感和窮,過去的時間相呼應。
安克利夫的位置有很多提供。一方面,它是足夠接近城市和主要交通連接方便客人駕車到城市和超越。也許你會想開車到藍山的一天嗎?或遊覽我們美麗的南海岸?或者 - 如果你很高興步行到最近的車站[我有10分鐘的步行路程,我63] - 它坐火車可方便前往機場,中央商務區和東部郊區[訪問邦迪。但是,這也是遠遠不夠遠離城市喧囂,提供一個安靜和平靜的地方您在悉尼逗留期間給家裡打電話。
The House/Unit is very nice but the listing needs to be reworded as it has been listed as entire home/apartment. I was under the impression it was the entire home. The unit is located close to Banksia railway station. Apartment 1 requires a new bed as even though its old it was very very clanky.
shane
2015-03-23T00:00:00Z
Judy非常的亲切和热情。她提前发短信告知我火车站点,并且特地到火车站来接我们,第二天还主动送我们去机场。房间和照片一样美好,我们度过了愉快的一夜。早餐也很好吃,谢谢Judy的款待。
Jacky
2015-02-20T00:00:00Z
Faultless - it really is a home away from home!
Belinda
2015-06-08T00:00:00Z
This is a very good experience, and judy is very nice, house is very beautiful, I will choose here next time. sorry about the cup,hope you like new one。A little problem is airbnb charge me twice, I will consulting airbnb。thanks again you two,breakfast was good。
derek
2015-05-28T00:00:00Z
Clean, Spacious, and a tad luxurious. This place is fantastic and great value for money lush thick towels old fashion bed and modern full kitchen Judy was a lovely host and Cindy the chocolate lab who was visiting was a delight. Would definitely stay again.
Fiona
2014-12-27T00:00:00Z
Judy and Tony were fantastic hosts. We were treated to a warm, inviting, character-filled home. And it wasn't just the house that made our first Airbnb experience memorable. Judy responded promptly to our enquiry and gave clear and easy to follow instructions to help with our stay in Wentworth One. We awoke to fresh orange juice, toasted muesli and a warm croissant that topped off a brilliant all-round experience. We are definitely looking forward to our next Wentworth weekend.
Alice
2015-06-06T00:00:00Z
We regularly book with Judy and we plan to try out all the apartments Judy and Tony have to offer. We only have one apartment left to try! Wentworth One didn't disappoint and was just as lovely as the other apartments. As soon as you step in, it's homey, inviting, stylishly decorated, and immaculate. The bed was only a double but large enough and super comfy. Judy was very prompt in responding to emails. Thanks once again for hosting us.
Armi-Leni
2015-04-08T00:00:00Z
Our stay with Judy and Peter was fabulous. We have travelled a lot and believe this is the best place we have ever stayed. Simply outstanding - there is nothing forgotten. Divine and sumptuous decor, friendly helpful hosts, great breakfast... The list goes on. Totally recommended.
Yvonne
2015-12-23T00:00:00Z
阿克利夫(Arncliffe), 新南威爾斯州, 澳洲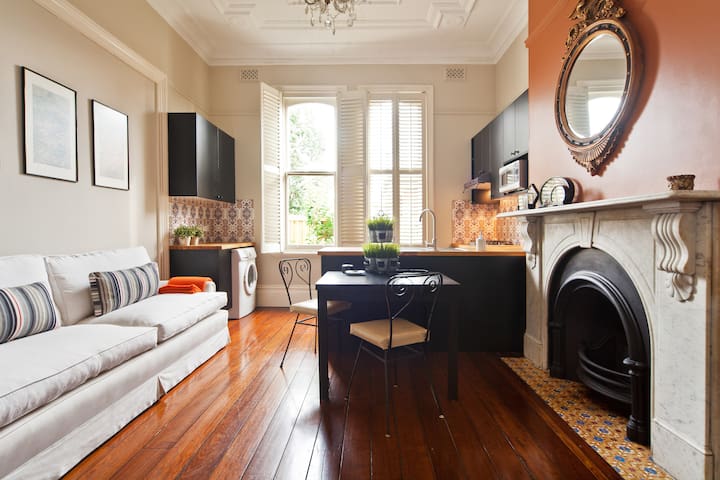 蒙特利歡迎您 該區域 靠近植物學灣,在那裡庫克船長探索澳大利亞,蒙特利鄰居布萊頓樂金沙提供充足的餐飲和娛樂場所當最初降落的區域。 還有,對於公里綿延上月底,完美的目的地在週末或下班後放鬆的海灘。隨著餐館可供選擇過多,你永遠不會從各種可用的菜餚無聊。 房間 一個愉快的房間等待著你哪些功能: 在一個私人房間大號雙人床 台 訪問無限制的Wi-Fi網絡 廚房 客廳 陽台燒烤設施提供 私人洗衣 公共交通 靠近一個公交車站,無論你是在前往CBD或當地火車站,嘉華和卡爾頓,有大量的選項計劃訪問的城市或郊區悉尼時採取。 火車之旅CBD需要大約25分鐘,而乘坐巴士通常需要45。 請隨時取得聯繫,如果您有任何問題。 很期待見到你。
地方很好,主人也很热情很好,性价比賊高。挺好的。
Weibo
2017-03-15T00:00:00Z
Hernan était très gentil et le logement était bien situé et facilement accessible. Merci Hernan
Jacques
2016-11-22T00:00:00Z
Hernan was fantastic, he answered any questions I had and gave great advice. Goes out of his way to help you. His home was just as described, perfect!! Great location, 2 minute walk to the bus stop and beach. Thanks for everything Hernan, especially the aquarium!
Sarah
2015-03-24T00:00:00Z
This was a good stay! Hernan is a friendly and helpful host and his place is clean and had everything you need. Would recommend!
Paul
2016-10-12T00:00:00Z
They are nice host. Room is clean and cosy.
Jc
2014-02-10T00:00:00Z
Clean and cozy room close to the beach. Had a lovely stay in this space. Great value.
Thu
2015-12-25T00:00:00Z
Awesome guy, clean tide perfect
Kate & Andrew
2016-10-27T00:00:00Z
Cozy and clean apartment with friendly host. Easy access to public transport to and from Sydney airport. Walking distance to a beautiful beach.
Sophia
2016-09-28T00:00:00Z
Monterey, 新南威爾斯州, 澳洲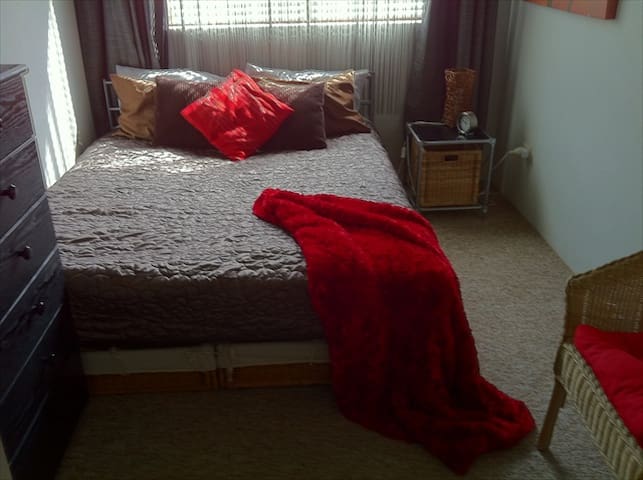 夢幻般的私人工作室平,一個美麗的游泳池。你有一個私人 入口(由步在房子的一側訪問)來來去去請你。克羅納拉海灘和皇家國家公園是令人難以置信的接近,你去探索。 偉大的雙人臥室設有開放式的客廳,以及一個良好配置的廚房。此外,燒烤可讓你進入澳大利亞的精神。 這家酒店確實是一個創業板的一對夫婦,只是完美。正如你從照片中可以看到,這個地方只是美麗的,並具有巴厘島風格。 該社區是美麗和安全,撤退是坐落在皇家國家公園的邊緣。我們在周邊地區的一些大飯店。 火車站是從家裡步行15分鐘。從火車站你可以進入城市和到海灘變得非常容易。 入住/退房時間是非常靈活的,除非新的客人在同一天出發到達的客人。在這種情況下,我們要求客人離開被騰退上午10點,而新客人下午2:00(允許房翻新)後抵達。 把它當作你自己的私人撤退。
Maryellen and John were very welcoming when we arrived - they told us about the area, and what we could do. Although it was raining for majority of our stay, we couldn't have asked for a better place to stay :)
Phoebe
2016-07-10T00:00:00Z
John and Maryellen were such kind people that made our stay extra wonderful while we visited the Royal National Park. They were kind enough to provide some delicious breakfast items and the accommodation was amazing. Perfect retreat. We had everything we needed plus the extra luxury of a great view, a pool, and a barbecue.
Vincent & Veronica
2016-04-01T00:00:00Z
John and Maryellen are very friendly and a genuinely warm couple, who made us feel very welcome - a great place to stay!
Louise
2016-07-27T00:00:00Z
We absolutely loved staying at John and Maryellen's beautiful bushland retreat! It's just as gorgeous as the pictures with clean decor and an excellent space. Moreso John and Maryellen are amazing! On the first day, they gave us a tour of Kirrawee to explain nearest train stop, eating spots, beaches and local attractions. And, they even gave us a ride to the airport on our last day! They achieved the perfect balance of being helpful and there when we needed them, but allowing us to come and go as we pleased (there is a private entrance for the flat). For our next trip to Sydney, there's no doubt we'd choose to stay here :)
Aisha
2014-04-13T00:00:00Z
From the moment we arrived John and Maryellen were the perfect hosts. John was generous with his time and gave us a very helpful guided tour of the area around Kirrawee. He showed us access to walking trails and also the route to the train station. John pointed out several eating options close by.
Donna
2015-09-21T00:00:00Z
Had a lovely weekend stay, ideal base for our sight seeing and relaxation. We didn't have a car, and found it easy to walk to/from public transport. Hosts were very accommodating and kind, very friendly but not intrusive. You won't be disappointed with the property itself, very comfy bed, very clean and tidy, beautiful surrounds - neighbourhood felt very safe to walk in at night. Navigation from airport was simple. Thanks John and Maryellen - hope to return sometime soon :)
Joanna
2014-03-31T00:00:00Z
Very quiet and private location - beautifully presented and very clean with super friendly helpful hosts. John and MaryEllen have created a really beautiful space here and we'd certainly book again. they also provided breakfast items and fruit along with tea and coffee supplies. the kitchen was well stocked and we would have cooked ourselves easily if we'd stayed longer.
Ann
2016-04-27T00:00:00Z
Maryellen and John were simply wonderful. My wife and I felt so much at home. The place was beautiful and everything was as described.
Ming Ze (David)
2016-05-12T00:00:00Z
Kirrawee, 新南威爾斯州, 澳洲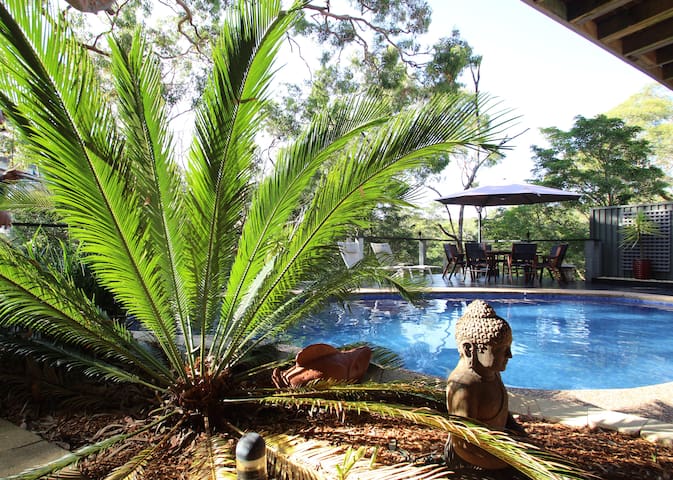 Bright private room with double bed, own private modern ensuite bathroom, and huge built in wardrobe. Large glass doors opening to enormous landscaped balcony with dining table, BBQ and sofa.My place is close to Discovery Point Cafe's & restaurants, Wolli Creek Station and Cooks river. You'll love my place because of the location , close to City and airport, the outdoor swimming pool, gym & sauna and beautiful gardens.. My place is good for couples, solo adventurers, and business travellers.
The Space Begin your holiday in beautiful Sydney by staying in this designer resort style spacious & contemporary living apartment. The apartment has 2 bedrooms and 2 bathrooms, you have your own bedroom and bathroom but will be sharing the living room and kitchen with me. Bedroom Your spacious private bedroom comes with it's own private ensuite bathroom and features a double size bed, built-in mirror wardrobes with adequate storage and hanging space. The room opens up to a spacious landscaped balcony, with a modern outdoor seating area, dining table and chairs Guest Access Guests can access their private room and all common area of the apartments such as kitchen and living room. They may also access the swimming pool, gym, sauna and outdoor BBQ by the pool. Living Room Comfortable leather cream sofa and designer seats. Dining table and chairs 55 inch LCD HD TV Samsung smart tv with unlimited wifi. Marantz state of the art Hi-Fi and speakers for your music pleasure Free wireless internet. Kitchen Dishwasher, fridge, gas stove. Microwave oven All modern appliances. Coffee capsule machine & Coffee plunger Toaster Free tea and coffee available Bathroom Own ensuite private bathroom with following: Modern steam shower Soap Towels included Hair dryer Main Bathroom Has all mod cons including full size bath tub. Candles Soap Towels Iron and ironing board Outdoors Guests also have direct access to beautiful landscaped gardens, 25 metre lap swimming pool, full gym and sauna, with poolside bbq facilities. Interaction with Guests I am happy to chat over a drink at dinner or tea/coffee in the morning or even go for a meal locally. I am very well travelled and have a lot of local knowledge on what to see in Sydney, and would be happy to share this with you. The Neighbourhood Huge supermarket Woolworths and a liquor store, Dan Murphy's almost at door step. Thai, Chinese, Sushi, modern Australian restaurants and numerous Cafes are within a short walking range. There is a doctor and dentist in the area. the cooks river runs nearby and has great walking trails and BBQ areas. Getting Around Location is excellent. Walking distance, 2 minutes to Wolli Creek station and then Sydney Centre, opera house and harbour bridge are 12 mins train ride. Easy to get to the Blue Mountains or the South coast region. Direct line to Bondi Junction and Bondi Beach Airport is 10-15 mins away and I operate an airport pick up or drop off at minimal cost. I can also advise you on a Sydney sightseeing plan and also how to use the opal card for public transportation.
The neighborhood is vibrant with plenty of Asian restaurants ranging from Chinese, Thai, Sushi, modern Australian, and cafes, for a quick dinner or lunch but also has Asian and Aussie supermarkets and a large liquor/wine store if you prefer to cook and drink at home
房子離火車站和機場很近,建議搭uber過來只要8元。房間很大、乾淨、舒適。Joe非常親切、友善、熱情,我們睡得很好,也很開心,是個難忘的一晚。 Thank you Joe.
Rex
2016-12-28T00:00:00Z
Fantastic! The first night stay in Sydney, The host, Joseph, he has a lot of traveling experience, CD collection, all of the Lonely Planet books he kept that means he has been there already! Each country has their souvenir, the living room looks like a small museum! He told us so many stories when he was traveling, we love to hear of that! His kitchen has a lot cooking books! He even made a breakfast for us! So great! He loves cooking and listening music! The most happy thing is he has two babies ! They are pigeon pair! How lovely they are! Anyone stay Sydney, you can stay as long as you want, remember to book early, it is so popular! Joseph is a definitely enthusiastic person!
YanFeng
2016-09-20T00:00:00Z
Close to city and airport. Public transport close to accomodation.
Marjorie
2016-11-02T00:00:00Z
Joseph was so very welcoming. We had a great stay. Location was exceptional - only a few minutes to railway station which got us into the city and wherever we wanted to go. Such an interesting and well travelled gentleman with a great sense of humor. We will definitely stay with Joseph again when we return to Australia. Thank you Joseph for being such a great host.
Mrs Georgina
2016-11-29T00:00:00Z
It is no wonder that Joseph is a superhost. He was always willing to accommodate and ensure our convenience durıng our stay - like when he allowed us to change our arrival times. He's very friendly and well-traveled which is why it is a pleasure to be his guest. The room was exactly as posted, clean and comfy, and we really felt at home. There are a lot of restaurants to choose from in the area. The train station is only a few steps away. We will definitely stay again at Joseph's pad!
Rose
2017-03-02T00:00:00Z
Amazing home. Great Host. The room is really nice, great bed, nice ensuite. Balcony access with nice view from room. Living area is great, nice lounge and kitchen! Jospeh is a great host and conversationalist with amazing stories to tell. He was incredibly helpful and really made our stay there.
Tom
2017-01-06T00:00:00Z
Joseph is a kind and thoughtful host with a beautifully decorated apartment that is close to the airport and in a district with dining and parks.
Almond
2017-03-13T00:00:00Z
Suuuuuuper nice host and amazing apartment. Joe is very talkative and friendly who traveled many countries. His paintings and photography is awesome too! An unforgettable stay here and I'd like to stay here again next time I visit Sydney. I strongly recommend your staying at Joe's house! U WILL LOVE IT!
Bella
2017-02-04T00:00:00Z
渦拉溪, 新南威爾斯州, 澳洲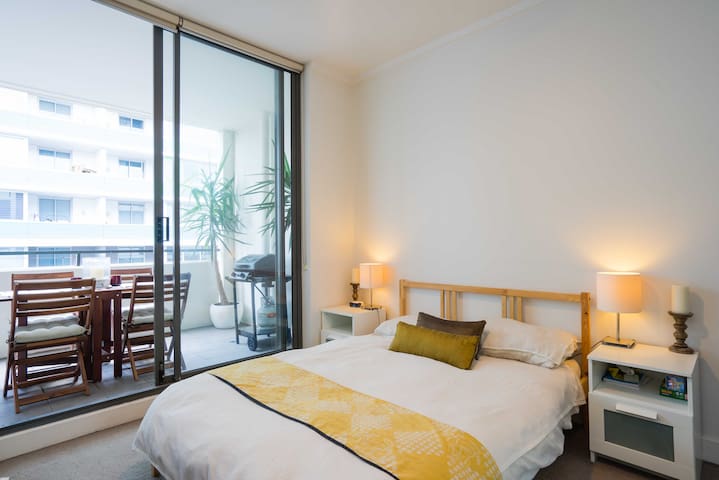 Our private cabana would suit two people comfortably. Clean and bright it has all the essentials mini fridge, washing machine, toaster, kettle, shower and queen bed. The cabana is next to our home (we are a family of 3 with a 2 year old) but you have your own private entrance to the property. There is also a pool for you to share with us. Carss Park is a beautiful quiet suburb of Sydney only 12 minutes to the airport, 30 minutes to the Eastern suburbs, 40 minutes to the city and 20 minutes to Cronulla.
Nice clean private room. Erin communicated well. We enjoyed our stay thanks.
Jonathon
2017-04-04T00:00:00Z
Lovely host and clean room. Private and quite.
sophia
2017-02-17T00:00:00Z
Awesome place, lovely host, will stay here again
Jay
2017-03-10T00:00:00Z
The host canceled this reservation 10 days before arrival. This is an automated posting.
Charlotte & Megan
2017-03-01T00:00:00Z
Small, cosy and very quiet place a short drive to Kogarah Centre and walking distance to a good fish and chips shop and the lovely Carss Park which has an excellent restaurant and playground facilities for children.
janet
2017-03-31T00:00:00Z
Had a great stay in Erica's cabana! Lovely furnishings, everything basic you need for a quick stay. Perfect location close to the city and airport. Would happily stay again :)
Sarah
2017-02-25T00:00:00Z
Beautiful quiet stay absolutely loved it. Erin's communication was top service. The property was so nice and tidy. Our over all stay was amazing. Thank you Erin. 10/10 Highly recommended.
DONNA
2017-03-23T00:00:00Z
Great place, nice and clean, nice bed great host, would definitely stay again.
Patrick
2017-03-18T00:00:00Z
Carss Park, 新南威爾斯州, 澳洲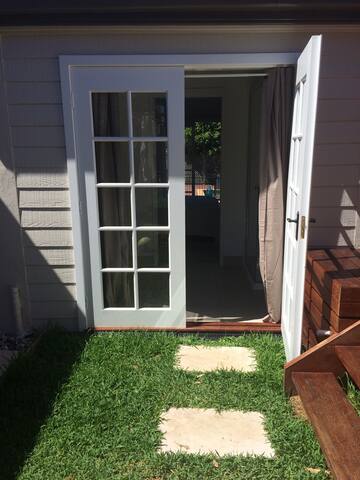 Dieses 2007 zu Hause auf Kogarah Bucht ist ein einzigartiges, unvergleichliches Angebot. Der Nähe der Stadt und Flughafen, sowie schöne Sydney Strände, ist die Wohnung ideal für Menschen, durch Sydney reisen oder wollen alles erleben, die es zu bieten hat.
Eine schöne moderne Wohnung mit voller Wohnzimmer, Tisch und Stühle, eine kleine Küche, ein separates Schlafzimmer und ein Bad und am besten von allen großen Blick auf das Wasser sowie einen privaten Zugang zum Wasser sollte man sich wie ein Tauch
What an incredible spot! I visited for a week whilst attending a course. The apartment was modern, beautiful views, comfy King bed and had all the things I needed for a nice, quiet, relaxing stay. Both Matilda and owner, Jan were extremely helpful and kind. The flat is situated in a beautiful, quiet spot within walking distance to a supermarket and restaurants. I hope to come back and visit Jan again! Thanks so much.
Katie
2015-12-20T00:00:00Z
Very clean, quiet and relaxing place to stay at. The house was close to the shops and restaurants which made it very convenient for us. Loved watching the sunset and walking along the water when the tide was out.
Victoria
2016-02-26T00:00:00Z
A great place to stay, very quiet, great views. Easy access to public transport and restaurants.
Michael
2017-01-13T00:00:00Z
Thank you for an awesome stay! Super easy to book, even though I have late notice. This is my second time staying and it could not have been easier or more relaxing. Thank you again!
Annabel
2017-03-19T00:00:00Z
Great location - quiet, beautiful views and well located for access to activities in the the south of Sydney. Very convenient if you have an event on at the St Georges Motor Boat Club. Superbly appointed with everything you need to be comfortable. Outstanding host.
Nick
2016-03-20T00:00:00Z
Lovely unit in a lovely location. Thank you for a lovely stay. We enjoyed the views and the unit. The unit was very clean. There are two single beds pushed together in the bedroom, rather than one queen bed. However, the beds stayed together well.
Emily
2016-11-08T00:00:00Z
Beautiful apartment, great views, and wonderful hosts.
Patrick
2016-09-28T00:00:00Z
This is a wonderful place to stay. The unit is lovely, modern, well equipped and in a great location overlooking the river. Jan was really friendly and helpful, at the same time respecting our privacy. The unit is attached, but separated from the house, which suited us perfectly. Hamish, our host, was very friendly and accommodating and returned our phone calls/messages within ten minutes every time. We were very happy when we were able to book the unit for an additional night, after our initial two night stay. We will definitely try to book this unit again the next time we are in Sydney.
Monique
2016-10-19T00:00:00Z
Sans Souci, 新南威爾斯州, 澳洲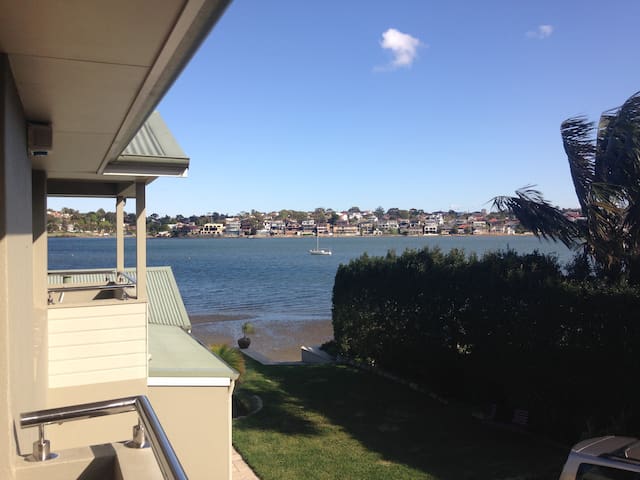 這無疑是對朝鮮半島的頂部位置之一。 15分鐘車程至機場,35城市。但最好從水中所有的50米漫步並與平12公里騎行道,公園,淨賺游泳區,風箏衝浪或槳登機你永遠不會是短期的事做。還有在步行方便許多偉大的咖啡館,3個當地俱樂部和附近的餐館陣列。華麗的克羅納拉海灘是一個短的車程,如果你的衝浪後,或坐公共汽車到米蘭達的Westfield。我們是當地人誰愛這附近可以隨意測試我們的當地知識。
Lovely clean cottage in a great location, relaxing and had everything we needed.
Andrew
2017-03-12T00:00:00Z
A very charming little cottage. Immaculately clean and well maintained throughout with a modern and tasteful interior. It is located in a quiet, tree-lined residential street with easy access to public transport as well as cycleways and walkways along the scenic Georges River and a variety of neighbourhood cafes. Jenny was an exceptionally friendly and welcoming host. This cottage is ideally suited to two adults and up to two children.
Barb
2017-04-06T00:00:00Z
5 star's great great great
anthony
2017-04-01T00:00:00Z
The cottage is amazing, we felt like at home, very clean and tidy, all the place is very comfy, my dog loved to play in the garden. We will come back for sure! Thank you so much!
Mafer
2016-12-31T00:00:00Z
This is a lovely, fresh, private and spacious cottage - perfect for a solo or couple travelling. Great to have your own space but with super friendly hosts just next door. Sans Souci is a very appealing neighbourhood with great walks along the foreshore. I highly recommend Cooked and Co for coffee and breakfast and also for their home cooked meal pick up on Thursday and Friday night. Yum !
John
2016-11-10T00:00:00Z
What a gorgeous place. The photos don't quite do it justice. The location is super accessible yet quiet and private. The loft bedroom is just delightful and the kitchen is kitted out with everything you could possibly need. Internet is super fast too which really matters to us.
Deb
2017-03-02T00:00:00Z
Great place, great host. Recommend staying here. Beautiful clean and great little street.
Trudy
2017-03-09T00:00:00Z
Lovely little cottage with everything you need for a short getaway. Perfect couples retreat.
Jodie
2017-04-01T00:00:00Z
Sans Souci, 新南威爾斯州, 澳洲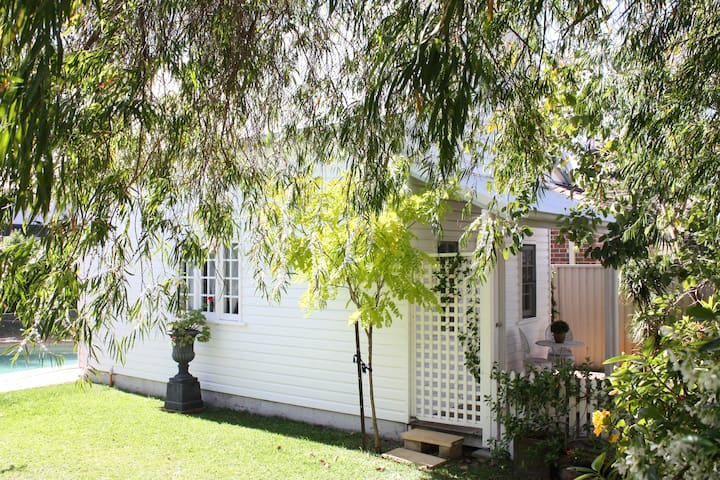 公寓設有1或2間客房,是理想的家庭或朋友結伴出遊誰願意自己的空間。客房緊湊,提供1室一張雙人床和一個單一的國王在第二的客房配有腳輪。我們分享1個浴室和衛生間。你比歡迎更多的分享公寓,你會自己家裡。我的目標是讓您感到賓至如歸,舒適在家裡。
1臥室私人臥室提供床單和毛巾。這是一個舒適的房間有一張雙人床,書桌,建於衣櫃, 第二間臥室有特大單滾床用麻布.. BIR它是一輛小型房適合兒童。 從悉尼機場只有10分鐘。附近的角落處廣場,商店,咖啡館,餐館,公共交通的超市和海灘。 有一個在同一條街道上一個巨大的RSL俱樂部,步行2分鐘。 共享廚房和衛生間,生活區和洗衣房。有線電視。 走在拐角處得到一個新鮮的咖啡或魚和薯條,然後步行前往植物灣是少數分鐘的步行路程,去游泳,或只是放鬆,並採取在視圖中。 主要吸引力是你不需要一輛車作為公共交通是在前門。一個公共汽車可以帶你到城市或公共汽車到火車站只有10分鐘的路程。火車每10分鐘到城市,只有20分鐘,你在那裡的。 分享公寓樂趣專業的女店主。 WiFi是可用 吸煙只允許在陽台上。
它是安全,友好,步行到海灘僅需幾分鐘,商店,超市,餐館咖啡館,公園,RSL和帆船俱樂部,學校,醫院只有7 klms悉尼國際和國內機場。只有16 KLMS城市中心 沒有必要在內聖蘇西一輛車。 內聖蘇西是一個法語單詞,意思是"無後顧之憂"
Michelle is a lovely host who accomodates for everything needed to have a relaxing stay! The area is beautiful and it was nice to meet Michelle in person.
Tegan
2016-12-13T00:00:00Z
Hello Michelle! All the best!Thank you!
Elena
2016-01-13T00:00:00Z
Michelle was most charming & friendly. Although she lives at the unit she has a busy life ans was not about much. Michelle made sure to make me feel welcome and to feel as though the home was mine too which was lovely. The area is lovely and there is a great walkway all the way along the esplanade. Thanks Michelle
Bev
2016-08-15T00:00:00Z
Wonderful staying experience. Michelle cooked me a perfect breakie and sent me to airport the day I leaving. Location is good. Very convenient.
TZE SHENG
2015-09-07T00:00:00Z
Michelle is very helpful and her home is very cozy and clean, great place just 5 minutes walk to the beautiful beach.
Emily
2016-06-14T00:00:00Z
Michelle was an amazing host! Michelle, from the time I booked the room to when it was time to leave, I was made to feel very welcome, comfortable, very safe, clean environment, amazing access to shops, transport, beach, airport. Michelle made my first Airbnb experience one to recommend to everyone. Thank you!
Spiros
2014-04-07T00:00:00Z
Fantastic is the key word. Michelle thought of all our needs almost before we did. Great place. Great location. Great service. We loved the walks, the food places and the location. Well done Michelle
Roy
2015-10-01T00:00:00Z
After a full day in Sydney, it was great to arrive at Michelle's place. Though it was late at night (9:30-10pm), Michelle greeted us with the most comforting welcomes ever. I felt safe and relaxed at her home. The place and room was incredibly clean, and it was just so nice to finally be able to get some rest. Michelle is very caring and friendly. She offered us everything available - from taking a late night bath to eating anything in the fridge to watching TV. In the morning, we went for a walk to the beach - it was gorgeous. (best part was it was only a few minutes from the M's place). The water was clear and the sand was soft - I really wished we had planned to stay more than a couple of days. The little shops and coffee was great. All in all, we had a terrific experience and will always remember great times there. I highly recommend this place, as it's close enough to Sydney without paying the high fees of staying in Sydney downtown. Please fee free to ask me any questions.
Lily
2014-04-12T00:00:00Z
Sans Souci, 新南威爾斯州, 澳洲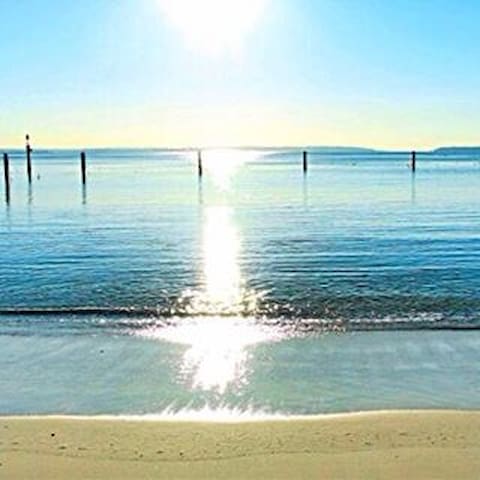 200m de la gare, 100 m des commerces, des restaurants et des cafés 25mins à la ville 15mn de l'aéroport Chambre à coucher principale w / salle de son propre étage w / entrée dans l'appartement duplex La chambre est équipée d'équipements de l'hôtel La liste ne comprend pas l'utilisation de la cuisine ou salle de séjour, qui est à l'étage différent
Proche de tout! 5 mimute à pied de la gare de Carlton. 650m de la gare de Allawah. 25 minutes de la ville ou vous pouvez prendre le train quelques arrêts plus à Bondi Junction et Bondi Beach. Moins de 15 minutes de Sydney domestique et l'aéroport international. À distance de marche de la gare de Kogarah, centre-ville et de l'hôpital St George. Il y a aussi un supermarché à proximité qui le rend très pratique. L'appartement est un 2 chambres, 2 salles de bains appartement réparti sur 2 niveaux, vous offrant une grande intimité, entrée et votre propre salle de bains sur le même niveau. Votre chambre dispose d'une reine de qualité taille lit, table de chevet, TV avec lecteur DVD, beaucoup d'espace de rangement pour accrocher vos vêtements up, un bureau d'étude et une chaise. La chambre est également équipée d'un frigo bar, grille-pain et de thé et café. Un fer à repasser, planche à repasser et un ventilateur de refroidissement a également été fourni. Cette chambre est équipée de toutes les commodités d'une chambre d'hôtel. La chambre principale dispose d'un grand placard intégré avec beaucoup d'espace de stockage. Malheureusement, nous ne proposons pas l'utilisation de la zone de l'espace cuisine et salon, cependant, nous ne sommes qu'à quelques encablures des commerces, des restaurants et des cafés.
Carlton est au centre de tout. Notre appartement est proche de la gare ce qui est pratique. Il y a beaucoup de restaurants à prix raisonnables près de notre maison que vous pouvez apprécier. Nous sommes basés au sud de la ville de Sydney près de la plage de Brighton Le Sands où vous pouvez faire des promenades de l'après-midi et profiter de la ligne de restaurants qui vous offrent des aliments de tous les coins du globe. Se rendre et de notre appartement est un jeu d'enfant parce que nous sommes si près de la gare et à 15 minutes en taxi de l'aéroport. Ce que nous aimons notre place? L'emplacement, il est proche de la ville, le transport et tout le reste. À peu près tout à Sydney est à moins de 30 minutes loin de nous. Nous aimons essayer bon marché mange autour de Sydney, donc nous sommes au bon endroit pour ça! Ce que nous pensons que vous devriez éprouver? Il y a tellement de choses à faire à Sydney, j'ai compilé une liste des meilleurs endroits pour manger dans notre livre d'or dans la chambre. Le premier endroit pour essayer serait le dessert boulangerie grecque autour du coin de notre place. A obtenu cannolli d'amour au kilo!
Yiwa's apartment was very nice and she was more than accomodating during our stay. She answered any queries we had efficiently and fast via airbnb messeges. The room was very clean and tidy as shown from the pictures. The room has everything you need for a short stay in Sydney and would definitely go back.
Queenie
2016-06-07T00:00:00Z
Yiwa's place was easy to find at a quiet surburb. The room was rather comfortable however a hairdryer and a heater would have been much appreciated. Thanks for the stay anyway!:)
Lynn
2015-05-23T00:00:00Z
Nice and friendly room all as its subscribed. Yiwa is very friendly and flexible. That was good. As we wish to be the first two nights alone to just come down after the flight from Germany to Sydney it was perfect. Everybody else who wants more contact with their hosts is maybe not that right there but you got everything you need there, we would go there again. Thank you once again Yiwa
Christian
2015-05-03T00:00:00Z
We were greeted by Adam, Yiwa's partner when we arrived. He told us all the rules and made us feel welcome from the get go. The 5 nights we stayed there were great, everything we needed was supplied. Yiwa and Adam gave us our privacy but were only a message away if we needed anything. This was our first airbnb experience and it was so pleasant we will be doing it again for sure! If we are ever in Sydney again, we will be coming back here! Thanks for having us, Yiwa and Adam!
Jessica
2015-11-18T00:00:00Z
Love the place, its convenient, extremely close to the train station. Takes about 20mins to get to city area. Room is as shown in the pictures. You will get lotsa privacy. Yiwa is always available on message, if u need any help she's there to answer. I was there for 10 nights, and instead of me washing the sheets on my own, they offer fresh towels n sheets somewhere in the middle of it.
Anita
2016-03-08T00:00:00Z
Yiwa was a great host welcoming us like a friend. The place was great with 100% privacy. No issue with that whatsoever. I am definitely staying there again. Highly recommended 10/10.
Tanbir
2015-05-12T00:00:00Z
Staying the second time around at Yiwa's place was a bliss, quick communication and hassle free getting the key. Heaps of improvement from the first time I stayed there. Aside from the welcome water bottle and snack upon arrival, having my own mini bar fridge is a fantastic idea for a person who stay a week or more as I don't have to worry about storing my pack lunch for work. Everything you need like small fan & heater, iron and iron board, hair blower and toiletries are available which is great for guest attending a meeting for a week near the area. I would recommend this place and would stay here again in the future.
Melody Ann
2016-02-13T00:00:00Z
We spent a good time in this bedroom like the description.Very easy to go to the airport and in the city with the train.Yiwa was very helpful with us.Thank you and see you sunday
Marie
2016-04-16T00:00:00Z
卡爾頓, 新南威爾斯州, 澳洲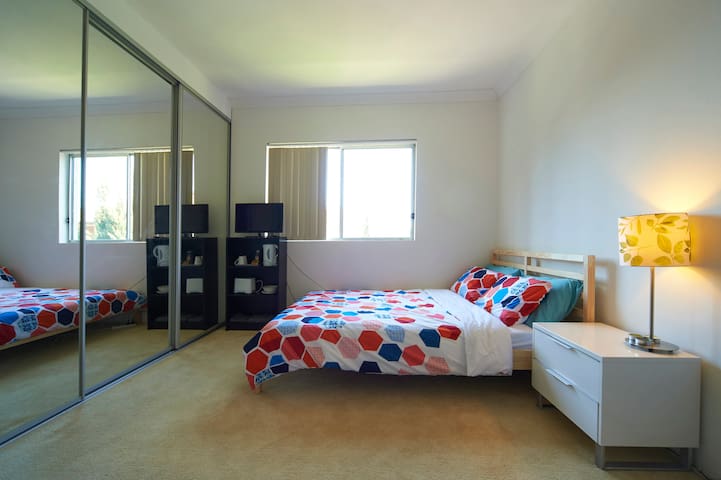 Spacious queen bedroom with ensuite bathroom and private balcony. Great location close to westfield shopping centre and heaps of great restaurants. Train and bus station only 5 min walk away. Pick up and drop off to the airport can be arranged if needed.
Westfield's shopping centre is just a 5 min walk and there are plenty of small shops and great restaurant/takeout places along Forest Road. Hurstville train station is also just a 5 min walk away and will get you into the city in 20 mins.
We had really good experience here. It very convenient to chic in and the location is good, just 5 min to the hurstville station, easy to found restaurants. Thought we had a busy schedule few time to chat with Lucia, but her guidelines are enough, and reply my question soon. Really have a good time here. Thank you!
Liangjie
2017-02-09T00:00:00Z
The hosts were very hospitable and had everything we needed for our stay. We happened to stay there during the two hottest days in Sydney history and there was no air conditioning. Sleeping was brutal, but there was a fan. The bed and room were comfortable and the bathroom was very modern. If it wasn't for the heat, which couldn't be helped, we would have really enjoyed our stay. The neighborhood is pretty quiet, but there is a shopping center about a 10 min walk away with a great array of shops, and restaurants. We didn't go into CBD from this here, so I couldn't say how easy or quick it was to get there. From the airport we took a taxi and it costs somewhere between $40-50.
Justin+Catherine
2017-02-12T00:00:00Z
The landlords are very kind and leaves you full privacy and support. Clean and tidy room with large en suite and a big balcony. Very clean bedding and comfortable Metress. The lounge is modern and designed with art. Kitchen and laundry facilities are convenient and you can have another bigger balcony for eating and reading outside with nice view. So close to the train restaurant and shopping. Good value to stay either short or long term.
Jane
2017-01-10T00:00:00Z
Pretty nice room and friendly host
Mengjing
2017-02-21T00:00:00Z
The hosts are very friendly and the room is very comfortable. Great location, near train station,shopping street. Really have a good time here. Than you.
Jing
2017-03-20T00:00:00Z
great location, near hv station. nice host, very friendly and helpful. if next time, i will choose here again.
博
2017-02-04T00:00:00Z
Hurstville, 新南威爾斯州, 澳洲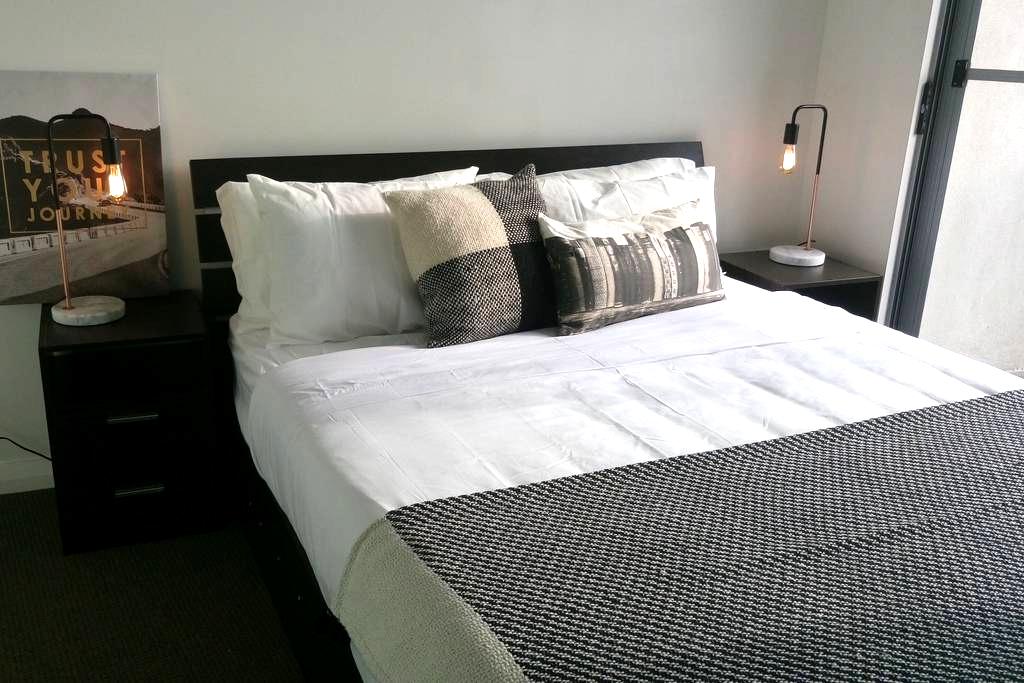 This room has a double bed, windows, huge wardrobe, private bathroom with tub, own swipe card for entrance to the building, own key, and parking space. Our unit is close to Hurstville train line (2 mins walk), 20 mins to the city, close to Westfield shopping mall and grocery shops.
Hurstville, 新南威爾斯州, 澳洲

That is perfect for any family/couple looking for a conveniently located place to stay in Sydney. You will be having the entire home to yourselves for the duration of your stay. Free unlimited wifi and two balconies with water view. Only 2 minutes walk to Hurstville station, Local shops And Restaurants.
Apartment is very neat and cosy, full furnished, located at the heart of Hurstville, only 20 minutes from Sydney CBD. - 2 mins walk to Hurstville station - 2 mins walk to local shops, restaurants, cafes, pubs and supermarkets This apartment has everything you need to make your stay in Sydney comfortable and enjoyable.
*Convenient *2 mins walk to train station *Shout drive to beach
房間乾淨整潔,適合帶兒童或全家入住,交通方便,近車站、購物中心、機場。
Alison
2017-03-27T00:00:00Z
very good lady, good house. perfect.
晶
2017-02-12T00:00:00Z
May was a lovely host, flexible and good communication. The apartment was a little old but very clean, we could tell a lot of effort was put in to make it spotless. Very good location, very easy walk into Hurstville. Unfortunately there was a lot of street noise.
Carmen
2017-03-23T00:00:00Z
May's was very accommodating and was very great with communication. Her home was clean and a great location. Would definitely stay at May's home again.
Tammy
2017-02-03T00:00:00Z
May was a polite and friendly host, it was easy to communicate with her. The place is perfect, close to west field shopping Centre and walking distance to rail way station. Highly recommended.
Wati
2017-02-20T00:00:00Z
这是第一次体验Airbnb预订,总体感觉还是比较满意的。May的房子适合家庭或三五好友居住,房间很整洁,看得出女主人的细心和精致,周边环境也很舒服,阳台上可远眺大海。所在区域交通、生活都非常便利,无论外出觅食,还是想体验在外家庭生活,都会有不错的体验。唯一想说的,就是,能不能配把菜刀和锅铲啊?!
Selena
2017-03-10T00:00:00Z
We made a stay between 26th to 31st Jan. We were in a group of 4 (Two are elderies). May is a friendly, responsive and helpful host. She always attend to our queries in a timely manner. The apartment is easy accessible (just few mins walk from the station) with lift that you need not to worry about how to carry your heavy baggages. Apartment is clean and nicely decorated with a wide open view. The location is convenience with everything you need around including 2 Shopping malls, supermarkets and restaurants.
Trix
2017-01-30T00:00:00Z
靠近火车站,步行即可抵达,房间干净整洁,房东还贴心的准备了牛奶和水,非常不错的一次选择。
Sophie
2017-02-06T00:00:00Z
雪梨, 新南威爾斯州, 澳洲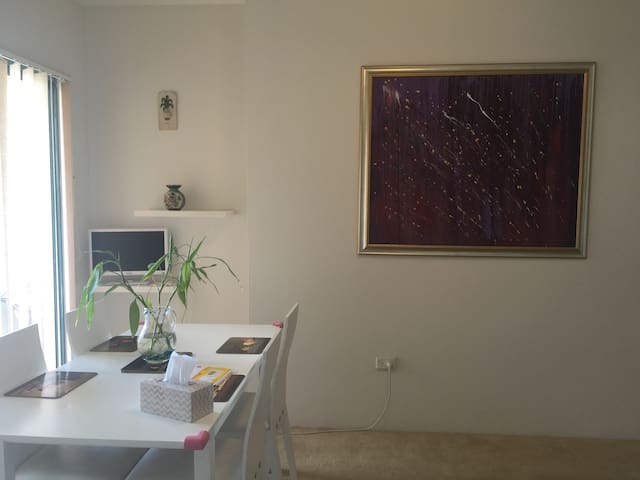 我的家乡是靠近机场(5.2公里)和圣乔治医院(2.5公里),它是距离海滩仅一个街区,10分钟步行到布莱顿乐砂在这里你可以找到餐馆和商店丰盈。你一定会喜欢,因为在我们的房子宽敞明亮通风的房间我的地方。我的地方是好夫妻,独奏冒险家和商务旅客,我们在没有电梯的3楼。
Angela和考比欢迎您到蒙特雷 房间 明亮通风的房间等待着你哪些功能: 在一个私人一张双人大床 台 访问无限制的Wi-Fi网络 厨房 饭厅 阳台 洗衣店
该区域 靠近植物学湾,在那里库克船长探索澳大利亚,蒙特利邻居布莱顿乐砂(10分钟步行路程)提供充足的餐饮和娱乐场所当最初降落的区域。 有一个海滩一半,对于公里绵延竖着一个街区之遥,一个完美的目的地放松和一个伟大的游泳海滩为孩子,因为没有大浪。随着餐馆可供选择过多,你永远不会从各种可用的菜肴无聊。
Angela's place was very close to the beach, and whisper quiet from road and airport noise. Angela keeps a beautifully kept place. It is extremely well set up for guests and very comfortable. Coby is a real sweetie, was well behaved, and good fun. Thanks guys for being good hosts. I would love to come back.
Jo
2016-07-16T00:00:00Z
I never meet the host of the house. As we came late. I can say the place was awsome and angela service was excellent. It was very quite and comfortable.
Harry
2016-12-14T00:00:00Z
I really enjoyed my stay at Angela's. Would strongly recommend.
Henry 'Hank'
2016-09-11T00:00:00Z
Great communication, great location, clean and very well laid out. Angela and Cody were great hosts.
Allan
2016-08-24T00:00:00Z
Thanks Angela, I will come again and again
Ibrahim
2016-09-23T00:00:00Z
Angela was very kind and lovely lady. also her house was very clean and well equipped. I really enjoyed staying there. I would definately visit her again, and recommend to everyone. thank you Angela.
Jang
2017-02-23T00:00:00Z
Friendly host. Room has everything needed for a comfortable stay. Recommended.
Toni
2017-03-04T00:00:00Z
Angela was a great Host, very friendly and kind. It was the first time we used Airbnb and we had a problem with the booking but Angela called Airbnb for us and helped to solve our problem within 5 minutes. Thanks for that again :). The room was clean as shown on the pictures. My girlfriend and me stayed 3 nights. Reaching the beach just takes 2 minutes by foot.
Amir
2017-02-13T00:00:00Z
Monterey, 新南威爾斯州, 澳洲
Grande y espacioso dormitorio con una cama de matrimonio en un apartamento moderno, cerca de la estación de tren, Brighton Le Sands Beach, a 30 minutos del centro de Sydney ya 15 minutos del aeropuerto
El apartamento es moderno y espacioso, con una terraza
Kogarah es una gran ubicación, cerca de la CDB, TAFE, hospital, tiendas, cafés y no demasiado lejos de la playa de Brighton Le Sands.
Mariana and Andrew were the loveliest copule. Made me very welcome. The place is exactly as described and super l, super clean. The bed is comfortable. I could not go back to stay the 2nd night because of personal circumstances and Mariana offered me to go back anytime because she felt she owed me a night. That is how decent she is. Would highly recommend.
Joycelyn
2015-10-29T00:00:00Z
Mariana and Andy are lovely people, very aproachable neat and clean.
Wade
2016-11-15T00:00:00Z
Mariana and Andrew were really friendly and made me feel very welcome. The room was comfortable and location perfect for me (walk away from my course and easy drive to the beach/parks/etc) Thanks!
Alex
2016-01-11T00:00:00Z
Very nice people who gave great advise about the area as well as my personal space. Good conversation and overall experience
Hayden
2016-11-25T00:00:00Z
Lovely people. Very welcoming. Helped me out with places to eat nearby and getting to the city. Quiet and calm place.
ram
2016-08-28T00:00:00Z
We loved our stay at this charming flat! It's in a peaceful complex that's just about a 12-minute stroll from Carlton station. Room's got good size and very comfy bed. Mariana's warm and friendly, and made special arrangements for us to check in earlier than expected. She made us feel at home. Definitely recommending to friends!
Gay
2015-10-31T00:00:00Z
Fantastic hosts and apartment. Very clean and quiet location. Loved the stay.
James
2016-08-06T00:00:00Z
I stayed with Mariana and Andrew for a few weeks and didn't want to leave! The apartment was super comfortable and in a great location. I was well looked after enjoyed many glasses of wine with them! It was my first Airbnb experience and was excellent value. I'm so happy I came across their listing and had the opportunity to stay there. Looking forward to a catch up when I'm back in Sydney. Cheers guys :-)
Kim
2015-12-04T00:00:00Z
Kogarah, 新南威爾斯州, 澳洲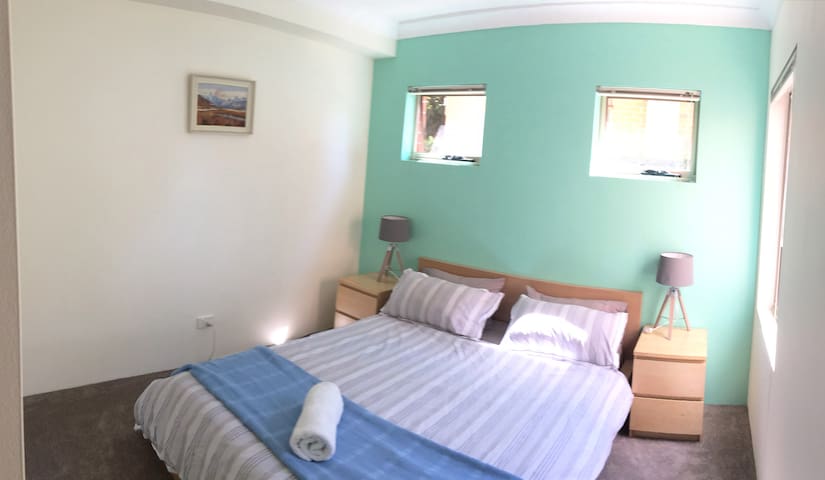 Eine moderne, geräumige 2-Zimmer-Einliegerwohnung in der schönen Uferpromenade Vorort von Kogarah Bay. In Strandnähe, Cafes, Restaurants, Einkaufszentren und Supermärkte. 15km zum Stadtzentrum und 8 km zum Flughafen Sydney.
Moderno, amplio dos dormitorios piso abuela. Tranquilo y arbolado barrio. El piso abuela es totalmente privado y lejos de la casa principal. Equipado con cama de matrimonio en el dormitorio principal y dos camas individuales en la segunda habitación. Escritorio y espacio de almacenamiento disponible. Un montón de espacio para sus maletas. Excelente para los niños!
Hermoso barrio por la bahía. A poca distancia de los parques acuáticos y en expansión. 5 minutos en coche a la playa, supermercado, restaurantes, centros comerciales. viaje en tren con el centro de la ciudad. 20 minutos desde el aeropuerto de Sydney.
Lovely little two beddy, clean and new. We had a great time and thank Kylie for the smooth, comfortable stay!
jo
2016-03-04T00:00:00Z
Kogarah Bay is a lovely location with the beautiful Carss Park a short walk away. Not walking distance of any shops or public transport, so you will need a car. The property is essentially one of several granny flats built in the host's back yard, which was not what we were expecting. It therefore lacks the homeliness of other Airbnb properties. However it is fine and functional; it just lacks character. The aircon is good, the WiFi works OK (ish), but the TV wasn't set up properly, though we weren't there to watch the telly so didn't really mind. No provision for little ones sadly - even just a high chair would have been nice.
Tony
2017-01-07T00:00:00Z
Not a bad place, nothing fantastic either. Don't expect an entire house it's more like a granny flat in the rear of the yard. Great value though, nice and clean.
Glen
2016-11-24T00:00:00Z
Clean modern place. Shower was average and only one heater bit everything else was clean and modern.
Carly
2016-06-27T00:00:00Z
Kylie is great - such a responsive and accommodating host, we love staying here!
Steve
2017-01-18T00:00:00Z
Kylie's airbnb is comfortable, clean and modern. It is convenient to the airport, and is in a quiet suburb, with a swimming beach nearby. Thanks Kylie for a pleasant stay.
Mark
2016-12-28T00:00:00Z
The room is neat and large, it's quite comfortable to live in there. Hosts are nice and easy going.
Qingzhou
2017-02-11T00:00:00Z
Kylie's apartment was excellent. Clean, modern and a great location in a quiet neighbourhood. Kylie was a great host who communicated throughout the booking process. I would definitely stay again.
Shannon
2016-07-22T00:00:00Z
Kogarah Bay, 新南威爾斯州, 澳洲
輸入日期以查看總價格,包括其他費用,可能會加收稅費。