Newly renovated with 24 hour security, my 2 bedroom apartment sleeps up to 4 guests. Inspired by my travels, this is perfect for couples, solo adventurers, business travelers and global citizens searching for home away from home.
Newly renovated, this unit comfortably fits a maximum of four persons. Ideal for global citizens and frequent travelers yearning lining for home away from home.
Quiet community, nestled in the heart of the city.
Love love love this home. Great cable internet and staff. I felt so comfortable here and it reminded me of my own home. Beautiful updated apartment. Andrew made sure to check in with me to make sure he provided whatever was needed. He was even generous with check out time. This is a first stop when I come back to Jamaica.
Ashley
2017-01-01T00:00:00Z
Andrew's place is definitely a home away from home. This home is modern and immaculate. It is conveniently located in a nice, quiet and safe residential area. We loved our stay and recommends this home to all travelers staying near or in the Kingston area. We will definitely be returning. Cheryl and Andre Boston, Ma
Cheryl
2016-12-30T00:00:00Z
Pictures don't do this place justice!! it's amazing and the decor is really nice. Very clean and modern. The complex is really quiet and I felt right at home. Both Andrew and Elisse ensured that I was comfortable. I will definitely be staying here again! And I recommend it to everyone !!
Daneille
2016-12-10T00:00:00Z
Excellent host and a modern chic space. The apartment is clean and well appointed after recent renovations. Andrew and his team were very responsive to our needs and requests. Our stay was worry free and very relaxing. We would definitely stay again the next time we are in Kingston. The location is very close to everything you would need to do while in Kingston.
Gareth
2016-12-25T00:00:00Z
Nice flat to stay at! Tucked away from the hustle and bustle, Ellisse and Andrew were super easy and accommodating! The place was great, grocery nearby enough for us to enjoy a dinner there! Nice spot indeed
Brittney
2017-03-27T00:00:00Z
Love the apartment.. I would recommend this to anyone . Everyone is friendly. Andrew always check in on me . Anything I needed he make sure it was done and on time . The apartment is the right size, the area is lovely and the people is helpful n lovely . People Andew apartment is the place to book. I will be booking very soon a again...
Coreen
2017-01-19T00:00:00Z
金斯敦, 聖安德魯教區(St. Andrew Parish), 牙買加
This gem of a place is centrally located and! We are close to everything. Loft 19 is designed to optimize comfort on a budget. Every element- from plush pillow-top bedding and white bed linen to luxurious angel white bath and wash towels- is intended to provide you with a clean, comfortable and cozy retreat in the middle of the of one of Kingston's must thriving towns. The apartment is a fully furnished, fully air conditioned loft style layout with modern furniture and appliances.
The apartment comes fully furnished with 2 single beds with a base that joins to make a king size bed and a full size mattress in the futon in the living room. There is a mini work desk in the living room. The kitchen comes equipped with a Microwave, blender,stove, coffee maker, toaster and a full size refrigerator. Enjoy the convenience of an iron and a counter top ironing board! The unit is also outfitted with it's very own water tank in the event that there is a water lock off situation. The kitchen and dining area are merged by an island that functions as the dining/reading area. The Bathroom is everything! Zen you will love coming home this shower experience. Please note we provide tissue and shower gel for your check-in only replacing or replenishing these are your responsibility. Housekeeping during your stay is an additional cost that takes care of basic cleaning, light cooking and linen and towel replacement.
LOFT 19 is located near the Barbican Town Center and is in close proximity, to supermarkets, restaurants, shopping Centers, TGIF, Ribbiz club in the Acropolis, Acropolis Gaming Lounge, Ript Gym, Sovereign North and Sovereign Center, Palace Cineplex Cinema, Bob Marley Museum, Hospitals and about 20 mins from The Fiction Night Club and Market Place Restaurants.
I really like this place. Kimberly is great. Really good communication skills and try her best to make sure all is well for the guest.
kim
2017-02-20T00:00:00Z
Really perfect place for a couple who wants to stay in Kingston and wants to explore the city. Everything we wanted to do in Kingston was a 15 minute drive or less and was very easy to get to. Kimberly was incredibly helpful and the apartment is gorgeous. Very nice amenities and an absolutely stunning bathroom. The apartment building has a security gate and it is very easy to get in and out. If you stay here, I really recommend going to the Devon House for a meal and a tour of the mansion. Also, if you want to go to a perfect, serene beach, you can drive to Port Royal (which is about a half hour away) and take a quick boat ride to Lime Cay. When we went we basically had the tiny island to ourselves and it was amazing. We will definitely come back.
Nick
2017-03-01T00:00:00Z
Kim was a great host. I saw her at check-in and she was very clear about instructions for the place. After that I didn't see her, but she messaged to check up on me throughout my stay and if I ever had questions or needed anything I had her phone number. She made sure to ask if I had a way to get around and if I knew the area or needed anything. The place has a great location less than two minutes away from Barbican shopping center and the apartment itself is very modern and comfortable. The AC, water, and all appliances worked great. I only wished the apartment wasn't booked after my stay so I could have stayed longer. The only thing I didn't like about the place was that the apartment is on the top floor and there is no elevator which made it like a workout to bring baggage and groceries up. Regardless, I would definitely stay at this place again!
Jeanelle
2016-12-22T00:00:00Z
Where to start..from the moment I talk to Kim I liked her. Communication WONDERFUL. She even help me surprise my fiancé.. The place is just as u see in the pics..I have no complaints at all. Also Kim always checked to make sure everything was ok. I would recommend this place most def. The location is good to. I enjoyed my stay very much will stay again. Kim is the absolute best...
Nadia
2016-02-24T00:00:00Z
Kimberly and Kevin were great and always available to help. The loft was everything I needed as far as comfort, convenience, and location. Would definitely stay here again or recommend it to a friend. It's perfect for a couple.
Marc
2016-04-11T00:00:00Z
I felt like I was home away from home. The entire complex was well kept, very clean. I got what I paid for. I have no regrets. I will recommend friends and family to well appointed loft. Whenever I visit JA I know exactly where I am heading. See you soon Kimberly. Thank you Patrica for waiting for me.
Jennifer
2016-01-13T00:00:00Z
The apartment was great, centrally located and Kimberly was a good host.
Lorain
2016-06-06T00:00:00Z
This was booked last minute, but Kimberley was at the end of the phone with clear directions and support for key collection. Although we did not meet, her support was always available. Lovely apartment, close to supermarket, restaurants and night club, but in a very peaceful and we'll maintained Block. Thanks Kimberley.
Ian
2016-04-21T00:00:00Z
金斯敦, 牙買加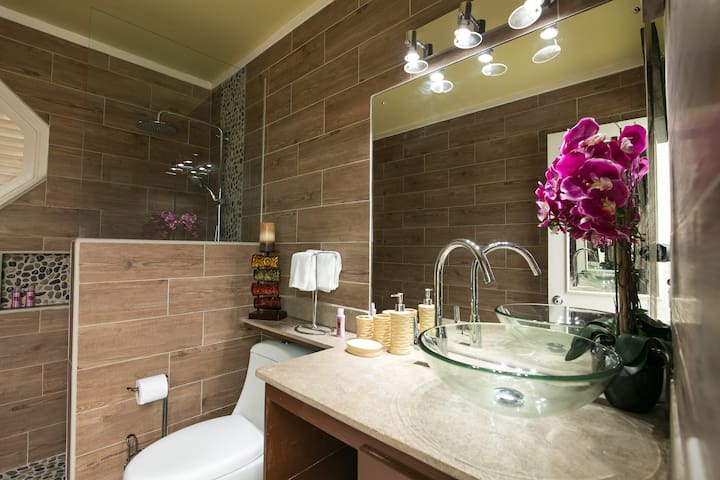 Located in the upscale community of Cherry Gardens this beautiful townhouse is within a small gated complex with electronic gate and a pool. Internet and cable ready with modern amenities. It is close to restaurants and supermarkets, Constant Spring golf course as well as the shopping center and new bowling alley. Great for families or business travelers or couples just looking for a beautiful space to come and spend some time.
The apartment is in a quiet and safe neighborhood only 10 - 15mins drive away from great restaurants, bars and shopping. Supermarkets and pharmacies are also 5 mins away by car. Norman Manley International Airport is approximately 30 mins away.
The host canceled this reservation 37 days before arrival. This is an automated posting.
Kimberly
2017-03-13T00:00:00Z
A marvellous stay! Beautiful house in a lovely residential area where you feel secluded and safe but yet close to supermarkets restaurants etc. Only 5 min drive from the plaza that has a great supermarket bowling pharmacy. The house itself is exactly as it is portrayed on the pictures: spacious charming nicely decorated and has all the amenities. Gillian was beyond attentive as a host! She answered all our questions, helped with all the requests, provided great tips and even arranged for breakfast food (corn flakes, milk, fruit). We couldn't thank her more and highly recommend this property for not just business but any type of visit.
Dasha
2017-03-09T00:00:00Z
房間類型
整套房子/公寓
---
房源類型
連棟房屋
---
可住人數
4
---
卧室
金斯敦, 聖安德魯教區(St. Andrew Parish), 牙買加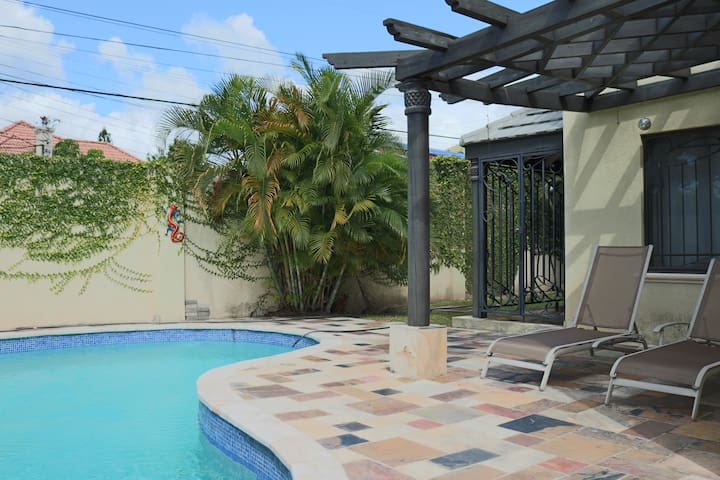 1700 sqft of Luxury in a Gated Community with 24h Security, Complimentary Wi-Fi, 4K HDTV Cable, Netflix, Youtube, Full Kitchen, Laundry Service available, A/C & Ceiling fans in Bedrooms and A/C Livingroom. Private Patio. Entire home has screened windows, Keyless entry, 2.5 Bathrooms, Master bath has Rain shower & Standing Jets. Both Bedrooms have King-Sized beds. Italian Leather Sectional & Bar-Style Dining. Pool available. No Smoking in unit
This is a Traveler's Gem. The location is secure and quiet; an upscale apartment for those who require a better travel experience. This home is equipped with luxury furnishings from Italian Leather seating to Stainless Steel appliances. All you need is your toothbrush! You're able to rent 1 or 2 of our comfortable bedrooms. A/C bedrooms & Living space. Full Kitchen with Maid Service & Laundry available.
Very quiet neighborhood. Minutes away from Shopping, Gas, Pharmacy, Banking, Casinos, Bowling & Golf.
金斯敦, 聖安德魯教區(St. Andrew Parish), 牙買加
Recently upgraded one-bedroom apartment with kitchen and dining. Own entrance offers complete privacy. Quiet, safe, upscale neighborhood minutes away from shopping, business. Access to large swimming pool.
Very quiet, upscale neighborhood. Scenic picturesque hillside views.
Fantastic experience I must say, during my stay at Miss Geraldine's place.. House was clean and located in a upscale neighborhood in St Andrew whereby access to malls etc was just as described... Communication, security, respect of privacy was outstanding and Miss Geraldine, family and staff did everything possible to make my stay a most memorable experience.. I am certainly looking forward to return...
Tanel
2016-08-20T00:00:00Z
We stayed at Geraldine's apartment for 2 nights. It was very comfortable, very clean and well-decorated. I especially liked the bedroom and bathroom, which were spacious and beautiful. The apartment was also very cool, which is a big deal if you are staying in Kingston & St. Andrew during the summer. Geraldine and her daughter, who checked me in, were very friendly and helpful. They were responsive to my needs and very accommodating.
Nicosia
2016-07-25T00:00:00Z
Wonderful
crystal
2016-07-12T00:00:00Z
Geraldine was great hostess with a beautiful home in a nice, secure area. The suite was very clean, spacious and updated, had WIFI, and even had a kitchen attached to it. Geraldine was flexible with our check in and check out time and allow me to keep some luggage there while travelling up to the mountains for few days. She also helped me to coordinate transportation to and from the airport for a reasonable rate. The pool and grounds were beautiful. A nice, quiet spot in an upscale neighborhood. I would definately stay again. Thanks for everything!
Lisa
2015-01-25T00:00:00Z
Thank you so much for having us..the place was beautiful, quiet,and very comfortable...the room was very spacious... the pool area was so cosy and (URL HIDDEN) vacation ended to (URL HIDDEN) I would like to say, me and Godfrey gives you a thumbs up..thank you again for inviting us in ur lovely house...we shall return soon!!!
Godfrey
2014-08-04T00:00:00Z
It was absolutely wonderful, my hubby and I celebrated our anniversary at this flat. In the beginning, I was very hesitant because of there was no AC, but I'm here to say.... I never ever broke a sweat!! The house was cool and comfy. Nice clean private..... Ms Geraldine made sure I had an extra fan. The housekeeper was extra helpful upon our arrival. She was away during our stay, but it was nothing to tidy ourselves. Actually, I prefer it that way! The pool was nice.... The jacuzzi was nice- we never requested it to be turned on. But the warm water was nice and we took some awesome pics in it!! Fruit trees, big bed, large room, hot water..... We loved it
crystal
2016-07-15T00:00:00Z
It was great having Geraldine and family as our hosts in Kingston for 2 weeks. Beautiful property in a very safe and upscale neighbourhood. She and the domestic helper for the home were helpful whenever we needed anything even over a holiday weekend. Always pleasant and attentive! Definitely a location you will enjoy and feel at home.
Tina-Marie
2015-04-15T00:00:00Z
Geraldine's apartment was clean, quiet, cool and comfortable. The location is superb. The apartment is located in one of the most exclusive, upscale and safe Neighborhoods in Kingston. The apartment was very clean and modern with high speed wifi. We would recommend Geraldine's apartment to anyone. She made us feel welcome and comfortable and she also facilitated a late check out; which we tremendously appreciated. Thank You Geraldine
Tina
2015-08-10T00:00:00Z
金斯敦, Saint Andrew Parish, 牙買加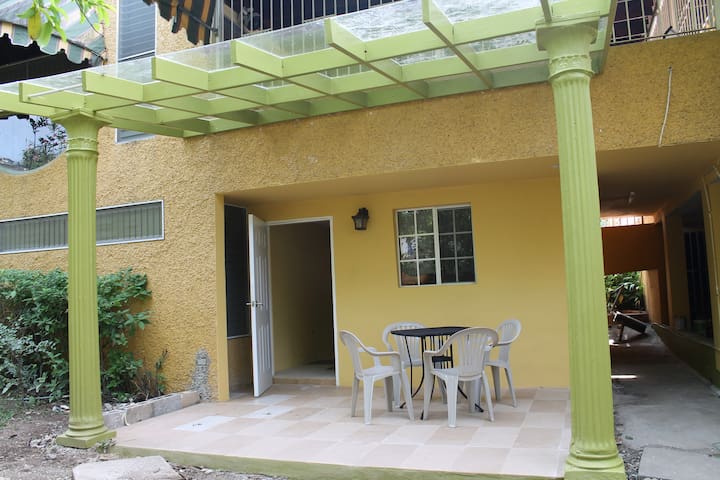 My place is in a community which is fairly quiet and safe, it has 24hr. security and designated parking for guests. Centrally located to Supermarkets, 24hr. Service station for snacks at anytime, Shopping Malls, Fast food restaurants, the city center, parks and night entertainment. You'll love my place because of the location, the neighborhood, the outdoors space, the ambiance and to accommodate a young couple with a child. My place is good for couples, solo adventurers, and business travelers.
The studio apt is all self contained and fully furnished with all the necessary amenities available and the Laundry comes complete with washer and dryer which uses tokens to operate.
This apartment was very clean and comfortable. It has been updated with modern finishes and has all of the comforts of home. The apartment complex is very quiet and in a good location. Checking in and out was very easy and convenient.
Janine
2017-02-17T00:00:00Z
Great space, I will always come back again and again. Great location and very quiet. Emil responds well. One of my best airbnb rental to date. Love Jamaica.
Dennis
2017-01-29T00:00:00Z
The host canceled this reservation 9 days before arrival. This is an automated posting.
crystal
2016-12-07T00:00:00Z
Emil's place is very comfortable and clean. This is my second time staying there and it was just as great as the first time.
Kenique
2017-01-06T00:00:00Z
This apartment is located in the best position of all the complex with the exception of the exterior dumpster being all the way to the front of the complex. We had a minor hiccup of my hubby dumping the trash forgetting to take it with us as we departed. Emil, was a delightful host his wife was very pleasant. For a family with children there is a backyard off the veranda where children could play and the pool is directly across from the unit as well as laundry facilities.
Jasmine
2017-02-25T00:00:00Z
I enjoyed my stay!
Manuelito
2016-12-11T00:00:00Z
Very cute apartment, host was extremely nice. Love the gated community and it is very safe. Just not a central location, so consider the places you would like to visit. Overall great experience.
Veronica
2016-09-07T00:00:00Z
This was like home, I could not have asked for a better place to say. Finally met Emil and he was such a great host. I will always recommend his place to my friends when they visit Kingston Jamaica.
Dennis
2017-02-12T00:00:00Z
金斯敦, Saint Andrew Parish, 牙買加
Our recently refurbished one bedroom apartment provides a comfortable escape in the heart of Kingston city. It is private cosy and well suited for that well deserved relaxation.
It contains all the modern amenities, fully functional kitchen, air condition, free Wi-Fi, cable tv and internet.
Quiet, safe, private and centrally located near supermarket, restaurants, shopping plaza and public transportation.
Jacqueline was a wondering host. The place was just as advertised and I will definitely stay here on future visits. The place was clean and all the amenities worked perfectly. Jacqueline included some Jamaican coffee and snacks which was a pleasant treat. The WiFi worked well. The location is very central to Kingston night life. I also felt very safe. All around this was a good stay for the price.
Ronald
2017-04-01T00:00:00Z
The apt Décor was modern and charming , Thanks Jackie for sitting down and having a chat with us reminding us of what Jamaica is like ,family times ! Much love for that,
Delroy
2017-03-05T00:00:00Z
This apartment was clean, spacious, private and secure. It looked exactly as pictured. This flat does not come with a full stove/oven but it does come with a two plate stove top burner. The WiFi speed was also slow. Overall, I enjoyed my stay. Jacqueline was a friendly host. She was also easy to get in touch with and very responsive to our needs. For future trips I will definitely consider booking again with Jacqueline.
Shazz
2017-03-13T00:00:00Z
Jacqueline was a very accommodating and great host! Happy with the choice I made using her property. My flight was later than normal check out time and without even asking Jacqueline offered a later check out time, considering sometimes how good customer service can be taken for granted I had to call that out! The home is as advertised and met my expectations. Definitely will recommend and revisit.
Kamille
2017-03-23T00:00:00Z
金斯敦, 聖安德魯教區(St. Andrew Parish), 牙買加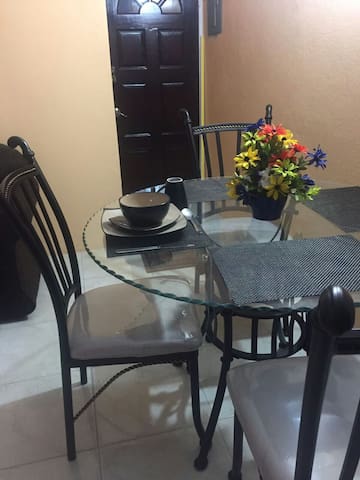 This three bedroom chateau offers a beautiful and serene setting of all that nature has to offer. Though nestled in Kingston it offers the tired traveler the best of all worlds i.e. comfort, luxury, simplicity and most of all security.Enjoy waking up to the view of the beautiful blue mountains, shopping at Manor park plaza, Hi Lo supermarket and blue mountain coffee at Canonball café. Not to mention taking a 5 min walk to go bowling, luxurious & affordable gyms, chic dining & mountain climbing
The waterfall featuring gorgeous kai fishes, nicely upgraded fixtures and secure neighborhood. All rooms are ac'd, I do ask however that guests be mindful of the exorbitant high fuel cost in Jamaica and turn off the ac once not in the rooms.
This neighborhood is quiet, lush and green. Not to mention quite :) The location is perfect for those who are looking for the best of both worlds, location and ambience not to mention value for money.
Ein wunderbares Erlebnis in Kgn. Grosszügige Unterkunft mit guter Ausstattung. Die Gastgeber waren äusserst hilfsbereit und freundlich. Immer wieder gerne.
Ian
2016-04-02T00:00:00Z
I've been to jamaica a number of time and frequently use Airbnb but this visit was to celebrate my sister's 21st birthday we spent 2 day and 1 night at a really cute hotel a few minutes from the Sangster International Airport then 3 days at a resort in Runaway bay St. Ann's we then drove to Kingston to Kennik beautiful home in Constant springs. This was a wonderful relaxing time in Jamaica the house is Just as pictured i cannot say anything bad about the visit ken or Josh were available. We rented a car but also have family who have cars its easy to get to very close to manor park where there are plenty of shops pretty much anything you need. We did so much on this trip to Jamaica (ATV Riding,blue hole, dunns river falls, Ochio rios look out point )it was nice to come to ken place and relax And enjoy jamaica as a local we visited the bob Marley museum while staying here it was an amazing tour one of my favorite things we did besides eating amazing food An enjoying everything jamaica has to offer
Takina
2017-03-30T00:00:00Z
Calming Waters Villa met and exceeded our expectations for a relaxing home away from home. The pictures are true in description but do not capture the overall pleasantness and peaceful environment that awaits. The property is well-manicured and provides lovely scenery to enjoy. We enjoyed sharing a meal and catching the cool evening breeze from the second floor balcony/patio. The two children in our group enjoyed playing at the back of the property as well. Kenik and Mr. Josh were wonderful hosts. They were available when needed and were flexible when we arrived later than expected. One last thing…MANGOES MANGOES MANGOES! We arrived at the tail end of mango season, but the many fruit trees on the property were still bearing Julie, Black and East Indian mangoes. Thank you for a truly memorable vacation!
Hannah
2016-08-08T00:00:00Z
Calming Villas is a beautiful home. The area was quiet and private. Kenik and Josh were always available for anything. The location was great........there were lots of options for food nearby. We had a really good time. Thank you Kenik!!
Cherie
2017-04-05T00:00:00Z
Kenik you and Josh made us feel at home. Thanks for the fruit basket and the waters in the fridge, they were a perfect way to say welcome. I will be back!
Olubode Shawn
2016-12-11T00:00:00Z
My husband and and I enjoyed our stay at Calming Waters Villa. It is indeed a hidden gem located in the foothills of Constant Spring, Jamaica. The Villa is very beautiful as featured in the photos, with an indoor mini water fall at the bottom of the stairwell with huge beautiful fishes. The Villa is great you will enjoy all the second floor. 3 big rooms with its own bathroom and a lovely terrace that overlooks the front of the house. Kenik bought us some refreshments and snacks prior to our arrival . Calming Waters Villa met and exceeded our expectations for a relaxing home away from home. It is a great place for its value. Thank you for a truly memorable vacation!
Sonnett
2017-01-08T00:00:00Z
Stay at calming waters villa was awsome!!! Will definetely return. Host was very accommodating as well
Taiesha
2017-03-15T00:00:00Z
World class host who made us feel home. The house is beautiful and in an excellent location with shops and restaurants nearby. Couldn't ask for a better place to stay in Kingston.
Aymeric
2016-09-16T00:00:00Z
金斯敦, Saint Andrew Parish, 牙買加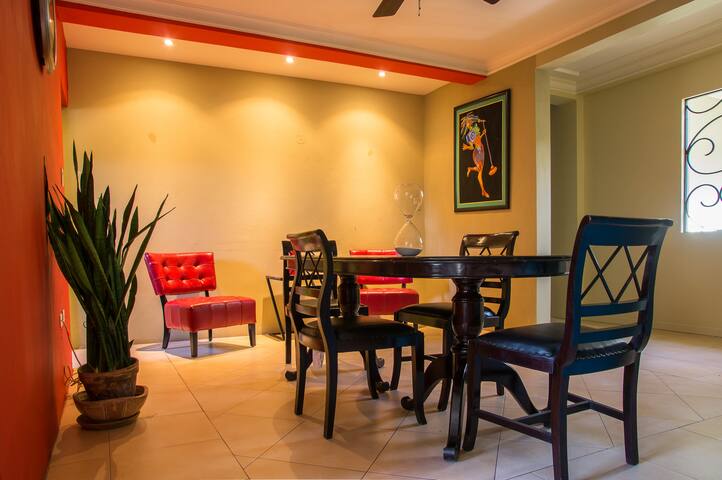 in a cool calm secured area in up scale Kingston neighborhood ..Orchid Cottage is a one bedroom flat with an extra bed , kitchen, dining area, hot water shower, wifi, cable , air -con bedroom , fan, mosquito screen windows , Generator.
it is hugged by Nature ..lots of orchids and fruit trees.
people are always walking /exercising as early as 4:30am on the main roads , 5 minutes walk from shopping centres between 2 minutes to 10 minutes drive from all the embassies, Bob Marley museum, 5 minutes walk shopping centres ... Bowling alley and restaurants.
Betty is awesome, kind and considerate, and an excellent host. The cottage is private exceptionally clean and has everything a home needs. It is tucked in a parklike setting with beautiful trees, scrubs and flowers. The aroma from the trees lingers into the cottage. I felt lost in my own space. It truly was home away from home. I highly recommend Betty's place
Sandra
2017-04-03T00:00:00Z
金斯敦, 聖安德魯教區(St. Andrew Parish), 牙買加
Beauitfully appointed room with fullbathroom is Ultra Modern, with shiny wooden floors, designer bathroom and huge closet spaces - amazing room with Designer Queen Bed, airconditioned with 50inch TV, with all the bells and whistles. You are located in a gated community with 24 hour security, swimming pool for laps or relaxation and a small gym for enthusiast, this is located in one of Jamaica's most sought after complex.
金斯敦, 聖安德魯教區(St. Andrew Parish), 牙買加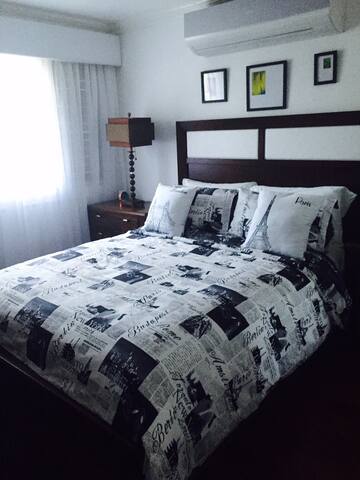 My place is close to the city center. You'll love my place because of the neighborhood, the comfy bed, and the coziness. My place is good for couples, solo adventurers, and business travelers.
Good value for money
Nikki
2017-03-24T00:00:00Z
Great place! Comfortable and good wifi.
Agnes
2017-01-20T00:00:00Z
金斯敦, 聖安德魯教區(St. Andrew Parish), 牙買加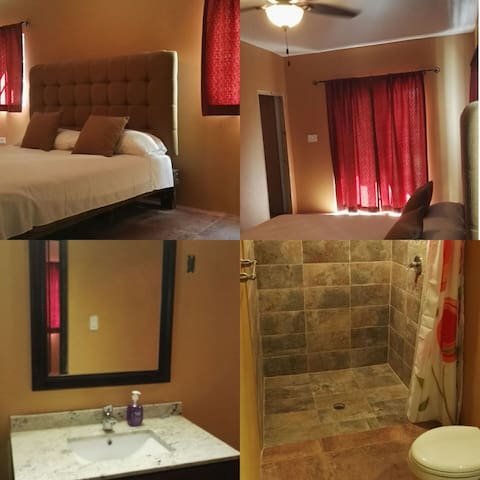 Guests have access to all amenities including: swimming pool, entertainment areas with big screen projector, dining, TV & living rooms. Whole house WiFi included. Additional Kitchenette with dedicated fridge available and full time housekeeper. Continental breakfast is included. Located in Cherry Gardens, home is secure and ideal for large groups with caretakers on property.
Bedrooms are air conditioned and most have two beds. Continental breakfast is included, but please let me know if you have any food restrictions. Special breakfast requests require 48 hours advance notice. The home is located in the suburbs of the Kingston corporate area. You can get to the heart of the city within 15 minutes. Whether you want to hop down to the Bob Marley Museum, the downtown waterfront, Castleton Gardens, Hope Gardens, Tuff Gong Studios, Devon House or any of the city's countless nightlife attractions. The property offers ample space for the business or leisure traveler. There are lovely gardens, quiet areas to read a book, relax by the pool or listen to the birds chirp. Your room can be cleaned by a wonderful and reliable housekeeper. Laundry can be done for an additional fee, in coordination with the housekeeper.
I live in a lovely and friendly neighborhood. You will see many neighbors getting their morning and/or evening exercise in the area. You will experience the warmth of Jamaican culture.
房間類型
整套房子/公寓
---
房源類型
獨棟
---
可住人數
15
---
卧室
金斯敦, 聖安德魯教區(St. Andrew Parish), 牙買加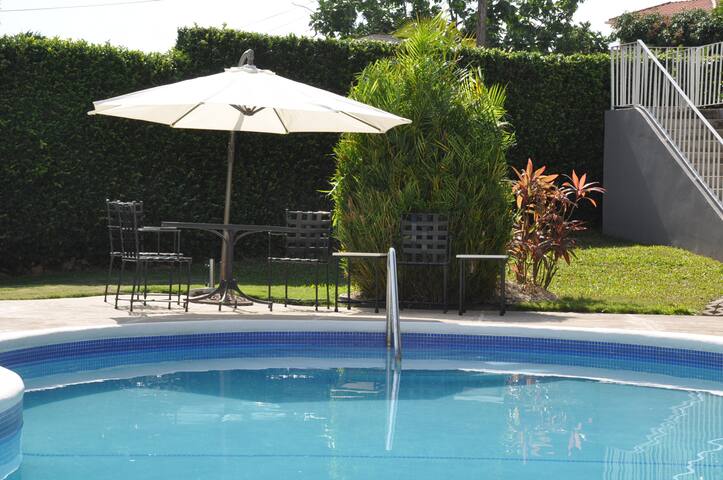 My place is close to restaurants and dining, great views, nightlife, and family-friendly activities. You'll love my place because of the location, the ambiance, the people, the outdoors space, and the neighborhood. My place is good for couples, solo adventurers, business travelers, and families (with kids).
金斯敦, 聖安德魯教區(St. Andrew Parish), 牙買加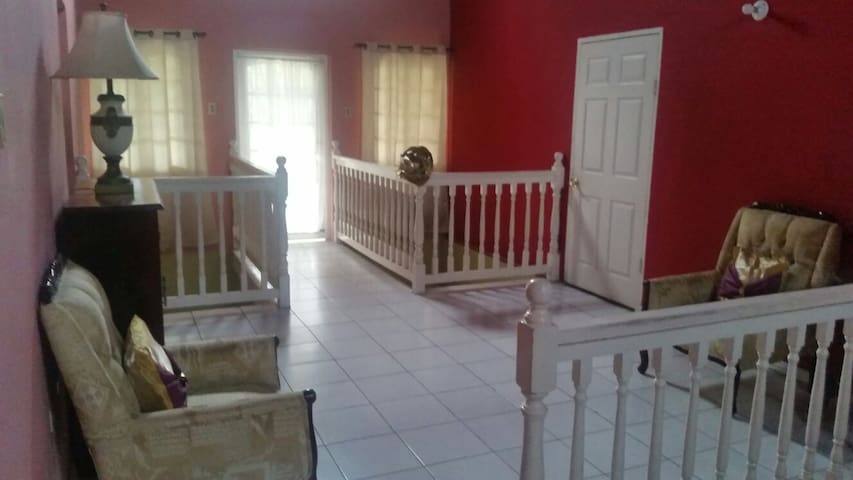 AIR CONDITIONED! Immaculately furnished with the largest master bedroom of them all. Finished wood floors in the living room, gorgeous patio in the trees and complete kitchen, linen and two bathrooms. Exquisite!
All Bedrooms Air-Conditioned, Beautiful luxury 2 bedroom apartment in the Norbrook area of Kingston, 5 minutes walk from three major shopping plazas. Six apartments located on 3 beautiful acres with a half mile walking trail. 5 minutes drive from Constant Spring Golf Club. All rooms including the patios have a ceiling fan ALL BEDROOMS air-conditioned. Waterworks7 is a green oriented property, we harvest rain water for the gardens, all apartments have a 400 gallon water tank, solar water heaters and all toilets flush with harvested water. Every light bulb is an energy saver and most walk and outside lighting is done with LEDs. The property is within a few minutes walk of mountains, beautiful scenery to almost an isolated wilderness. The Norbrook loop is a famous morning walk of about 2 miles. Accessible swimming pools, yoga lessons, golf course, shopping plazas, supermarkets, Burger King, KFC, Island Grill and more are a 10 minute walk away. Other services are available on request, maid service to clean or a maid to clean, cook and other services for 8 hours during the day. A driver with a vehicle is available for errands with at least 24 hours notice. This can be shorter Mon - Fri during the work week. Full cable service of over 100 channels is available and all apartments have large flat screen TVs. There is an emergency number for assistance at anytime during your stay. Before you arrive we will purchase a list of supermarket items and have them placed in your apartment to be available as soon as you arrive. Your apartment has a 'whole house' water filter, so that all the water, kitchen and bathrooms are filtered. We think your health is also very important.
Oh! We are in a lush beautiful, safe, quiet residential neighborhood. At the same time we are minutes walk from two large plazas with two supermarkets, two pharmacies, KFC, Burger King, Subway, Bus terminal, taxi stand, Farmers market and over 40 stores.
We felt very welcomed, although it would have been nice to meet the host. The neighborhood was lovey, very clean and not intimidating at all
Phyllis
2016-02-22T00:00:00Z
My family and I really enjoyed our stay. The space was large and comfortable. The patio and playground for small children was a bonus that my family took advantage of. Cooking was fun and easy in the kitchen. Having only one tv in the unit enabled our family to bond and the internet was pretty fast enabling us to connect multiple devices. The staff was also friendly and made checking in and out easy. We would definitely rent this space in the future.
Dean
2014-07-01T00:00:00Z
I enjoyed my stay at 7Waterworks. The apartment was so clean and cozy. The decor' is fab, i loved everything, I wanted to extend my trip. This is the 1st time I've been to jamaica and haven't gotten bit by any mosquitoes and I feel its because we stayed here lol. It truly felt like home away from home. My daughter was able to play and crawl all over the apartment, so its definitely a safe environment for young children. Lorainne was an excellent host and a very sweet lady. Also, my family who lived in jamaica was able to visit us and spend time with no issue, unlike some hotels in jamaica. I will be definitely staying here again, the time was too short :(... 10 out 10
Whitney
2012-02-29T00:00:00Z
I would like to say I have stayed at many places in Jamaica before and no where has stood out like Apt #5 Waterworks. I must say there was a little confusion in the beginning but it was dealt with immediately and the stay was pleasant. I msut say "HATS OFF" to Lorraine, by far the best Customer Service individual I have been in contact with. She is right there to assit with any and everything you need. I must say the owner Noel is also very patient and very accommodatig as well. Whatever he tells you or discusses with you, he keeps as his word. A very positive trait that is hard to find in Jamaica. 7 Waterwors, Apt #5 is as exactly as you see it in the pictures, except it is wayyyyyy bigger and prettier than the pictures give credit to. My stay was from March 17, 2012 - March 27, 2012 and was I ever impressed. It was myself and 3 other girls, it was by far the best vacation I have ever had. The area is peaceful and quiet. It is alss close to the grocery stores, banks and food places, such as KFC, Island grill etc.I know for a fact, I will be recommending many individuals to this place and looking forward to returning Christmas 2012. Thank you both so much Lorraine and Noel for making this an awesome experience.
Johnelle
2012-03-28T00:00:00Z
This would be my second time returning to 7 waterworks. The onsite staff are very welcoming and attentive to all your needs (Donavan and Marcia). A well kept Peaceful and relaxing atmosphere where my family felt comfortable. I look forward to my next visit to this property. I would recommend 7waterworks !!!!
Charlene
2014-04-15T00:00:00Z
I felt very welcome, it is definitely a home away from home. Irvin, Lisa and Jackie was fantastic. I would recommend this place to anyone who wants a secure and peaceful holiday in Kingston Jamaica.
Alicia
2016-10-13T00:00:00Z
Fabulous!!!...Very comfortable, beautifully furnished accommodations, especially for us travelling with children. This was our second stay at 7 waterworks and it was just as good as the first time. Thank you Noel and Lorraine, we will be booking again soon. Staying here beats a hotel room hands down!
Mitzie
2013-10-07T00:00:00Z
The apartment was amazing. Very well decorated. Very comfortable. Beautiful kitchen and living room with a big screen tv. Apartment has a lot of windows which is great to let breeze blow through the apt but also lets in a lot of sun. Staff was amazing and very helpful. Noel is awesome.
Adrian
2013-11-18T00:00:00Z
金斯敦, St Andrew Parish, 牙買加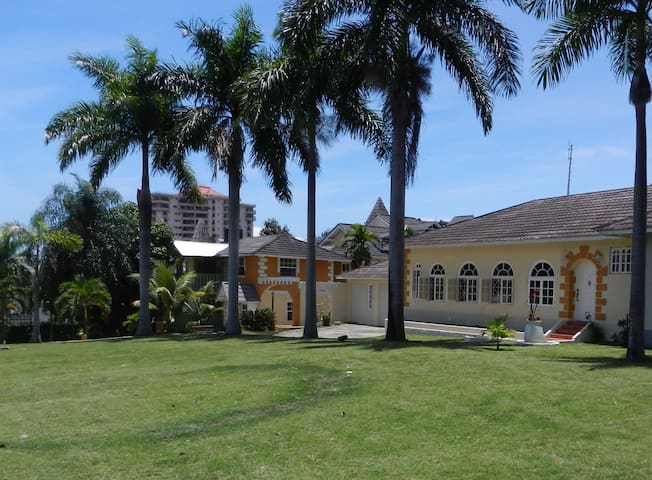 Modern rustic decor with stainless steel appliances. Lots of natural light, high ceilings & very open floor plan, super comfy. Cherry Gardens neighborhood: Close to airport, shopping areas, five star food, local culture & nightlife. Free PARKING, AC, WiFi, Cable, Hot Water, Shared Outdoor Pool + 24 hr security. FREE Airport Pick-up on reservation four (4) nights or more starting March 6 2017 ! Reservations made before date above do not qualify. Explore and enjoy the City like a native.
AIR-CONDITIONED, immaculately furnished with a large master bedroom with private TV/cable & huge walk in closet. Finished wooden flooring indoors, gorgeous wrap-around patio and complete kitchen, linen and 3.5 bathrooms. Exquisite! Private deck great for lovers of mother nature. A complete kitchen, with full fridge, stove, toaster,microwave, kettle, coffee-maker & oven. Outdoor 8 seater dining table in backyard surrounded by private fencing. AMENITIES: • Free Wi-Fi access, Cable • Housekeeper available at $30/day • 3 Dining Options • Air-conditioning • Hot water • One outdoor patio with water feature • Shared Outdoor pool • Washer & dryer ( Only complimentary if you're stay is over 1 week) otherwise $5/load *FREE housekeeping is provided for bookings exceeding seven (7) days rental and will visit once a week.(on the seventh day after your arrival and same thereafter if exceeding seven (7) days. She is responsible for the general upkeep and cleaning of the home. These are also available, but at an additional cost : • Private chef • Chauffer service (3 max. passengers) • Grocery delivery • Breakfast delivery • House-Keeping Service POOL DETAILS • No lifeguard on duty, Not heated • Pool cleaned every Wednesday • Pool safety requires kids under age 16 to be supervised by an adult. • Gardener comes once every week
Cherry Gardens is one of Kingston's most desirable and safe neighborhood. It is a wonderful, quiet environment surrounded by lots of greenery. Locals are friendly, approachable and laid back. Melwood Chalet is a private townhome on approximately 3500 sq ft. It is within short-range distance of several shopping centres that can meet both your shopping and entertainment needs. Our neighborhood is extremely quite and private. Driving By Car: 5 minutes from Manor Centre,5 minutes from Constant Spring Golf Course ,15 Sovereign North (new shopping plaza) and Sovereign Centre, as well as Liguanea. 6 minutes to Loshusan Shopping Centre, 15 minutes to Bob Marley Museum, 8 minutes to Devon house & 5 minutes to JamZone Bowling Alley. 10 Minutes to US Embassy. 10 minutes to French Embassy. Roughly 20 minutes to German Consulate, Canadian and British Embassies. Although you're away from the comfort of your home, we're here to ensure you have all the luxuries of home away from home!
Thank you for such an amazing experience and sharing your space with my family!! Of course Aquarians #ROCK! We had a great time! Kamar was the most personable and friendly host that we've dealt with. He answered any and all questions both before and during our stay. He made recommendations and even accompanied us to the grocery store upon our arrival. Kamar checked in, occasionally, to make sure we were enjoying our stay. The house was in a very quiet and secure neighborhood. 24hr security and we spend days and nights with the doors and windows open to enjoy the warm weather. Everything was absolutely PERF! Thanks, Kamar and if we are ever back in Jamaica, we will definitely be in touch! You ROCK #androll Peace and blessings to you, my friend!
Germaine
2017-02-05T00:00:00Z
This is a must stay
Sheldon
2016-10-29T00:00:00Z
Kamar was the best host ever!!! not only the house was impeccable but he also showed us around and recommended great places!
Albany
2016-07-04T00:00:00Z
I was unable to make the trip but my fellow guests told me the home was great and spacious for all of their needs. It's in a safe gated community in the exclusive Cherry Gardens section of Kingston. Close driving distance to great shopping, recreation and nightlife in Kingston. We already booked the home next year for Carnival while my friends were there enjoying based on their feedback. It has 3 spacious bedrooms with 3 bathrooms and a half bathroom downstairs with a nice pool that the community shares and spacious living room and dining room space perfect for inviting guests over and hosting. Cannot wait to stay next year to see what changes and new additions Kamar has in store since it's a new property listed I'm sure he's going for 6 stars on the next review. Thank You for making my friends feel at home in Jamaica!!!
Terry
2016-04-06T00:00:00Z
Kamar was an excellent host. Such a great and hospitable personality and a true business man. I was unable to attend at the last moment due to some personal reasons but the rest of my party made it and had nothing but great things to say. Kamar's communication was excellent and as to my comment on him being a great businessman I love his personal touch of sending a hand written card back to me via my friends expressing his gratitude for our business and acknowledging how unfortunate it was that I could not attend. Great guy.
Steven
2016-07-11T00:00:00Z
My friends and I felt the luxurious ambiance of this stately home in cherry gardens.
John
2016-10-24T00:00:00Z
It was exactly as described but spacious. The pictures doesn't do enough justice, you just gotta experience it for yourself. He was always available to answer any and every questions we had regardless of the time. He recommended places to have fun and eat at. I will definitely come back again just for his services and the neighborhood
Asha13boo
2017-03-13T00:00:00Z
Kamar was easy to communicate with and available for anything we might need. The home is beautiful and spacious with very comfortable beds. The house is in the perfect setting for doing business in Kingston. The residential neighborhood is quiet and safe. We will be back and highly recommend staying here.
kristi
2017-02-10T00:00:00Z
房間類型
整套房子/公寓
---
房源類型
連棟房屋
---
可住人數
6
---
卧室
金斯敦, Saint Andrew Parish, 牙買加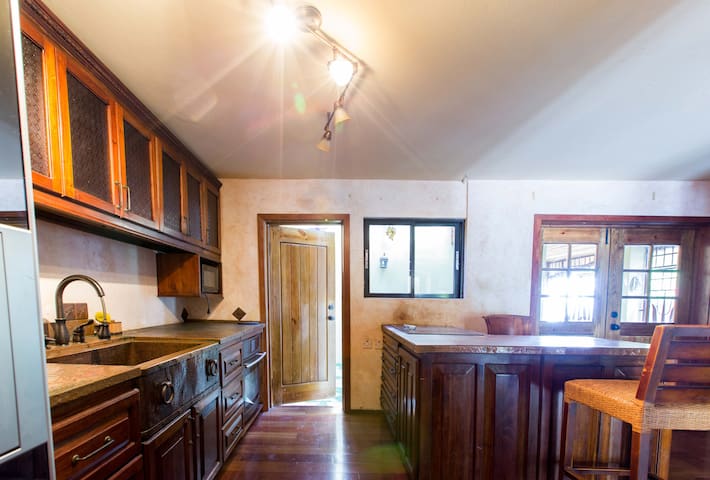 The Pentwood@Charlton is a newly renovated studio apartment with brand new funiture & appliances. It's decorated in a modern ultra chic style, with beautiful lighting, wooden blinds, modern kitchen, a classy modern bathroom, and a comfortable bed.
Hot and cold water Air Condition 24 Hours Security on Premises Security grills Security entrance gate with remote Stylish bathroom Bath and foot towels provided Full kitchen facilities- modern and new Ultra modern washing machine 40" Smart Samsung TV High speed Internet WIFI NETFLIX for tv shows and movies 110 and 220 electrical ports Modern comfortable bedroom Free parking Iron and ironing board Wooden window blinds Ceiling Fan to keep cool Enclosed Glass shower with double sliding doors
I love the vibrancy of the city of Kingston and the closeness of everything to the Pentwood@Charlton . There are numerous restaurant,bars entertainment spots, The Constant Spring Golf Course, Bob Marley Museum, Devon House, Sabina Park, The National Stadium, Half Way Tree Transport Centre, University of Technology - Jamaica, University of the West Indies, Sovereign Shopping Centre, New Kingston and Downtown Kingston. You can also hop over to Port Royal or Hellshire Beach for the best seafood in the world, while taking a swim in the Caribbean Sea or just chill on the beach soaking up the sun and enjoying the beautiful views.
The location was great, the communication was great, the security guard on the day shift was so helpful. He went to the shop for me when I first arrived and gave assistance about information about the area. I felt well supported and safe. The host was easy to get hold of and called a few times to make sure I was fine. I really enjoyed my time there, it was like s home from home. Furniture and appliance were British and of good quality. The location was very quiet. I had a fantastic time! Will definitely recommend
Nikki
2016-07-01T00:00:00Z
金斯敦, 聖安德魯教區(St. Andrew Parish), 牙買加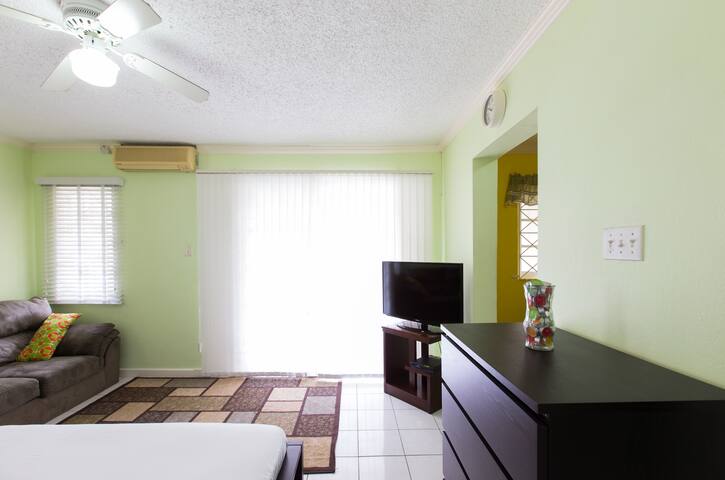 This apartment is centrally located and! We are close to everything. This apartment is designed to optimize comfort on a budget. Every thing in this apartment- from white bed linen to white bath and wash towels- is intended to provide you with a clean, comfortable and cozy retreat The apartment is a fully furnished, fully air conditioned with modern furniture and appliances.
金斯敦, 聖安德魯教區(St. Andrew Parish), 牙買加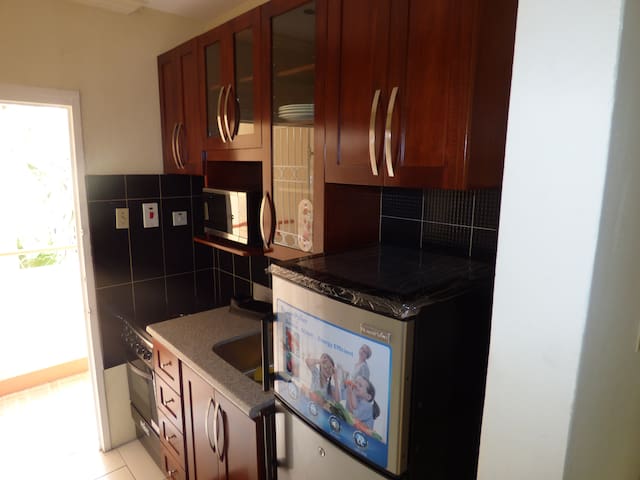 Lovely, comfy and private gated 1 bed room in safe and quiet residential area, private bathroom, water heater, living room, cable tv, microwave, refrigerator, airport pickup(additional cost), WiFi, coffee and tea, parking.
金斯敦, 聖安德魯教區(St. Andrew Parish), 牙買加
輸入日期以查看總價格,包括其他費用,可能會加收稅費。