距离康威国家公园11公里,距离亚伯角码头有12.5公里。圣灵机场距离酒店4.9公里。从艾尔利的心脏,仍然都只有10分钟的车程足够接近尽情享受这一切艾尔利所提供的不喧嚣。健行美丽的珊瑚海滩,看船来在以惊人的太阳集。精美的卧室和舒特港最令人惊叹的美景。
舒适的床和床单优美,空间来存储你的装备 - 卧室精美,放松。你有舒特港和国家公园的从窗口的壮丽景色。 伊丽莎白(主机)是一个合格的补救按摩治疗师拥有超过15年的经验,并提供一系列,你可以享受,并采取在您入住期间利用治疗。
我们有一个可爱的,安静的街区。
Liz and Andy were VERY accommodating. I unexpectedly needed to stay in Airlie Beach - Shute Harbour overnight after Travel plans went awry and ended up not getting to their lovely big comfortable House overlooking the Ocean and Rainforest until about 10pm. This was no trouble for Liz. My bed was very comfortable, I was warm with a window view to the outdoors. The bathroom has a big tub and a separate shower with good shampoo, 2 choices, the coconut type I usually use even. Very spacious and modern bathroom. I didn't use the cosy guest lounge. Liz makes her own muesli, bit like granola, to go with a very yummy berry compote, lots of organic food, toast, butter, jams, milk - scrumptious breakfast. Their 2 dogs were very excited when I first arrived but then they settled. I have no hesitation recommending Liz and Andy - they are great Hosts. I wanted to stay another couple days but I couldn't.
ruth
2016-07-10T00:00:00Z
Una casa espectacular, cómoda, limpia y acogedora. Los dueños son muy amables y atenciosos. Aunque está un poco apartada de la zona de restaurantes se llega muy rápido y fácil en coche, además de haber autobús (yo no lo usé) y compensa por la tranquilidad y las vistas
Pablo
2016-11-18T00:00:00Z
Elizabeth and Andy are very nice, and gave us sufficient privacy during our stay. The room is cozy and beautiful exactly like the photo shows. The dogs are very lovely too, we like them very much. This place is quite far from the mainstreet so do not try to walk there. You can easily call a taxi at any time at 131008 instead. Therefore the distance will not be a problem. We were happy there. Thank you, Elizabeth and Andy~
Morgan
2016-09-26T00:00:00Z
Great host in a comfortable home in the middle of a gorgeous bay.
Guillaume
2016-10-30T00:00:00Z
The house is modern, clean, with a magnificent view on Shute Harbour. The bed was really comfortable. Elizabeth made us feel at home, we had a great talk in the evening. She offered us a delicious breakfast in the morning, with a home-made muesli that I really appreciated. The dogs were friendly and we didn't hear them during the night.
Gael
2016-06-11T00:00:00Z
Wonderfully warm welcome, stunning location, lovely hosts! We thoroughly enjoyed our stay, a true home away from home. The views over Shute Harbour were beautiful, and the bed was comfy. Couldn't ask for much more!
Felicia
2016-06-29T00:00:00Z
Stopped back after my kayaking expedition. Nice to have the warm welcome back.
Andrew
2016-06-17T00:00:00Z
Great location. Modern clean design. Best of all excellent friendly hosts!
Paul
2016-10-28T00:00:00Z
Shute Harbour, 昆士蘭, 澳洲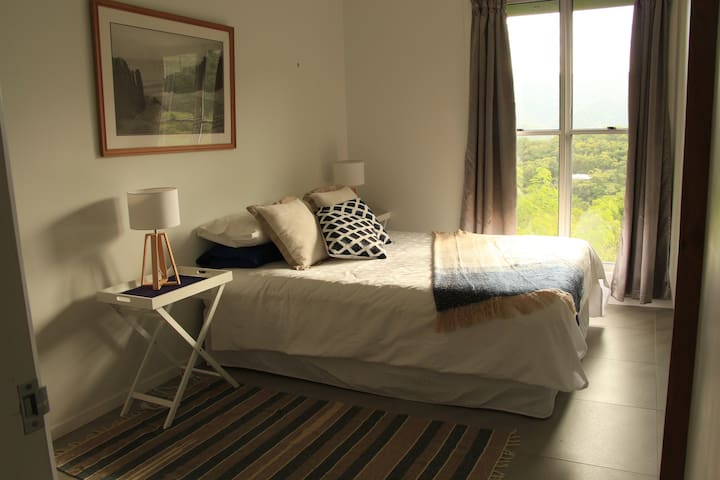 独特的海滨,自包含的夫妇的工作室拥有最真棒个人观点。您可以在自己的私人10米无边泳池游泳,品尝一杯香槟在按摩浴缸中,同时采取在世界上最好的意见。当代,私人的,干净,很舒服。 免费的迎宾礼物,免费香槟。库克起飞方式的食品美味的晚餐或命令 - 所以你永远不需要离开这个神奇的地方。这是完美的基地远离人群,但非常靠近城镇。
The panorama will spellbind you - There is really is no other place like it! The amazing view is constantly changing with the flow of the tides, the tropical weather, passing boats coming in and out of the harbour and the beautiful World Heritage mountains. You may be able to catch sight of sea turtles, whales, dolphins and dugongs. It's so beautiful you simply won't want to leave! Go on, spoil yourself and enjoy the privacy, romance and serenity that Whitsunday Retreat offers! Less than 8km to the cafes and restaurants of AIRLIE BEACH. ****Two night bookings available on request at our discretion.
这是立足自己,而探索所有圣灵地区提供了宝藏的完美和宁静的地方。有很多地方访问和要做的事情:国家公园,龟斑点,帆船,海上皮划艇,山地自行车,购物,雪松瀑布基地游泳在当地的水潭,雨林漫步,鳄鱼野生动物园,并享受丰富许多咖啡馆和餐馆。但要确保你走的时候干脆呆在家里,有池边按摩,享受在这个星球上最壮观的地点之一之中。 当地市场上的艾尔利海滩,在那里你会发现手工工艺品,网卡NACS,水果和vegies和美妙的小吃滨举行每星期六和星期二早上。 注意天气 降灵喜欢炎热,潮湿的夏季,冬季温暖,明亮的春秋天的热带气候。日均温度范围从在六月和七月的冬季23左右,而高达30十二月和一月盛夏期间。水温仍然是一个欢迎25C大部分常年。 热带雨季(一月至三月)天可潮湿和炎热的夏季往往是由热带雨林,晚上打破。请确保您在这段时间,尤其是二月热带雨林准备。旋风也可能发生二月至三月左右。
The stay was amazing We were on our honeymoon and were amazed with the view and the pool and Cathys generosity would love to stay there again
Wade
2016-10-09T00:00:00Z
Fabulous views, stunning location, loved the experience.
Ingrid
2016-08-01T00:00:00Z
Unbelievable! Even the great pictures cannot do this place justice. We were there for 5 days and still could not believe the view. Absolutely stunning. Very well equipped with everything you could possibly need and more, and so very very clean! If this were a hotel it would be 5* for sure. If you are just 'thinking' about going, don't think, book it, you won't regret it!! First Class.
Emma
2016-01-27T00:00:00Z
Absolutely amazing place. We had the unfortunate timing of staying right at Cyclone Debbie but Cathy could not have been a more outstanding host. Not only did she pick us up from ferry, but she picked up some items for us and made the suggestion of ordering the most amazing seafood platter to enjoy while taking in the views from their beautiful home. She also kept us calm during the early stages of the cyclone and did everything she could to make sure we were safe. Unfortunately our time in the Whitsundays was cut short, but it only gives us more reason to come back and enjoy Cathy's hospitality.
Kim
2017-03-26T00:00:00Z
Outstanding unit offering the most amazing views over the water. Very secluded spot, which we wanted, so make sure you have a vehicle available to see the entire area. We would recommend the unit to everyone and hope to return in the near future.
Michael
2017-01-28T00:00:00Z
What a beautiful place to stay! The house had everything we needed and more. There's nothing like having your own private infinity pool!
Spencer
2016-01-15T00:00:00Z
My husband had a wonderful three-day stay at Cathy and Ron's stunning property. What a view! Definitely much much better than the photos suggest, especially when the morning sunlight cast onto the hill slopes of the opposite island creating gradations of light and shadows. Cathy and Ron were also kind enough to include little touches such as a bottle of champagne, lemon myrtle soap and tealights to make our stay that much more special. The wifi connection is not the greatest so I would recommend having one's own wifi/data devices if internet ranks high as a requirement.
Vyanne
2017-02-20T00:00:00Z
The view really is the best in the world and the pictures don't do it justice. This studio apartment in Shute harbour is the perfect location for a romantic getaway. Airlie beach is only 15 minutes away and full of nice cafes, restaurants and bars. We did a day trip out to Whitehaven beach however nothing compares to staying at the house by the pool and enjoying the spectacular views. Definite 5 star - we cannot fault our stay at all! We are looking forward to coming back in the future.
Andre
2017-02-11T00:00:00Z
Shute Harbour, 昆士蘭, 澳洲
We are located on the waterfront in Shute Harbour, 5mins. walk from bus and ferry terminal. The unit has it's own entrance, a balcony overlooking islands and ocean view, lush tropical gardens, infinity pool for your use. Bbq facilities and laundry.
Our studio only accommodates 2 adult and there is no capacity for another bed.
Shute Harbour, 昆士蘭, 澳洲
美丽的度假别墅在舒特港,睡20个客人! 6间卧室。私人泳池
假日家在舒特港宁静与美丽的景色。这家有两间套房上一套既与美景大甲板游泳池。走小路下到该地区海洋和跋涉。安静的邻居罩,但接近艾尔利。
舒特港是艾尔利海滩10公里以东。强烈建议你有车。
Quite residential area, beautiful sceneries, very good for group of peoples.
Saju
2017-01-18T00:00:00Z
房間類型
整套房子/公寓
---
房源類型
獨棟
---
可住人數
16
---
卧室
Shute Harbour, 昆士蘭, 澳洲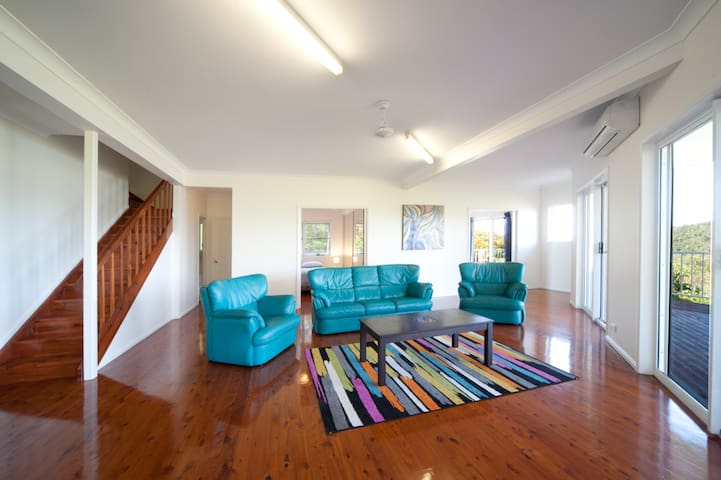 Holiday home with two self contained suites in Shute Harbour 10KM from Airlie Beach. Each suite sleeps 8 and can be rented individually or together. The Whitsunday Suite is on the upper level and has a swimming pool. This home has beautiful views!
Holiday home in Shute Harbour quiet with beautiful views. This home has two suites upper suite with pool Whitsunday Suite and lower suite Shute Island Suite. Enjoy both suites with your extended family sleeping up to 16! Please enquire for rates.
Shute Harbour is 10Km east of Airlie Beach.
Shute Harbour, 昆士蘭, 澳洲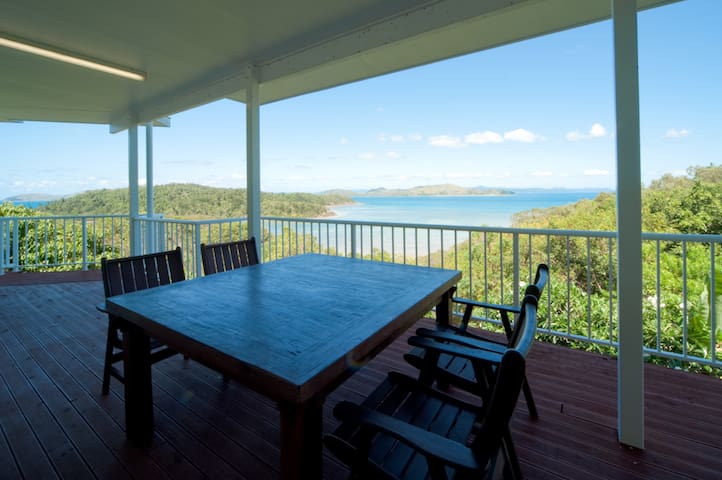 Daydream Island - Airbnb
:
在

43

位房客的評價中,平均評分為

4.88

星(滿分為

5

星)