This home is located by the entrance of Millerton Lake. It is conveniently close to Table Mountain Casino, Eagle Spring Golf Courts (5 minutes), Clovis or Fresno (15 minutes), Chukchansi Casino (30 minutes), Shaver Lake (40 minutes), Yosemite National Park (60 minutes), and China Peak Ski Resort (70 minutes). The neighborhood is safe and quiet. It is a perfect place to retreat from the chaos of the city.
This home is sitting on a 6-acre propertery next to the lake. Embrace the increadible breathtaking view Millerton Lake ! Enjoy our pool, reading a book, have a glass of wine, listen to the sound of Argentina Tango music, and watching the sunset! It is the least expensive getaway you have ever had.
This is a very quiet neighborhood and we want to keep it that way.
My friend and I stayed at Nghi and Rich's airbnb for 2 nights for our ski trip to China Peak. Really great location for getting to the ski resort, about 1h 10min drive with no traffic whatsoever. Rich and Nghi were super friendly and hospitable and we had a relaxing time after spending all day on the slopes. The views from the backyard are incredible, I watched the sunrise over the huge lake from their deck while eating my breakfast. The pups, Fatso & Tofu, are adorable and sweet and we loved getting to interact with them as well! Thanks for a great weekend :)
Jessica
2017-03-13T00:00:00Z
Friant, 加州 93626, 美國
Show room quality house, located less than an hour from the main entrance to Yosemite National Park. Less than 2 minutes drive from: Millerton Lake, Table Mountain Casino, and Brighton Crest Golf Course. Surrounded by numerous biking and hiking trails. 15-20 minutes from Fresno. One of the few homes in a desirable new community that has unobstructed views to the fields and stars. Private and peaceful. Wi-Fi, swimming pool, laundry, gym, 2 full baths, state of the art massage chair. Enjoy!
As you will find: this is a very peaceful community. Other than the sounds of nature (the odd coyote, crickets, frogs), it's practically silent during the night. Bella Vista is a community full of transplants from the Bay Area, San Diego, and Los Angeles, who either came here to retire, or raise their children. It's a wonderful place. For that reason, I sincerely ask everyone who books to please not throw parties. Having guests over is fine, but this is a place to relax and unwind at, have BBQs, enjoy the sunsets etc. On the rare occasion, the neighbors may host social events, but they have always been respectful, and cut such events off at 10 p.m. I would ask the same of those who stay here. New: The house now includes a pool table, cable TV, an Amazon subscription, and TVs in every bedroom. Coming soon: Beginning in May 2017, spa services (facials, skin peels etc.) will be offered on site by a highly trained Esthetician. Appointment only. Please let me know in advance of your booking if you would like pricing information.
To be honest (though obviously biased) this is one of the most beautiful areas I've ever had the privilege to live in. I was born in Zimbabwe, Africa, and grew up in England: during the summer months, it reminds me of Africa; during the winter months, it reminds me of England (i.e. rolling green hills). It's also in close proximity to just about everything (i.e. mountains, numerous lakes, Yosemite, the ocean, shopping malls, movie theaters etc.) Neighborhood is very child friendly.
Hello future traveler....Gary's home is above and beyond what you would expect. Gary met us and gave us instructions on how to use his TV. There are so many options for movies. His house is immaculate and warm. He has a beautiful swimming pool with a nice view of the rolling hills. I think our favorite was the view and the double shower upstairs. My husband really enjoyed the massage chair it was so relaxing. We played a little pool and made a nice dinner. Everything you need is there. Plenty of spices, utinsels, pots and pans etc. The bed has memory foam which helped me sleep longer than I usually do. It was so comfortable. His home was way more than we expected. Hoping to meet his dogs our next trip. Thank you Gary!! Wayne and Bonnie
Bonnie
2017-02-12T00:00:00Z
We rent all over the country. This is by far the best AirBNB yet. A must stay. Fresno hidden treasure
Rich
2017-03-08T00:00:00Z
This home getaway was incredible. Super accomadating with entertaining amenities and more. The space was very clean and comfortable. Above anything the view of the stars was phenomenal.
Chris
2017-02-13T00:00:00Z
Wonderful airbnb, Gary is a nice and welcoming person. His house is amazing, no bad suprise exactly like on the picture. Good quality and very clean. Gary is an arranging person and give you a lot of informations and advices to visit Yosemite. I really recommed you this house !!!
celine
2016-12-29T00:00:00Z
Gary's home in Friant is the rare 'oasis-in-a neighbourhood'. The home provides an uninterrupted view and sense of serenity. The location allowed me to easily visit family in Clovis, bring back a meal, appreciate the rolling green hills of winter and have a silent nights sleep. Gary was a superb host. I will stay again when visiting the area. Thank you, Gary!
Maryanita
2017-01-30T00:00:00Z
Gary was an exceptional host. Good communication and attention to detail. His home is spacious, welcoming, and relaxing. We enjoyed our stay and would love to come back again.
Kim
2017-02-05T00:00:00Z
This place is everything the pictures and description say and more! An amazing home well-equipped and comfortable. The location is (URL HIDDEN) close to everything....a cyclists paradise!! We look forward to our next visit at the Oasis!
Elisa
2017-02-27T00:00:00Z
Gary's place is amazing. We came to Friant with the purpose of visiting both Sequoia and Yosemite NPs but also explore a little around the area. We had a wonderful stay. His place is spacious and extremely comfortable, high end decor and amenities located at a super quiet neighborhood. Gary greeted us upon arrival and showed us his place. Made us feel very welcome. I super recommend Gary's AirBnB if you want a great place to stay and relax after a day of hikes and expects to have an amazing host who provides you with all necessary info you need. Hope to be back soon.
Larisse
2017-01-02T00:00:00Z
Friant, 加州 93626, 美國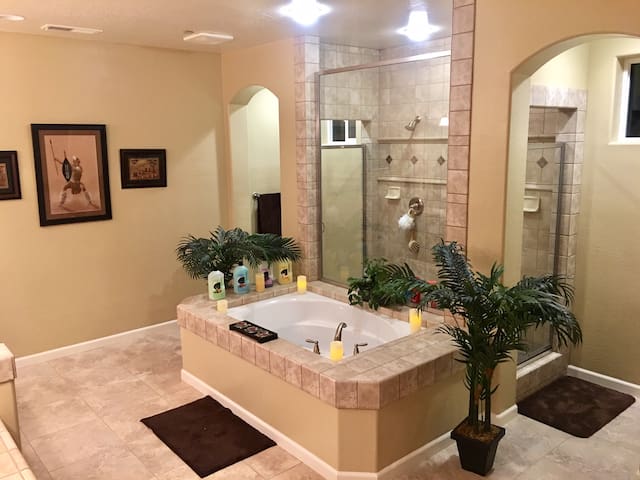 This home is located on premiere golf course. Across the street from a recreational lake and nearby 3 other lakes. It is conveniently accessible to 3 National Parks (Yosemite, Kings Canyon and Sequoia). Favorite of bike and motorcyclists.
This property is located in the foothills of the Sierra Nevada's 15 minutes outside of Fresno on a peaceful and green well tended golf course. The neighborhood is an up scale, safe, quiet gated community with security.
Premiere gated area on luxurious golf grounds.
Lisa was very accommodating - even making a lovely breakfast for us! The room is comfortable and clean. The patio is comfortable and sits on golf course! To which, by the was, Lisa booked our Tee Time.
Megan
2016-10-23T00:00:00Z
Friant, 加州 93626, 美國