This quaint custom built cabin is on a working farm and dairy. Located on Vashon Island in the Puget Sound just a short ferry ride from downtown Seattle. Repurposed wood treatments and windows make this space an architectural delight. Our farm hosts two dairy cows, a flock of laying chickens, a brace of ducks and two farm cats. Please note the cats do not go in the cabin. They live in the farmhouse and garage and keep the mice at bay.
The 200 square foot cabin has a luxurious queen bed (with brand new Saatva mattress), small sitting area, bathroom with shower and private front porch. It is equipped with a small refrigerator, electric tea pot, drip coffee maker and a gas bbq on the porch with a side burner. Tea and coffee are kept in the cabin and fresh milk is provided upon request. The cabin is a 80' from the main farmhouse giving you lots of privacy. Please note the cabin is not child safe, so we cannot host babies or toddlers. We do not serve breakfast.
Vashon Island is safe rural community filled with art, farming and foodies. The Vashon Chamber of Commerce web site is a good overview of visitor opportunities. The Beachcomber publication "Destination Vashon" is a must have resource for visitors. It can be viewed online by visiting The Vashon Beachcomber website or picked up in your room.
Eclectic and cozy little cabin with arguably the world's most comfortable bed. Beautiful farm surroundings. Great shower. Playful black cat in the yard. Everything lovingly cared for. We will definitely stay here again if we return.
Emily
2017-02-24T00:00:00Z
This is a perfect little getaway from the everyday grind.
Emily
2017-04-03T00:00:00Z
My husband and I stay in their wonderful place every time we visit Vashon. The accommodations are charming and unique being handcrafted with love and attention to details by the owner. It's on a secluded patch of land with cows and chickens (no roosters) and fields of ridiculously healthy looking vegetables. Oh, and the bed is hard to get out of it's so comfortable!
Woodleigh
2016-11-27T00:00:00Z
Charming, both the cottage and the owners. Lovely location, quiet, romantic, private with a bevy of sweet cows and chickens in the pasture. This is our 3rd or 4th stay. We'll be back.
Woodleigh
2016-12-26T00:00:00Z
The pictures don't do this little gem justice. You can't feel the beauty and welcoming craftsmanship that went into the building of the cottage. You can't imagine the coziness snuggled in bed while looking out onto the juxtaposed setting of a tranquil farm scene bordered by majestic douglas fir. And you definitely can't sense the little touches that make you feel welcome and special and the knowledge that you have been placed in very capable hands. Thank you Natalie and Luke for doing it all oh so right!
Joan
2015-12-28T00:00:00Z
This is the coolest little cottage on such a peaceful property! Natalie & Luke were welcoming hosts & the cottage is nicely appointed including a grill on the front porch for guest use. Walking distance to Quartermaster Harbor was also a nice benefit for going to the 4th of July Fireworks. Highly recommend staying here!
Heidi
2016-07-06T00:00:00Z
Everything at the Luke and Natalie's cabin was perfect for my stay. I wanted a quiet place to get away and the cabin had everything I needed. The cabin was cozy, the bed was comfy and everything was supplied. They even brought me more coffee on request.
Allison
2016-01-14T00:00:00Z
The cabin is absolutely picturesque and gorgeous! We loved our stay on the farm and it was so nice to try the milk too! Vashon Island itself is a quaint place and very tranquil.
Saaqib
2016-08-30T00:00:00Z
房間類型
整套房子/公寓
---
房源類型
小木屋
---
可住人數
2
---
卧室
Vashon, 華盛頓, 美國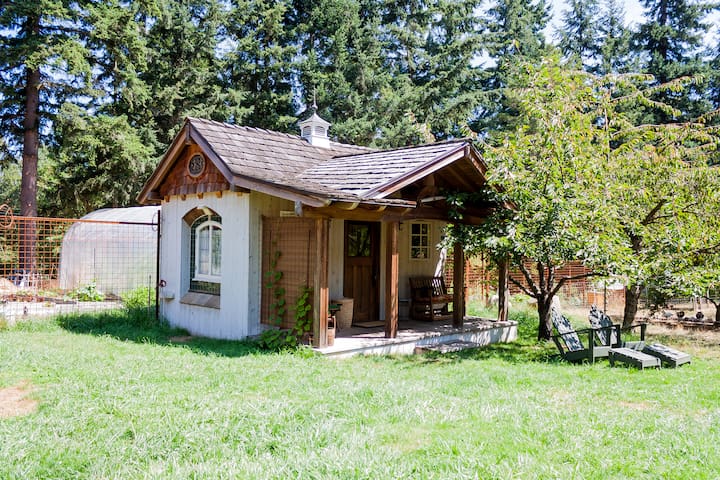 独特的,艺术家阁楼风格的塔科马体育场区毗邻美丽的莱特公园绿地恢复视图。 请您需要的床位数和您的预计到达时间预订之前与我们联系。如果没有这一步,我们不能保证所有列出的床将可用。 *塔科马主机代表数字其他本地特性;不同的风格,以满足您的需求!如果这一项被黄牌警告,请咨询其他可用的物品。
我们爱塔科马而且我们相信你会呢!其中几大制作的Airbnb产品的,这种独特的属性是有许多大窗户和硬木地板---非常香艳一个阳光明媚的,充满活力的环境。 (URL HIDDEN) 这3 - 地板宽敞的公寓可供1-7。 我们的床:大床,全床(无障碍输出),皇后Aerobed,那睡一个舒适的宜家沙发截面。 这个空间是完美的家庭,并拥有充足的存储空间为个人物品,包括自行车作为我们的邻居是非常友好的自行车。 我们是一个10分钟步行到市中心塔科马具有快速访问免费的轻轨线!仅一个街区,离1号公交专线,运行向上和向下的流行大街6号,以及到太平洋路德大学。
该建筑俯瞰着莱特公园,靠近第六大道,市中心和塔科马球场区之间。 步行距离: 莱特公园(运动,游乐场设备,水景,篮球场) 滚刀诺布餐厅和酒廊 集线器比萨和酿造 轻按室 多伊尔的爱尔兰酒吧 臭 SEL法式小酒馆 科里纳面包店 麦当劳 (URL HIDDEN) 国王的书 体育场美食杂货店 卫星咖啡 YMCA 贝拉钉子 莫雷尔体育场干洗店和裁缝 企业租车 莱茵豪斯德国啤酒厂和餐馆 兰子的药房和礼品店 普吉特海湾比萨 市区塔科马(通过中转15分钟): 玻璃博物馆,通过免费轻轨塔科马艺术博物馆 历史悠久的市中心钟塔大厦 庞特吉斯套房和里亚托影院 塔科马喜剧俱乐部 塔科马艺术博物馆 华盛顿州历史博物馆 塔科马玻璃博物馆 UW华盛顿 餐馆:印度支那,太平洋烧烤,大熔炉,萨尔瓦多高卓,瑞士,哈蒙,表,富士屋,Thekoi,普里莫烤架,Asado之,新的边疆。 接近: 驱车40分钟北I-5西雅图,2.5小时的车程南开拓者,2小时的车程东埃伦斯堡,2小时的车程山。雷尼尔国家公园,2.5小时奥林匹克国家公园 以及更多!
Alexa was a perfect host. The flat had everything I could need and more. It was clean and beautiful. The bed was extremely comfortable.
Ami
2016-11-06T00:00:00Z
We are greeted by friendly Jennifer when we check in. However, the house had unpleasant odor from last renter cooking and the smoke alarm was beeping from lack of battery. Jennifer gave us new batteries, but the odor did not disapate until we checkout. Other than that the place was very clean. The neighborhood was very lovely, and we had a great time.
Nick
2016-05-24T00:00:00Z
WONDERFUL! THOUGHTFUL! HELPFUl! words can not describe my stay.Great parking , near to attractions that Tacoma has. BIG PERK IS THE WONDERFUL MUSEAM RIGHT NEXT DOOR ( free to see). I love books and writings so it was right up my alley! Helpful in aiding us with supplies , we forgot ( razors, tea and milk.... ) Beautiful view from living room of MT. Rainier. Sad i was only here 2 days...I could have spent another day easy here. So much Imagination , Alexa has that her apt is magical. I started my Seattle trip here ending in Seattle at another Air BNB. This site is wonderful and I highly recommend Alexa. I do want to and plan on returning to Seattle , & if i come this way again I will look her up! For People a bit arthritic, like me. Stairs -yes. but well taken care of with solid hand rails , great lighting...i would enjoy coming back...Alexia is a grand host, with a charming place
SuePy
2012-09-14T00:00:00Z
Great space, super comfy & inspiring atmosphere. Alexa is very friendly & truly cares about her guest & accommodating them. Great park across the street and super walkable to anything you need.
Taylor
2015-12-02T00:00:00Z
"Awesome." Mom's words as we pulled up to the historic building in the dark. It had been a really long day, complete with confusion and stress over another booking that didn't work out. She ended up being spot on. Deep gratitude for the last minute booking and apartment readying Alexa facilitated and the patient communication to coordinate it all. The space is s-p-a-c-i-o-u-s, a historic luxury apartment now belonging to a modern artist. Fantastic little rooftop terrace overlooking a park with a conservatory just a block away! Sadly we did not have time to enjoy either but we plan to return and do just that. The rabbit pencil mural was much appreciated and the art throughout was unique and thought provoking. The sleeping spaces were perfect (read that in italics) for us. Minimalist white bedroom, tall ceilings, amazingly comfortable bed with extra down comforter in the closet and a red mirror that gave me a remarkable lesson. Mom couldn't have been more excited to sleep in the giant (and apparently quite comfortable) wall drawer of a bed, a historical oddity that thrilled her. Best of all they are so far apart that if, hypothetically, someone in your party snores like crazy, the the nice long hall ensures a peaceful night's sleep. Love you Mom! The bathroom and kitchen were clean and tidy, beautiful tile, nice linens and great natural light throughout. The only improvement I would suggest would be to the pans for cooking; I'm sure it's hard with so many people coming and going, but non stick pans with the coatings peeling off weren't an option I could cook in. We will happily bring our own cast iron next time, but I felt I had to explain the one-star-from-perfect rating. The neighborhood was nice and quiet on a Sunday morning, perfect for sleeping in. A lovely neighbor actually ended up showing us is the night we arrived because it was late and Mom's first impression, which was only compounded for us both once we were in and looking around, was mirrored by my last; this place is awesome. Thanks again Alexa, we look forward to returning.
tobi
2015-03-08T00:00:00Z
Alexa and Tacoma Hosts were great to work with as usual. As a repeat customer, I really enjoy that they remember me and my preferences.
Lydia
2015-12-16T00:00:00Z
Alexa greeted us upon arrival and answered all of our questions. She loves Tacoma and had good advice to offer. The apartment is in a good location, and we used it as a home base to explore Tacoma, Mt. Rainier, and Olympic National Park. The beds were comfortable and our family of five had plenty of space to sleep and play. We loved our time in Tacoma!
Stephanie
2016-08-24T00:00:00Z
Alexa was a lovely host. She met us at the apartment for a quick tour, gave coffee shop recommendations, and was on her way. The place is charming and has a kitchen stocked with cooking preparation essentials, which made it easy to settle in and prep dinner. Thanks, Alexa!
Lauren
2014-05-22T00:00:00Z
Tacoma, 華盛頓, 美國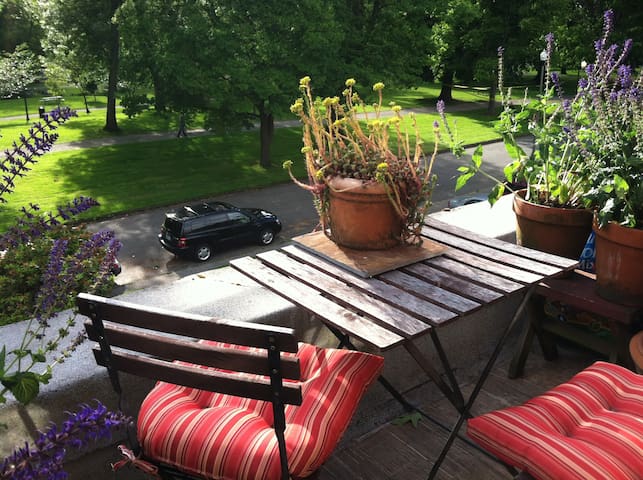 Cottage Loft auf Anwesen am Wasser mit Puget Sound und Olympic Mtn Aussicht. Strand und Wasser Zugang w / Kajaks. Neu 700 Quadratmeter ft gebaut. Schlafzimmer w / französisches Bett. Voll Schläfer im Wohnzimmer. Kochnische w / Grill. Ruhig, sauber und komfortabel!
Neu gebaute, 700 Quadratfuß, privaten Dachboden über der Garage und auf unsere Fox Island Haus am Wasser angebracht. Es verfügt über einen Außen privaten Zugang neben Parkplatz. Das große Schlafzimmer verfügt über einen begehbaren Kleiderschrank, bequemen Queen-Bett und Schreibtisch. Das geräumige Wohnzimmer hat eine große neue Schlafsofa, 55 "Flachbild-TV mit Kabel und Internet. Charmante Badezimmer mit Badewanne / Dusche. Wir bitten die Gäste 2 oder mehr Nächte im Urlaub Wochenende zu buchen. Genießen Sie den Blick von Hales Passage aus dem Loft, atemberaubende Sonnenuntergänge (Nordwest Wetter erlaubt!) Von den Terrassen mit vollen Zugang zum Strand. Fühlen Sie sich frei unsere Kajaks zu verwenden (3) auf dem Dock, wenn sie an den beiden Uferterrassen zur Verfügung und entspannen sind. 5 Minuten Fußweg zum öffentlichen Fox Island DeMolay Sandspit. 10 Minuten Fahrt zum charmanten Gig Harbor, 20-30 Minuten nach Tacoma und eine Stunde nach Seattle. Die Küchenzeile verfügt über einen Esstisch mit Blick auf das Wasser, einem kleinen Kühlschrank, Kaffeemaschine, Pop-Mais Popper, Mikrowelle und Toaster. Langsam Herd mit Kochplatte ist auf Anfrage erhältlich. Eine neue weber Grill kann so eingestellt werden, falls gewünscht. Dies ist nicht eine voll ausgestattete Küche und verfügt nicht über einen Herd, Backofen oder Geschirrspüler. Es wird mit einem kontinentalen Frühstück Artikel (Joghurt, Müsli, Haferflocken, Bagels, Obst, etc.) sowie Kaffee, Tee und heiße Schokolade bestückt werden. Eine Flasche Wein wird auf Sie warten!
Wir leben in einer sicheren, ruhigen Wohngegend. Sie werden viele Menschen und Hunden begegnen die ruhigen Straßen zu Fuß.
The loft was beautiful and so comfortable. Jo put up a gate at the top of the stairs so my ten month old wouldn't tumble down the stairs. We had to move a few things out of his reach but there wasn't much to do to baby-proof. The breakfast food was a treat and the bed was super comfy. My mom slept well on the couch bed as well. Jo went out of her way to make sure I had what I needed, and it made my stay such a wonderful and relaxing one!
Emily
2016-02-23T00:00:00Z
A delightful retreat away from, yet, near Seattle/Tacoma. While it is advertised as a loft, in actuality, it felt more like a private apartment attached to a larger house. Clean, well maintained, spacious accommodation with a picturesque Sound view. A well stocked refrigerator, plus other complimentary goodies are to be discovered upon arrival. The queen sized bed afforded a good night's rest. This property is located a short stroll from the best public beach access on Fox Island! Jo and Rick were most gracious; we thank them for letting us linger at their lovely, light-filled loft.
Barrie
2016-02-13T00:00:00Z
Wow! This was an incredible stay and an anniversary we won't forget. Everything was accurate, but there was so much more. The 1 bedroom apartment is beautiful decorated, cozy, and a great view of the water. There were many amenities including food items, toiletries, hair dryer, lots of extra blankets, and so much more. There was a small park within a 5 minute walk and a great place to take in the scenery. Besides relaxing and taking in the view, we used the kayaks which were a great bonus and followed it up by a fire overlooking the harbor. The bed was very comfortable, the bathroom was very charming, and the stay was beyond expectations. Thank you for the tea, the coffee, breakfast food items and snacks as well as the cider!!!! There are only three things to note. First, the driveway is VERY steep. Second, there are stores and restaurants but they are about 10-15 minutes away. Finally, you have to pay the toll when leaving so be prepared for the $5-7 charge. I would recommend this stay for anyone looking to get away from it all and to relax. The hosts were wonderful and were only as interacting as you want them to be. Thank you for the wonderful stay!!!
Sasha
2016-02-29T00:00:00Z
Jo and Rick's loft is a great place to rest and relax. Amazing views and the best stocked Airbnb i have ever stayed at. I highly recommend staying at the loft you will be happy you did
Clifton
2017-03-12T00:00:00Z
Gorgeous waterfront setting, loads of charm, impeccably clean, no detail forgotten, and hospitality A+++. You can't do better than The Loft. Highly recommended!
Anne
2017-02-19T00:00:00Z
We enjoyed the gracious hospitality, thoughtful and bountiful treats, and the great views. Very comfy bed! Highly recommended.
Ken
2016-04-28T00:00:00Z
we LOVED the Loft. The place was like it was out of a magazine. Our stay was short and we were in and out a lot heading to the mountains and to Seattle, but we've talked about making plans to come back and spend our whole vacation there. That's how nice the place is.
Nathan
2016-10-11T00:00:00Z
Love the island. Enjoyed the space. Very comfortable and professional. Our two kids (6 & 9) slept on the roll away. Would definitely return.
Daniel
2016-07-16T00:00:00Z
房間類型
整套房子/公寓
---
房源類型
Loft空間
---
可住人數
4
---
卧室
Fox Island, 華盛頓, 美國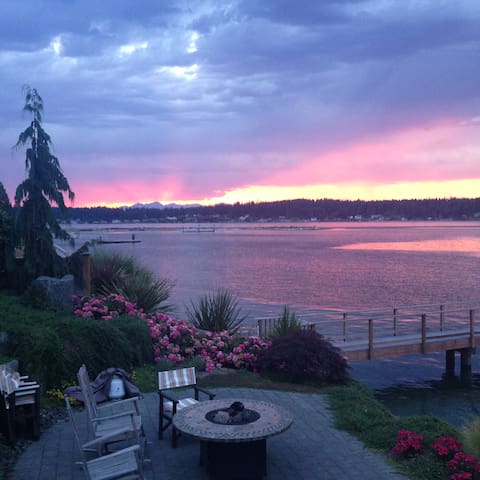 Paradise is found at the end of a country lane! Privacy, sunsets and memories to last a life time! The cottage is nestled in the woods over looking Puget Sound with a hot tub and BBQ for great summer fun. Fire wood provided for winter romance. It's all here!
The Last Resort Guest House is located at the end of a dead end road secluded in the forests of Vashon's West Side. The cottage is crafted with romance at her heart, just the thing for that special time with your loved one. It is also a great place for a gathering of friends, small wedding parties a honey moon or anniversary. Maybe you would just like to get away from it all. Come an experience the wonder of peace and quiet!
The neighborhood has the feature of not being seen from the cottage. This maximizes your privacy. Being at the end of the road you are afforded the quiet you came to the country to find. You are surrounded by tall stands of Douglas Fir and Red Seder which add to the aroma of the sea for a most unforgettable fragrance.
Larry was great- super welcoming. When the power went out for a short time (bug storm on island) he called right away and made sure candles and water were at hand.
Amanda
2016-11-26T00:00:00Z
Love, love, LOVE this sweet little Vashon Island cabin. From sunset hot-tubbing to awakening to the chirping of the robins, our time here was nothing short of magical. Larry was a terrific host and made sure we had everything we needed. His communication prior to the trip was thorough and nothing was left unanswered. Thank you, Larry, for sharing your little slice of Nirvana with us!
Christine
2015-07-08T00:00:00Z
Such a quaint and adorable home. The view was beautiful and our host Larry was charming and accommodating! We loved the night we spent! Next time we will definitely stay a couple days so we can enjoy it for longer! Definitely recommend for a nice retreat! Was exactly as advertised!!
Tonee
2016-03-22T00:00:00Z
My boyfriend and I had a wonderful one night stay at Larry's guesthouse. We arrived just before sunset and enjoyed a walk on the beach before we cooked dinner and relaxed on the deck and in the hot tub whe watching the sky change. We slept great up in the loft and appreciated the overall craftsmanship of the guesthouse. You can tell Larry put a lot of time and energy into making it a special place. While we only stayed one night, we really enjoyed the island and chatting with locals likes Larry and others at The Hardware Store and Vashon Island Coffee Roasterie. We highly recommend Vashon and Larry's guesthouse!
Allie
2015-08-08T00:00:00Z
Larry's place is amazing. It is the perfect get away. It is secluded, private and the hot tub overlooking the water is to die for.
Brooke
2016-11-21T00:00:00Z
Very thing was great we had a lot of fun. Enjoyed the beach, cabin, view, and being close the restaurants. We can't wait to come back. Loved Vashon
Jake
2015-07-27T00:00:00Z
Larry's cottage is really fantastic. The views, the craftsmanship, everything was really top notch. Perfect for a getaway to recharge and destress after a few long months of work. Thank you Larry!
Ian
2016-06-02T00:00:00Z
Our time on Vashon in Larry's little cabin was so amazing! He was there to greet us and show us around when we arrived and answer our questions. It was the perfect ladies retreat.
Dritta
2016-01-27T00:00:00Z
房間類型
整套房子/公寓
---
房源類型
小木屋
---
可住人數
4
---
卧室
Vashon, 華盛頓, 美國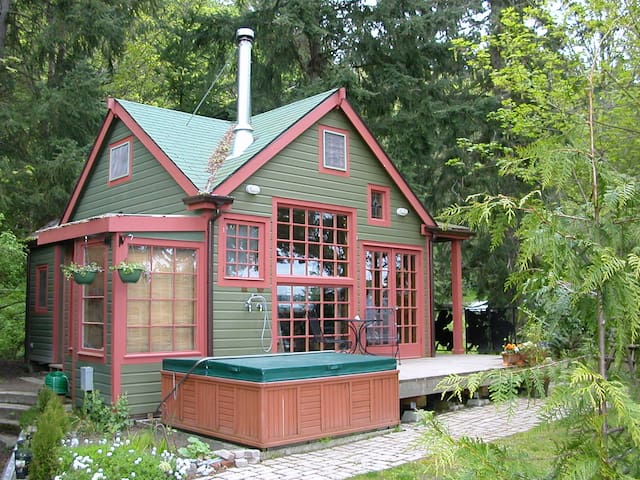 Highly recommend for a nice get away but still close enough to the harbor...
Cynthia
2017-01-29T00:00:00Z
The guest cottage was perfect for our recent visit to Gig Harbor. Communication leading up to our stay was helpful and informative. Upon arrival, we were warmly greeted and shown the property. The guest cottage was great for sleeping, nestled in a quiet neighborhood. By day, beautiful views of the bay and mountains. Would could not have been more satisfied with our stay.
Scott
2017-03-05T00:00:00Z
Such a wonderful home in a beautiful area. The pictures do not do it justice.
James
2017-02-24T00:00:00Z
Great quiet, upscale, cottage with placid water view off the beaten path. Jean was very accommodating of our last minute decision on a Saturday at noon and made us feel very welcome in her cottage. We highly recommend for anyone visiting Gig Harbor area.
Tom
2017-01-15T00:00:00Z
Our host greeted us when we arrived and showed us around the property making us feel very welcome. The cottage is beautiful and the views of the harbor are breathtaking. Our hosts provided many amenities and special touches that added to the wonderful experience we had there. Our time at the cottage was delightful and we hope to return and enjoy it again someday soon!
Anne
2016-12-28T00:00:00Z
We had a wonderful stay with Jean and Ken! Their guesthouse is perfect for a nice lil getaway. The guesthouse was kept meticulously clean as was their property. They have an incredible view of the water and have a deck guests can sit on to sip wine while watching boats and wildlife with Mnt Rainier towering in the distance. Jean goes the extra mile in providing a wonderful continental style breakfast with a few tasty homemade items. The best part of the stay is their company. Both Jean and Ken are very down to earth, kind folks with much knowledge about the area. The had great restaurant recommendations! I would stay with them again in a heartbeat!
Drew
2015-06-01T00:00:00Z
Jean is an excellent hostess. She has created an intimate retreat that is tastefully decorated and well appointed. Although the unit shares the lawn with her own home, she invites you to enjoy the patio and waterfront freely. You will absolutely feel welcome and relaxed here.
Traci
2016-06-06T00:00:00Z
Lovely,peaceful setting in your own private cozy, comfortable, classy cabin. Hosts are very hospitable.
Gary
2016-09-10T00:00:00Z
吉格港(Gig Harbor), 華盛頓, 美國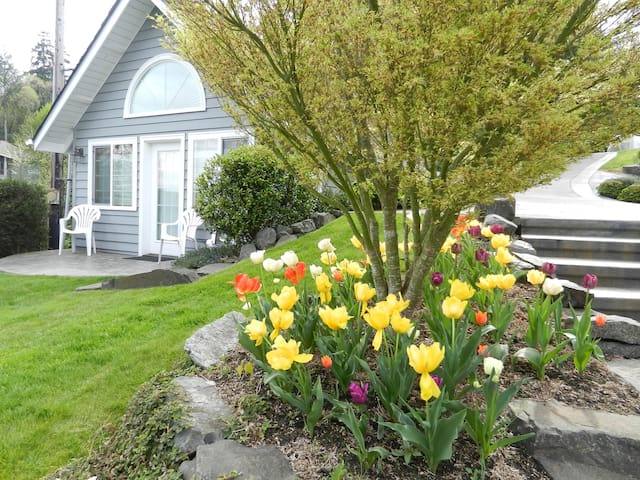 Susan went above and beyond to make us feel welcome. All her personal touches throughout the AirBNB did not go unnoticed. It felt so much more special than staying in a hotel! We will certainly be back if we're ever in the area again.
Allyssa
2015-12-05T00:00:00Z
Our stay was restful and relaxing in a quiet area in Tacoma near Proctor and University of Puget Sound. Susan is an amazing host greeting us and checking to be sure all of our needs were taken care of. We have returned to stay several times and it so close to downtown Tacoma. Susan provides a variety of items for breakfast fruit, gourmet yogurt, cereal , pastries , coffee and tea, juice and other treats. The bed is very comfy and the apartment is roomy.
Joanne
2016-02-21T00:00:00Z
There's a reason...well a plethora of reasons...that Susan is a Superhost. This suite is so comfortable, inviting, welcoming that even the beautiful photos and description do not do it justice. And Susan's personal touches are everywhere. She is attentive to details in the most charming way and her selections for breakfast and snacks...all extra touches... are fresh, healthy, and delicious. The neighborhood is great for walking, running, biking - you'll be safe and right at home. And not cooking is not an issue given all the great fresh and prepared food you can get from Metro market a few short blocks away. We could have happily stayed here for weeks! Only regret is that our visit was so short. Would HIGHLY recommend Susan's place to anyone visiting the Tacoma area. One of our best Airbnb stays ever ;)
Barbara
2016-06-27T00:00:00Z
Another great stay here. Susan goes above and beyond when it comes to hospitality and I'd gladly stay again. Super central to Tacoma and a nice neighborhood. Do yourselves a favor and stay here.
Michael
2017-01-08T00:00:00Z
Susan is the quintessential thoughtful host! And this is the quintessentially comfortable, charming, well-equipped place to stay!
Lianna
2017-03-17T00:00:00Z
What a perfect setting for a quick getaway. Sparkling clean, with all the conveniences of home, cozy but also spacious with so many sweet details--we couldn't have chosen a better location. The neighborhood is very walkable and charming with older homes graced by colorful landscaping and plenty of small businesses to visit. Our host Susan was accommodating and clearly wanted to be sure we had a perfect stay. We would definitely return.
Melissa
2014-09-23T00:00:00Z
Lovely and comfortable stay! We wish we had more time in Tacoma to enjoy the suite. Susan was extremely accomodating and communicative.
Emma
2017-01-25T00:00:00Z
Susan was an incredible host. I was arriving late but she had everything ready and met me when I arrived to answer any questions. The place was impeccably clean and comfortable with all the little extras to make the stay special. I am in Tacoma frequently and usually stay in hotels but will now see if Susan's place is available first.
Patrick
2015-06-27T00:00:00Z
Tacoma, 華盛頓, 美國
Zeena and Howard provide a very comfortable and restful home for the weary traveler, along with exceptional hospitality, amid very tasteful amenities reminiscent of a fine hotel. When you are graciously welcomed as a guest in their beautiful home, prepare yourself for one of the finest, most memorable lodging experiences to be had anywhere. - Tony Martin
Antony
2017-03-05T00:00:00Z
Zeena is very accommodating and friendly. Her place is private and clean. She really aims to make your stay as pleasant as possible.
Kate
2017-02-08T00:00:00Z
Zeena was absolutely wonderful. I had the freedom and autonomy to come and go as needed, but truly felt as though I was visiting family. The bed was so comfortable; I slept like a baby. The towels were soft and food, wonderful. Tremendous value and a comfortable stay. The room is private and quiet and the home is very convenient to everything in Gig Harbor and the bridge. Zeena and her husband were incredibly gracious hosts and I would definitely choose to stay with them again.
Mike
2017-02-20T00:00:00Z
Very quiet neighborhood, extremely clean and comfortable. Gracious hostess.
Steve
2016-12-26T00:00:00Z
Zeena is a wonderful and caring host. The room had excellent accommodations and was very comfortable.
Caroline
2017-04-01T00:00:00Z
Staying with Zeena was amazing. She is so genuine and made our stay in Gig Harbor an absolute dream. Samantha is also so sweet, but like she says if you don't like dogs or light barking (not after bedtime, no worries!) then consider that before booking. She made us breakfast every morning and always made sure all our needs were met. I cannot recommend her enough!
Larkin
2017-02-03T00:00:00Z
Close to town but hidden away in very quiet woodsy area. Very comfortable and clean. Hosts go out of there way to provide the very best. Thanks!
Perry
2017-02-24T00:00:00Z
Staying with Zeena and Howard is like traveling back in time in the best possible way. I felt like a kid staying with my grandma. She spoiled me to death with so much more than I could have expected. Homemade breakfast every morning, and she asked me every night what I wanted. Eggs cooked to order, waffles, fresh fruit, coffee, and FRESH SQUEEZED Orange Juice!!! Better than any continental breakfast you'd get at a hotel...can you say fresh eggs versus mass produced powdered eggs? What an incredible experience. Best deal in Gig Harbor. Try finding something better at this great rate. Private room with complete bath/shower, and all pillows and mattress are down. There is no TV in the room, but I sure didn't miss it. Great couple who really make you feel like you're family.
Robyn & Steve
2017-03-25T00:00:00Z
吉格港(Gig Harbor), 華盛頓, 美國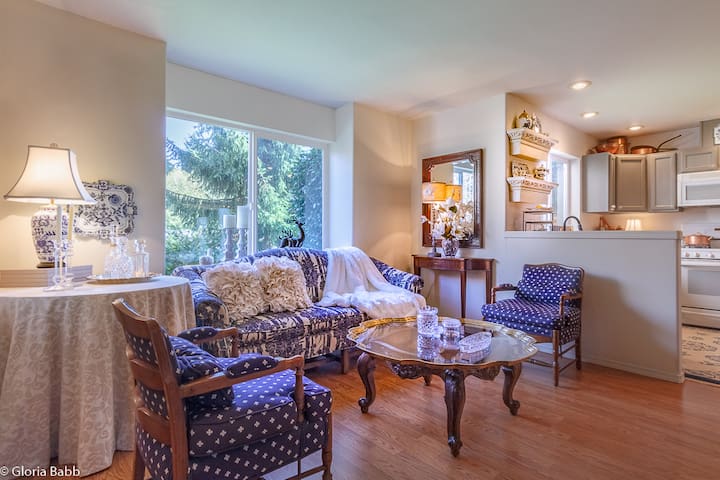 The place was exactly the same as on pictures. It was really nice and clean. Wonderful view, such a fresh air. Hugh had tons of blankets and pillows and sheets, so all three of us felt really comfy. The kitchen had supplies and we bought some veggies and made a borsch. He let us borrow his big pot, which was super nice.
Alisa
2015-07-25T00:00:00Z
Great location with a great view! We didn't spend much time in the apartment because Gig Harbor was such a great home base for our Washington adventures. Seattle and Mt. Rainier are very accessible. We also spent a very long day on the Olympic Peninsula loop. Spectacular. Hugh got us settled in and went over the maps with me when I had some questions. We got some wine and snacks at the little grocery store and spent a nice evening on the deck watching the view. It was great to be able to do some laundry mid-trip. There are deer all over the place around the house, and there's a lovely little drive right down the road to Sunset Beach, I think it was called. Great restaurants in town, too. We enjoyed our stay very much. It was exactly what we needed. Thanks, Hugh!
Stephanie
2012-08-21T00:00:00Z
My husband and I enjoyed staying in this lovely and cozy apartment. The view of Puget Sound and Mt Rainier was awesome. The deck is huge for enjoying this beauty. Hugh was a most responsive but nonintrusive host (our favorite kind!). Bed great and all amenities provided, including washer and dryer. The apartment is filled with light from the huge glass window and sliding door. The only possible issue for some folks might be that there are no windows to open for fresh air while sleeping (the sliding glass door has a screen but doesn't lock).
Bonnie
2015-02-15T00:00:00Z
Hugh is really nice and easy to work with. He also let us have our space and privacy, which was nice. The place itself is awesome and has an incredible view. Perfect for two friends or a couple. I very much enjoyed my time here.
Maz
2014-11-05T00:00:00Z
Our host was wonderful and very helpful. The view from the patio was wonderful.
Kenneth
2014-12-08T00:00:00Z
Never had a chance to meet Hugh but never felt it was needed as everything we needed was right there in the airbnb. The couple of times we communicated Hugh responded promptly. The place was terrific for our 4-day stay. While there is a family above, the unit we stayed in below seemed totally private and provided more than enough comfortable space for the 2 of us. Having a large livingroom area on top of the kitchen and bedroom/bathroom gives plenty of room to stretch out and relax. The large patio with views of the bay and Mt. Rainier was just a very nice added space. Enjoyed walking around the immediate area and having the short drive into Gig Harbor. Also, this is a nice halfway spot to Olympic NP, Mt. Rainier NP and Seattle. Would definitely stay again if we are back in the area.
Eric
2015-10-12T00:00:00Z
Hugh's place was great! The view was gorgeous and it's so private...just what we were looking for! Thank you!
Lacie
2016-06-16T00:00:00Z
Our experience at Hugh's was excellent! The place was comfortable and we found everything we needed. It was easy to communicate with him and he responded promptly to questions and concerns.
Mariana
2015-02-17T00:00:00Z
吉格港(Gig Harbor), 華盛頓, 美國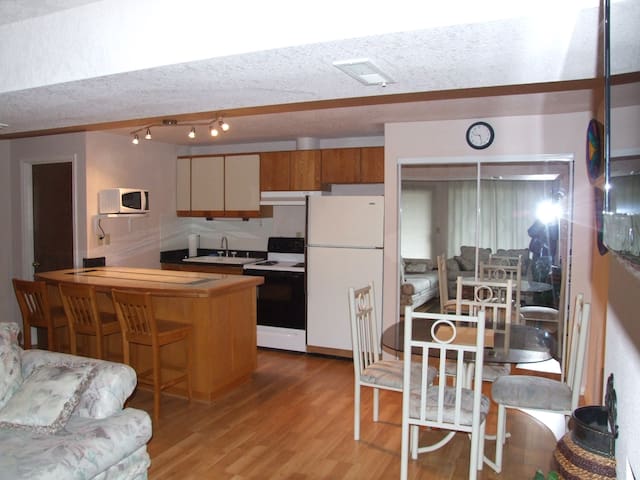 Makuuhuone oma näppäimistö merkintä, kylpyhuone ja riippumaton lämpöpumppu. Noin 300 neliömetrin runsaasti pukeutuja ja kaappitilaa. House sijaitsee puistomainen yksityisen viiden hehtaarin, umpikujaan katu. Meillä vauvan niin talo ei ole aina hiljainen.
Huoneessa uusi kuningatar Sealy Posturepedic patja, kylpyhuone, kaksi keittiökaapit, vaatekaappi ja jääkaappi. Ihanteellinen kahdelle mutta se voi myös majoittaa pieniä lapsia, joilla matka-patjat. Liitetty omaan lämpöpumpun itsenäiseen lämpötilan valvonta. Tilaa pysäköintiin, kuten veneiden ja RV.
Talomme sijaitsee yksityisellä viisi aaria erittäin rauhallisella alueella, mutta vain 5-10 minuutin päässä kaupoista, ravintoloista ja hwy 16.
It was a great stay at Crystal's! The room was super clean and quiet. Thanks very much for detailed instructions!!
MISUN
2015-08-09T00:00:00Z
My daughter and I chose to return to your place again because we loved it so much six months ago. It can't think of a thing that would have made our stay more comfortable! I would recommend it highly for others!
Henry
2016-03-20T00:00:00Z
This was our first time using Airbnb. This place is much better than staying in a hotel. It was like coming home to our own bed after a long day sight seeing. If all of our experiences are like this one, we'll never book a hotel again. Sorry Holiday Inn. Thanks so much Crystal.
Charles
2015-09-07T00:00:00Z
A beautiful home in a peaceful, park-like setting that exceeded our expectations. The private entry master suite was impeccably clean and beautifully decorated. Extremely comfortable bed and bedding. Bathroom was nicely finished, quality materials and workmanship. Hosts provided great directions and communication. I appreciated the ability to access the suite via private entry with access code so as not to disturb the host since we were arriving after midnight. I have never stayed at an Air BnB place before and was a bit reluctant to try it. I am SO glad we found this place and took a chance. I would HIGHLY recommend staying here. A true gem!
Lori
2015-06-25T00:00:00Z
Crystal was so accommodating. My travel was delayed causing me to have to rearrange my schedule and she was so accommodating and aligned me to come a day early and extend on a moments notice. The place was impeccably clean and she was available for troubleshooting the doorlock at 10 PM. The room was spacious enough for me to do my own yoga practice in the morning and a big clean rug. Would definitely use her again and recommend her to you all.
Amanda
2016-05-07T00:00:00Z
Very private and as described. Chocolates were a nice touch. We would stay again if in the area.
Claudette
2016-01-09T00:00:00Z
Very nice home in a quiet location. I got a great nights sleep! I appreciated having a private entrance and flexibility with check in and out. I needed to get moving early in the morning and didn't feel like I was disturbing anyone else. Chocolate Lindt's are one of my favorite treats!!
Chris
2016-05-10T00:00:00Z
The room was a perfect AirBnB experience. It looked exactly as described, was spacious and pretty, and immaculately clean. The bed was comfortable and warm. We loved the shower, which was modern and beautifully designed. In addition, there were 'all mod cons,' meaning a microwave, refrigerator, coffee maker, etc. All in all, a great place.
Ruth
2016-02-07T00:00:00Z
吉格港(Gig Harbor), 華盛頓, 美國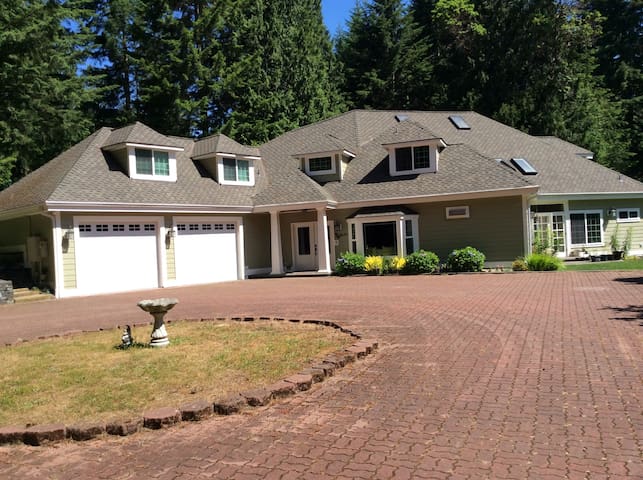 Willkommen auf der Insel Leben im pazifischen Nordwesten! Eine malerische und komfortable Ferienhaus, mit herrlichen Küsten-Ambiente, und Küchenzeile. Cruise der Insel am Strand Fahrräder, Kajak oder zu Fuß zum Strand, die Dock, Feuerstelle, Park & Sand-Dollars zu genießen.
Wir haben zwei Strand Fahrräder und drei Kajaks, die unsere Gäste nutzen können. Wie in der Abbildung dargestellt, ist es ein offenes Konzept Wohnbereich. Es gibt ein französisches Bett mit einem Bücherregal auf den Wohnbereich geteilt wird. Die Couch ist ein Schlafsofa. Das Haus befindet sich in der Seiten Hinterhof des Haupthauses.
Carrie provided an absolutely lovely space for my boyfriend and I. We spent an amazing weekend exploring different places in Gig Harbor that Carrie informed us about. We made use of the two bikes and biked to one of the state parks! We hope to be back again someday :)
Trish
2016-11-13T00:00:00Z
Everything was wonderful. Very comfortable and clean cottage. Beautiful scenery. Exactly what we needed for a relaxing vacation.
Alan
2016-07-07T00:00:00Z
The property and the listing was very well kept. The listing is separate from the main house where Carrie and her family lives which allows an a good amount of privacy. Furthermore, Carrie was an awesome host, super friendly and nice. She let us us her bikes and kayak which she so nice to help us bring them down to the docks for us to enjoy. Thanks a bunch, we really appreciate it.
Jia
2016-04-18T00:00:00Z
We loved our stay!! Carrie was so gracious, flexible and welcoming. The cottage was adorable, comfortable and very clean, and the grounds were beautiful. We can't wait to return. Thank you, Carrie, and we hope to see you again soon!
Kristin
2016-05-15T00:00:00Z
The cottage was just as described. Perfect for a getaway. Carrie and her family were gracious hosts. The two kids had access to their bikes to ride around and explore the island. I would highly recommend and would love to go again.
Angela
2015-09-05T00:00:00Z
Carrie and her family were very welcoming. The cottage was absolutely adorable, and exactly what we were looking for. We really enjoyed our time there, and would love to stay there again.
Dara
2016-05-28T00:00:00Z
This was our first time using AirBnB and we are so happy that we did. Our host was wonderful and was easily reached and responsive. Very welcoming, warm and friendly. The cottage itself was very clean and lovely and it looked just like it did on the listing. The area itself was beautiful and it was fun to explore the island and the beach. Our kids loved searching for sand dollars, of which we found plenty and playing in the cute and charming play house. Our host did offer us the use of kayaks, but we were unable to use on this trip. We had a lovely time and really enjoyed our stay at the cottage. It was very comfortable and relaxing., We would highly recommend stay here and will plan to visit the area again in the future.
Kristine
2015-08-23T00:00:00Z
We really loved this place. Carrie's cottage is so nice, clean, and relaxing. Definitely will stay here on my next trip to Seattle. There's so much to do, we really wish we had more time at Carrie's! Thanks for letting us stay!
Aaron
2016-08-12T00:00:00Z
吉格港(Gig Harbor), 華盛頓, 美國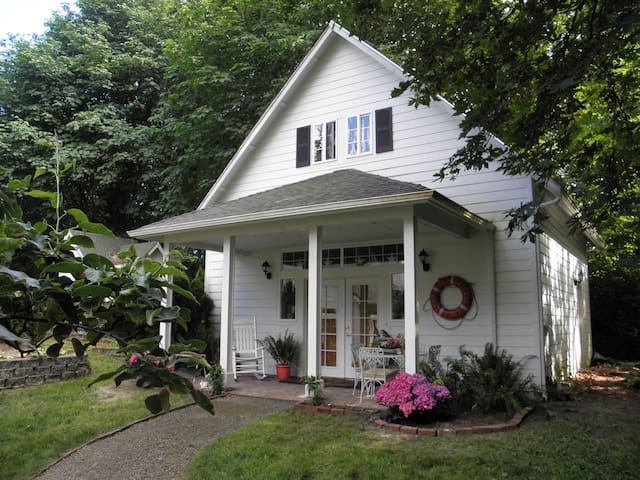 This place was exactly what it claimed to be a little oasis. Beautiful view and a very private feel even though we are close to town. We stayed here for our anniversary and it was just the relaxing getaway we needed.
Jan
2017-03-20T00:00:00Z
Wow! This place is great. It's such a cozy home in an amazing location. The view is spectacular from inside or out. The amenities provided are very thoughtful--from all the basics like coffee and paper towels to hot cocoa and fluffy rolled up towels. Britnee was a great host and answered all our questions promptly. This will be my new gold standard for future Airbnb rentals.
Nicole
2017-04-09T00:00:00Z
Location! Location! Location! Home with a spectacular view of water and Mt Rainer! Everything you need is at your fingertips and decor of house is beautiful! Britnee is a perfect host. She is available and accommodating if you have an inquiry or request...yet not in your space at all while you stay. House is within walking distance of downtown Gig Harbor. I didn't want to leave and can't wait to visit again in the near future. It is an extra special place.
Lynda
2017-04-05T00:00:00Z
Beautiful house with breathtaking views. House is well stocked and in a great location while still being private.
Schubert
2017-03-15T00:00:00Z
If anything the pictures don't even do this place justice! Extremely beautiful, and communication flexibility and all arrangements were superb. Cannot wait to visit again and stay here.
Leo
2017-02-17T00:00:00Z
Wow! What an amazing home this is. The floor to ceiling windows in the living room are perfect for taking in the expansive view, but what really impressed us were the little touches, like the binoculars on the window sill, the scented sheets, the jazz music playing in the background in the backyard. Britnee anticipated everything we could have needed and more. We will definitely book again!
Camille & Ryan
2017-03-06T00:00:00Z
We had a great vacation here with the view, the walk to Historic Downtown Gig Harbor, well-equipped kitchen, and March Madness Basketball Games. (Go Ducks and Go Zags). Thank you!
Londa
2017-03-27T00:00:00Z
What a wonderful place with one of Gig Harbor's best views overlooking the water. We enjoyed the hot tub on the deck overlooking Puget Sound. Our 5 day stay met our needs perfectly. Great place!
Mike
2017-02-08T00:00:00Z
吉格港(Gig Harbor), 華盛頓, 美國
Mein Platz ist in der Nähe eine tolle Aussicht! Sie können Mt. sehen Rainier von der Veranda. Sie werden meinen Platz wegen der Nachbarschaft, im Freien Platz, das Bett bequem und das saubere Haus lieben. Es ist gut für Paare, Solo-Abenteurer und Geschäftsreisende.
Es ist wegen der atemberaubenden Aussicht, die gute Nachbarschaft.
Sehr freundliche Nachbarschaft, es ist ein sicherer Ort.
I really enjoyed my recent stay at Mira and David's. The room was cozy, the view was great, and Mira and David were perfect hosts!
Diane
2017-03-12T00:00:00Z
Mira and David were extremely friendly and helpful in finding beautiful places to photograph.
Loann
2016-11-15T00:00:00Z
Mira and David were very kind and accommodating. Mira was like a mom away from home, keeping my room all clean and even washing my clothes (which I didn't ask her to do) - Thank YOU! David will chat your head off and if you let him, which I did not mind at all. The only thing I should make folks aware of is that the physical location is about 15 minutes drive from Gig Harbor. So overall an excellent host and a nice place to relax and get some peace. Thank you kindly, David
dave
2016-09-13T00:00:00Z
房間類型
合住房間
---
房源類型
Loft空間
---
可住人數
2
---
卧室
吉格港(Gig Harbor), 華盛頓, 美國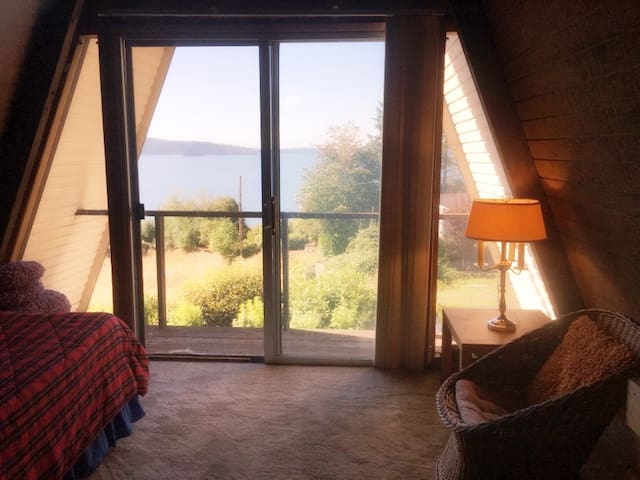 The host canceled this reservation 188 days before arrival. This is an automated posting.
Jose
2017-01-15T00:00:00Z
Erik is easy to get ahold of. Though we didn't meet him personally, he was available by text and responded quickly. The place is an audiophile's dream! Be prepared to be surrounded by audio equipment from the past that work! The place was exactly as shown on the photographs - clean, modern, spacious, and conveniently located to good restaurants, and the harbor. You will find all the toiletries you need, I think some of them are supplied by the salon downstairs. You just need to bring your hairdryer. Overall, the loft provided a comfortable stay. We slept well for the one night that we spent there.
Junsen
2016-05-31T00:00:00Z
We had a great stay at Erik's place. Very convenient, unique place. Great for music lovers. My little guy loved playing the keyboard! Would recommend for a fun stay in Gig Harbor.
Mike
2016-05-23T00:00:00Z
Cute loft in a great location. This was a perfect last-minute stay for us, and Erik was friendly and communicative.
Katie
2017-01-10T00:00:00Z
On a last minute trip to Gig Harbor, Erik was extremely helpful, any questions were answered within minutes, he even abided with a late checkout when we needed it. Upon arrival parking was plentiful. This place was very neat and clean, with plenty of amenities. In walking distance from the harbor, local bars and shops. I would definitely stay here every time I visit Gig Harbor.
Santiago
2016-11-20T00:00:00Z
This was a very comfortable place to stay. Nice space, conveniently located. Erik was easy going and helpful. We would stay there again. Charlotte & Michael Green
Charlotte
2016-11-28T00:00:00Z
Great location in the heart of the marina area within very short walk to shops and restaurants. Well-designed loft makes good use of the space and is a comfy place to hang out in the evenings. We were only there a short time so we didn't cook or use the kitchen, but it seemed very functional and well-equipped. The bed was smaller than we prefer and is up against the wall so it wasn't easy for 2 people to get in, but that's my fault for not paying attention to that before booking.
Jill
2016-09-17T00:00:00Z
The loft is clean, quiet and very comfortable. Easy walking distance to shops/restaurants on the harbor. It's an excellent choice. I'll book again next time I'm in Gig Harbor. Erik was a great host and very easy to contact.
Paula
2017-03-27T00:00:00Z
房間類型
整套房子/公寓
---
房源類型
Loft空間
---
可住人數
2
---
卧室
吉格港(Gig Harbor), 華盛頓, 美國
A really great place to stay. Quite and comfortable but recommend you visit when temperatures are a little warmer so you can enjoy the water.
Ryan
2016-12-20T00:00:00Z
There are not enough words to say what a wonderful place this was and how much we enjoyed our stay. Everything from the little touches like the rosemary rub, to the beautiful antique decor, this place was perfection from the moment we arrived. Our family stayed for two months, and every day was pure joy. Michelle and her family were very sweet and welcoming. Even the neighbors were wonderful. We have very high standards and we would recommend anyone and everyone to stay at the Beach Studio!
Susan
2016-10-15T00:00:00Z
Michelle communicated quickly and completely about our stay. The home was ready and we were greeted warmly by our hosts. The home is gorgeous, we had plenty of space for our family of 4 while we moved one of our sons into college. The neighborhood is quiet and peaceful and the water is just steps away. It is a short drive over the Tacoma Narrows bridge to Tacoma. You feel a world away from the city, while being close enough to get to town easily. We didn't have a chance to try out the kayaks or bikes but these amenities were made available to us. We would definitely recommend a stay at this lovely home.
Katie
2016-08-21T00:00:00Z
I felt welcomed like family. Michelle provided clear and complete information on her site, and her recommendations to nearby restaurants were really helpful! Parking is convenient and the suite is private, large, warm, quiet with all the necessaries for a relaxed getaway. I took videos of the place to make my family at home jealous, and it worked!
Gordon
2017-01-02T00:00:00Z
Nous étions 5 dans ce logement en comptant nos 3 enfants et la promiscuité ne nous a pas dérangé pour les 3 jours passés c'était même sympa de tous se retrouver. À notre arrivée tout était prêt, même la table mise. L'endroit est très calme avec une grande terrasse. La décoration sur le thème de la mer est super sympa et le mobilier de très bonne qualité. Attention il n'y a qu'un micro ondes et un four. Par contre la cafetière est top! Pour se rendre à Seattle on a laissé la voiture à Brimington (vous laissez environ 7 dollars dans une boite, il faut la monnaie!) puis on a pris le ferry pour 1h de traversée qui est magnifique avec vue sur Mont Rainier et l'arrivée sur Seattle. Visite du marché obligatoire! De retour nos hôtes nous ont prêtés leur 2 kayaks. En repartant pour Vancouver nous avons pris le ferry a Kingston (18$ par voiture) pour éviter les embouteillages de Seattle qui sont énormes. Très beau séjour en tout point. Merci au chat de la maison qui nous fait beaucoup de câlins.
Anne
2016-07-15T00:00:00Z
吉格港(Gig Harbor), 華盛頓, 美國
Situado en el pintoresco Gig Harbor, Washington, el Fish House Harbour ofrece vistas panorámicas de la bahía de Gig Harbor, el centro de Gig Harbor, y hermosas puestas de sol. Situado por encima de la calle, podrá disfrutar de preciosas vistas desde muchas habitaciones en la casa. Disfrutar de café de la mañana o por la tarde hora feliz en la cubierta con vistas al puerto mientras que ver los barcos pasar.
La casa tiene tres dormitorios, cada uno con una cama doble, un baño completo, cocina, sala de estar, amplia terraza, y lavadora y secadora. Tiene capacidad para seis cómodamente. La casa es ideal para parejas, familias, escapadas de las niñas, o viajes de negocios. vino de la tierra, jabones, y el salmón salvaje (con una estancia de cuatro noches) esperan su llegada. Al entrar en la casa en la planta baja, que será recibido por una gran área de entrada. Dos dormitorios, cada uno con un gran espejo y obras de arte, se encuentran en el primer piso. Escaleras que conducen al segundo piso y el salón principal. La segunda planta de concepto abierto incluye una cocina completamente equipada, comedor, sala de estar con TV de pantalla plana, y la puerta de la terraza. Un tercer dormitorio, con puertas francesas a la sala de estar, así como el cuarto de baño completo con azulejos centavo, revestimientos de madera, un lavabo de pedestal, y una combinación de bañera / ducha, se encuentra en el segundo piso. La cubierta es grande e incluye una barbacoa de gas y una mesa de comedor y asientos para seis personas con paraguas. Usted tendrá una asientos de primera para las estaciones jueves por la noche velero de regatas de la cubierta! Hay aparcamiento en la calle en la parte superior de la calzada. Venga a disfrutar de Gig Harbor y todo lo que tiene que ofrecer. Si usted permanece en o salir y explorar, Harbor Fish House servirá como la base perfecta para este inolvidable destino del Noroeste del Pacífico.
吉格港(Gig Harbor), 華盛頓, 美國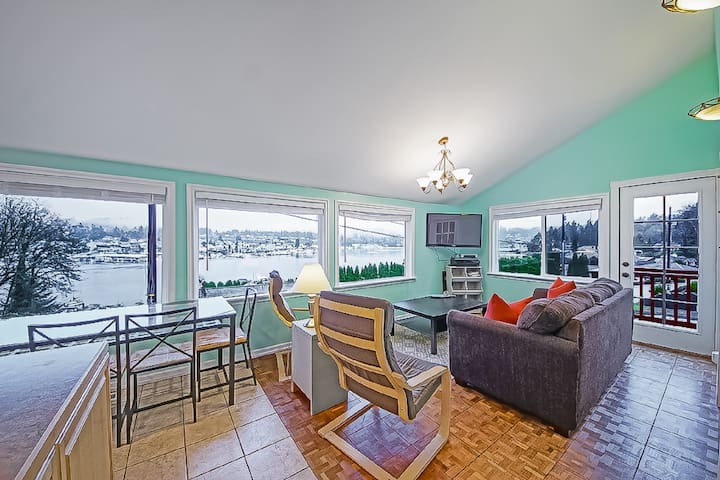 这个世纪中期的海滨别墅,经过精心的装修,非常干净,舒适。你不能击败的位置 - 不到5分钟的设施,如Costco公司,星巴克,杂货等,容易进入高速公路16在10分钟到市中心吉格港 - 然而,它是在私家路到底藏。有足够的空间超过1家传播出去,并在夏天西晒得到了很多的阳光。享受游泳,划船,桨登机和beachcombing!
这家自带装备精良,厨房电器,餐具,调料,食用油等。
这家坐落在一个居民区半亩。我们有几个漂亮的公园附近,包括Sehmel宅基地公园,麦考密克森林与驴溪公园。在夏季,吉格港的充满活力的社区有公园免费音乐会,农贸市场,艺术节,电影节,啤酒节,以及食品和葡萄酒节,只是仅举几例。 我们有20分钟的车程塔科马,不到一个小时到西雅图,和1-2小时的滑雪胜地像斯诺夸尔米山口和水晶山内(取决于你去哪里)。我们有惊人的上涨在附近的奥林匹克国家公园和森林,以及瀑布山,雷尼尔山和圣海伦斯火山。一些有趣的乡镇查看附近的景点包括汤森港(加上沿途cideries),Poulsbo的,班布里奇岛,市区塔科马等等。如果你渴望冒险,你不会觉得无聊。我们也有书籍,游戏大型图书馆,有一个快速的Wi-Fi连接。
房間類型
整套房子/公寓
---
房源類型
獨棟
---
可住人數
12
---
卧室
吉格港(Gig Harbor), 華盛頓, 美國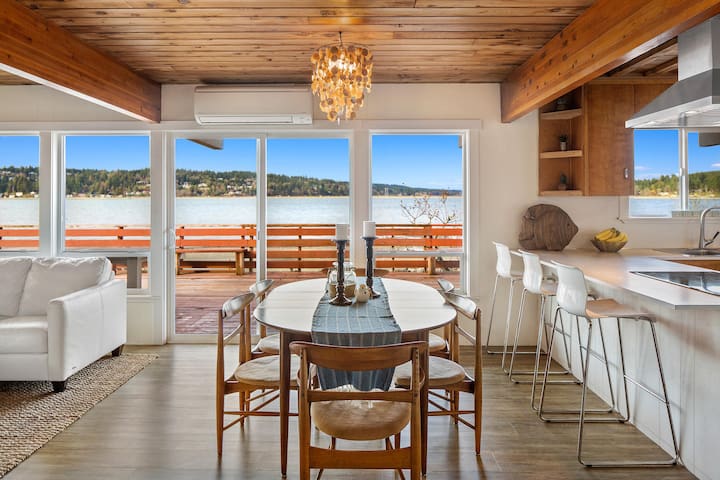 吉格港 - Airbnb
:
在

1407

位房客的評價中,平均評分為

4.96

星(滿分為

5

星)
輸入日期以查看總價格,包括其他費用,可能會加收稅費。