Our comfortable house has a true city feeling. It is located on a quiet street.
In the center of Izola.
伊佐拉(Izola), Izola, 斯洛維尼亞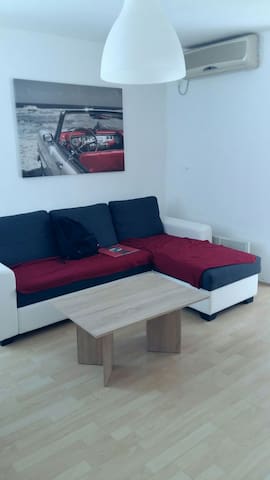 Our lovely two bedroom apartment has a cool Mediterranean feeling. It is located in a quiet street, only 200 m from sea. It can comfortably accommodate 4 adults and 2 children.
Our appartment is located in center of the town Izola. It is a lovely small town with a lot of interesting places to visit. Appartment has two bedroom and can comfortably accomodate four adults and 1 or 2 children. Price includes bedclothes and towels for each guest. Check in after 14:30 pm, check out at 10 am. Minimum stay are 2 nights.
The apartment is located in the heart of the historical inner city of Izola. This is a very special experience to all those coming from different environments. That is approx. 99% of us, guests. :-) My kids definitely enjoyed the stay, with all those shady corners and curly alleys when heading to the beach, although they instantly run to the walls when the buzzing of scooters got noisier. I was first afraid of parking far away from the apartment, but it turned out that the lot is not far away at all and everyone parks there even with the most expensive roadsters. Pavel & Monika: thanks for the opportunity!
Attila
2016-07-09T00:00:00Z
First of all we would like to thank Monika and Pavel for pick us up and show us the flat and the nearest area. We saw us only ones but they were always available for our questions (SMS) and very helpful. The apartment is very comfortable and includes everything that matters, at least for four persons. We enjoyed our stay a lot. --- Die kleine Wohnung entspricht der Beschreibung. Mittlerweile wurde auch ein Klimagerät eingebaut, somit ist auch ein Verbleib in den heißesten Monaten sehr angenehm. Die Unterkunft liegt sehr günstig, zwischen dem Ortskern und dem Strand, es sind jeweils wenige Minuten zu Fuß in beide Richtungen. Ein Obst und Gemüse Markt ist um die Ecke und unzählige Bars rundherum. Das einzige Manko ist der fehlende Abstellplatz für das eigene Fahrzeug, es ist eben mitten in der Altstadt. Wir haben immer kostenfrei am Fußballstadion geparkt und es waren lediglich 5 Minuten Fußweg. Zum Aus,- und Einladen konnte man aber in der nähe der Wohnung halten.
Robert
2015-08-10T00:00:00Z
Perfectly clean, warm, calm and really cozy apartment with new furniture, well equipped kitchen. It is only 2 min. walk from the main square. Pavel is excellent host, kind and helpful. This place I fully recommend. Lejla
Lejla
2016-05-01T00:00:00Z
Very nice, clean and equipped apartment near the sea. Recommend!
Jitka
2015-09-03T00:00:00Z
Hi Monika, thanks for the apartment, everything was ok, we have maximally enjoyed the time spent there! See you in October :) Petra
Petra
2016-08-29T00:00:00Z
we really enjoyed stay in Pavel's apartment, everything was nice and clean. Only dishes was in few pieces. But everything else was really perfect. For every another guest, don't turn off 3rd switch behind bathroom, you will turn of watterheater :-D i takes a few time to find what happend.
Jorge
2015-06-21T00:00:00Z
We had great time in Slovenia last August. We stayed in Izola. Appartment was nice, cozy, clean and tidy. We really liked it! Appartment and beach connected very well, in the city are many cafes, restorants and shops. People are friendly and polite. Nature is really amazing! Pavel and Marina are very good and punctual hosts.
Olga
2015-08-29T00:00:00Z
We had a wonderfull week! The appartement is in the city center
elisabet
2016-07-23T00:00:00Z
伊佐拉(Izola), 斯洛維尼亞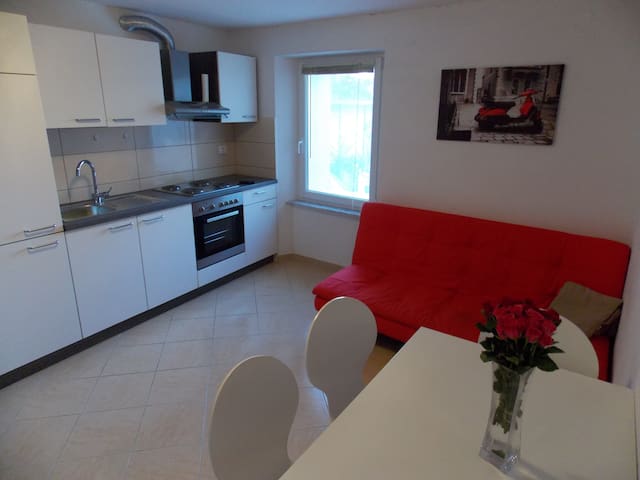 We are a young couple who are interested in Macrobiotic way of life. By staying in our place you can also discover treasures of mediterranean macrobiotic kitchen. Our house is located 5 minutes away from the center of town Izola. It is a good starting point for cycling or trips to Piran, Koper.
伊佐拉(Izola), Izola, 斯洛維尼亞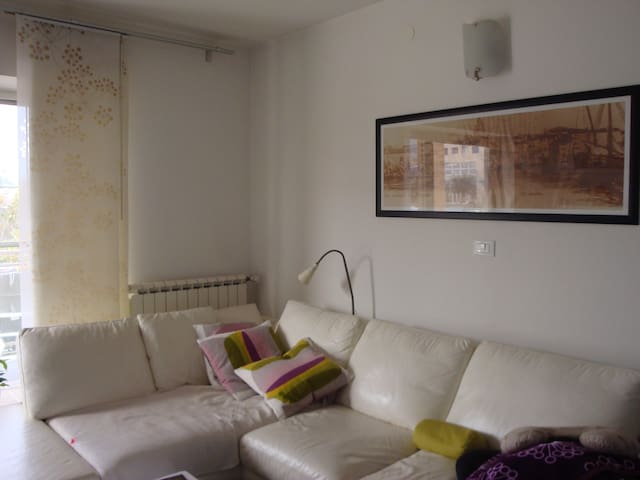 Completely refurbished apartment(33m2)in old house in the center of the old town of Izola. It has one big living/bedroom with separate bathroom and kitchen, with dining corner. The apartment is on the ground-floor and features also a 20m2 private terrace. The beach by the light house is 100m away and the San Simon beach is a 10 minute walk away. The main shopping street, food market are a 5 minute walk away. Izola is a typical mediterranean old fishing town with a rich history which has developed in a recent years into a tourist destination.Especcially is known as a great place for families an people who love (URL HIDDEN) a great starting point for bicycling on the Parenzana track,water sport(surfing,kite surfing,sailing,rowing...) but also there are some nice beaches where you can enjoy the adriatic sea. You can spend your holidays from April to October at a moderate Mediterranean climate with temperatures ranging from 25-35. You will also have a free entrance in a Gym. Places to visit nearby.... Secoveljske soline Skocjanske jame Postojnska jama Lipica Ljubljana-the capital of Slovenija Bled Bohinj
A házigazda segítőkész volt. A lakás nagyon jó elhelyezkedéssel bír. Kisebb, mint a képeken, de a célnak tökéletesen megfelel. Mindenkinek ajánlom.
Klaudia
2016-08-29T00:00:00Z
Kristjan was a great host. The Apartment was in great condition, everything was clean and the location is one of a kind. Everything was as advertised. Communication with Kristjan was easy, he recommended trips and helped us with our luggage. You can't ask for anything more.
Christoph
2016-07-24T00:00:00Z
Kristjan was more than helpful and friendly host. He was even interested in our holiday and needs during the time and solved anything immediately. The apartment was perfect for us with its location and the air conditioning was priceless, it saved our life. We wish we could come next year again.
Anna
2015-07-24T00:00:00Z
We had a short but very comfortable stay at kristijans apartment in Izola! The apartment is ecactly as you can see on the pictures, very clean and well equiped! Kristijan is a very nice host as he picked us up at the point where we could unpack out stuff and showed us the parking place for the night. He also had a few nice tipps for the city where we would have really liked to stay longer! we would always recommend the apartment for a trip to izola. With regards from Zurich, Thomas&Myriam
Myriam
2014-09-07T00:00:00Z
He was a great host, helped us with the luggages, the apartment is just like on the photos, in a great location. We really enjoyed our stay there, thank you Kristjan!
Ujhelyi
2015-07-11T00:00:00Z
kristjan is an awesome host. i don't speak slovenian, so he helped me a lot, setting up my telephone, good infos about the apt. the neighborhood and town etc. it made my stay easy and relaxing. to top it off he let pick and eat all the grapes i can handle. sitting on the cute little patio, reading a good book and just reach for delicious vine ripe grape for snacks is heaven. and thanks for letting me borrow the umbrella on the only 1 hr. hard rain in my 3 weeks travel. hvala kristjan
Margaretha
2015-09-16T00:00:00Z
Host could not have been more helpful
Paul
2015-09-05T00:00:00Z
Kristjan, il proprietario della casa, è stato gentilissimo e disponibile, ci ha illustrato perfettamente tutto ciò che potevamo vedere nella città e dintorni dotandoci di mappe e itinerari. Casa pulitissima ed efficiente dotata di tutti i comfort, con posizione centrale e vicina a tutti i servizi necessari. Un soggiorno memorabile in una bellissima location.
Alfredo
2015-09-14T00:00:00Z
伊佐拉(Izola), 斯洛維尼亞
Two bedrooms with two single and one double bed, kitchen, shower and toilet. Apartment has its own terrace, price for this apartment is 70-77 € per night + Tourist fee. Free parking Guests can take a 350-meter walk to get to Simonov zaliv beach.
伊佐拉(Izola), Izola, 斯洛維尼亞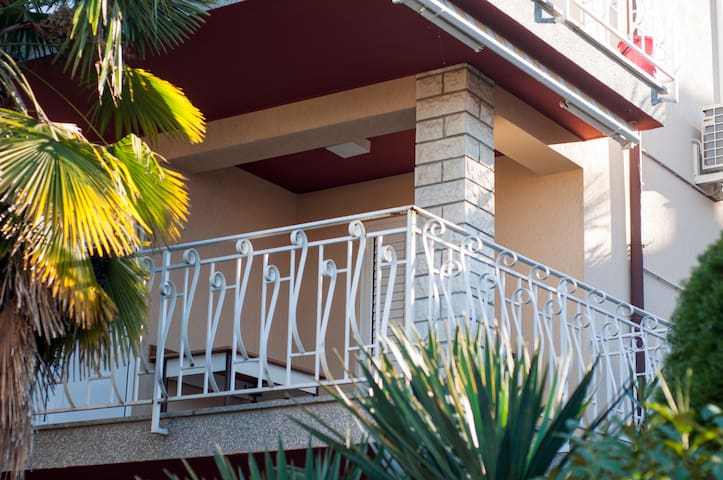 В доме на первом этаже сдаём две комнаты с общей душевой и туалетом. В первой комнате двуспальная кровать,холодильник,кондиционер.Во второй комнате: двуспальная кровать и односпальная кровать,холодильник,кондиционер. Возле дома есть парковка, дворик
伊佐拉(Izola), Izola, 斯洛維尼亞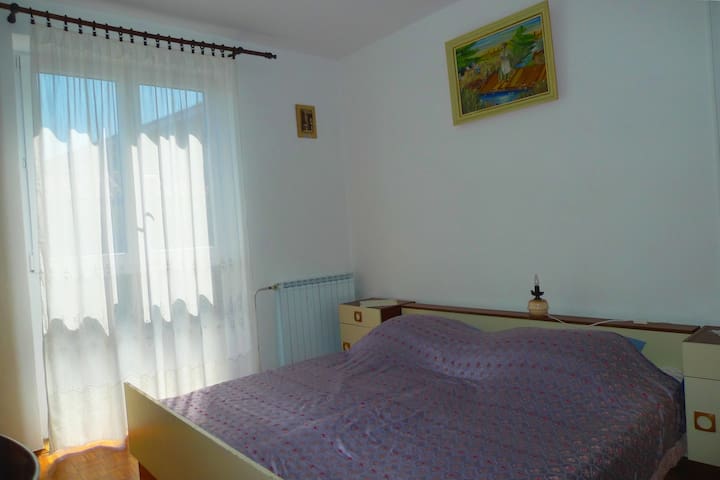 Three floors house, center of Izola, 2 minutes from the sea, quiet and pretty.
伊佐拉(Izola), Izola, 斯洛維尼亞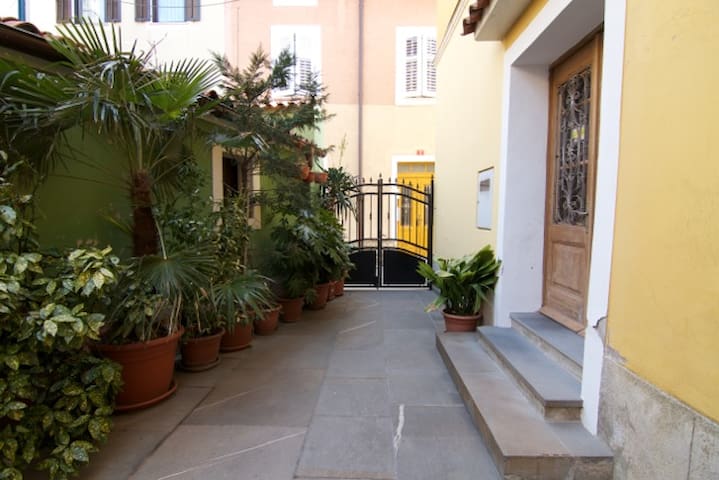 Apartment in a house in Piran with a large garden and an amazing view. Only a 5 minute walk to the city center, beach and nearest bus stop. One parking space available for free.
Layout: you get a bedroom with a double bed, a kitchen, a bathroom, small bathroom with toilet and a bedroom with two single beds. The apartment has its own front door and an exit to the garden. There is a dining table on the terrace outside that you can use as well as the tables in the garden. There are three new air conditioning/heating units in the apartment. The kitchen has a large fridge, stove, oven and washing machine. The bathroom has a bathtub, bidet and an infra lamp. All the rooms have hardwood floors and all the windows have shutters. There is a big sofa and a TV with cable in the larger bedroom. Fresh towels and bedding provided, as well as toilet paper and laundry detergent. If you want more space you can ask for the extra room. The room has a pull-out couch and can accommodate two people. The price per day is 20€ for the first person (or just to have the extra space) and another 10€ for the second person. The room has an exit to the garden and is connected to the apartment.
Notre séjour dans la maison du papa d'Ana Roza à été extraordinaire! La vue imprenable sur la mer nous a charmé, nous avons aimé passé du temps sur cette terrasse très bien équipée (douche, chaises longues, tables...) L'accès facile et rapide à pied aux plages et à Piran a facilité notre quotidien. Le propriétaire en plus d'être très aimable, est très discret. Il nous a offert des figues délicieuses et nous a invité à nous servir directement sur l'arbre! je recommande vivement ce lieu de vie plus que parfait!
severine
2016-08-21T00:00:00Z
Das Haus ist wunderbar, komfortabel, sauber und die Ausstattung ist umfangreich und modern. Das absolute Highlight ist jedoch der Garten; soviel verschiedene Sitzmöglichkeiten, dass man für jede Stimmung und Tageszeit den richtigen Platz findet. Die Lage ist ruhig und sehr günstig gelegen. Ana's Vater ist gut erreichbar, aufmerksam und sehr herzlich.
Susanne
2016-09-12T00:00:00Z
Very nice location, beautiful view from the garden.
Heléna
2017-03-18T00:00:00Z
Everything was perfect during our stay ! The vue is wonderfull, Ana and her father were very helpfull wen needed, house very clean, all supplied for a very comfortable stay We strongly recommend !!!
Marie
2016-12-31T00:00:00Z
The appartment is nice and clean with very well equiped kitchen. Garden is very lovely and big, so even with more people you can find quite spot. Great view. Matjaž, our host is nice and helpful. Location is also very good and parking spot comes very useful. Great place to stay.
Magdalena
2015-10-12T00:00:00Z
If you are looking to spend a few relaxing days by the seaside in Piran, look no further than this ideal retreat. We stayed a week in Ana's fantastic place...and we were sad to leave so soon. The area is magnificently picturesque, a five minute walk to town. The sunsets from the front yard were a real highlight too. Amazing! Ana's father (our host) was a perfect gentleman, letting us in to the house and organizing everything we needed for a convenient and comfortable stay. The only reason not to stay here is if it's unavailable. If it's available for your dates, book it now...and enjoy!!
Joel
2014-09-12T00:00:00Z
Ana Roza and her father are exceptional hosts. They were very quick and clear with their communications and did everything to make our stay a great experience. The house over-looks the Adriatic sea and one can just sit in garden and enjoy the beauty endlessly. Getting fresh fruits (Kaki) from the garden was an unexpected but added bonus. The house is really old house and we really appreciated the charm and beauty of the place and the fixtures. Our only regret was that we could not stay longer!
Sulabha
2016-10-21T00:00:00Z
Very nice location and kind hosts - just wonderful.
Stefan
2015-06-24T00:00:00Z
Piran, 斯洛維尼亞
Two bedrooms with two double beds, kitchen, shower and toilet. Apartment has its own terrace, price for this apartment is 70-77 € per night + Tourist fee. Apartment has its own parking Guests can take a 350-meter walk to get to Simonov zaliv beach.
伊佐拉(Izola), Izola, 斯洛維尼亞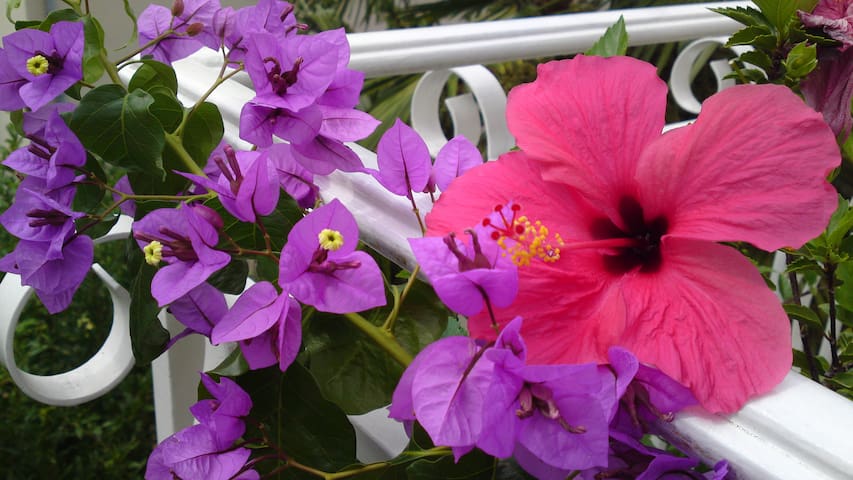 Cozy, traditonal, 3-bedroom apartment, devided in two floors. Suitable for up to 6 people. Includes spacious patio. Central and quiet location, just a step away from main square and sea. Parking available on request! Aircondition, WI-Fi, cableTV.
House is located in center of Piran right near Tartini square, just 2 min away from the sea/beach and markets/restaurants/bars/shops/post/bank/bus... Our spacious apartment (total surface of the apartment is 85 sqm/915 sqf) is located in 1st and 2nd floor of a two apartment house. Apartment has two floors. In the first one is a living room with TV and air condition, a fully equipped kitchen with oven and fridge, bathroom with shower/bathtub and washing machine and one bedroom. In the second floor there are two bedrooms. One of them is also air-conditioned and with real bed, the other one is with extendable sofa for 2 persons. In second floor there is also an exit to the terrace. Spacious terrace of 40 sqm is a great place to enjoy a glass of your favorite drink in the shade of the vine pergola. Like in all other old houses in Piran there are few steep stairs from the ground floor to the apartment and so the apartment is not suitable for handicapped. Wi-Fi internet is available all over the apartment with speed of 1 | 0,5 Mbit/s. We also have a cellar under the apartment where you can store bicycles, strollers etc. We can also provide a baby bed and feeding high chair if requested. Fresh bed linen and towels are available in the apartment on your check-in. Tourist tax is NOT included in price: adults: 1,265 €/person/day, children (7-18 years): 0,633 €/person/day, children (0-7 years): free of charge
In medieval Piran you can visit some interesting turistic points like old fisherman's harbour, museum, aquarium, theater, Tartini square with city hall, baroque Loggia, magnificent church on the hill or remains of medieval town wall that was protecting the city from the attacks. In Piran we also have many good restaurants with great sea food and nice pubs. Piran has also few nice beaches where you can swim and enjoy in summer sun. All the places you should visit are introduced in our guidebook. Piran is located 120 km from capital Ljubljana (Jože Pučnik airport), 190 km from Venice (airport) and 40 km from Trieste (airport). Near Piran is famous resort Portorož with casinos and famous Sečovlje salt pans.
Very special ! Very helpful ! Thanks to Barbara and her cosy apartment we really felt at home in Piran. Everything one needs is in the flat,even a collection of plastic action figures. :) Thank you Barbara, we enjoyed it a lot !
Stephanie
2014-06-16T00:00:00Z
Barbara is a perfect host, and Piran is a perfect little town for a couple looking to enjoy good food, inexpensive wine, beautiful waters, sunbathing etc. Barbara helped us very kindly by sending her mother to meet us at the square, very kind. Also the mother came with a wine bottle opener when we couldnt find one in the apartment :) The apartment is old style in two floors, the bedrooms on the second floor and the bathroom and the air conditioning on the lower floor unfortunatelly, so not much use of that during night time. Also a bit of smell in the entrance of the building, of "old cellar" and very steap stairs, so perhaps not for persons having difficulties walking. Clean and OK otherwise! Recommended due to the high service!
Ann
2013-07-14T00:00:00Z
Piran is a lovely city and Barbara's flat is perfect to discover it. A few feets from Tartini's square, at the heart of Piran's charming historical centre, the apartment is calm and spacious. Although we didn't meet in person, Barbara was really helpful and perfectly organized our arrival. Her family came to meet us on Tartini Square, helped us to the apartment, showed their prefered spots in the city and arranged for all the practical arrangements (free parking lot only ten minutes from the city centre...). We would most definitely stay here again !
Thomas
2013-08-31T00:00:00Z
Great communication with Barbara and Eric. They went out of their way to make our stay comfortable, even made an additional pair of keys. Highly recommended!
Christoffer
2016-06-06T00:00:00Z
Barbara and Eric were awesome hosts! They somehow predicted our moment of arrival and greeted us at the gate to the parking lot with our parking pass. A quick 2 minute gratis bus ride gets us to Tartini Square and their apartment is 2 minutes walk across the square. (If you walk to parking it's only about 10 minutes walk). The apartment is very well equiped, has 2 bedrooms on two different floors, both with king size beds. This place has an out door patio area for dining, rather very private, but no particular view, but pleasent. The lower floor has a bedroom, dining room, kitchen, bathroom and the upper floor has a bedroom, sitting room/ living room with crib and the outdoor patio. This place has an old world feel, and full of Grandma's best, many hand made crochet doilies, fine crystal glass wear, antique furniture, very homey. The shower is a sit-down affair but very easy and comfortable to use. Everything was very neat and clean. We stayed 3 nights and loved it. Barbara was really super helping us to find a place to buy a SIM card for Slovenia for our phone/iPad nearby. This is a good base to enjoy Piran (beautiful!) and easy access to Isteria, Croatia and Skocjan Caves, in the Karst, which we loved. Postojna Cave is also close-by and we loved that one too, very different than Skocjan. Seafood dinning in Piran is really excellent and prices for fine dining much much less than Italy. For us this was a very quiet and comfortable place and we really enjoyed visiting with Barbara and Eric. We would reccomend her place and we loved our visit.
Mary Ann
2015-05-22T00:00:00Z
A very nice old-fashioned, spacious two floor apartment in the very center of Piran, with rather steep stairs that our kids managed well though. Barbara was really helpful and made it easy for us to come, helped with the parking and practical arrangements like finding a grocery store. Kitchen was well equipped. We loved our stay in Piran!
Mikko
2013-07-23T00:00:00Z
Barbara's place was as described, close to the centre of piran and definitely 'authentic' Slovenia. while old-fashioned, it was clean and comfortable. The place had everything we needed, except maybe a closer shutting door due to two couples and a baby staying! (Ahem!) Barbara and her family were very helpful and I recommend this place to anyone, except those who cannot manage steep stairs. I found this the perfect introduction to Slovenia. Piran was most interesting and enjoyable. We wish we'd had longer!
Kath
2013-09-11T00:00:00Z
This is a great apartment in a perfect location, just off the main square. It has a lovely terrace for eating underneath a vine (although it's a pretty steep staircase to get up to it, so we shut our 11 month old away from it!) Barbara and Erik are perfect hosts, really well organised, lots of really good information, happy to do anything to help and lovely people as well. We're looking forward to coming and staying again.
Alastair
2015-08-01T00:00:00Z
Piran, 斯洛維尼亞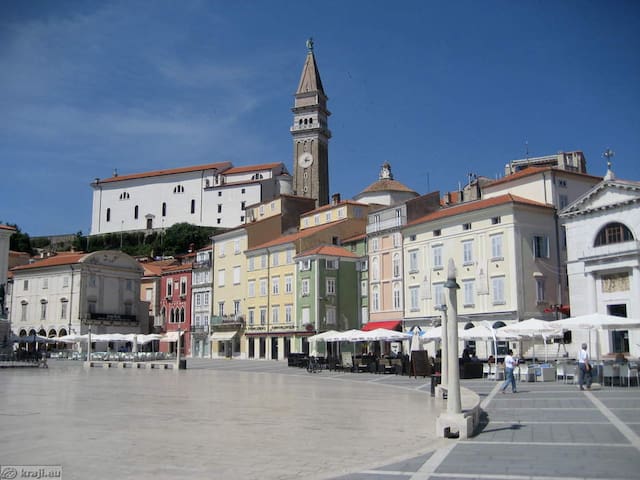 Our beautiful cottage of 140m2 (4 bedrooms & terrace) is located in a quiet street, in the heart of historic Venetian town of Piran. It comfortably sleeps 8 people. Beach, Cafes, Tartini square, Restaurants, Bakery, Markets, etc.. are 5min walk away
Our beautiful newly renovated cottage - available in spring 2016 (all reviews relate to bookings in 2015 - prior to renovation) comfortably sleeps 8 people. It has 4 double bedrooms (with double bed in each room), a separate living room, new kitchen with dining table, large entrance area, one large bathroom with a separate laundry room and washing machine, and another separate WC. The cottage also has 14m2 of roof terrace, which is ideal during early mornings or alternatively romantic evenings 'under the stars'.
Cottage is located between Tartini square and 1st of May square, with both offering an abundance of cafes, restaurants and 'tavernas' with their outside space 'under the stars' set within a historical, magical setting. Swimming, snorkelling, scuba diving and sailing school (for children) prevail in Piran during the summer months, with well run tennis club (in nearby Lucija). As a cultural and historical town it also offers regular festivals of music, dance, art and architecture.
we enjoyed our stay in piran. the house is in a great location. the accomodation is good.
KATHERINE
2015-07-30T00:00:00Z
The place was lovely right in the city centre and clean and well cared for. Would recommend.
John
2016-05-30T00:00:00Z
The place was great! Homely, original and with great location. Would recommend it to anyone looking for an authentic acommondation with a great location.
Samuli
2016-07-10T00:00:00Z
Die Unterkunft liegt sehr zentral, ein paar Minuten zum Markt und zum Hauptplatz und ein paar Schritte mehr zum Strand, also mitten in "down town" und ist wegen der engen Gassen nur zu Fuß erreichbar. Man lebt mit den Nachbarn und der Umgebung. Das Haus ist zweckmäßig eingerichtet, das Mobiliar vermittelt ein nostalgische Flair. Die Schlafräume liegen im 2. und 3. Stock, Küche und Wohnzimmer im 1. Stock und das Bad im Erdgeschoss - da es ein sehr altes Haus ist, sind die Stockwerke aber auch nicht hoch. Das Bad ist ganz neu renoviert. Das Sauberkeitsniveau entspricht nicht ganz dem Standard, den man aufgrund der Reinigungsgebühr erwarten würde. Insgesamt ist Pirat ein sehr, sehr angenehmer Ort zum entspannen.
Márta
2015-07-26T00:00:00Z
Natasha's four story town house in the middle of historic Piran was a genuine delight. Everything is within a three minute walk of the front door - beach, markets, the main square, cafe's/bars so nipping out to but breakfast fresh each morning is short but pleasant work. Try it out, you won't regret it.
Andrew
2015-07-17T00:00:00Z
Lovely property with a fantastic bathroom and lovely view from the terrace. Natasha was extremely helpful and key exchange ran extremely smoothly. Highly recommended.
Jo
2016-07-05T00:00:00Z
We must appreciate good communication with the host before as well as during our stay. Our thoughts about the house were, however, quite diferent from the reality. I.e. the "master picture" of the property (mosaic window) does not belong to the house itself, but to the house on the opposite side of the street. Piran is pretty nice city, where people enjoy themselves till late night, singing, chatting, drinking... Great for those, who want to join them. Those, who want to sleep during the night should rather search for the accomodation outside the city centre. House is old, romantic with lovely terrace above the roofs of surrounding houses. Nice to sit there and watch stars during the night, indeed. It could be a bit cleaner, but perhaps, we were too demanding :-) Anyway, interesting experience. Piran is, indeed, a lovely place and worth to visit.
Jan
2016-07-31T00:00:00Z
Great location, key pick up was perfect. Wonderful location, sea food paradise especially those tucked away in the back streets. The house was as described in the pictures. Many thanks Natasha, Martin
martin
2016-09-18T00:00:00Z
Piran, Piran, 斯洛維尼亞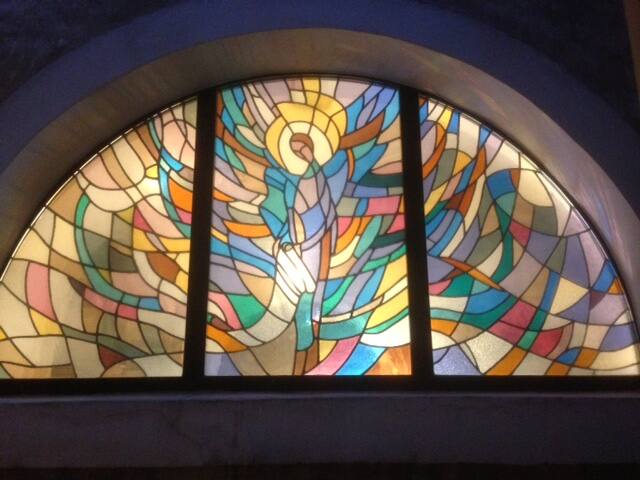 Zappa's House is a special treat on its own. With a wonderful style and graceful comfort will make you feel astonished by Piran's architecture. Located in the old part with a sunny terrace on top is truly a unique experience.
Recently redecorated typical Piran's house, where slovenian artist Pavle Zamar - Zappa used to create and live. With two large bedrooms, one cozy and cool living room with an open fireplace, spacious and fully equipped kitchen with dining area- everything is ready to satisfy your dreams of perfect holiday. I am standing here for a long time. "Would you like to know more about me and listen to my story?' Zappa's house.
Located in the old town, where everything is near by. Grocery shop at the street corner, bakery just steps away. Small tobacco shop with newspaper stand on the street as a couple of bars and some good restaurants with local delicacies. To the nearest beach, which is suitable for families is around 100 meters away. In between you can find incredible ice-cream. Along Piran and around peninsula there are numerous spots to jump in to the sea and have a swim. The best beaches on the other hand are on the way to Fiesa, where you can find peace and great vistas under stunning cliffs.
Zappa's house was wonderful - full of interesting things and beautifully decorated. It is perfectly located in Piran - a very special seaside town, which we loved exploring. Grega was a perfect host - he went out of his way to make our stay as easy as possible - helping us with luggage, to park our car, and recommending wonderful places to eat. We hope to return one day! Thank you!
Jana
2015-07-25T00:00:00Z
The host canceled this reservation 139 days before arrival. This is an automated posting.
Julia
2017-02-20T00:00:00Z
Superbe séjour de 5 jours à Piran début juillet dans la maison de Grega. (2 adultes et un enfant de 6 ans) Appartement décoré avec beaucoup de goût dans une petite maison toute en hauteur avec beaucoup de cachet. Située en plein centre de la veille-ville de Piran pratiquement sans aucune voiture, nous avons adoré notre séjour. Grega est aux petits soins pour nous, très disponible et super sympa. Il nous a donné plein de bonnes adresses et de bons tuyaux pour les activités et visites du coin. Il y a des vélos à disposition, c'est un super moyen pour se déplacer dans la région. La route D8 est à faire absolument car nous circulons sur un ancien tracé de chemin de fer. Que de bon souvenirs ! Nous recommandons chaudement cette adresse !!!
Véronique
2016-07-07T00:00:00Z
From very first contact Grega made us feel very welcome and did everything to make our visit go smoothly. We did not have one problem. We had no problem meeting at the entrance to the town and he arranged a friend to help us for an early morning departure. Grega also organised secure parking for our car. The house has a wonderful atmosphere and character. It rises up 5 floors (so yes there are quite a few stairs) to a small rooftop terrace. It is very comfortable and well equipped. The tasteful furnishings certainly enhance the charm of the home. And it actually felt like a home being set amongst residential properties so that you experienced the sights and sounds of the local community. And the best part is that in this old home it is clean and everything works - the bed is comfortable and the water is hot. Piran is a great destination. Certainly frequented by tourists but not overwhelmed. It retains its old world charm with original buildings and original families. You do not need a car,in fact cars are not permitted in the town. You can swim,wander around or just relax. Unlike many guests we actually used it as a base to do day trips with our car to nearby Slovenian and Croatian attractions which are conveniently close by. I am sure you can tell that we had the perfect experience. Strongly recommend you visit Zappa's House.
Harry
2015-09-27T00:00:00Z
Zappa's house was the perfect place to stay in Piran, and Grega was a terrific host. He was very friendly and welcoming when I arrived, and very responsive when little things came up, but not at all intrusive. I really enjoyed the fresh strawberries he dropped off, and chatting with him about life in Piran. The house was really comfortable and well-equipped and full of charming details. I especially enjoyed the roof deck. Piran is a small town but there's lots to see and do. All in all a great trip!
Steph
2016-05-30T00:00:00Z
We are glad we chose Zappas House hosted by Grega. We came with our three kids for their school break and the house accommodated us splendidly. Grega was an excellent host, waited for us upon our arrival, helped us wih our luggage, assisted with sorting out parking for our car and gave us plenty of helpful tips on what to do and where to eat in Piran. We felt very well looked after. And I should also mention a huge bowl of apples and a bouquet of fresh flowers awaiting us on the kitchen table. The house was spotlessly clean, well equipped and tastefully decorated. We appreciated the unfussy white china in the kitchen cabinets and the absence of clutter throughout the place. All the rooms had a clean and fresh feel to them. The house is in a quiet street one minute from the Tartini Square, and within a really short walking distance from a number of great restaurants. The closest being Pri Mari (about 3 min) which we happened to like best anyway. There is also a bakery open from 6 to 24 every day and a small supermarket - both just a few steps from the house. All in all, Zappas House was a great choice. We could totaly relax, enjoy the peace of the house, savour delicious local food and walk along the sea. We are definitely planning to come back.
Martin
2017-03-15T00:00:00Z
Grega was waiting for us when we arrived in Piran and took us to Zappa's House. He was the epitome of an Airbnb host, telling us about the town and giving us recommendations for restaurants, trips and nights out. He stayed in contact throughout and ensured that we had the best time we could in Piran. Zappa's House is beautiful- well-equipped, restful and quirky- and Piran is a fabulous place to stay. we would go back at the drop of a hat!
Fiona
2016-09-04T00:00:00Z
Wonderful host and property in sunny Piran. Our whole family thoroughly enjoyed our four nights there is month, wish it had been longer. Lovely touches for us when we arrived including a selection of fruit and vegetables, flowers and our own bicycle for use during our stay. The house itself was really tastefully renovated and comfortable. Highly recommended!
harriet
2014-08-10T00:00:00Z
Piran, 斯洛維尼亞
The three bedroom villa is located in the heart of old town, only a few minute walk from the beach. With its dynamic structure it is perfect for families. The rooftop terrace offers beautiful views over the town roofs to the sea and nearby church.
* Three-storey house * Three big terraces, including rooftop terrace * Family friendly * Enough room for 6 to 8 people * In the heart of old town * Beach is only a few minutes walk. * Dogs are welcome
The city has a typical mediteranian feel, where locals are friendly and hang out in local restaurants and cafes, where you can enjoy a good meal or a glass of wine. If you would like to take a stroll, there is a nice path along the coast to the nearby cities. And if you are interested in the overwiev of Piran, just go up the hill, to the church that you are looking at from the terrace or to the walls of the old castle and Piran will spread up beneath you like a map.
Très belle expérience dans un lieu très agréable à vivre ; nous avons passé de très belles vacances ; Miha nous a accueillis très chaleureusement et nous a donné des conseils et fourni des adresses de restaurants ;
Amelianne
2016-08-14T00:00:00Z
The space was lovely. Clean, handy location and as described.
Jane
2016-05-16T00:00:00Z
We had a great stay in Casa Nicolina. The house is very comfortable and only a few minutes from the Tartini place, the market, the beach and nice Restaurants. We especially enjoyed the Outdoor shower! We can only recommend a vacation in Casa Nicolina!
Cindy
2016-07-15T00:00:00Z
We stayed the 2nd time this year in Mihas apartment. Everything was great like the first time! Additionally Miha checked us a electro mini wagon that picked us up at the entrance of the parking house and drove us directly to he apartment. So we needed not to carry the luggage. The apartment with 3 terraces was perfect again. It is fully equipped with everything you need. It is very quite and very central (only some meters from the central Tartini Place). I think you can't find a better place to stay in Piran. Miha ist the best host you can wish. When i'll come back to Piran i will stay in Miha's apartment again.
Axel
2016-09-04T00:00:00Z
Från att vi bokade Casa Nikolina visade Miha hur han kunnat bli en superhost. Vi fick informationsmail med erbjudande och tips i Piran och tydliga instruktioner och vägbeskrivning. När vi kom fram till Piran blev vi hämtade gratis och fick därefter en fin rundtur i huset. Vi fick även en välkomstkorg med kall öl och frukt till hela sällskapet. På kvällen fick vi möjlighet att lära känna Piran genom Miha och hans vänner. Genom att boka Casa Nikolina får man inte bara tillgång till ett mycket trevligt boende, utan även en vän och kontakt i Miha. Under de dagar vi spenderade i Piran var vi vid ett tillfälle ute på en båttur med en vän till Miha. På båten fick vi fiska, bada och äta gott. Flera av kvällarna spenderades på uteplatserna i huset med utsikt över staden. Jag rekommenderar varmt att boka boende på Casa Nikolina och skulle gärna komma tillbaka igen!
Max
2016-08-01T00:00:00Z
La casa de Miha es un pequeño paraíso dentro de un paraíso más grande, Piran. Es cómoda, bonita, con muchos detalles, increíblemente bien situada. Estuvimos muy cómodos siendo 2 familias de 8 personas en total ocupando la casa entera. Miha es un anfitrión magnifico, estuvo muy pendiente de todo, nos dio todo tipo de recomendaciones y hizo que nos sintiéramos en casa. La única pega es no poderse quedarnos a vivir para siempre.
Asya
2016-08-20T00:00:00Z
Sjældent har man følt sig mere velkommen end hos Miha. Kommunikationen er lynhurtig og som aftalt. Miha sørgede for transport fra P-hus til boligen (Piran er uden biler), rundvisning i byen samt snak om muligheder for aktiviteter, imens vi blev beværtet på et af de lokale værtshuse. Huset er i 3 etager og spændende indrettet med terrasser på hver etage. Godt med plads og veludstyrede køkkener. Det har været en fornøjelse at låne denne lejlighed og jeg kan anbefale den på det varmeste.
David
2016-07-29T00:00:00Z
Sehr schönes, zentral gelegenes Altstadthaus mit 2 Wohnungen über 3 Etagen wobei die untere Wohnung etwas düster, die obere Wohnung jedoch sehr hell und gut ausgestattet ist. Guter Stützpunkt in Piran. Übergabe der Wohnung und Rückgabe war alles problemlos.
Robert
2015-05-04T00:00:00Z
Piran, Piran, 斯洛維尼亞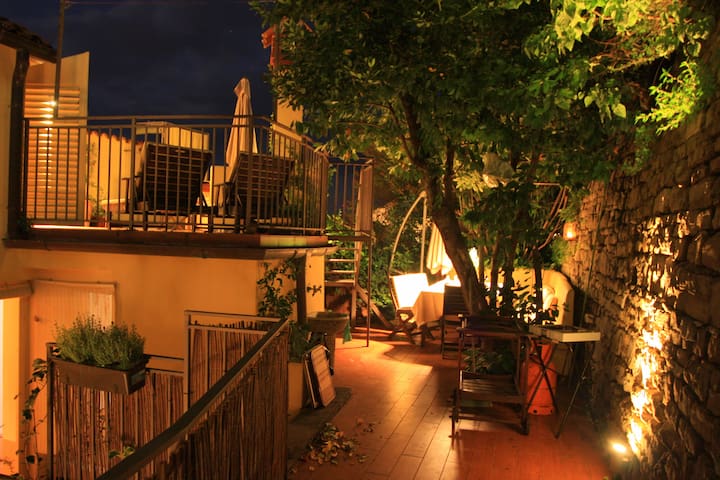 Historic house in the heart of Piran: five floors have 6 rooms + 3 bathrooms - ideal for an extended family or group of friends traveling together! Perfect Old Town location: 2-minute walk to swimming, supermarket, restaurants and the best coffee house in Piran. We offer you all modern amenities: free wifi, air con, full kitchen. Private roof terrace with breathtaking views!
Feel at home surrounded by all modern comforts - now being fully renovated and brand new furniture installed, hence lack of pictures: -150 sq.m. of living space over five floors of a historic Piran house, a registered monument: *on the first floor, you will find a spacious living room, dining area, fully equipped kitchen a brand new bathroom *on the second floor, there are two bedrooms: one with a queen-size bed and a spacious closet - perfect for a couple; second bedroom has bunk beds that kids love. Both bedrooms are facing quiet streets * on the third floor, you will find a master bedroom with a queen-size bed, large closet and a fully equipped brand new bathroom * on the fourth floor, you will enjoy a spacious living room with dining area, a fully equipped kitchen and gorgeous view onto three sides *on the fifth floor, there is a bedroom with a queen-size bed, a brand new bathroom and your private large terrace with panoramic views of Piran and the sea -view of famous Franciscan monastery from your rooms -Free Wi-Fi -air conditioner -brand new kitchen includes a large fridge/freezer, stove, oven, and cupboards full of chinaware, cutlery, pots & pans, kitchen utensils -fully renovated bathrooms are equipped with a shower cabin, sink, toilet and a brand new washing machine - there are also two double-sofas available in the leaving rooms - terrace features dining table and chairs for a truly unique experience
房間類型
整套房子/公寓
---
房源類型
獨棟
---
可住人數
12
---
卧室
Piran, Piran, 斯洛維尼亞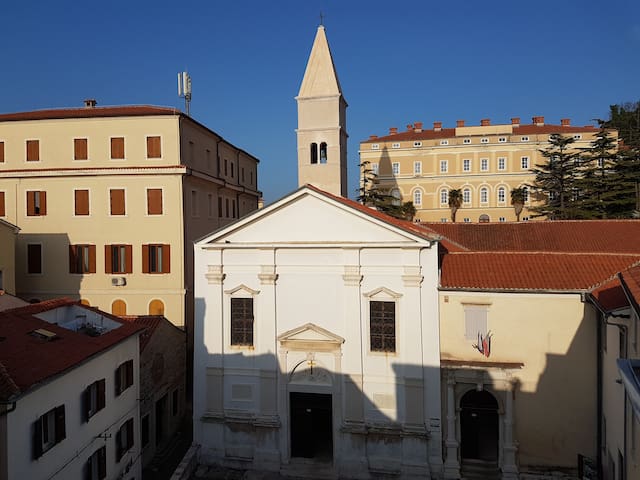 5min walking distance from the centre of historic city Piran.Private parking, garden with grill, balcony with a view at the sea. House is fully equipped (kitchen,tv,fridge,washing machine...), located in a nice green and quiet area by the playgrounds
This was a real home from home. Very relaxed and easy. For a driver it was ideally located so we could park the car and walk into Piran.
Martin
2015-09-13T00:00:00Z
Luka's place is amazing! Very comfortable house with all the facilities one can imagine, spacious and beautifully decorated. The location is also very good, in short distance to the main square in Piran. The communication worked perfectly and Luka is a perfect host, friendly and always available for questions about any requirements. Could only recommend this place!
Vita
2015-07-20T00:00:00Z
У Луки очень уютный, просторный, наполненный душой дом, полностью соответствуюшим фотографиям! И очень милые хозяева, откликающиеся на любую просьбу! Прекрасный вид с открытой терассы на море и закат. Дом расположен недалеко от старой крепостной стены на возвышенности. Чтобы попасть в Старый город, надо минут 10 идти вниз с горки, обратно - соответственно, наоборот! Прекрасная тренировка, чтобы добраться до магазинов или городского пляжа )))) Но рядом, в 10 минутах ходьбы, есть очень красивый демократичный пляж Фиеса! Лука, большое спасибо за гостеприимство!
Marina
2015-08-23T00:00:00Z
Nous avons été très bien reçus par la maman de Luka. La maison est spacieuse et confortable, conforme à la description, au calme, avec jardin agréable, mer et centre ville accessibles à pied, parking couvert pour la voiture, nous recommandons ce logement
grégory
2016-07-16T00:00:00Z
Luka a été un hôte parfait : sympa, disponible si besoin pour que notre séjour se passe pour le mieux ! La maison est très bien située, proche du centre de Piran mais sur les hauteurs de la ville, dans un quartier plus calme, avec un jardin très agréable. Nous nous y sommes rapidement sentis comme chez nous. La climatisation est un vrai plus pendant la période estivale où il peut faire très chaud. La ville de Piran est pleine de charme et parfaitement située pour profiter de la côte istrienne mais aussi pour visiter l'intérieur de la Slovénie (Ljubljana à 1h20 de voiture, grottes de Postojna à 1h...) tout en conservant un point d'attache en bord de mer. A recommander sans hésitation !
stéphanie
2015-08-07T00:00:00Z
Luka's place is really great and very well situated, on the hill above the Old city of Piran. We really enjoy the place and we were very well welcomed. The plus is that we were able to park our car in his garage. Thank you very much for everything!
Marie-France
2015-08-13T00:00:00Z
В начале июня, мы всей семьей отдыхали в Пиране. Арендовали дом у Люка. Места в доме хватило всем. Детям раздолье-рядом с домом живописный дворик. Море и пляж в десяти минутах ходьбы. Хозяин приветлив, всегда готов что-то предложить, посоветовать. Дом просторный и светлый. Впечатления положительные. Спасибо за прекрасный отдых.
Vladimir
2016-06-18T00:00:00Z
Great appartment, all as described! Easy to find, located on the top of Piran! A bit hard to climb the hill back from the city, but who cares? The area is quiet and nice. The balcony is gorgeous! Thanks!
Balázs
2016-03-27T00:00:00Z
Piran, Piran, 斯洛維尼亞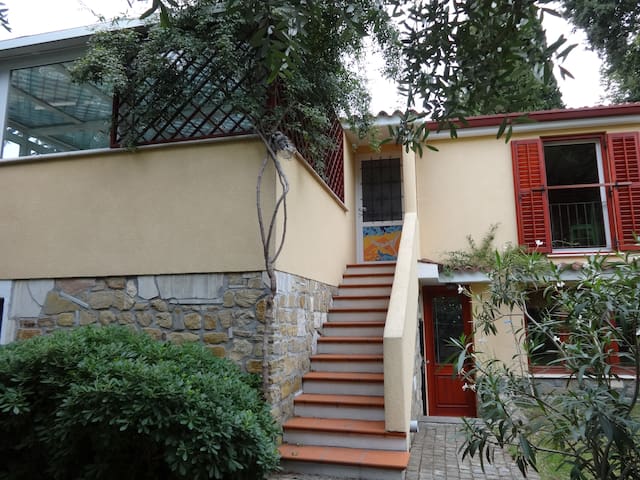 A quiet traditional stone house in a harmony with a Mediterranean climate. It has two bedrooms, 3 beds, living room with sofa and extra beds, two bathrooms, kitchen and a small garden. Beaches within 30 m. Human fish in Postojna.
Located in the center of Venetian, fisherman town Pirano. Best for families with kids. Can accommodate up to 6 people. 20 m to the sea, 80 m to various beaches. Quiet area, sun in the afternoon. Offering to experience of a traditional Mediterranean lifestyle and a rest from usual, urban rush. Suitable those who appreciate local culture and healthy, healing environment. Staying in the traditional house is the way how traditionally people live here. One can learn the best way to cope with the climate, eat local, healthy food, enjoy near by beaches and local restaurants. There is a fresh food market daily in Piran and many opportunities to visit nearby farms. Fresh food market is especially rich with local products, on Saturday mornings. Fish market with daily fresh fish. A variety of restaurants from Istrian cusine, to Italian and fish restaurants. Also a traditional food from Sarajevo ( Bosnia) for authentic čevapčiči and pleskavica. Piran has many energy points and it is no coincidence that there are so many churches there, the oldest from the 11th century. Staying in the traditional house will be especially enjoyable to those travelers who appreciate traditional and natural buildings that offer a healthy living environment. Also walking up and down the oak stairs will be beneficial for your motoric skills, thou one must learn how to use it properly too. Do not worry - it is not difficult and it is a new experience! The house is very comfortable with two bedrooms, with real beds, living room with an extra double bed, two bathrooms, kitchen and a small garden, with a palm tree and other Mediterranean plants. A cat that sleeps on a bench goes with a house ( a neighbor takes care of her). House is fully equipped, also with washing machine ( on request). Sheets, towels included. Cleaning service for longer stay optional. Internet, radio, iron, hair dryer, CD player. NO SMOKING in the house. No pets in the house. Cultural and historical sights 3 minutes walk, galleries, library, post office, shops. A range of different restaurants - all 5 minutes walk. The town Piran resembles a large open-air museum, with medieval architecture and a rich cultural heritage. Narrow streets and stone houses give the town its special Venetian charm. Beautiful bay, port for your boats / yachting tourism. Long walks near the see to near by Portorose ( 2 km), a tourist center with Kempinski hotels, casinos, night clubs and top restaurants. Two hours with the boat accross the bay to Venice and 30 km from James Joyce's Trieste and 20 to magic Istria (CRO), 121 km from the Slovenian capital Ljubljana . Piran geographically lies on the Istrian peninsula. Close major airports are in Trieste and Ljubljana and a small one in Portorose (Portorož). Diverse cultural events daily on main square Tartini. For local cultural events consult Piran/Portorož Tourist Offices, or/and localy at Info centers and local churches websites. Local bus, intercity buses, taxi, private transportation (go opti), train (Koper, Trieste). Also (URL HIDDEN) is a local civil transport provider for cheap travel. Extra cost is a tourist tax paied at the location ( 1 euro per night, 0,80 for under 18 and free for under 12), at the TOURIST BIRO ( exact address later) and can not be avoided. Tourist who stay longer than one night have to register. The registration fee per person is 3 euros. Not to submmitt is against the local law.
The traditional culture, food and the sea. Dolphins if lucky. Marina, mini golf, cycling, open air salt museum in Secovlje. Harvesting salt in a traditional way in Sečovlje. National park and wellness center in Sečovlje. Istria in Croatia. Ljubljana- capital 100 km away. Trieste - shopping and sightseeing.
Irena was very helpful guest, she helped a lot to manage to place our car, which is not easy in Piran as they have very strict parking policy. However consider slightly high prices for parking (EUR60/week) or you can park free near Piran in a huge free open-air parking place if you are with car. In this case you can use the local bus for EUR 1,50/person which is reasonable. The accomodation itself was OK considering it is an old house with used furnitures, i'm not sure the high-pitched steps are kid-friendly, but we have managed it with strict rules with the kids. :) Kitty-cat was lovely and friendly, our kids were loving her. We had some issues with Irena's STRICT cancellation policy, but fortunately we had no issues with it so far.
Peter
2014-08-21T00:00:00Z
Had a nice stay in the old house. Irena met us when arrival late and gave a quick go-through the house. We stayed for 4 nights. Piran is a great place! Easy access to a swim or a restaurant on every part of the town. We have 2 kids 6 & 8 years and they to found it easy living as well! Was nearly never at home, but when we were the house contained the things we needed.
Helene
2014-07-15T00:00:00Z
Great location, great attitude, great service
jozef
2014-09-03T00:00:00Z
The location is very convenient. The flat is beautiful and would be an ideal place for couples or a family with older children. However, it was not ideal for our 3 year-old. Irena does point out about the stairs on her website but they are very steep with concrete at the bottom and do not have a hand-rail. The washing machine advertised did not work and was rusty, indicating it had not worked for some time. On arrival Irena advised us that our children had to be very quiet as this is a traditional neighbourhood. On our second night, however, the neighbours kept us awake with loud music.
Jane
2014-08-28T00:00:00Z
perfekte Unterkunft im Herzen Pirans !
Helmut
2014-09-19T00:00:00Z
This lovely home in Piran was a lovely base for a few days. As always piran is a lovely place to be but the lack of cheap parking can make it an expensive place to stay if you do not I tend to tour around using it as a base.
ingrid
2014-08-24T00:00:00Z
A nice quiet old house.
Rainer
2014-04-19T00:00:00Z
Irena was super nice and has a beautiful house in Piran. We definitely enjoyed the authentic Piran experience. The only problem was that the house is quite cold (we were there in April) and could have used an extra space heater or two.
Emma
2015-04-13T00:00:00Z
Piran, 斯洛維尼亞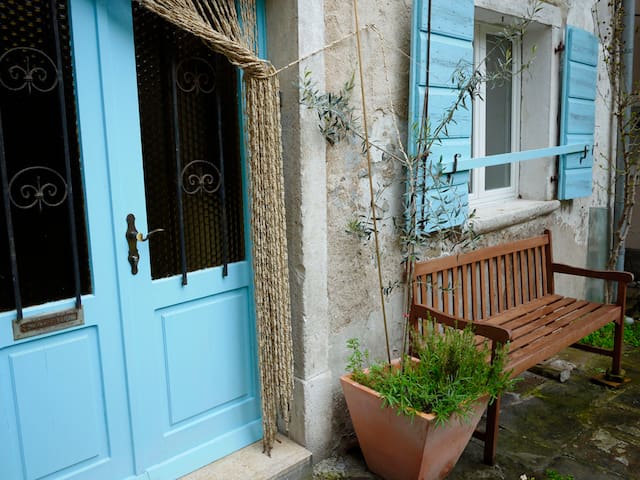 Our comfortable private room (with fridge) has a true city feeling! It comfortably fits for two persons. It's centrally located on a quiet area of the Piran, just a few steps from the beach, trade-market, tobacco shop, restaurants, bars, churches.
Simply love Piran. I like the touch of familiarity. It's a lot of wonderful bars with a hint of Istria and restaurants as well. Everything is near, within walking distance. If you are a person who is not in hurry and enjoy a good Mediterranean food and delicious wine, then the medieval town of Piran is right destination for you.
Ksenijas parents could not have been nicer. They were so helpful in giving us information about piran where the best places were to eat , places to visit etc. The room its self was very average, dark and dank it smelt very musty. Only the very basics were provided. Plastic takeaway cups toilet paper and very tired towels. Parking was a huge problem being one km away from the room and involved shuttle bus and passes. Piran itself was fantastic and well worth a visit.
peter
2014-09-10T00:00:00Z
Ksenija's father picked us up from the main square, and brought us to their house. The room is on the ground floor, has its own bathroom and is separated from the house of Ksenija's parents. This made it feel like our own little hotel room with a lot of privacy, which was nice. However, if you are looking for lots of interaction with the airbnb host this is perhaps not the place for you. The only downside was there is no kitchen (but this is mentioned in the description). Ksenija's parents were very friendly and lovely, and the house is wonderfully located amidst the tiny village of Piran, the nicest spot we have been in in Slovenia! Had an absolutely amazing time, would recommend this airbnb to anyone who values a good location, a clean and beautiful place and privacy over bonding with locals.
Geertje
2016-08-07T00:00:00Z
We didn't meet Ksenija, only her parents. The room was clean and looked like on the pictures. However the wifi was not working. We said it the first night we were there but nothing has been fixed, no explanation given and no other option offered even when I specifically told them that we needed internet to plan the rest of our trip. It never worked the two nights we spent there.
Elodie
2015-09-12T00:00:00Z
Clean room with a fridge at the center of Piran was definitely something to recommend. Communication with Ksenia went great and her father was very helpful. Unfortunately, free parking is not "on premises" as it is 2 km away from the apartment and there is no WiFi connection (so Ksenia should probably consider removing those two things from the amenities list, as they are misleading!) . However, if you don't mind those, its a nice place to spend a couple of days in this beautiful city.
Mirza
2015-09-10T00:00:00Z
It was very nice and really cute Room. If we come again to Piran we would go to this room. We enjoyed this Room. Dont miss it!
Lukas
2016-08-08T00:00:00Z
The apartment is in a very nice location and Ksenija's father who accomodated us was more than hospitable. The only thing you need to pay attention to is to pack your stuff into the smallest amount of luggage possible because it's not allowed to park your car inside the city.
Michal
2016-08-13T00:00:00Z
Nice, clean room, good location in the centre of Piran, Ksenija and her parents were very helpful and responsive
Tomas
2015-08-17T00:00:00Z
We had a really warm welcome and a super clean room! Basically in the center of piran! Also gained tips about where to do the laundry and that kind of stuff. I really had an amazing time and I highly recommend to visit this place!
Bas
2016-08-11T00:00:00Z
Piran, 斯洛維尼亞
Large, cozy room in a private house set in stunning location. Own entrance out to private terrace with cane furniture. Bathroom with shower. Ideal for a romantic getaway or for a small family. Close to all local attractions. Friendly host.
Rudy's place is comfortable and furnished with taste. House is surrounded with beautiful garden. Room is equipped with all you need to make your stay as pleasant as it can be.
Rudy's place is in calm and safe neighbourhood. Close to all attractions but distant enough that you will not be disturbed by the noise of lively summer nights.
The place was very clean, quiet and nice. We were on a business trip and the WIFI was very good. We talked to Rudi, the owner, a couple of times and he was a very nice guy and speaks good english. Overall, we can recommend staying at the place.
Sebastian
2016-05-28T00:00:00Z
We had a wonderful stay with Rudi and his wife. We stayed in a converted room with bathroom next to the house which allowed us total privacy but Rudi was always available to help. He even chilled a bottle of bubbly for us and supplied us with wine glasses! :) Their house is stunning and the views from the garden are spectacular. It was such a lovely place to stay in and we're thankful to Rudi and his wife for having us. It's a 10 min walk from the house to Piran centre via many steps down. (331 - yes we counted!). Alternatively you can walk down the main road (20 min) but it was quick and easy for us to take the steps. You can't take your car into the town centre we learned when we arrived. Delighted to have parking at the house and we never used the car the whole time we were in Piran. We really enjoyed our stay and meeting Rudi and his wife, who were so accommodating. I hope to visit again some day soon!
Ise
2016-06-18T00:00:00Z
Nicely located with a beautiful terrace towards the sea. Clean, comfortable and very friendly hosts
jesper
2016-07-20T00:00:00Z
Rodolpho was very friendly and helpful, and even collected us from the bus station which was a massive help given the luggage we had! He made sure we had everything we needed at the start of the visit and was only a phonecall away if anything further was required. Excellent host.
Stephanie
2016-09-02T00:00:00Z
Freundlich, sauber, gute Lage, leider war die Terasse nicht so "privat", da direkt neben Hauseingang der Besitzer. Wurden am Abreisetag schon vor 10 Uhr "hinausgebeten". Hund war sehr laut in der Nacht. Verbesserungsvorschlag: Kühlschrank im Zimmer
Melanie
2016-07-24T00:00:00Z
Rudi and Erna are fabulous hosts! The room and bathroom are spotlessly clean, the Terrace is absolutely gorgeous, with an unparallelled view over the Adriatic! Rudi and Erna are so welcoming, so caring...told me all the best places to go and showed me some themselves. Just lovely!!! I can't recommend them highly enough!!
Jennifer
2016-08-04T00:00:00Z
Rodolfo was very kind and helpful. His house and his terrace is so beautiful and decorative, the panorama is wonderful. Our room was also very nice and clean with own terrace. We only missed the kitchen where we could make breafast. Rodolfo has another appartment with kitchen and everything, next time I would like to book that, defenetly. :) The area is very nice. If you don't bother the steps, you can go down to Piran's heart with 331 steps. Then later up again. :)If you do, you should use your car. There is a beach in a few km where you can go with your dog. We liked that place.
Zeller
2016-08-30T00:00:00Z
Rudi was a great host and lovely to speak with. The apartment is a nice size and very clean and tidy. I would recommend Rudi and the apartment to anybody looking to stay in Piran. Word of warning however: there are a LOT of steps to get to the apartment, but the apartment is definitely worth it, and the view on the way is very nice.
Bhavin
2016-08-11T00:00:00Z
Piran, Piran, 斯洛維尼亞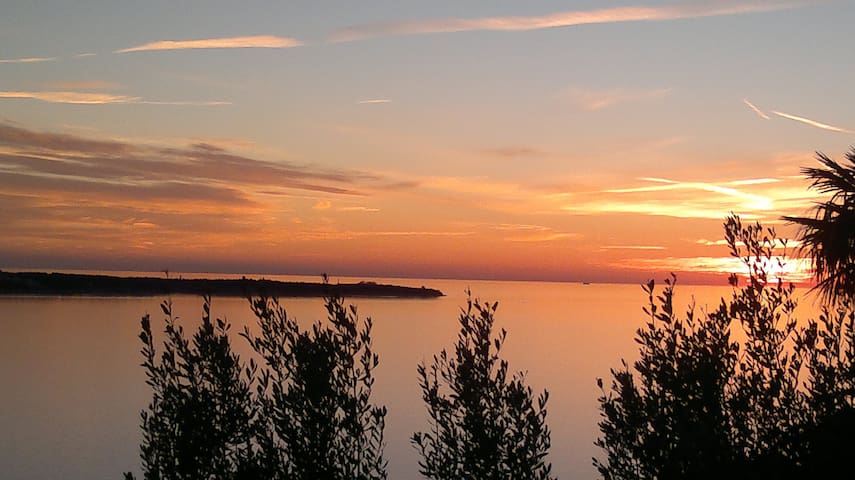 伊佐拉 - Airbnb
:
在

305

位房客的評價中,平均評分為

4.62

星(滿分為

5

星)
輸入日期以查看總價格,包括其他費用,可能會加收稅費。