輸入日期以查看總價格,包括其他費用,可能會加收稅費。
今年的7月和8月,從這100個涵蓋所有價格級別的房源中選擇一個入住,去體會當地人眼中的索諾瑪。 24小時入住、即時預訂還有2; 當地美酒美食,您什麼都不用做,輕鬆享受旅程即可。
My place is close to the North Shore of Loch Katrine ideal for walking, cycling and relaxing. You'll love my place because of the location and the cosy wood burner and the fact that it is well equipped and clean. My place is good for couples and solo adventurers.
Nestled in the Trossachs National Park. On private road accessed by electronic barrier. The entire property and the private garden. We live 7 miles away and can be contacted by phone or email,
We are in a remote area. There is a cafe licensed to sell alcohol 5 miles away. Shops and other amenities are 15 miles away. This in our opinion adds to the attraction of staying there.
We loved our stay on Loch Katrine. Beautiful, remote location. Sheena's cottage was great. Lovely decor, super clean, well stocked with a generous amount breakfast supplies. Kitchen was also well equipped. Has views of the Loch from the lounge, which includes a great little wood burner. Would definitely stay here again!
Jonathan
November 2016
斯特靈(Stirling)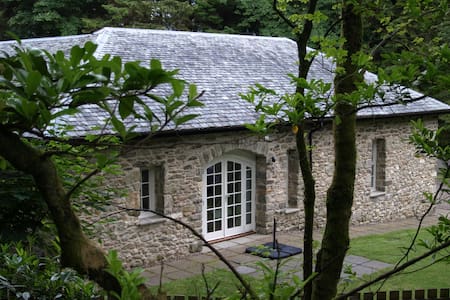 Cardney Bothy is a one-bedroomed detached self-catering dog-friendly holiday cottage (sleeps 2) at Glengyle, Loch Katrine, in the Loch Lomond and Trossachs National Park, Scotland - an ideal location for watersports, cycling, walking and star-gazing!
Cardney Bothy, formerly part of Glengyle Steadings, is located in the heart of the Loch Lomond and Trossachs National Park. A sun deck provides guests with breathtaking views over Loch Katrine and the surrounding hills of Ben Lomond, Ben Ledi and Ben Venue. Apart from being an ideal location from which to absorb one of Scotland's most picturesque areas there are a number of nearby leisure facilities offering a wide range of sporting activities, including walking and cycling. Cardney Bothy is a dog-friendly cottage for those visitors who wish to bring their dogs with them on holiday. Historically Loch Katrine derives its name from the Gaelic 'ceathairne', meaning cattle thieves, the most notorious of whom was Rob Roy MacGregor who was born here at Glengyle. The nearby villages of Callander and Aberfoyle are within easy reach and have a range of pubs, restaurants and shops for visitors. Stronachlachar pier is close by and makes a perfect starting point for walking and cycling around this part of Loch Lomond and the Trossachs National Park. Should you wish to explore the area further you can also rent bikes from the Trossachs pier and the Sir Walter Scott Steamship makes daily trips across the loch. Guests have full access of the property and enclosed private garden areas which now include a sun deck from which to enjoy the views whilst being accompanied by the surrounding wildlife! For walkers and cyclists alike, Scotland adopts a responsible 'Open Access' policy providing guests with plenty of areas to explore by foot and by bike. Guests are able to enjoy the privacy of Cardney Bothy as it is a detached property with its own parking, garden areas including sun deck, sitting in an elevated position with far-reaching views all around. The owner does not live at the property - in the event of any issue or problem encountered by guests during their stay, the owner will be contactable by telephone.
Loch Katrine and the Loch Lomond and Trossachs National Park are extremely popular with tourists of all interests; wild-life enthusiasts, walkers; cyclists and star-gazers of all ages and capabilities. There are a number of web sites that offer a wide range of walks for all abilities and interests. Bicycles can be hired from the nearby Trossachs Pier, from where it is also possible to catch a ferry for a scenic tour of Loch Katrine. Ferries on Loch Katrine run between April and November. Cardney Bothy is located at Glengyle, at the north-western end of Loch Katrine. Due to its location, a car is essential. Edinburgh and Glasgow Airports are within 1.5 hours' drive from Cardney Bothy and the East and West coasts - Arbroath and Oban respectfully - are within 2.5 hrs' drive should you wish to journey further afield. Due to the location of Cardney Bothy, a car is essential. The property has its own private car-parking area. Please note that the property does not have internet access nor a telephone land-line. We recommend that you consult your service provider to determine the extent of any mobile phone coverage. Rental bookings commence from 4.00pm on Saturday until 10.00am on the following Saturday, or the end of any other rental period as otherwise agreed, to allow for house cleaning and change of bed-linen etc. If staying for 2 weeks the bed linen and towels will be changed at the end of the first week, normally on Saturday.
Fantastic cottage, exactly as described, very clean and modern.
Blake
September 2016
Beautiful location, beautiful Bothy & a wonderful host! We were looking for peace, quiet, long walks & a cosy place to relax after a day losing ourselves (sometimes literally) around Loch Katrine. Cardney Bothy delivered! A beautifully finished cosy home- the photos do not do it justice! Definitely an all year round winner. Theresa was prompt, helpful & very understanding during our stay- very much appreciated. Be back soon!
Sian
May 2016
We loved staying at Cardney Bothy. The instructions for getting there were very accurate, the Bothy itself was very stylish clean and comfortable, in an amazing location on the edge of Loch Katrine. This is the perfect place for getting away from it all - you are miles from anywhere, the only people you see are walkers and cyclists going round Loch Katrine. When you venture out off the day there are lovely small towns like Callander and Aberfoyle, with all the usual facilities and great bases for more walks. We particularly liked the walks from the Lodge near Aberfoyle and the bistro at Inversnaid Bunkhouse. All in all, a perfect week - thank you :)
Dawn
September 2016
Great stay in a lovely place! Thanks Theresa. We definitely recommend the Bothy!!
Laure
August 2016
The bothy was very comfortable, very tidy and we had everything we needed. The directions given to finding the bothy were perfectly written and easy to follow. Everything you need is catered for, washing machine/dryer was very handy and the kitchen had everything we needed. The views from The bothy were stunning, we saw red deer on the hill most evenings, saw pine martens on the road into Aberfoyle and lots of different bird types. The queen Elizabeth forest park well worth a visit for red squirrels and birds of prey. Lots of Loch boat trips available on Loch Katrine and neighbouring Loch Lomond. The west highland railway line is a must too! Great location, lots to so and see locally and lots of Peace and quiet. One of the best holidays we have had. We will certainly be back! Thanks so very much Theresa for being a perfect host.
emma
June 2016
We were made welcome and great instructions to get to the Bothy lovely peaceful quiet place we enjoyed the privacy and being surrounded by nature at its best
sheila
September 2016
The Bothy is in the most stunning location truly in the middle of no where surrounded by wildlife and stunning scenery. Ideal for walking, cycling, photography, running etc. We and our dog loved the place. Home from home Bothy would definitely stay here again. Thank you Mel and Sean.
Melanie
November 2016
Great place, warm , clean and modern stunning views and a fantastic place to explore , climb. I would recommend the pier cafe great food and great drinks.
james
December 2016
Loch Katrine