Apartment located in 3-storey building, quiet village, pool from May to September. It lies at the foot of Sierra Nevada. hiking, fishing, biking, sea bathing, etc. Recommended for its tranquility. Very pleasant in winter for its tropical climate. A 1h30 from Malaga airport, by motorway and 1 hour from Granada capital.
It is very spacious and bright. In summer life on the terrace, featuring awning, table and chairs and hammocks it is made.
Townspeople and in summer some vacationers, the local mayoría.Para buy, there are trucks that come to sell bread, vegetables and fruits and fish. But in La Mamola, village 1km, there are all kinds of shop as well as pharmacy and outpatient.
Nous avons reçu un excellent accueil de Christine et son époux dans leur appartement lumineux et confortable qui jouit d une magnifique vue sur la mer. Nous avons aimé séjourner dans ce cadre tranquille loin des usines touristiques. Nous n hésiterons pas à revenir profiter de ce climat très agréable du mois de janvier.
Carole
2017-02-04T00:00:00Z
Un sitio idóneo para desconectar, un sitio tranquilo.
Sergio Jesús
2014-08-18T00:00:00Z
Cristine nos recibió fabulosamente, una mujer encantadora y muy simpática. El piso fabuloso, muy moderno, acogedor, y no le falta detalle. Y el sitio espectacular, para el q busque tranquilidad y paz...
Oscar
2016-09-07T00:00:00Z
Christine and Joaquin are great host, really kind, friendly helpful and easy going. The apartment is wonderful, very confortable, clean and spacious. In reality looks way better live then in the pictures, you can see the sea right from the bed and the sofa in the lounge. The balcony is wonderful to eat outside. We stayed a month and totally loved it! Strongly adviced to any anyone who is looking for a relaxing and beautiful quite place
Alessia
2017-03-23T00:00:00Z
Los Yesos, 安大路西亞(Andalusia), 西班牙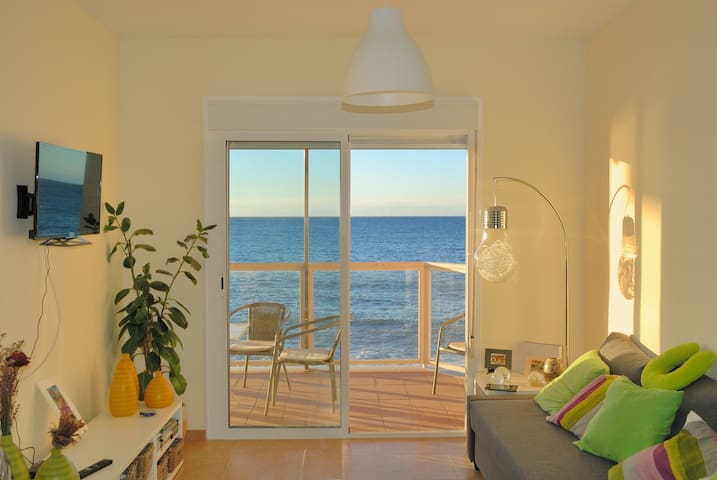 Apartamento en pueblo tranquilo a 50m de la playa, con posibilidad de alquilar otro apartamento de las mismas características en el mismo edificio, primer y segundo piso sin ascensor
Tanto Francisco como su hija estuvieron muy pendientes de nosotros, fueron encantadores. El apartamento está muy cerca de la playa y el ambiente en la calle es bastante animado. Como pros habría que decir que los colchones, el internet y la amabilidad de los anfitriones fueron de lo mejor. Habría que renovar el mobiliario para que la experiencia fuera 100% satisfactoria. Completamente recomendable.
Jorge
2016-08-09T00:00:00Z
Selfish me doesn't want to write this review, because I plan to go back to Francisco's place over and over again. But what's fair is fair, and my experience was so stellar that it would be a crime to not write about it. Things got off to a great start from the very beginning — Francisco's response was almost immediate and we communicated easily throughout the booking and in the days leading up to my arrival. Francisco was upfront about events taking place in the village (an awesome 4-days fiesta that saw the place animated and busy) and what was available in terms of general environment. Check-in was easy and friendly, and the apartment was just as pictured and in immaculate conditions — the little touches Francisco provided, like fruit, milk and refreshments in the fridge and miniature toiletries were very welcome, and an indication of the pride he takes in the guest's experience. The apartment is a stone throw from the beach (you can hear the waves breaking at night — how cool is that?) and it is big, which is ideal for families or groups of friends. Throughout my stay, I was left in the care of his daughter (he was traveling) who was staying in another apartment in the building. Just like her father, she was friendly, welcoming and available, while utterly respectful of my privacy. La Mamola is a beautiful little town, small and quiet (with the exception of the fiesta period) with lovely beaches and great food options. If you're looking for a party environment, this isn't the place you want, but if you're after quiet and relaxation, it doesn't get much better than this. Needless to say, I will be back.
alberta
2016-08-22T00:00:00Z
La Mamola, Granada, 西班牙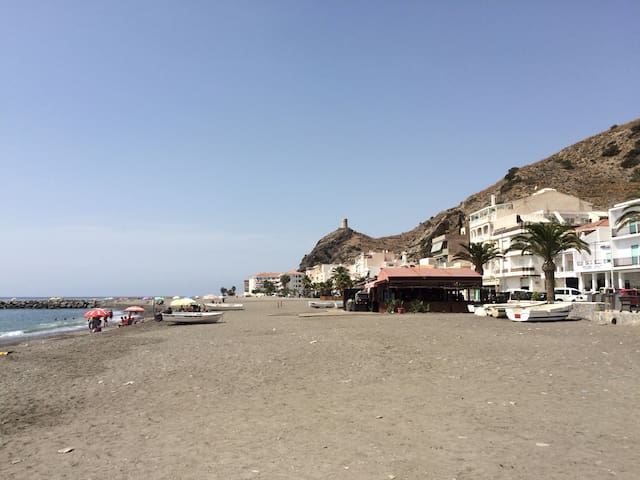 Apartamento en primera línea de playa de la Costa Tropical de Granada. Un delicioso lugar privilegiado por su microclima al amparo de las faldas de la Controviesa. Podra deleitarte con paseos a los largo de sus 3 km de playas o rutas por las montaña con sus vistas espetaculares, descubrir su gastonomia y disfutar de los famosos vino de la comarca. Podras hacer excursiones a la vecina Malaga con sus preciosos entorno como la cuidada Frigiliana o visitar La Alpujarra.Tu estancia será inolvidable.
El apartamento, consta de un dormitorio, con vistas al mar, una terraza donde podras tomar tus aperitivos mirando al mar, no te dejara indiferente su salon comedor desde donde te deleitaras con sus increibles vista, esta en primerisima lienea de playa, a 25 m del mar.
Melicena, es un pequeño paraiso de menos de 300 habitantes donde podras disfutar de sus suaves temperaturas y sus afables gentes. En verano podras jugar al voleyplaya en una de sus pistas y al futbol y al pimpón todo el año. La mayoria de los sitios de recreo y servicios se encuentran a menos de 2k, en el pueblo de la Mamola y en La Rabita. Los bares de la zona son famosos por sus increíbles tapas, la costumbre de la zona dicta que por cada consumición se le acompañe con una tapa gratis. !Buen provecho !
Melicena, 安達盧西亞(Andalucía), 西班牙
Apartamento de nueva construcción. Dos habitaciones con 2 camas individuales y una gran habitacion con cama matrimonial. Dos baños ,uno de ellos con ducha. Cocina totalmente equipada. Todos los muebles son nuevos y todo a estrenar. Vistas al mar.
En la habitacion principal y el salón oiras las olas del mar y su peculiar olor. En las noches disfrutaras de la maravilla de observar el cielo estrellado , ya que la contaminación luminica es muy baja.
El lugar es ideal para desconectar. No es el típico lugar de vacaciones ,lleno de gente . Este es un lugar de descanso total. Si quieres aprovisionarte tendrás que hacerlo en la Mamola que está a 500 metros.
El apartamento está perfecto para descansar unos días y desconectar de la rutina. Está nuevo totalmente, con vistas al mar a 20 metros, una terraza Chill Out con mucho encanto, donde disfrutamos las tardes y noches con el sonido del mar de fondo. Muy equipado de todo, decorado con estilo Zen donde la armonía brilla en el mínimo detalle. Una zona apartada de ruidos, un pequeño pueblo "Los Yesos", donde se respira tranquilidad, no, lo siguiente, todo está como si se hubiese detenido el (URL HIDDEN) buscan centros comerciales, mucha gente y zona de grandes equipamientos de diversión, este no es el lugar. A 30 segundos en coche o 5 minutos andando, esta la playa de La Mamola, donde podrán disfrutar de un playa con algunos chiringuitos, restaurantes y demás servicios, pero siempre sin mucha gente y con playas con aguas cristalinas, tranquilas y accesibles en coche. En cuanto a Guillermo, el jefe de la casa, una persona muy agradable y hospitalaria, nos ha dado todas las comodidades y se ve desde lejos que es muy buena persona. En general, la estancia en su apartamento ha sido un placer, nos lo hemos pasado genial y volveríamos a repetir. Si quieren tranquilidad y armonía, no duden en reservar este lugar, 100x100 recomendable.
José Antonio
2016-07-31T00:00:00Z
Pros: The location is extremely tranquil; the beach is literally in your backyard. The kitchen is very nice and has all necessary utensils. Guillermo went out of his to meet us 30 minutes away and drive us to the house. Also, he arranged a taxi for us to take us back to the bus station. Guillermo is a wonderful host. Cons: The address on the webpage is an hour away from the actual location. (I don't actually know what the real address is because... there is no wifi.) I repeat, THERE IS NO WIFI. There is no air conditioning so you need to open the doors and windows, which fills the house with all sorts of bugs of various shapes and sizes. You definitely need a car because everything is about a 15 minute walk (other than this lovely Mexican restaurant.) As with most things in life, there were strong pros and strong cons but overall I had a lovely time staying here.
Olivia
2015-06-28T00:00:00Z
Perfecta una esperiencia inolvidable
Lucia
2015-08-02T00:00:00Z
Costa Tropical, Andalucia, 西班牙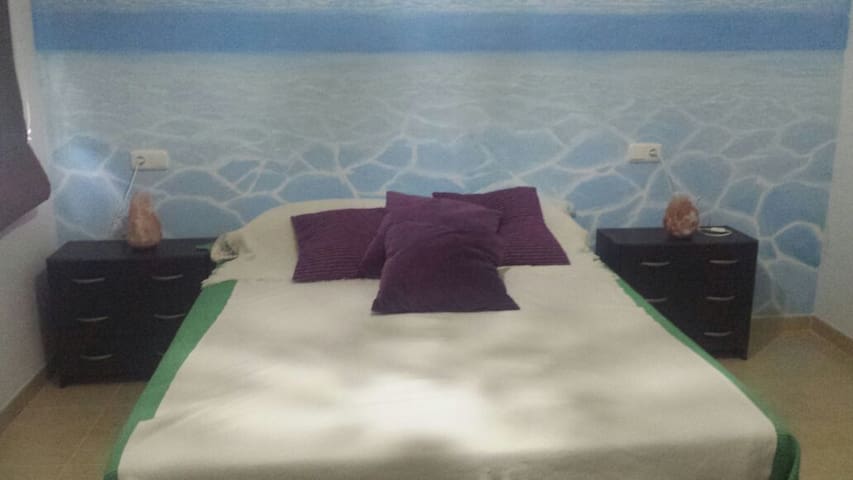 The apartment is in a privileged location on the tropical coast if your priority is rest, this apartment is located in a key location. It is located on the beach and 15 meters from the sea.
La Mamola, Granada, 西班牙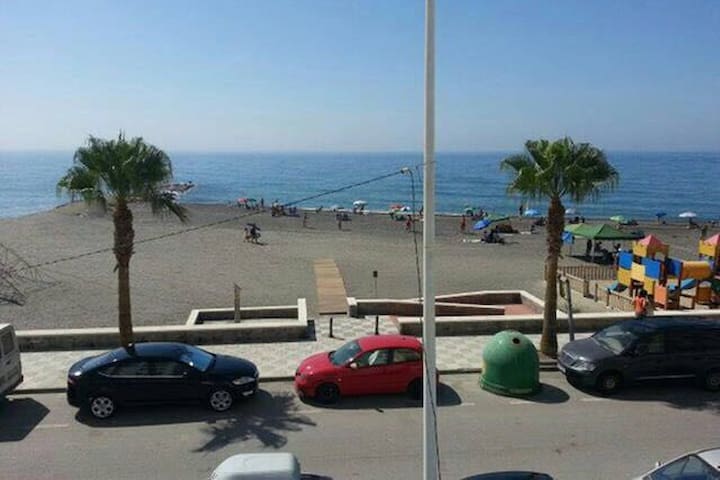 Es una casa de 2 apartamentos reformada en enero 2017, situada en una zona tranquila. El apartamento es amplio con cocina office, todo exterior con balcones excepto una habitación que tiene ventana. Pueblo de pescadores con restaurantes muy económicos y chiringuitos de playa.
Playa muy tranquila sin aglomeraciones, calle peatonal sin ruidos, pueblo muy familiar, el precio varía si es por dias , semanas o meses y según época, lo mas económico es por mes. Ideal para famílias con niños. El apartamento no está disponible del 11 al 16 del mes de Agosto. Mínima estancia 4 dias.
Bonito y tranquilo pueblo de pescadores y personas de campo, muy sencillas y acogedoras, playa sin aglomeraciones con aguas limpias donde puedes realizar cursos de submarinismo. Puedes encontrar restaurantes económicos especializados en pescados frescos, chiringuitos de playa para saborear una cerveza fresquita y disfrutar del regalo de tu tapa para acompañar la bebida.
We had a great time at La Mamola! Silvia and her family are very friendly and welcoming, they made us feel at home. The flat was clean, traditionally decorated and all the amenities needed were available. We were very close to the beach which was very clean, pleasant and familiar as well as La Mamola. It is a very nice place for families to go on holidays, it's friendly, peaceful and very safe. Silvia gave us a very good itinerary with loads of ideas and places to visit. We went out to explore and met loads of nice towns and cities around La Mamola. We definitely recommend Silvia to other people wanting to go on holiday! A big thank you from us :-)
Monica
2016-08-11T00:00:00Z
La Mamola, 安達盧西亞(Andalucía), 西班牙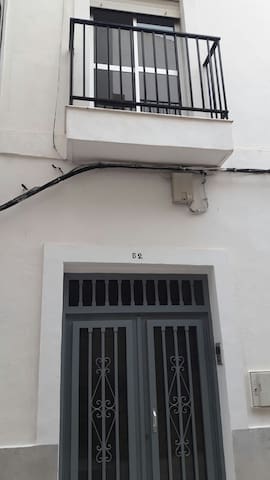 ¿Quieres descansar?. Pues aquí tienes un lugar perfecto para hacerlo en este pueblo de Andalucía oriental, que se llama Melicena, Es un pueblo con muchísimo encanto y unas aguas cristalinas y trasparentes donde podrás realizar actividades acuáticas como buceo y pesca. Podrás disfrutar del mar Mediterráneo o en primera línea de playa donde se encuentra el apartamento con hermosas salidas y puestas de sol. A una hora de la ciudad de Granada visitar la Alhambra, a 85 minutos de Sierra Nevada y a 60 minutos de la Alpujarra Granadina y a 50 minutos de Málaga. En Melicena el invierno tenemos una temperatura media de 19 grados durante todo el invierno. Podrás disfrutar de una comida en la terraza cubierta viendo el mar s unos 30 metros, con una brisa mediterránea increíbles. Si necesitas descansar este es tu Pueblo dónde todo es ta natural que solo sentirás él claxon del panadero y del país ateto que viene a ofrecerte los productos frescos del día.
L'appartement de José est très bien situé et très spacieux. Une petite recommandation, que les casseroles et les poêles soient mieux nettoyées. Un autre petit problème, les habitants du rez de chaussé font la cuisine dans leur cour et quand nous étendons du linge et qu'ils font du poisson, c'est une infection.
Jean Louis
2015-09-28T00:00:00Z
MELICENA, Granada, 西班牙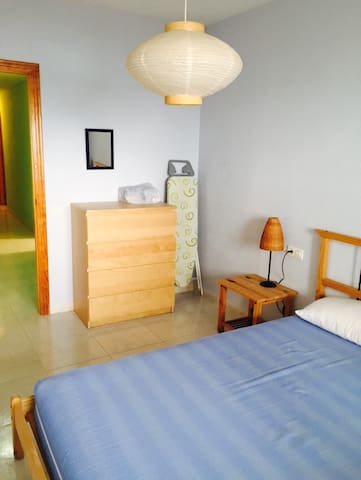 The apartment is in a privileged location on the tropical coast if your priority is rest, this apartment is located in a key location. It is located on the beach and 15 meters from mar.se allowed Bookings Since May 2017 !!!
If you are interested, and are busy day you want, tell us we have several apartments for rent !!! area for short and long stays. All frontline beach !!!!!!!
Si buscáis disfrutar del mar en un lugar tranquilo este es el lugar. El sonido del mar se escucha desde la cama y comer en la terraza viendo el mar es un verdadero placer. Por lo demás el apartamento está bien, muy bien si tenemos en cuenta lo que es habitual en los alquileres de playa. Volveremos!
José
2016-08-24T00:00:00Z
Solo decir que volveremos, el piso muy limpio, con todas las comodidades, el lugar muy tranquilo y el trato exquisito, muchas gracias Aurora y Manuel
Javi
2016-08-07T00:00:00Z
La casa estaba en primerisima linea de playa, muy limpia y sin pasar calor en ningún momento. El apartamento tiene muy cerca supermercados, restaurantes y fácil aparcamiento. La playa es grande por lo que puedes estar tranquilamente sin mucho agobio de sombrillas.
Pablo
2016-08-26T00:00:00Z
El apartamento tiene una relación calidad/precio muy buena, muebles, menaje y equipamiento muy normalitos, muy, muy limpio. Da directamente a la playa, cruzas la calle (sin apenas tráfico) y estás en la playa, con duchas y zona infantil, sin problemas de espacio para poner la toalla ya que es muy amplia y apenas hay afluencia de gente, da igual a qué hora bajes a la playa que encuentras sitio donde rompen las olas, lo único malo de la playa es que no es de arena fina, es de piedras y es más incómoda. El pueblo es muy pequeño pero tiene de todo, bares, pequeños supermercados, panaderías, y un solo banco (ServiRed), tiene pinta de ser bastante tranquilo, nosotros hemos coincidido con las fiestas en el puente de agosto, nos han puesto varias atracciones a pocos metros del apartamento y ha sido lo peror, mucho ruido hasta las tantas y a las 9 de la mañana pasaba una charanga despertando a todo el pueblo (con mucho éxito, por cierto), la procesión de la Patrona, por tierra y mar, muy bonita. En resumen, para ir en plan tranquilo nos ha parecido un apartamento muy recomendable (en otras fechas, eso sí), muy limpio y con todo lo necesario.
mariangeles
2014-08-17T00:00:00Z
Nous avons été bien accueilli, le quartier etait très calme et sécurisé. Le logement etait vraiment bien.
Nadia
2016-08-22T00:00:00Z
Cuando llegamos nos atendieron con mucha exquisitez. El piso, además de ser muy bonito, estaba muy limpio y muy bien decorado. Había sábanas y toallas disponibles. Un piso con mucha luz, vistas fantásticas, tranquilo, cómodo y espacioso. Nos sentimos como en casa. No le falta detalle al piso: ni en la cocina ni en el aseo. Hemos estado en hoteles que no estaban tan bien como este piso.
Javier
2014-08-25T00:00:00Z
La Mamola, 安達盧西亞(Andalucía), 西班牙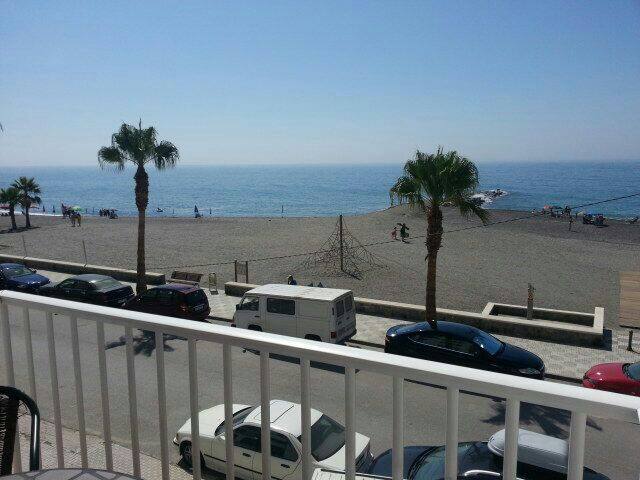 L'appartement se trouve sur la Costa Tropical, idéalement situé entre Malaga, Grenade et Almeria. Entre mer et montagne, le petit village de pêcheurs de los Yesos a su garder un calme et une tranquilité apaisante. La plage est à 300m à pied !
L'appartement se trouve en première ligne de plage, sur la Costa Tropical, idéalement situé entre Malaga, Grenade et Almeria. Dans un immeuble très récent, l'appartement est dans un état neuf et dispose de toutes les commodités.
Entre mer et montagne, le petit village de pêcheurs de Los Yesos a su garder un calme et une tranquilité qui tranche avec les ambiances survoltées de Marveilla ou d'autres stations balnéaires. A los Yesos, on vient chercher le soleil, la mer, la tranquilité et le repos. Profitez des panoramas naturels magnifiques qui s'ouvrent à vous, visitez les lieux de culture que sont Grenade et sa région, détendez vous sur les plages de la Mamola ou de Mélicena, dégustez de savoureux tapas au bar du coin.
El apartamento es totalmente nuevo decorado con buen gusto y muy practico, al llegar todo está limpio ordenado, nos sentimos como en casa, el barrio (pueblo) es totalmente tranquilo no escuchas, coches, ni ruido, solo las risas de los niños disfrutando de la piscina, y el romper de las olas. Es una comunidad de vecinos muy tranquila. Benoit y Almudena estuvieron pendiente si nos sentíamos cómodos. Es un sitio ideal para desconectar de las grandes ciudades, para sentirse tranquilo, para estar en familia.
Jhon
2016-08-28T00:00:00Z
Los Yesos, 安大路西亞(Andalusia), 西班牙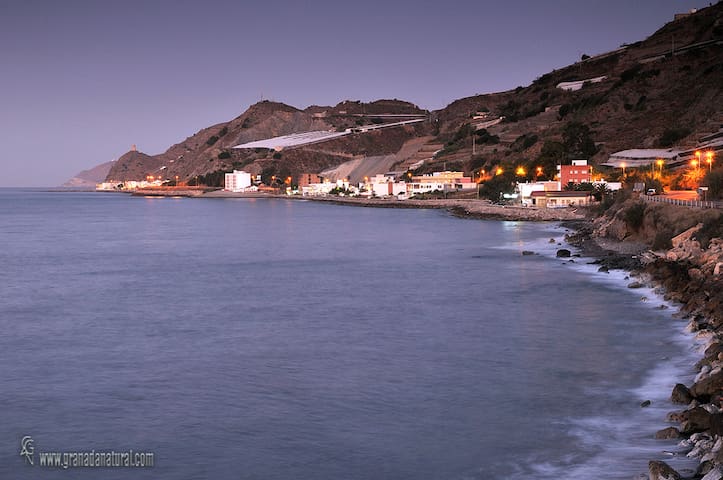 Overlooking the beach and the swimming pool, this spacious modern property is ideal for that romantic break or the family holiday. Stunning sea views. In quiet Spanish fishing village.
The Master bedroom has stunning sea views though both double bedrooms are light and airy with fitted wardrobes. With more beautiful views from the adjoining terrace the lounge & dining room feel light and spacious. There is a TV & DVD player if you can drag yourself away from that view!
La Mamola is a small traditional sea-side fishing village a really friendly peaceful place with great amenities! Dine on locally caught fish or taste the local wines of the Alpujarra region accompanied by a 'tapa' or two! A great place to switch off & relax!
The reservation was canceled 7 days before arrival. This is an automated posting.
Gemma
2014-07-26T00:00:00Z
La Mamola, 安大路西亞(Andalusia), 西班牙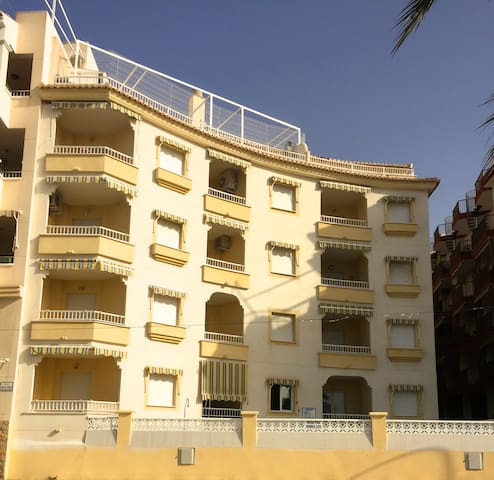 Apartamento en el centro del pueblo a 60 metros de la playa. Pueblo tranquilo de la Costa tropical, playa familiar, duchas, chiringuitos y bares a lo largo del paseo marítimo.
La Mamola, AL, 西班牙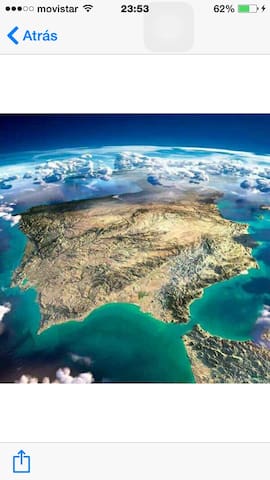 Floor fully furnished, new, with large kitchen, terrace of 20 square meters, balcony, patio, balcony, next to a clean beach and direct tranquila.Conexión with the motorway, well connected with garage available. Come to enjoy!
El sitio super tranquilo, zona muy bonita,las playas con bastantes chinos e incomodas para poder pasear por ellas, pero el agua tranquila, y a una temperatura excelente. Cuidado a la entrada, por que no es la clasica playa que te vas adentrando poco a poco, rapidamente estas en zona que te cubre. El piso, correcto a las indicaciones del anuncio, limpio y funcionando todo. Sin problemas ni en la llegada ni a la salida, nos recibio el padre de Juan Manuel, puesto que ellos no estaban, pero fue muy cordial el señor. Totalmene aconsejable, para pasar unos dias desconectados y supertranquilos,
Andres
2016-08-20T00:00:00Z
In overal we had a very pleasant stay. Juan did his best to make us feel comfortable and at home. We found everything we needed, the only thing we had to bring with us was our clothes and groceries. We enjoyed swimming in the sea in the nearby neigborhoud. It was not too crowded. It's a small village with helpful friendly people. I recommend it to anybody who wants to enjoy some quiet days at the beach in Spain.
Fayez
2016-08-29T00:00:00Z
La estancia en el piso de Juan Manuel fue muy agradable. Junto a la playa y muy cerca de los lugares más atractivos de la Costa Tropical. El piso es nuevo y tiene todos los servicios además de garaje y una terraza estupenda.
Pedro
2016-07-30T00:00:00Z
La casa tenía todo lo esencial para que te sintieras cómodo, entre otras cosas, productos de baño y limpieza. Es una casa bastante grande y bien decorada, situada en un pueblo súper tranquilo con terreno al rededor para poder salir a dar un paseo o a hacer ejercicio. Para los que tenemos perro, es un sitio de 10, ya que existen muchas calas en las que poder ir con él, y a tan sólo 20 minutos en coche está la playa can de Motril, que está genial. Además, Juan Manuel nos ha facilitado todo lo posible nuestra estancia para que estuvieramos lo más a gusto posible. ¡¡¡Sin duda repetiremos!!!
Natalia
2016-08-15T00:00:00Z
La verdad es que hemos estado muy poquito en el apartamento porque hemos estado haciendo actividades por la zona, pero todo ha estado bien. Al apartamento no le falta de nada, es espacioso y muy bien situado para visitar la zona. Los anfitriones muy atentos y pendientes de todo.
Maria
2016-09-04T00:00:00Z
This is a nice apartment in a calm village, with everything you need. We did spent a lovely time in this place.There is a private car park, which was very comfortable. Thanks Juan Manuel.
Rafal
2016-08-09T00:00:00Z
La verdad juanma muy amable
Verónica
2016-08-04T00:00:00Z
Genial, la casa súper limpia y recogida, muy funcional, todo listo para llegar y disfrutar de la playa. La pareja súper amables y facilitandonos en todo momento la estancia.
Estibaliz
2016-07-11T00:00:00Z
Rubite, 安達盧西亞(Andalucía), 西班牙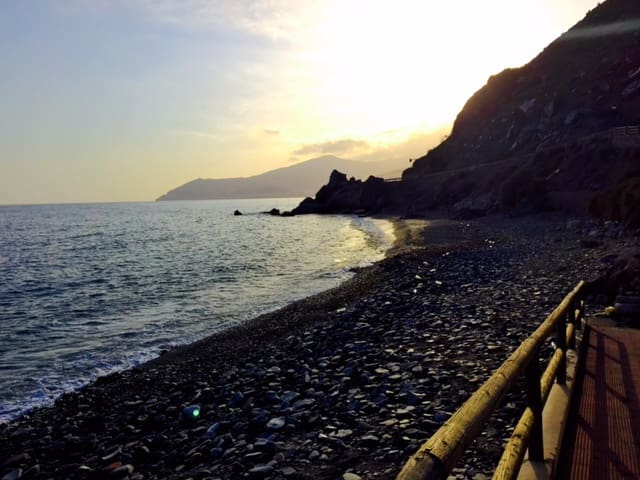 Set in the attractive El Baluarte complex in the village of Castillo de Baños on the Costa Tropical. This spacious, well appointed 2 bedroom , 2nd floor apartment sleeps 4 persons with a camp bed available in the twin bedroom to sleep an extra child
spacious, light and airy apartment set in a small complex with beautiful gardens. Just a stones throw from a small beach and with two swimming pools set in the gardens
A peaceful environment right next to the beach
The host canceled this reservation 48 days before arrival. This is an automated posting.
Virgi
2015-06-11T00:00:00Z
Castillo de Baños, Granada, 西班牙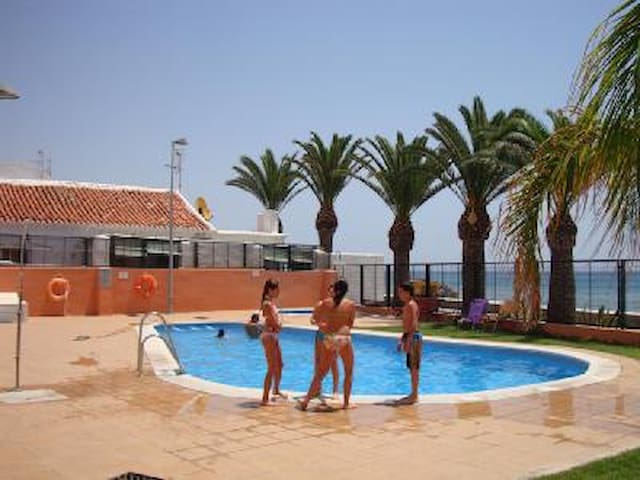 Entirely free in the mountains, 5 km, from the Mediterranean, as the crow flies, is our Bungalow "Los Bellidos". A rural place to recharge your battery or to be creative. For cooling, there is the pool.The house has a magnificant view over the sea.
The bungalow has two terraces. It's situated on 850 metres above sea level. From here you can make nice walks to the mountains with corklands or the seaside. There are many little, authentical coastal villages where you can go for a swim and have a nice dinner and, always, free tapas. There are also some romantic coastal bays where you can have a nice stay. By car you can explore the Alpujarras of Granada with many little white villages where you can eat the most dilicious meals. Don't forget to visit the city of Granada at a distance of 1 1/2 hours drive. You can also rent our apartment in Granada. On the same terrain is our ecological farm with 5 ha of land where you can relax. We have almond-, fig-, and olivetrees, saffron and our own organic wine and vegetables. Two km from here we, the owners, live in the friendly litle vilage called Sorvilán, with other almond- and wine growers. They will invite you in their bodegas to try the wines. There is one shop and there are two bars. For bigger shoppings there is Albuñol at a distance of 14 km. We are living here for more than 13 years in this fantastic setting.
The village is 2 km Sorvilán. Here are 2 bars. In one is also a restaurant. The village has 300 inhabitants and the people are mainly wine and almond farmers.
We had a wonderful week in the house of Liesbeth and Willem. It was really quiet and the perfect place to find rest and peace from City life. Everything was as described and even lovlier than on the photos. They cared about us and brougth us fresh bread and eggs. It was an extraoridinary experience to be high up in the mountains with the view on the sea. The time to the beach takes about 30 min. by car. We are happy that we could stay at this lovely house!
Daniela
2016-07-28T00:00:00Z
The host canceled this reservation 9 days before arrival. This is an automated posting.
Véronique
2015-08-06T00:00:00Z
Sorvilán, 安達盧西亞(Andalucía), 西班牙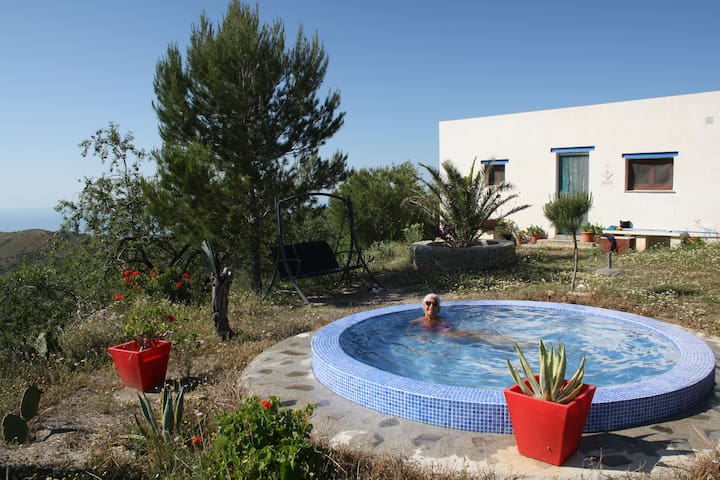 Located a mountain setting and beach, a country house with a special attraction that invites you to enjoy a stay in a simple and comfortable natural flavor, in the countryside of the Coast Tropical and La Alpujarra.
Un alojamiento rural especialmente recomendado para familias que viajan con niños (ofertas especial) y grupos, donde poder descansar y relajarte en amplios dormitorios, disfrutar del sol y el aire puro de la montaña en una terraza con espectaculares vistas al mar y además poder preparar en una amplia cocina rústica tus comidas favoritas para saborear con los tuyos, en un gran salón-comedor o en la terraza.
Sorvilán es un tranquilo y pequeño pueblo de La Alpujarra, donde podrás relajarte y disfrutar de la tranquilidad, pasear por la naturaleza, ideal para viajar con niños, y vivir sus costumbres y tradiciones, con experiencias únicas como la vendimia o la visita a bodegas familiares. Puedes caminar por sus senderos entre almendros y viñas, o bañarte en las playas de su costa alpujarreña. Tranquilidad y vida sana.
Hemos pasado unos días de lujo,buen clima,la casa fantástica,tiene de todo lo que puedas necesitar,habitaciones amplias,genial.Y los anfitriones desde el primer momento te tratan como de la casa,son estupendos ,tan buena experiencia, tan buena gente que ya estamos organizando otra visita.Totalmente recomendable
Maria Jesús
2014-08-25T00:00:00Z
100% recomendable. Increíble localización. Las fotos no hacen justicia a la casa, cuidada al detalle, muy limpia y acogedora. No le falta de nada y no puedo poner ningún pero. Simplemente perfecta es como definiría mi estancia en "Al Sur de Granada". Paz y buena energía es lo que allí se respira, con posibilidad de realizar deporte al aire libre, tan cerca de la montaña como de la playa. En cuanto la los anfitriones un 10. Elena y Enrique me hicieron sentir en mi propia casa, dispuestos en todo momento para ayudarme en lo que necesitase, hasta me consiguieron una esterilla de yoga para poder realizarlo en la terraza.... La relación calidad precio inmejorable. Después de 11 días de estancia solo puedo decir que sin duda volveré.
Iratxe
2015-09-14T00:00:00Z
房間類型
整套房子/公寓
---
房源類型
獨棟
---
可住人數
12
---
卧室
Sorvilán, 安大路西亞(Andalusia), 西班牙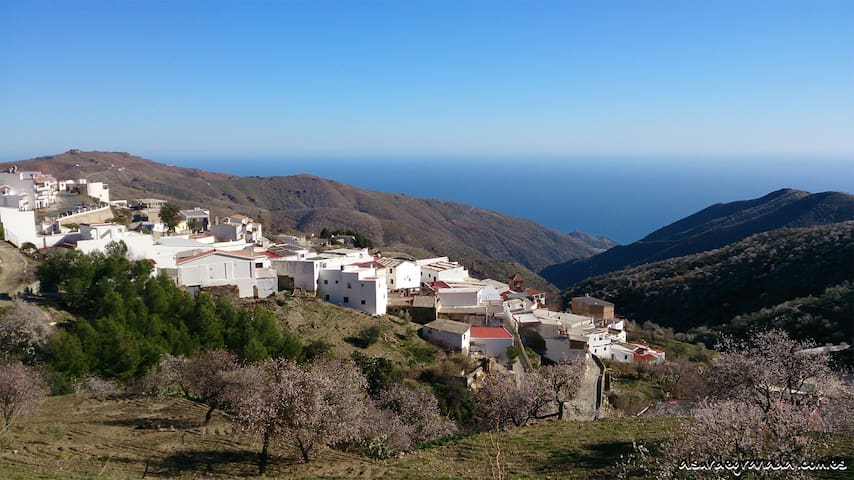 Magnífico apartamento en primera línea de playa de Casarones (Rubite) a 5 Km. de Castell de Ferro y 30 de Motril, Construido en el 2006, completamente equipado situado en primera línea de playa, con increíbles vistas al mar. Zona muy tranquila y perfecta para conocer la costa granadina y visitar las Alpujarras, Granada, Málaga y Almería. Piso muy luminoso con dos dormitorios, dos baños, salón con televisión de 32 pulgadas, cocina equipada con vitrocerámica, lavadora, microondas, frigorífico, horno, tostadora, etc. Teléfono de contacto (PHONE NUMBER HIDDEN)? Desde casarones puedes visitar la ciudad de Granada, Sierra Nevada, las Allpujarras, y toda la costa granadina. También puede acercarse a Málaga visitando Las cuevas de Nerja, las ciudades de Ronda, Marbella, Torremolinos, Benalmádena. La ciudad de Almería esta tan solo a 80 kilómetros, allí puedes visitar la Alcazaba y el Cabo de Gata así como las playas de Mojacar, Garrucha, etc.
Polopos, 安大路西亞(Andalusia), 西班牙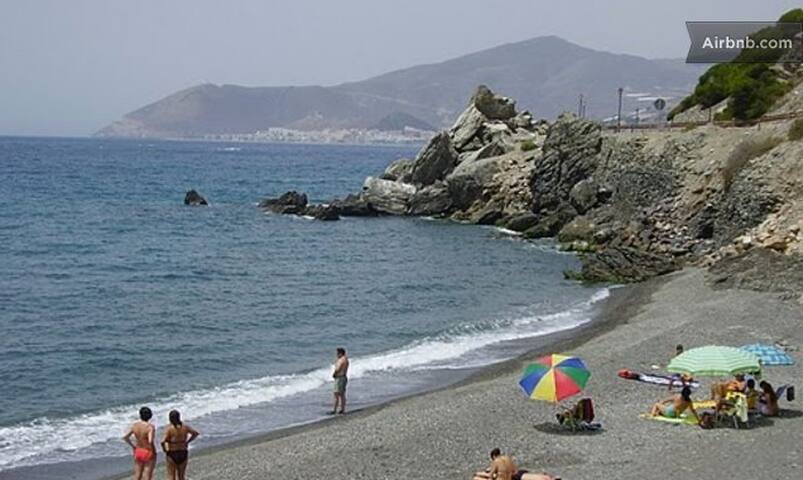 Het huis is een mix van modern met authentieke details. Super groot dakterras, intieme en fraaie patio. Rust, ruimte, natuur en het levensritme van een Spaans dorp met vele bodega's. De zee aan de voet van de berg en de Sierra Nevada als achterland.
Het huis heeft een grote woonkeuken met open haard, een genot om in te koken. 3 Ruime slaapkamers, sfeervol ingericht en 2 badkamers. De huiskamer is zeer ruim en aangenaam om te vertoeven en geeft uitzicht op het dakterras met uitzicht op de bergen en de zee. Een van mijn favoriete plek is wel de patio die prachtig betegeld is in moors motief, onder de druivenrank, de altijd bloeiende bougainville , de sinaasappel- en de citroenboom.
Als je het authentieke Spanje mee wil maken waar de ezels nog door de straatjes klossen, dan ben je op het juiste adres. Ver weg van het massa toerisme en toch dicht bij het strand waar lekkere restaurantjes zijn. Granada op 5 kwartier rijden en een prachtig achterland om te wandelen of doorheen te rijden. Sierra Nevada, waar je zelfs in de winter kan skiën. Vele authentieke en moderne bodega's in de omgeving. Wandelen vanuit het dorp en in de omgeving zelfs klimparcours.
Sorvilán, 安達盧西亞(Andalucía), 西班牙
€ 31 per PERSON /NIGHT including a nice European breakfast on the terrace, or in wintertime in the lounge.with view on the Mediterranean Sea. Admission to our farm, 2 km from the village, where we have two other cottages for rent in the countryside
You'll have a single or double room, a bathroom, the lounge and the terrace for max 5 persons. For more persons we have our holiday homes. In all cases our price is more or less € 31 per person per day.
Sorvilán is a little village where time stood still. People live from the land. They produce a lot of wine, almonds , figues, oliveoil and saffron. It has 300 inhabitants, 2 bars. a shop and many bodegas. 13 km. further is the village of Albuñol which is bigger and where there are more shops, banks etc.
We had a very nice overnight stay with Liesbeth and Willem. We were warmly welcomed and we felt right at home in their unique and authentic house!
Lieven
2014-09-29T00:00:00Z
Very friendly and helpful hosts. Comfortable bedroom and lounge area. Small white washed village in hills but close to the sea.
Martin
2016-09-02T00:00:00Z
Thanks for one night, which was too short! Lisbeth and Willem are absolutely amazing hosts, living in a beautiful house and location. This stay itself was a highlight of our trip! Everything is very personal and easy and you can expect a homemade bread for breakfast :) LIVE THERE!
Anna
2016-08-18T00:00:00Z
Our overnight stay with Liesbeth and Willem was nice. We were warmly welcomed to their home which is unique and authentic! It was a nice house with all accommodations you might need, but the best was the homemade, organic breakfast at the rooftop where one could enjoy a very beautiful view over the mountains and the sea. The village is very small, has two bars but only one offers something simple to eat and is friendly but not used to turism.
Therese
2016-08-22T00:00:00Z
Willem und Liesbeth sind ganz hervorragende Gastgeber. Wir haben uns vom ersten Moment an sehr wohl gefühlt und die beiden haben alles dafür getan, dass das Gefühl nicht nachlässt. Die Unterkunft ist wie beschrieben, wobei mehrere Möglichkeiten zur Auswahl standen. Wir hatten ein Doppelzimmer mit Wohnzimmer und Bad. Bei gutem Wetter wird auf der Terrasse gefrühstückt. Das Frühstück - insbesondere das selbstgebackene Brot - ist sehr lecker. In dem Ort selbst ist nicht viel los, aber wer Ruhe, Natur und gute Gespräche sucht, ist hier genau richtig. Wir kommen gerne wieder!
Birgit
2015-10-27T00:00:00Z
The location can not be beat. A perfect patio view of the mountains and the sea. The beach is close, by car, es perfecto. The hosts are super accommodating and entertained us with their own wine and intellect. The vecino es muy linda y precioso. Breakfast provided with a spectacular view. The hosts also gave some amazing tips for beaches and attractions to visit. When speaking with locals at one of the beaches they asked "how did you know of this place"?...we said our hosts through air bnb gave us the good intel.
Daniel
2016-07-30T00:00:00Z
Beautiful little village in the mountains, quiet winding mountain roads and a gem of a B&B with charming Dutch hosts! If possible the reality was even better than in the pictures, which often doesn't turn out quite so in the current Internet era. Their welcome made me feel more like a friend than a paying guest and their insider tips on the environment and beaches were great. Highly recommended!
Taru
2016-08-15T00:00:00Z
It was a great experience to stay at Liz & Willem's place in Sorvilán. They recieved us in their terrace with a glas of wine from Sorvilán and olives and they were warm and friendly. Their house is stylish and cozy at the same time and it is the perfect place for relax and inspiration.
Irene & Olle
2015-04-13T00:00:00Z
Sorvilán, 安大路西亞(Andalusia), 西班牙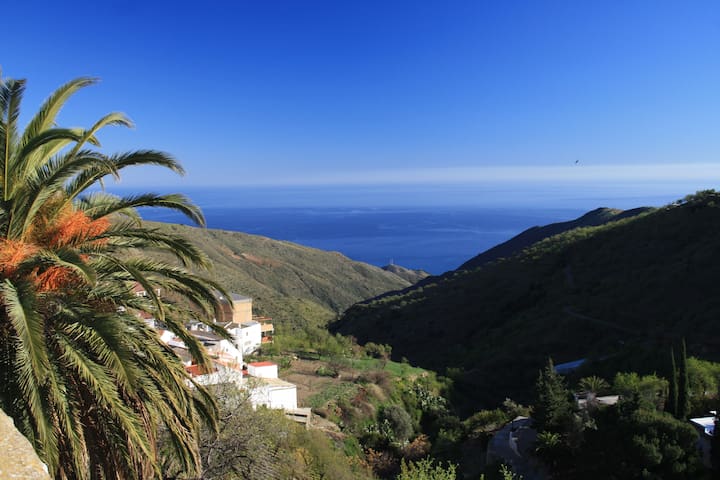 輸入日期以查看總價格,包括其他費用,可能會加收稅費。