The Fernleecove cabin views its own private cove. Surrounded in a park like area, this 1 bedrm home is accessed in sheltered waters by a 15min boat ride or a 5k paddle from Deep Cove (The Watertaxi fee is extra & is charged outside of the Airbnb transaction, it is to be paid before departing from Deep Cove)
Fernleecove is a boat or paddle access cabin only, no roads connect to it from town--meaning you'll need water transportaion to the cabin. I offer a round trip pickup and dropoff to get you to and from the cabin for $80 CDN cash total or $60 USD cash total. This includes everyone in your party for the same, one time price. Let me know If you need or don't need water transportation upon booking. The water taxi fee is to be paid before departing from Deep Cove. Generally guests remain at the cabin for their booking and unless you have your own water transportation, so it's necessary to bring all food needed for the duration of your stay. There are rock and wood steps leading up from the dock to the 500 sqft cabin. In the main area of cabin is the kitchen, living room with a couch, table and fireplace. Attached to this space is a small storage closet, a bathroom and a small bedroom that sleeps two comfortably. There are electric baseboards throughout for it's primary heating so it's easy keep warm in the winter. The cabin is limited to two extra guests. This is mainly because of septic field limitations. Two single foam beds can be supplied on request. For guests staying in JUNE to OCTOBER check in time is 3:30pm and check out time is 10:00am.
Fernleecove's location is great because it is close to Vancouver and yet still relatively remote in an quiet, forested inlet north of the city. This cabin is one of two properties in the immediate area, both have access to their own beaches, private docks and their own privacy.
This is a perfect private getaway spot in an idyllic natural setting close to the city. The cabin was perfectly equipped with everything we needed to be comfortable indoors plus kayaks, life jackets, a rowboat and a hiking map to keep us entertained outdoors. We hiked up to Cascade Rock (a 45-60 min journey from the cabin for us) to enjoy awesome views similar to those at nearby Quarry Rock. James was a terrific host and great at answering our questions. Most highly recommended.
Karin
2015-07-19T00:00:00Z
James' cabin was a little slice of paradise! If you want to escape the hustle and bustle of the city and don't have a car or the inclination to travel too far then it's perfect for a quick weekend get away. You could hear a pin drop when the breeze stops and the birds aren't chirping. It was bliss and we will definitely be going back.
Louise
2015-07-10T00:00:00Z
It's a amazing place! We spent two days over there, we have so much fun over there. James is super nice, we just asked how to light the fire place, and he come to the resort to make the fire on!we must come back!
Ken
2016-10-05T00:00:00Z
James was a great host! He was quick in responding to our questions when we made the booking and was prompt in picking us at the dock on the day. He's a friendly, laid back host who's happy to answer questions and provide advice. The descriptions were accurate - the location is convenient and beautiful and the cottage is simple, well kept and comfortable. The cottage is thoughtfully appointed and the kitchen is very well equipped. The crabbing is also every bit as good as advertised!
Dave
2015-07-23T00:00:00Z
Fernlee cabin is such a treat! The setting is absolutely beautiful, the cabin is very comfortable with a well stocked pantry, and James is very nice to deal with. We easily caught and ate delicious crab right off the doc and kayaking and hiking to the bluff (where we got to see James launch himself off paragliding!!) All in all, it was a perfect stay for us. So relaxing and beautiful! Highly recommend.
Lake
2014-08-25T00:00:00Z
Both Rebeca and I had an incredibly relaxing and quiet two night stay at James' cottage. Upon our arrival was a fully fuctional kitchen outfitted with a variety of spices, oils, and cooking utensils ready to whip together a small meal. There was also a ton of firewood for the great little fireplace and tons of extra bedding and pillows to make our stay more comfortable. What a beautiful location and warm welcome - thank you so much James. I would love to come and visit again soon.
Geoffrey
2015-12-22T00:00:00Z
Enjoyed another wonderful getaway at Fernlee Cove! The cabin is so cozy and the surroundings are picturesque. James is a fantastic host and we look forward to coming back soon!
Pamela
2015-05-18T00:00:00Z
Our stay at Fernlee was awesome! The place is amazing--a private cove and dock--great kayaking. The cottage is cozy and sweet. James made us feel completely welcome--and we got there to homemade bread (made by his mum) and other goodies. We'll be back! Thanks!
Joyce
2014-08-16T00:00:00Z
北溫哥華, 不列顛哥倫比亞省, 加拿大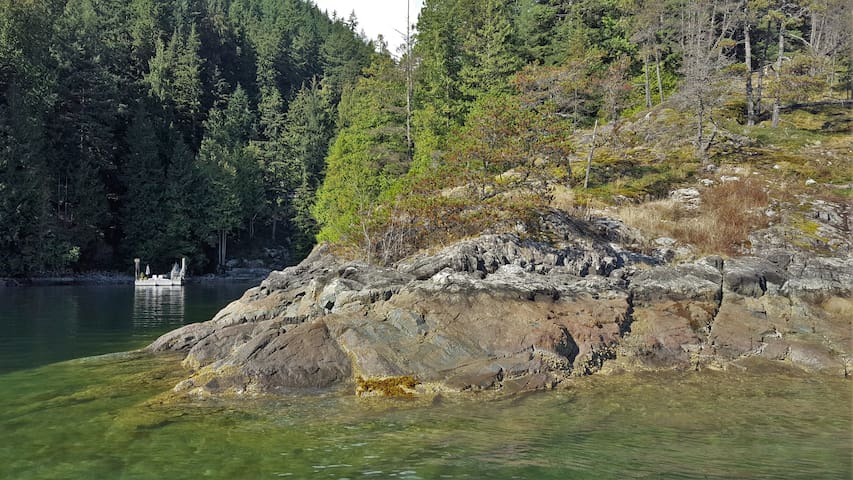 Beautiful West Coast vacation style water-front home. Custom built 7 years ago, this luxury house has it all! One of the highlights is the outdoor space that's right on the water! outdoor fireplace, built in BBQ, hot tub and a dock thats only 50 feet from the french doors which open up into the living room, dining room and gourmet kitchen. 30 minute drive from downtown Vancouver. Family- friendly. Close to golf courses, ski resorts, hiking trails, so much outdoor activities at your finger tips!
The Backyard literally backs onto the water! We have a patio equipped with an outdoor fireplace and built in BBQ, hot tub and lots of seating and lounging areas for entertaining and a dock thats only 50 feet from the french doors which open up into the living room, dining room and gourmet kitchen. The master bedroom has mountain and ocean views, king size bed with it's own private balcony as well as a 5 piece en-suite with steam shower. The 2nd bedroom also as an en-suite bathroom. Kitchen is equipped high end appliances, gas range, oven, wine fridge, etc.
The airbnb is Short 15-20 min drive to shops and grocery stores in Deep Cove. check out Gallant Avenue, where galleries and a local theatre vie for attention alongside unique boutiques and quaint bistros. Mt. Seymour is just at the back of house, but drive to the top of the mountain takes 20 mins, convenient to get to Lynn Valley. In addition there lots of other other mountains in north Vancouver for hiking & mountain biking and water sports in the summers and skiing/snowboarding, snowshoe trails in the winters. Recommended nearby hikes: Dog Mountain- (5k round trip) offer the best-hike-to-view ratio in the Lower Mainland. It's an easy hike that takes about 1-2 hours roundtrip. The trailhead begins just past the Bear's Paw lodge at the far end of the Mount Seymour parking lot. In the summer, the Dog Mountain bluffs and the other ridgelines higher up in Mount Seymour Provincial Park are an excellent place to watch meteor showers and observe the northern lights. It is also a favourite evening hike to catch the sun setting over Vancouver. If you are new to Vancouver hiking, you will learn that anytime of the year, catching the sun setting over Vancouver from Dog Mountain is a cherished habit for many locals. Quarry Rock hike (4K round trip) - This wonderful trail crosses numerous creek bridges to get to the impressive lookout with views of Deep Cove and Indian Arm far below. Sunrise offers beautiful views. Mount Seymour - (8k roundtrip) is a 5-hour hike from the Mount Seymour Ski Resort parking lot. The trail follows the edge of Mount Seymour's ski runs and then you climb the three "pumps", which are large dome-like mountaintops. The third "pump" is the summit of Mount Seymour. The views of Vancouver and the Lower Mainland on the way down will take your breath away. For Golfers there are 2 nearby golf courses: Northlands golf course & Seymour Golf and country club. Things to Do in Deep Cove The Deep Cove Canoe and Kayak Centre offers a range of options from straight-up kayak rentals, to lessons and guided day and weekend paddles. Ocean kayaks, canoes and surf skis can be rented are hourly, daily and multi-day. Paddling Indian Arm offers a unique opportunity to view the mountains and native wildlife from sea level. Knowledgeable guides can interpret the local history and reveal the natural beauty of Canada's southernmost fjord. No visit to Deep Cove is complete without a stop at Honey Doughnuts & Goodies, a popular spot for locals and visitors alike. You must try one of the delicious honey doughnuts. Breakfast, lunch, dinner or a snack, there are plenty of food options in Deep Cove. Deep Cove Pizza, Japanese restaurants, fish & chips, Greek food, ice cream and Bluhouse Market & Cafe. The new Cafe Orso is a great place for breakfast or to stop for some nourishment before or after you outdoor activities. The Arms Reach Bistro is an award-winning Pacific North-West restaurant – a perfect spot for brunch, lunch or dinner. The Quarry Rock hike is very popular, as it is relatively easy and offers spectacular views of Indian Arm at the top. Don't forget to visit the Deep Cove Heritage Society's gift shop and archives located in the Deep Cove Cultural Centre. A little west of the cove itself, evidence of waterfront industry can be seen from Cates Park, which has both a beach and heavily wooded trails. During the summer months you may find issues with finding parking spots in Deep Cove. There is parking at Panorama Park and also at Myrtle Park, which is just before you enter the Cove. Kayaks in Deep Cove | North Vancouver Further west still at Parkgate Shopping Centre is local bakery and hang-out at Bean Around the World. Pick up a big, fat cookie or muffin and head up to Seymour Mountain for a hike or, in winter or spring, a ski. Be aware that the precipitation that falls as rain on the streets of North Vancouver becomes snow at higher elevations; dress appropriately. Deep Cove is also the eastern start to the Baden Powell trail that spans the North Shore in the foothills of the mountains. Another popular hike in the Deep Cover area is Quarry Rock, which provides spectacular views of the area at the summit of the hike.
北溫哥華, 不列顛哥倫比亞省 V7G 2S4, 加拿大