輸入日期以查看總價格,包括其他費用,可能會加收稅費。
Turnkey, Priv. Island/RV park. Wi-Fi, 2 Beaches, fishing pier, Pool, Gym Tennis, Bball & Bch Vball Cts, Laundry,Gas Station/store. You'll love my place because of Tiki patio BBQ grill, hammock. Parking-vehicle, boat and trailer up to 18' on lot. Marina, boat slips are usu. avail. through park. Public trans. to Key West 39 miles away. Café open winter-breakfast-lunch & Fri.& Sat. for dinner. Restaurants 8-10 miles away. Great for couples, solo adventurers, bus. travelers, and families (with kids)
Our Cabana is approx. 480 sq. ft. With Tiki approx. 600 sq. ft. The lot is big enough for 2 vehicles or a vehicle and a boat up to 18' Additional parking is available by the swimming pool approx. 500' away. The lot is 1 out of 5 of the biggest lots in the park. The entire park is available to all guests. Although there is a shower in cabana, there are 4 shower houses in the park for your convenience. This is a great place to relax on the beach, ride bicycles, take walks or just read a book and enjoy the hammock. The fishing pier is great to throw a line in the water while catching the most incredible sunset. Got a boat? our marina should meet all your needs. We live close and are almost always available. We have several friends in the park that would really enjoy meeting you.( Locals baby). We love meeting our guests and are here to help you. We have met so many incredible people from all over the world and are so excited to meet you.
Bahia Honda State Park is 5 mins. away by car or you can walk there by beach. Looe Key has a protected reef excellent for snorkeling. We have the only mini golf course 15 mins. away. During the winter mons. The café is open by the pool, the park has poker walks, live bands, Saturday night dances, Bingo, Ice Cream socials, holiday parties and more. Sunset Grill is perfect for dinner and sunset. Bring your swimsuit, there is a pool. You may grab a cab or take a bus to Key West or any other location. A good friend owns a Limo Co. and great rates are available through us. The park itself is great for bicycles, walking or golf carts. We have the best Fishing, Diving and Snorkeling. Jet ski rentals and boat charters are also close along with paddle boarding and kayaking. Cabana is located about 500' from the pool. Herbie's, (Try their craft beers) and Sunset Grill are just over 7mile bridge in Marathon along with Faro Blanco. The Wooden Spoon is great for breakfast. There is also a Publix and Winn Dixie to load up the kitchen. Walgreens and Kmart are in those plazas as well. The opposite direction (Big Pine Key) is Winn Dixie for food and Bealls or Walgreens for most other things. Looe Key Grille, Bistro 31, The Moose Lodge, and Pizza Works.
WOW! What an outstanding host with and outstanding personality!! Our stay is one we will remember for a long, long time! The cabana was clean, the view was awesome and the residents were very friendly, making plans for our next visit! Thank you Barbie and Greg for a great get away weekend!
Kat
October 2016
Barbie was extremely communicative and accommodating throughout our entire stay and before. She and Greg made sure we were comfortable and we experienced the Keys to the fullest. We will return to their place when in the Keys again!!
Heather
January 2017
This place is paradise !! the house is cute and well equipped, perfect for nights spent outside grilling and chilling ! it's close to Key West (~45min) and within 10min of big supermarkets. Barbie, Greg and Brenda are amazing hosts, so generous and eager to share pieces of their dream way of life with their guests. I cannot wait to go back and explore the Keys a little more !! People, don't hesitate and go there !! You won't regret it !
Romain
December 2016
Upon arrival our host had music playing in the entire cabana, including the deck, (they have a great multi room sound system; bring an AUX cable to play music from your phone etc.) which was awesome. I got this airbnb as a birthday gift for my wife and as a small weekend get away for the two of us. We were more than pleased with the location and accomodations. Barbie was nice enough to make a sand dollar birthday gift for my wife and she lives in the area so we were able to meet. Location is clean, roomy, well stocked and located next to Bahia Honda State Park. 1 hour away from Key West.
Ricardo
September 2016
Easy communication. Quick and friendly. Close to Bahia Honda. Great porch.
Meghan
November 2016
We just left the Sunshine Cabana and have everything positive to say about Barbie and her property. What a fun place to stay and relax and / or have good proximity to all of the activities available in the Florida Keys. There were 6 of us travelling as a family (my spouse and I with our 3 adult children and a late teenager) and we found Barbie's property exactly as it's described. Fun, friendly, and the Happy Tiki is fabulous. It's where we ate our meals. The cabana was a bit tight for 6 full size people with luggage to walk through but we made it work and I can confirm that the pull out couch was truly comfortable. The RV park is quiet and has great amenities / activities. Barbie was a pleasure to work with. We had excellent communication and I would stay here again for sure.
Chris
December 2016
Great clean, comfortable unit with everything you need, pans, utensils, even spices and condiments. Very helpful hosts always available. Tiki hut adds a great place to sit and entertain. Park has great amenities and fun activities. Nice pool, beach and boat launch. Good location for water activities like boating and snorkeling.
karen
March 2017
the cabana was extraordinary inside and out....spotlessly clean, well appointed and furnished, great tropical landscaping, numerous palm trees and a perfect tiki porch for grilling, cocktails and kickin back. As we all know photos can fool but this place was much better than a camera captures! The RV park offered activities every day.....line dancing, pickleball, horseshows, and a poker run are several things we enjoyed. The community welcomed and encouraged us to join in and have fun! Barbi and Greg are the ultimate hosts. This was my first experience with Airbnb and Barbi made it easy and quite an enjoyable experience. She replied quickly to my inquires before we arrived and was just a text away if we needed anything while we enjoyed relaxing in paradise! Loved every minute of our holiday!
Gerry
February 2017
房間類型
整套房子/公寓
---
房源類型
小木屋
---
可住人數
6
---
卧室
2
Big Pine Key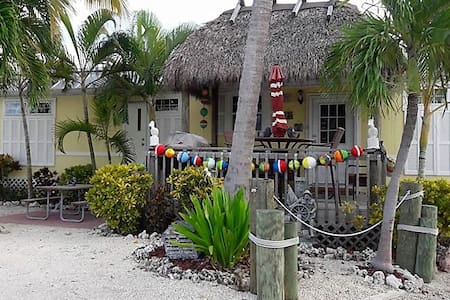 Great place to enjoy the beautiful subtropical paradise ambiance that the Florida Keys has to offer. Very family friendly, a place your kids will certainly enjoy having lots of fun. Just a mile away from Bahia Honda State Park offering top ranked breathtaking beaches, and native wildlife. Come on down to the Florida Keys. Golf Cart included in rental.
Modern, clean, and cozy 2 beds/1 bath bunk house accommodating up to 6 guests located on a full amenity resort and marina with provided towels and linens. Unit includes a full kitchen set up with provided kitchenware, coffee pot, toaster, dishes, and utensils. Equipped with TV, cable TV, one double bed, 1 set of double bunk beds where 4 guests can comfortably sleep in; and a sofa a bed. Please keep in mind this is a travel trailer which is not very spacious, but it is very clean, organized and well cared for. Great for 4 persons, but can accommodate up to 6. Located on a 75 acre island with adjoining marina. It provides the perfect gateway for ocean activities, or just relaxing at the water's edge. Minutes from shopping, entertainment, restaurants, and more. There is great fishing right from this beautiful island itself as well as from any surrounding areas. Only registered guests are allowed into the resort and all with access to: ***Important Information*** ***Communication between the guest and myself is essential for access into the resort on the day of check in.*** If guest is unable to check in between the specified times (2:30 PM to 3:00 PM), a lockbox with a key to the camper will be left for access to the premises. * Pickleball, Bocci Ball, Horseshoe Pits * Tennis, Basketball, and Volleyball Courts * Ping Pong and Cornhole Boards * Heated Swimming Pool * Beach * Store * Fitness center * Restroom/Shower Facilities * Laundry Facilities * Boat Docks/Marina * Fishing Pier * Grill * Beach umbrella * Cooler * Chairs * Golf cart ***Maximum of 6 guests allowed per reservation*** ***Maximun of 2 vehicles allowed on site*** Available via email, text, or phone at any time. We won't always be around to greet and meet every guest upon arrival and/or departure since we do travel due to work almost on a weekly basis, but we'll always respond to your needs if any. Please feel free to reach us with any questions, concerns, requests, and/or any suggestions that may make your stay a better one. Speak both English and Spanish for your convenience.
This resort is very kids and family friendly, with neighboring guests who are full of life. The resort has a very nice sandy beach where you can swim, snorkel, or just sit down and relax under the shade of the sea grape trees; with access to picnic tables for a delightful family gathering. Many activities are provided by the resort itself which can be enjoyed by all guests if interested, these usually take place at the pool, poolside cafe, and even parades take place throughout the park during holidays and/or special events celebration. * Just 2 miles drive from Bahia Honda State Park where breathtaking top ranked public beaches are the main attraction. You can also enjoy snorkeling tours to marine sanctuaries that allow you to observe the beautiful reefs of the Florida Keys, scenic views, and nature trails. Nearby kayak, bicycles, and scooters concession. Fishing is also a big draw. * Just next to the famous 7 Mile Bridge, and Pigeon Key where you can fill your mornings with the best sunrise views. * Enjoy oceanfront dining at Island Fish Co. overlooking the ocean and spectacular sunsets. * Explore virgin wildlife environments at National Key Deer Refugee just about 8 miles South established in 1957 to protect and preserve Key deer and other wildlife resources in the Florida Keys. * Famous Key West is just 38 miles South with a unique confluence of history, climate, natural beauty, cultural diversity, architecture and unabashed romantic appeal. * Visit a historic treasure just 70 miles from Key West aboard the Dry Tortuga's National Park Ferry. Enjoy snorkeling, bird watching, pristine beaches, and historic tours of Fort Jefferson. You will need a vehicle to do some exploring. There are local taxi companies and public transportation availability if preferred. Weekly reservations preferred, but exceptions can be made based on our availability if discussed. Golf cart included in rental. ***Camper is not located on a waterfront space.*** ***Wifi limited to a maximum of 4 devices connected simultaneously*** ***This resort is a a bit loud during the summer months, specially on weekends and summer holidays due to the local crowd enjoying the summer out of school with their children. If your personal preference is complete and total silence this may not be the place for you. Not at least during summer months (June, July, and August).*** *** Jet Ski rental available upon request for an additional $600 per week, only if renting for the length of your stay. Please note that you will need transportation to haul the vessel in and out of the water. A deposit of $150 is required upon arrival for the watercraft rental. Please note that jet ski rental deposit is fully refundable as long as no damages are incurred.***
Pleasant atmosphere at rv park
Marg
January 2017
Marge is a great host. The camper is very new and very clean. Lots of space and cold AC. The lot that the camper is sitting on is amazing with a beautiful shady tree that keeps it cool and isolated. The camper has a very clean bathroom with a small tub and shower and plenty of hot water, but the public bathroom with showers are right across the path and in very good order. If you like camping - you will LOVE this.
Lilly
April 2016
Marg met us right at the gate and helped us get checked in. She showed us around the rv park and made sure we were aware of all of the amenities available to us. We were a little early on arrival and she even welcomed us to check in early. The rv park is huge and busy, but the beach and pool were amazing. We snorkeled right from the beach. The only small issues we had were wifi in the camper and an odor in the area on the first day. The smell covered the whole rv park, but seemed to wash away with the first night's hard rain. Wifi is available in the pool area. Great location! We really enjoyed our stay and Marg was very responsive and helpful! We will be back!
Rachel
July 2016
Marge was an extremely wonderful host! The camper was exactly as described and perfect for our stay. Her response time was incredible for any question I had whether it Ben about the camper, local area or anything in general. She is a super host! We will definitely return to this location in the future!
Lisa
August 2016
This vacation was the best! Marge was a great hostess...she met our family at the campsite, had lots of info on the campground and RV, had even given us a little gift in the refrigerator. The RV looked just like the pictures, was super clean, and everything worked perfectly. Plenty of room for our family of 5 to sleep and prep meals. We are used to tent camping, so the camper was fantastic. The weather was nice and hot for us and we enjoyed cool night's rest in a comfortable beds. The campsite had a nice picnic table under a tree and was close to everything...the little beach, the fishing pier, and the bathhouse. The other campers were friendly and a great mix of retirees and families. The campground was well-managed and very quiet. My kids even got to see some visiting manatee at the marina. My family and I had a fabulous time on the Keys - visiting Bahia Honda only a 5 minute drive away a few times that week. Diffidently eat at the 7 Mile Grill and take a snorkel trip with the Starfish with right next door. A big thanks to Marge and her family!
Meghan
January 2016
Marge is the best! She communicated with us throughout our trip to make sure everything was going well. The camper had more than I expected. It was cute and comfy for our family!! We will definitely stay here again. Thank you again Marge!!
Vicki
March 2017
Good place
Yuri
January 2017
The trailer was exactly as described, the AC worked great which was important in the summer. I would definitely stay there again. I thought the RV park location and being on its own small Key with a beach and marina was really nice. There were many activities available at the RV park, it has a nice pool, and is right next the Bahia Honda state park. The location on Sunshine Key was centrally located, about 45 minutes from Key West and 85 minutes from Islamorada. Plenty of snorkeling, fishing and boating available as well. Marge always was available for a question by text or phone and kept in touch asking how we doing. Staff were friendly and helpful at the park. Keep in mind it is not a hotel experience and a staff will not give you a pampered experience. I talk about a hotel not to be negative about the accommodations, they were nice, but to inform someone who has not stayed in a RV or trailer. A trailer is smaller than a hotel room sometimes, in my opinion it would be best for a family of 4 people although it can sleep more.
Stanley
August 2016
房間類型
整套房子/公寓
---
房源類型
露營車
---
可住人數
6
---
卧室
2
Big Pine Key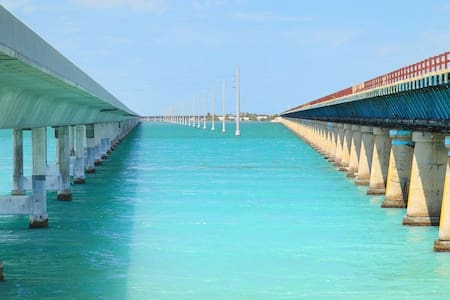 Ohio Key - Airbnb
:
在

22

位房客的評價中,平均評分為

5

星(滿分為

5

星)