The closest place to enjoy the City of Rocks National Reserve and Castle Rocks State Park. Our newly finished studio apartment is a clean, relaxing, comfortable place to stay only minutes from the best rock climbing, hiking, biking, and horse riding.
We have tried to think of everything you may need to make your stay enjoyable. The full kitchen should have all you need to cook and prepare meals for 6 people. Dishes, utensils, pots and pans, bowls, etc. have all been supplied. The kitchen table has 2 additional leaves that will expand it to seat more people. Children are welcome in addition to the 6 adults. There is lots of floor space. The TV swivels either direction for easy viewing in bed or from the table. You can log into your Netflix, Amazon, or YouTube account and enjoy all your favorite shows or Amazon movie rentals. WiFi is fast and reliable for video streaming or work away from home.
Almo is located on the California Trail. Pioneer signatures written in wagon wheel grease can be seen only a few miles away in the City of Rocks. The Shoshone Indians called this area home and signs of their habitation have been found on the property! We can even show you a display of local artifacts!
Ross and Sherida couldn't have provided a cleaner, well organized and inviting space. Having just flown in off the red eye, I immediately drifted off to sleep with the sounds of hens in the background on a very comfortable mattress. The notebook they left with dinner recommendations, information on the City of Rocks, the Hot Springs and Horseback Riding was so helpful. Sherida is quick to respond with any little question I had ( like how to operate the Netflix - I'm not very techy!) at a moments notice. My husband and I couldn't have been more pleased, and we hope to come again with our kids to show them the beauty of The City of Rocks.
Jennifer
2016-05-28T00:00:00Z
Excellent location, lots of goats and other friendly animals nearby, apartment is spacious and clean. Super comfortable beds.
Mark
2016-08-17T00:00:00Z
Prior to our arrival, the hosts contacted us for any special requests and were great at getting back to me when I did have a question or a request. We were greeted upon arrival by our host, Ross, who was exceptionally welcoming. The property is located on a family farm, so expect to see chickens and goats; the baby goats were an especially delightful addition. There were two dogs on the property, but they pretty much ignored us and were very friendly when they did approach. Everything was exactly as described, and the hosts had supplied firewood and newspaper for tinder. The fire pit has a bench and several stones around it for seating. The apartment is very clean, comfortable, and surprisingly roomy, with attention to detail that makes it feel very homey. Bonus, it's also close to Durfee Hot Springs! We rode our bikes in to Almo for a soak on Saturday night. We had booked for six guests, and I was impressed to see that the hosts had provided six bath robes, with a note to feel free to take them to Durfee. It's these little touches that made us feel like our hosts had done everything possible to accommodate us! If you are looking for a great place for a group of six or less to stay that is close to both Castle Rocks and City of Rocks, we highly recommend this one!
Laurel
2016-04-17T00:00:00Z
Great location, super place with everything you could possibly want. Large and spacious accommodations. Very clean and quiet. I really appreciated the farm animals!
Mark
2016-08-02T00:00:00Z
What a wonderful experience! We arrived late at night and got lost and the owners drove to where we were to show us how to get there. It is literally just minutes from city of rocks. The small town of almo is fun to explore.
Suzette
2016-08-22T00:00:00Z
We had a great stay and enjoyed checking out the City of Rocks for the first time. The kitchen was well stocked (there was even saran wrap!), the beds were very comfy, and everything was clean. We hiked at both the City of Rocks and Castle Rock State Park, and enjoyed the Durfee hot springs at night. Overall a very enjoyable and relaxing stay.
Kerry
2016-05-30T00:00:00Z
We didn't meet the hosts but they were very helpful getting us the door code since I had lost my phone and arrived there without the code. The location is very convenient to City of Rocks. The beds are very comfortable.
Jeannie
2016-09-15T00:00:00Z
From the first communications we felt welcomed by Ross and Sherida. We booked last minute and weren't sure about the driving time so they gave us good directions (it is a little complicated to locate, especially after dark). The retreat is a perfect base to explore the magnificent City of Rocks area. Comfy bed, spotlessly clean everything, full kitchen. After a long day hiking, we enjoyed the hot shower., but never made it to the hot springs. We're so glad we stayed here instead of camping. Highly recommended to anyone heading to this area.
Karen
2016-04-29T00:00:00Z
Almo, 愛達荷州, 美國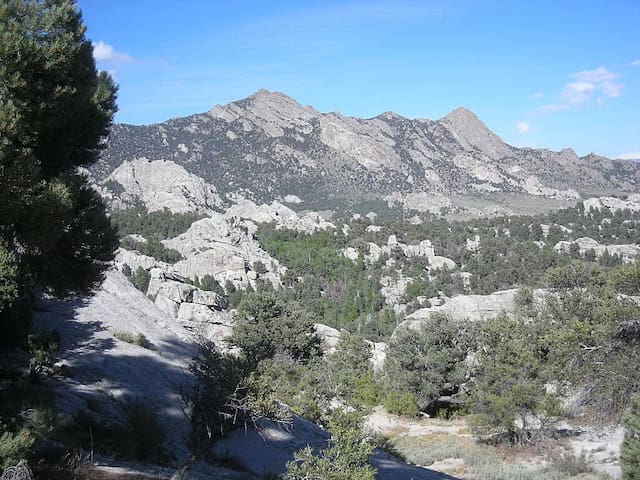 Our place is close to great views of Cache Peak, Castle Rock, City of Rocks, Independence Lakes, and many trails. Close drive to the entrance of Pomerelle Mountain Ski Resort area. You'll love my place because of the peace and serenity, and having it all to yourself. Our place is great for couples, business travelers, and families (with kids). Easily accommodates up to 20+ people. Reduced rates for couples or less than ten people. Call for reduced rate. (PHONE NUMBER HIDDEN)
Our place is full of many unique antique pieces that are fun to look at both inside and outside of the house and lodge. We also have a 160 acre ranch near by that has another lodge on it....great place to hike, bike,and 4 wheeling in the summer....... cross country skiing, snow shoeing, and a fun tubing hill in the winter. If you stay at our place we would love to share that area with you as well.
房間類型
整套房子/公寓
---
房源類型
旅舍
---
可住人數
16
---
卧室
Cassia County, 愛達荷州, 美國
輸入日期以查看總價格,包括其他費用,可能會加收稅費。