皮帕的地方是一个甜蜜的完全独立的圣刚的离奇镇中心的心脏地带的一间卧室的公寓分钟步行路程,步行到西部康沃尔海岸精湛仅15分钟。
Pippas place was every thing we wanted and more !! it was easy to find and park. we had lots of lovely walks on our doorstep. the place its self was gorgeous, very well decorated and very clean. we loved our welcome card and biscuits. our hosts were great they gave us lots of great tips on where to go walking and eating. we will defiantly be back :)
Ash
2017-04-02T00:00:00Z
Saint Just, 英格蘭, 英國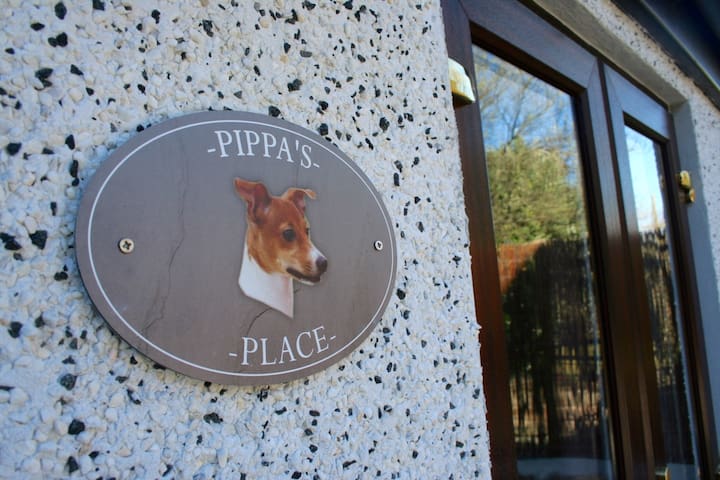 Welcome to the Bolthole which is located in the small coastal town of st just. Which has 4 pubs, several art galleries, cafe's, cycle hire, a local fish and chip shop, Chinese takeaway and the 'plen an gwary' the oldest theatre in the country. On our doorstep is the unique west Cornish coast, with its glorious sunsets, sandy beaches, beautiful walks, adventurous cycling, superb surfing, great bird spotting and plenty of stunning scenery for photographers. We love it, we hope you will too.
The Bolthole is perfect for couples or individuals, decorated with an eclectic homely style, providing a private court yard , well equiped kitchen with dining area, shower room, dressing area and a seperate double bedroom with a double bed, tv and seating. Also Included is a welcome pack of tea and coffee, free wifi, various games, novels, colouring book and pens, maps , walking and local interest books, and even a radio in the kitchen.
The flat was absolutely wonderful and the location is perfect. Not a single detail is overlooked and there is all the privacy you could possibly ask for. The flatlooks like it was just renovated and is beautifully decorated; very artistic and classy. Everything you could need is there on hand; more than expected, down to the coffee and salt/pepper! I have already recommended this to some family who want to visit the UK someday, and I wouldn't hesitate to recommend this to anyone else! It's absolutely perfect.
Bri
2016-08-29T00:00:00Z
I felt really comfortable in this beautiful little cottage. Every time I looked around I discovered a pretty detail that must have taken a lot of thought and care for the guests. I was very happy to stay there and I will come back :) Thank you for all your efforts
Francesca
2016-09-29T00:00:00Z
The Bolthole is a lovely little space that had everything we needed to make our stay in St Just perfect. The apartment was decorated with care and felt warm and cosy, with an amazingly comfortable bed. We had a lovely time and would definitely return. The area is wonderful with lots to do and see at any time of the year.
suki
2016-10-29T00:00:00Z
Absolutely wonderful place to stay. The way the apartment was decorated was fantastic. We didn't want to leave. If you're looking for a place to stay in St. Just then this is it! :)
Sarah
2016-10-16T00:00:00Z
Amazing place to stay, already recommended to friends and family. Beautifully decorated with fun and quirky touches throughout, shows a lot of care and attention has been made when designing it. Very private with the garden space and secure gates, very welcoming and extremely cosy. Visited the local pub for some food in the evening, the locals were all friendly and were happy to give good tips on where to visit. Food was great too. Can't recommend The Bolthole enough. The only down side was we were only staying for one night, would have loved to have stayed longer! Will definitely visit again. Thanks Heather and Matt!
Greg
2016-09-25T00:00:00Z
We loved the apartment a lot, it was calm and lays in a beautiful little town. The Bed is very comfortable. The shower warm and very good to relax. The candels in the kitchen make a warm and beautiful atmosphere. You can direct rent a bike in the house, that was perfect to make some beautiful excursions around St. Ives. With a bike you can drive like in 1 hour near Lands End Area, just Perfect. The Town is a perfect town to explore the beauties of the area. And thank you Matt, for all the little details in the house-we loved it a lot:)!
Tim
2016-09-08T00:00:00Z
We had a lovely time - the accomodation was great and St. Just is a beautiful place.
Madeleine
2016-10-09T00:00:00Z
The Bolthole is a lovely, cosy place to stay. It is beautifully presented and a perfect base from which you can explore the area. A great deal of thought and attention has gone into making it very homely and we had a very warm welcome from Matt on our arrival.
Claire
2016-10-30T00:00:00Z
Saint Just, 英格蘭, 英國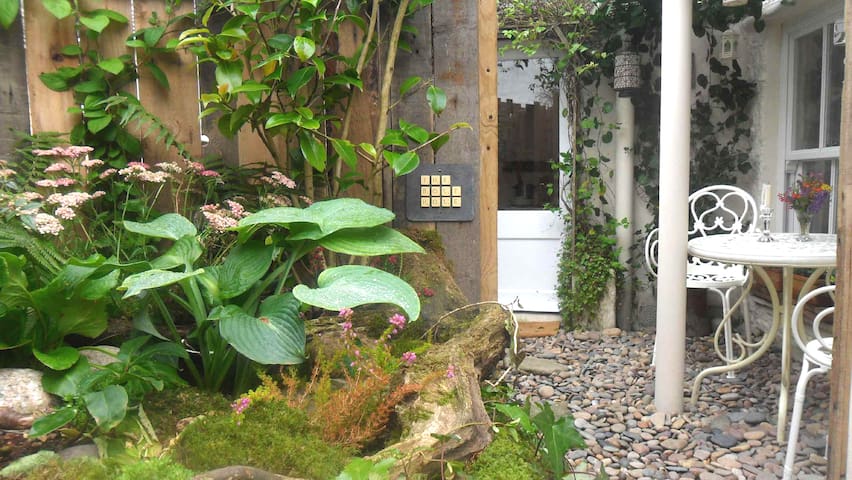 A lovely peaceful base to explore West Cornwall from. A new shower room and kitchen/living room and a balcony on which to enjoy the morning sun. A car parking space and excellent public transport to explore local area. There's interesting art on the walls and games to play.
A much loved flat situated in the vibrant village of St Just, 3 minute walk into the centre of St Just with a great selection of shops, galleries, pubs, cafes and local walks to the coast. A beautiful base to enjoy a fantastic part of Cornwall
The seaviews from just outside the flat, the friendly vibe in the village, the local organic farm shop, the beaches, the countryside walks. Ours is a beautiful flat in a great position.
We had a lovely stay. The apartment was nicely decorated and clean. Excellent host.
Robert
2016-02-15T00:00:00Z
Raminder provided us with fresh milk, eggs and flowers which was a very nice touch. There was a lot of useful information about the area available to use. The flat was very convenient located in St Just. It was very clean, comfortable and quiet and was a very pleasant place to stay
Angela
2015-08-28T00:00:00Z
Great location, perfect for exploring the beautiful coast path and west Cornwall. Easy to find and parking is good. The flat is quite small so would be a bit cosy for more than 2 guests in our opinion, but we had a really nice time here and it was perfect for our short break in St Just.
Lindsay
2015-08-09T00:00:00Z
Raminder' apartment was exactly as described, quiet,clean and perfect for our 3 night stay. It is an excellent base to explore this part of Cornwall. Although we did not meet Raminder her communications were clear and timely.
Greg
2016-05-14T00:00:00Z
We had a fantastic first Airbnb experience in St Just. The information Raminder gave us to check in was easy to follow and she was instantly helpful whenever we had an queries. The flat was lovely and cozy and just as described. The futon made available for our third guest was comfortable. The location is perfect for living like a local (walking distance to great pubs and shops) in St Just and Raminder provided great suggestions for exploring Cornwall.
Kaila
2016-11-25T00:00:00Z
Perfect for what we wanted - plenty of comfort for reading and a good base from which to explore St Just and the surrounding area.
Guy
2016-10-30T00:00:00Z
Lovely little place in a great part of Cornwall! Raminder was super quick to reply and to sort things out! Highly recommended! Will stay again!
Alexandra
2016-11-10T00:00:00Z
Lovely flat, as described. St just has all you need, pubs, shops, chip shop, walkable to the beach. Flat is well equipped and had everything e needed. Is a tad noisy from the dog downstairs barking in the mornings but we didn't mind as it didn't last long. Didn't see Raminder.
Susie
2016-07-16T00:00:00Z
Saint Just, 英格蘭, 英國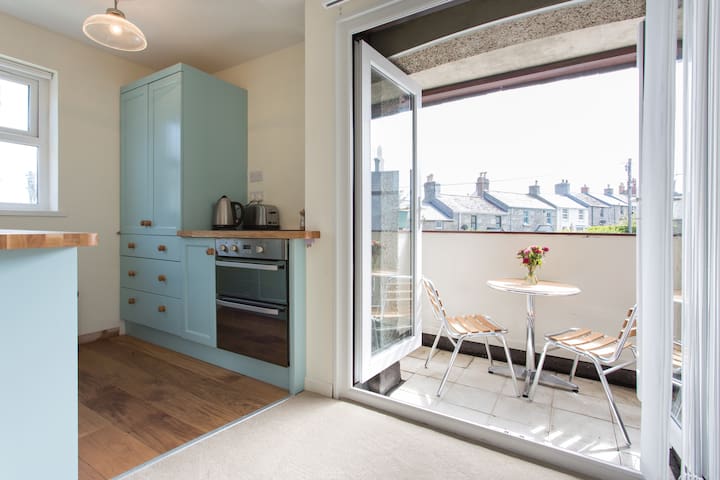 A self-catering converted barn on our smallholding, in a quiet location on a no-through road, minutes walk from St. Just town centre, and the South-West Coast path
A small former calf-house converted to a studio with a king-size bed; basic kitchen area with microwave, kettle, toaster and a small fridge ; and a shower room with W.C. It is not suitable for children.
St. Just is a small town with a good selection of essential shops, open til 10pm; and some good pubs & cafes.
Howard was very good communicating before arrival and made us feel very welcome. The little stone house is in the perfect location for walks on the coast, a very beautiful area!
Meike
2016-10-10T00:00:00Z
Howard was so lovely and we had a fantastic time at Carrallack Farm! We are ready to move to Cornwall!
Starr
2016-09-26T00:00:00Z
The host did make us feel welcome. The cottage was lovely and clean. The temperature inside was quite cold though, especially when you come from a walk from the seaside. The location of the house is perfect, amazing views are very close and the village is also lovely. Overall a good experience!
Liis
2015-06-07T00:00:00Z
an absolute gem of a place to stay. neat, tidy, spick and span. snug and warm. a comfy king size double bed. great shower, with a pebble floor that gives a great foot massage at the end of a days walk. good wi-fi; no t.v. (yippee!) but there is a dvd player; and if you're a fan of rom coms there's a shelf full. very close to the coast path, so easy to access the cornish cliffs, their wonderful coves and sandy beaches.
Nic
2015-06-01T00:00:00Z
Lovely little annexe, a lot to do in and around the area. Brilliant places for food and heritage sites waiting to be explored! Would definitely visit the annexe again in the future.
Zacaria
2015-07-14T00:00:00Z
We had a lovely, restful stay at Howard's place. The place was quiet, clean, comfortable, and within easy access of St. Just village. Howard was a responsive and great host - we definitely recommend his place!
Martina
2016-05-16T00:00:00Z
Howard was very helpful and the annexe was easy to find. It's self contained so we could come and go as we pleased and St Just has always been a lovely little place to visit. Sennen Cove was about 15 mins away by car (lovely!) and we also had a great evening at the Minack. The annexe itself is basic, and about the right level of comfort for the fee. It was nice to wake and see the sky through the rooflights, and it had all the facilities one would expect. It was a little damp when we visited and we suspect this would not be an issue in high-season.
Robin
2015-09-06T00:00:00Z
A perfect little space for a weekend get away. Cosy environment with everything you need for the weekend. It's just a short walk to the local amenities and the SW coastal path. Howard was there to greet us as planned. I would recommend this lovely space.
karen
2016-10-23T00:00:00Z
Saint Just, Cornwall, 英國
Modern 1 bed apartment fully equiped with private patio and off street parking if required only short walk from historic town and promenade close to train and bus station excellent resteraunts pubs live theatre galleries beaches lovely coastline to walk marazion mousehole st Ives poldark country all short drive away
Central no transport required
Close to all amenities
We had such a wonderful time and can't recommend this property highly enough. It's warm, bright and cosy and has been very thoughtfully equipped with everything you could possibly need, including tea and coffee, toiletries and even a TV with Netflix. The kitchen and bathroom are modern and spotless. Furthermore, Ellen and Jodie were just so helpful and friendly. I can't believe how good this accommodation was, especially for the price. I would not hesitate to recommend it to anyone.
Kate
2016-10-28T00:00:00Z
Ellen was very easy to communicate with the whole time and very accommodating when we got stuck in traffic and were a little late arriving. The flat was just so cosy and has a great off street parking space. A very comfortable couch and bed. She had a great book of tips on where to go in the area and where to eat. We found it a great location for walking to Mousehole and St Michael's Mount - along the South West Coast Path. We would highly recommend staying at Ellen's flat.
Simon
2016-10-07T00:00:00Z
Ellen was very welcoming and very understanding as we arrived fairly late. Fantastic apartment, had everything we need for our stay. Once again thank you :)
Harjit
2016-10-09T00:00:00Z
Felt very welcomed. Perfect size little flat for a couple. Very clean and tidy, well decorated and equipped.
Tiffany
2016-10-01T00:00:00Z
Ellen was really helpful and accommodating. She give us lots of tips on where to go. The flat was perfect for our stay with parking and is walking distance to the town centre. We would definitely recommend staying at Ellen's amd if ever in the area again we would stay there.
Harmony
2016-09-28T00:00:00Z
A pleasant stay! The flat is exactly as described and just perfect for our stay. Convenient location for exploring the area. We were made to feel welcome on arrival. Ideal for short breaks or longer holiday. We would love to come back and stay here again....and again! Thank you
Kirsty
2016-10-20T00:00:00Z
We had a wonderful time staying in Ellen's cottage! It is well equipped with everything you need and very cosy with a tv and couch and little back porch. Ellen met us when we arrived, showed us everything, and left a book detailing places to go and eat in and around Penzance! The place is quiet and close to the town center. Thank you for having us, we hope to come back again soon!
Sage
2016-09-26T00:00:00Z
Amazing host awesome apartment too bad we had a short holiday
Tongai
2016-10-30T00:00:00Z
彭贊斯(Penzance), Cornwall, 英國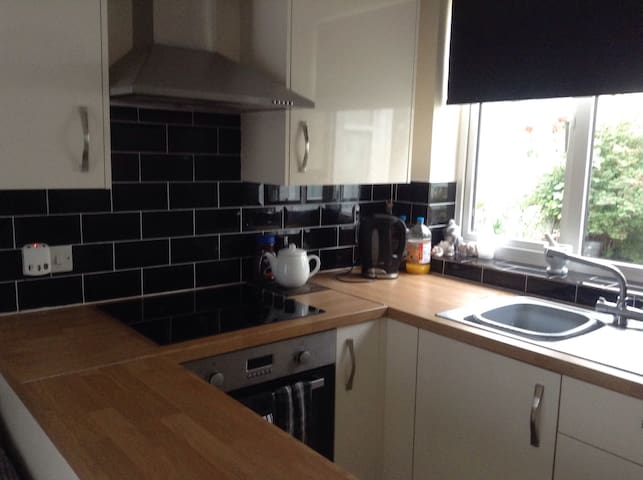 A fantastically positioned one bedroom loft apartment offering stunning views over Mounts Bay across to St. Michaels Mount. Our apartment is on the top floor of a converted warehouse formally the local bakery! It's the perfect getaway! 7 The warehouse studio apartments Leskinnick Place Penzance Cornwall TR18 2EZ
This is a loft apartment in a converted warehouse. It's open plan with a modern Kitchen / Lounge / Diner with amenities provided including TV, DVD, WiFi and double sofa bed. The lounge leads onto the Master Bedroom which has a king-size bed fitted with Egyptian Cotton Sheets (parts of the bedroom have limited headroom as it's a loft apartment). Downstairs there is a shower room with basin and wc and a utility space with washing machine and clothes maiden. Also off the lounge is a large south facing balcony overlooking Mounts Bay with a table and chairs for 4 people.
Penzance, nestled in the heart of Mounts Bay, is the capital of Penwith and West Cornwall. With plenty of history and long standing traditions combined with up to date facilities, shops and transport links, Penzance offers residents a unique place to live and laid back way of life. Penzance (or Pen Sans in Cornish) means holy headland, referring to the headland to the west of the harbour where a chapel was built over a thousand years ago. Historically Penzance has been a market town from 1592. For more information, read the history of Penzance. Modern Penzance had a population fast approaching 30,000 people covering all ages, nationality's and religions. The architecture of the town is predominately Georgian and Regency, but influences of other styles creeping into many of the houses on many of the towns streets. The town is the considered the capital of the Lands Ends peninsula due to the large shopping area with hundreds of retailers and a large proportion commercial businesses of the area.
Die Unterkunft war wie auf den Bildern beschrieben. Es war ordentlich und man fühlt sich wohl. Wir haben jeden Abend gekocht und dafür war alles da, was man braucht. Auch den Ofen haben wir benutzt. Das Bett war für unseren Geschmack zu weich, aber da man auf die Couch umziehen kann, war das auch kein Problem. Es hat uns gut gefallen und wir würden nochmal in Hayleys und Toms Apartement übernachten, wenn wir nach Penzance kommen.
Anne
2016-11-11T00:00:00Z
We loved the apartment. It was just like the pictures. The balcony was fab and it was all so clean and thoughtfully done. I loved that there were candles and a variety of teas and toiletries. It was a perfect cost little get away!
Kate
2016-06-25T00:00:00Z
From the moment we arrived, we both knew we'd made a great choice. The flat is lovely but if you're tall (I'm 6ft3) you will need to do a bit of ducking. Having said that, it just added to the overall enjoyable experience. The roof terrace is the cherry on the top, offering wonderful views towards St Michaels Mount. We dragged ourselves out of bed for the sunrise on a couple of mornings and were not disappointed. We can't recommend the flat highly enough. Hayley was extremely accommodating and seemed lovely even though we only spoke over the phone.
Mike
2016-09-20T00:00:00Z
We had a great stay in Penzance. The apartment is handily located very close to the train and bus stations and a short walk to the shops, restaurants, pubs etc. of central Penzance. The terrace provides fantastic views out across Mounts Bay. The apartment was clean and modern with plenty of space to spread out. It's on the top floor of the building, so quite a few steps to climb (and no lift), so probably not for those less mobile. We loved it though and would highly recommend.
Bert
2016-07-08T00:00:00Z
A very well located base for exploring this part of Cornwall. Check in was very easy. Views from the balcony are fantastic!
Leila
2016-10-23T00:00:00Z
很好的住宿体验,舒适的大床,温馨的房间。离火车站汽车站非常近。
Wuyan
2016-10-20T00:00:00Z
We had a fabulous long weekend in Penzance. The apartment was perfect! The description was accurate and the apartment was very clean and tidy. The hosts were very helpful before our arrival making sure we had all the instructions we needed. They gave us a list of restaurants, places to visit and what activities were on that weekend. Thank you!
Penelope
2016-05-31T00:00:00Z
The location of this flat in Penzance could not have been more convenient from the train station. Once up all the stairs, you have a great view of St. Michael's Mount and the surrounding rooftops of Penzance from the terrace, which is great for tea, etc when the weather is good. The decor of the apartment is charming but being in the loft, it does have its "headroom" challenges. Having a washer was great, though instructions for the machine would have been helpful - we figured it out in the end. We did have a problem with the heat/hot water turning off; if this happens, contact Tom and Hayley immediately and they will take care of it. The Crown pub further down the road is very convenient and feels local. We also liked the Hen just across from the National Bank. We really loved our stay in Cornwall and given our limited time in the area, this was the right place for us.
Catherine
2016-09-23T00:00:00Z
彭贊斯(Penzance), 英國
Built in 1734 our apartment was once the busy kitchens and staff quarters of a grand merchant's house. It is now a calm, light filled space situated on the wonderfully historic and iconic Chapel Street. Set in the cultural centre of Penzance and only a minutes walk from the harbour everything you could need is at hand. Benefitting from all new amenities and contemporary styling The Staff Quarters is the perfect location for exploring beautiful local beaches, cliff paths, cafes and restaurants.
Our apartment is in the heart of Chapel Street. Perfect for experiencing the cafes, restaurants, bars - and of course the world famous Admiral Benbow pub - all within easy walking distance... and after that, come home to this welcoming newly refurbished space. Think modern yet homely with a lovely woodburner for lighting after a beach walk on a winter's day. We also have some smuggler's tunnels in the floor of the apartment supposedly linking the house to The Admiral Benbow pub, another to the Chapel and one leading down to the harbour. And going up through the wall is a hidden tea chute which goes to the attic...for the storing of smuggled tea! But these days instead you will find your welcome a little more standard - vases of fresh flowers in the main room and bedroom, a cream tea on your first day and a fridge stocked with enough milk, bread, butter and fruit juice to get you through until the local shops open. A comfortable double bed, a luxurious double shower, a fully equipped kitchen and separate utility with washing machine and drier, are just some of the facilities that guests have said they appreciated. Please vist my website for more info: (URL HIDDEN)
Chapel Street is famous for many things including the blue coated smuggler that straddles the ridge at the top of the roof of The Admiral Benbow pub located on the other corner of Abbey Street. The Benbow is a pub full of old naval relics and great food and local beers. The smuggler is probably the most photographed item on the Penzance Town Trail and brings a smile to many. Opposite us on the other side of Chapel Street is the incredibly popular Artist's Residence ( famous from the TV series Three in a Bed) . They do fab food in their restaurant (The Cornish Barn), great cocktails, and music nights in the summer. Our guests have highly recommended The Cornish Barn but also advise booking well ahead. Further up Chapel Street is the Oldest Pub in Penzance The Turks Head - again great for food and local beers. Keep going and you will find more places to eat and drink. During the day visit the iconic art deco Jubilee Pool - filled with tidal sea water and all newly rebuilt after a bad winter storm... this pool is proving fantastically popular. Or wander through Penlee Gardens and eat at their very popular cafe with in and outside dining areas. Take a fishing trip or go bird watching leaving from the harbour just three minutes walk from the apartment. Or closer still book a paddle boarding lesson in the harbour basin at the bottom of Abbey Slip.
Sehr freundlicher Empfang mit Kaffee und Kuchen, ein von Joanna frisch gebackenes Brot, einfach wunderbar. Sie hat ein sehr modern eingerichtetes Appartement in diesem historischen Haus, in dem es uns an nichts fehlte. Alles ist ganz neuwertig, sehr gemütlich eingerichtet und eine wunderbare Dusche mit viel Platz. Alle Zimmer sind liebevoll eingerichtet und auf den Tischen standen frische Blumen. Die Lage in der zentralen und historisch interessanten Strasse ist sehr gut für die Stadterkundung und Ausflüge geeignet. Unsere Erwartungen wurden übertroffen.
Detlef
2016-09-12T00:00:00Z
From the very first contact on line our host made us feel welcome and well taken care of. The flat was lovely, and tastefully furnished. The kitchen was very well-equipped and there were plenty of staples to get us through our stay ( tea, coffee, eggs, bread, butter, etc). Joanna was a great source of information about all of our questions : where to go and what to see. She was considerate of our privacy but was readily accessible if we needed anything. This is the best airbnb flat that we have stayed in, both in terms of accommodations and host.
Sandra
2016-09-20T00:00:00Z
My husband and I had a fantastic weeks holiday in 'The Snug'. Joanna greeted us with a lovely warm welcome and had baked us some yummy chocolate brownies. The apartment is newly restored and very well equipped with everything you could possibly need. Chapel Street is in the heart of Penzance where we walked to local pubs and restaurants for some delicious meals. We spent a day at the lido, enjoyed walks along the seafront and visited St. Michaels Mount. Penzance is a place where you can do as much or a little as you want. There was good communication before and during our stay with complete privacy in the snug. Joanna was on hand if needed and we picked her brains for places to visit and restaurants to try. All in all, a lovely, relaxing, enjoyable week. We will definitely be returning.
Sheryle
2016-08-20T00:00:00Z
We had a long drive from Durham. We were met by Joanna (host) with a friendly warm handshake and a delightful cream tea. The property was everything we hoped it would be and more. Jo had left some eggs butter and milk with coffee and tea. The apartment was like a home from home. Wcannot rate it highly enough.
Trevor
2016-10-30T00:00:00Z
Joanna met us at the flat and made us feel completely at home with home made cake and all the little extras one could have wished for. The flat was newly, tastefully furnished in the old part of Penzance. The restaurants we ate in where all within easy walking distance. An ideal spot to base ourselves and visit the surrounding area.
Denise
2016-10-19T00:00:00Z
The host was very attentive, covering all details, the location in a central position for the harbour, the sea front and the town, plenty of historic interest, a really 'good' feel to the accommodation and the location, we will return :-), we are two happy and relaxed guests.
Graham
2016-10-03T00:00:00Z
We had a lovely few days in Jo's place very comfortable with some lovely additional touches. Jo was a great host on hand to greet us and ensure we had all we needed. The location is ideal for exploring coastal paths and has a selection of good restaurants in walking distance. Highly recommend.
Imelda
2016-08-27T00:00:00Z
The "Snug" was a perfect place to stay for our visit to Cornwall. The central location, close to restaurants and transportation enhanced out stay as we came without a car. Jo was very gracious and made us feel at home immediately. I felt like I was a family member and the traditional cream tea was great after a long train ride. The apartment was comfortable with everything we needed and more. This was our first experience with Airbnb and I couldn't have asked for a better one. I hope we can go back one day.
Barbara
2016-10-02T00:00:00Z
彭贊斯(Penzance), 英格蘭, 英國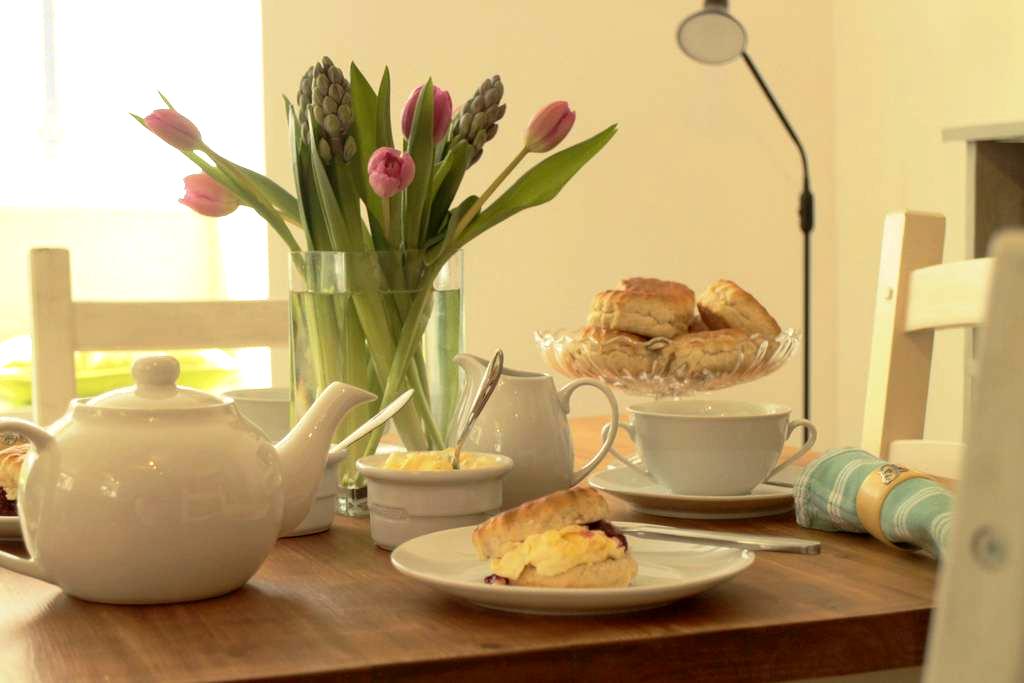 In the oldest and most beautiful part of Penzance. Sunny, south facing flat in quiet Regency terrace; courtyard, garden and parking. Yards from the sea. Within hidden Cornwall. Explore Mousehole, St. Michaels's Mount, St Ives...and beyond.
This flat is part of our large terraced house. It is open plan with a welcoming lounge/ dining area. The bedroom is separated by folding doors. There is a galley kitchen and bathroom with a shower. French doors lead out onto to a private courtyard garden with steps leading up to the ground level front lawn. Parking for one car.
This area has the benefits of being close to the town whilst having the feel of being in a very quiet single road tucked just off the seafront. Just round the corner is historic Chapel Street with 4 excellent places to eat and 4 great pubs/drinking bars. A short stroll to sub-tropical gardens, galleries, Newlyn Harbour.
The apartment was more than perfect for me and my boyfriend. It was clean, big and had everything we needed. Tamsyn was very nice and put some breakfast in the fridge for us when we arrived. There was some maps and information about Penzance in the apartment and Tamsyn told us about things to visit and were to eat.
Sara
2016-07-31T00:00:00Z
Ein sehr herzliches Willkommen mit Milch, Eiern,Speck, Brot und einer tollen Einführung in die Schönheiten Cornwalls. Es lag jede Menge Infomaterial, Wanderführer für Cornwall vor. Aufgrund der Einrichtung (suuuper Ohrensessel) haben wir uns wie Zuhause gefühlt. Tamsyn ist sehr an ihren Gästen Interessiert und war immer ansprechbar. Wir haben uns sehr Wohlgefühlt!!
Silke
2016-06-19T00:00:00Z
The entry says "Lovely flat in prime location" and that is an understatement. It is a delightful, very comfortably furnished flat in a fantastic location, just one block from the sea, and a few minutes walk to the heart of town. Tamsyn is a terrific hostess, very welcoming and friendly, very willing to help both practically and with advice. I could not imagine a better experience! And I hope I'll be able to get back some time!
Simon
2016-06-10T00:00:00Z
Tamsyn was a fantastic host, incredibly thorough and attentive. Nothing was too much trouble and her straightforward and friendly communication made everything very easy for us. The flat was stunning, situated just a stones throw from the shore yet providing privacy. Tamsyn's beautifully styled furnishings added just the touch of luxury I was needing! There were so many things she had thought to provide, from the essential kitchen equipment to books, CDs and DVDs through to body boards for the sea! It was a comforting and relaxing experience, which lacked nothing. Penzance itself is quirky and charming with no shortage of things to see and do. There are brilliant rail and bus links to the surrounding area, so you could never be bored! Cornwall is incredibly beautiful and having had my first taste, I would love to get to know it better. Genuinely a lovely lady, a lovely flat and a lovely place- As far as I'm concerned it was a perfect let and I can't wait to stay again!
Freya
2016-07-11T00:00:00Z
Tamsyn's flat is perfect. She has decorated it so beautifully and it sits within a lovely garden with a little private patio. The flat really feels like a cottage home and is less than 2 mins walk to the Penzance sea/promenade. We had the best weekend and would highly recommend this stay.
soraya
2016-05-31T00:00:00Z
Tamsyn was a great host. She got in touch prior to our break, letting us know how to find the flat. She made sure we arrived safely and we were so pleased with the apartment. She had left us out a lovely breakfast tray with bacon and eggs in the fridge.
Carly
2016-06-03T00:00:00Z
Tamsyn gave us warm reception and made us feel comfortable immediately. She provided a lot of useful information about places to explore. She also suggested some really good places to eat. Her flat is really beautifully decorated. It is quite spacious and clean. We loved every moment of our stay.
Surajit
2016-07-05T00:00:00Z
Fantastic flat in a great spot in Penzance! Lovely bathroom, kitchen, lounge room and bedroom all contained in downstairs flat. Highly recommend for Cornwall holiday!
Cath
2016-08-30T00:00:00Z
彭贊斯(Penzance), 英國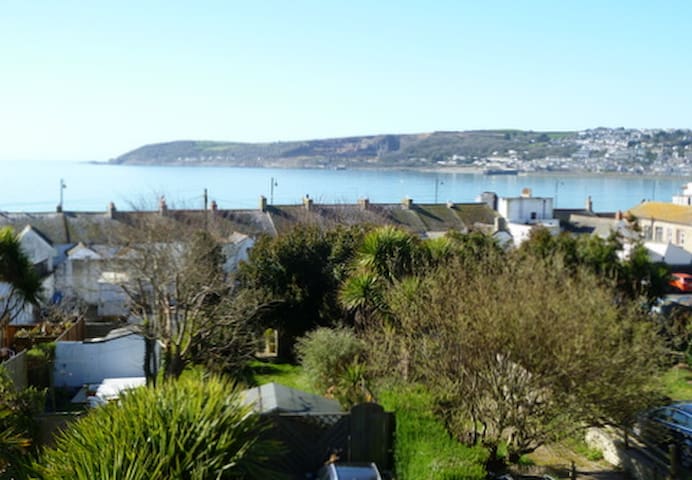 We're at the heart of the quirky town of St Just with its galleries, pubs and independent shops. Yet on the doorstep is the stunning coast, beaches, moorland that make the far west of Cornwall unique and sought after. The 25m² studio has been architect designed to provide a superb boutique retreat that's private, yet close to everything. It's equipped with high end appliances and a wonderful Eve mattress. My place is perfect for couples, solo adventurers, and well behaved furry friends (pets).
A gorgeous modern studio flat with everything you could need. Kelvin was very helpful and friendly with stacks of ideas/info of things to do/see. We did not want to leave! The Coast Path is well worth a walk!
Rebecca
2016-09-12T00:00:00Z
Perfect in every way. The studio is so stylish and in a great spot, really close to the centre of St Just and in a beautiful part of the world. Had everything we needed and our hosts were great. Couldn't have asked for more - thanks for a great stay.
Christopher
2016-09-02T00:00:00Z
Beautifully decorated, well equipped studio and St Just is a great location from which to explore south west Cornwall. Kelvin was very welcoming and a very knowledgeable host.
Katie
2016-10-06T00:00:00Z
Kelvin and Amanda's studio is an incredible space and we absolutely loved our stay. The architecture, interior design and technology has been so well thought out, the studio is truly unique and you can see how much work they have put into it. We loved the skyspace roof light as we could see the stars whilst laying in the comfy bed! They provided food such as fresh fruit, lovely breakfast muesli as well as locally made biscuits which was such a nice touch. Their guide for the local area was very informative but also a great read with some personal favourite walks and trips mentioned. Without it, we wouldn't have found some great local places to eat such as The Square who make awesome pizzas as well as Dog and Rabbit which was a lovely little cafe. We also took one of Kelvin's favourite drives from St Just to St Ives along the B3306 - stunning. We also stumbled across Poldark being filmed which was a great experience. Kelvin was on hand to greet us and to show us around the studio and we immediately felt at home and we knew we could get in contact with him at any point during our stay if we needed to. He also waved us off early in the morning (sorry about that Kelvin!). We would love to come back - thank you again for a memorable first trip to Cornwall!
Emily
2016-10-02T00:00:00Z
Absolutely fabulous stay. With a warm welcome and local guide book (hand written) we couldn't have been more at ease. We only wish we had stayed for longer!
Odette
2016-09-01T00:00:00Z
Wonderful accommodation in an amazing location. Kelvin and Amanda were really friendly and helpful - i would genuinely recommend this place to anyone!
Paul
2016-08-10T00:00:00Z
Kelvin & Amanda were brilliant hosts - unfortunately we arrived later than expected and they were so accommodating and easy to get in touch with. The flat is snuggled in the middle of a village, with free parking nearby and close to all the local village shops and pubs. The flat itself is compact and has a brilliant kitchen and bathroom, with everything thought out including hairdryers, baking pans and even shower gel. Thank you so much for such a great stay!
Stephanie
2016-09-09T00:00:00Z
The studio was one of the best airbnb properties we ever stayed in - it was beautifully furnished, and located right behind the main square of St Just. St Just is a beautiful little village couple of minutes away from some of the best beaches in Cornwall. Villages closer to the coast could be quite crowded especially on a sunny summer day, so we appreciated the quietness of St Just! Finally we cannot thank Kelvin enough for making us feel at home from the minute we arrived, and for all the tips he gave us about Cornwall.
Hayriye
2016-08-17T00:00:00Z
Saint Just, 英格蘭, 英國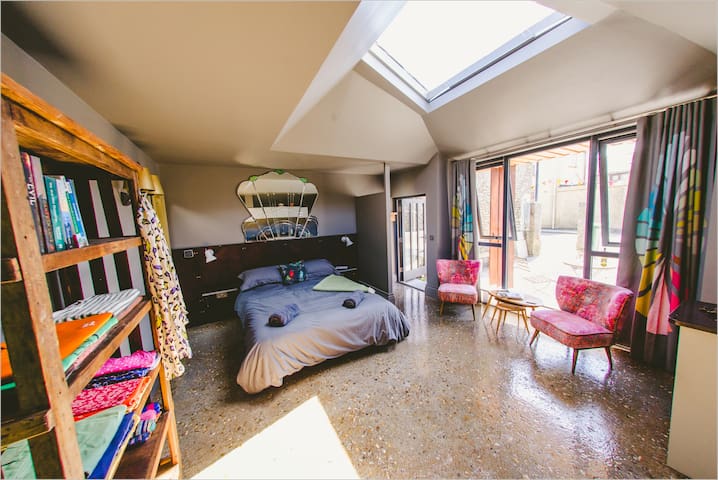 Luxury, well-equipped apartment in a beautiful Victorian house, just a few steps from the centre of Penzance and next to the sub-tropical Morrab Gardens. We offer parking (for a small or medium car - the space is tricky to get in to), a private courtyard garden and free wifi. We live in the house above so are usually around to say hi and help out with any questions - but the apartment is totally separate. Newly refurbished, The Secret Garden is ideal for a romantic getaway or a family break.
The Secret Garden is on the ground/lower-ground floor of a four-storey Victorian end-of-terrace house in the heart of Penzance. It is below our family home. We are just above Morrab Gardens, three minutes from the sea, and only steps away from the hustle and bustle of the centre of town. The apartment has some lovely period features and has just been completely refurbished, with a brand new kitchen (washer-dryer and dishwasher) and bathroom with underfloor heating. It is stylishly equipped to a high standard with all mod cons, and personal touches such as books, games and a selection of DVDs. LIVING ROOM Two-seater sofa bed, armchair, small dining table, two dining chairs, one stool, side tables, electric wood burner, digital TV with Freeview, DVD player, books, games, DVDs. Original timber sash window with view to garden, with wooden shutters and a window seat. Built-in cupboard. Radiator. BEDROOM King-sized bed with luxury mattress topper and four pillows, non-allergenic duvet and blanket. Bedside lamps, small wardrobe, chest of drawers, bedside table, dressing table and chair, desk lamp, wall-mounted TV with built-in DVD player. Built-in cupboard with shelves. Timber sash window with view to front steps. Radiator. KITCHEN Electric cooker with grill and three-ring hob, large fridge-freezer, washer-dryer, slimline dishwasher, Bosch kettle and toaster, Nespresso coffee machine, plenty of worktop space, low-level storage cupboards, wall shelf, bread bin, chopping boards, knives, pans, crockery, cutlery, glassware, utensils, tray - basically, everything you'll need (just ask if not). Radiator. BATHROOM Corner shower, bath, WC, basin, mirror with shelf, heated towel rail, underfloor heating, extractor fan. HALLWAY Radiator, owners' store cupboard. Understairs cupboard with iron and ironing board, vacuum cleaner, heated plug-in drying rail, spare light bulbs, torch, travel cot, high chair, linen for sofa bed, first aid kit. GARDEN As you would expect from a terraced property in the town centre, the garden is a little overlooked. It is also adjacent to the public driveway that leads to Morrab Gardens, so you will hear people chattering as they pass, and the occasional vehicle. It is very quiet in the evenings. We provide a table and three chairs, and a metal 'shelf' for you to use with your own disposable BBQ.
We love the historic centre of Penzance, with its pretty streets of Georgian and Victorian houses and winding walkways. You can walk everywhere within 15 minutes of the apartment - to the shops, the pubs, the cafés and restaurants, the theatre, the cinema and the iconic seawater lido, as well as the bus and train stations. The wonderful sub-tropical Morrab Gardens are - literally - on your doorstep, the promenade is three minutes walk away and the Jubilee Pool is less than ten minutes on foot. We have plenty of interesting shops, especially on next-door Chapel Street (from fashion to vintage furniture), loads of great places to eat (fine dining to cream teas) and, of course, if you want to go swimming, surfing or building sandcastles, there are loads of wonderful beaches within half an hour's drive. Please note: this is a town-centre apartment, so you will hear some of the usual noise, even though we are in a quiet, out-of-the-way spot.
Great accommodation - has exceeded my expectations . Katherine was a very tentative and supportive host and made our stay very relaxed. Can highly recommend!
Michaela
2017-03-15T00:00:00Z
We loved our stay at "Secret Garden"! Such a beautiful place. Perfect location in Penzance, walking distance to everything, yet secluded. Outside our pretty little garden is a beautiful park. 1 short block away is a co-op grocery store that has late hours. Many restaurants that are within an easy walk. Additionally, the flat is an easy walk from the train station with luggage in tow. The flat is adorable and very comfortable for my husband and I, and our college daughter. An added bonus: loved the heated floors! The bed was very comfortable as was the hide a bed couch for our daughter. Loved the Nespresso coffee maker, the best among the pod coffee makers! Katherine was a wonderful hostess! Easily accessible with great recommendations and directions! Very attentive yet not obtrusive! She is the best! Would highly recommend this lovely flat to everyone!!!
Lyndsay
2017-03-08T00:00:00Z
The Secret Garden is very well positioned in the centre of Penzance but at the same time an oasis of calm and comfort. It is very well equipped, unfussy but homely.
Isobel
2017-02-24T00:00:00Z
Thank you Katherine for a fabulous stay. The flat is so clean, cosy and had everything you we needed. Love the little locsl touches around the flat. We recommend that anyome travelling to Penzance stays here. Our pooches also loved their time here. Thanks again
Stephanie
2017-03-26T00:00:00Z
Tis is a lovely place to stay. Katherine and Martin make you very welcome and you feel that you could ask for further help if needed. The flat is super and very comfortable. The hosts provide a lovely breakfast for the first day (or two....) which is most welcome as you then don't need to shop for the food. Thanks again. Helen and Bill
Helen
2017-03-31T00:00:00Z
Had a wonderful time in Penzance and found a gem of a place in the Secret Garden. The flat is lovely and perfect for a couple or family. Can't recommend this place highly enough! Thanks for everything Katherine.
Rhys
2017-02-27T00:00:00Z
We had a wonderful stay in this gorgeous flat. Everything is as shown in the photos (if not even better) - finished beautifully to create a warm and welcoming atmosphere. The flat is situated in the centre of Penzance, right next to Morrab Gardens and very close to the shops and restaurants. We had a seven week old baby and there was plenty of space inside for the pram and all of his things. Katherine was a lovely host - ready to help with anything and always easy to contact. We will hopefully be back soon!
Sophie
2017-02-03T00:00:00Z
Katherine's place is just lovely. We were a couple visiting for three nights, and it was well located in a very quiet street right in the middle of town. Katherine provided a warm welcome letting us know that if we needed anything just give her a call. The property is tastefully decorated throughout with everything we could need. It was the extra little things that make this place great though. Tea, coffee, milk, OJ, croissants, butter, jam, hot water bottles (not needed as the place was toastie), games, DVD's, local attractions fliers. We couldn't wish for anything more. A lovely place to stay.
Les
2017-02-20T00:00:00Z
彭贊斯(Penzance), 英格蘭, 英國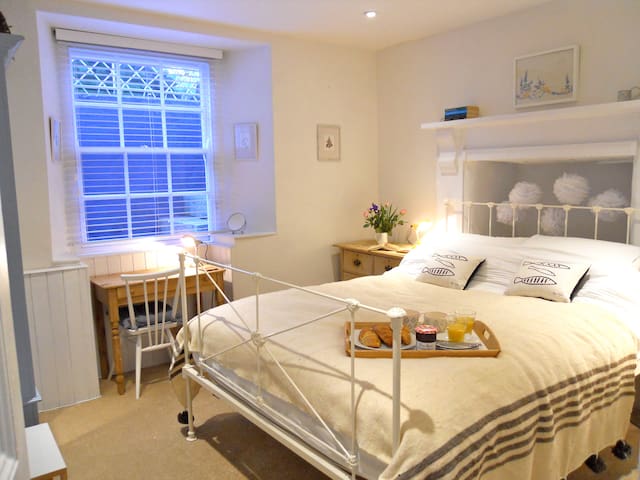 My place is close to parks, art and culture, the town centre, the sea front, bus routes and the railway station.. My place is good for couples, solo adventurers, and business travellers. We share the flat with a very friendly Border Terrier.
Philippa is a wonderful host who will take great care of you.
Peter
2017-02-10T00:00:00Z
Really enjoyed my stay. Room was very comfortable and the bathroom was great. Philippa is wonderful host and I would highly recommend staying with her. If I am ever in the area I would look no further.
Richard
2017-03-27T00:00:00Z
Philippa's is a lovely quiet place to stay and Philippa was very friendly and generous to me.
Alex
2017-03-18T00:00:00Z
Phillipa really went out of her way to make me welcome and facilitate an early start. Accommodation very comfortable. I would be happy to pay more. Good knowledge of local facilities relevant to my trip. Thank you Phillipa.
John
2017-01-31T00:00:00Z
I enjoyed my stay at Philipa's house in Penzance and would go back. She was friendly, the bed was confortable, goog bathroom, good breakfast, good local tips on what to see/do and Bertie the dog was also very friendly. There was a safe place to keep my byke off the road and the location was quiete and only 2 minutes from the seafront promenade and easy to find.
Teresa
2016-12-29T00:00:00Z
彭贊斯(Penzance), 英格蘭, 英國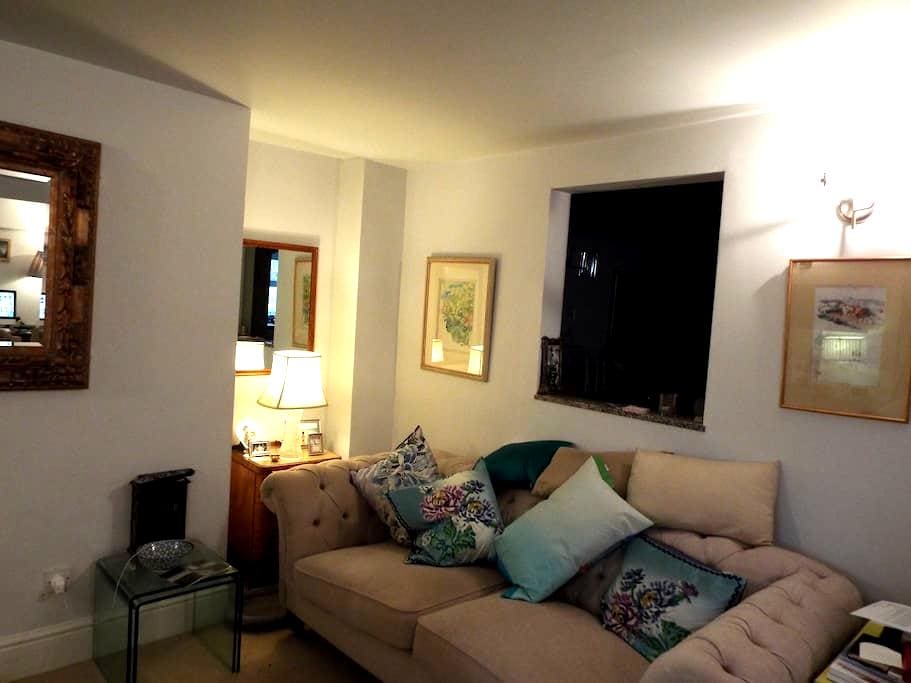 It comfortably suits a couple or a single person in a quiet area but only two minutes from the town centre only ten minutes to the sea and Isles of Scilly ferry close to St Michael 's mount and the fishing villages of newlyn and mousehole
A quiet modern homely retreat
Centre to town everything within walking distance
The listing description was accurate, the host made us feel welcome. The apartment was nicely decorated with nice little touches. The kitchen was very well equipped with everything you need for a few days stay. The apartment was very clean. the area was mixed with easy access to walk into town. There are some flats at the back of the property but you don't really take much notice of them
Pam
2015-08-24T00:00:00Z
Very nice and kind !
Pinghe
2015-08-07T00:00:00Z
Had a lovely time at Chris' place. Everything was perfect, spacious studio close to the centre and it was very nice of Chris to pick us up and drop us of at the train station. We had everything we needed, it was very clean and Chris even left us some breakfast materials which came in very handy after our late arrival. I would recommend it to anyone!
Veerle
2016-01-03T00:00:00Z
Die Unterkunft von Chris ist gut und ruhig gelegen. Wir konnten kostenlos vor dem Haus parken. Chris ist ein sehr netter Gastgeber und hat uns bei Fragen zur Region mit Rat zur Seite gestanden. Die Wohnung ist schön und gut ausgestattet. Ein Nachteil ist das sehr enge Bad. Wir hatten eine tolle Zeit in Penzance. Vielen Dank!
Regina
2016-07-06T00:00:00Z
I had a lovely stay at Courtyard Annexe - which, as the landlady told me, used to be 'the rooms above the stables' , very romantic!- Chris picked me up from the station and he and Christine drove me back to the station on the last day. What more could I want? A delightful, secluded little nest, perfectly self-contained and absolutely quiet, tasteful decor and colour scheme, all very well thought out. Plenty of heating in case it's needed, nice big windows to let the light in AND a fabulous black-out blind in the east-facing bedroom to block the morning light! I liked the idea of the landlords being next door (as I often travel alone)- very helpful when needed and at the same time very discreet. Highly recommended ! :-)
fifi
2016-05-12T00:00:00Z
We had a fantastic experience during our stay; must say that Chris was absolutely amazing and did much more than what one would normally expect. The place is just perfect for a couple with all amenities. Very well located, close to harbour and town centre, and lots of restaurants. Though we had to return earlier than expected, thanks to the rains, but otherwise it was wonderful.
Shekhar
2016-03-27T00:00:00Z
This was our 5th airbnb stay and so far our favorite, which is high praise indeed as we had other quite lovely ones. For one thing, we loved having the bedroom separate from the living space/kitchen, which meant some place to go if one of us couldn't sleep. Also, the apartment is immaculate and beautifully decorated and outfitted. Chris and Christine were also nice enough to have some staples already there for us when we arrived: milk, butter, juice, bread, jam etc. In addition, Chris and Christine were wonderful hosts. Very friendly and helpful whenever we had a question. The location was perfect as far as we're concerned. It's right at the top of the main shopping street with it's cute little stores, pubs and restaurants. We had fish and chips twice at the Market Plaice just steps away. Everything is within easy walking distance, including the train and bus stations with good connections to attractions that are farther afield. We highly recommend this bright and airy apartment in Penzance.
Christina
2016-06-07T00:00:00Z
Chris and his wife were perfect hosts and couldn't have been more accommodating. It was very nice of Chris to pick us up from the train station. The apartment was very well equipped and we had everything we needed for a comfortable stay. Close to harbour and town centre, and lots of restaurants. I would highly recommend as a place to stay in Penzance, Cornwall.
New
2016-05-03T00:00:00Z
Penzance , Cornwall, 英國
The flat is very central to Penzance, easy access to dining out, just steps away from the sea front and a great base if you want to venture further afield to explore the surrounding area and see everything that this part of Cornwall has to offer. Jubilee Flat is right behind the iconic Jubilee Pool, which was built in the 1930's and has recently been beautifully restored.
The flat has it's own private entrance, at the top of a flight of stairs. There is a well equipped kitchen, an adjoining lounge, a spacious bathroom, a cosy bedroom and a small balcony.
Penzance has plenty to offer Restaurants, shops, cinema, parks, galleries, fishing tours. For those who love the outdoors, it is not far to find places for cycling, surfing, windsurfing, sailing, swimming, walking, horse-riding, beaches and picnics. There will be a brochure in the flat with more detailed information
The flat was lovely, such a central spot! There was so much nearby to visit and we still have lots to explore. Looking forward to returning to Penzance and staying at the flat :)
Ella
2016-07-03T00:00:00Z
Lovely welcome, the flat was clean and fitted with everything we needed for our stay. Perfect location - and great finishing touches ( fresh flowers, milk and buiscuits!) We will be back!
Beth
2016-09-11T00:00:00Z
Mary Anne had made the flat so welcoming with flowers and tea and coffee and milk. It was so cosy and comfortable. We communicated by phone text and email and everything went very smoothly. It was a delightful place to stay. The location was excellent, a very easy walk to shops and attractions.
Louise
2016-07-14T00:00:00Z
Mary-Ann was flexible and understanding as arrival time changed a few times. Wonderful neighbourhood close to all amenities and the sea.
Lisa Rose
2016-07-20T00:00:00Z
Our stay at Jubilee Flat was very nice. It is conveniently located, 10-15min walk from the station and 2 min walk from the town center. It was really nice to meet Mary-Ann who was at the station when we arrived and came to say goodbye on the last day. The communication with our host was really easy before and during our stay. The flat is exactly how described and as a very nice bonus Mary-Ann made sure we had everything we needed for breakfast on our first morning. Penzance is a good location to discover Cornwall, St Ives is only 20min away by car, St Michael's mount is just next door and there are a lot of hidden gems on the coast nearby. Very nice and quiet holiday!
Anne-Laure
2016-10-29T00:00:00Z
Die Wohnung ist sehr nett und vollständig eingerichtet. Wir wurden von Mary-Ann nett in Empfang genommen. Sie hat zudem ein kleinest Start-Paket mit Butter, Marmelade, Milch, Tee und Kekse bereit gestellt. Die Lage ist sehr zental zum Hafen. Betten und Dusche sind ok.
Uwe
2016-07-26T00:00:00Z
Mary-Ann was a Lovely host, the Flat is very beautifully designed with wonderful colours with a good hand for a cosy feeling. It was very tidy and clean and we had a wonderful stay in Penzanze. Mary-Ann is such a kind and friendly person, the Place is Amazing and we would Love to come back!
Deborah
2016-08-12T00:00:00Z
Mary-Ann was amazing pre, during and post holiday. Could not have wished for a better host. Everything and more was in the flat. It was located in the perfect spot for us....near to the sea, the shops and sights.
Karen
2016-08-14T00:00:00Z
彭贊斯(Penzance), 英格蘭, 英國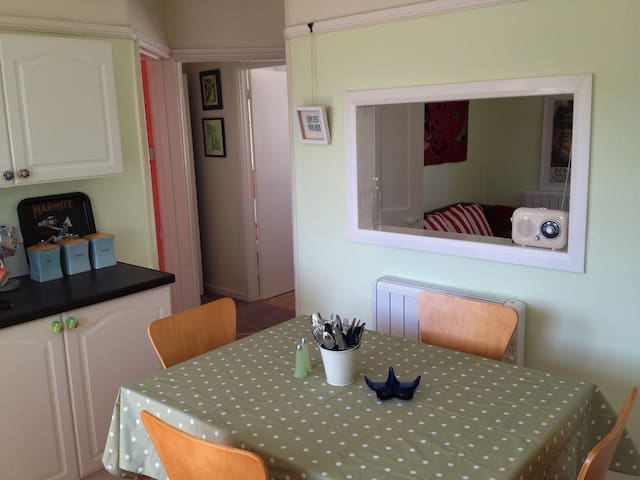 A ground floor apartment with ample private parking outside. There is a small conservatory to sit in which gets the morning sun and double doors which lead out to a patio area and private garden with direct views of the Cape.
Cape Cornwall is a short walk a way with secluded pebbled beaches. Cape Cornwall golf club is nearby and is open to the public and has a reasonably priced restaurant and bar. St. Just is a small town with a good selection of essential shops, open til 10pm; and some good pubs & cafes.
The apartment was beautiful and bigger than what we expected from the pictures. When we got there, Sally was waiting for us with tea and biscuits, she was very nice and answered all our questions. The kitchen is fully equipped (including a french press), there were fresh towels and the place was very clean, pretty and comfortable to spend a few days relaxing and just staring out the window because of the amazing view. There is also a little table outside to do a picnic or just sit in the sun and read. We loved our stay. The only thing we found a little uncomfortable (soft) was the mattress but I also tend to be picky with that. Overall, I'm convinced we could not have picked a better place.
Gaby
2015-09-19T00:00:00Z
A perfect place for a quiet get away with my husband. Beautiful scenery with views of the sea from from bed. Really perfect. Would definitely stay again.
Haidee
2016-12-29T00:00:00Z
We had an amazing time at Sally's apartment which is even more beautiful than we had expected-especially the sea view! From the apartment it is only a 15-minute-walk to St. Just and just a few minutes if you go by car. It is also a good starting point for day trips to other towns and attractions in the area. Sally was very welcoming when we arrived and provided us with tea, milk and cookies:) When we had questions, she was always there to help! All in all, we were 100% satisfied and we'd always come back:)!
Julia
2016-04-04T00:00:00Z
Der Ausblick war einfach unbglaublich, genau wie auf dem Foto - am ersten Abend kamen wir gerade noch rechtzeitig zum Sonnenuntergang. Bei der Ankunft hatte Sally uns Blumen und Tee und eine Packung Kekse bereitgestellt - überhaupt waren Sally und Ian super nett und hilfsbereit, haben uns auch noch Holz für den Kamin gegeben (nur für die Stimmung, die Heizung hat natürlich auch funktioniert! ;) ) und waren immer für Fragen offen. Die Wohnung ist gut ausgestattet, inklusive Waschmaschine. Allerdings ist es schon etwas abgelegen, was für uns aber genau richtig war. Direkt am South West Coast Path gelegen ist die Unterkunft super als Ausgangspunkt für Wanderungen zum Beispiel nach Land's End (ca. 6 Meilen) oder zu den alten Zinnminen. Wenn man ein Auto hat, ist man in ein paar Minuten im süßen Örtchen St. Just und in ca. 20 min. in Penzance. Wir empfehlen die Unterkunft gerne jedem Natur- und Wanderliebhaber weiter und wären sehr gerne länger geblieben!
Marion
2015-10-11T00:00:00Z
I absolutely loved my stay at Sally's place in St Just. The view is just stunning, I don't think the pics can do it justice! The flat itself is simple, clean and self contained, it was warm (a concern on an autumn break!) with a woodburner as well as a radiator, so very cosy really. It has a little deck and garden with a sweeping view down to Cape Cornwall. The flat is super close to the coastal path, so getting out walking is really easy. This was a perfect base for me to explore this stunning part of the country, I am so happy that I chose to stay here, a very peaceful location, stunning sunsets and friendly and helpful hosts, thank you so much!
Samantha
2016-10-21T00:00:00Z
Our stay was really perfect. Thanks a lot for a warm welcome and everything else!
Andreas
2015-10-04T00:00:00Z
We had a great time staying here. Place was simple but well kept, clean, with a beautiful view and very peaceful. Wonderful location for hiking the trails around cape cornwall, an easy walk into St. Just and short drive to many other places.
Daniel
2015-08-01T00:00:00Z
We had a great time staying in the flat for a week that is just as described. Sally and Iain were very welcoming and so was the stunning nature just outside the place (the coastal path is just a few minutes away). The flat is well equipped for preparing food at home and also staying in and being cozy if the weather is rainy. This was a great welcome to Cornwall.
Gregor
2015-08-22T00:00:00Z
Cornwall, 英國
Bright, sunny flat with sea glimpses. Perfect for walkers or quick get aways on the train as the flat is seconds from the station and Penzance is the perfect base to explore the beautiful far West of Cornwall.Lovely rooftop views from large gable window of lounge and some sea peeks/views across harbour. All new furnishings/ refit just completed. Would suit couples, friends (not after a party flat though!), families with older kids. Central location. Lovely bolthole for 2 but sleeps 3 or 4 too.
The flat is right in the town centre yet is quite airy and 'removed' as it's a couple of floors up. It's modern, bright and comfortable and would make a great base for exploring this wonderful part of the world. Perfect for short breaks to explore the peninsula - Sennen, St Ives, St Michael's Mount, Porthcurno etc and Penzance is great to explore in itself - a town full of surprises from its beautiful lido and galleries to Chapel Street with its fascinating architecture and quirky shops and the lovely parks and eateries. I leave a detailed holiday book with suggestions for trips for three/ four day night breaks - both conventional and more off the beaten track suggestions. Buses and trains go from across the road so it's great for people just coming off the train. Equally there is a large car park 50 yds away and on street parking in the surrounding roads (you can unload/ load outside the flat too (( but not park directly outside). The bedrooms, kitchen and bathroom are on the bottom floor of the flat with stairs rising to a lovely galleried, spacious lounge up top with great views up Market Jew Street, across the rooftops of Penzance and glimpses out to the harbour. There should be ample storage for your clothes and belongings and there's a well equipped kitchen. I have just extensively renovated the flat - brand new bathroom, carpets throughout, painting and kitchen refit. Upstairs lounge is a great space to hang out and relax in after a busy touring day! Please be respectful of the neighbours obviously and please do not book if you want a party flat!!
Penzance is a great little town - quirky, cool and full of character. This end of town you've got a fab BYO indian (Little India) and a new one which does great food The Bengal Tiger just below the flat. The 'Front Room' cafe is just a minute or two away for wonderful coffee and cake, breakfasts and if you're lucky its rather chic garden party evenings with their classy cocktails! Head up towards Chapel Street and you've got the classic old pub the Turks Head with very good pub food and definitely check out the Cornish Barn - very hip bar/ resto - nice food. If you're feeling flush (and you will need to book) Shore restaurant. You will not be disappointed. Tucked away in Bread Street - fab Archie Brown's wholefood shop and cafe. Brilliant, fresh tasty food and healthy to boot! I'm rambling....! But I love down here... I'll write it all down and stick it in a guest book. Oh the Lido! if it's sunny - coffee in the cafe there - looking over the blue - can't beat it!
The apartment is very near to the train station. It is very clean and cosy. Although we experienced some hot water issues during the stay, but Thalia was very responsive and the problem was minimised without affecting our stay. It was a little bit noisy in the small bedroom but not a big deal really. Overall, I would like to thank Thalia for her help during the stay and I will definitely come back to Cornwall in the future.
Jinhu
2016-08-27T00:00:00Z
Wonderful flat with plenty of space and conveniently located near all the tourist sites in the south west. I would definitely recommend staying here and would come back again.
Jamie
2016-06-27T00:00:00Z
Thalia was a great host - we never actually met, but I felt really well informed and connected. She was very proactive in the communication with me, informing me of arrival details, etc. The flat is superb. I loved the space, it's got such a comfortable feel. We loved it! The description is very accurate - exactly what we expected. I highly recommend this place and Thalia's hospitality!
Susann
2016-09-12T00:00:00Z
The flat is very lovely. The location is superb if you are planning to travel by train and bus, next to railway station, bus station and high street. It takes only 5 mins to place yourself on the coast trail towards St. Michael Mout. Tesco, Sainsbury and Morison are all within the 20mins walking distance. The rooms are very tidy and comfortable and exactly as described. It was a bit pity that there is no wifi or internet connection, but for those who are looking for a internet-free holiday would be a nice place to force themselves to keep their eyes off the mobile or tablet screens :-) Thalia is a wonderful host, bright and warm-heart, always ready to provide every possible help you may need. Overall highly recommended.
Xiaofeng
2016-07-02T00:00:00Z
The apartment was very close to the station, so close that we missed it initially as (SENSITIVE CONTENTS HIDDEN) maps sent us astray. We should have just listened to Thalias description of how to get there. The only drawback was that not only is there no wifi in the apartment but also very little it appears in Cornwall. We found the only places were outside the Barclays bank and sometimes at the information centre. We have obviously been spoilt by the other places we have travelled to. I would recommend this apartment to anyone looking for a warm cosy place to stay.
Julie
2016-09-20T00:00:00Z
Great location for the sailing club. Thalia was an excellent host.
Tom
2016-08-21T00:00:00Z
Thalia was the perfect host and the flat is very close to everything ;) Bakeries, supermarkets, the harbour, restaurants, the jubilee pool ... For exploring Cornwall the location is just perfect, as you can reach Land's End, the Lizard peninsula, St Ives, Godrevy and lots of great beaches in a 30' drive. Thalia's flat offers lots of space, is comfortable and just as described. Thalia was also very helpful advising us great locations to visit!
Brigitte
2016-07-29T00:00:00Z
Beautiful house and a wonderful host ! I stayed in this house for 3nights and felt like home. Especially my wife and sister felt in love with the place. Location of the flat is the biggest advantage, nearby to train and bus station (just 3-4 mins walk). View from the lounge is amazing. Thalia is a really nice person and she makes sure everything is fine during your stay. Special thanks for brining me cake on my birthday
Nilesh
2016-06-19T00:00:00Z
彭贊斯(Penzance), Cornwall, 英國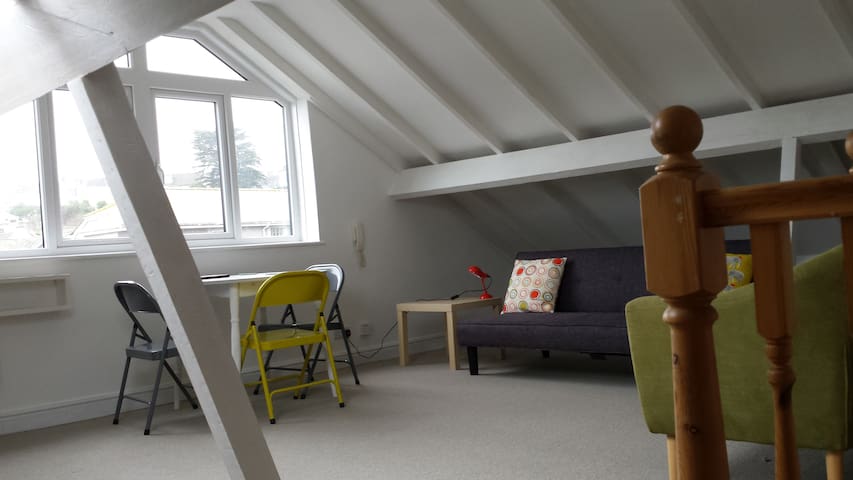 1 bed apartment to rent, based on the historic & quirky Chapel Street in Penzance. If your looking for a relaxing & hip hangout to wash away the winter blues or a crash pad after a long day's surfing at the nearby hotspots, we're the place to be!
1 bed apartment to rent, based on the historic & quirky Chapel Street in Penzance. If your looking for a relaxing & hip hangout to wash away the winter blues or a crash pad after a long day's surfing at the nearby hotspots, we're the place to be! Situated on Chapel Street in the heart of Penzance, yet minutes away from the beach and all the local ammeneties, this light & airy apartment has been designed in a rustic & eclectic style with vintage & retro furnishings. The apartment is on the first floor of the building. You will find a stylish double bedroom with a comfy double bed and hotel quality linens. A shower room with use of full size eco-friendly BeeKind bath and body products. The open kitchen / lounge area comes fully equipped for you to cook up a storm, a dining table for 2 and comfy seating area with flat screen TV. There is free high speed Wifi throughout. Your own private space in the heart of Central Penzance! You will have access to the entire apartment. There is a 24 hour number to call for assistance or advice during your stay. This is on the first floor. There is one main door to the building and a separate door to your apartment. There will always be someone to check you in until 11pm at night. If we are unable to meet you there is a key code which is reset after each guests stay. Whether you are looking for a sea-side bolthole for rest & relaxtion or to explore Penzance's quirky shops, art galleries & beautiful coast path's, West Cornwall has it all. When you check in, log onto the internet and check out our personal recommendations and guide to Penzance and the surrounding area. Penzance train & bus station is a 5 minute walk, which has a direct links to Plymouth, Bristol & London Paddington. If you need any assistance with booking taxi's in advance just contact us and we are more than happy to help. St. Ives is 15 minutes on the train.
Whether you are looking for a sea-side bolthole for rest & relaxtion or to explore Penzance's quirky shops, art galleries & beautiful coast path's, West Cornwall has it all. When you check in, log onto the internet and check out our personal recommendations and guide to Penzance and the surrounding area.
The flat was more than perfect - spacious, really beautifully decorated and well located to explore Penzance and to head out around lots of other locations in West Cornwall. Hannah was brilliant, gave me lots of helpful tips on bike hire etc. and pointed me in the direction of the lovely cocktails in the adjacent (Artist Residence) hotel.
Carla
2016-02-19T00:00:00Z
We had a lovely time staying at the artist residence in Penzance. Great service from all involved in the property, real genuine and friendly people who went out of there way to make sure everything went smoothly.
Daniel
2016-02-22T00:00:00Z
彭贊斯(Penzance), 英國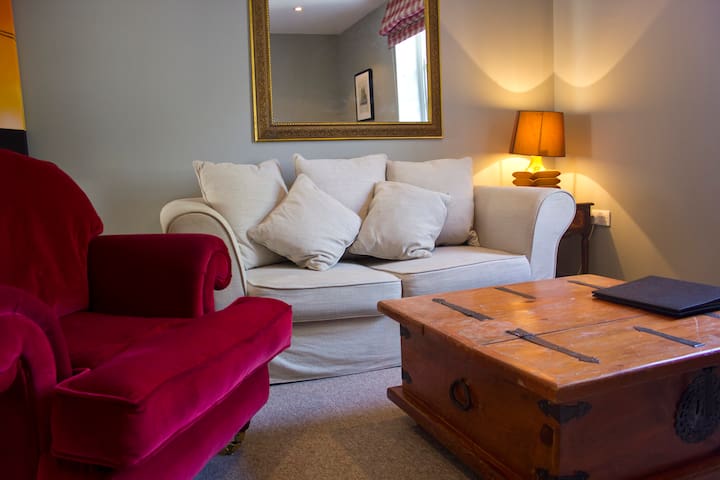 Sunnyacres is a working smallholding on the edge of moorland. It is approached by a half mile long lane, off the main St Just to Penzance Road, which peters out onto a track which rises on to Kenidjack Moor. The Annexe is ideally suited for couples and small families who enjoy peace and quiet, although within a few minutes drive, or 25 minute stroll, to St Just with its shops, cafes, pubs and galleries. Dogs and walkers benefit from access straight out on to the moor.
Please note that access to the toilet/ shower room is, for all guests, through the double bedroom. This may not be convenient for everyone.
Cornwall, 英格蘭, 英國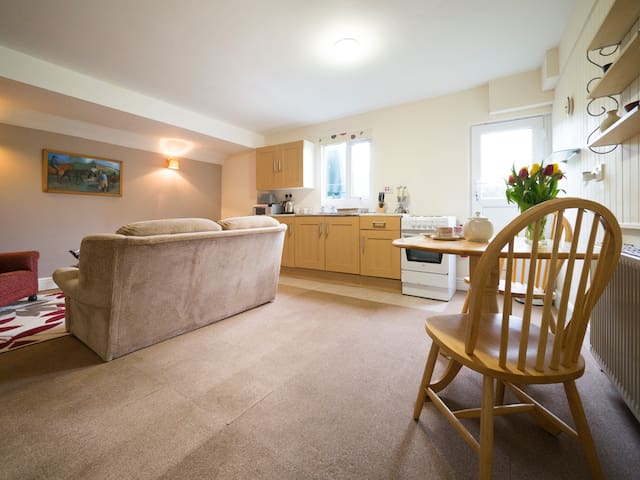 Offering historic charm and luxurious amenities, this cosy apartment for 2 is tucked away in Penzance's old port area, in a peaceful and atmospheric location. The seafront is a minute away and 30+ bars, restaurants and cafes within 5 minutes.
The unique 17th century building has recently been renovated to exacting standards offering spacious, stylish and characterful accommodation for 2 and looks onto its own tranquil cobbled courtyard garden. To watch a video on the property, copy & paste the following link: (URL HIDDEN) Enter via a stylish country modern kitchen, with solid oak worktops, cream units and comprehensive cooking amenities. Up a couple of steps into the attractive beamed living/dining area. The romantic ambiance is enhanced by a feature fireplace, exposed granite walls, deep slate window cill and painted floors. There is a 32" HD TV, DVD player, quality sound system for TV & music (bluetooth & CDs) and a choice of books & games. The dining table is beside a stable door which opens onto the garden. Pass into the cosy beamed bedroom, through a door with stained glass panel, which is painted in restful colours with a cream painted bedstead. The showeroom has a travertine floor and tongue and groove paneled walls and features a hydro-shower booth, with monsoon showerhead, massage jets and radio. There is also a basin, toilet and heated towel rail. Outside there is an attractive courtyard garden for alfresco dining. All feels charming and luxurious.
The cottage is readily accessible by foot to all of Penzance's important facilities and also offers easy access to all the highlights of West Cornwall, an area renowned for its dramatic coastal scenery, lush sub-tropical gardens, quality food, vibrant art scene and water based fun. Within a 5 minute walk there is the harbourside (ferries to the Scillies), salt water sea baths, sea front promenade, Morrab sub tropical gardens, Penlee House gallery & museum, Chapel Street with its eclectic mix of independent shops, the high Street and many eateries. Within 20 minutes by car you can find isolated coves, Lands End, St Michaels Mount, Trengwainton Gardens, St Ives, Minack Theatre, Gwithian Towans for beaches and surfing or Newlyn and the catch of the day. All within easy striking distance are The Lizard, Falmouth, Truro, Padstow, Eden, Lost Gardens of Heligan and the winery at Camel Valley, noted for its international award winning bubbly.
Thank-you so much Nick & Rod, we had the most relaxing, chilled out holiday we have ever had, your hideaway is one very special place and we cannot rave more about our experience. We just absolutely loved it, communication was super easy, Abbey Stables was very clean & quiet. Looking back on the photos wrenches the heart strings. We cannot thank-you enough. People reading this, the stable is a MUST do experience.
Carly-jane
2016-10-31T00:00:00Z
A perfectly located cottage for exploring Cornwall. Beautifully decorated and everything you could possibly need.
Irene
2016-11-04T00:00:00Z
We have amazing holiday. Perfect location with very friendly and beautiful town. Thank you for having us. Definitely will be coming back soon. This must.... So booked! You won't be disappointed.
Chloe
2016-06-04T00:00:00Z
It is a gorgeous space in a very nice area. The hosts have outfitted and arranged everything very thoughtfully.
Jamie
2016-11-12T00:00:00Z
We had a lovely stay at Nick and Rods very cosy cottage. It is a well appointed, well decorated home from home. It's location is perfect for exploring Penzance pubs and eateries. A great place to relax!
David
2015-11-17T00:00:00Z
Everything Rod and Nick shared about Abbey Stables was accurate and clear. The photos are beautiful, the reality is even more so. They offered assistance with suggestions of things to do in and around Penzance and whenever I sent them a message they were quick to get back to me. They made us feel so welcome, leaving some lovely flapjacks to enjoy and a really useful information pack.
Kerry
2016-06-17T00:00:00Z
It was an amazing experience to stay in Nick and Rod's cottage. The host is very kind and patient. Super recommended.
Sophie
2016-06-11T00:00:00Z
A beautiful cottage in a scenic location. The perfect weekend retreat to relax and enjoy Cornish delights.
Natasha
2016-10-24T00:00:00Z
彭贊斯(Penzance), 英國
Saint Just - Airbnb
:
在

500

位房客的評價中,平均評分為

4.8

星(滿分為

5

星)
輸入日期以查看總價格,包括其他費用,可能會加收稅費。