O meu espaço fica perto de restaurantes e refeições, atividades para famílias, transportes públicos, evida noturna. Vai adorar o meu espaço por causa de a cama confortável, o aconchego, o pé-direito alto, ea cozinha. O meu espaço é bom para casais, aventuras individuais, e viajantes de negócios.
Possibility of Airport Transfers and if needed Car with driver , with or without touristic guide to better enjoy the region .This service is available with reservation and outside the price range displayed , or marked as extra .
Carregado, Lisboa, 葡萄牙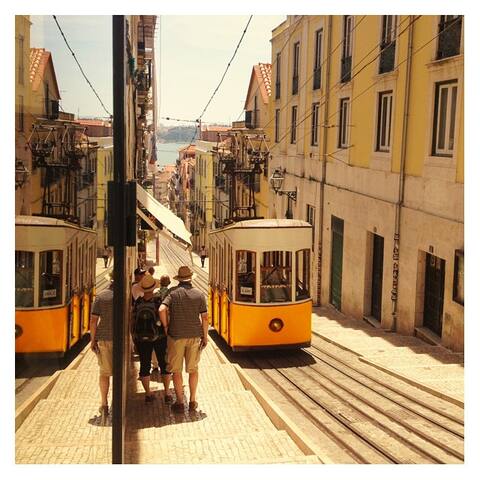 Este apartamento acolhedor fica perto de Igreja de São Pedro, de Cafés, Restaurantes, e da Junta de Freguesia. Vai adorá-lo por causa da vista que é óptima sobre todo o Tejo e a zona é muito calma e tranquila. Considere bom para casais, aventuras individuais, viajantes de negócios, e famílias (com ou sem crianças).
Alverca do Ribatejo, Lisboa, 葡萄牙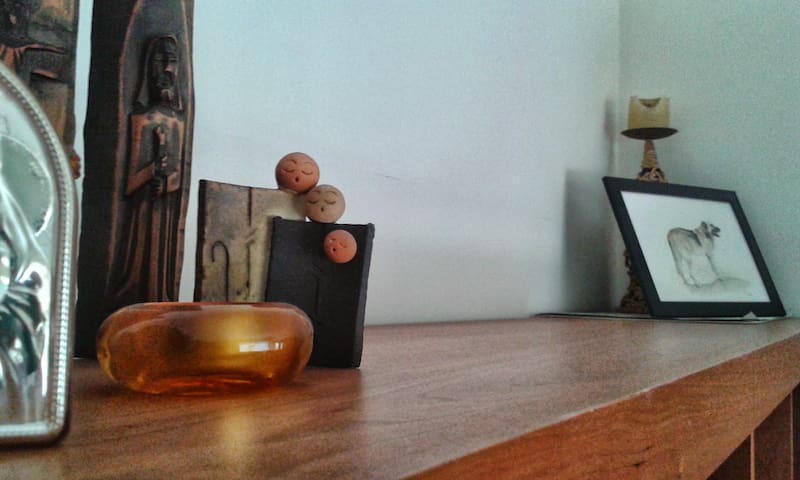 Very spacious and bright duplex with separate entrance, elevator, bathroom with hydro massage cabin, Wi-Fi, air conditioning, cable TV. quiet, safe neighborhood, great access, free parking. Traditional trade and retail 5min.
traditional trade, the fresh market. tennis court, swimming pool, gyms, horseback riding, hiking along the river. friendly and welcoming people!
Marta's place is very nice and spacious, and Marta herself is very accommodating. It's in a residential neighborhood that is about an hour by public transit from downtown Lisbon, by bus or train, but for someone looking for a pleasant and quiet stay, it is a good option.
daniel henryk
2017-02-26T00:00:00Z
We stayed in Feb 2017. Marta is very professional. Her English is very good and she speaks other languages. She is very knowledgeable about tourism and Portuguese culture. She is very quick to offer help and follow through with it. The place is very clean, spacious, quiet, has plenty of free parking and has fast internet. Marta is a wonderful person. She has a warm personality and she is very kind hearted. We have no hesitation in recommending her.
mae
2017-02-11T00:00:00Z
Forte da Casa, Lisboa, 葡萄牙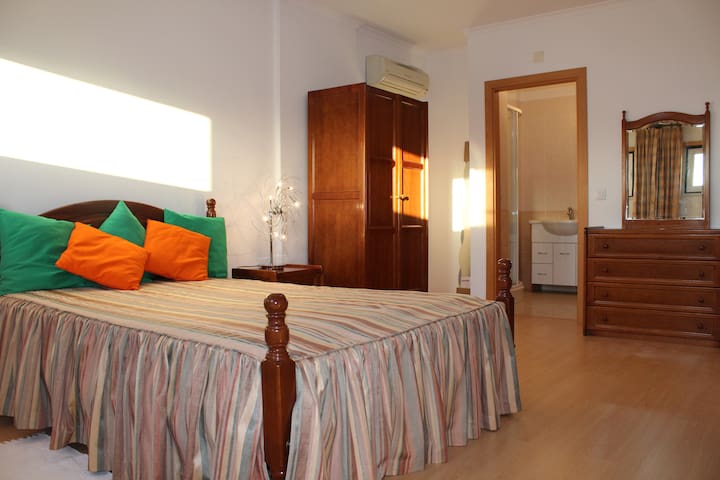 Double-room with private balcony. Private bath-room. Electrical keetle in the room Breakfast on demand - 2.50 per pax 20 minutes by car from Lisbon center or airport / 30 minutes by bus
cosy residencial area close to small restaurants, supermarkets (5 minutes) and the river. Very calm with free parking. Can perfectly go to the big city sightseeing by bus and came back to enjoy a nice dinner or a quiet relax in the balcony!
Kitesurf e Paddlesurf in Alcochete - 10 minutes away Perfect swimming pool - 10 minutes away nice restaurants - 5 minutes walking supermarkets - 5 minutes walking
Fomos recebidas com muita simpatia e disponibilidade. O quarto é muito agradável, numa zona calma e correspondeu às expectativas.
Maria Luisa
2015-11-27T00:00:00Z
De buurt is keurig en betrouwbaar, alles is te voet bereikbaar en centraal gelegen in Alcochete. Mooie boulevard. Dichtbij (5 min rijden) schoppingcenter Free Port. Lisbao, Sesimbra etc. Ana heeft ons netjes ontvangen heel ontspannen allemaal, met een leuk attentie op de kamer. Een nadeel voor grote mensen is het bed te klein. 1.40 x 1.90cm Huisdier vriendelijk
Anne
2016-01-13T00:00:00Z
We hebben een prettig verblijf in Alcochete gehad! Fijne kamer, badkamer en balkon! Alle voorzieningen aanwezig. Goed contact met de verhuurder via de air bnb app! Fijn om even uit de drukte vd stad, een verblijfplaats in de avond/nacht te hebben! Let op! De bussen vanaf station Oriente (Lissabon) rijden naar je verblijf om de 1,5uur iets om rekening mee te houden in je planning. De rit zelf is 20 minuten. Ana bedankt voor je gastvrijheid en het fijne verblijf!
Andrea
2016-09-03T00:00:00Z
Mon hôte avait parfaitement prévu notre arrivée. Nous avons eu des cadeaux: des fraises et du gâteau fait maison! Tout un plateau de choses dont nous pouvions nous servir. Dès notre arrivée, nous avons pu visiter l'appartement pour nous sentir plus à l'aise. A notre disposition: une salle de bains très grande et rien que pour nous, un lit très confortable, une belle terrasse, l'accès à la cuisine, etc... Notre hôte était toujours disponible et avait toujours le sourire, et de très bonnes recommandations quant à sa ville. Le quartier, calme et agréable, desservi très rapidement par de grands axes, plusieurs commerces très attractifs.
Maud
2016-03-06T00:00:00Z
Very cosy room in charming apartment. Alcochete is a very great place to stay. Not far from Lisbon center. Beautiful city on the Tage. Ana has been very available and helpful via airbnb and messages. Would recommend greatly and we would come again without hesitating!
celine
2016-07-09T00:00:00Z
Ana has been very kind and accomodative host. She makes you feel very welcome and takes care of little needs. The house is cosy and convenient.
Roy
2016-11-13T00:00:00Z
Excellent, thank you anna
Titus
2016-07-21T00:00:00Z
Ottima esperienza. La sistemazione è molto pulito e accogliente. Ana è stata molto disponibile e gentile oltre ogni aspettativa. Sarebbe stato bello rimanere qualche giorno in più :-) - Great experience . The accommodation is very clean and friendly . Ana was very helpful and kind beyond expectations . It would have been nice to stay a few more days :-)
marco
2016-06-28T00:00:00Z
Alcochete, Setúbal, 葡萄牙
Gane White Apartment will welcome you in a calm place at just a few minutes away from Lisbon.
Here, you'll stay in the Tagus' riverside and at a short trip from the beautiful Tagus Estuary Natural Reserve. Around the corner, you'll find restaurants and shops, and the train station at a short walk from the apartment can help you reach Lisbon in less than 15 minutes. Nearby, you can find space to park the car for free.
Vila Franca de Xira is a cozy village at just 20 minutes away from Lisbon. You'll stay close to the Tagus river and by car or public transportation, such as the train, you can reach Lisbon and all the surrounding areas like Sintra or Cascais in a few minutes.
Vila Franca de Xira, Lisboa, 葡萄牙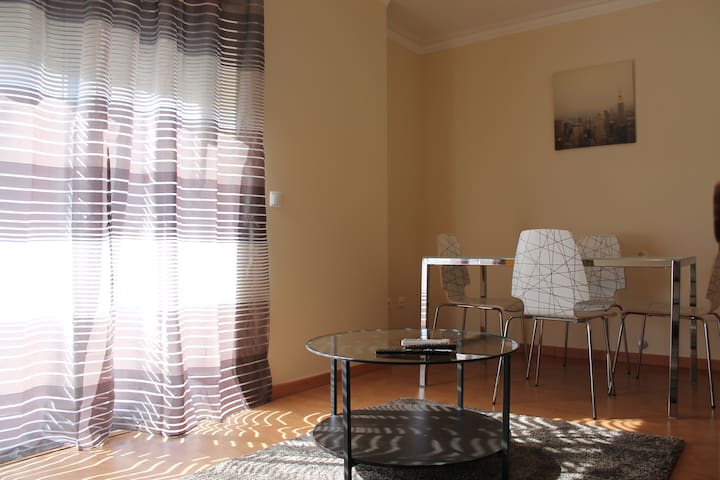 Nutmeg White Apartment, in the heart of the Portuguese capital, will welcome you with a cozy terrace in one of the most central neighborhoods in Lisbon.
Near the apartment there are several public transportation such as metro, bus and train! You'll be close to the center of Lisbon, in Alameda area, just a few minutes from Baixa, Marquês de Pombal or Parque das Nações! You can also easily go to Belém to visit the Jerónimos Monastery and Belém Tower.
You have pretty much to visit and see! Visit Calouste Gulbenkian Foundation where you can see various exhibitions, lunch and spend a great afternoon. It is also close to El Corte Inglés, Campo Pequeno and Saldanha where you can walk a lot and get to know more about Lisbons City!
No hay calefacción, pasé un frío terrible, sin embargo la casa era bonita.
Yukari
2017-03-05T00:00:00Z
里斯本, 里斯本, 葡萄牙
Apartment in country site in Luxurious Condominium , Huge swing pool , garden and fantastic view for Tejo River and Lezirias very Close to (EVOA- Birdwhatching Great Hot Spot in Europe 15 minutes from us. very Close to Lisbon 15 minutes by car and 30 minutes by train. Frame the Condominium to centre town Vila franca 5 minutes by car we can provide. We can provide transportation and Coaching for Especial Event WEBSUMITT , Pope Visit (80 km by highway) etc.
We are in very quite country site in North of Lisbon please see (URL HIDDEN)
Very save neighbourhood in country in North Lisbon in a perfect Condominium
Vila Franca de Xira, Lisboa, 葡萄牙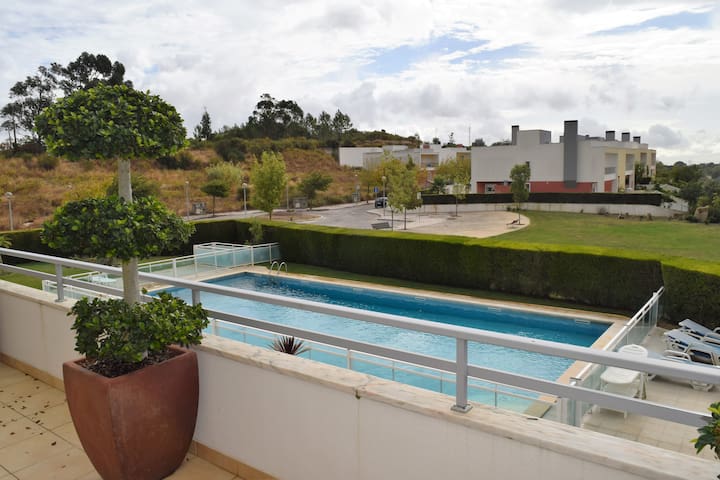 O meu espaço é bom para casais, e viajantes de negócios.
Vila Franca de Xira, Lisboa, 葡萄牙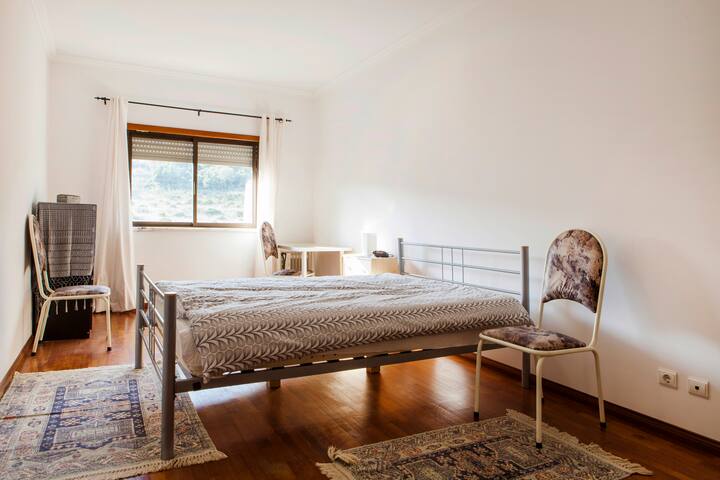 Meu espaço é perto de acesso a auto estrada A1 , o Aeroporto fica a 15 minutos, hipermercado 5 minutos, comboio 5 minutos Você vai amar meu espaço por causa de o aconchego é ótimo, casa com decoração moderna e atraente , as vistas são desafogadas , a cozinha esta totalmente equipada.. Meu espaço é bom para casais, aventuras individuais, viajantes de negócios e famílias (com crianças).
Cécilia est toujours prête à rendre service et son accueil et tres chaleureux , merci.
Francois
2017-03-27T00:00:00Z
Really good value. Apartment close to Alverca and host left a lovely welcome pack with local cheese, wine little breads and jam. One of the bedrooms has airconditioning which was very welcome as mid winter Portugal is cold. House was lovely and clean and host was happy to allow a late check in. Thank you for having me I will be back again someday.
Anneke
2017-02-12T00:00:00Z
Perfect for our needs as was visiting family in Alverca
Daire
2016-12-31T00:00:00Z
Alverca do Ribatejo, 里斯本, 葡萄牙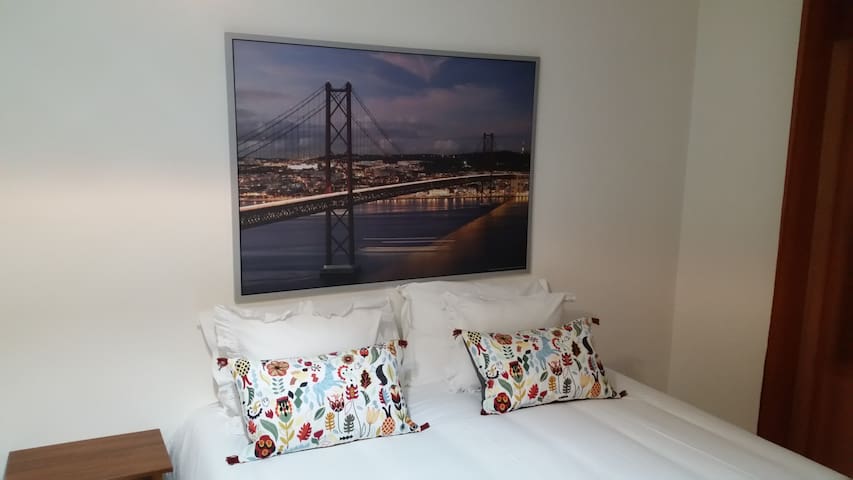 Excelent location: near restaurants, supermarket, health care, railway and bus stations: LISBON IS 15 MINUTES AWAY BY TRAIN. Fantastic furnished apartment for families (3 people), with 2 bedrooms (1 double + 1 single), 1 bathroom and living room. The kitchen is fully equipped with gas stove (4 burners) and oven, refrigerator, microwave, washing machine and other small appliances. Can lodge up to 3 adult people or a couple and 1 child and 1 baby
In Vila Franca de Xira we have a certain and definite time for jobs and tasks, but also an appropriate and suitable time for breaks and diversions. Here can enjoy up cityscapes and countryside, walking or cycling, jogging, or simply relaxing and enjoy the scenery. From the river sides' are seen practitioners canoeing, sailing and also fishing, taking advantage of the natural resource of excellence – the Tejo River. The sights, scattered throughout our parish, the view is privileged and can appreciate the contrast of the river, the bustle of the city and the tranquility of cultivated fields. One of our main tourist attractions is the gastronomy, which taste is connected to the fishing and rural work. For those who appreciate, the bullfighting art traditions are evident in our heritage and we have attested reputation by raising horses and bulls for fighting, for maintaining the unique figure of Campino, by generations of "Forcados", by the "encierros" popular enthusiasm and the art of "Cavaleiros" and "Matadores".
Vila Franca de Xira is a lovely town in the Greater Lisboa region, situated in the right bank of the Tagus river, characterized by its fertile Plain terrains, called "lezírias" (a tract of marshy land alongside a river), and by its agricultural feature, very attached to horses and bulls. The human occupation vestiges date back to very ancient epochs, even from the Lower Paleolithic, finding here the good survival conditions and the fertility of the land, along with the richness of the great Tagus river. The roman epoch also marked the region, having at that time a strong commercial activity in the region. Since early times this was a region that attracted many population, rural and piscatorial and already in the 19th century was marked by history due to the French Invasions, initializing a defensive system with lines of forts projected in secrecy between 1810 and 1812 known as "Torres Vedras Lines". The strong presence of the equestrian and bull influence can be observed anywhere in town, with its main exponent in the Bullring, but also with the many "Ganadarias" (farms specialized in the breed of determined horses and bulls) and the Equestrian Centre of Lezíria Grande. Nevertheless Vila Franca de Xira has more to offer, its simple and rural houses inhabit nowadays with manor houses from the land masters, side by side with uncharacterized high buildings from the 20th century, but also with the lovely Mother Church (1677) and Misericórdia Church, the Manueline Pillory, the charming building of the Town Hall (1893) or even the delightful Railway Station decorated with glazed tiles. Nearby Vila Franca de Xira and not to be missed in the most ancient Sanctuary of the region: the Senhor da Boa Morte Sanctuary, in the top of a hill with a marvellous view over town and the amazing Tagus estuary.
Vila Franca de Xira, Lisboa, 葡萄牙
A casa é muito confortável, bem decorada, espaçosa, com bastante luz exterior e soalheira, prima pela limpeza e devidamente organizada em todas as suas divisões. Espaço excelente para descansar e apreciar a zona ribatejana e deslocar-se para Lisboa e arredores.
Este espaço é um espaço confortável. Tem 1 quarto disponível, com todo o conforto e organizado e bem decorado. A casa não é partilhado por pessoas estranhas. Tem uma cozinha totalmente equipada e bastante espaçosa. É servido aquando da receção dos hóspedes a primeira refeição de lanche ou pequeno-almoço e com o básico para a primeira refeição após a chegada. A Casa de Banho é somente para a Hospedagem. Tem roupa de cama e de banho. Tem acesso a varanda para descontrair e apreciar a rua.
Bairro sossegado, dormitório com cafés e mercearia. Jardins e bastante limpo. Fácil estacionamento e com segurança. Vale a pena conhecer Castanheira do Ribatejo Área: 25,123 Km² Área de Zonas Verdes em Meio Urbano: 44.000 m² Total de Árvores em Meio Urbano: 1144 População em (PHONE NUMBER HIDDEN) habitantes Recenseamento Eleitoral de (PHONE NUMBER HIDDEN) eleitores Festas: •Castanheira do Ribatejo - Festas de S. João Baptista (junho) •Cachoeiras - Festas em honra de Nossa Senhora da Purificação (setembro) (URL HIDDEN)
Castanheira do Ribatejo, Lisboa, 葡萄牙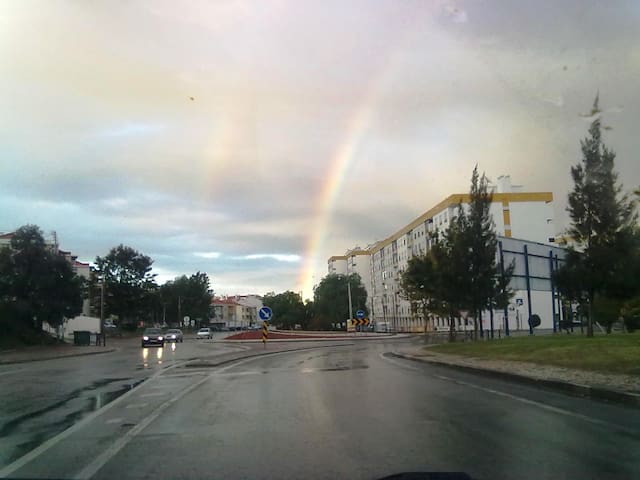 Aprartment located within a quiet residential area within 5 minutes of A1 (motorway) to Lisbon or 10 minutes walk to train station. Lisbon is 20 minutes away. There is a local café for a delicious breakfast. Local shops and restaurants.
A lovely family house luxuriously furnished with a massive 60" tv in the living room a 57" TV in the playroom and a TV in the kitchen. This is our house and we have furnished it and looked after it with care. We are sure you will enjoy your stay at.
Very quiet cul-de-sac. We have a lovely delicatessen for delicious breakfasts. Local shops and children park within walking distance.
A Adelaide é fantástica. Boa receção. Bom serviço. 5 estrelas.
Sergio
2016-08-05T00:00:00Z
Gran servicio, el apartamento cumplió con creces las expectativas (amplio, acogedor, nuevo, totalmente equipado y en zona muy tranquila). Solo me queda dar las gracias por todo, en especial al anfitrión por las atenciones recibidas.
LUCA
2016-06-23T00:00:00Z
São João dos Montes, Lisboa, 葡萄牙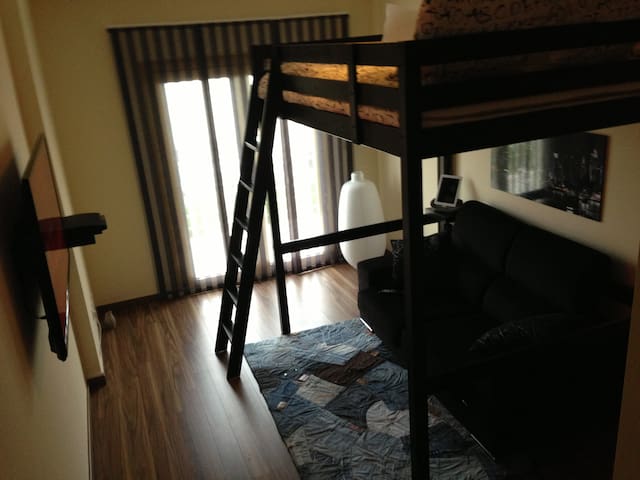 My place is close to great views, restaurants and dining, and family-friendly activities. You'll love my place because of the location, the cosiness, the high ceilings, the views, and the kitchen. My place is good for couples, solo adventurers, and families (with kids).
Close to Povoa de Santa iria train station, bus top just below the flat, lots of parking, close to restaurants. Alverca foot ball stadium 4 km, airport 7 miles, Lisbon city centre 11 mins by car. Orient shopping center around 7 miles which has Direct train and buses.
Very friendly neighborhood.
Ranjeet est super gentil et été très disponible par téléphone avant notre arrivée. Il a tout mis à disposition pour que nous nous sentions à l'aise à l'arrivée (petit mot de bienvenu, code WiFi...). Quartier plutôt calme et à 15min (18km) du centre de Lisbonne.
Adoukoè
2016-08-30T00:00:00Z
Comfortable and roomy.
Keith
2016-09-23T00:00:00Z
La verdad es que Ronjeet fue muy atento con nosotros sobretodo con el tema de facilitarnos a alguien que nos viniera a buscar al aeropuerto. No lo vimos en toda la estancia ya que tampoco estábamos mucho en el piso. Lo peor de todo fue la escasa limpieza del baño y de la cocina, y las manchas en las sábanas que nos proporcionó.
Sabela
2016-11-27T00:00:00Z
It was horrible! The flat is very far from Lisbonn, it takes one hour to go to the city center if you don't have a car! The flat is clean but empty. Ronjeet is akward and weird! In the description it is written that he can drive you at some places with the car in exchange to a little fee so we asked him to drive us to the beach. It is not Ronjeet who drives but his friend and he was completely drunk, i thought that i will die... It was a terrible experience so please listen to my advice and never go to Ronjeet.
Janine
2016-07-12T00:00:00Z
I was worried at first when I read ronjeets last review but however I was pleased when we arrived at his home after he picked us up at the airport. Ronjeets was very helpful with tips on how to get where we wanted, the house was clean and he even bought us a bottle of wine. The place is a 10 min walk to the station and a supermarket which had super cheap salmon! Ronjeet was working most the time so it was essentially like we had an apartment to ourselves. It's a little far from the centre but no problem really for the money you save
Daniel
2016-08-15T00:00:00Z
Flat it self is excellent. Very big, clean and comfortable. There is nice view on the river from the balcony, no problems with internet, cooking, bathing and washing clothes. What you should think about – it is 4-th floor without elevator and, what is most important, flat located about 20 km from the Lisbon city, near by (1,3km) station Povoa. If you call location by announcement it shows like it is in a centrum, but it's wrong. There is free parking just opposite house which is nice. I always find parkingplace even late in a evenings. There is LIDL about 1 km away and little shop with fruit and vegetables just round the conner.
Sigge
2017-01-02T00:00:00Z
Muy amable y todo muy limpio.
Paqui
2016-08-17T00:00:00Z
Really Nice guy who went above the expectatives
Bruno
2016-09-12T00:00:00Z
里斯本, 里斯本, 葡萄牙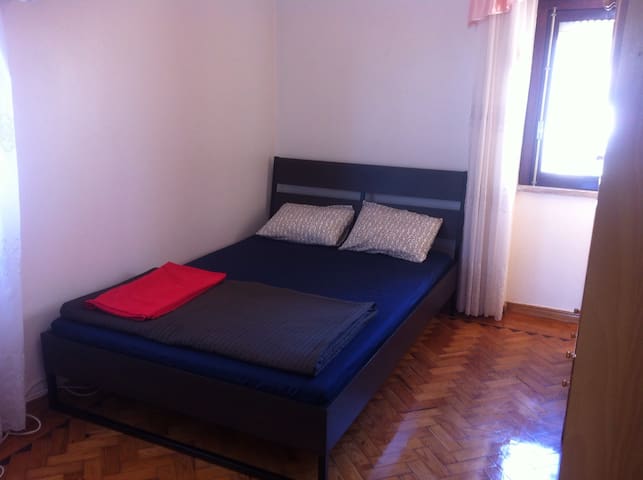 This apartment is located in a quiet private residence with parking , 1st floor with elevator, 1 large kitchen, 2 suites and a large bathroom with whirlpool tub. All rooms have air conditioning and internet suplemait Cet appartement se trouve dans une résidence privé très calme avec parking, au 1er étage avec ascenseur , 1 grande cuisine équipée , 2 suites et une grande salle de bain avec baignoire hydromassage. toutes les pièces ont la climatisation et internet
Nelson's home was amazing. It would be helpful to take a picture of the sign on the gate, as that would help find this wonderful oasis. It's in a great little neighborhood as well. The only suggestion would be light bulbs and batteries, so the air consisting remote can work and other lights, such as overhead in the kitchen. His home is gorgeous, clean, well appointed and inviting. You will love your stay.
Becca
2016-07-21T00:00:00Z
We stayed at Nelson's apartment for 1 night and were very pleased. The apartment is only 20 minutes away by car from the airport and unbeatable for the price. gladly again.
Waldemar
2016-09-21T00:00:00Z
Everything was amazing. Conditions are great. Nelson patiently explained how to find the house and called back several times to our foreign number. At the same time my phone sent Nelson automatic SMS replies in Russian in my pocket while I was looking for the house :)) Thank you for your patience, Nelson))
Viacheslav
2016-07-15T00:00:00Z
Todo muy bien, el apartamento estupendo y la atención de Nelson Magnifica. Everything good, the apartment great and the attentions of Nelson, Super. Thanks Nelson
Project
2016-10-12T00:00:00Z
Super logement avec tout le nécessaire et bien plus qu'il n'en faut.
Alexandre
2016-07-14T00:00:00Z
The host canceled this reservation 33 days before arrival. This is an automated posting.
Olga
2016-05-05T00:00:00Z
The host canceled this reservation 65 days before arrival. This is an automated posting.
Michel
2017-03-14T00:00:00Z
Apartamento muito espaçoso e com casas de banho privadas em cada quarto. Tem tudo o que é necessário para passarmos uma boa estadia. Preço/qualidade excelente.
Fátima
2016-08-04T00:00:00Z
Alverca do Ribatejo, Lisboa, 葡萄牙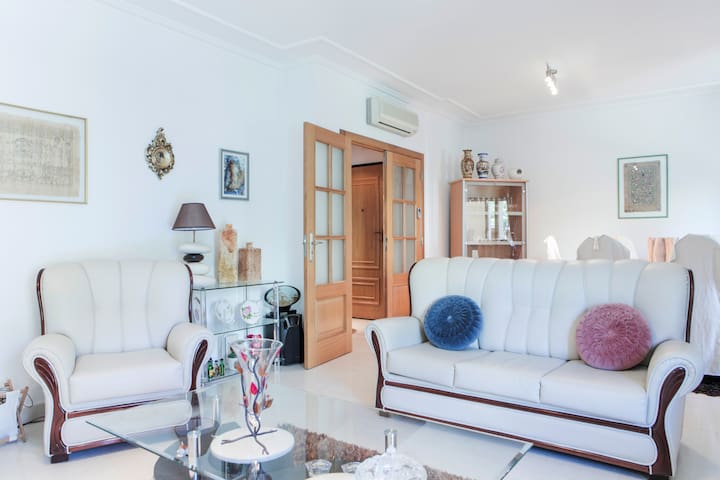 Our apartment it's located in a quite city, an historical area for a family! It's 10minutes driving from airport and 15m from downtown Lisbon. Supermarket continental its right at the corner 3m walking, playground 1m walking. Everything it's close, if you have children it's the place to be.
Excelente relação qualidade preço, mais do que recomendado.
José
2017-03-19T00:00:00Z
Alverca do Ribatejo, 里斯本, 葡萄牙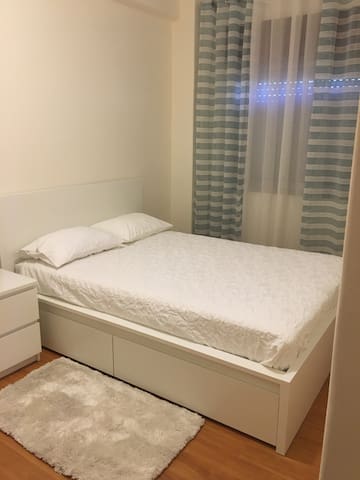 Excellent t2: ability to accommodate 6 people, 1 kitchen, 1 bathroom, 2 bedrooms, 3 beds, 1 living room with fireplace, nice place for walking, beautiful views, close to restaurants, supermarkets, cafes, clubs, gym, etc. . 15minutes to Lisbon
Running of the bulls, grilled sardines and lots of music festivals in the Fort House Running of the bulls, music and grilled sardines at the discretion. The festivities in honor of the Sacred Heart of Jesus, the Fort House, the municipality of Vila Franca de Xira, return to the village of 9 to 13 June.
The host canceled this reservation 3 days before arrival. This is an automated posting.
Tiago
2016-11-04T00:00:00Z
Emilia nos recibió muy cordiamente, incluso llegamos tarde!, por suerte habla Español ya que nuestro portugués es un poco básico. La casa es familiar, grande y espaciosa, completa en todos sus utensilios de cocina. La pasamos muy bien, nos sentimos como en casa. Nos hubiera venido bien que funcione el wi-fi ya que para los viajeros como nosotros es fundamental!
natalia
2016-04-25T00:00:00Z
The host canceled this reservation the day before arrival. This is an automated posting.
Joao
2016-07-25T00:00:00Z
Exceptuando el problema que tuvimos al llegar que no sabíamos el número portal, todo bien. La casa era excelente, muy bien cuidada y limpia y la anfitriona respondía prácticamente al instante.
Adrián
2016-09-11T00:00:00Z
The host canceled this reservation the day before arrival. This is an automated posting.
MaCo
2016-11-17T00:00:00Z
Forte da Casa, Lisboa, 葡萄牙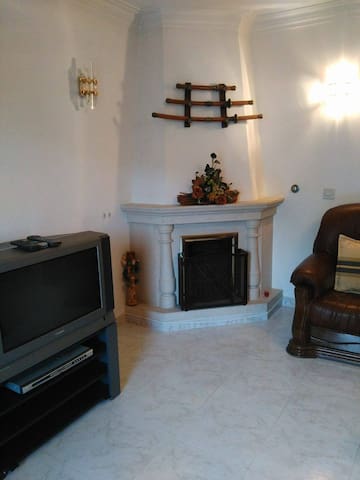 Quarto compartilhado, com três camas de solteiro estilo clássico, Cómoda e roupeiro embutido. Tv e internet wirless, muito espaçoso e sossegado. Conta com boa rede de transportes. A 10 minutos da estação do combóio e a 25 minutos de Lisboa, de carro.
Olá! Se você está planejando ou já viaja para Portugal, (Lisboa) e ainda não decidiu onde ficar e não gosta dos grandes centros e não pretende gastar muito dinheiro com habitação, tem uma boa oportunidade a 25 Km a norte de Lisboa. Podemos oferecer -lhe quartos confortáveis e acolhedores num apartamento, de estilo clássico, luminoso e ensolarado, com energia positiva, uma bela área localizada em Castanheira do Ribatejo. Perto de tudo que você precisa, restaurantes, cafés e lojas. A 10 minutos da estação dos comboios, tendo como principais distintos: Lisboa, Porto e Algarve . Os quartos são para o 1, 2 e 3 (URL HIDDEN) cozinha , casa de banho. O apartamento tem acesso wi-fi gratuito.
Os vizinhos são muito educados e respeitadores.
Castanheira do Ribatejo, 里斯本, 葡萄牙
輸入日期以查看總價格,包括其他費用,可能會加收稅費。