Bramble Cottage is a newly renovated retreat which is only minutes from Asheville but still feels like an escape to the mountains. Enjoy sunset evenings on the back porch and wake up to delicious berry muffins and fruit with coffee and tea, provided by your hosts. Bramble Cottage is a private oasis within 10 minutes of the Biltmore House, the Blue Ridge Parkway or Black Mountain. We are a local family of four and we'd love to answer any questions you have about the area.
The space is decorated with antique and consignment store finds that we have lovingly restored as well as part of our collection of one-of-a-kind pottery.
Bramble Cottage sits just north of the main house at 103 Rowland Road. Our property is on the south edge of a residential community known as Sherwood Forest. The neighborhood is walking friendly.
The check-in procedure was very simple. There was a lock on the door with a code that was provided to us prior to our arrival. The cottage is set next to a beautiful house, and the neighborhood is very welcoming. We walked in and were amazed at how clean the cottage was. The amenities were better than we expected, and there were plenty of small food items made available to us, including granola bars, chocolates, homemade muffins, bananas, and apples. There was also coffee and a large assortment of teas provided to us. Overall, the stay was truly incredible, and we would definitely recommend this place to anyone looking for a cozy retreat to the Asheville area!
Hayden
2016-10-08T00:00:00Z
From the minute we pulled up to the cottage we noticed the attention to detail. As hosts ourselves where we live, we are always a little more critical than I think most would be. With that said, we couldn't recommend a single area that could be improved. The space was extremely clean, Jenny followed up after our first day to ensure we didn't need anything, and there were amazing muffins. What more could one ask for?!
Joshua
2016-10-26T00:00:00Z
My girlfriend and I stayed at Bramble Cottage for a weekend. The cottage is clean and smartly decorated. There's also a furnished and screened deck out back. Checking-in was super simple. The door was operated by a keypad lock. When we arrived we were greeted with a personalized message on a chalkboard by the door and a short note providing instructions on how to access wifi, providing recommendations for dining, etc. While we didnt have the occasion to meet Jenny and Timothy we really felt welcomed and at home during our stay. The kitchen area was stocked with small snacks, coffee and fresh fruit. Our hosts also left us homemade muffins in the fridge. The cottage is a short (10ish minute) drive to downtown Asheville. I would highly recommend staying here!
Patrick
2016-10-10T00:00:00Z
What a great find! My boyfriend and I loved the bramble cottage. It had everything and more that we needed. Clean, cozy, and comfortable. We love Asheville and this Airbnb made our stay another great one for the books. Highly recommended! ❤️
Krista
2016-11-13T00:00:00Z
The cottage was exactly like the photos; clean, organized, well-decorated and adorable. It had everything we needed for a lovely stay. The thoughtful touches and attention to detail, like the snacks, toiletries, and eye masks for sleeping made our stay just as luxurious as any fancy hotel. The kitchenette was a great addition to have for coffee in the morning. Jenny was super helpful when we were looking for hiking trail recommendations and her homemade muffins were to die for. The place is about 15 min from downtown but it is a nice drive and goes quickly. Seriously would recommend this place to anyone visiting Asheville!
Aubrie
2017-03-07T00:00:00Z
Our stay at Bramble Cottage was unforgettable. From the chalk board with our names on it when we walked in, to the last crumbs of delicious berry muffins when we walked out, the amenities Jenny provided made us feel right at home. I cannot say enough about the quality of this Airbnb. As if the chocolates, granola bars, fresh fruit, fast wifi, comfortable bed, and refreshing shower weren't enough, Jenny provided us with a DVD player within minutes of us requesting one. Last but not least, it should be noted that the location of Bramble Cottage is perfect for exploring Asheville and the Blue Ridge Mountains. Thank you for our wonderful stay, Jenny. And to future guests of Bramble Cottage: you will find it hard to leave and more than likely start plotting ways to make it back!
Ryan
2016-12-31T00:00:00Z
My boyfriend and I came for the weekend of his birthday and loved it! Jenny's cottage is thoughtfully decorated and the perfect size for two. Very comfortable, full of thoughtful touches, and super close to the city as well as the Blue Ridge Parkway, our two main draws. Wonderful host and home.
Carly
2017-01-29T00:00:00Z
Bramble Cottage was exactly what we were looking for. This was our first time using AirBnB and I don't think we could have chosen a better place in the Asheville area. Jenny and Tim make you feel right at home and are right around the corner if you need anything. The Cottage was so clean and up to date. Muffins, snacks, fruit and water were a nice added touch as well. For a couple who likes to get out, explore, drink local beer and shop in the little boutiques, Bramble Cottage provided convenience to all. It was also a quick 10 minute drive or $12 Uber ride to downtown. We will definitely be back and hopefully get the opportunity to stay at Bramble Cottage again!! Thank you Jenny and Tim!
Billy
2016-10-30T00:00:00Z
斯旺納諾阿(Swannanoa), 北卡羅來納州, 美國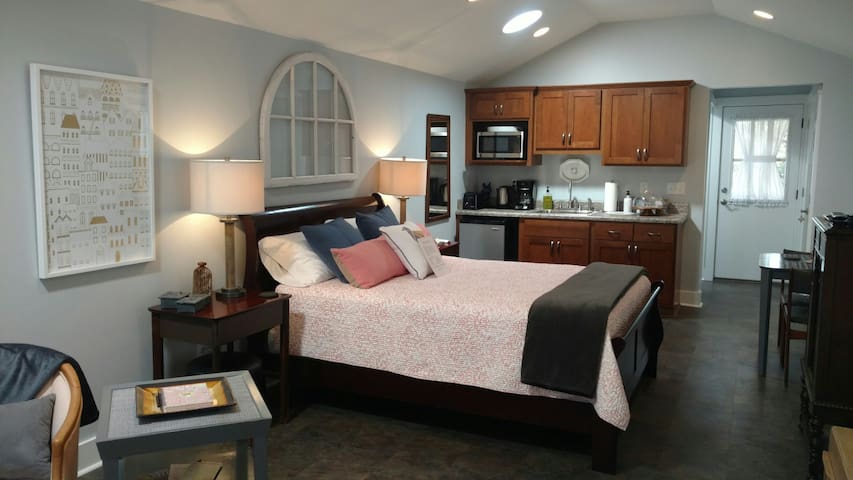 Nice private apartment with your own entrance and parking space, in a park setting, complete kitchen, queen bed, cable tv, wifi internet ,queen hide a bed sofa in living room, covered porch, 7 acre setting ..located between Asheville (15 minutes}& Black Mountain (10 minutes) 3 miles to Warren Wilson College.
This cozy 650 sf private one bedroom apartment has a covered deck with chairs and outside table. There is a large living room, fully equipped kitchen , with silverware, pots & pans, microwave etc... A large bathroom with tub/shower combo , adjoins the queen sized bedroom ( all linens and towels included) with cable television and is situated in a park setting on 7 private acres with a nice view all around. A bold stream runs through the property with hammocks and benches for sitting and relaxing. Centrally located between Asheville ( 15 minutes) & Black Mountain ( 10 minutes). Close to Warren Wilson College and Montreat Anderson College, close restaurants and many hiking and out door activities. Less than 2 miles off of I - 40 . We are familiar with the area ( lived here for over 35 years) and can offer restaurant,activity and hiking ideas that you may want to consider . Let us know if you have any additional questions
The privacy and beauty of this location is unique ... the apartment is spacious. It is very peaceful and there is lots of wildlife that include , bluebirds, blue-jays , robins, cardinals squirrels, rabbits and a resident fox that we occasionally see at dusk . A red shouldered hawk family has been in the area for years. Take a nap in the hammock, sit on the front porch and have a drink or ponder by the stream that runs through the property and enjoy. The Native Kitchen ( is one our favorites and less than a mile away). We are 15 minutes from downtown Asheville, Black Mountain and the Biltmore Estate. There are several great hikes close by, as well as beautiful waterfalls, just ask and we will be glad to give you directions. It is a very relaxing place to be after a days activities.
This was a one-of-a-kind lovely home on spacious, scenic property very close to Black Mountain and Asheville. We loved the banana bread and fruit basket upon arrival (!!!) and the children were enchanted to feed the donkeys, play on the tire swing, and enjoy the beautifully appointed side porch. Susan and Keith are tremendous hosts, and like us, you'll want to get back as soon as you can!
Jane
2017-01-29T00:00:00Z
My husband and I made a "spur of the moment" decision to attend our nephew's last basketball game at Warren Wilson. With luck on our side, we also found The Jade Tree at the last moment. It was absolutely perfect for us. Susan had prepared a basket of goodies for us for breakfast, which we did not expect. Also, she had a basket of necessities in the bathroom in case we had forgot the essentials. The hand cream was wonderful for my dry hands this time of year. Jade Tree was clean, tastefully decorated, furnished with books, magazines, low lightning, and secluded in a beautiful area only two miles from Warren Wilson. It was the perfect place for us, and we will be back.
Barbara
2016-02-19T00:00:00Z
Jade Tree Place deserves every superlative possible! The hosts were absolutely delightful - Susan came out early in the morning to make sure my daughter had carrots to feed the miniature donkeys across the fence. The property is serene and secluded, yet easy to find and is in a wonderful location. Keith & Susan welcomed us with lovely basket with nuts, chocolates, oatmeal and muffins upon our arrival and instantly made us feel right at home. We felt like we were in the middle of a garden - the cherry tree was in full, gorgeous bloom. There are wonderful spots all around to enjoy the grounds - hammock, benches, swings, great porch. We hope we'll be able to visit again soon.
Amy
2015-04-02T00:00:00Z
Nice & quiet area off the main roads, but close enough to Asheville & Black Mt. Keith & Susan were very helpful & accommodating.
Ryan W.
2017-01-12T00:00:00Z
Susan and Keith were welcoming and helpful. Their apartment was just as described. We had a home away from home. Thanks you two. Perfect.
Joanie
2016-10-26T00:00:00Z
The place was gorgeous and well kept. I will definitely be back when I visit Asheville again. The location is remote, yet very close to downtown. If you want peace and quiet and close to lots of activities this is the place.
Shannon
2016-08-08T00:00:00Z
Jade Tree Place was the perfect mountain get a way we were looking for on our trip to the Asheville area. It was so nice to come "home" after a long busy day of hiking and sightseeing and just relax on the front porch and watch the fire flies, butterflies, a bunny or two and the resident hawk in the trees. Keith and Susan were perfect hosts and provided everything we asked for and more. Loved the home made banana bread and the fresh fruit basket and fresh eggs. We will definitely come again on our next trip to Asheville!
Jeff
2016-08-05T00:00:00Z
We had a great time at Keith and Susan's place. The set up was perfect for the two of us and was private and quiet - we never heard our hosts. The rooms were clean and cute. The hosts left a nice welcome basket for us. And it was a short drive to Asheville. We would definitely stay again.
Eric
2015-05-10T00:00:00Z
斯旺納諾阿(Swannanoa), 北卡羅來納州, 美國
Great apartment above the garage. Very private, with large windows looking out into the woods. Small bathroom and kitchen, but a perfect, quiet, secluded space for couples or solo travelers. 10 minutes from downtown Asheville and the Parkway, 20 minutes to Black Mountain and a stone's throw from Warren Wilson College. No Wifi, please be prepared to unplug!
This is an awesome apartment above my garage. It has hardwood floors, big windows, and a small kitchenette and bathroom. There is one queen bed and a futon mattress that can be rolled out for additional guests.
You will be next door to my house (as you're on the top floor of the garage) and you will also be able to see the neighbor's house. Otherwise it's woods all around.
Highly recommend this quiet, secluded escape. Private & close to Asheville.
Bess
2017-01-22T00:00:00Z
We had a wonderful stay at the cozy little treehouse! It felt secluded and private, yet was a short and convenient drive to downtown Asheville. Ellie was an attentive and responsive host.
Blair
2017-01-15T00:00:00Z
This little studio truly felt like a treehouse! The view from the main room was incredible. You feel completely secluded. It is very quiet save for some nature sounds outside. We never experienced any sound from the main house despite it being occupied during our stay. It's hard to tell from the photos but the kitchen and bathroom are separated from the main room by a short hallway. There is a long counter in the kitchen with plenty of room for prep and food storage. The place is very spacious yet cozy. Ellie provided everything we needed including towels, plates, silverware, etc. She always responded right away when we had a question and was available during our entire stay. The place was easy to find and close to everything. We will definitely remember this place when we are in Asheville next!
Beckie
2016-11-06T00:00:00Z
Our favorite place to stay in Asheville! Ellie is a great host with great communication! Great stay as always!
Zoe
2017-03-17T00:00:00Z
The Treehouse was exactly what we wanted and needed for our trip. Our goal was to enjoy the scenic wilderness of Asheville doing some hiking and also getting into town to explore the breweries and social life of downtown. This location was perfect for that. Only 15 minutes from downtown ($13 Uber ride) and right on the edge of the National Forest with many popular natural sites within a short (beautiful) drive. There's not a lot of frills to the Treehouse (no TV, wifi, luxuries) but it has everything you need and it's super comfy. It's spacious and open with gorgeous views and flooded with natural light. Absolutely perfect for two people, but I could see 3 or even 4 people being comfortable if they didn't mind sleeping on the floor, couch, air mattress. Bathroom and stand-up box shower are of the smaller variety but not a tight fit at all, comfortable without inhibiting movement (6' male can shower moving freely without bumping into the walls). Ellie was a fantastic host even though we never saw her (didn't need to). Great communication, lots of privacy. It really felt like we were in our own place. I'd stay here every time my girlfriend and I come to Asheville on our own without a doubt!
Kyle
2017-02-14T00:00:00Z
A nice little place in a beautiful part of NC. Though I didn't meet Ellie directly, she stayed in touch throughout the process to make sure I had a pleasant stay.
Seth
2017-01-19T00:00:00Z
By far one of my favorite Airbnb. It's so magical waking up to that view. There's a small kitchen that u can use. I made breakfast every morning. It's literally 10 -15 mins from downtown. I love the drive. And ellie was always responsive. One of the best pricing for Asheville. Strongly recommend. It felt safe and beautiful to be there!
Carolina
2016-11-30T00:00:00Z
The TreeHouse is a nice and cosy place with lots of privacy. The communication with Ellie went smoothly and the place is very comfortable with a great connection to nature. I recommend it to everyone looking for a nice getaway to stay here.
Alice
2016-12-26T00:00:00Z
斯旺納諾阿(Swannanoa), 北卡羅來納州, 美國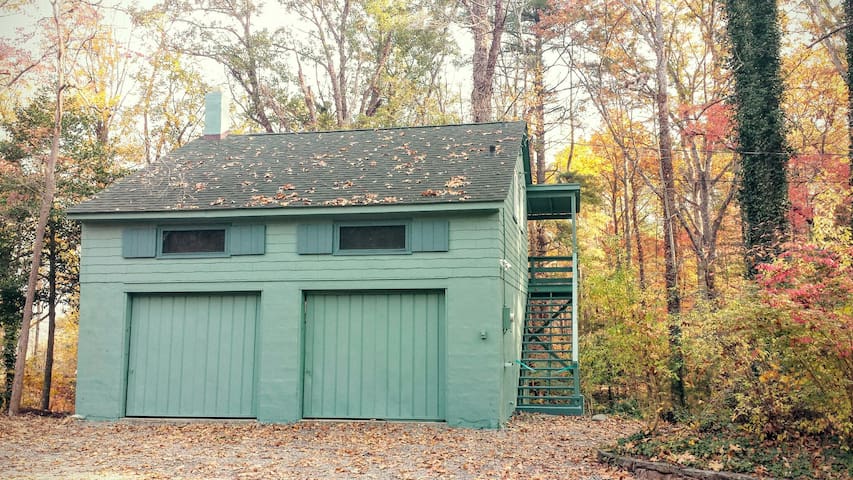 Our cozy studio apartment is conveniently located between Black Mountain and downtown Asheville. Experience the quaint small town feel of Black Mountain or the eclectic free spirited vibes of Asheville. With the charm of being nestled in the Swannanoa valley and the friendly faces--you are sure to make this Cottage your home away from home!
The neighborhood is a couple miles from Warren Wilson college and its hiking trail! It's a beautiful easy walk that follows alongside the Swannanoa river. We are also conveniently located less than a mile from the Ingles grocery store!
Katie's place was absolutely lovely! It was a quick trip into town, clean, and very peaceful.
Annie
2016-10-14T00:00:00Z
The place was cozy, clean and the kitchen was well stocked, Katie even provided coffee AND creamer. I was very happy about that since I was exhausted from traveling and it saved me running out to the grocery store:) My rental car would not start and Katie went out of her way to help , even offering a ride if needed. The cottage was charming and private, located behind the house, and has a sweet place to sit outside in the yard and have coffee, or enjoy a glass of wine in the evening. I would recommend it to anyone needing a spot to relax after touring the area or taking a workshop, like I did.
Shannon
2016-11-22T00:00:00Z
We had a great experience with Kate and Bens studio apartment! It was so cute and cozy! We will definitely stay there again!!!
Danielle
2016-11-27T00:00:00Z
Katie is so kind and accommodating! This place is super cozy. Very private and it had everything I needed! There's nothing like a little mountain air! I would definitely stay here again : )
Colleen
2016-10-28T00:00:00Z
Katie is such a sweet host. She was very attentive and made sure we had everything we needed, which we did. We didn't need anything extra since the cabin was well stocked and clean. Quiet area, with a charming sitting area next to the cabin to read a book or have a glass of wine. Well situated to restaurants and the market place, yet private. Very comfortable for 2 people.
Diane
2016-10-21T00:00:00Z
Staying with Katie was an amazing experience. The room was fully decked out with everything you'd need and the bed was even more comfy than mine at home. Top notch service and beautiful property near Asheville!
Carrah
2016-10-16T00:00:00Z
Great place! Easy commute to downtown Asheville and all the main attractions. Very clean. We had a great time!
Grant
2016-11-13T00:00:00Z
Perfect weekend getaway location. The cottage is cozy and ideal for 1-2 people. Great location if you want something a little outside of Asheville (~15 minutes) or close to Black Mountain area. Katie is awesome and accommodating, loved my overall experience!
Casey
2016-12-14T00:00:00Z
斯旺納諾阿(Swannanoa), 北卡羅來納州, 美國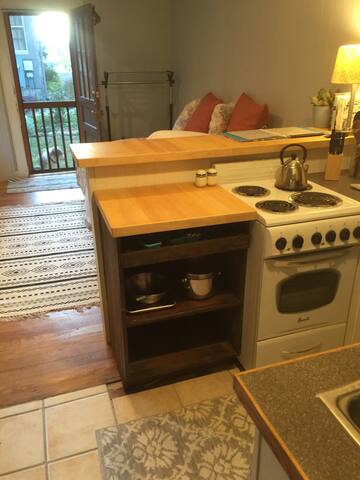 You'll love Buckeye Cabin nestled in a quiet mountain cove, next to a pristine mountain creek rushing by the cabin deck. Awesome location 10 min. from Asheville or 10 min to Black Mountain. Great for couples, solo adventurers, and business travelers. Open floorpan has a kitchen & dining area. Queen size bed has view of the woods. The bathroom has an cool stainless steel incinerating toilet. We all care so much for the environment and request you only use eco-friendly property. THANKS
A cute and cozy cabin nestled in the woods. So many small details made this place unique and a perfect weekend getaway!
Julie
2016-10-24T00:00:00Z
Awesome Cabin- Just what we needed. Tod was a great communicator and we had everything we needed. We could come and go as we pleased and it felt very private. The Cabin has cute little touches of ambiance that make it unique and cozy especially at night. We went to the farmers market in town and grilled out. Wonderful quiet experience and we would come again. Tip: Use the Incinerator toilet when you go to town because it can make the outside smelly downwind. It wasn't a problem however-it's just mountain life!
Amy
2016-11-06T00:00:00Z
We had a wonderful time exploring Asheville while staying in this adorable cabin. The small details were amazing & Tod was so helpful whenever I had any questions. We especially loved the fire pit to make some s'mores & they even provided wood! The kitchenette & the rest of the cabin was well equipped with all your needs! Will definitely stay here again in the future!
Jessica
2016-10-30T00:00:00Z
Great space! Cozy, clean, and private!
Marybeth
2017-04-02T00:00:00Z
Excellent place to enjoy a weekend in Asheville. It's a tiny house, but well appointed and with everything you need! Thanks!
Nicole
2017-03-05T00:00:00Z
Outstanding accommodations! Place was clean and very comfortable for our short stay, and is a very short drive to Asheville and other great hiking spots. Would stay here again and would recommend to other couples as well. Tod provided clear and easy instructions for everything in the cabin.
Jon
2017-03-28T00:00:00Z
Fantastic place! Tod did a great job making sure our stay was enjoyable. The cabin was as described. Thanks again tod!
Nicholas
2016-10-22T00:00:00Z
We had a great stay in this secluded little cabin. Tod was a great host. Our trip was very memorable and we hope to come back soon!
Matthew
2017-01-15T00:00:00Z
斯旺納諾阿(Swannanoa), 北卡羅來納州, 美國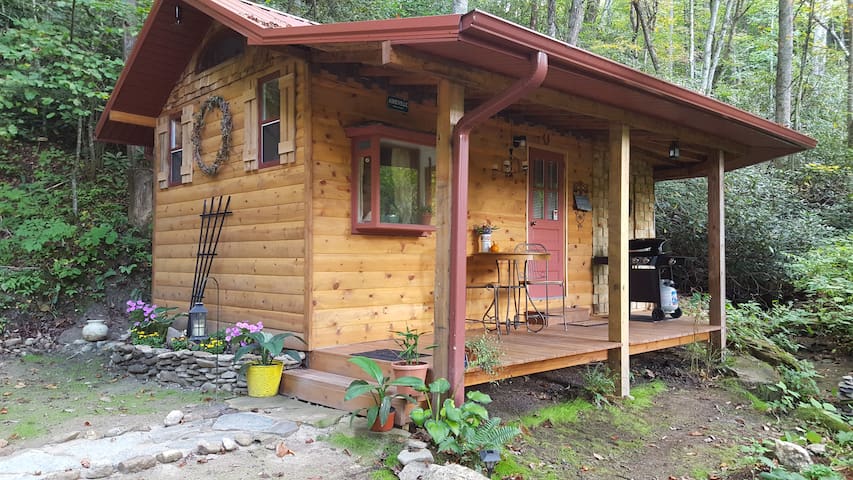 Newly renovated, walk-in apartment - clean and quiet. Private, safe, wooded setting, offering easy access to I-40 for quick 12 minute commute to vibrant downtown Asheville or quaint, picturesque Black Mountain. Pet Friendly. Please come visit us!
A Discount is made for stays of one week duration or longer. Please inquire.
Our neighborhood is quiet and safe surrounded on two sides with woods and on a third side with a open, pasture for horses.
We enjoyed our stay in Swannanoa very much and our host couldn't have been more helpful. We arrived very late in the evening (early morning really) due to a flight delay so of course we were worried the car rental company might have closed for the evening as Asheville has a small regional airport. Thankfully they waited for us but Pat, our host, very kindly offered to come and retrieve us should the need arise. At 1:30am, that's a pretty sweet offer! As we are thinking of moving to the area from England, Pat and later his wife, were very informative and helpful discussing the area and its attributes. We shared a few glasses of wine on their deck to this end, always welcome! Our 10 year old son Joel was rather taken with Zoe, perhaps the oldest dog I've seen still standing on her own 4 legs. He took a picture of her kind little face and she now peers at me through my phone icons. The flat/apartment was an adequate size for the three of us and really as we only needed somewhere to rock up to in the evening, it worked very well.
Arabella
2016-09-06T00:00:00Z
I highly recommend this place! Pat was an awesome host. My boyfriend and I were in the area for a few days to see the Biltmore Estate and the gingerbread display at the Grove Park Inn, and this apartment is about a 15 minute drive from both of those attractions. And it has a little fireplace with gas logs, which I thought made the place feel especially cozy on a cold day in December. 5 stars!
Sara
2016-12-10T00:00:00Z
My wife and I stayed here while visiting family in Asheville and we absolutely loved it. The apartment was cozy and quiet with everything one could want. The kitchen is very well stocked and you even have your own AC and Gas fireplace. We will absolutely stay here again if the place is available next time we come up.
Johnny
2016-06-20T00:00:00Z
Patrick and Sherrie were great and took time out of their schedules to make sure we were comfortable during our stay. They also offered great suggestions for activities to do in the area.
Emily
2016-11-27T00:00:00Z
Patrick was a great host. He was there if needed but respected our privacy. The apartment was a perfect place to call home! We stayed 3 night but could have easily spent a week or more. It had all the amenities we needed.
Terry
2016-06-03T00:00:00Z
Location close to Asheville & Black Mountain. Tucked away but easy accessible. Very clean, tidy & calming. Everything we needed for our get away!
Amanda
2016-09-12T00:00:00Z
Had a wonderful time in the Asheville area and found the apartment very convenient to I40. The apartment was very nice! Patrick was also very nice.
Emily
2016-10-01T00:00:00Z
My wife and I had a wonderful experience in Pat and Sherrie's home! We arrived at close to 1:30am, but the hosts were kind enough to leave the outside light on to the unit, which made finding it super easy. We were greeted with a spacious living area with more than enough room for a couple, the hosts even left a bottle of wine for us! The stay was comfortable, quiet, and included every amenity we could ask for. While we are downstairs from the hosts living area, there was barely a hint of noise and very minimal sounds of footsteps. The location is an easy drive to downtown Asheville and the Biltmore, we were able to get ubers for $10-$12 each way to downtown. We would absolutely stay at Pat and Sherrie's home again, and can recommend it to any other travelers!
Jonathan
2016-09-19T00:00:00Z
斯旺納諾阿(Swannanoa), 北卡羅來納州, 美國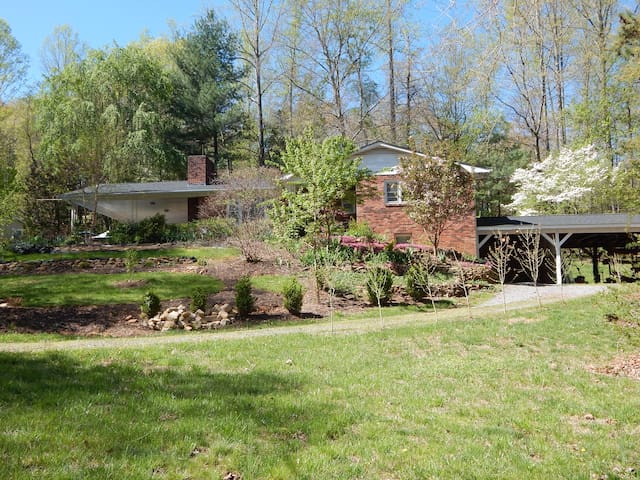 My place is close to everything for your enjoyment but without the traffic. Great Hiking places, Restaurants, Stores are within 5-15 minutes. My place is comfortable for couples, three amigos, solo adventurers, business travelers, and furry friends (pets). Best thing is it is the same price for up to 3 people and 1 dog. No extra Charges. I am happy to send a special offer for booking for several days
You will have your own fenced in yard so Fido can play, your own private entrance and outdoor sitting area and Plenty of parking. When the chickens are laying we love to share the love. Same goes with our garden. The Apartment has a spacious bedroom with a Queen and single bed and the living room has a futon. The floors are all tile with throw carpets. The door has a code you can put into to enter. Saves you from possible key loss
I am located at the end of the street on the left. It is the first driveway with a bamboo privacy fence at the end. It is safely protected by outdoor lighting
Great place. Very private.
Addison
2017-02-10T00:00:00Z
The place was cozy and decorated with art from local artists, which was pretty cool! Great location.
Brittany
2017-02-12T00:00:00Z
This is an adorable private retreat that is close to Asheville and Black Mountain. Many activities in the area to enjoy!
Tracy
2017-01-22T00:00:00Z
The host canceled this reservation 66 days before arrival. This is an automated posting.
Leigh
2017-03-21T00:00:00Z
Beautiful area. The host has taken a lot of effort to make anyone's stay comfortable. The handmade soap was a huge plus. Close to a grocery store and a few small restaurants, not far outside of Asheville at all.
Daniel
2017-02-03T00:00:00Z
The host canceled this reservation 56 days before arrival. This is an automated posting.
Katie
2017-02-12T00:00:00Z
The host canceled this reservation 42 days before arrival. This is an automated posting.
Tessa
2017-01-31T00:00:00Z
This is a cozy apartment in a great location. Very close to Black Mtn and a short drive to Asheville. We enjoyed the very comfortable bed, WiFi, and made use of the great kitchen. Ken was a great and responsive host. Would stay here again.
Kevin
2017-01-02T00:00:00Z
斯旺納諾阿(Swannanoa), 北卡羅來納州, 美國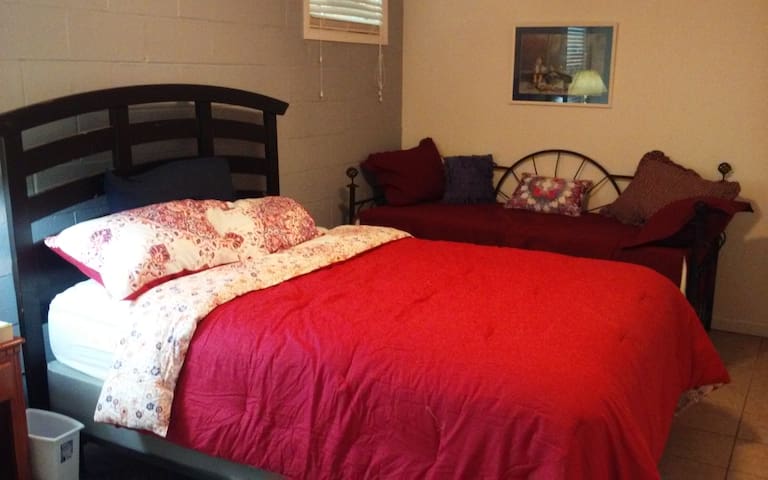 Located in the scenic Swannanoa Valley, the Haven at Owl Cove is surrounded by the peaceful, natural beauty of the misty Appalachian Mountains, yet only miles from the hustle and bustle of the city of Asheville and all the amenities it has to offer.
Country home with a hot tub! This is the end of the road bliss you have been looking for! Located at the end of a peaceful country gravel road this apartment is located in the lower level of a duplex that is very relaxing and heavenly. Surrounded by pasture, nature, a gentle and friendly yard, and garden to eat from you will have a real Appalachian homestead stay when you come to Owl Cove. We provide everything you may need: Queen bed in the bedroom, double futon in the living room, coffee and sugar, comfy sheets, blankets, basic kitchen equipment, extra beds, and good times are all here for you when you show up! Plus you can enjoy your own private hot tub on your patio overlooking the pasture. This apartment is the perfect combination of modern home comforts and country living.
This country road property is located a mere 2 miles from Warren Wilson College in the Swannanoa Valley, which is a destination for many to hike and explore the trails in the area. It is about 10 minutes to Black Mountain and all of the wonderful things to find in that quaint mountain town, from pub life to amazing hiking to some of the best eats in the area. You are only 15 minutes east of the city of Asheville, where the hub of urban activity in the mountains exists. Also this seems to be a big biking destination, and bikers can leave the front door and explore around some of the best scenery in Western NC. This is a very convenient yet super private piece of heaven. I will have local attraction info in the apartment for you to use!
Mary and her family were very nice and accommodating, when we had questions they responded right away and even gave us suggestions of beautiful hiking trails and waterfalls in the area.
Ashley
2016-08-09T00:00:00Z
The home was very clean and welcoming for us and our pup! We had welcoming maps of the surrounding areas and it was nice and cool.
Danielle
2016-06-15T00:00:00Z
We had a great time staying here and exploring the surrounding mountains and forests. This is a really cute basement apartment that has been decorated really nicely. The neighborhood is secluded, but still convenient to everything. We were very comfortable staying here, and we really appreciated that we could bring our dogs. Thank you!
Ryan
2016-10-31T00:00:00Z
This was a great stay. We loved everything about the haven at owl cove. A beautiful apartment in a country side, a perfect hosts who provided precise directions and an amazing German sheppard puppy who will greet you in the morning. What's there not to love? Would love to come back for extended stay.
Aleksandar
2016-10-16T00:00:00Z
We had a great second stay. Quiet, beautiful, clean and spacious, and Mary had great weekend recommendations for us when we had asked. I'm sure we'll be back yet again in the future!
Jessica
2016-07-05T00:00:00Z
The Haven at Owl Cove was the perfect escape for us! My boyfriend and I and our two dogs very much enjoyed Mary's house. The dogs loved roaming the property and watching the horses that were nearby. We loved the proximity to Asheville and hiking trails.
Ann
2015-11-19T00:00:00Z
We had such a great time in Asheville for a little getaway. The apartment was everything we could have hoped for and our dog LOVED running around outside and meeting Juno. Mary was very helpful and responsive when we had questions. We will definitely be planning another trip. The apartment was in a great location, close to everything we wanted to do!! Thank you so much for everything!! Liz, Holden, and Kadin
Liz
2016-05-20T00:00:00Z
Had a great stay! Perfect distance from the city, not too far, not too close!
Breanna
2017-01-22T00:00:00Z
斯旺納諾阿(Swannanoa), 北卡羅來納州, 美國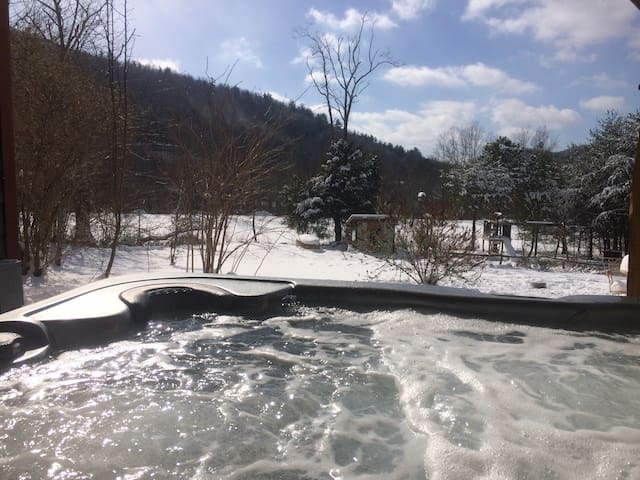 Cozy & cheery, this spacious 500+ sf private basement apartment catches the morning sun through double French doors. It has a private patio entrance, large combined living & sleeping area, full bathroom, and a new kitchenette! In the summer, lounge by the in-ground pool. The surrounding neighborhood is quaint & quiet. Close to Warren Wilson College, with easy access to Asheville & Black Mountain, it's a perfect place to relax & unwind after your mountain activities. Come visit & stay a while!
While the room is spacious, it has a cozy & relaxing atmosphere. In addition to a full double bed, there is a pillow top daybed with separate trundle bed in the corner. The couch is comfy enough to sleep on, and a twin air mattress is available as well. The double closet is large enough to accommodate all your belongings. The kitchenette has a medium-sized dorm refrigerator, microwave oven, toaster oven & coffee pot. A selection of coffee, tea, hot cocoa & hot cider is provided. When you return from hiking the mountains or visiting Asheville, relax while sitting out on the private patio, by the firepit or poolside. Feel free to use the pool during the summer. Take a walk around the neighborhood or at the local park just down the road. Whether you are single, a couple, a small group of friends, or a family with kids, you are welcome here! Come to the mountains!!
Our neighborhood is an older, established one with single family dwellings. The terrain is varied, from flat to a bit hilly, which makes it great for a stroll that makes you feel like you've gotten some excercise. Charles D Owen Park is less than 1/2 mile down the road. It has a nice walking trail around 2 small lakes, a basketball court, 2 baseball diamonds, & a small playground. Fishing is permitted, but not swimming. There is an Ingles supermarket with a Starbucks 2 miles away, right at the interstate exit. If you'd rather go local, there is a family owned coffee shop & some restaurants close by as well. So whether you're staying for a night or a month, my goal is to make you feel welcomed & comfortable. If you have any special needs or events, let me know & I'll do what I can to help.
Comfortable accommodations, great alternative to a hotel room. Our family of 4 slept comfortably with a bed left over. Large bathroom with essentials provided. Kitchenette addition coming soon. No noise from upstairs. Friendly and gracious host. Welcomed with fresh fruit. Will definitely return, especially in summer for the pool.
andrew
2017-02-19T00:00:00Z
Perfect location. Perfect host. Lovely, quiet neighborhood. My sister and I were greeted with a plate of fresh fruit and a welcoming card from Lydia. And I loved how accessible downtown Black Mountain, Asheville and the Blue Ridge Parkway were- we were able to get in lots of shopping and hiking. There aren't any pictures but there is also a really nice pool- we were just too busy to try it. I highly recommend this place!
Bonnie
2016-06-06T00:00:00Z
My son and I had a great visit to Asheville and surrounding Blue Ridge Parkway area with Lydia's home as our base. Fantastic sunny basement apartment nicely decorated, clean and well appointed for guests. Lydia has thought of everything to make your stay relaxing and comfortable. We enjoyed complete privacy with a separate entrance and plenty of parking. Minutes from Warren Wilson College, the parkway, and Asheville. Loved it and plan to return often.
Lori
2016-03-25T00:00:00Z
Well represented! Will use again if available.
Sherri
2016-10-02T00:00:00Z
This was my third visit to Lydia's home and it didn't disappoint. She greeted us warmly and made us feel at home. So convenient to Warren Wilson College and Asheville. Perfect.
Lori
2016-09-23T00:00:00Z
Lydia was wonderful and accommodating. Will be visiting again.
Anna
2017-01-01T00:00:00Z
The space was great and the host did everything she could to make us feel welcome. She gave us great recommendations for dinner and breakfast. The coffee bar area was a real nice unexpected treat.
Brian
2016-07-10T00:00:00Z
Lydia is a friendly and welcoming host and we felt totally comfortable on our short stay. Her apartment is cozy and clean. This is an especially great location for Warren Wilson College or for jumping on the Blue Ridge Parkway.
Kathy
2017-03-19T00:00:00Z
斯旺納諾阿(Swannanoa), 北卡羅來納州, 美國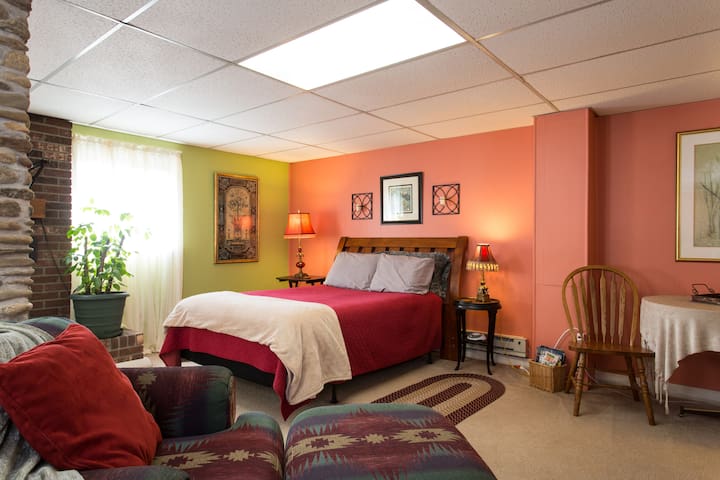 Come and enjoy our spacious one bedroom apartment in a peaceful, beautiful country setting only 15 minutes to downtown Asheville and Black Mountain and 5 minutes to Warren Wilson College. Come as you are, we welcome all.
Come and enjoy our spacious one bedroom apartment in a peaceful, beautiful country setting only 15 minutes to downtown Asheville and Black Mountain and 5 minutes to Warren Wilson College. The apartment is charming, comfortable and all set up and ready for your stay. The living room has a work space, hdtv, and a bay window that looks out onto one of our pastures. The kitchen is equipped with what you'll need if you would like to cook. The bedroom has a queen size memory foam mattress, soft sheets and a beautiful view of the mountains. Our bathroom has clean towels and your basic bathroom supplies. We think our apartment is charming, but our favorite part of our property is the animals and the mountain view. Come see!
peaceful country setting 15 minutes or less from interesting food, lively culture, and beautiful hikes
Wow! Such a great place to Stay! Perfect for a small family! Very clean and so beautiful inside the house. Both are great hosts. Communication and talking was so easy! Would go there immediately again!!! Thanks to Julie and Ed!
Markus
2015-10-14T00:00:00Z
We absolutely loved Julie's farm. The apartment was homey and warm. Julie was friendly and helpful. She gave us advice on local spots to try out. She also let us love on her donkeys and sheep! It was a very peaceful location. The farm is breathtaking. We would definitely want to stay here again.
Stephens
2015-10-10T00:00:00Z
Doesn't get any better than with Julie and Ed and family of both humans and furry creatures, chickens, donkeys, goats etc. Proximity to both black mountain and asheville was as hoped, a very very easy ride. Fresh eggs and coffee and cream ready for first morning. Makes us want to buy a place in the serenity of foothill of a mountain too! Can't recommend staying in this own 1 bedroom apartment space highly enough! Thanks Julie and Ed...and Roger and Sunny too!
Dolly
2016-11-19T00:00:00Z
Julie was such a wonderful host! Her space is clean, spacious, and so relaxing. She was great at communicating with us and making sure we were comfortable and well taken care of. I'm sure we will stay again the next time we visit my brother!
samantha
2016-10-02T00:00:00Z
Had a lovely, trouble-free time with Julie and her family and her animals near Swannanoa. Directions were clear and accurate. The space was private and well-planned. Felt right at home quickly. The bonus of a farm-fresh egg each morning was well-received by this former farmgirl. The location is perfect for easily visiting Asheville or any of the other smaller towns in the area. Also quite close to lots of excellent hiking trails. I had time for only the Swannanoa River trail, parts of which are next to Warren-Wilson College -- which was quite beautiful and included sightings of a large heron on the river and the Belgium workhorses of the college farm.
Juanita
2016-07-11T00:00:00Z
We had such a great experience at Julie's place. Going to bed after looking at the stars and waking up at such a peaceful farm was just what we wanted. Julie was really great as well and made our stay very convenient. We'll definitely visit again!
Vijay
2016-09-05T00:00:00Z
The place was adorable and Julie was a great hostess. We would definitely stay here again. It was also a great value compared to the price of a hotel.
Anh Bao
2016-05-22T00:00:00Z
Fantastic stay! Clean well, kept living areas. Kitchen had everything we needed to make meals and the coffee in the kitchen was remarkable. The bed was super comfy which was just what we needed after a day of hiking. But the best part of all was the view and waking up to the fresh mountain air
Joshua
2015-09-07T00:00:00Z
斯旺納諾阿(Swannanoa), 北卡羅來納州, 美國
You are invited to our detached apartment with mountain views and tranquil privacy. Watch our free-range chickens graze or drive 2 miles to Pisgah Brewing for award winning craft beer and hard cider.
Tucked away like a treehouse in a wooded neighborhood, our cabin includes extra amenities such as: Keyless entry Full-size, stackable washer/dryer Full bath with walk-in shower Wi-fi and Direct TV Private porch with chiminea (firewood provided) A/C and gas heat All linens, dishes for 4, 2 burner stove, pots & pans, microwave, small refrigerator/freezer, Keurig, toaster, and utensils Futon (sleeps 2) Four miles from downtown Black Mountain Fourteen miles to downtown Asheville Sugar and Beech Mountains less than two hours away in Boone which are the largest ski resorts in our area. Cataloochee Ski Resort is approximately an hour away.
Secluded with no visible neighbors except for your hosts next door. All paved roads to our property. Beautiful mountain views and off the beaten path.
Jill's place was great. Clean, comfortable, beautiful view. They were very responsive and provided quick assistance.
Sean
2017-03-20T00:00:00Z
If you're visiting Asheville, definitely stay here!! Jill and her husband, Roy, are amazing hosts and their place is extremely cozy and well-kept. My friends and I decided to stay here for our fall weekend trip to Asheville and we just happened to be Jill and Roy's first Airbnb guests! The cabin is detached from their home so we had a lot of privacy. The bed and full-sized futon were comfortable for 4 people. On top of that, there's a balcony outside that oversees a bunch of gorgeous trees in the back. We sat outside at night on the balcony and Roy actually came out to help us with the firepit. Overall, very great people (& dog) and awesome place. I'd definitely stay at their place again!
Leslie
2016-11-06T00:00:00Z
Jill and her family were incredibly welcoming and helpful throughout our stay. The space had a wonderful ambiance and felt warm and cozy. She made every effort to make our stay comfortable and was prompt and helpful in all communications. We were more than pleased and hope to make a trip back soon!
Chris
2016-11-13T00:00:00Z
We loved our stay with Jill! The outside fire was wonderful and the chickens were lovely (they even gave us fresh eggs from their free range chickens that roam the property). We loved how close we were to everything but still secluded in the mountains and their recommendations for things to do were greatly appreciated and truly enjoyable. We had a wonderful stay and greatly enjoyed they hospitality and kindness.
John
2017-02-20T00:00:00Z
Our stay at Jill and Roy's cabin was an absolutely perfect vacation. We came to town for concerts in Asheville, and their place is an easy 20 minute drive from downtown. The cabin is near the main house, but the entrance and walkway is private, so it was a perfect balance. We had privacy and felt free to come in late after the concerts, but Jill and Roy were nearby if we needed anything. They really went above and beyond to make us feel welcome, leaving free range eggs from their chickens, makings for s'mores, wood for the chiminea, and other amenities you wouldn't get at any hotel. We actually spent more of our time at the cabin than we had planned, because it was so cozy and well-equipped. The kitchen had basic cookware and supplies (salt, oil, butter, etc.), so we could cook breakfast there, and the bed was so comfortable it was seriously hard to get out of! Luckily for us, the room wasn't booked the day we left, and Jill graciously gave us a little extra time after our scheduled checkout, so we could have one more lazy morning before we had to go home. My only complaint is that we couldn't stay longer, and I hope we'll have a chance to visit again next time we're in Asheville.
Catherine
2017-03-05T00:00:00Z
Jill, her husband and their daughter made us feel so welcome in Black Mountain! The apartment was a perfect getaway for my boyfriend and I over the Thanksgiving weekend. With views and privacy, the kitchenette for breakfast, and the most comfortable bed...we almost asked if we could move in permanently! Our hosts even fed us when we forgot things would be closed on Thanksgiving night! Wouldn't change a thing at this airbnb and will likely stay there again.
Ashley
2016-11-26T00:00:00Z
Wonderful home. Jill and her family truly are gracious hosts (accommodating even when we arrived late) and the overall experience was perfect!
Tracy
2016-12-11T00:00:00Z
Private. Everything you needed was there and if not, Jill made sure you had it. Grill cooking and leisurely sky watching in front of the fire. Can't beat it Just need a fireplace in the cabin. Bring drinking water if minerals bother you
RON
2017-03-31T00:00:00Z
斯旺納諾阿(Swannanoa), 北卡羅來納州, 美國
Relaxing weekend in the mountains! "We were excited to get away with family and friends for a long weekend, and this was the perfect spot! Upon driving up to the house, we were struck by its expansive rocking chair porches and gorgeous natural environment. Inside, the house was spacious, extremely clean, well-equipped, and overall very comfortable for our 2 families. The owners have thought of EVERYTHING--from board games and Pop-A-Shot (which was my husband's obsession for the weekend!) to clean, high quality linens and bedding. We stayed downstairs, where it was so peaceful--at night, our favorite part was to open up the windows and fall asleep to the sounds of the mountains at night. During the day, we loved having a cup of coffee or cold beer on the screened porch and just enjoying the breeze and company!" Location: Private home located in a small, private mountain community, 15 minutes east of downtown Asheville, 35 minutes to Asheville Regional airport, 20 minutes to the gates of Biltmore Estate. Accommodations: (Sleeps 12-16) 4 bedroom, plus bonus room, 3 full baths Occupancy Summary / Sleeps in beds: 12 Max. Occupancy: 16 Description: Right on the back porch of downtown Asheville! This unique Asheville mountain retreat, nestled within Swannanoa, in the spectacular Blue Ridge Mountains, offers a relaxing and invigorating escape. Located just 12 miles from downtown Asheville & 7 miles from downtown Black Mountain, Blue Ridge Retreat is the perfect mix of 'mountain seclusion' & full urban access. Eclectically decorated with both an urban feel, and a true taste of the mountains, this country retreat will have you coming back again & again. You immediately feel at home and relaxed, like you were meant to be here. (The Asheville mountains will have that effect!) Your dogs will feel at home as well. This recently built home will afford all the modern comforts one would expect, with the added bonus of a covered deck & screened porch! (Welcoming you to sit, sip a glass of wine & luxuriate!) The kitchen affords plenty of room to gather, cook, and spend quality time preparing meals with friends, for those who want to 'stay in and relax'. The kitchen opens up to the family room, affording a welcoming atmosphere where everyone is together, and hanging out after a long day exploring all that WNC has to offer. There is a big-screen TV, & wi-fi for your laptops. With 4 bedrooms, plus a Kids TV/Bunk Room, & 3 full baths, this spectacular home offers plenty of sleeping arrangements for up to 5 couples, 12 individuals, or families looking to vacation in Asheville, in the shadow of the Smoky Mountains. Close to everything in both Asheville & Black Mountain, with Black Mountain's fine dining, craft breweries and shopping just minutes away. The home is close to skiing, golf, tennis, and hiking along the Blue Ridge Parkway, or in any of the local state parks; Pisgah National Forest, Grandfather Mountain, Mount Mitchell, the Cherokee Reservation, and much more, including the Biltmore Estate. With 2,800 square feet finished and over 450 square feet of outdoor living space, this home was built & fashioned for 'gathering' friends and family together for unforgettable retreats or get-a-ways. Come escape to Blue Ridge Retreat. The rolling acreage around the home affords plenty of outdoor space for members of the family to hike & explore, along with a grassy area out front to play a little frisbee, chip golf balls, play cornhole, and more......also plenty of room for dogs to run & stretch their legs on the property, with miles of walking on a leash as well. We promise you a very clean and well maintained home that is thoughtfully furnished with your every need in mind! We happily invite you to experience the luxurious & delightful Blue Ridge Retreat for yourself! You deserve to vacation where you can relax, unwind, & be absolutely spoiled! You are just minutes from America's favorite scenic byway, The Blue Ridge Parkway, biking, hiking, white water rafting, rock climbing, kayaking, canoeing, zip lining, Segway tour…just about any outdoor activity! Or, take a quick ride to downtown Asheville to enjoy the first-rate restaurants, shopping, galleries, and entertainment. Additional Features: Master Bedroom Balcony Covered Deck Gas grill Screened porch WiFi Cable DVD/CD Player DVD Library Lower Level TV/Kids Bunk Room Pack & Play Fireplace / Firewood provided at NO additional costs Laundry Room Air Conditioning Books Board games Two player arcade basketball game Ping Pong Table Custom Cornhole boards Dart board Full access to 'Tick Tock Concierge' Bedroom/Bath Lay Out: Bedroom #1 - Main Level Master Suite - King Bed W/Private Full Bath (#1) Bedroom #2 - Main Level Guest Room - Queen Bed W/Shared Full Bath (#2) Bedroom #3 - Main Level Guest Room - 2 Twin beds W/Shared Full Bath (#2) Bedroom #4 - Lower Level Guest Room - Queen Bed W/ Full Bath (#3) Bonus Kids TV Room - Lower Level - 2 full beds and a couch / Shared Full Bath (#3) Occupancy Summary / Sleeps in beds: 12 Max. Occupancy: 16 (PLEASE NOTE: Yonder provides linens for all beds; other occupancy will require guests providing their own linens.) We look forward to possibly booking your stay, should these accommodations work for you. We can reserve your stay with a credit card and send out a rental agreement to firm everything up when you are ready...but don't delay too long. We are veterans to VRBO, (SENSITIVE CONTENTS HIDDEN), AIrBnB, (SENSITIVE CONTENTS HIDDEN) & the vacation rental business, offering dozens of other luxury vacation homes in the Asheville area, along with The Lofts! We are very meticulous hosts, and all our homes, and The Lofts, are of high end construction, and appointed with good taste and attention to the comfort of our guests. Additional Rate And Fees information: These observed holidays and occasions are subject to holiday rates: New Years, MLK, Valentines, Easter, Memorial Day, Independence Day, Labor Day, Thanksgiving, Christmas *3 night minimum required for all holidays & special events $325 cleaning fee Current local tax rate is 13.00% Early Check In and/or Late Check Out may be possible, depending on cleaning schedules and other reservations. If it is possible, there may be an additional fee that would be determined based on the time that you wish to check in or out and the seasonal rates. Pets: A $200 pet fee will be applied if you would like to bring your pet.
Mountain
Great location just outside of Asheville! Very clean and setup well for a large group. Steve was very responsive and made everything easy.
Chris
2017-04-02T00:00:00Z
房間類型
整套房子/公寓
---
房源類型
公寓
---
可住人數
16
---
卧室
斯旺納諾阿(Swannanoa), 北卡羅來納州, 美國
This quaint apartment almost feels like a beach home, with its bead board walls and periwinkle color, but when you look out the window you clearly see all of the Swannanoa Valley and our 18 acre farm.
This is a converted garage apartment. There is bead board on the walls, giving it a feel similar to a beach house, but with mountain views. This house does not have central air and heating, but we have window units and portable heaters around. It's a farm. The houses are modest but neat.
Mountain views, river access, proximity to Asheville and Black Mountain.
This was a good place for us to stay with two children. I would say the price is appropriate for what it delivers. We needed a kitchen and liked having two bedrooms. Nothing fancy. Pretty much just a decent place to stay.
Sari
2015-01-01T00:00:00Z
Loved staying here! A beautiful view in an area that was just a quick drive from all of the fun. The place was quiet, clean, and cozy. Thanks for having us!
Shannon
2017-03-05T00:00:00Z
We absolutely loved our stay! The house was perfect for what we needed, and the views were incredible! Very secluded but still so close to downtown Asheville. Jeanne was very nice and gave us a lot of suggestions on where to go and what to do in and around the city. It was a great weekend, and we will definitely be back!
Cate
2017-02-12T00:00:00Z
Gorgeous views in a quiet, secluded location on a farm just 10-15 minutes from Asheville. Make sure you check out Filo nearby for coffee and pastries!
Jacob
2017-03-15T00:00:00Z
Great place to stay, very dog friendly. I love the open fields. My girl just loved to run in the open fields and to explore. The place was very cozy and comfortable, and very clean. Jeanne and Marcelo was friendly and very helpful, they provided us with extra blankets and extra heaters. Will stay here again.
Irene
2014-12-28T00:00:00Z
Great setting near Asheville and close to the Blue Ridge Parkway entrance. To bad some of us already had a cold. After the first night we decided to return back home. An appartment heated by portable heaters is not helping in this case. We should come back in summer. Jeanne reimburses the nights we couldn't stay, although she wouldn't have to. Great gesture, thanks a lot.
Rainer
2015-11-25T00:00:00Z
Overlook was a perfect place for our family to stay to break up a long road trip. The beds were comfy and the view was beautiful! Thank you!
Missy
2014-11-26T00:00:00Z
This was perfect for a girls retreat. Everything was like it was described and I look forward to returning very soon. We all had a great time and Jeanne was wonderful to work with. The property manager was on site and welcomed us upon arrival and was very attentive.
Maile
2015-01-03T00:00:00Z
斯旺納諾阿(Swannanoa), 北卡羅來納州, 美國
Our family offers an upstairs, cozy 1 BR apartment to folks looking to have an amazing time in Black Mountain and Asheville. We are less than 5 minutes from downtown Black. Mountain and 15 minutes from Asheville.
Nestled at the base of Rattlesnake Mountain in the scenic town of Black Mountain, NC, sits our cozy and relaxing one bedroom apartment. Opportunities abound once you have arrived. Whether you are in for a day spent in your living space, shopping and dining in downtown Black Mountain and Asheville, or an adventurous time exploring the amazing Appalachian Mountains, you will be able to truly enjoy yourself and have a great retreat to come back to afterwards. Your private one bedroom apartment comes equipped with a comfortable queen size bed as well as a love seat futon that folds out into a nice double size bed. Kick back on the couch and watch the flatscreen TV equipped with a Roku and complimentary Netflix or watch a movie on the DVD player. Cook your own meals in your fully equipped kitchen and wake up to enjoy the complimentary locally roasted coffee on your Keurig coffee maker. Breathe in the fresh mountain air on your private screened in porch. If you are headed into town, a short 5 minute drive will lead you into the quaint downtown of Black Mountain full of locally owned shops and restaurants. Check out the website (URL HIDDEN) for a comprehensive list. A 15 minute drive west down conveniently accessible I-40 will lead you into the bustling metropolis of downtown Asheville. Full of an amazing array of eclectic shops, restaurants, breweries and venues, you could spend days discovering this unique mountain city. The website (URL HIDDEN) is a great resource to familiarize yourself with some of all Asheville has to offer. With hiking, biking, swimming, rafting, canopy tours or any other mountain activity you desire at your fingertips, you will truly be in adventure lover's paradise. Hike from your apartment to the rock outcroppings and beautiful 360 degree view from on top of Rattlesnake Mountain and continue on to explore the many trails in the Ridgecrest (URL HIDDEN) and Montreat (URL HIDDEN) trail systems. Or for the truly daring, continue on Old Toll road for 16 more miles and arrive at Mount Mitchell-the tallest mountain east of the Rockies. Bike from the house and climb up and soar down the single track on the legendary Kitsuma Mountain Bike Trail. Take a look at the d(EMAIL HIDDEN) Also take advantage of the amazing greenway known the Point Lookout Trail which uses the roadbed of Old 70 as its route and offers breathtaking views of the Royal Gorge. More information on the Point Lookout Trail can be found at (URL HIDDEN) A short drive east on I-40 will take you down the mountain into the town of Old Fort and to the trailhead of stunning Catawba Falls-(URL HIDDEN) Warren Wilson college is a 10 minute drive west down I-40 and has a beautiful campus with many trails to hike around-stroll down the river trail and take a dip at one of the many swimming holes of the Swannanoa River (URL HIDDEN) Also, take a scenic 30 minute drive down Highway 9 into Hickory Nut Gorge and visit the majestic Chimney Rock State Park ((URL HIDDEN) and the nearby aquatic activities of Lake Lure ((URL HIDDEN) Those are just a few of the many awesome opportunities that lie ahead when you come and stay at our special place tucked away in these ancient Appalachian Mountains. The apartment is such a cozy and relaxing space. Let us know about any particular requests, and we will do our best to provide! We look forward to hearing from you soon.
You can hike right from our yard to the top of rattlesnake mountain! It's an absolutely beautiful view from the top. We are also very close to Montreat which offers some of the best hiking in WNC. We also have bikes you are welcome to use. The neighborhood is great for biking around!
If you look up hipster-chic in the dictionary, this space completely embodies that. We were so disappointed that we could only spend one night and didn't have a chance to really experience Black Mountain. Even though we had family 3hrs away, this was well worth the drive.
Hachy
2015-11-29T00:00:00Z
The apartment was the perfect final stop on my weekend motorcycle trip through WNC. Jamie was easy to communicate with and exceedingly helpful. I'll definitely book again the next time I'm in Black Mountain.
Darrell
2016-06-20T00:00:00Z
We had a wonderful stay. The room was exactly as described. Such a cozy place!! Awesome location for hiking and exploring Asheville. Jamie was so helpful with all questions and very flexible with our schedule.
Courtney
2017-01-22T00:00:00Z
Jamie's place was awesome! It was very quiet and peaceful. "Rustic and artistic" is the perfect description. The interior is very nicely done - the photos don't do it justice! The space was clean and more than enough room for two of us and our dog. Would definitely recommend Jamie's place for your stay in Black Mountain!
Cassie
2016-06-19T00:00:00Z
My wife and I stayed at Jamie's place over a beautiful fall weekend. The apartment was clean and incredibly unique, and we loved everything about it. Jamie was a great host! We could not recommend staying here enough!
Josh
2016-11-13T00:00:00Z
This is a great space! A cozy fire a comfy couch and a well-equipped kitchen all within walking or a short drive to trails and black mountain downtown .
MissBliss
2016-11-28T00:00:00Z
Love this place! Jamie was able to accommodate us at very very short notice. The bed and futon were very cozy and it was awesome to be able to watch tv on the Roku after long days. The only downside was the walls are very thin so we were able to hear the family downstairs in the morning very well. We also met their cat named Judy who was nice company to have in the house. Definitely would recommend this place for a cozy getaway.
Ellen
2016-03-11T00:00:00Z
Very nice place,me and my girlfriend we loved it,especially rustic design of the place,in real is better than on pictures,very cozy and cute.We did a lot of walking around the neighborhood, which was gorgeous,fresh breath.Will definitely be staying at her place next time we go to Black Mountain.Thank you Jamie
Grigori
2016-09-18T00:00:00Z
Black Mountain, 北卡羅來納州, 美國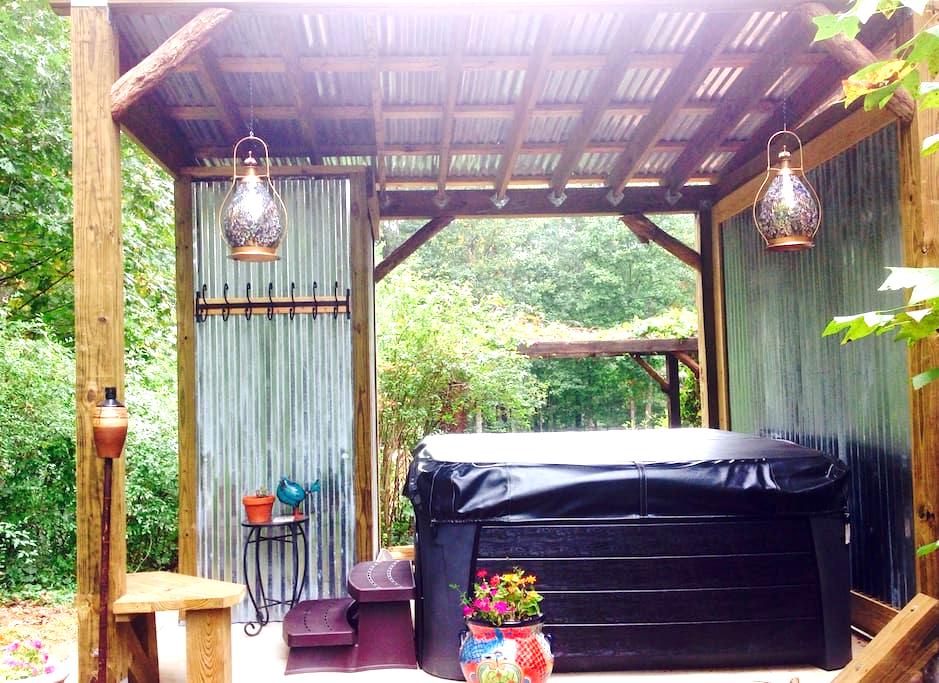 From the moment you enter the communities' gated entrance, you'll sense the beauty and serenity surrounding you. This luxury one bedroom apartment is the ideal location for the relaxation of a mountain retreat and visits to Black Mountain (10 minutes), Asheville (25 minutes) and all that Western NC has to offer. Please note: 1) Maximum occupancy is two persons, 2)There is no smoking allowed on the entire property, 3) Absolutely no pets allowed.
The apartment is over 750 square feet of private space - it's really more like a luxury, one bedroom condominium! It is fully accessorized so you can show up with just your suitcase and groceries (be sure to patronize some of the many fine dining options in our region!)
Arguably one of the nicest neighborhoods in the world! Laurel Ridge is the perfect balance of upscale and down to earth! You'll feel right at home during your stay. We're literally across the street neighbors with over 25,000 acres of forever wild forests in the beautiful Blue Ridge Mountains!
Our Black Mountain experience with Jim & Sue could not have been any more enjoyable! Their apartment was absolutely gorgeous and contained everything we needed for our short stay. Do not pass up the opportunity to eat a biscuit at the Blue Ridge Biscuit company. It alone was worth the trip!
Tracy
2016-10-23T00:00:00Z
This was the first time we used Air BnB and we couldn't have been happier. We were late arriving, but Jim and Sue were extremely flexible in granting us access to their basement. The space is extremely clean, cozy and private. Jim & Sue were great hosts and their location is set beautifully up on the side of a mountain. They were more than willing to dole out information on things to do as well. Would highly, highly recommend and we'd definitely reserve the space again if we were to visit the Black Mountain area again.
Adam
2016-03-08T00:00:00Z
The stay was excellent. Jim and Sue had the place looking great and Jim did a good job showing us around upon arrival. Jim and Sue also talked to us a great deal before arriving about good places to eat, hike, and experience Black Mountain and Asheville as a whole. Book with them here and you won't be disappointed.
Kory
2015-02-17T00:00:00Z
There is no cell phone signal in the unit The unit is the basement of their house not the whole house $10/hour to use the fire place. The shower makes a high pitched noise if you use hot watehit Calendar is not reliable Beautiful view Very clean Personalised and detailed welcome note Strict check in and out time Very clear about parking space
Dustin
2017-03-18T00:00:00Z
The whole experience was just spectacular. The pictures didn't do the place justice, it was even better in person! The view from the side was jaw dropping. Everything inside was kept very neat and clean. Jim was great he gave us great suggestions for dining and hiking. There was not a dull moment the entire weekend. I would highly recommend staying in Black Mountain with Jim and Sue.
Maria
2015-12-14T00:00:00Z
Jim & Sue were great hosts! Beautiful apartment with a million dollar view. Lots of good advice on places to eat and see. On the morning of the last day we were there, the power went out and Jim went into town to get us breakfast before we left. Great place and great people!
Julie
2016-10-10T00:00:00Z
How do I start?! I'm sure that most people that have the chance to stay at Jim and Sues place will agree with me saying that is perfectly beautiful. It's a piece that fills you with energy and peacefulness. The apartment was fully loaded with everything that you have at your own home. I'll definitely recommend it!
Julio
2015-11-23T00:00:00Z
We had such a great weekend! Jim and Sue made us feel welcome the moment we arrived. The apartment was quite well appointed and perfect for two. We spent some time in Asheville and Black Mountain--both cute and quaint and not far from our accommodations. Our only regret is not spending more time hiking and taking in the beautiful views near the apartment--we will be sure to do that the next time we visit!
Kelley
2016-02-22T00:00:00Z
Black Mountain, 北卡羅來納州, 美國
This one bedroom eco-friendly apartment is beautiful! Conveniently located downtown: fabulous shops, coffee, dining, and one mile from the best hiking in WNC! Yoga, Sauna, Massage, Natural Medicine, Chiropractic + Gym services available upon request.
This apartment is located above the Rachman Clinic: Natural Medicine, Chiropractic & Massage and adjacent to the NY Times acclaimed Black Mountain Yoga Center/Spa with Far Infrared and Finnish Sauna. Many services can be added to your stay to make it a relaxing, restorative and memorable experience. You have your own entrance. You will not bother anyone coming in.
We are in the heart of the beautiful downtown Black Mountain, North Carolina.
Martia was an outstanding host. Very helpful and considerate in answering questions that I need to ask all Airbnb hosts regarding chemical sensitivities before even booking with her. Her place is indeed super clean (no mold!) and free of chemicals for other sensitive travellers out there! :) The place is indeed a little retreat--very comfortable and cozy. A lovely surprise to have a little yoga and altar space in the living area. I took one yoga class at the studio next door (that Martia and her husband own); the studio space is gorgeous. I also took one FIR sauna which was a heavenly way to end the trip. The staff is super friendly, welcoming and friendly. Black Mountain is a sweet little town with much more to offer than I could have expected--super friendly people everywhere, two natural groceries with all you need for a trip (there are 2 whole foods and a coop in town if you need!), a great coffee shop (Dripolator), tea house (Dobra), and restaurants all within walking distance. It's a beautiful and quick drive into AVL, too. Thoroughly enjoyed my stay. Thanks, Martia!
Cat
2015-12-09T00:00:00Z
This apartment is so fabulous! From the moment we walked in, we could tell this was the right place for us. It smelled so good - like walking into your favorite massage therapist's office! The furniture was comfortable, the kitchen and bath are super cute and totally functional. There is tons of natural light throughout, little nooks to take a break in and plenty of room for our stuff. We did yoga in the living room looking out at the the lovely blooming trees while the church bells across the street chimed away. We walked into town, 1 to 2 blocks, and had fabulous meals each time! Our last morning we took a stroll around Tomahawk pond and heard so many birds I couldn't count them all. This is a lovely place to stay in a fun and vibrant town!
Loree
2016-04-16T00:00:00Z
The reservations were handled in a timely manner. The directions were flawless. The location is perfect and very walkable to coffee, pizza and other stores and eateries. The spa fragrances are so pleasant and really make you feel like you are staying in a resort. The bed is comfy as is the living room furniture. The kitchen is darling and very serviceable. The bathroom is nice and very clean. This is a gem of a "home" and we loved being here!!
Lauren
2016-07-05T00:00:00Z
The retreat is right outside of Asheville in beautiful Black Mountain. When you walk out of the house there are picturesque views of the mountains and plenty of charming restaurants and shops within walking distance. We took advantage of booking a massage right downstairs at the Rachman Clinic and they graciously accommodated us on a holiday. The massage was soothing and just what we needed. I can't say enough about how calming and serene the apartment was. All the essentials were provided in the kitchen, comfortable seating area in the living room, yoga mats and blocks and the bed was fantastic. We would definitely recommend to our friends and visit again.
Lorie and Jon
2016-06-02T00:00:00Z
The apartment was exactly as pictured -- serene, clean, calm, and very comfortable. It was well appointed, the bed was comfy, the AC worked well and it was quiet. The location was extremely central to everything in Black Mountain. It was an easy walk to the White Horse with amazing music, all restaurants, shops, tea parlors and to the local Saturday morning farmer's market.
Jill
2016-06-20T00:00:00Z
We loved staying at Martia's! Beautiful apartment, quiet, while still walking distance to lots of shops and restaurants. Everything was clean and comfortable!
Jessica
2016-06-07T00:00:00Z
I felt very welcomed. The host was prepared and generous with accurate info (directions, house codes, hiking suggestions). I felt the neighborhood was clean and safe within walking distance to entertainment and shops. The apartment was cozy, great bed...teetiny shower..and a kitchen sink that's a smidge challenging to wash cookware...but that goes with the cozy charm of an older modified space, and was a manageable trade off for everything else that was GREAT! I would stay there again, and I would recommend it to my friends. I had a charming relaxing weekend away.
jessica
2015-09-13T00:00:00Z
Martia helped make our little vacation perfect. The location and apartment were both fantastic. Everything was clean and the space felt cozy and comfortable. I don't have a negative thing to say.
Clayton
2016-11-17T00:00:00Z
Black Mountain, 北卡羅來納州, 美國
Private rear entrance to downstairs apartment in quiet neighborhood. Newly remodeled with all new fixtures, furnishings and appliances. Easy 1 mile walk to downtown Black Mountain.
We stayed at Penelope's Place and loved the accomodations. It was spotless, comfortable and much more than I expected. Ann was the perfect host. She had snacks, drinks and New Years Eve poppers ready for us. I would definitely stay there again. Thanks Ann!!!
Aili
2017-01-01T00:00:00Z
Staying here was one of the best experience ever. Had my Mini vacation, spent time with my son (he is a student at Montreat college) but also, metting Ann. She is a wonderful and the most attentative person ever. Not one day would pass by that she wouldn't ask if we needed anything when she would see us sitting outside the front porch of the house. It was cozy, clean, beds where super comfortable and the decor was nice.. When we arrived from driving 11 hours from Miami, she greeted us like if we where family, showed us around and even had snack, juices, and a welcome strawberry desert for us.. I can honestly say that I will defiantly stay here again as well as recommend this house to anyone that will be traveling to black mountain..
Maritza
2017-04-02T00:00:00Z
This little apartment is cute and clean. Easy to walk to town, the park, and mountain trails. The host left out all kinds of amenities and food. I would definitely recommend this place to friends and family.
Pierce
2017-02-12T00:00:00Z
Ann's place was amazing! She was very hospitable, had everything we needed, and having the two rooms with our two kiddos in tow just made things so much better! Great value all around :-) will definitely try to get there again soon
Samantha
2017-02-25T00:00:00Z
Ann was great and Penelope's place was a nice stay with clean and ample amenities!
Jared
2017-03-25T00:00:00Z
Fantastic, clean, modern, well-appointed place! The host was welcoming & available, but gave us our space. Lots of thoughtful "extras" were provided - snacks, toiletries, and even some blueberry bread for breakfast. We enjoyed a gorgeous sunrise from our patio. The location is close (but a bit long for a casual walk) to the adorable shops in downtown Black Mountain, we enjoyed a concert at Pisgah Brewing, and a short hop into Asheville. The mountain scenery is stunning. We'll be staying here again!
Christine
2017-02-18T00:00:00Z
Ann was an extraordinary hostess with the mostess! We both appreciated every bit of detail with the snacks, food, drinks, maps, soaps and even a bottle of wine! To top it off she even thought of Christmas goodies. So thoughtful. Ann creates lasting memories in a home away from home. Such a pretty, clean place with everything we needed and then some!
Linda
2016-12-26T00:00:00Z
Fantastic stay at Penelope's Place! Very clean, amenities galore, beautiful view of the mountains, and gracious host. Very pleased with our short trip to Black Mountain and Asheville.
Joy
2017-03-11T00:00:00Z
Black Mountain, 北卡羅來納州, 美國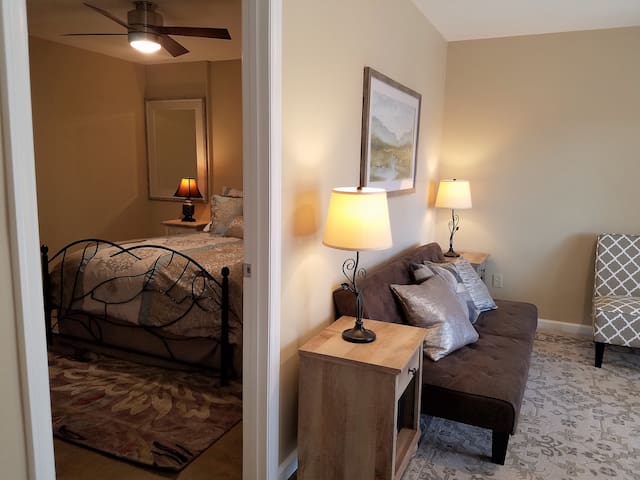 This apartment is a calm restful retreat located within walking distance to downtown Black Mountain and Lake Tomahawk. Black Mountain has wonderful restaurants, breweries and coffee houses. The apartment is adjoining the owners' home but has a separate entrance, parking and outside sitting are. The television is a 40 inch flat screen with cable. The kitchen is equipped with a coffee maker.
This is a quiet neighborhood of singles and families about 3 blocks from downtown.
Black Mountain, 北卡羅來納州, 美國
斯旺納諾阿 - Airbnb
:
在

766

位房客的評價中,平均評分為

4.99

星(滿分為

5

星)
輸入日期以查看總價格,包括其他費用,可能會加收稅費。