歡迎五星評級SuperHosts用100%的回應率 我們是一個非常友好的家庭和專業為好。敬請看到我們可愛以前客人的評論。 我們的家庭配備了更新的hardword地板,超快的無線網絡,有線電視,迷你冰箱,防風雨的窗戶,微波爐和免費飲料的冰箱。 米爾福德美麗的小鎮,有都市感,在白天和夜晚轉變為和平的輕鬆的氛圍,你不能去錯了這個可愛的小鎮。
我們想在米爾福德美麗的小鎮從家裡馬上歡迎我們的家。我們作為製作的Airbnb Superhosts承認,首次製作的Airbnb用戶可能需要一些時間來適應,享受製作的Airbnb的許多好處。這就是為什麼我們把我們的時間,以確保我們的客人是我們的首要任務。 我們家也很放心地旁邊的警察總部。這通常讓我們的客人感到非常安全,在這方面我們的很多客人已全部完成。 我們沒有任何種類的寵物在這個屬性,以便我們的客人誰是過敏shouldn't`有任何後顧之憂。 對於客人遊覽波士頓規劃,最好是停在阿什蘭T型台,並採取火車從南站位於波士頓的列車端部,你可以採取Duckboat或城市的小車之旅。波士頓是相當適合步行,氣候宜人期間建議。您還可以乘坐渡輪出一個或多個31波士頓港的,很好的方式看到城市和beachcomb。如果你把手推車他們會讓你下車,然後再打開在不同的位置,所以你可以在一個停留時間較長或步行到另一個,則仍然坐回 43分鐘黑石河獨木舟或自行車道在林肯,RI,並在賭場如果你的東西一晚;雙子河流賭場。
我們的家坐落在一個非常安全的鄰里大量的路邊停車位以及路邊停車。 我們的家也位於從495號公路,這使得它易於訪問周圍波士頓和其他主要城鎮20號出口2分鐘。 還有最優秀的當地連鎖餐廳的豐富。其中一些在Metrowest最佳dinings的實際位於街區離我們的家。 嘗試在主要街道或比薩餅廚師從字面上房子塊TRATTORIA BAR 89中央! 還有旁邊的房子的魅力難忘的經歷狂歡評審約翰尼·傑克早餐的地方。 There`也是一個目標,CVS,百思買,Big Lots的,Lowe`s等都離我們家分鐘之內。 如果你到保齡球和家庭娛樂,還有就是全新設計的Pinz保齡球館有美味的食物和氛圍真棒離我們家五分鐘。
Perfect for working away from home! One more week and then I get to be home with my family! Thanks for everything!!!
Holly
2016-11-04T00:00:00Z
Great hosts, has really helped me out for an extended stay!
Holly
2016-10-28T00:00:00Z
Ikenna was a wonderful host. He was very personable. The location was just right - near stores and restaurants. The room was clean. The bed was very comfortable and the shower was hot. He even brought up some food that they made and shared it with me during the Pats Game, which was very thoughtful. The property is located next door to the police station. I was provided keys to the outside door and my room door and I felt very safe and secure there during my stay. I am planning on staying there again next week and will continue to return during my training out here. Thanks so much for a great experience.
Raeh
2016-09-23T00:00:00Z
Ikenna was a very welcoming host who is more than happy to provide guests with the comforts of home.
Joshua
2016-12-16T00:00:00Z
Ikenna is a cool cat. I enjoyed the on demand TV, the air conditioning unit and the location. Kudos to the hospitality!
Jimmy
2016-09-16T00:00:00Z
I had to fill out a questionairre to get to this opportunity to say how my stay was. Unfortunately, I ended up not staying at all, because I fell ill, and decided it was better to be ill at home. I gave top grades for all the questions asked on the form, but I had to , to get here. It does not reflect reality, because I did not even stay there. I only did that so not to tarnish their reputation, as it is a good one and I have nothing at all to refute that. So to be fair to everyone, I did not give them any low grades. It was not their fault I did not ever get a chance to see their home, yet.
Andrea
2016-09-25T00:00:00Z
Clean comfortable and safe. Ikenna is a model host.
Boaz
2016-08-10T00:00:00Z
Ikeena was gracious and helpful!!!Amenities clean. Very convenient! Would stay again!
Nikki
2016-09-18T00:00:00Z
米爾福德, 麻薩諸塞州, 美國
Host Family Super com respostas 100% e Compromisso Taxa! Fácil de auto check-in! quarto principal com mini-frigorífico, microondas, TV / DVDs, secretária e casa de banho completa privada em anexo em um belo bairro. Nós podemos fornecer berço desdobrável para uma terceira pessoa ou um cercadinho. Próximo à I-495, I-90 e Rt. 9. Milhas de MBTA trem, Tufts Escola de Veterinária e UMass Medical. Tudo sobre família - sente em casa. Temos três meninos idades 3-10 então as coisas podem ficar barulhento. Confira nossos grandes comentários!
cama de casal com um amplo espaço, armários e banheiro privativo no bairro familiar. berço dobrável adicional ou berço está disponível para uma 3ª pessoa! A sala contém um mini-frigorífico e microondas para sua conveniência. Desk no seu quarto para trabalhar. Para entretenimento, nós fornecemos uma TV, DVD Player e HDMI para o seu streaming. máquina de ruído e ventilador fornecido para fácil dormir. Engomar também fornecidos, bem como um secador de cabelo e produtos de higiene pessoal de base (shampoo, condicionador, sabão, produtos femininos, etc). A fim de manter as taxas baixas para a maioria dos nossos clientes oferecemos faixas de taxas básicas a Airbnb. Estas taxas variam com base na duração da estadia, número de pessoas e época do ano. Nós também fornecemos serviços adicionais que você pode estar interessado em tais como: 1. Limpeza - Cada reserva inclui uma taxa de limpeza $ 15 para garantir que cada hóspede encontra um quarto bonito e limpo com roupa de cama lavadas e toalhas. Se você pretende ficar mais tempo nós fornecemos um serviço de US $ 15 / limpeza que pode ser adiantado ou discutidos no momento da estadia. Alguns preferem renunciar os serviços de limpeza adicionais e lidar com a limpeza se enquanto outros preferem os serviços semanais. Somos flexíveis e confortáveis para suas necessidades. 2. Pessoal Lavandaria - Enquanto lidamos com os lençóis e toalhas nós fornecemos acesso a uma lavadora elétrica e secar roupa para seus itens pessoais. Nós negociar um preço justo com base em suas necessidades específicas de uso e duração da estadia. Isso pode ser pré-pago como parte da reserva ou discutido no momento da estadia. 3. cozinha completa - Enquanto seu quarto é fornecido um microondas e mini-frigorífico, uso de cozinha completa pode ser solicitado antes da estadia para um depósito de segurança $ 100. estadias de longa duração que solicitam acesso regular a cozinha e uso de materiais de cozinha pode estar sujeita a taxas adicionais dependendo do uso e duração da estadia. Temos agora o quão importante uma refeição cozinhada pode ser para a alma! 4. Animais de estimação - Estamos completamente pet-friendly, mas fazer solicitar um depósito para cães R $ 100 a ser pago como um serviço extra antes de sua estadia para seu amigo peludo e uma taxa de limpeza $ 10 adicional não-reembolsável. Seu $ 100 depósito de animais serão devolvidos via AirBnB após uma inspeção de check-out se não houver dano ou reparo ocorre. Como uma nota lateral .... que exigem que você fornecer todos os fornecimentos seu animal de estimação pode precisar como itens de comida, água e resíduos de remoção (caixa de areia, sacos de cocô, etc). Animais de estimação não podem ser deixados durante a noite sozinhos - eles vão perder muito de você. 5. Nós temos uma taxa para cada hóspede adicional (para que possamos manter a nossa rae diariamente para baixo!). Airbnb será automaticamente calcular isso com base em suas entradas inquérito assim há alterações adicionais são necessárias. Para uma terceira pessoa que vai trazer uma cama twin-size no quarto para o seu conforto, a menos que não solicitou também. Nós também podemos fornecer um play-caneta para os mais pequenos, sem qualquer custo. Por favor nos avise com sua pergunta / reserva se você gostaria de nos levar até sobre a nossa oferta. Estamos disponíveis durante todo o dia para as suas perguntas e responder rapidamente. Nós sabemos que você está procurando uma bela casa para o melhor negócio assim que nós trabalhamos duro para fornecer preços justos e um espaço acolhedor para cada um dos nossos hóspedes.
安靜,非常家庭友好!騎自行車的人,跑步和散步愛我們的山和森林附近的很好的鍛煉!冬天可以在我們山上的小滑頭,所以要小心,並讓我們知道,如果你需要幫助。
Perfect
Nico
2016-10-08T00:00:00Z
We enjoyed our experience staying in Ruth's home. The accommodations were great, the bed was comfortable, and we were happy guests. She was hospitable and easy to communicate with. I would recommend this location to others. We stayed here for the Boston Marathon, and it was very close to the starting line. We also had easy access to the commuter train, making it convenient to get into the city.
Ryan
2016-04-18T00:00:00Z
Excellent room with a lot of amenities provided. The hosts were very accommodating as I got into town pretty late at night
Charles
2016-12-09T00:00:00Z
What a lovely stay we had at the O'Keefe home! Ruth and her family were so welcoming and made my boys and I feel like we were visiting old friends. The room we stayed in was very clean, private, and felt like a cozy space in a B&B. There was plenty of closet space and the private bathroom was a nice bonus. We would love to come and stay again.
Dawn
2016-04-10T00:00:00Z
This was an absolutely lovely place to stay, tucked away on a leafy little street in the quiet. The family are friendly and welcoming but I also had plenty of personal space in the well-furnished guest room. Thanks Ruth and family, give Dusty the dog a scratch behind the ear from me!
Alex
2016-10-23T00:00:00Z
Ruth has a beautiful house. The neighborhood is very quiet too. The room was clean and spacious. The only issue was the AC. It was really hot and the built in AC wasn't working well. However, Jason installed another portable AC, which worked great for us. Thank you Ruth and Jason!
Sabiha
2016-08-15T00:00:00Z
Very responsive. I booked the same day I requested and Ruth was on top of it. Great folks!
Margaret
2016-10-20T00:00:00Z
Ruth and her family made us feel at home. We could not have had a better stay than this one. The room was perfect, the location excellent and Ruth's family (pets included) simply fantastic. Would recommend this place to anyone l!
Paola
2016-07-15T00:00:00Z
Westborough, 麻薩諸塞州, 美國
Westborough的是典型的小新英格兰小镇,以其白色的教堂和殖民地房子。我们住的市中心,所以你从字面上一切5-10分钟的步行路程需要。镇中心有很多专卖店,伟大的咖啡馆和餐厅:寿司(我们的最爱),美国,泰国,中国,印度,韩国,意大利。 图书馆是一个街区之遥。欲了解更多流行的娱乐,我们在城市的边缘有12剧场影院。 短短的车程有很多设施,以适应冬季的口味和兴趣,如滑雪,冰上钓鱼;国家公园散步带,野餐区和游泳在夏季。在今年余下时间,还有树林和远足径,还有塔子山和花园式的非森林植物园。 对于那些你们谁喜欢购物,高档的Natick购物中心和奥特莱斯的Wrentham有20分钟的路程(在不同的方向但是!) 韦斯特伯鲁位于途径I-90(大众派克),路线I-495和9路镇提供的旅行,在完美的休息点的交叉点。我们从波士顿,和/或洛根机场45分钟,虽然高峰时段时间会增加。 我们的房子位于塔夫茨兽医学院有5分钟的车程,距离圣十字,伍斯特理工学院的克拉克大学的伍斯特州立大学的药剂业及健康科学马萨诸塞大学学院(WPI),贝克学院,假定学院,30分(MCPHS)。 我们还生活中的DCU中心和汉诺威剧院在伍斯特30分钟车程。大约45分钟的路程是Comcast中心,曼斯菲尔德,和巡回赛球员高尔夫俱乐部诺顿,家庭年度PGA锦标赛。 惠蒂尔康复中心是从我们家有10分钟的车程。在相反的方向十分钟就会让你的波士顿马拉松赛在霍普金顿的起跑线上。
We spend 3 nights in this lovely house well located. The confort was really good and appreciate after long day of visiting. Perfect to go to boston or visit the back country. Our host is very open and accommodating. She provided us a lot of advices before and during our trip and take time to share a glass with us. Definitely a redo if we go back there.
Gauthier
2016-06-06T00:00:00Z
Philomena's house is beautiful, comfortable, and was such a lovely respite during our road trip. The two bedrooms were light filled and beautifully decorated. She welcomed my parents, my dog, and I with recommendations for dinner and even had snacks and water waiting. It was my parents first Airbnb experience and Philomena was the perfect host, ensuring rave reviews for weeks to come, I'm sure. Philomena even dropped my father off at the train so my mother and I could get on the road sooner. Kind, lovely, helpful, and overall a great stay!
Hannah
2016-04-17T00:00:00Z
One of the most pleasurable stays I've ever had anywhere. Philomena is nothing short of a stellar host and delightful human being on top of it. She was flexible with me in every way and accommodated for any need I had. I'm 100% certain I'll make every effort to stay with her again the next time I'm up here.
Toben
2017-03-17T00:00:00Z
Great home with lovely accents. Warm and inviting. The room I stayed in was very comfortable and I slept very well for my first time there. Philomena is a wonderful hosts and full of life and positive energy.
steve
2016-01-15T00:00:00Z
Lovely home and as described, easy walk to town. Everything was clean and quiet and my husband and I enjoyed the time to read, walk and eat some good meals. Highly recommend the stay.
Jan
2016-04-12T00:00:00Z
Lovely space. Private and quiet.
Jan
2017-04-08T00:00:00Z
Philomena was an excellent host, and this was a remarkable historical home to spend an evening in with my family. Philomena was very generous with her time in the morning, and was kind enough to send us off with coffee, tea, and snacks. The house is gorgeous- we wish we had been there more than one evening!
Brad
2015-09-07T00:00:00Z
We had an outstanding experience staying with Philomena! She was very helpful to us in accommodating our arrival time. Her home is absolutely beautiful. We loved our spacious, spotless room and bathroom, and enjoyed the comfort of her very well-appointed kitchen and commodious family room. The location is perfect. It's very centrally located, just a short walk from the center of Westborough, a delightful town. Philomena was a a very gracious, generous and interesting host. We thoroughly enjoyed talking with her over breakfast and in the evening. We will definitely plan to stay at her home again.
Sue
2016-04-05T00:00:00Z
Westborough, 麻薩諸塞州, 美國
Kimberly is not only a fantastic host but turned out to be a great friend as well. At a time when my family was displaced Kimberly was so kind and considerate of all my needs. I wish I could have stayed longer because I am finding that other hosts are not as responsive, kind and considerate as Kimberly. Unforeseen circumstances have extended my displacement and I know that if Kimberly did not have another commitment she would be right there to support me and my family. Thank you Kimberly for opening your home, and your heart to me and my family. I would highly recommend staying at Kimberly's place if you are ever in need of a place to stay in the Northbridge area!
gail
2016-10-20T00:00:00Z
We had a lovely stay in the Pond View Victorian. The house was charming and exactly as described. Having the porch and yard was great with our kids. Kimberly was a very considerate host. We'll never stay in a hotel again!
Rachel
2016-08-09T00:00:00Z
The place was as described and we had a nice stay.
Eric
2016-08-01T00:00:00Z
Staying at Kimberly's Airbnb was perfect. It is such a charming home. The beds were amazing! I have never slept so well at an Airbnb before. I wish we had longer to stay.
Sandy
2016-09-26T00:00:00Z
The place was great and comfortable. The host is very responsive. I would come back soon!
Louis
2016-07-04T00:00:00Z
Kimberlys place in Northbridge was great! We had an excellent stay with my family over 2 nights. Everyone loved the very clean and safe neighbourhood with a beatiful pond right in front of the property. Kimberly has really made a good effort in keeping the place clean, provided extra bed sheets and made the beautiful front deck availible during our stay. I would highly recomend the stay at Northbridge with Kimberly and would definetly schedule anither stay at her property if I am in town next time.
Alexei
2016-06-06T00:00:00Z
The unit is the entire first floor of a charming, classic New England home in the quaint milltown of Northbridge. Two big bedrooms in the front of the house are connected with a pass-through door. A big living room, dining room and a well-stocked kitchen make you glad you chose this option over the uninspiring hotel alternatives in the area. Kimberly was responsive, friendly and proactive. I hope we were half as good as guests as she was a host! We'll be back.
Dan
2016-05-31T00:00:00Z
Kimberly is an amazing host. She is very responsive while being hands-off. She goes the extra mile to accommodate your needs, which is greatly appreciated. The house was clean and as mentioned by other guests the beds are very comfortable. The kitchen is equipped with the basic supplies for cooking and there is a lot of little extra items to start you up in case you are missing something. For those who are not familiar with the area, just note that this home is pretty far from everything. The closest supermarket we could find was about 10-15 drive. Also, the pictures show a fenced front yard but in fact there is no fence. It makes a difference when you have kids or pets, especially with the busy road where the house is located. Besides the noise of cars and trucks passing by on the road, the house was quiet and charming. I loved the sound of frogs and birds around!!!
Zuleyma
2016-09-12T00:00:00Z
Northbridge, 麻薩諸塞州, 美國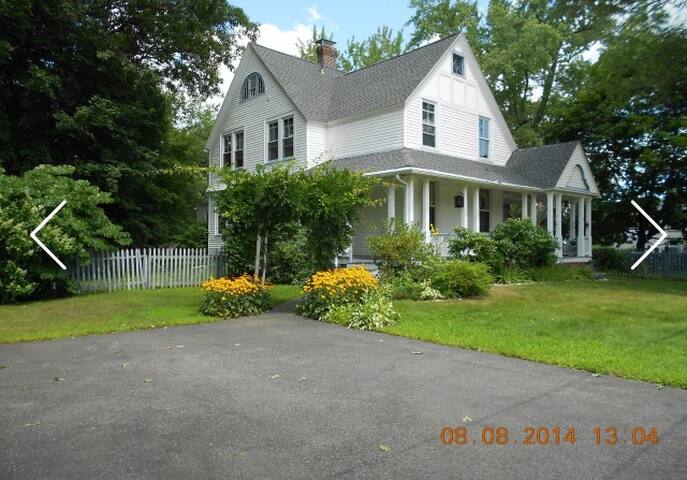 Disfrute de 1000 pies cuadrados de espacio y una muy privada puesta a vivir como los propietarios pasan la mayor parte de su tiempo en la 2ª planta. Deben gustarle los perros que tenemos dos! Somos perros. 2 noches como mínimo.
El dormitorio se adapta cómodamente a dos adultos. Recién pintado, tres ventanas grandes, y mini-nevera en la habitación. Por cable con canales de películas premium, reproductor de BluRay con Netflix, WIFI, sistema de seguridad de ADT, lavadora y secadora también está disponible para su uso. El primer piso incluye una habitación privada con cama matrimonial, baño privado, sala de estar y una cocina compartida.
Nuestra casa está situada en Millbury, MA. Millbury es una pequeña ciudad linda a unos 10 minutos en coche del centro de Worcester, a unos 10 minutos en coche de Grafton. Restaurantes, tiendas, parques, tiendas de antigüedades, mercados de pulgas, todo está cerca. Boston está a una hora en coche. Brimfield está a unos 20 minutos en coche. Disfrutar de la noche en la cubierta posterior y obtener de alguna observación de las estrellas!
Quiet residential neighborhood on s hillside. No street lights. Nice gardens, including the garden at Lisa and Mike's. The AirBnB room is on their ground floor and opens off the kitchen, as does the bathroom next door. Both are clean and. spacious. Bedroom is air-conditioned. the hosts are very welcoming and highly helpful.
Winn
2016-08-19T00:00:00Z
Lisa and Mike were really accommodative. They made me feel comfortable even though I was scared of the dogs. They were excellent hosts and I felt at home. All the supplies were kept ready including wonderful coffee.
Pramod
2015-07-16T00:00:00Z
Mike and Lisa were helpful hosts providing local information.
Frank
2016-11-22T00:00:00Z
Everything described on Mike and Lisa's Airbnb is what you get. They're a very friendly couple with even friendlier dogs. Met with Mike who let us in and gave us some snips about the place and where things were. We continued to have really good conversation about movies and music. He and my boyfriend Ryan were into similar things. They also have a very beautiful garden outside. We made dinner at their place and offered to help ourselves to anything we wanted. Very generous folks. We opted to get the couple of things needed to make dinner. We only stayed one night because of business in Worcester which was only a 10 min drive away. Very convenient location to where we needed to be. Everything was super clean and comfortable. The sheets were soft and the mattress was delightful!! I had a great sleep. I wished i had the energy to stay up and chat more but lucky me, i lost my voice from an event of talking all day... This house is a gem with beautiful decor inside. Definitely recommend Mike and Lisa's place. Great hosts and fun people.
Vicky
2016-07-24T00:00:00Z
Lisa and Mike are the perfect hosts ever! Truly kind, helpful and welcoming. The house is very nice and exactly as described. The room is perfect and they even had breakfast ready for us! I would recommend to stay at Lisa and Mike's to anyone looking to visit Boston as it is only 40 min drive away and by far the best quality and most affordable airbnb you could find. If only all airbnb hosts would be like Lisa and Mike, thanks a lot for everything!
Maeva
2015-07-18T00:00:00Z
Our stay with Lisa and Mike was comfortable and inviting. Mike greeted us and gave us the cook's tour. Our room was very relaxing, warmly decorated and impeccably clean. The private bathroom was bright, clean, and stocked with personal comfort items. We were welcome to full use of the kitchen, the living room and felt at ease in doing so. It was a pleasure to meet and get to know both Lisa and Mike. They are tremendous hosts - easy to talk to, open, friendly, and very accommodating. We definitely recommend them for anyone staying in the area. We are looking forward to our next stay with them.
Michael
2014-08-23T00:00:00Z
My husband and I spent a very brief night in Lisa and Mike's Airbnb room on our way from Boston to upstate New York. It was raining quite hard on our drive from Boston and Lisa was kind enough to call us to check to see how we were doing and warn us about the weather. She met us at the back door and showed us our room and bathroom even though she had already gotten ready for bed. I was touched by her concern and thoughtfulness. Our room was spacious and clean and the bed was comfortable. The bathroom was also clean and spacious with fresh towels for us to use. We were there in less than 12 hours, but it was exactly what we needed, a safe, clean, quiet space to sleep while on our road trip. We had an excellent experience and would totally recommend Lisa and Mike's place!
Whitney
2016-10-22T00:00:00Z
Great, clean, modern house. Nice big federal nice big bathroom, and a TV what more could one ask for!
William
2016-01-15T00:00:00Z
Millbury, 麻薩諸塞州, 美國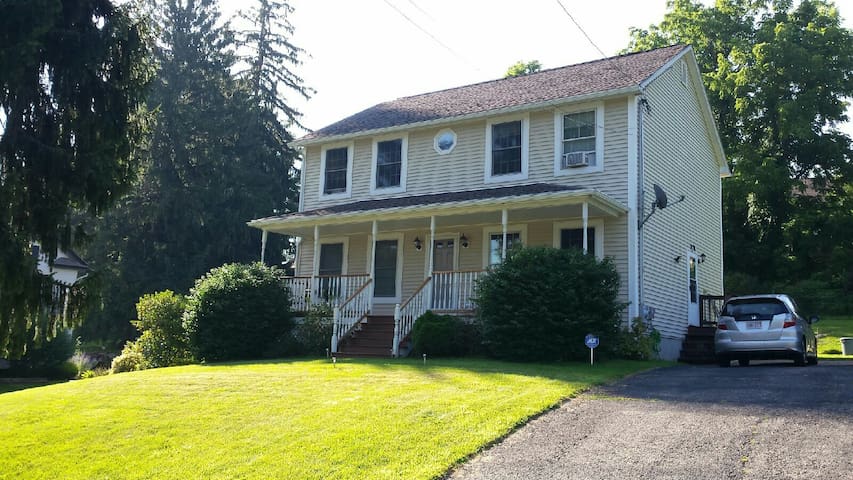 Great Location and Amazing City Views! Conveniently located in Downtown Historic Crown Hill. Hip Watering Holes, Good Grub Spots, DCU Center, Hanover Theater, St. V's, Mechanics Hall and Union Station all only 3-7 blocks away. Close to public transportation. On site Licensed Massage Therapist available, book ahead, special rate.
Historic, quiet Location VERY convenient to downtown ... it is downtown.
Historic with friendly neighbors
Karen is a dear! She made us feel so welcome in her lovely house! Comfortable beds, nice linens, third floor to ourselves. Amazing coffee (local roast, we had to go get our own!), well chosen breakfast items and she took time to visit with us. An outstanding stay!
Cheryl
2016-12-28T00:00:00Z
Probably the best airbnb I've stayed at in a while
Ricardo
2017-02-12T00:00:00Z
Karen's place was perfect for our overnight stay. Very comfortable shared living area and private room. Our room was so refreshing and spacious. I'll definitely be looking at Karen's place again if I'm in the area!
Nicole
2017-02-26T00:00:00Z
Lovely home. Very kind. Meticulous attention to detail. Great communication.
Kerry
2017-04-03T00:00:00Z
Great room and very friendly and helpful host! I'd definitely stay with Karen again and would recommend it to others!!
Meghan
2016-12-21T00:00:00Z
Lovely home and great host; nice library if you have some time on your hands.
Lani
2017-03-07T00:00:00Z
We had a lovely weekend at Karen's charming home, which is centrally located, clean, and comfortable. She's a wonderful host! The bedroom, on the third floor, has a full or queen-size (not sure what it was) comfortable bed, and the bathroom, next to it, is spacious and has soap, shampoo, etc. And plenty of towels! The bathroom is shared with another guest bedroom, which was under renovation when we arrived, so we had it to ourselves. In the sitting room on the first floor, Karen has a bottle of Port and some pizzaelles for a late night snack. We were given gift certificates for a diner walking distance from the house, as the kitchen was also being renovated, and there is a coffee maker in the room. The house is on a quiet dead-end street, so sleeping was lovely! All in all, we'd recommend this to anyone!
Jon
2016-11-27T00:00:00Z
I stayed here for 4 nights/5 days. Karen was an excellent host. I got a warm welcome, and Karen made sure that I was comfortable, and sleeping well. The room was cozy, had a comfortable bed, and the bathroom was quite roomy and well kept. Karen also gave me fruits, oatmeal, and coffee on my arrival, which was well appreciated :) There was fast wifi, and Netflix service on the TV. The place was to the downtown, and only a few minutes away from highway I-290, which made it easy to drive to my office. It was also very easy to communicate with Karen. Overall, a great experience, and I highly recommend this place.
Shivin
2016-10-09T00:00:00Z
伍斯特(Worcester), 麻薩諸塞州, 美國
Two room bedroom suite, sleeps up to 4. Comes with private full bathroom, kitchenette, TV, wifi & couch. New pillow-top queen bed and full futon. Walking distance to restaurants & train station nearby. Private access to backyard patio and grill.
There is a private entry from the patio into the sitting room, which has a new full sized futon and a desk, with a chair. Separated by a half wall is a bedroom which has a TV, couch, and new pillow-top plush queen size bed. Linens, towels, and hair dryer are provided. A window air conditioner and fan are included. The space also includes a kitchenette, equipped with a sink, small refrigerator, microwave, toaster oven and Keurig coffee maker. A private full bath is upstairs, separated from the main house by a French door. Free WiFi access is available. You can share our outdoor patio, including the gas grill. Located in the center of town, there is free, off street parking. The train station, with service from Worcester to Boston, is within a 10 minute drive. The historical Grafton Inn pub is with in walking distance. Chinese, Mexican, American restaurants and the supermarket are within a 10 minute drive
We live in the center of town, a short walk from the historic Grafton Common. During the summer and fall months the town hosts a farmer's market every Thursday on the Common. During the summer there are concerts on the Common weekly. The Common is flanked by a charming Grafton Country Store and Café, the historic Grafton Inn and Restaurant, the Public Library, and Post Office. The Country Store is now also serving ice cream. Several restaurants including American, Chinese, and Mexican fare are within 2 miles. The Highfields Golf and Country Club is within 1 mile
This was an ideal Airbnb stay. Polite, hospitable host family, who helped us get our bearings in the Worcester/Boston area quickly and gave us some sight-seeing tips, along with a perfect lodging experience. I stayed here with my two teen sons, and there's legitimately room for 4 or 5 people. The sleeping quarters are essentially a mother-in-law suite and very private from the rest of the house. The queen pillowtop bed was extremely comfortable; my 17-year-old enjoyed the double futon; and my 13-year-old called the couch home—and comfortable. In addition, when we arrived, fairly late in the evening, all of the beds, including the couch, were made and ready for us to sleep. There's a private bath, complete with linens, soaps, and shampoos, and a kitchenette, with mini-fridge, sink, and toaster oven. If you're an Airbnb'er who wants a full kitchen and wants to cook full meals, this probably isn't the best bet for you, as there's not access to the kitchen, pots and pans, etc. But otherwise, this is a perfect setup. Clean, comfortable, and very quiet. Throw in the bagels, English muffins, butter, and cream cheese that Dave & Anne provide, plus the convenient location about 30-45 minutes west of Boston (easily accessible to the Mass Turnpike), and this is an outstanding place to stay. Grafton, by the way, where you'll find Dave & Anne's place, is a quaint little New England town. Classic Americana.
Brett
2015-07-09T00:00:00Z
For a first-timer on Airbnp, it was a great experience really. We enjoyed our stay and was looking to stay longer. Such a good-looking house in a great location. Good job with the decoration from the inside (living room & kitchen) and the outside (patio and backyard). Moreover, hosts Anne and Dave are very kind and they would always make sure their guest are happy. I am glad I met them and wishing them the best.
Saleh
2015-05-02T00:00:00Z
Dave and Anne's place in Grafton is lovely. The suite for guests is roomy, airy and quite private with a door connecting to a spectacular garden. The town of Grafton is charming, as well, and nearby Worcester, where we were watching crew races, is easily accessible. Our hosts were very helpful and accommodating and when we are back in the area, we'd love to stay here again.
Pamela
2015-05-19T00:00:00Z
This place is excellent and even larger than I expected. Dave and Anne were wonderful hosts and very accommodating and helpful. I couldn't have asked for a better place to stay while I settled in to my new job in Grafton. I would highly recommend staying here, especially for an extended stay.
Jaimie
2015-12-20T00:00:00Z
Staying with Dave and Anne was so nice! The room is so spacious and clean with everything you could need! I enjoyed eating breakfast on the back porch, it was nice and quiet. Neighborhood is quaint but has all of the stores you would need very close by. Dave and Anne were so welcoming and willing to help with anything! I really loved staying with them!
Larissa
2015-06-10T00:00:00Z
Dave & Anne were wonderful hosts! Everything was so well thought out, private and so very clean. My 20 year old son, when first hearing about AirBnB, thought it was "weird" but he said afterward it was "VERY nice". By the way, this space is in the basement, but my son is nearly 6'4" and he didn't have to duck his head. Also, if you have trouble going up and down stairs, this may not be the place for you, however, I use a cane to assist in walking and I navigated the stairs just fine. The outside patio was lovely and inviting, and Anne made sure we even had bottled water - a lovely touch! The coffee maker, the bagels, the EVERYTHING - a home away from home. This was our first stay with an AirBnB host and we felt that we scored a winner our first time.
Helen
2015-07-12T00:00:00Z
My experience was wonderful and decided to extend my stay a couple extra weeks. I highly recommend staying here.
Jaimie
2016-01-17T00:00:00Z
Anne and Dave added personal warmth to their professionalism. We felt welcomed and respected. The space was so clean and well organized. We had complete privacy and access to all we needed including a special touch of tea and coffee. We were allowed access to their comfortable back garden and they made sincere efforts to keep their cat at a safe distance. Their children, both of whom stood up when introduced (!) were also friendly and inviting. Their son offered us directions to the train station with impressive detail. We highly recommend this Airbnb.
Simeon
2015-06-21T00:00:00Z
Grafton, 麻薩諸塞州, 美國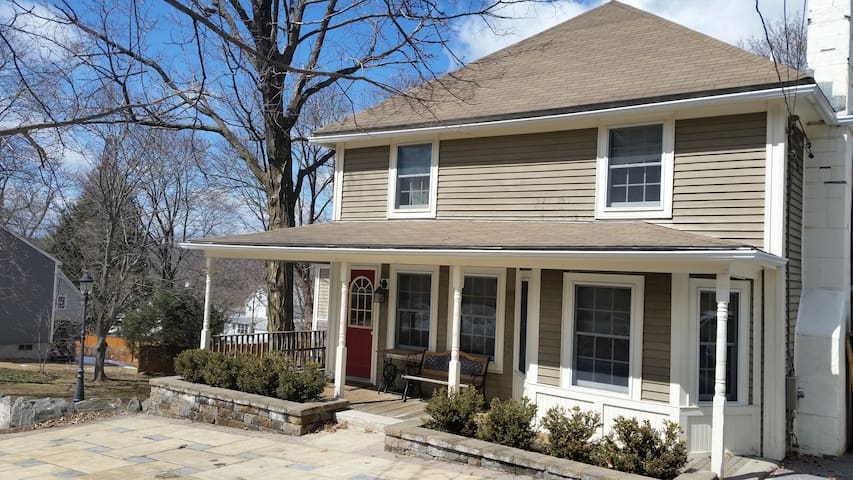 suite privada con una entrada independiente, a 5 minutos de la Escuela de Medicina de la Universidad de Massachusetts, 10 minutos de tobas Escuela de Veterinaria, a 5 minutos del Centro para la Atención. 30 minutos de Wachusett Mountain Ski Resort, a 1 hora del centro de Boston, Harvard, MIT. Cómodamente con capacidad para 3 personas. Una cama de matrimonio y un futón. barrio tranquilo.
Es un muy buen tamaño habitación con todas las comodidades que usted necesita para una estancia confortable, una mesa al aire libre para relajarse y sus bellos árboles maduros.
Ubicados cerca del centro de la ciudad de Shrewsbury con muchas opciones gastronómicas locales. el mercado del granjero encantador justo en la esquina.
The host canceled this reservation 4 days before arrival. This is an automated posting.
William
2016-12-22T00:00:00Z
Great private getaway, only 25 minutes from Mount Wachusett. Communication was great and easy. I would recommend Jane's place to anyone.
Paula Grey
2017-01-16T00:00:00Z
I stayed in Jane's basement suite for nine days and had an excellent experience. Jane is welcoming and kind far beyond expectations, and the suite itself is very comfortable, quiet, and well-equipped with full bathroom including toiletries; refrigerator; microwave; free coffee, tea and snacks; cable TV; wifi; fans; and an accessible treadmill. Highly recommended!
Bradford
2015-09-03T00:00:00Z
Everything was as described: Very clean, private, and very well equipped. Communication was flawless. As soon as I announced my arrival, Jane made sure I knew how to get access to everything . Parking in front of the building was without a hick-up and the neighborhood is very decent and quiet. No hesitation in going back for a stay at the very next opportunity.. Thanks for having me, Jane.
Eric
2016-09-30T00:00:00Z
My boyfriend and I had a great time at Jane's place. The location is great, very near route 9 and 290, and the atmosphere made us feel at home. You could tell that the space was decorated with care. We were provided with complimentary tea and bathroom necessities as well as plenty of towels which is always a good thing! Check out and in was very easy and it was a very private space. I recommend it!
Sophia
2016-09-13T00:00:00Z
A private suite to yourself with a mini fridge and a very comfy bed. Check in and checkout were super easy. I real treat. Super fast wifi as well.
Peter
2016-07-01T00:00:00Z
I booked the room one weeks for my parents. The room is exactly as what described on the airbnb. It is clean and comfortable. Jane is warm and considerate. Highly recommended.
Linda
2016-07-21T00:00:00Z
I was greeted with a plate of fresh fruit left in my room for me, frequent messages inquiring if I needed anything, there were so many thoughtful inclusions for my comfort placed in the 'guest suite.' The bed was VERY comfortable. The neighborhood was quiet and Jane had a beautiful patio set up right outside my private door. There was a 'farm to table' market and bakery nearby. Truly a 'home away from home.'
Judith
2016-05-13T00:00:00Z
什魯斯伯里(Shrewsbury), 麻薩諸塞州, 美國
Um dos três quartos disponíveis com casa de banho partilhada nesta casa colonial de 1920. Lindamente jardim paisagístico, deck enorme, ea casa está centralmente localizado em Shrewsbury, com fácil acesso às principais estradas, Worcester e Boston. Excelente localização para famílias, casais e viajantes individuais. Pequeno-almoço incluído. Um schnauzer amigável vive aqui também, e ele é ótimo com as crianças.
Had a wonderful time at Mary's house. They are all super friendly and always make sure you've got everything you need; cofee really good too. Would 100% recommend it to anyone looking for a great bnb in central mass.
Simen
2016-10-05T00:00:00Z
We had such a good experience here, Mary is such a welcoming host!
Anna
2016-11-13T00:00:00Z
We stayed for three nights in Mary's beautiful home. For us it has been the perfect location to start our trip to the Worcester area. Not only because Mary was the perfect host, but particularly because she provided support and many helpful information, which were far beyond the scope of a usual Airbnb host. I hope to meet her again soon ...
Sebastian
2016-09-03T00:00:00Z
Great place
Ned
2017-02-17T00:00:00Z
Clean, warm and Comfortable. A great Host with a location easily commutable to UMass Medical School
Brent
2017-02-09T00:00:00Z
An excellent place to stay
Brent
2017-03-02T00:00:00Z
Fantastic Host. Wonderful Place to Stay.
Brent
2017-03-30T00:00:00Z
Fantastic
Brent
2016-12-22T00:00:00Z
什魯斯伯里(Shrewsbury), 麻薩諸塞州, 美國
Our home is on beautiful Webster lake. The home overlooks the lake and is surrounded by conservation land. There are two queen size bedrooms which accommodate 4 people, The bedrooms overlook Webster lake . The area also includes a large private bath. an airbed is available for additional person if needed. Our home is located 20 minutes from Worcester, 1 hour to Boston, and 20 minutes Sturbridge.
There are two queen size bedrooms that accommodate 4 people. Luxury new mattresses and bedding and beautifully decorated. The bedrooms look over Webster lake and the Marina. The bathroom is large and private. An airbed is available for additional person if needed. A portable crib available for the young ones The front deck is available for guests enjoyment
It's a very private street with homes that abut Webster lake. The house is surrounded by conservation land. Very peaceful
We stayed with Susan to be at Family Weekend with our oldest daughter at Nichols College. It was perfect for our stay. The rooms were very nice and one had an awesome lake view. We spent two nights and enjoyed the nice muffins and breakfast treats. Susan recommended a nice place for us to eat on Friday. I would recommend Susan's place to anyone.
Robyn
2016-09-25T00:00:00Z
I had the pleasure of staying at Susan's over Labor Day weekend. It was my very first Airbnb and I'm hooked!! My accommodations were immaculate. I felt very comfortable. I never slept so good! Susan is an amazing host and was available if I needed anything. I kayak and lake access was just around the corner or a short drive around to the beach on Webster Lake. There was pastry, fruit and juice each morning and a fire pit outside to enjoy at night. Thank you for making me feel so welcomed Susan. I can't wait come back!!
Beth
2016-09-04T00:00:00Z
Susan was a wonderful hostess. I stayed at the house for three nights for a rowing regatta in Worcester. The space is basically the upstairs addition to her home. It was new and very clean and had all of the amenities I could have hoped for. And it was only a stones throw from the water views in the pictures. Susan was very accommodating of my schedule, which I really appreciated. And she made every effort to ensure I had a wonderful stay (which I certainly did). Webster is a very nice area, and I am really glad I found this place.
Richard
2016-08-22T00:00:00Z
Susan is a great host. The apartment is lovely and comfortable. I would definitely stay there again.
Jenna
2016-10-10T00:00:00Z
We loved staying here. Susan is overwhelmingly helpful and a heartwarming great host. We arrived late and Susan offered us a snack and breakfast at the next day. That was so nice from her, we couldn't believe it. She made our first night in the US very special. The bedrooms are very comfy, everything is new and clean. I loved the nightlights, which lead you to the bathroom at night.
Julia
2016-08-24T00:00:00Z
Very nice place. Would recommend or use in the future.
Christopher
2016-11-20T00:00:00Z
I can't imagine how Susan could have tried any harder to insure our stay was as best as possible. Breakfast was always fresh and more than ample. We spent several hours during one evening talking around an outdoor barbecue. Simply enjoyable. Susan and Mike are great hosts and open to any question or concern. We hope to pay them the best compliment by returning when we get a chance.
Mike
2016-09-23T00:00:00Z
My stay at Susan's was very comfortable. Definitely recommended!
Mark
2016-10-09T00:00:00Z
Webster, 麻薩諸塞州, 美國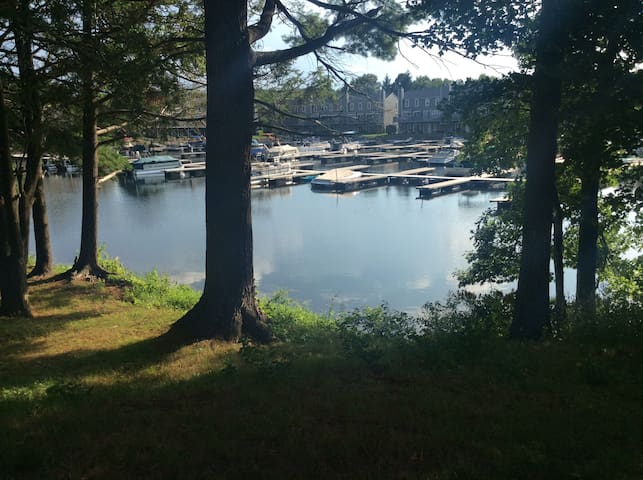 This Room/Suite is a private space with its own entrance and parking space. Its a Clean, Efficient, Bright Cozy Space, Nothing Shared, these Amenities are all for you in YOUR Private Suite! Semi-Private Entrance Bathroom, Sink/Shower/Toilet Murphy Bed (Double Bed) w/Hide a Desk/Table 32" Smart TV Mini Fridge with Freezer Microwave Toaster Oven Keurig Coffee Maker Single Burner Cooktop Wireless WiFi (secure guest log in) Lite Off Street Parking In room heat thermostat Personal A/C
This is a nicely outfitted Studio Room. The amenities listed are all yours to enjoy, not shared. It has a semi private entrance through my garage were I park my car. The room entrance is right off the garage. The parking space is at the end of my driveway. Lite with motion detecting floods and off the street. you can come and go as your please.. The Murphy Bed does take a little effort to stow and deploy.. it does have a counter weight system to make it easier.. You also have access to a Washer and Dryer For My long term Guest I offer 2 sets of sheets, 7 bath towels, 7 face clothes, 7 hand towels, a Small Vac/Swiffer and cleaning products.
The Mini Studio Is located in a nice middle class neighborhood.. Nice people, quite.. on the outskirts of the city.. Most all the homes around me look about the same as mine. They were all built around the same time by the same builder.. it has easy access to most major stores (5 to 10 minutes) grocery store, dry cleaner, etc.. less then 5 minutes away. Its also has easy access to major highways ((PHONE NUMBER HIDDEN)-mass pike) less than 3 miles..
The room was as listed. Richard was very helpful and attentive, even when I lost the key. I would recommend the room and host to any of my friends.
Raymond
2016-04-21T00:00:00Z
Richard was very welcoming and I'd highly recommend this space. It is very clean, new and comfortable. As advertised, it is a small space, but the layout and accommodations are fantastic! The murphy bed is very easy to pull down and stows easily making a great office space to get some work done. The location is easy access to all major freeways, as well as a short drive to restaurants/bars in Worcester.
Ryan
2016-05-18T00:00:00Z
He took the time to thoughtfully go over the details of the space.
Irene
2016-07-28T00:00:00Z
Richard was an awesome host and the space was awesome! Everything was extremely well thought-out in the construction on the room, everything has a place and a purpose. I stayed for a little over a month and the room has everything you need very similar to the Tiny-House movement. Would definitely stay here again.
Brandon
2016-09-17T00:00:00Z
Richard met us when we arrived and showed us everything we needed to know. There is a notebook with information on local attractions. He even includes bus schedules. The room is a small but complete studio apartment, including a microwave, a toaster oven, a coffee maker, a fridge and pans. We would definitely stay here again.
Richard
2016-10-03T00:00:00Z
Rich is a wonderful host! He is communicative, considerate in the amenities provided, and was very helpful. The apartment space is lovely, it's immaculately clean and very comfortable. Wished we could have stayed longer!
Amanda
2016-09-25T00:00:00Z
Host really welcoming. Met us and gave us the key as soon as we pulled up. Room is quaint. Bed is comfy considering it folds out from the wall. Bathroom is narrow but fits a shower and toilet. Sink is outside in the room. Provided snacks and coffee. Great price considering the price was less than half of the cost of the cheapest hotel in Worcester. Great experience!
Molly
2016-05-08T00:00:00Z
This was great... all as advertised and Rich was an excellent host. The room is small and really nice, and was exactly what we needed for our stay. Would definitely recommend it to others.
John
2016-05-01T00:00:00Z
伍斯特(Worcester), 麻薩諸塞州, 美國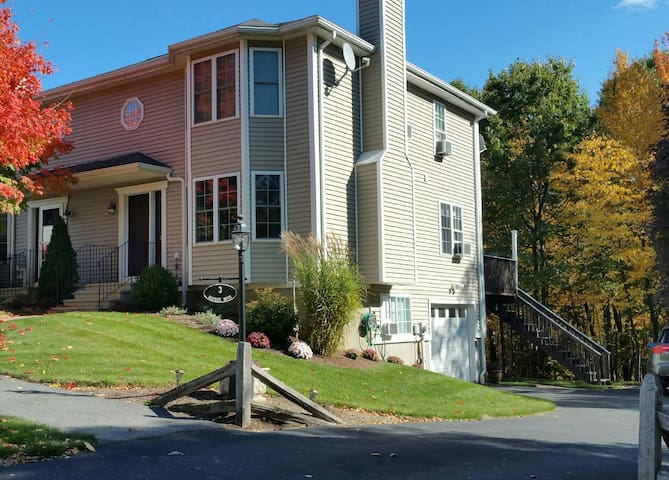 De victorianske Quarters har egen indgang, er tæt på I-495 og SR146. Private 5 acres, nær downtown, komplet køkken, privat soveværelse med kingsize-seng, stue med trille seng, der nemt gør i to tvillinger. Fuld bad med siddebadekar. Den victorianske er perfekt sted at komme væk fra det hele. Deltag i på vores ugentlige kunst klasser, fe haven begivenheder og mord mysterier i efteråret! Den victorianske handler om kærligheden til rejser, eventyr og den vidunderlige verden af kunst. Slut dig til os snart!
De victorianske Quarters er beliggende inden for James F Whitin Mansion nær downtown Whitinsville. Den naturskønne Mumford floden gåtur er placeret direkte på tværs af gaden fra palæ. To cykler er til rådighed, hvis du vil har lyst til en tur downtown at snuppe en bid at spise, eller besøg vores smukke historiske by bibliotek og andre historiske bygninger eller gøre lidt shopping i byen. Kajakker kan være til rådighed til at låne, hvis du gerne vil nyde Mumford-floden helt tæt. Snup en fiskestang og prøve lykken i Linwood dam, som er placeret på ejendommen. Der er mange antikke butikker i Blackstone Valley-området og Rebecca ville være glade for at give dig retninger og fortælle dig om hendes foretrukne steder. Den Wrights har rejst meget og nyder at møde folk fra hele verden. Den victorianske er en oplevelse du ikke vil glemme. De victorianske Quarters indeholder et komplet køkken, stort badeværelse med bruser og en dejlig badekar. Ekstra tæpper, toiletartikler, hårtørrer, krøllejern, ... ting, du måske har brug for en nat væk. Hvis du er interesseret i at se den historiske bibliotek og andre dele af palæet, kan en tur arrangeres. Hvis du foretrækker dit privatliv bare lade os vide, og du kan komme og gå uden at skulle tale med en sjæl.
Forankret stille og roligt i vores lille by i New England, har The Victorian været hjemsted for mange mennesker og begivenheder og havde en enestående rolle i byens historie. Arkitekturen i denne bygning er både smuk og dragende. Det er store rummelige værelser eller anden måde er hyggelig og indbydende. The Victorian nu åbner det døre til kreative hjerner ved at tilbyde kunst klasser. The Victorian tilbyder en række maling klasser og gruppe maleri arrangementer! Der er en dejlig bistro åbner snart kun et stenkast fra palæet.
Wonderful apartment and host!!! The apartment felt luxurious and is beautifully decorated. Rebecca was extremely helpful and nothing was too much trouble. Thankyou Rebecca for making our honeymoon so special!!! We loved our stay there and would definitely return!
Emma
2015-10-30T00:00:00Z
I booked this for a couple that was visiting the area. That were very happy with the accommodations and more than they expected. Full kitchen, bedroom, sitting room and bath were very comfortable. Rebecca was very kind and helpful.
Paula
2017-03-06T00:00:00Z
When we drove up to the house on a dark October evening, it was like driving into a Sherlock Holmes novel- beautiful and almost mysterious. The place is shrouded in history and we appreciated the host's efforts to keep everything as authentic as possible. Rebecca and her husband stayed in touch with us since we got off the plane and helped us to find local places to eat and coffee the next morning. Everything on our stay was great and we even got a tour of the barn and green house. We will be back for sure.
Yelena
2016-10-23T00:00:00Z
Rebecca was amazing and her house was incredible. I got married in uxbridge and used the Victorian for me and the bridesmaids the night before the wedding. She was SO accommodating and happy to always help however she could. It was the perfect spot to get ready with the girls and take photos. I highly recommend staging here :)
Kayla
2016-08-15T00:00:00Z
How does one describe a combination of European Style and New England Charm? The apartment is exquisite- wonderfully comfortable bed, fully stocked and immaculate kitchen, and the ambiance that goes along with the gracious living of a century ago. Hope to return!
Liz
2016-04-23T00:00:00Z
I have a client in central MA, and I am tired of staying at chain hotels that are miles away from the office. I went on AIRBNB to see if there was possibly anything in Whitinsville, the site of the office. I found The Victorian Quarters. I could walk to the office, among other things, which made me very happy. I could not believe the place when I arrived: to say it is fabulous is understatement. The "Quarters" is very comfortable and spacious--big bedroom, huge kitchen/dining area, large bathroom, and a sitting room with a flatscreen TV and a place to veg out. Rebecca had left two cupcakes--very nice--and she met me when the car service dropped me off. She was amazingly attentive, treating me like an honored guest. The large house itself, The Victorian, is breathtaking, and the grounds are delightful. I enjoyed walking everywhere, although Rebecca always offered to drive me. There is no doubt in my mind that I will stay here again when I come back to the area. I have already spread the word to people I work with, who had no idea what was right down the street. Just a wonderful experience! Rebecca and Delain are delightful hosts and marvelous human beings.
Pat
2016-10-14T00:00:00Z
Stephen
2017-01-12T00:00:00Z
Rebeca was an awesome hosts with Great positive attitudes, and very friendly. didn't have a lot of time to spend there, but highly recumbent them and the Victorian Quarters.
Susan
2016-08-19T00:00:00Z
Northbridge, 麻薩諸塞州, 美國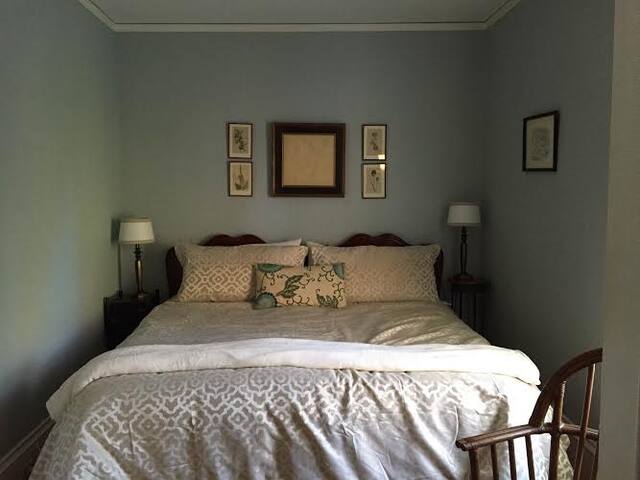 We offer a newly renovated private room with attached private bathroom with hardwood floors, queen bed, table, 32 inch LCD TV with Apple TV, WIFI
It's a historical home, completely renovated with all modern decor and amenities, situated close to downtown in a quiet residential neighborhood
Safe residential neighborhood on a hill with beautiful big trees. Half a mile to all major shopping (groceries, restaurants, markets). 2 miles from downtown MBTA station and Shrewsbury street with all its restaurants, and theater district. 1 mile from Worcester Art Museum.
I had a fantastic and restful stay at Alex and Robson's beautiful home. They are so friendly and genuine, I really felt at home. I had some great conversations with the both of them and they are awesome to get to know! Thank you for being great.
Natalie
2017-02-16T00:00:00Z
The house is spacious and decorations are very nice, Alex and Rob make you feel like home and they are great hosts, they are very friendly and they take care of your visit.
Luis
2017-02-14T00:00:00Z
Everything about this place was so amazing. I was a little hesitant since it wasn't a full apartment to myself but there was so much privacy. Everything about the space was beautiful and the hosts were so nice.
patricia
2017-03-27T00:00:00Z
It is a great house. very clean, quiet and comfortable. Alexander was great, had to wait for me for 2 additional hours and even provided coffee in the morning. will definitely recommend for anyone traveling to worcester. Thank you
Howayda
2017-02-22T00:00:00Z
Alex and Robson were amazing hosts. I stayed at their place for three weeks to attend a medical clerkship at the University of Massachusetts Medical School. It's with great pleasure that I write a review about them and their place is Worcester. The house is pretty well located in a quiet neighborhood, easily accessibpe through at least two highways. Supermarkets, restarutants, gas stations and other stores are located at walking distance (15 min away). The house is extremely quiet and the place is very neat. They have washing machine and dryer machine, as well as dish washer. The fridge is very espacious and you will definitely find room to place your food there. The room is located in the third floor is extremely quiet and very comfortable. It has an Apple TV with multiple channels. You will definitely find place to store your luggage. Alex and Robson are extremely nice and amazing hosts. You will for sure have a great time staying at their place.
Thomás
2017-03-19T00:00:00Z
Alexander was a great host with an absolutely beautiful home! I would definitely recommend staying here! The location was so convenient, with everything needed just a short drive away. Thank you!
Stephanie
2017-04-07T00:00:00Z
伍斯特(Worcester), 麻薩諸塞州, 美國
Very nice place,close to many colleges and downtown ,easy access to all mayor hospitals and many Malls,,The room has a lot of space with a Queen size bed that fits up to two persons,this room also has a microwave,coffee maker and a small fridge,,
This room has a lot of space with a Queen size bed that fits two people,also there is a microwave,coffee maker and a small fridge
Safe and friendly
Enjoyed comfortable stay in a large bed-room in a quiet neighborhood. The room is very spacious, furnished with a small fridge, large dresser, chair/table, closet etc., has two windows and is located on the first floor, affording privacy while Cesar's folks stay down stairs. Cesar was very responsive and everything went smoothly. He is helpful in guiding about local restaurants etc. Will definitely come back and stay here if visiting Worcester.
Gummadi
2017-04-02T00:00:00Z
伍斯特(Worcester), 麻薩諸塞州, 美國
Very warm and accomandating host. Front door access to a very welcoming family living situation.
Mary
2015-10-30T00:00:00Z
Linda was a wonderful host and made me feel quite welcome for my four night stay. Very quiet home and neighborhood, extremely comfy bed. She provided whatever I needed for my early-rising breakfast and the run of the kitchen. Beautiful kitties who stayed outside while I was there--not that it would have been a problem if they'd joined me. I would highly recommend LInda's accomodation to anyone.
belinda
2011-10-13T00:00:00Z
Linda's house is so great, located in a woods. She is so kind that she prepared the camping fire in her backyard, and we had a good time that evening. The next morning she also cooked breakfast for our family.
Xinxin
2016-08-03T00:00:00Z
Linda is wonderfully welcoming host who provided a warm atmosphere and wonderful nourishment of body and mind. It was splendid to learn about invasive plant species and a new kind of Scrabble, followed by a warm apple cobbler. The smell of fresh baking filled each of my two mornings with Linda and accompanying a sustaining breakfast. The bedroom was generously sized, with plenty of space for my own clothing, and the bed was, indeed, cloud-like. You couldn't find a better place to stay!
Alexandra
2012-12-08T00:00:00Z
My partner and I, along with our four children, stayed with Linda for four wonderful days! She was a wonderful host; brilliant and considerate with the children with lots of great ideas of things to do as a family. We had a fantastic time in Massachusetts - mostly down to Linda and her families suggestions. Great hikes, berry picking, swimming in lakes and the kid's favourite: roasting hot dogs and marshmallows by the camp fire! Many thanks for your wonderful hospitality, Linda. We will always have very fond memories of our time spent with you in Massachusetts - and so will our children!
Lucas
2015-08-18T00:00:00Z
We stayed at Linda's house when we visited Boston for a kids' badminton tournament. We had a pleasant stay and the kids enjoyed their breakfast each morning. While Linda was not home to receive us, she got us the help we needed. Given our short stay and shorter hours spent at the house, we didn't get to explore the house completely. But, I could see it has a lot to offer.
Kondala Rao
2016-10-10T00:00:00Z
Linda was really great to us. She fed us delicious breakfasts and was very hospitable. She fed my parents dinner the night they arrived! It was like staying with family. She pointed out the good spots to go walking in the area, and offered some local restaurant suggestions. We were in the area for a wedding, and our family of my parents and us two adult children were well taken care of. This fit our needs perfectly.
Brenda
2016-11-13T00:00:00Z
Linda is really a kind person and the house is old and so quiet. If you don't mind to share the house, bathrooms, kitchen, etc, with your host, you will enjoy the location, in the middle of the forest, and the 2 sweet cats.
Sonja
2016-09-01T00:00:00Z
米爾福德, 麻薩諸塞州, 美國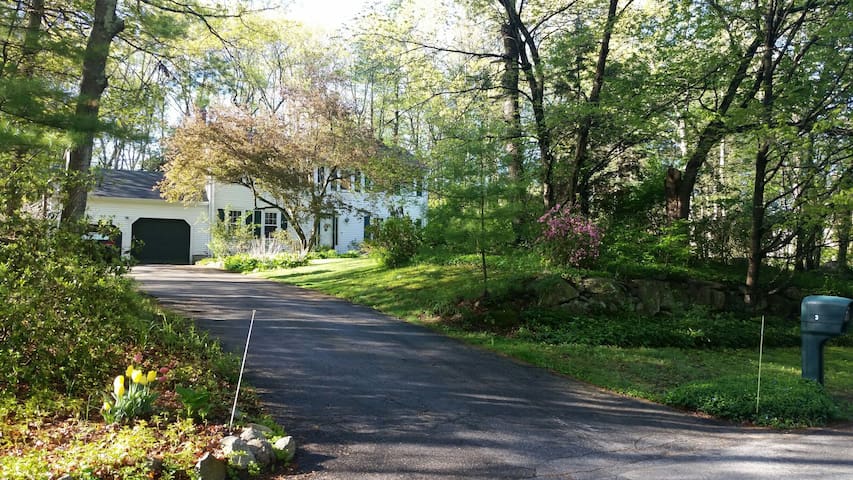 Ya sea que usted necesita para mantenerse en MA central para una noche, un fin de semana o unos pocos meses, se puede encontrar este espacio en nuestro hogar privado y agradable. Acceso a las principales carreteras MA (rutas 20, 9, Mass Pike, 495 y 270) están muy cerca, este listado es muy conveniente.
habitación privada en un encantador estilo de Nueva Inglaterra 'Cape Cod', residencia moderna en un tranquilo callejón sin salida escondido detrás y por encima de la ruta 20 cerca del centro de Northborough, a sólo unos minutos de las principales carreteras MA incluyendo las rutas 495, Mass Pike (90 ), carretera 290, la ruta 9 y 20. El alquiler es una habitación privada con separada baño / ducha, inodoro y lavabo y un aparcamiento gratuito para un coche. La habitación está equipada con un tamaño queen cama, escritorio y armario. WiFi incluido. A pasos de la Ruta 20 y un Dunkin 'Donuts, a cuatro millas del centro comercial Town Center Northborough (Starbucks, Wegman, BJ, Dick y de otras tiendas finas docenas). También estamos cerca de diez millas de la Worcester (pronunciado 'whu-ster') centro de la ciudad, la Universidad de Clark, Worcester Polytechnic Institute, Universidad de la Santa Cruz y el Colegio de la Asunción. Nuestra casa está a sólo cuatro millas de la Westborough se detienen en el tren del viajero de Worcester (aparcamiento es de $ 4 / día) poniendo a los visitantes por hora de la famosa estación del sur de Boston y los lugares y actividades disponibles en el centro de Boston. Providence, RI es sólo cuarenta minutos en coche. Nuestra casa es muy privada y muy céntrico, a pocos minutos de las vistas y sonidos de Massachusetts y Rhode Island urbana. Ofrece un cómodo respiro de vida ocupada y días pico. NUEVA EN OTOÑO 2016: para los clientes que requieren otro dormitorio o dos, pero están dispuestos a compartir el baño, que pueden presentar una oferta especial para una cama de tamaño completo en otra habitación, y ni una robusta litera en un tercer, cuarto separado. Cada una de las habitaciones extra es de $ 39 / noche y sólo está disponible al hacer la reserva, junto con la habitación de invitados. Pregunte por nuestro 'Oferta especial' para obtener más información.
Una de las mejores características de la vida en Northborough es mayor tienda de Wegman de Nueva Inglaterra. La primera en MA, y la más grande tienda de comestibles en el estado, mi marido dice que esta tienda de comestibles es 'el tipo de tienda de comestibles que Walt Disney habría construido si quería estar en el negocio de la alimentación. Estamos a sólo unas pocas millas de restaurantes de comida rápida, incluyendo Dunkin'Donuts (a pie), Chick-fil-A, tres McDonalds, Starbucks, Wendy, Burger King, Ihop, Qboda y el metro. Cerca de restaurantes tradicionales incluyen (hecho rápido: en todo el mundo sede central se encuentra en Northborough) de Bertucci, taberna-in-the-Square, la tienda de comestibles de Wegman con buffet, Romaine del, CJ Steakhouse y muchos otros. En el extremo oeste de la ciudad, el centro comercial al aire libre Northborough Crossing comprende BJs, Michaels, Artículos deportivos Dick, Goldsmith y muchos otros minoristas nacionales. En el extremo norte, el clásico Solomon Pond Mall cuenta con una tienda de Apple, el teatro Regal, Sears y Macy.
Anne and her husband, Peter, were very welcoming. Their home is lovely, comfortable, and clean; and the neighborhood is quiet.
Jobim
2014-08-18T00:00:00Z
I felt at home and comfortable with both Anne and Peter. Really nice folks. They are quick to respond to inquiries. Their listing accurately describes the space. In fact, the house is nicer than I expected. I will stay here again.
Charles
2016-07-23T00:00:00Z
I had a very comfortable experience staying here. The bed was great, it was fabulous to have my own bathroom, and the hosts were very friendly. I would highly recommend it.
Bonnie
2016-08-31T00:00:00Z
Anne and Peter were very welcoming and friendly. Their house is very nice and in a lovely quiet neighbourhood. Lovely clean room and bathroom and Anne's breakfasts were great. I wouldn't hesitate to recommend :) Thanks Anne & Peter!
Ben
2016-05-28T00:00:00Z
We loved our stay here. Anne and her husband were amazing hosts! It feels like we've just stayed with life-long friends. We had our private room which was across the hall from a private bath. The accommodations were wonderful. Breakfast was ready on our schedule and we shared great conversation around the breakfast table each morning. Anne had wonderful suggestions for us... things to see and where to find the best bargains and where to find the cheapest gas! I would highly recommend these folks.
Kathleen
2012-08-21T00:00:00Z
I had the pleasure of staying with Anne and Peter over the weekend when I was in town for a friend's wedding at Tower Hill Botanical Garden. The home is clean, lovely, and comfortable. We flew in on a red eye from the west coast and Anne and Peter were very flexible with our check in time which was greatly appreciated. She made us a delicious breakfast both mornings and gave us great advice on the local area. We returned back to the home late both nights due to wedding festivities but Anne and Peter were very understanding (they always left the lights on for us). I highly recommend staying with Anne and Peter if in the area!
Julian
2016-05-24T00:00:00Z
Wonderful experience. Anne is a great host and she takes care of people. Nice and clean house with a lovely family!
Meng
2013-08-29T00:00:00Z
We really enjoyed our stay with Anne and Peter. When we arrived, Peter was very welcoming and gave us a nice tour of their home. We loved that they had a document prepared with important information, such as the WiFi password, where to park, etc. They also had a breakfast menu prepared, which we were invited to fill out for a homemade breakfast the next morning! This was such a nice touch! Unfortunately, we had other breakfast plans during our stay, so we were not able to accept our hosts' offer for what I'm sure would have been a delicious breakfast. The house, which was clean and comfortable, was in a nice neighborhood; we felt at home right away. The listing was accurate and our expectations were exceeded! Thank you, Anne and Peter, for making us feel welcome and comfortable in your home! We highly recommend these hosts to future guests!
Alana
2014-09-15T00:00:00Z
Northborough, 麻薩諸塞州, 美國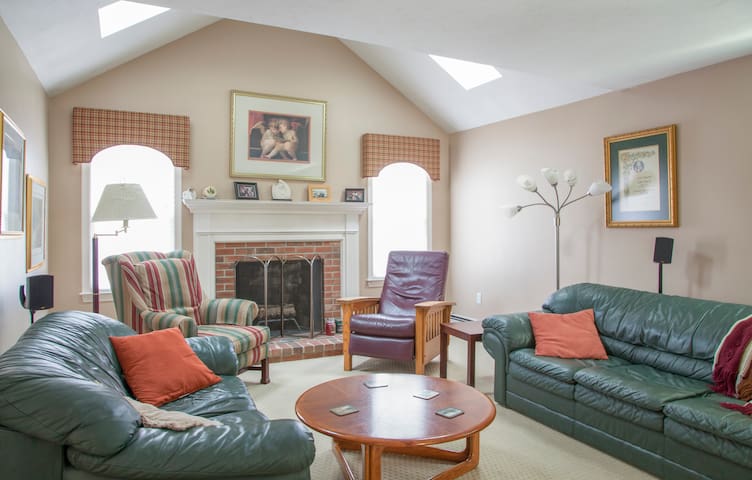 歡迎五星評級SuperHost 100%的回應率 我們是一個非常友好的家庭和職業,以及。敬請參閱我們很可愛以前客人評論。 房間已經在冰箱裡hardword地板,超快無線網絡,衛星電視,迷你冰箱,防風雨的窗戶,微波爐和免費飲品更新。 米爾福德美麗的小鎮,有都市感在白天和夜晚轉變為一個和平輕鬆的氛圍,你不能去錯了這個可愛的小鎮。
製作的Airbnb是雙手向下在21世紀最重要的創新理念之一。但是行駛到一個新的城市,安全性和舒適性的時候事項most.This可愛的家旁邊的警察總部提供所有這一切都和家庭more.Our也有45分鐘的車程到波士頓,伍斯特,和林肯或普羅維登斯。馬上保留時間。 495附近群眾派克(Rt.90);不到4英里到波士頓馬拉松比賽的開始......與自然的完美結合和米爾福德的美麗繁華的風景! 我們沒有任何種類的寵物在這個屬性,因此我們的客人誰是過敏shouldn't`有任何後顧之憂。 對於客人遊覽波士頓規劃,最好是停在阿什蘭T型台,並採取在火車。從南站波士頓列車結束時,你可以採取Duckboat或城市的小車之旅。波士頓是非常適合步行,氣候宜人期間建議。您也可以乘坐渡輪到一個或多個31波士頓港的,很好的方式看到城市和beachcomb。如果你把小車它們會讓你下車,然後再打開在不同的位置,所以你可以在一個停留時間較長或步行到另一個,那麼還是坐回 43分鐘黑石河獨木舟或自行車道在林肯,RI,並在賭場如果你的東西一晚;雙子河流賭場。
我們的家坐落在一個非常安全的鄰里用大量的路邊停車以及路邊停車位。 我家也位於從495號公路,這使得它很容易各地訪問波士頓等主要城市20號出口2分鐘。 也有當地最好的連鎖餐廳的豐富。其中一些在Metrowest最佳dinings的實際位於阻止我們離家出走。 嘗試在主要街道或比薩餅廚師從字面上房子塊TRATTORIA BAR 89中央! 還有旁邊的房子的魅力難忘的經歷狂歡評審約翰尼插孔早餐的地方。 There`也是一個目標,CVS,百思買,Big Lots的,Lowe`s等全部由我們的家庭在幾分鐘內。 如果你到保齡球和家庭樂趣,還有就是新的改組Pinz保齡球館有美味的食物和氛圍真棒離我們家五分鐘。
Ikenna is a superhost. He actually made sure details like the whether the bathroom is ready or not, etc. I arrived late because of the 4th July weekend traffic jam , but he was there and showed me the room & bathroom. Would definitely recommend Ikenna's place to you visiting Milford, MA.
Osmond
2016-07-04T00:00:00Z
Ikenna was very welcoming when I arrived. The room was clean and met my expectations.
Walter
2016-01-02T00:00:00Z
The room was fine, the neighborhood was perfect, I felt welcomed, and Ikenna is a great person.
lincoln
2015-08-07T00:00:00Z
very nice room
Kris
2016-04-27T00:00:00Z
Nice place to stay......
Jeff
2016-08-19T00:00:00Z
Excellent host and accommodation. I would love to stay here again.
Parminder
2016-07-23T00:00:00Z
Ikenna my host was wonderful. He greeted me with a smile and made sure I was comfortable and needed nothing. He even arranged for a ride for me to the airport . The location is excellent.... his home is centrally located in downtown Milford. walking distance to beautiful parks, restaurants, and shopping. I love the stay and will be back to visit with Ikenna again soon! Thank you Ikenna for a wonderful and comfortable experience. See you soon :)
Blueravenstudio
2016-08-08T00:00:00Z
Ikenna was an incredibly nice host and made my stay very comfortable. Any questions that I had were promptly answered. It was indeed a save haven!!!
Thamar
2016-07-10T00:00:00Z
米爾福德, 麻薩諸塞州, 美國
On Lake Webster. Large room, private. King size bed, with Twin option. Private Entrance from outside. Private bath with Shower. refrigerator and microwave. Use of lake. Single owner. Walking distance to Marina that rents kayaks and paddle boards.
Webster, 麻薩諸塞州, 美國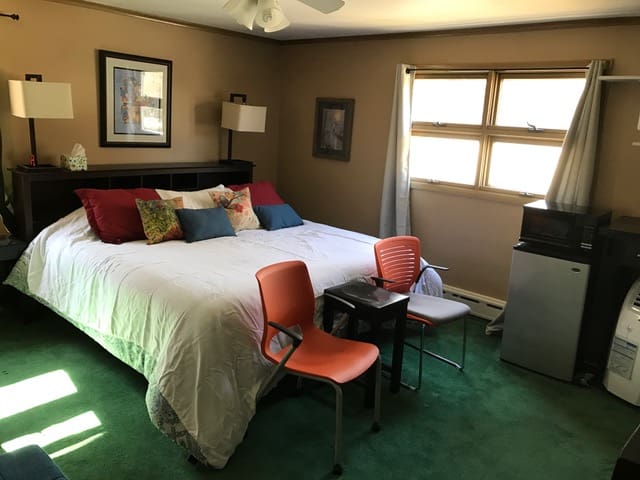 Uxbridge - Airbnb
:
在

828

位房客的評價中,平均評分為

4.93

星(滿分為

5

星)