Independent Villa on Vineyard. From the vines to the wines. A setting words can't adequately describe. Beauty & peace. Yet much to explore. Adventures to be had. Amidst the enchanting hills. Sleeps up to 4 w/ kitchen, bathroom & pellet fireplace.
La Rocca Vineyards and Bed & Breakfast Experience Italy from the vines to the wines... in a setting words can't adequately describe. Beauty at its finest... many sights to explore... adventures to be had...among the vineyard laden hills of Vignale Monferrato. Capture the essence of this region in this one of a kind Bed & Breakfast where you can wake up to the breathtaking views of the vineyards, the Alps and surrounding hill top villages... La Rocca is picturesquely situated in rural northern Piemonte region... an hour southwest of Milan an hour north of the beautiful Mediterranean an hour south of the Alps a few hours from the French border Perfectly located, make La Rocca your home away from home as you explore the splendors of northern Italy. Truly this unit was designed for its setting… Private terrace on La Rocca's vineyards... Attached to the La Rocca wine cellar… Sleeps up to four, kitchenette, pellet burning fireplace, large bathroom with shower.
Tracey est très symathique et nous met tout de suite à l'aise. Sa maison est absolument charmante et se trouve dans un village à couper le souffle. La petite maison que nous avons louée était magnifique, très bien décorée et au calme. Nous avons beaucoup aimé notre séjour chez Tracey et recommande à d'autres d'y aller, cela en vaut le détour. La région est absolument superbe!
laurence
2016-08-03T00:00:00Z
I wish I could describe how wonderful Tracey was. While the room was gorgeous and the location amazing, it was Tracey's friendliness and her incredible recommendations that made this our best stop in Italy.
William
2017-02-26T00:00:00Z
We had a fantastic 7 days staying at Tracey's in her beautiful villa. A previous post had referred to minor plumbing issues, but these have all been fixed. The breakfasts were prompt, tasty and fun. The area is remarkably appealing with friendly rural people, great but modestly priced restaurants. Tracey herself was the true priceless resource of our stay, with great area information, driving directions, restaurant, event, and attraction advice. Tracey even helped by driving with us to the area truffle festival. We hope to be able to visit Larroca again. Phil and Mary
Philip
2016-10-12T00:00:00Z
We were lucky to stay at Tracey's super nice place. Throughout our stay Tracey was very helpful in giving both information, directions, and even helping out in booking places for us to visit and eat. The villa/apartment truly is rustic and situated just that little distance from the main property, that you literally feel that you staying in the middle of the vineyard. Waking up in the slightly elevated bed, you overlook the vineyards and beautiful landscapes. The listing is located a little (5-10 minutes) walk from the main piazza of Vignale. Do note, that it is an up-hill walk to the town centre, but you will absolutely love the views from the town to compensate for slightly numb legs :-) The town offers a good selection of very good places to eat, both for lunch and dinner. Grocery shopping is available both in the town and also very near by (3 mins by car) for a supermarket. Lots of stuff to see and explore in the area; wineries, cities, and awesome restaurants. We HIGHLY recommend to stay here for a relaxed visit where you can choose to just enjoy the quite nature and do nothing - or use it as your base to explore an amazing part of Italy.
Kim Juul
2016-07-08T00:00:00Z
We spent a perfect 10 days with our two kids of three and five - perfect idyllic place to switch off and enough space for the kids. We brought along a small swimming pool for the kids - so they could splash and let us enjoy the beautiful setting. Everything nearby - also a good pizzeria serving also other delicious food. Tracey and her daughter Ela are perfect hosts making our stay very agreeable. Thanx!
Philip
2016-08-18T00:00:00Z
Loved it. Through enjoyed the place and its surrounding. Lots of light, big windows and open space. My dog loved it as she was free to roam freely. Tracy was very welcoming and friendly. A minor issue was the bathroom being chilly at night, having a portable heater in there would have been great. Would definitely return to this place during summer if driving to Italy again.
Jasper
2016-03-27T00:00:00Z
my husband and I had a lovely time at Tracey's. she and her family were incredibly warm and helpful, giving us pointers on good restaurants and activities we'd enjoy in the area. Tracey even made our dinner reservation because she knows the place so well. it's in walking distance to town which is great. comfortable bed and beautifully designed guest house. would have liked to see more kitchen amenities offered. overall a wonderful time!
Marina
2016-07-16T00:00:00Z
Great central location for exploring Monferrato area. Tracey and her daughter provided many tips and directions for doing just that. She also has a washer and dryer available. Nice walk to Vignale from B&B. A very knowledgeable, gracious host brings the Monferrato alive. Thanks again, Tracey
stephen
2016-06-27T00:00:00Z
Vignale Monferrato (AL), Piemonte, 義大利
Un agriturismo vero in piena campagna tra vigne e colline a Vignale Monferrato. Gestito da cultori della vite e della vita. Venite a scoprire paesaggi, odori, sapori senza tempo; passeggiare nelle vigne, degustare i nostri vini e la cucina monferrina.
In fondo alla strada, ci stiamo noi, gli ultimi! La Locanda degli Ultimi è un agriturismo autentico, gestito da contadini fieri di esserlo rimasti!
A 800 m dal centro di Vignale Monferrato, siamo in piena campagna. Relax assicurato, ma anche, se volete partecipare rilassando la mente e scaldando i muscoli, vera vita contadina!
Our week in vignale monferrato was very good. The good food and wine, the beautiful room and the lovely people made it to a real perfect holiday. If you want feel the good life of Italy you have to stay here. Tiziana and Silvio are really great people and make you feel really confortable. If you have the possibility have a look in the winecellar. If we have the option we will visit them again in the future.
meeuwis
2016-09-13T00:00:00Z
Silvio and his wife Tiziana were fantastic hosts. Silvio served us his fine wines and gave us great recommendations for places to visit in the area. He can communicate in many languages and is a really sweet and fun person. Tiziana is the most amazing cook, I would definitely recommend to pay for the menu they offer at least once, it is more than worth the price both in quality and quantity, believe me! The place is a bit hard to find if you just stick to (SENSITIVE CONTENTS HIDDEN) Maps, views are really lovely and the area in general is just great.
Tom
2016-08-11T00:00:00Z
We´ve had a really nice time at Silvios place in Monferrato. The bnb is located in a stunning area with amazing view into the lowlands. Silvio was a kindly host!
André
2016-05-08T00:00:00Z
Arriving here on our first night in Italy was definitely memorable. We arrived at night and hadn't seen much of the country yet, but were greeted with the warmest Italian family welcome. The hosts were so incredibly friendly and provided the most AMAZING dinner/breakfast. The views were amazing as well and we enjoyed a walk through their backyard vineyards / got to enjoy their delicious wine. Loved every minute of our stay!!
Alexander
2015-09-02T00:00:00Z
Non saprei bene da dove cominciare.. È stato tutto perfetto, qualcosa di unico e speciale. Ogni minimo dettaglio curato con amore e passione. Le foto ci avevano affascinato esserci è stato ancor meglio delle aspettative.
ALESSANDRA
2016-07-11T00:00:00Z
Silvio and Tiziana could not have made us feel more welcome. we spent a wonderful evening with them enjoying the produce that they make on their farm. great people. great accommodation. very much hope to visit them again. could not recommend highly enough! thank you!
Alistair
2015-09-25T00:00:00Z
In a nutshell: great, personal & welcoming, warm & comfortable rooms. Warning: Tiziana is a great chef and Silvio creates sophisticated wines.
Jan Willem
2015-09-18T00:00:00Z
Silvio and Tiziana were the best hosts we've had so far. They are so warm, friendly and hospitable. Silvio's wines were incredible, as was the amazing dinner his lovely wife cooked up for us. The rooms were nicely decorated and spacious. Their dog meli was very cute and affectionate. The place was clean, breakfast was delicious and they both always were keen to help with any questions we had. Our Italian was very bad, but they were very patient with us. Thanks Silvio and Tiziana for one of the best Airbnb stays we've had.
Kelly
2015-11-07T00:00:00Z
Vignale Monferrato (Al), Piemonte, 義大利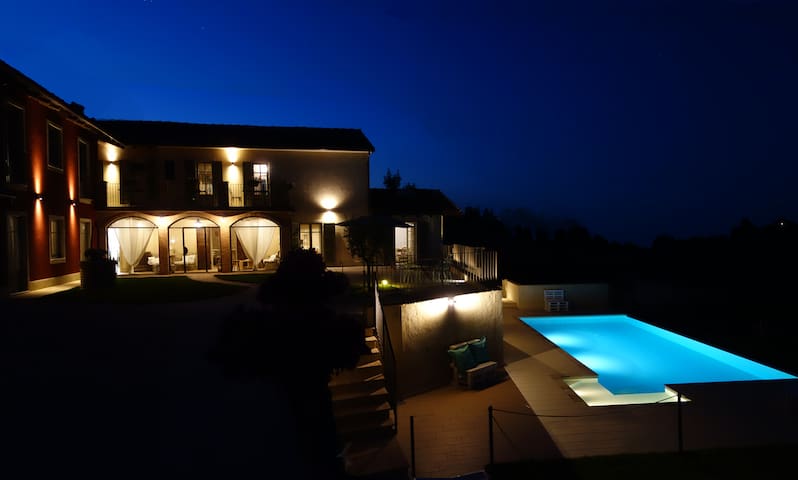 Turismo Viaggi, Eventi delle Langhe e Monferrato Castello di Frassinello tra langhe Roero e Monferrato Patrimonio Unesco e dell'Umanità
Il Castello di Frassinello offre a tutti i turisti la possibilità di pernottare nelle quattro eleganti stanze ubicate al primo piano dell'ala nobiliare, che vantano diverse caratteristiche per stile e arredamento, dotate di servizi e moderni comfort. Arredate con mobili d'epoca e impreziosite da soffitti finemente affrescati, le camere da letto, l'adiacente salotto e la piccola biblioteca conservano il loro aspetto originale e si presentano come affascinanti scorci di storia da vivere e scoprire. Dalle finestre e dalla splendida loggia, si potrà godere, nelle giornate più limpide, il meraviglioso paesaggio collinare del Monferrato. Dalle finestre e dalla splendida loggia, si potrà godere, nelle giornate più limpide, il meraviglioso paesaggio collinare del Monferrato. Visita alle sale nobili del castello visita alle cantine con degustazioni di pregiati vini ACCOGLIENZA: Check in (phone number hidden) Check out (phone number hidden)
Perfect guest, good communications, no problems.
Paolo
2013-09-15T00:00:00Z
Wow what a castle! We needed to be in this less touristy area and decided to stay at this fun and totally georgous castle which included breakfast and a tour which we understood can usually be with English translation but for our day there, it was only in Italian. The breakfast was sweet with a nice lady attending us. And we enjoyed the beautiful interior, garden and grounds of the castle and views of the flowing hillsides dotted with vinyard - beautiful! Just was a little frustraring trying to find the castle as our gps took us to the sister town and when we called the host could not speak English but when we finally got closer he met us down the hill to show us where to come into the castle. Great value and would definately recommend the castle to anyone wanting to be near this area.
Sherry
2015-08-22T00:00:00Z
Beautiful castle, large and very clean rooms with private bathrooms, comfortable beds, friendly host. What more to ask for? Just be careful with the exact address, the castello is in Frassinello Monferrato rather than Via Giuseppe Garibaldi in Vignale Monferrato (as stated on the airbnb receipt). It's a few kms away but a bit confusing if you print out (SENSITIVE CONTENTS HIDDEN) maps as I did.
Nicolas
2015-07-16T00:00:00Z
Die Unterkunft ist ein einmaliges Bijou und kann wohl als Geheimtipp klassifiziert werden. Das Castello ist sehr sparsam und vorsichtig renoviert - es steht auch noch sehr viel Renovationsarbeit an. Doch dies macht den Charme des Objektes aus. Unser Bad war etwas feucht und muffig infolge der dürftigen Lüftung. Vom wunderbaren Garten aus bietet sich eine wunderbare Aussicht auf die umliegende Umgebung. Besonders positiv ist die morgendliche 2-stündige Ausführung des Gastgebers über die Geschichte von Gebäude und Gegend mit anschliessender Degustation. Eher enttäuschend dagegen der Service. Das Frühstücksbuffet lässt man besser links liegen und so gingen wir denn auch in die einzige offene Dorfbar, um einen echten Espresso zu bekommen. Schade wird diese Chance nicht genutzt. Problematisch war auch, dass wir mit öffentlichen Verkehrsmitteln angereist sind. Der Kommentar des Gastgebers: "es gibt keine öffentlichen Verkehrsmittel, die das Dorf erschliessen" hat sich nachträglich auch als falsche Aussage herausgestellt. Das Taxi hat uns schliesslich von Alexandria nach Vignale Monferrato gefahren, Via Giuseppe Garibaldi 1. Ein Nachbar erklärte mir, dass es oft geschehe, dass die Leute vorerst an den falschen Ort gelangen. Da der Taxi bereits wieder abfuhr, konnten wir schliesslich einen Bewohner überreden, uns für 20 Euro zum Nachbardorf Frassinello Monferrato zu fahren. Beim Rückweg fragten wir die als einzige anwesende Bedienstete um Rat betreffend einem Taxi. Diese meinte, wir müssten bis 10 Uhr warten, da sie keine Telefonnummer wüsste. Schliesslich zeigte sich der Abwart bereit, uns für 70 Euro nach Vercelli zum Bahnhof zu fahren. Auch abends ist es ohne eigenes Fahrzeug schwierig, aus dem Dorf zu gelangen. Da die Gäste abends auf sich gestellt sind, gibt es keinerlei Unterstützung. Ich denke, hier liesse sich bestimmt noch viel mehr aus dem schmucken Anwesen herausholen!
Daniel
2016-05-08T00:00:00Z
Beautiful castle!! My husband and I stayed here for a night and we were more than pleased. The grounds were stunning, and our room was comfortable, clean, and warm ( we visited in Dec). The breakfast was substantial and was followed by a tour of the castle and a wine tasting. We would absolutely return here! I highly recommend this unique place to stay.
Andrea
2013-12-29T00:00:00Z
房間類型
私人房間
---
房源類型
家庭式旅館
---
可住人數
10
---
卧室
Vignale Monferrato, 皮埃蒙特(Piedmont), 義大利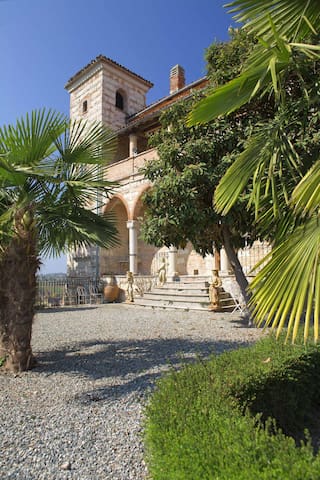 Il mio alloggio è vicino a splendide viste panoramiche, ristoranti e arte e cultura. Ti piacerà il mio alloggio per questi motivi: i panorami, la posizione, la gente e l'atmosfera. Il mio alloggio è adatto a coppie, avventurieri solitari, chi viaggia per lavoro e famiglie (con bambini).
Vignale Monferrato, Piemonte, 義大利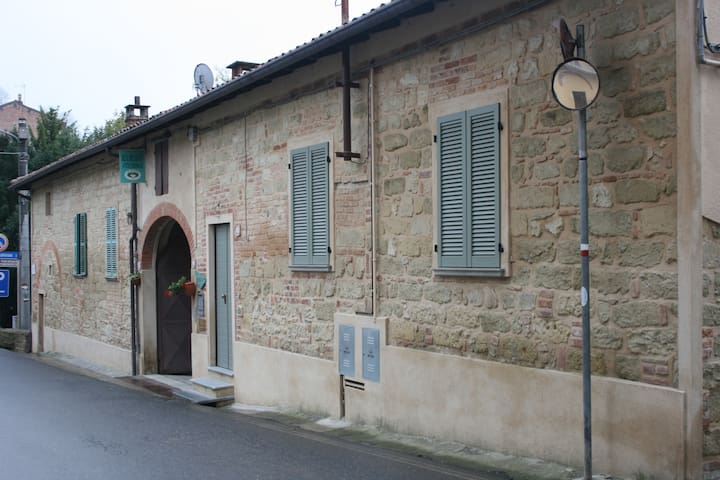 La casa è posizionata al centro del paese di Camagna Monferrato, gode di un eccezionale vista sulla campagna e sulle Alpi. Grazie alla sua posizione è il luogo perfetto per andare alla scoperta delle bellezze del Monferrato. Dista un'ora di autostrada da Milano, Torino e Genova.
La casa potrebbe essere stata di una zia ("magna" significa zia in dialetto monferrino) che aveva il gusto della costruzione neocoloniale: c'è un bellissimo portico con colonne dai capitelli corinzi, un lungo ed ampio balcone sempre in stile e al terzo piano un ampio terrazzo dal quale si può godere una vista a 360° sulle colline ed sul paese. A disposizione degli ospiti mettiamo due camere matrimoniali con vista panoramica. Le abbiamo arredate con amore, cura e con mobili antichi delle nostre famiglie.
La casa si trova a Camagna Monferrato, borgo di origine medioevale del periodo longobardo, fra i due torrenti Grana e Rotaldo situato nelle dolci colline del Monferrato. Offre un panorama stupendo: i paesi di Conzano, Cuccaro, Lu e Vignale dal versante sud, Olivola, Frassinello, Rosignano, Cellamonte, Terrugia dal lato opposto il tutto delimitato dalla catena delle Alpi ed Appennino Ligure. Il borgo si è sviluppato intorno alla Chiesa ed un Castello (ora sostituito da un grande palazzo) in modo concentrico con strette vie sulle quali si affacciano le case in tufo e mattone. La Chiesa opera di Castelli, allievo dell'Antonelli, domina in altezza e maestosità. Sotto ogni casa si hanno gli infernot, cavità adibite alla conservazione del vino e scavate dai contadini stessi con pale e picconi in epoche remote. Alcuni infernot sono visitabili. Barbera e Grignolino sono i vini caratteristici... Da non dimenticare i tartufi dei quali la zona vanta diverse riserve.
Ca'Magna Bed & Breakfast is a gem nestled in the Piemonte region and perfectly located for day trips to local vineyards or to neighboring cities and sites. This B & B is meticulously kept, very comfortable and full of warmth. Each morning we were greeted with a picturesque delicious homemade breakfast and warm smiles from Paola and her daughter. During our stay Paola was so generous with her time and offered wonderful suggestions for day trips, provided literature and maps, insider tips for travel and dining and even arranged for a private tour of a local historical cellar. Paola was the consummate hostess and her daughter just as delightful; the perfect compliment. Our stay was simply wonderful and we are already talking about our return.
Hasle
2016-08-03T00:00:00Z
Wunderschönes Haus mit viel Cachet, große schöne Zimmer und Betten. Exquisites Frühstück.
Daniela
2016-05-09T00:00:00Z
My partner and I had a wonderful stay with Paola, who is warm, welcoming and very thoughtful! Paola went out of her way to find out my partners family heritage, give helpful advice and share the local history. Paola is the perfect host! The home and rooms were clean, fresh and delightful. Paola's breakfast was generous and delicious and homemade! Also, the local restaurant is great, La Rocca.
Alisha
2015-10-14T00:00:00Z
Paola is an amazing host. It is clear that she pays close attention to detail in order to make her guests feel as welcome as possible--from the beautiful furnishings of the rooms in her B&B, to the delicious breakfasts prepared with care. I am already dreaming of returning to Camagna for its charm and relaxation, and will definitely stay at Paola's when I do.
Vladimir
2015-06-17T00:00:00Z
This is an amazing find in a quiet, perfect little town. Paola was incredibly sweet and really took care of us. We were coming in for a wedding in the area and she even offered to iron our clothes as we got ready. The breakfast was a huge spread of fresh pastries, cheese and meats. I will definitely stay here again and would recommend to anyone staying in the area!
Brett
2015-09-13T00:00:00Z
Paola was a wonderful host inviting us to have supper with her & friends on arrival. The town was wonderful to walk around in the evening after our long drive, very old & full of history .Paolas Villa is situated right in the town with breath taking views from her balcanoy across the countryside. The breakfast was good with homemade plum pie. A very relaxing stay.
Karen
2016-09-14T00:00:00Z
Paola nous a très bien reçu dans sa très jolie demeure. Nous avons passé une nuit en famille (deux enfants) et garderons un très bon souvenir de ces moments. Le petit déjeuner était excellent, spécialement la tourte de Linz maison ainsi que les confitures. Le village et son église sont magnifiques et le restaurant du village, La Rocca, propose des plats excellents.
Yves-Alain
2015-08-08T00:00:00Z
Paola war eine bezaubernde Gastgeberin. Sie war sehr aufmerksam und bereitete uns ein tolles Frühstück. Das Zimmer und das Bad waren sehr wohnlich.
Wilfried
2015-09-11T00:00:00Z
Camagna Monferrato, Piemonte, 義大利
Sleeps up to 6 w/ kitchen, bathroom with shower, wifi & fireplace... situated in the restored family farmhouse. Opens onto portico with grotto, BBQ and wood burning pizza oven...on the family's vineyard.
La Rocca is picturesquely situated in rural northern Piemonte wine region... an hour southwest of Milan an hour north of the beautiful Mediterranean an hour south of the Alps a few hours from the French border Perfectly located, make La Rocca your home away from home as you explore the splendors of northern Italy.
We had a great stay at Tracy and Ela's :-) Lovely people! And with some great recommendations- would definitely recommend anyone to stay here!
Cecilia
2016-07-07T00:00:00Z
Wonderful place and Tracey and family were adorable. Perfect location to visit Piemont.
Chris
2016-07-30T00:00:00Z
The location is extremely nice and comfortable. Tracy was a very nice hostess who gave us plenty of useful information. Its all located in a good position for visiting the Monferrato area. We will visit again
Øystein
2017-03-11T00:00:00Z
We had a wonderful stay at Tracey's B&B. Not only is the property beautiful, but Tracey is a fantastic host. The apartments are nestled between the vineyards and the rolling hills of Piemonte, giving the place all the Italian charm one can hope for. The place is clean and decorated in tasteful Italian country style. Tracey is so friendly and we enjoyed talking with her over a delicious breakfast. It is also an easy walk from the village. We truly enjoyed our stay and would highly recommend this place!
Julie
2016-08-03T00:00:00Z
We had a wonderful time at Tracey's. Honestly, there's nothing bad to say. Beautiful property, nice attached apartment with space for all 6 of us and a wood fire to keep us warm. Would absolutely love to stay here in the warmer season, but happy just to have experienced it. Do not hesitate to book with Tracey... You'd be making a mistake if you didn't stay here. Highly recommend!!
Dave
2016-03-03T00:00:00Z
C' est une très belle bâtisse, rénovée avec goût, pleine de charme. .. à l'image de sa propriétaire Tracey. Il s'en dégage une sensation de sérénité . Le cadre est superbe et invite à se poser...Bravo Tracey, c'est magnifique !
jayne
2016-08-17T00:00:00Z
Una location bellissima, una stanza grande bella e molto accogliente, e degli host simpatici, affettuosi e che conoscono molto bene la zona (i consigli su gite e ristoranti si sono rivelati molto preziosi). Ci siamo trovati veramente bene grazie a Tracey. Un perfetto punto di partenza per visitare il Monferrrato.
Luca
2016-10-16T00:00:00Z
Nous avons passé un excellent moment dans ce très bel endroit. L'accueil et la réelle gentillesse de Tracey font de de ce séjour un excellent souvenir.
sophie
2016-08-14T00:00:00Z
Vignale Monferrato, Piemonte, 義大利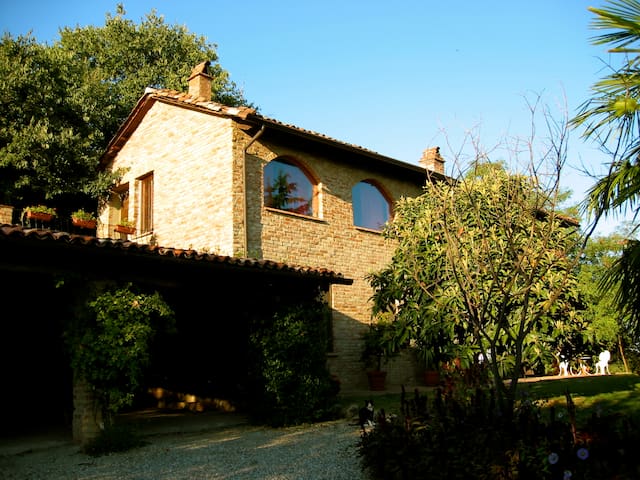 Sulle colline del monferrato, patrimonio unesco, nella pace della natura. Ti piacerà il mio alloggio per questi motivi: l'intimità, i panorami e la posizione. Il mio alloggio è adatto a coppie, avventurieri solitari e chi viaggia per lavoro.
Tutto perfetto! La casa e la zona sono molto belle, in più Michela è una persona davvero carina; ci ha fatto sentire a casa e ci ha dato i buoni consigli su cosa fare in zona. Grazie!
SARAH
2016-09-11T00:00:00Z
After we parked the car in the spacious lot across her home. Michela welcomed us with a (fluent in English) friend, because her English was as good as our Italian ;) He translated everything during a brief tour of the house. The remainder of our stay we communicated with our hands, feet& (SENSITIVE CONTENTS HIDDEN)-translate, which made for a fun& interesting stay. Michela is a very friendly host and did everything in her power to make our stay one to remember. She pointed us to the best local food in town and even taxied us to our friends weddingparty in a neighbouring village. We ended a brilliant weddingday at the local bar with her and her friends. Can recommend her to everyone!
Daan
2016-08-21T00:00:00Z
In un intorno, tranquillo, pieno di pace e colori naturali, si trova la casa di Michela, ugualmente colorita, pulita, e con una decorazione che ti fa sentire tranquillo e al tuo aggio. Lei poi, è un ospite molto disponibile, tranquilla.. che ti offre tante possibilità ma che rispetta con eleganza l'intimità degli ospiti. Senz'altro è da ripetere!! Arrivederci Vignale! Arrivederci Michela! En un entorno, tranquilo, lleno de Paz y colores y colores naturales, se encuentra la casa de Michela, igualmente coloreada, limpia y con una decoración que te hace sentir relajado y bien. Ella es una anfitriona disponible y tranquila, que te ofrece muchas posibilidades pero asimismo respeta la intimidad de los invitados. Muchas gracias Michela!!! Hasta la próxima!!
Monica
2016-08-15T00:00:00Z
Vignale Monferrato, Piemonte, 義大利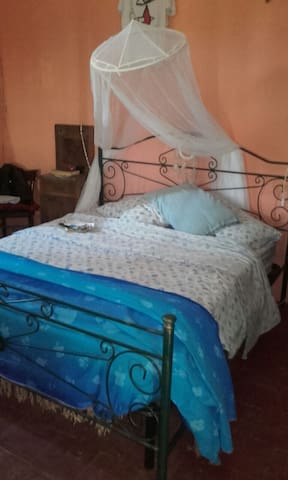 L'alloggio è composto da un open space dotato di tutti i servizi necessari per soggiornare al meglio.Posti letto max 4.L'alloggio è dotato di angolo cottura e bagno con tutti i servizi, é possibile anche disporre del giardino esterno adiacente.
Bilocale con servizi immerso nel verde. Gli ospiti potranno godere di un magnifico panorama delle colline del monferrato. Sono disponibili nello spazio esterno anche coperto sia tavoli per consumare colazioni e/o pasti, sia comode sdraio per godersi sole e relax immersi nel verde e nella tranquillità di questa casa.
The host canceled this reservation 32 days before arrival. This is an automated posting.
Daan
2016-07-18T00:00:00Z
Frassinello Monferrato, Piemonte, 義大利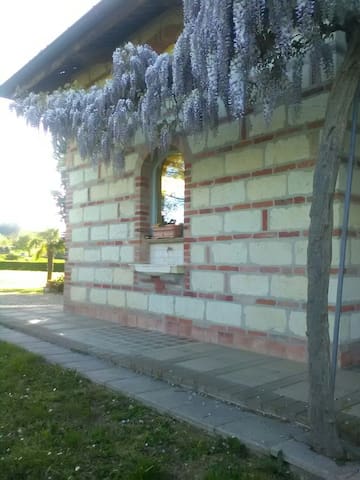 Villa between the beautiful hills of Monferrato. Ideal for relaxation, as a starting point to explore one of the UNESCO Natural Heritage, taste fine wines and typical products of these lands. This is one of two independent accommodation, which make up the house, both rented. Large garden. Completely surrounded by greenery. Brand new kitchen with dishwasher.
Vignale Monferrato, Piemonte, 義大利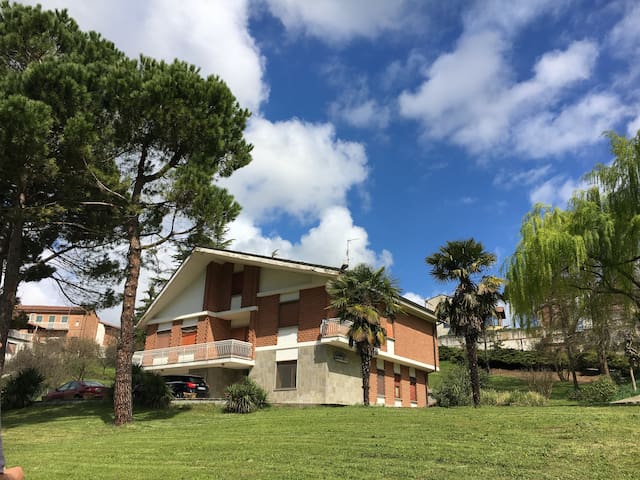 Situato fra le splendide colline del basso Monferrato casalese, La Casa nel Vento domina una splendida collina circondata dai vigneti di Grignolino,Barbera, Chardonnay e altri vitigni pregiati.
La Casa nel vento è prima di ogni altra cosa, il nostro nido, il nostro personale rifugio. Da questa grande cascina piemontese abbiamo ricavato tre camere con bagni privati ed entrata indipendente. Sono ambienti molto ampi, la camera Orizzonti è caratterizzata da una grande terrazza con vista mozzafiato su vigneti, dolci colline e sulla maestosa catena montuosa. La camera Nido dei Sogni è disposta su due livelli, è considerata la più romantica perché si dorme in mansarda, in un ambiente molto raccolto e accogliente. Anche la camera Ricordi gode di una splendida vista, è caratterizzata da un grande letto a baldacchino e una doccia molto ampia (120 cm circa).
Vignale Monferrato, Piemonte, 義大利
Tour of the Castles of the Langhe and Roero and Monferrato
My wife and I love historic buildings and Castello di Frassinello is an excellent example. Our room, the anteroom plus a small bathroom were more than spacious. Also, the rooms were beautifully painted and furnished, all of which made us feel at home and confortable. The only slight problem was to find the place. However, the owner/staff were very helpful in giving us instructions.
Werner
2016-05-11T00:00:00Z
Das Castello ist absolut außergewöhnlich und sehr schön ausgestattet. Wir haben den Aufenthalt sehr genossen. Vielen Dank!
Katrin
2016-08-16T00:00:00Z
Rating: Fantastic Castello di Frassinello is a gem. Our room combined old-world charm with modern amenities, including a beautifully tiled bathroom with huge bathtub, and windows opening out to magnificent vistas. Hosts attentive but unobtrusive. Bountiful breakfasts in the elegant dining room. An unforgettable experience.
Alan
2016-07-06T00:00:00Z
Because of the inadequate directions we were late arriving and missed the welcome
Rick
2016-08-28T00:00:00Z
A place where you'll feel history. It's very special and a fun place to have stayed at. Rooms and open spaces are clean and nice. However, note that the address is wrong, make sure you contact them beforehand. Also, the breakfast is very Italian (i.e. As a swede it didn't make me full).
Ida
2016-08-06T00:00:00Z
Castilo de Frassinello was a wonderful historic stay! Giovanni and his staff were terrific. Each one willing to assist us o make us feel welcome. This castle was built in 1049 and has a remarkable history. Our room had everything we needed including a large screened window, so we could sleep with our window open and enjoy the comfort of the night air. The view from our room was breathtaking. Crisp white cotton sheets on our beds and a modern ensuite bathroom with two sinks and a very nice shower. The breakfast was a delicious variety of cold cuts, breads, jams, cakes, cereal and coffee/tea. We had a tour of the castle and learned so much history of it and the area. There was a wine tasting at the end of the tour for us to sample wines of the region. This was a wonderful stop on our holiday in Northern Italy. It's rustic but very comfortable and the grounds and views are fabulous. What a gem!
Cathie
2016-06-16T00:00:00Z
We only stayed one night and had to leave early the next morning for a flight out of Milan, so we were unable to take advantage of the castle tour and wine tasting so maybe it's better to plan on staying 2 nights. Like others, we had a hard time finding this place. I would recommend finding the address on their website, and make sure you go to the top of the village. Not much going on around the castle, but we bought some cheese and salami and enjoyed some wine on the terrace while the watching the sun set.
Amy
2016-10-21T00:00:00Z
Nette Mitarbeiter sehr hilfsbereit.
Daniel
2016-08-24T00:00:00Z
Vignale Monferrato, Piemonte, 義大利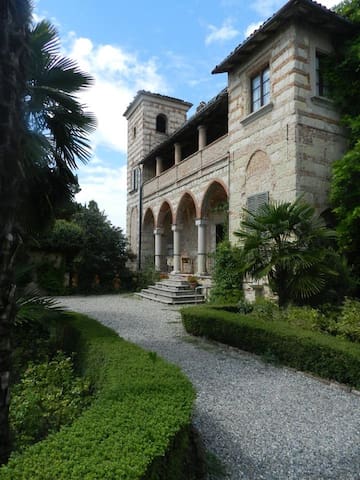 nineteenth-century country house in Vignale, in the Monferrato, with large yard, garden and orchard and terraces with spectacular views of the countryside, the Monviso and the Western Alps.
nineteenth-century country house in Vignale, in the Monferrato, with large yard, garden and orchard and terraces with spectacular views of the countryside, the Monviso and the Western Alps. The villa is divided into two units, and is on three levels. On the ground floor a large kitchen adjoins the living room, a guest bathroom and a utility / laundry room (with extra sofa bed). All rooms are open on the garden and the pergola overlooking the valley. The garden is furnished with outdoor dining and BBQ, and overlooks the valley, home to the vineyard and the orchard. On the first floor a double bedroom, a single room with balcony and a bathroom communicating with a large sun terrace, flowered and furnished. On the second floor there are two bedrooms, one double and one twin both with balcony and a shared bathroom.
Vignale is one of the most beautiful countries in the Monferrato, Unesco on the "way of the infernot (cellars)", and is a 15-minute drive from Casale Monferrato, the center of medieval origin, rich in history and shops, services and railway station. Here is the highway leading in just over an hour in Turin and Milan, home of Expo, the sea in Liguria and in the mountains in Aosta Valley. The hotel is only 50km from the Langhe, and is therefore an excellent starting point to visit the north west of Italy!
Très belle maison de campagne, parfaitement équipée et adaptée pour une famille avec deux enfants! A noter aussi la très belle terrasse avec vue sur les collines du Montferrato et le jardin avec figuiers! Luisa a été très accueillante et très disponible durant tout le séjour! La région est très belle ayant comme Casale comme limite au nord et Asti (très belle ville) au sud, terroir du meilleur vin italien! Plus loin (une heure environ) Milan, le Lac Majeur et la Meditérannée (Gènes).
Teodor
2016-08-29T00:00:00Z
Everything went according to plan. we were welcomed by Luisa's sister with champagne and cookies We enjoyed some wonderful days in a super beautiful house with plenty of space for two couples and a family atmosphere and decor. an old beautiful family house with fantastic outdoor areas and magnificent views of the beautiful scenery and the beautiful rice fields. we highly recommend visiting the small town and the small towns in the area, not least Casale Monferatto we highly recommend the place and would like to return another time
Solvejg
2016-07-29T00:00:00Z
Luisa was a very welcoming host. We had a wonderful week in a lovely large house and a beautiful garden with stunning views. Within walking distance to the bar, cafés, pizzeria, restaurants and well-stocked little shop in the piazza. Gulliver supermarket a few minutes by car. Vignale and surrounding area delightful.
Ken
2016-07-07T00:00:00Z
Siamo stati benissimo, la casa è molto accogliente e ospitale. Il Monferrato è bellissimo, una zona che tutti dovrebbero avere il piacere di conoscere. Luisa ci ha anche fornito ottimi indirizzi per provare la cucina monferrina. Vignale oltre ad essere affascinante è veramente comoda per visitare l'EXPO, e abbiamo mangiato benissimo !
Eugenio
2015-05-14T00:00:00Z
Vignale Monferrato, Piemonte, 義大利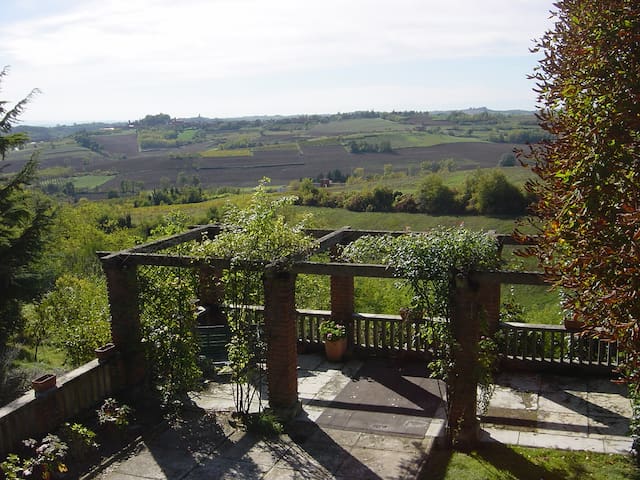 LA BORDONA COM è un sito storico del Monferrato sulla cima di una collina. Offre quiete e relax in un ambiente salutare.
L'appartamento 8 è l'unico appartamento della Bordona con giardino privato.
Vignale Monferrato, Piemonte, 義大利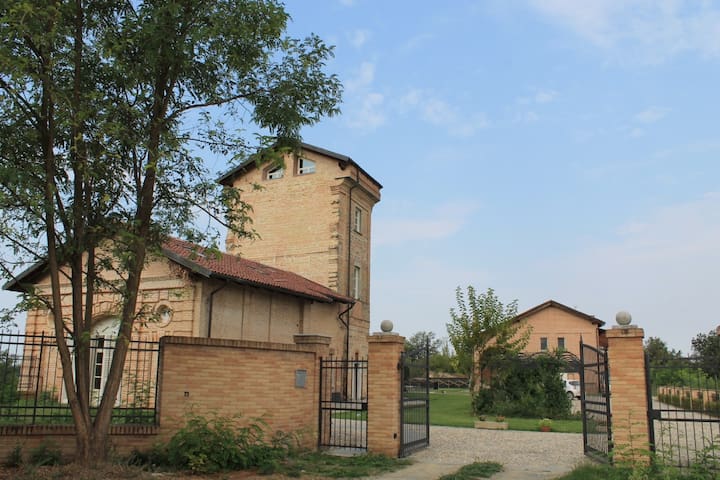 In the farm La Locanda Latter, we rent a 50 sqm apartment with kitchen, suitable for families and groups of friends to stay totally independent. Possibility to use "room service" (buffet breakfast, daily cleaning, linen change twice weekly) and, on request, lunch or dinner.
Down the street, there we are, the last! Locanda Latter is a real farm, authentic, run by peasants remained proud of it!
800 m from the center of Vignale Monferrato, we are in the countryside. Relaxation is guaranteed, but also, if you want to participate in relaxing the mind and warming the muscles, real rural life!
Superbe séjour dans cette maison d hôte où vous avez l impression d être reçu par des amis. Très bon vin, maison et chambre décorée avec goût. Cuisine exquise. Nous sommes conquis.
Ingrid
2016-08-10T00:00:00Z
Silvio told me that La Locanda degli Ultimi was the dream of Tiziana and that made me realize that I get that. To stay here was like a wonderful beautiful dream. Everything here is right, no better: perfect! The view over the hills and sky, the house with its warm colors and robust beauty, the comfortable apartment that makes you feel at home immediately. Of course the swimming pool that allows you to cool down and still look at the beautiful surrounding. And even the small details, from the softness of the thick towels to the colors of the stones in the bathroom: everything is in perfect harmony and balance with each other. But then, oh, the host and hostess. How much have I enjoyed the stories of Silvio about the making of wine, his ancestors. The experience of tasting wine during its growth and understanding for the first time how much love and heart and creativity goes into the creation of wine. And speaking of creation: how enormously have I raveled in the tastes of the delicious food of Tiziana. Smells and surprising flavors combined made this stay truly special. She is the undefeated queen of the kitchen. The atmosphere and philosophy of this Locanda is well incorporated within the practice to sit together with all guests and eat together. I realized after the first dinner here that I had just spend a terrific evening with complete strangers of different countries (I did not even know the names of) as if it was an evening with my best and oldest friends. It is due to the great hospitality of Silvio and Tiziana, who seemingly effortlessly make all our dreams come true. It is heaven on earth here. But please, do not come, I would like to keep this place a secret. More practically: best to come with a car, there is a supermarket about 3 km from here. There are also restaurants in the area. It is also possible to enjoy the place more privately, whereas Silvio and Tiziana make all efforts to make it your dream stay as well. So the shared dinners are optional. The surroundings are very nice and quiet.
Femke
2016-08-04T00:00:00Z
Wonderful, beautiful, words cannot express how peaceful and calming this b&b is. Every morning you wake up to such a view of green vineyards and the sounds of the rooster in the garden! The entire decoration and style of the house is very well coordinated, rustic yet elegant and unique! The hosts are a very warm couple, accommodating, spoke enough English (also their daughter helped with the language) for us to understand each other. Location is excellent, we rented a car so we had the opportunity to explore the surrounding small towns. On our last day we ordered to have breakfast and everything was very fresh, delicious homemade cake, local products, the best! All in all, one of the best places we have stayed in Italy!
Stefka
2016-07-19T00:00:00Z
Très bel accueil de la part Silvio, vue magnifique, appartement spacieux et de très belle qualité. Dommage que nous soyons restés qu'une nuit!! A découvrir sans hésitation!
Karine
2016-08-08T00:00:00Z
La Locanda degli Ultimi is ABSOLUTELY AMAZING! We stayed in the apartment for 10 days and it was fantastic! It is decorated with taste, you have everything you need... AND the view is incredible! Tiziana and Silvio are by far the best hosts we ever had: breakfasts & dinners were really delicious... you will also have the chance to discover and taste Silvio's wine! The agriturismo is also perfectly located to discover the region and all the villages in the Monferrato region are beautiful! We definitely highly recommend this place! Grazie mille Silvio & Tiziana ;)
Karine
2016-07-30T00:00:00Z
Vignale Monferrato, Al, 義大利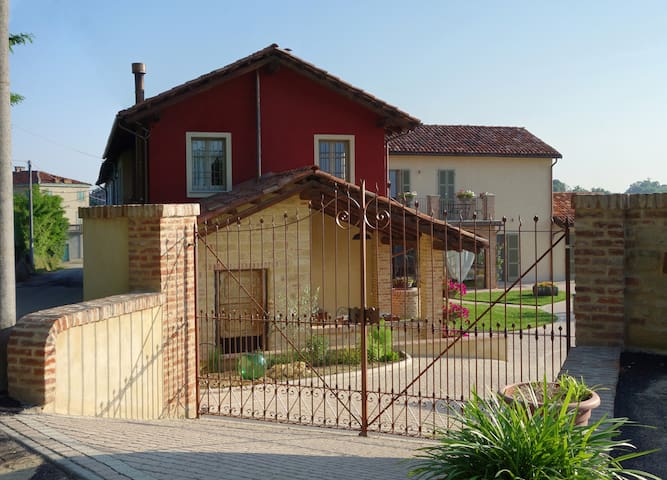 In the peace, in the hills of Monferrato heritage unesco, I offer Availability for Single or shared, if only for one night, even if you are passing in your walk or your biking paths, here c'e'il rest you are looking for
Il paese di Michela e la sua carinissima casa sono un posto ideale dove rilassarsi, mangiare e bere bene e godersi il panorama del Monferrato. Michela è stata molto disponibile e simpatica! Consigliato!!
Paola
2016-09-11T00:00:00Z
Michela é una persona stupenda educata gentile e molto disponibile nella sua delicata semplicitá la sua casa é deliziosa e si dorme benissimo!consigliatissima!
Ale
2016-08-15T00:00:00Z
A very cozy home/room and the hostess was helpful and kind. We could use anything we needed. Thank you for the warm welcome!
Signe
2016-09-25T00:00:00Z
Accueil sympa dans une très belle région d'Italie, notre séjour très court fut très agréable, Michaela, une hôtesse charmante.
michele
2016-10-21T00:00:00Z
Excelente lugar y muy buena atención! Gracias Michela por recibirnos tan bien!
Farid
2016-09-13T00:00:00Z
Home away from home! Michela is a wonderful hostess! She helped me patiently with my sparce Italien and did everything to make my stay a lovely experiance. The room is cosy, very tidy and spaciuos. Thank you Michela!
Andrea
2016-10-26T00:00:00Z
Vignale Monferrato, Piemonte, 義大利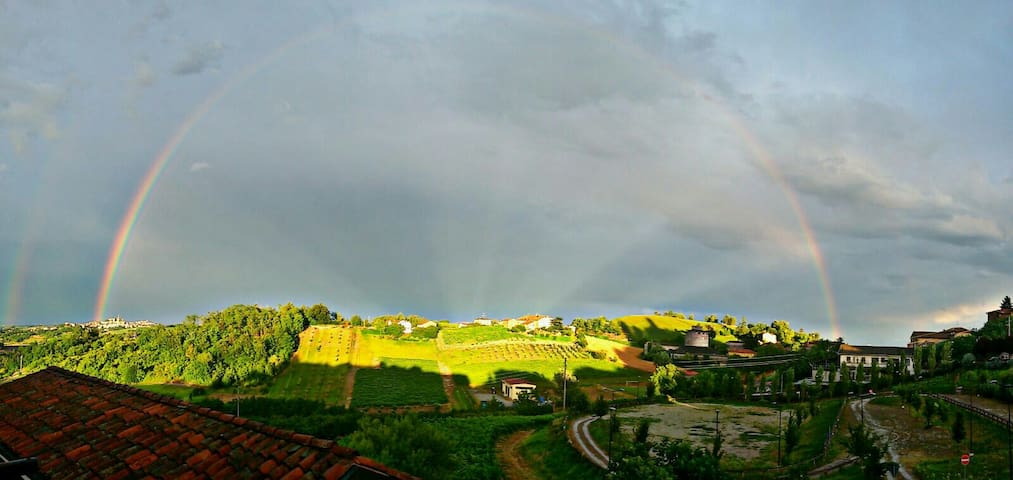 Appartamento situato sulle colline del Monferrato , a 5 minuti d'auto dal centro di Conzano e Camagna Monferrato. A 10 minuti d'auto al centro di Lu Monferrato. Composto da cucina, camera letto e bagno con doccia. Ben arredato e tranquillo con spazio auto a disposizione. Possibilità di aggiunta letto/ brandina ad € 12,00 a notte Check out da concordare
Independent lodging annexed to the farm. E 'of about 45 meters with kitchen / living room very bright, bedroom with double bed, bathroom with shower, toilet and bidet. Entrance with staircase Very close to Conzano while being under the territory of Camagna. Guests are expected to Conzano or Roncaglia and accompanied housing
The apartment is located on top of a hill. It has the courtyard shared with others.
Marco e Stefania si sono dimostrati due ospiti davvero eccezionali, molto gentili e disponibili sia per quanto riguarda la predisposizione della casa che nell'indicarci i luoghi caratteristici della zona e nell'accompagnarci di persona in alcuni punti di nostro interesse. La casa è molto ordinata e pulita con tutto quello che occorre per accogliere degli ospiti. Ci è piaciuta molto la location nel mezzo della campagna monferratese!
Giovanni Battista
2017-01-01T00:00:00Z
Good apartment and location. If you want peaceful area, go there!
Geraud
2016-08-10T00:00:00Z
Appartamento spazioso in una cascina delle colline monferrine, fuori Casale. C'è tutto quel che serve. I proprietari sono molto disponibili. Soggiorno perfetto
Michele
2016-09-12T00:00:00Z
Gentilissimi e disponibilissimi.. peccato avessi poco tempo a disposizione.
Ivan
2016-10-09T00:00:00Z
Camagna Monferrato, Piemonte, 義大利
典型的建筑依山而建,在亚历山德里亚和阿斯蒂省之间的边境,设有2间卧室(2 + 1)免费无线网络。该式早餐在室内餐厅或在大,令人印象深刻的门廊。
CA'NORINO是建在典型的我国传统蒙法拉托上世纪初一个迷人的房子,在2000年重新装修一直保持蒙费拉托丘陵,赤土地板和石墙的质朴房屋的特点充分尊重他的精神一旦农村,但与现代化的设施的帮助。 客房俯瞰山丘和周围的景观一直保持一段时间几乎没有变化,以提供给客人与大自然直接接触,葡萄园和树林之间。 Ca'Norino是一个非正式和友好的气氛中,私人住宅,让您共享客厅与业主,谁永远是提供给客人转移到当地的传统,引导他们去发现蒙费拉托丰富的历史和特色的角落美食和葡萄酒。 CA'Norino是在两个层面上。在一楼的客人可以享受宽敞的客厅和一间早餐室,都与壁炉。 一楼客房享有丘陵山区,是简单和乡村的传统,每间客房都配有免费的Wi-Fi互联网连接空调采暖,除了房间和卫生间(带淋浴,在这里您可以提供免费的洗浴用品,浴衣和吹风机),是一个舒适的阅读角或工作计算机工作站和免费上网服务,在这里您将独自沉浸在这个地方的沉默。 室外空间,采用了经典的街机(典型的丘陵家园),其下有可能享受户外早餐和餐点。 Ca'Norino还为您提供配备有你需要享受当地的烧烤肉类一切大型户外区域。最后,花园和阳光露台的设计,以适应现场让您放松,可用,则免费停车的时刻。 该酒店配有免费的WI-FI,中央电视台。丰富和美味的早餐,在门廊下公开建议在暑假期间,还是在舒适的用餐室,在冬季的几个月。
卡马尼亚蒙费拉托位于蒙法拉托的心脏:亚历山德里亚省和阿斯蒂省之间的边界,在软Monferrine山的优美环境。坐落在261米的高度,该村被葡萄园和树林包围。通过这山游客无法逃脱Camagna不寻常的轮廓,占主导地位,因为它是由他的教区教堂:由建筑师克雷申蒂诺CASELLI雄伟的十九世纪的穹顶,在这个框架的心脏是B&B CA'NORINO。 卡马尼亚蒙费拉托(400灵魂的丘陵村),村提供特殊的风景和意见,作为对世界遗产名录的联合国教科文组织插入尤其是对于许多房屋现有地下洞室在稍后的时间被称为"infernot"的过去担任存储的最佳年份葡萄酒,这些洞穴在冬季被挖,因为在冬季葡萄园的工作是坚定的。 Camagna遍布的山丘,位于罗塔尔多河和格拉纳溪流之间,提供一个美妙的看法,所有的阿尔卑斯山和利古里亚阿尔卑斯山,它括在一个理想的环境外观接壤的距离。
房間類型
整套房子/公寓
---
房源類型
家庭式旅館
---
可住人數
3
---
卧室
Camagna Monferrato, Piemonte, 義大利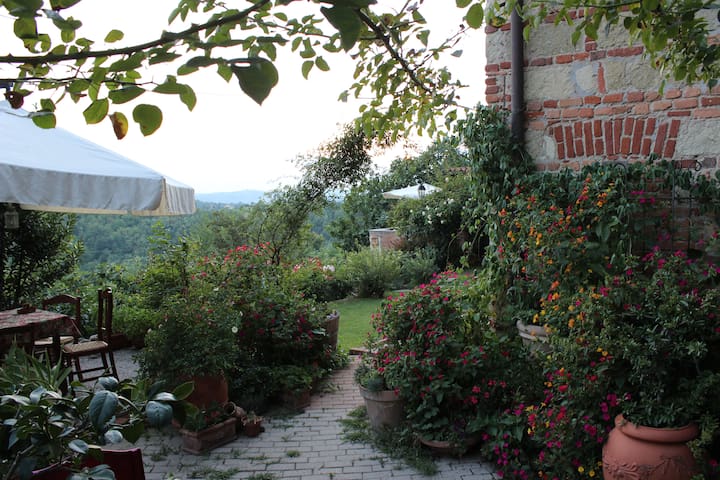 Nestled against the scenic hills of Casale Monferrato, The House in the Wind it overlooks a beautiful hill surrounded by vineyards of Grignolino, Barbera, Chardonnay and other fine varieties.
The perfect holiday for adults and children starts from La Casa in Wind in Vignale Monferrato. Because we provide comfortable and welcoming accommodation and we are always available and ready to meet all your needs and requirements. The three rooms, furnished by Piera, the hostess, offer a feeling of relax enjoying the best comforts.
Piera greeted us in the traditional Italian manner & from that point we felt welcomed to La Casa nel Vento & to the locality of Vignale. Piera & Eraldo ensured that we were introduced to the Piedmonte region; this was especially relevant to our travelling experience as Australian vignerons. The Casa offered exceptional views of the UNESCO heritage listed Barbera vineyards, the Alps on the horizon, as well as iconic views of the hilltop village of Vignale. The UNESCO heritage listing was important to us as it has resonances with our local plans for UNESCO listing. We encourage other Adelaide Hills wine/ food producers to visit & explore the possibilities. The accommodation at La Casa nel Vento exceeded our expectations; both in terms of privacy & attention to detail, as well as catering and help from our hosts when planning local excursions. Thank you Peira & Eraldo for ensuring that our Piedmonte visit was memorable & we have not hesitation in recommending La Casa nel Vento to future visitors. Jillian & Gerald Clark
Jillian
2016-09-21T00:00:00Z
Vignale Monferrato, Piemonte, 義大利
輸入日期以查看總價格,包括其他費用,可能會加收稅費。