Lovely, character 'home'. Vaulted double bedroom. Single room child/ accommodating adult. Prefer 2 days min - unless dates fit change-overs. Underfloor heating, woodburner, garden, pets OK. Sky Plus TV/ WiFi. Free parking. Cosy escape...
A little gem - perfect for the Suffolk coast - birdwatching, walking, concert going and many pretty villages and sights. Trains to Norwich, London, Bury, Cambridge for further sightseeing. Access to local gardens, castles and wonderful pubs and restaurants. The PERFECT cosy get away from it all HOME. It IS a home and not a bland rental holiday cottage so there are the owner's things around! Warm welcome - the host is an experienced owner. Stairs are steep and the pavement is narrow so not for the elderly or infirm. One couple were nervous as they had very young children although the cottage has been home to a 'young family' without difficulty please discuss further. To be clear - Family Friendly means I am very happy to accept children and the same applies to Pet Friendly for well behaved pets!
This is a well loved Suffolk village! I am in the lower end of the High Street and there will be some passing traffic but it is quiet at night. Pets should be put on a lead, or children walked by hand, before they leave the property as the house opens on to a narrow pavement on the street. Please don't book on the main road and then mark the cottage down because it is on The High Street! The location is marvellous for the lovely villages and towns, and is less than a mile to the A12.
Denise was very helpful in all aspects when booking, always responded to messages promptly and in a friendly manner. Her cottage is exactly as she described it in the listing. We felt that we were looking after a much love property for the weekend. Everything worked and Denise was kind enough to leave some basics (tea , coffee etc) to make us feel at home. Highly recommended!
Rob
2016-07-04T00:00:00Z
We had a lovely stay in this cottage, which is exactly as described in the listing. Pictures don't do it justice. Really charming. Garden was great for al fresco eating. The fact it is dog friendly is the icing on the cake. Communication and advice from Denise were excellent. The local butcher deserves its award (Try the treacle and beer bacon!) Favourite meal was at the Ufford crown The Greyhound was worth the visit as well. Both dog friendly in bar area and only a short distance away.
anand
2016-08-12T00:00:00Z
The other Denise made us very welcome and explained various bits and pieces. We didn't need to have contact over the weekend. Very convenient for local amenities.
Lynda
2016-08-08T00:00:00Z
Lovely stay. House is very cosy and as described, lovely big sunny garden which we spent lots of time in. Denise is very helpful and showed us around the house, also giving some great advice on the best local seaside spots!
Matt
2016-06-13T00:00:00Z
This was a lovely experience and highly recommended. Denise settled me in with a warm welcome. Everything worked and was very comfortable. The garden is lovely too; we were able to have a slightly cool breakfast outside on Saturday. We were in Wickham Market for some gentle cycling and it was an excellent base to explore the area. Thank you, Denise.
Mary
2016-06-05T00:00:00Z
Denise was really helpful and welcoming and the cottage was perfect and really cosy.
Sarah
2017-02-17T00:00:00Z
A wonderful cottage in beautiful location. Thank you to Denise for making the cottage so welcoming, such a perfect setting to get ready for my wedding! Very happy memories in this idyllic cottage. Thanks Denise.
Elizabeth
2016-08-01T00:00:00Z
Great stay:)
Maciej
2016-11-23T00:00:00Z
Wickham Market, 英國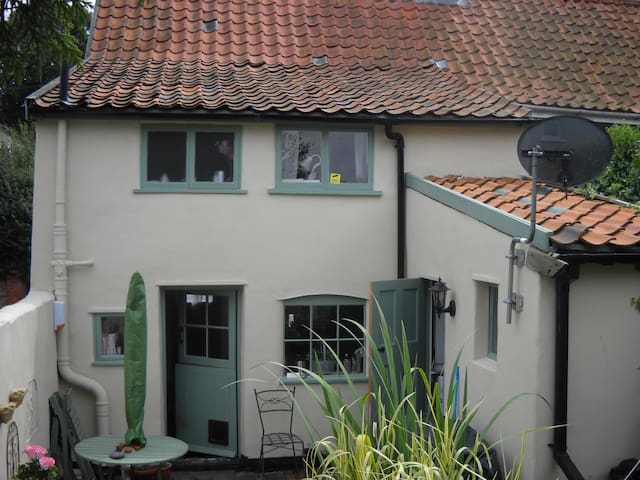 A traditional, beautifully renovated one bedroom cottage in a traffic-free spot overlooking the village green, with a small cottage garden and lawn to the rear. Deep in the Suffolk countryside yet only 20 minutes drive to the Suffolk Heritage Coast.
The cottage is in Wickham Market, close to the Heritage Suffolk Coastline. Wickham Market is a short drive from the A12 with free parking in the adjacent lane. By train, regular London services run from nearby Woodbridge station (via Ipswich) along with other routes and options. Wickham Market also runs a regular bus service from the village centre just two minutes walk from Pightle Cottage. Snug in winter and serene in the summer, Pightle Cottage has overlooked its namesake - the village pightle, or green, since around 1850. The cottage holds onto its charm and original features but has been recently refurbished to a quality finish throughout - from tiny staircase to cosy, well-kitted kitchen and adjoining sitting room, complete with open log fire. Upstairs, the light and airy double bedroom overlooks the pightle, and a bathroom with bath and shower mixer tap. Back downstairs, the kitchen looks onto a neat cottage garden, with an outhouse for bikes and beach gear. WIFI ACCESS WiFi runs throughout the cottage. WHAT'S NEARBY? Pightle Cottage is set back from the town - ensuring a quiet, peaceful stay - but a short walk from Wickham Markets's bustling centre. Here you'll find a range of local shops, tearooms and restaurants, plus access to bus routes and a well stocked Co-op, open seven days a week. Do make time to visit the award-winning E W Revett & Son butchers, famous for their superb sausages. Off exploring? From romantic coastline with a fascinating variety of dunes beaches and estuaries, to rich reed beds and heathland, few places deserve the award for Area of Outstanding Natural Beauty like the Suffolk Coast and Heaths. A visit is a treat for any keen walker, cyclist or nature enthusiast from meandering country lanes and tracks to gorgeous coastal scenery and nature reserves including the famous RSPB site at Minsmere. Finish your ramble with a stop in one of the nearby villages, famed for excellent beer and award winning produce, whether it be sea fresh cockles and a pint on Orford quay or fish & chips on the front in Aldeburgh Don't limit yourself. Orford, Dunwich, Southwold and Woodbridge are all close by, with Sutton Hoo - the famous Saxon burial ground - just by the Deben estuary. And finally, why not make a pilgrimage to Snape Maltings - home of the famous Aldeburgh Music and Literature Festival, with a year round programme of concerts, events and unbeatable farmers markets?
We are 2 minutes traffic-free walk from Wickham Market, which has a great selection of shops including a small supermarket and a handful of eateries. For walkers there is a public footpath running past the cottage which links to a circular route through the surrounding countryside.
We had a lovely stay in the cottage. It is set well away from roads, so is very quiet, yet not remote. We slept so well! It was just the right size for us; cozy, but plenty of space for two. Would happily stay there again for a relaxing get away. Thanks for having us.
Douglas
2014-12-27T00:00:00Z
I booked this cottage a long time in advance but subsequently we unexpectedly acquired a puppy, thereby scuppering our travel plans. Luckily my friend Cathie bought the holiday off me, Snape Maltings concert tickets and all. The hosts Pat and John were very accommodating of this change of plan and very easy to communicate with. Cathie reported back to me unprompted about the holiday as follows: "...just thought I'd tell you that we had the most brilliant time here. If you get the opportunity to come then the cottage is lovely. Small but comfy, clean and with excellent wifi! Snape is about a twenty minute drive away but through beautiful countryside. You can see for miles because it's so flat. Lovely skies, reed beds and birds. Snape Maltings itself has a wonderful concert hall. It seats 800 - an enormous Barn Theatre with excellent acoustics. When we came out later there was a full moon shining over the reed beds and reflected in the lake. Stunning! Let me know if you arrange another holiday you don't want to go on!"
Gillian
2015-04-07T00:00:00Z
Absolutely lovely cottage, it was clean and quiet and Wickham Market is a nice little village. The cottage had everything we needed, and the supermarket just up the road had everything you could need.
Xanthe
2014-06-10T00:00:00Z
This was our first Airbnb experience and what a fabulous way to start. The cottage was perfect for us, and had everything we needed, including many items of kitchen equipment which we wouldn't have expected to find in a holiday home. It was well decorated and comfortable. We slept well and the only noise was birdsong. Excellent wifi. We walked and cycled from the doorstep, and the large Co-op and wonderful local butchers Revetts meant we didn't have to worry about shopping anywhere else. In our 5 night stay we went to Orford, Snape, Framlingham, Aldeburgh, Sutton Hoo and Dedham. Had a really good meal at the Greyhound Inn in Pettistree. Even the weather was good, if rather cold. Thanks Pat and John. We would like to return sometime.
Judy
2016-04-24T00:00:00Z
Lovely, well-equipped little cottage very well located for exploring Suffolk. Spotlessly clean, very comfortable, lots of nice touches like milk in the freezer and coffee and tea in the welcome pack. Thanks!
Rachel
2013-09-03T00:00:00Z
The cottage was lovely, perfect for a country get away. Pat and John organised our stay wonderfully and there were helpful maps and guides in the cottage.
Jessie
2015-05-26T00:00:00Z
The cottage was as described, and very comfortable, especially the bed. The bedroom was light and airy, with plenty of space. It was also good having close access to a really good co-op. Thank you Pat and John for providing a lovely experience for us!
Julie
2015-08-11T00:00:00Z
Beautiful little place in a quiet, peaceful setting. Clean, comfortable and full of character. The hosts are very friendly and responded immediately to all our queries. Great breakfast at the cafe on the market square, 5 mins walk away. Perfect for exploring the Suffolk coast and countryside. Would recommend to anyone wanting a retreat from the hurly burly!
Linda
2014-06-14T00:00:00Z
Wickham Market, 英國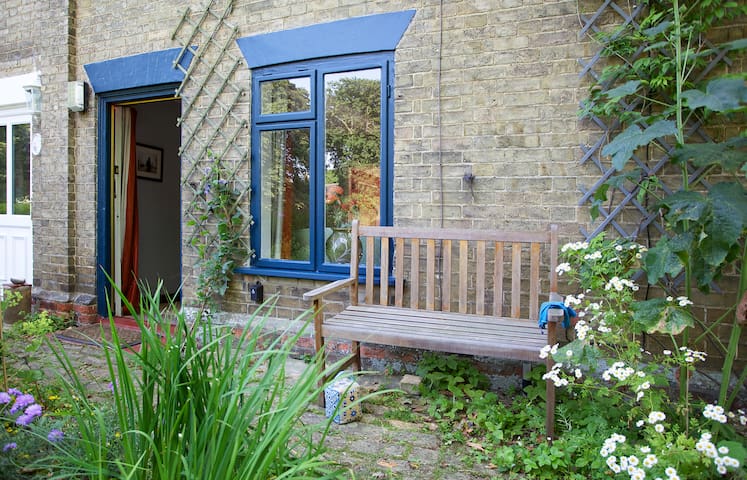 A beautiful double bedroom and private shower room in a recently renovated 16th century cottage. Located 5 miles north of Woodbridge in the small market town of Wickham Market it is the ideal base to explore the heritage coastline.
The newly refurbished spacious double room is upstairs next to the private shower room and toilet. The room boasts period features and tea and coffee making facilities. The room has a full length mirror, bedside table and lamp, arm chair, wash stand and small sideboard. The shower room has a large walk in shower with two shower heads. Toilet and wash basin. We have a friendly dog Frank who lives with us. He is not allowed upstairs and in the guests area.
The pretty Market town of Wickham Market is situated just off the A12 and approximately 5 miles north of the popular town of Woodbridge. Wickham Market has a wide selection of shops and amenities including a post office, pharmacy and supermarket. It has a selection of local eateries and coffee shops. It is short walk to the local pub, The Greyhound in the nearby village of Pettistree. Good access to the A12 makes it an ideal location to explore the Suffolk heritage coastline as well as easy links to the A14 and beyond. Just down the road from Easton Grange so ideal location for wedding guests!
Wickham Market, Woodbridge, 英國
Treat yourself to the perfect romantic escape. Breathe in breathtaking views, soak away the worries of the world in a gorgeous hot bath and then cuddle up in front of the fire with a glass of something relaxing! This enchanting cosy cottage sits within a 75 acre estate, 20 mins from the coast of Aldeburgh and Shingle St. Utterly dog-friendly - a fairytale fantasy for you, your lover and your furry friend!
It's fairytale because everywhere you look is beautiful and all yours to explore, set up picnics, light a BBQ or just lay down and look at the sky! You overlook this picturesque moated medieval hunting lodge called Letheringham Lodge but are secluded and private in your own enchanting little cottage with private access and parking in front. The kitchen has everything you could need for an escape from the crazy world: induction hob and oven; fridge; cafetière, coffee, tea, milk, biscuits and a wee bottle of bubbly prosecco in the fridge! There is a microwave but no dishwasher. The bath in the bedroom is a complete luxury to soak away all your worries but if you are a shower person, there is a modern wet room with shower on the ground floor! Worried about the swans? Don't be. They are very friendly pets and will feed from your hand; they would never hurt you! If they come too close and you feel uncomfortable you simply raise your arms like being an aeroplane and they walk off. I assure you, you will fall in love with them like we are! They are called Henry and Ann because it is believed Henry Tudor and Anne Boleyn courted here (we have historians trying to prove it as I type this!). There are two other cottages but they face different directions and are separated well so you may not even see the people staying in these. We provide infinite firewood for your woodburner so you may not want to ever leave your cosy little hideaway. We are so dog friendly, we don't want you to collect his/her art installations unless they are on the paths - they feed the badgers and the deer!
Letheringham Lodge is 1.5 miles from Wickham Market which has the famous Revetts Butcher (with sausages to die for!!). The Greyhound at Pettistree is only 6 minutes drive and serves superb pub grub. The Crown at Ufford is also a 'must' visit. Both allow you bring your dog along! Campsea Ashe has a recommended auction house, and a local market on Monday mornings. The market towns of Framlingham and Woodbridge with nearby Sutton Hoo are also easily accessible and provide a wide range of shopping and leisure facilities. The Suffolk Heritage Coast is just a short 15 minute drive away. Snape, Aldeburgh, and Orford are all within easy reach and Easton farm park is less than 1.5 miles or a 3 minute drive away!
Woodbridge, Suffolk, 英國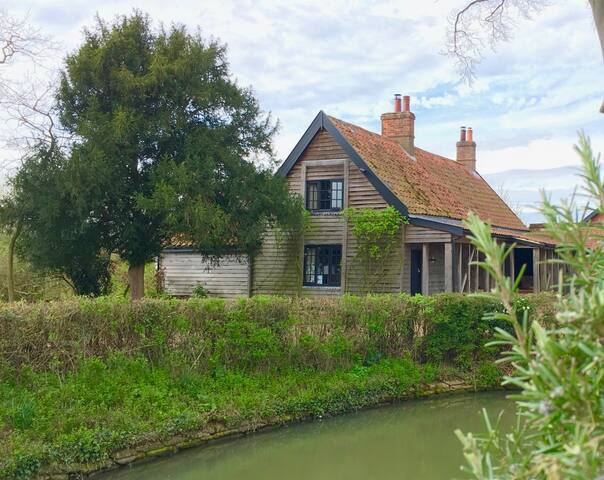 Contemporary 2 bedroom 2 ensuite cottage set within the historic setting of Letheringham Watermill - an idyllic waterside Suffolk hideaway The property is set away from our main house in a setting of three cottages all linked by an outside decked area which is appealing for watching the world go by
No doubt our riverside location makes this cottage 5***** setting really unique - as so many guests say our setting is so much better than the images we have on this site it's hard to capture digitally the serene beauty that Letheringham Mill site and grounds has to offer Guests love the peace & quiet strengthened by the fabulous comments our visitor books are full of compliments for our high standards in cleanliness & interior design - we have a first class housekeeping team who keeps the old stables sparkling Inside there is a fabulous bespoke modern kitchen by a local kitchen designers Luxmoore - having everything you should need in a home away from home - including Bosch built in appliances for Oven/Hob/Extractor with dishwasher and washer/dryer The bedrooms with Willis & Gambier bedroom furniture with memory foam relyon mattresses having their own ensuites so ideal for guests sharing the cottage wanting their own bathrooms Excellent wireless wifi available with BT phone for local UK calls as mobile signals can be intermittant outside of Vodafone users All on one level without any stairs it's easy to navigate around with a spacious air about The Old stables - There is a back door onto the decking on the riverside which is a large communal deck shared by all three cottages sited here We have a communal door between The Hayloft and Old Stables which is locked during individual bookings but can be opened to enlarge this into a larger rental place of up to 8 guests We supply Tea,coffee & sugar in all cottages and basic supplies such as olive oil, salt & Pepper, Milk, water & sparkling water - we supply tablets/salt/rinse aid for the dishwasher & laundry washing in the kitchen cupboards plus kitchen foil and cling film as we feel sometimes it's really hard to carry everything on a trip and hope this helps guests to manage their break - of course a complimentary bottle of wine too to welcome you here..............
Rural location but drive away from some great places on the heritage Suffolk coastline such as Aldeburgh & Southwold
We had a wonderful stay in this beautiful cottage. Next time I think we'll take friends as its the perfect hideaway and retreat from London
Duncan
2016-07-10T00:00:00Z
This place is a must for a family break or a romantic retreat truely is secluded and peaceful (secluded in a good way) and with loveley grounds had the pleasure of meeting richard who was friendly and welcoming thers a few really nice beaches not to far drive and lots of lovely farm shops and cafes our dog absulutly loved the freedom and being able to go in all the shops and pubs never been somewhere so dog friendly the acomadation was great to very clean and felt like home modern but cosy with quirky litltle feautures im sure any of the conversations would be great quiet at night with lots of stars friendly dogs to great stay with lots of great possitives thank you for a great break peter lauren and barney
Peter
2016-10-17T00:00:00Z
Great stay
Deepa
2017-02-03T00:00:00Z
The most beautiful setting and everything about the cottage is clean, comfortable, well equipped and beautifully decorated.
Jenny
2017-04-05T00:00:00Z
Wonderful accommodation in beautiful quiet setting.
Diana
2016-04-03T00:00:00Z
Such a lovely week spent in The Old Stables. Not only was the cottage in the most beautiful setting, the cottage itself so lovely and our hosts so friendly, but it was just a short drive to get to many fantastic places. Thank you!
Helen
2016-08-22T00:00:00Z
What a beautiful setting ! We enjoyed the peace and quiet . Thank you Richard , Jackie, Amber and Teddy . We would really love to stay here again. The weather was kind and this made the visit very special. Kind Regards Tracy and Jay
Tracy
2016-08-28T00:00:00Z
We stayed in this cottage over the Xmas period and found it a very warm, well decorated and charming place to stay. The environment around the mill is beautiful and the Christmas lights outside the cottage were magical. Would definitely come again in the future.
Daniel
2016-12-22T00:00:00Z
Woodbridge, Suffolk, 英國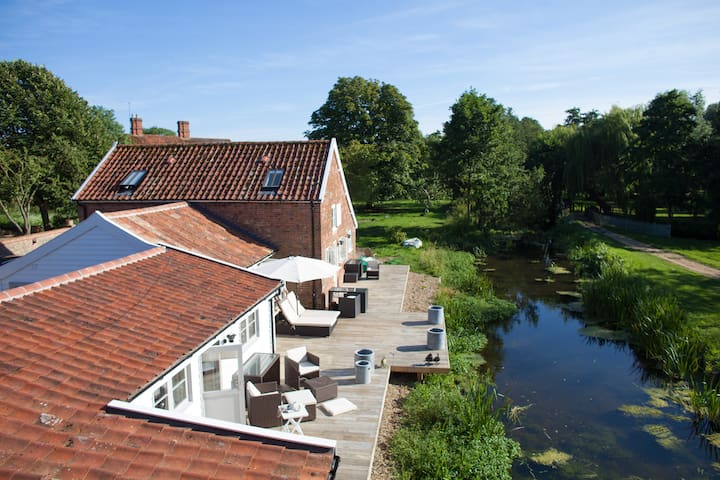 Our house is close to Framlingham . Our house is good for couples, solo adventurers, and business travellers. We are 1 mile from historic Framlingham Castle, 10 miles from Snape Maltings Concert Hall, and 15 miles from Minsmere and the Suffolk Heritage coast. We love cooking and own a cookshop in Framlingham. Please note, our room is accessed by a fairly steep spiral staircase.
We spent a night with Christopher and it was great! This is an ideal place to rest with a comfy bedroom and bathroom in a great environment. Christopher's full English breakfast is amazing with fresh local food and free range eggs from their own chickens! Our hosts made us feel like at home and they recommended us a very nice place for dinner in the town. We will come back for sure!
Lara
2016-08-29T00:00:00Z
I had a brilliant stay at Christopher and Trisha's beautiful timber-framed farmhouse dating from 1550. I very much appreciated the lift to and from Framlingham, the cosy, elegant room up a quirky narrow set of wooden stairs and the fantastic full English breakfast! Thank you for a great stay!
Juliet
2017-02-03T00:00:00Z
If you are looking for a beautiful farmhouse in the loveliest part of Suffolk with friendliest of hosts, this is for you.
Susannah
2017-02-09T00:00:00Z
Lovely inviting place to stay; very friendly and comfortable home. Would definitely book to stay again.
James
2017-01-15T00:00:00Z
Gorgeous, country home owned by lovely, welcoming guests. The room was perfect for my business trip and I was cooked a delicious full english which set me up for a fantastic day. Would definitely stay here again.
sarah
2017-01-18T00:00:00Z
Lovely stay at this house. Fab breakfast too. We stayed two nights and made to feel welcome and felt at home.
Andrea
2017-03-12T00:00:00Z
Beautiful house, lovely bedroom, super comfortable bed, great shower and bath, amazing breakfast, fabulous dogs! Chris and Trisha are brilliant hosts. A real gem of a place. Highly recommend.
Louise
2017-04-01T00:00:00Z
Had a lovely time staying with Chris, Trisha and their dogs. Breakfasts really set me up for the day
Jessica
2017-02-16T00:00:00Z
Framlingham, 英格蘭, 英國
You will be staying just a quick walk away from the beautiful town of Woodbridge which is located along the stunning River Deben. We have a train station with mainline connections, plentiful restaurants and pubs and there is always something going on! The recently built extension is a delightfully spacious room with en suite. The room is beautifully furnished with a tasteful mix of old and new. A continental breakfast is available upon request. Babies welcome.
Bubbly hot tub in use most of the year! Check before booking as cleaning and maintenance takes place during the colder months.
We were very welcome, comfortable and happy in our first experiance of air B&B
Tracy
2016-10-23T00:00:00Z
Lesley was very helpful and accommodating. The room was very comfortable, spacious and clean. Little touches like tea and coffee and fresh milk in the room made it a very pleasant stay. Thank you.
Julia
2016-09-05T00:00:00Z
Amazing hot tub in a beautiful garden! New room and bathroom so in very good condition.
Chantal
2016-08-29T00:00:00Z
We had a wonderful stay and Lesley was a fantastic host. The room was nicely decorated, clean and very comfortable. I would definitely recommend this Airbnb!
Sophie
2016-09-11T00:00:00Z
We would highly recommend Lesley's house. A very welcoming host, lovely clean room and relaxed ambiance. It is within walking distance to Woodford town centre too. The hot tub was a bonus. We plan to visit again! Thanks Lesley and Alice!
Lizzie
2016-08-28T00:00:00Z
Lesley was a wonderful welcoming host, very attentive and helpful. The room was beautiful, very tastefully decorated, airy and bright, spotlessly clean and had little touches of luxury. The hot tub was such a bonus. Breakfast was lovely, we had it in the beautiful garden. We had a wonderful relaxing stay with Lesley and I hope her business continues to flourish. We will certainly be back as soon as possible.
Carole
2016-07-11T00:00:00Z
Lovely. Very well looked after and wonderful place. Went out in the evening and everyone was so friendly and welcoming. What a find!
Justin
2017-03-12T00:00:00Z
Had a lovely night stay and couldn't have been made to feel more welcome. The room and hot tub were great and we received some great recommendations of where to go in Woodbridge. Would definitely stay again if in the area.
Pete
2016-11-13T00:00:00Z
Woodbridge, Suffolk, 英國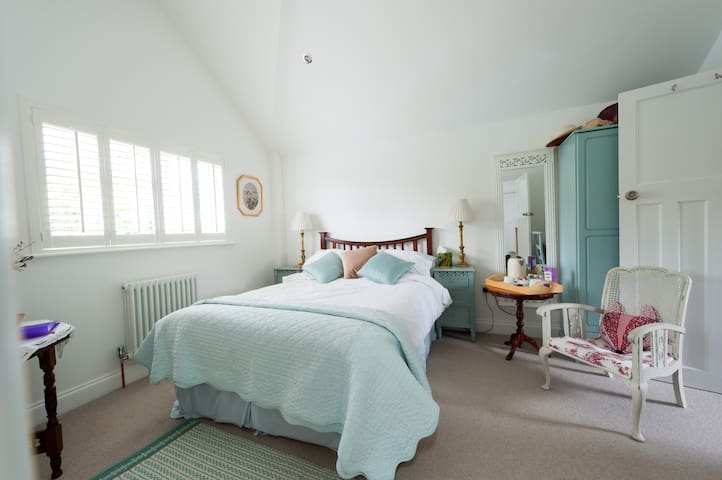 Our charming cottage, just a short drive away from the Suffolk Heritage Coast, sleeps up to 5 people. Visitors to the White Cottage have their own sitting/dining area, bathroom and 2 bedrooms up their own staircase. Boutique singer/songwriter studio available for hire-please enquire.
The White Cottage is a grade 11 listed dwelling dating back to the 17th Century. The cottage has views across the fields to the front , and a beautiful spacious garden to the rear. The property features open stud work, exposed timbers and a multi fuel stove. We have 2 spare bedrooms-sleeping 3 people, with a double sofa bed in the large sitting/dining area. Although there is no kitchen for guests, a nespresso machine and a supply of coffee pods are provided, as well as muesli , milk and fresh fruit, and we recommend a visit to our very local farm shop cafe for a superb choice of cooked breakfasts/brunch/lunch if more is required. Plates, cutlery, glasses and bottle opener are provided if guests want to bring their own provisions to the cottage,or order a takeaway to be delivered. Guests are also welcome to use the barbeque. An electric cold box is available for guests to chill drinks and food. Off street parking to the front of the cottage is available.
Lower Hacheston is North-East of the village of Wickham Market where there is a full range of facilities and shops, and we are fortunate to have a choice of pubs- just a short drive away, all serving fantastic food. Campsea Ashe has a recommended auction house, and local market on Monday mornings. The market towns of Framlingham and Woodbridge with nearby Sutton Hoo are also easily accessible and provide a wide range of shopping and leisure facilities. The Suffolk Heritage Coast is just a short drive away, and Snape, Aldeburgh, and Orford are all within easy reach.
A lovely place to stay, Bryony and Simon are such welcoming and thoughtful hosts and the house is near to so many interesting attractions that you will never be short of things to do. Highly recommended, looking forward to a return visit!
Pete
2015-04-02T00:00:00Z
Bryony was a very accommodating hostess: warm and friendly. She even made up a wood fire on our arrival! Probably good thing as I can imagine winter months could be chilly - take your winter pyjamas! Gorgeous setting and cottage very pretty. Amenities sufficient but basic. Overall a good choice - especially Bryony's recommendation for a fabulous local hostelry where we enjoyed a five star meal.
emily
2015-11-14T00:00:00Z
We had a very lovely stay at Bryony's beautiful cottage. She made us feel extremely welcome and there was great communication from the start. The cottage is delightful, spacious and comfortable and we were sorry that we were only able to stay one night as we were there for a wedding but it is a great find and we will definitely go back again to spend more time exploring the area.
Lavinia
2015-07-05T00:00:00Z
Comfortable and cosy cottage in a quiet location. Bryony was a helpful host, providing local pub recommendations and offering tea/coffee/croissants in the morning.
Joe
2017-01-02T00:00:00Z
The host canceled this reservation 362 days before arrival. This is an automated posting.
Sarah
2016-12-26T00:00:00Z
Great place. Loved it. Loved all the wonky ceilings and floors. Super cosy and snuggly.
Jordy & Chloe
2016-09-12T00:00:00Z
Lovely place, perfect for exploring the area, the only problem was finding it, stupidly we arrived very late, not a good idea.
Peter
2016-07-19T00:00:00Z
We had a lovely couple of nights staying here. Bryony was a great host - with some good advice of local places to eat and visit. The house is lovely and there is a lot of nice places to visit in the surrounding area.
marek
2016-04-06T00:00:00Z
Lower Hacheston, 英國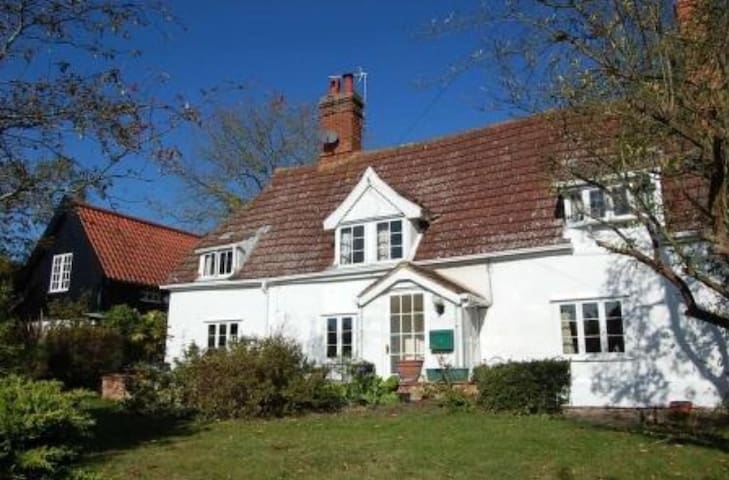 This lovely double room is ideal for up to two people who want to be near to the beautiful town of Woodbridge! We're 15 minutes walk from the town centre which has all necessary amenities and a train station with connections to London Liverpool St.
The double bedroom is upstairs and we have a downstairs bathroom and a separate toilet. We do have a very friendly dog, Ralph, a black labrador who will be very welcoming! Ralph is not allowed upstairs! Dog friendly guests only please! A few things have been added to the room since the photographs were taken, the room now has a television, radio/ipod docking station and bedside lamp.
We are 15 minutes walking distance from Woodbridge town centre. Woodbridge has a a main shopping street, The Thoroughfare, which has everything from pubs/bars/hotels to pharmacy, shops, Post Office and plenty of coffee shops! The train station is in the centre down by the river Deben, this has connections to London Liverpool Street and Norwich. The River runs through the town and has a beautiful river wall to walk along. You are also not far, approx. 30 minutes drive to the beautiful seaside town of Aldeburgh. We also have a convenience store, post office, pub, kebab/pizzeria, Chinese take-away on our street just 2 minutes walk from the house.
We had a very comfortable night with these fabulous hosts. I had my 10 week old baby with me and they were incredibly accommodating, warm and helpful. I had a late gig and didn't get in until the wee small hours but Ralph their gorgeous dog was there to greet me with a friendly wag. I felt terrible that I managed to leave a water mark on a lovely wooden chest but Zak was super chilled-out about it. I couldn't recommend them highly enough as hosts. Many thanks!
Heather
2016-07-11T00:00:00Z
Harriet and Zak were lovely hosts and very helpful. Beautiful house also. Would definitely recommend staying here.
lorna
2016-09-11T00:00:00Z
Zac was a welcoming host, as was his lovely lab! The house was spotless and I was very envious of Harriet's Japanese kitchen knives. The room is on the small side but has a large window with a view of the garden, and had everything I needed. The bed was wonderfully comfortable and the room tastefully furnished. The downstairs bathroom is spacious and the shower was easy to operate and nice and powerful. Their wonderful home is within easy walking distance of Woodbridge and Melton. I would gladly stay again.
Maureen
2016-04-20T00:00:00Z
Lovely house, lovely couple, lovely dog. Great place to explore the Suffolk coast from.
Richard
2016-12-29T00:00:00Z
I felt completely welcomed into the home of Harriet, Zak and Ralph the dog. It is warm, clean, comfortable, and comms were really easy. I stayed for 1 night, as I was running a workshop in Butely, and it was a perfect location, with no problem parking, and a convenience store just down the road. I would happily stay there again
Luca
2017-03-05T00:00:00Z
I had a brilliant overnight stay at Harriet and Zak's. I was made very welcome, and by Ralph the dog! Their home is beautifully presented and clean and the bed is very comfortable. Although it's a little bit out of the center it's a manageable and pleasant walk in 15 minutes at a brisk pace. I highly recommend!
Meryl
2017-02-07T00:00:00Z
I only met Zak and Ralph and both were lovely. Very friendly & welcoming.
Heidi
2016-09-30T00:00:00Z
In Harriet's absence Zach, and Ralph the tail wagging labrador, gave us a very warm welcome from start to finish. The room, though tight for a double bed, was very comfortable, with luxury towels, toiletries and fresh flowers provided. The bathroom being downstairs was not a problem and was most attractive. The shower was excellent. Ralph is an exceedingly well behaved dog and does not enter the carpeted area - a credit to his owners. Walked down to the Anchor in Woodbridge for an excellent evening meal .Harriet was very helpful and communicative before our arrival. Congratulations to you both Harriet and Zach on your recent engagement! We hope to return again!
Gordon
2016-03-19T00:00:00Z
Woodbridge, 英國
Treat yourself to a private rose garden cottage with its own yoga studio; a wonderfully romantic hideaway close to Aldeburgh, Southwold and the famous Shingle St beach. Enjoy a secluded BBQ with private dining or cuddle up with the cosy log burner. Walk freely around the 75 acre estate of the award-wining medieval hunting lodge called Letheringham Lodge (easily searchable). One double bedroom and a double sofa bed, it is ideal for a couple with one child or a furry friend.
Your cottage is set in the middle of a stunning 75 acre estate set back from roads. Letheringham lodge is a medieval hunting lodge and the cottage you are staying in was the dairy for it. You drive in through a rural track and once you enter your little rose garden, you have a totally private garden and yoga studio. It is all on one floor so ideal for easy access for those with mobility issues as the upstairs is used for storage. The kitchen has everything you could need: induction range; fridge/freezer with ice maker and filtered water; microwave; washing machine; iron and ironing board and clothes dryer. Outside dining and BBQ. No-one will disturb you unless you ask us for help, then we are 50 metres away! It is a spacious pretty modern cottage with original beams and the views out are stunning.
Everything. Stunning stunning piece of England. If you would like to discover an amazing array of unspoilt beaches (Shingle st), quintessential retro vintage seaside towns (Southwold, Aldeburgh), walk in stunning country and watch mercurial pink sunsets - come here!!!
Pauline & Matthew couldn't of been more welcoming, Lovely welcome hamper, stunning 75 acres that your free to explore. Surronding areas & beaches well worth visiting, a really wonderful place to stay. We were at Romantic Rose cottage Fri-Mon. Will be booking a week later this year. J&M
Janey
2016-08-15T00:00:00Z
Pauline und Matthew sind unglaubliche Gastgeber, die einfach alles getan haben um unseren Urlaub so schön und komfortabel wie möglich zu machen. Die Unterkunft ist wunderschön eingerichtet und besitzt alles was man sich wünscht. Die ruhige und vor allem grüne Umgebung ist perfekt für einen erholsamen Urlaub geeignet, zum Strand ist es auch nicht sehr weit. Insgesamt einfach alles perfekt!
Ralf
2016-07-25T00:00:00Z
Pauline is a very welcoming host and was very enthusiastic about our stay, the area and her lovely home. Rose cottage was very comfortable for the two of us to stay in and had all the facilities you could need for a short stay.
Dawn
2016-06-20T00:00:00Z
We were made to feel very welcome on arrival with a generous hamper full of goodies. The surrounding area is beautiful.
Annie
2016-10-26T00:00:00Z
My husband and I have recently returned from an absolutely blissful stay at the Romantic Rose Cottage. From arrival (warm welcomes, Prosecco and nibbles and other essentials on hand) through to the very last day we had an unforgettable experience. Pauline and Matt couldn't be kinder and truly open up their home and hearts to their guests. The cottage is perfectly equipped with everything one needs and more. The log burner was a delight and the garden and BBQ area got a lot of use! The cottage, Pauline and Matt and whole area is incredibly dog friendly. Our little dog had the week of his life and loved running free, exploring all the land and making friends with Pauline and Matt's dog Dotty :) We were given a lot of help around what to do and visit during our stay and enjoyed the tour of the lodge! All in all a magnificent week and we will back as soon as we can escape again.....Thank you.
Celine
2016-07-10T00:00:00Z
We had a fantastic stay, a beautiful cottage in a beautiful area, thanks again
Richard
2016-12-30T00:00:00Z
Rose Cottage sits in the shadow of an historic 15th century converted (in 1609), moated hunting lodge and set in seventy five acres of beautiful grounds. Your hosts, Matthew and Pauline could not do more to make you feel welcome. From the moment you open the door everything is perfect from the welcome pack right down to the cotton sheets you sleep on. On entering you can feel the warmth of the open plan lounge and kitchen (it was December) with a log burner and ample supply of logs stacked up in the porch. Top quality kitchen ware and equipment throughout too. Fantastic hideaway for a romantic winter getaway and would love to come back in Spring /Summer to see the rose garden in colour. Plus the onsite bar would be serving! Our only concern is once this secret's out, we won't be able to book any time for ourselves!!!
Johanna
2016-12-07T00:00:00Z
A wonderful stay! Beautifully decorated cottage in an idyllic setting. The large garden was a particular bonus. Hosts Pauline and Matthew were very friendly and were particularly passionate about their historical home. Couldn't wish for s better cottage. Would love to go back.
Dave
2016-08-12T00:00:00Z
Woodbridge, Suffolk, 英國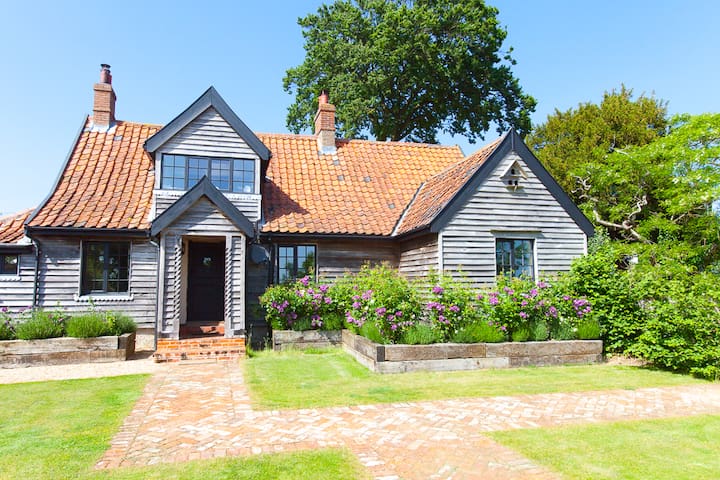 Charming private annex, attached to end house of a Victorian terrace in a picturesque area of Woodbridge just off the historic Market Square. Convenient for everything!
The annex is comprised of a bedroom with a very comfortable double bed with Egyptian cotton sheets, a living/dining area with free Wi-fi and DVD viewing(sorry, there is no TV connection) a kitchen with kettle, toaster, cooker and fridge and a newly fitted shower room with heated towel rail. The accommodation is self contained/self catering, however teas, coffee and biscuits are provided along with toiletries, towels and a hair dryer.
Woodbridge is a lovely town with so many things to see and do. The river walks are picturesque with the iconic Tide Mill a good starting point and the mostly independent shops offer a wide variety of goods. There are numerous coffee shop sand cafés to choose from including ITV's best British bakery winner. There is a large selection of very good restaurants and pubs for eating and entertainment, along with an independent cinema. Everything one needs can be bought in the local supermarket and all are within walking distance of the annex. Woodbridge is considered the gateway to the Suffolk Coast and Heaths area of Outstanding Natural Beauty and a convenient base from which to explore the region's many attractions.p
Patricia is a wonderful person and a great host. She is very friendly and accommodating, this is easy to tell even after a quick phone conversation.
Mark
2014-11-26T00:00:00Z
I wanted to explore Woodbridge and the area. This was an ideal place to stay - easy to walk into town, nice private, well set-up annexe. Patti was very welcoming and helpful.
Christopher
2016-09-24T00:00:00Z
All was as described and very comfortable. Thank you Patti.
Debbie
2016-10-17T00:00:00Z
The annexe totally lives up to it's description and was a charming place to stay. Patricia is very welcoming and key handover and return was smooth and easy. I wish I could move in permanently!
Kashka
2016-05-27T00:00:00Z
My stay was great, and the location is very handy for the town and getting around the Woodbridge area. It really is a nice small flat with all the amenities described by Patti.Lots of parking on the street and it is very quiet which makes getting a good night's sleep so nice. I would certainly come back again. Patti provides Tea and Coffee as well as a nice loaf of bread to help you get started. It is about a 15 minute walk from the station,and ten minutes into the town itself. You can hire cars in Woodbridge and there is a good train service covering the local area.
Graham
2016-08-08T00:00:00Z
Lovely little annex exactly as described. Patty was welcoming and friendly. The bed was wonderfully comfortable and breakfast provisions great. The area is beautiful, we had a really lovely time.
Sophie
2014-11-04T00:00:00Z
Whenever I see the word 'charming' I am a little wary, but the annex needn't worry about that at all, v nice, ideally situated, lovely host, all in all great!
Ben
2015-01-12T00:00:00Z
This was a delightful place to stay. Warm , clean and spacious. Everything you could want away from home
Katherine
2016-11-30T00:00:00Z
Woodbridge, Suffolk, 英國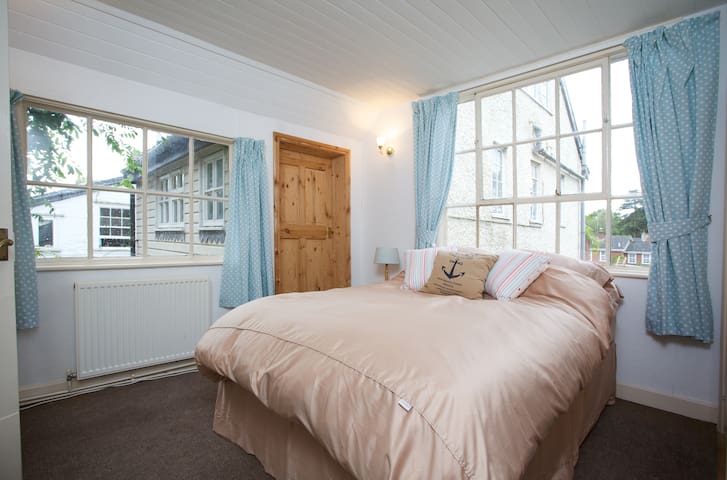 Quiet first floor room & bathroom beside it. Extensive help yourself breakfast. Fasr wifi. Close to centre of Woodbridge & specialist shops, great pubs & wonderful coffee shops. Also a cinema & train station. Cat - never in bedroom unless invited!
Good size bedroom with king size bed. I can provide two beds/cot for children in your room too if needed for small additional cost. House child friendly with toys - I'm a grandma!
Quiet road tucked away a bit but 5min walk from shops and river. Friendly safe neighbourhood - well lit. Woodbridge is an old pretty riverside town 8 miles from Ipswich. Good access to beaches on the coast.
I had a lovely time at Sue's. It's in a perfect location for the centre of Woodbridge (just a 5 minute walk) and is so comfortable... I didn't want to leave! Thank you for a lovely time.
Sarah
2016-09-18T00:00:00Z
Great stay, thanks Sue, fish and chips watching the light fade over the river accompanied by bird song a few minutes walk from you house was really good. Peter and Anne.
Peter
2016-06-14T00:00:00Z
We had a great stay at Sue's lovely home in Woodbridge. Everything was as she described and she left us with a comprehensive and concise list of instructions about where to find everything - including a great recommendation for dinner at the Anchor. Thank you for a great stay
Sally
2016-11-27T00:00:00Z
I had a very pleasant stay at the lovely home of Sue. Very quiet, very comfortable.
Felix
2016-10-12T00:00:00Z
Our host was friendly and helpful - made it easy for us to find our way to restaurants and to wash our clothes, And she provided breakfast items Plus many maps to look at and use while we were there
Jennifer
2016-09-23T00:00:00Z
Only tool 10 mins to get here from Woodbridge train station, walking through the pleasant town centre. On arrival Sue immediately made me feel at home and showed me where everything was. The bed was really comfy and it was nice to have breakfast provided as well. Recommended!
Johann
2016-10-25T00:00:00Z
Great communication from Sue - even though unfortunately we didn't get to meet, we were in touch throughout the whole stay. Great room and very comfortable and lovely wide selection available for breakfast. We felt very welcome.
Katie
2016-07-04T00:00:00Z
My second stay with Sue and the second was just as good as the first. You won't be disappointed.
Michael
2016-07-28T00:00:00Z
Woodbridge, Suffolk, 英國
This well equiped studio in the heart of Framlingham is located in a quiet no-through road only minutes walk to the centre of town with its restaurants, public houses, cafes, shops and historical buildings. During June to August we accept a 2 night minimum stay. 1 night on request
The accommodation is a well designed thought out space that is comfortable and enjoyable to be in. It is in a peaceful location on a no-through road with little passing traffic and decorated in mid 20th century style with contemporary furnishings. Off the hallway is a delightful kitchen/dining area with toaster, microwave oven, fridge and dining table which overlooks a secluded courtyard garden which can be used by the guests. There is also a seating area with cafe table and chairs just outside the entrance, a real sun trap spot There is also a powerful invigorating shower with copious amounts of hot water as and when required and a heated towel rail. Radiator in the bedroom. We have also created a dressing table/desk area separate to the bedroom ideal for laptops etc with free WiFi access, fortunately we have a strong internet signal. 12 mbps To maintain your privacy we leave you with a delicious breakfast of good quality food granola/muesli, fresh fruit, yogurts, croissants, jams or cheeses and cold meats. Items vary depending on availability and products are sourced locally where possible. These will all be replenished throughout your stay. Tea, coffee, herbal teas, fruit juice and milk will also be provided. There are two outdoor areas available for use, one by the entrance. well formed and perfect for coffee in the morning sun and the other is a private courtyard garden. This a very comfortable and private space whether you are staying for a night or a week. As the studio is a self contained annex to the main house with its own private entrance, spacious double bedroom, kitchen/dining area and excellent shower and facilities we are confident the space and environment will meet most people's desires for comfort and privacy. It is always lovely to meet our guest on their arrival, however occasionally we may be out in which case there is a key safe attached to the entrance and we will email information for access. We also find texting has worked brilliantly for good communication and making sure guests are happy. We hope we have thought of everything in our information pack but should you need anything please feel free to either text or knock on our door as we are often available as mostly working from home. Framlingham is a vibrant Market Town with a "proper" market on Saturdays and Tuesdays and is frequently being voted as one of the best Market Towns to live in in the UK. It is rich in history with a fine medieval castle where Mary Tudor was pronounced queen. There is a magnificent church which has fascinating decorations and alabaster tombs of the Duke of Norfolk. There are also plenty of lovely local walks around the town including around the Mere where you get a beautiful view of the castle, the church and Framlingham college as you walk around Around the town you will find many fine buildings of various ages and even two Queen Victoria post boxes. You can get a fabulous cooked breakfast in town, soups, paninis and great coffee plus of course gourmet food. With easy access to the A12, the coast is a pleasant drive away connecting you to Woodbridge, Aldeburgh, Southwold, Orford and much more. In Halesworth there is the New Cut Arts Centre, at Woodbridge the Riverside Theatre (cinema and live productions), and in Ipswich the Regent and Wolsey Theatre and the Corn Exchange, cinema complex and Marina - on a good day you could think you were in the Mediterranean. Ideally a car, motorbike or bicycle (if enthusiastic) could be used to get to us as public transport is limited. Private parking is available at the property. The nearest train stations is Wickham Market which runs up from Ipswich with regular links from London. Framlingham 7 miles away. The nearest airport is Stanstead or Norwich and then it's a drive up or down the A11 and along the A14. Full instructions can be provided. To maintain your privacy we leave you with a delicious breakfast of good quality granola/muesli, fresh fruit, yogurts, croissants jams or cheeses and cold meats. Items vary depending on availability and products are sourced locally where possible. Tea, coffee, herbal teas, fruit juice and milk will also be provided.
The map location on the listing is incorrect the property is located at IP13 9 EQFramlingham is a vibrant Market Town with a lovely traditional market on Saturdays and Tuesdays and is frequently being voted as one of the best Market Towns to visit and live in in the UK. It is rich in history with a fine medieval castle where Mary Tudor was pronounced queen. There is a magnificent church which has fascinating decorations and alabaster tombs of the Duke of Norfolk. There are also plenty of lovely local walks around the town including around the Mere where you get a beautiful view of the castle, the church and Framlingham college as you walk around Around the town you will find many fine buildings of various ages and even two Queen Victoria post boxes. There are a wider variety of eateries in town and you can get everything from a fabulous cooked breakfast through to soups, paninis, coffee, lunches and excellent quality evening meals. With easy access to the A12, the coast is a pleasant drive away connecting you to Woodbridge, Aldeburgh, Southwold, Orford and much more. In Halesworth there is the New Cut Arts Centre, at Woodbridge the Riverside Theatre (cinema and live productions), and in Ipswich the Regent and Wolsey Theatre and the Corn Exchange, cinema complex and Marina - on a good day you could think you were in the Mediterranian
What a lovely place. I was booked in for one night for a college reunion and the private studio was perfect. Great location right in the centre of Framlingham, great facilities and great hosts. Nigel & Fiona were so very welcoming, showed me how to use everything and couldn't have been lovelier. Many many thanks.
David
2015-06-27T00:00:00Z
We really enjoyed our stay at Nigel and Fiona's while in Framlingham. The annex itself is wonderfully decorated with modern amenities, and it was just the right amount of space for two people. The location made it easy to walk to and from the town center. Throughout our stay, Nigel was very prompt and clear in his communication. We were also welcomed by a nice card upon our arrival. We just wish we could have met Nigel and Fiona in person, since they were away on holiday during our stay. Nonetheless, everything went smoothly and we'd definitely stay here again when we return to the area.
Daniil
2015-09-21T00:00:00Z
Nigel was friendly and welcoming from the start - we picked up the key early because of complicated arrangements on our part and he couldn't have been more accommodating. The flat is lovely - surprisingly spacious and beautifully clean and light. We really enjoyed the generous breakfast selections and the option to sit out in the sun trap courtyard. An added benefit was seeing the stars so clearly once the streetlights go out after midnight! We know the area pretty well and were visiting friends - as ever Framlingham is a great little town with interesting shops, pubs and eateries - the pizza at The Station was excellent! We would highly recommend this lovely quiet flat in a great place and it couldn't have been better for us.
Sarah
2015-08-10T00:00:00Z
Nigel and Fiona were extremely courteous and welcoming. Good humored and informative too. Their breakfast and snacks were all very good quality. The apartment was exactly as described and all furniture and fittings were of a very clean and modern nature.
Tess
2015-03-20T00:00:00Z
Nigel and Fiona greeted us upon arrival at their lovely studio. They let us arrive early and that made all the difference for our one night away. The studio was spotlessly clean, warm and bed very comfortable. The little kitchen for making drinks and breakfast provided was lovely. They recommended The Station Hotel for dinner and the food was excellent. A very enjoyable stay.
Natasha
2016-01-31T00:00:00Z
Nigel and Fiona couldn't have been more friendly or welcoming - and their studio was amazing - perfect for a couple of days while on business in Fram. Clean, modern, well equipped and plenty of space. Very private and quiet but close to town. If you have to, a great desk area for work in the evening. A perfect stay and would highly recommend to anyone visiting Fram for work or leisure.
Ian
2016-09-16T00:00:00Z
We stayed overnight in Framlingham at the apartment and it was perfect. Nigel provided us with lots of information prior to our arrival on the local area and getting there, which was really helpful. It's great that it is self contained and it is a good size with separate kitchen and desk area. Bathroom is also good size with a powerful shower. Its location is perfectly situated for wandering around Framlingham, which has some good places to browse and some nice places to eat and drink. We had dinner at the Station Hotel and it was delicious - good seafood. Nigel and Fiona also provide a really good selection of produce for breakfast including croissant, cheese, preserves, fruit etc. Would totally recommend a stay here and I'm sure we will be back when next in Suffolk(URL HIDDEN)
Emma
2014-08-28T00:00:00Z
Met Nigel on arrival and he immediately made me feel very welcome. Showed me around the property. Also explained some of the nice walks in the area. It's hopefully going to become my private escape in the future. The town of Framlingham and the local countryside was more than I expected. Simply beautiful area. The walk around the castle in the evening is very picturesque. There are lots of nice areas to sit and read a book undisturbed. Plenty of nice places to eat and a friendly local community.
Paul
2016-08-08T00:00:00Z
Framlingham, Suffolk, 英國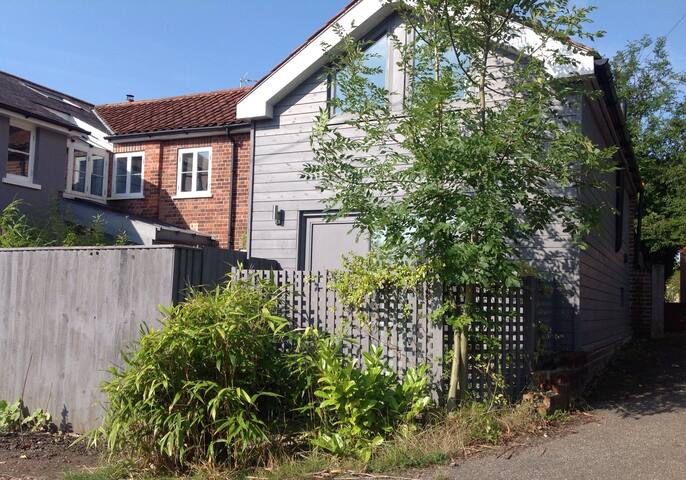 Cozy beamy cottage in a quite village, pretty garden, on Tunstall Common, very near Rendlesham forest, Snape music, Orford quay, Aldeburgh beach. Fantastic for walking, cycling, culture, food, lots to do with great country and coastal surroundings. Take advantage of 2 nights free and arrive to a lovely local hamper if you book a weeks stay.
Downstairs A small cozy sitting room full of beams and original stone floor, with two sofas, a TV and wifi. Opening into the kitchen with a table to sit everyone. There is all you need to cook as well as a washing machine. The bathroom is downstairs with a bath, shower head, basin and loo. There is a small conservatory porch for you coats, boots and stuff. Upstairs Bedroom 1: Master bedroom with a kingsize bed, en suite loo and wardrobes. Bedroom 2: Double/twin bedroom, will be made up as you prefer. Bedroom 3; Kids bunk bed room. Outside Large enclosed garden, with lockable shed for bikes and lots of parking. Right on the edge of forest and heathland for amazing walking and cycling. Pets very welcome
On the edge of ancient forest and common land with amazing walks and circle tracks. Half a mile to Tunstall village pub and close to lots of fantastic traditional foodie pubs. Great for relaxing eating drinking and walking, or actively cycling, riding and sailing. It is near beaches, castles, estuaries and culture and renowned for lobsters, oysters, local cheese, meats. Hosting the world famous Aldeburgh Music concert hall, shopping and food festival at Snape Maltings 2 miles away.
We had a great weekend in the small cottage, close to the coast. The cottage is clean, well equip in the kitchen and plenty of room for our Easter get away with friends. We even managed a hot meal, round the kitchen table on the Saturday night! Advise in where to see and how the house works were great and insightful (especially the hot cross buns that were enjoyed on Easter Sunday from pump street bakery!) the accommodation suited 5 adults no problem would also suit a family. We drove to the coast both days as its a short and do able commute to a day on the coast!
Lucy
2016-03-27T00:00:00Z
The cottage was lovely. It had everything we needed. I particularly liked having some garden space. The cottage was in a pretty location surrounded by fields with easy access to lots of lovely places around. My husband really enjoyed cycling around the area. Abi provided very useful information about the areas to visit around. We had a very enjoyable meal at the Unruly Pig. Thank you for making us feel so welcome with the things in the fridge and all the information provided.
Beverley
2016-07-28T00:00:00Z
Lovely host - suprise wine and milk on arrival very welcoming. Spotlessly clean property - quite small but of course this is in keeping with period cottage! Fab welcome pack full of information. Very smooth process all round. Really lovely original art work on the walls. Thank you!
Kitty
2016-08-21T00:00:00Z
A lovely little cottage in Suffolk, with easy access to all the best places the county has to offer. We had a lovely stay here celebrating my mother-in-law's 70th birthday and provided a great base for our day trip to Latitude Festival. There's even a drawer full of toys for the children and a beautiful garden too. Highly recommend staying here if you're in the area. We stayed with a nearly 2 and 5 yr old too, they loved the garden, and there's plenty of space if you're bringing a travel cot in either of the two double bedrooms. Abi is very responsive and very helpful, making some great local recommendations for an anniversary lunch - The Unruly Pig near Woodbridge.
Kirsten
2016-07-18T00:00:00Z
Abi made us feel very welcome from the moment we arrived without even being there with a welcome note and a surprise in the fridge. The house was perfectly relaxing in a quiet area away from noise and light pollution. It had a big garden and was located a short drive from a good selection of seaside towns. Great way to spend a long weekend. Just wish we could've stayed longer.
Marcus
2016-09-19T00:00:00Z
Lovely little semi in the countryside. My wife, sister brother in law and two nieces spent 3 nights in the house. Nice size garden perfect for kicking a ball around with the kids or playing badminton. A short walk to the forest and easy drive to orford Ness and Sutton hoo national trust places as well as Much more. The ensuite bed was comfy and all rooms decked out to a nice standard. The road can be a bit noisy in the mornings with tractors etc so in summer I'd suggest taking ear plugs if you're a bit sensitive to that (only if staying in the front bedroom). Cosy living room and enough room to sit on the floor and play cards. Bathrooms nice and clean. It probably mentions it but the shower is an attachment to the taps and no hold rail, so it's a bath or sit down in the bath for a shower. All in all a nice place to stay for a few nights in the country and plenty of walking and countryside benefits within a short walk or drive. Abi was very nice to converse with and also very prompt with responses etc.
PETER
2016-08-30T00:00:00Z
Abi was a wonderful host and helped us (we were a party of 4 adults ) when we initially couldn't find the cottage. She had sent accurate directions but I had no wifi on my 'phone and so couldn't access them. Next time I'll write down directions before I travel! A bottle of 'bubbly' and a pint of milk were in the fridge and the whole cottage was extremely clean on our arrival. Our 2 dogs loved the garden which was safe and completely enclosed. We has a plumbing emergency on the 2nd night of our stay and Abi and her husband arrived quickly to sort out the situation and organised plumbers for the following day. They then generously gave us a refund for the last 2 days of our stay. The cottage is ideally situated for trips out in the area and we made full use of Abi's recommendations of things to see.
Jan
2016-08-01T00:00:00Z
Small but good for a weekend. Great for dogs as in the heart of the common area. Pubs and shops not walkable. Would recommend
Lesley
2017-02-26T00:00:00Z
Tunstall, Suffolk, 英國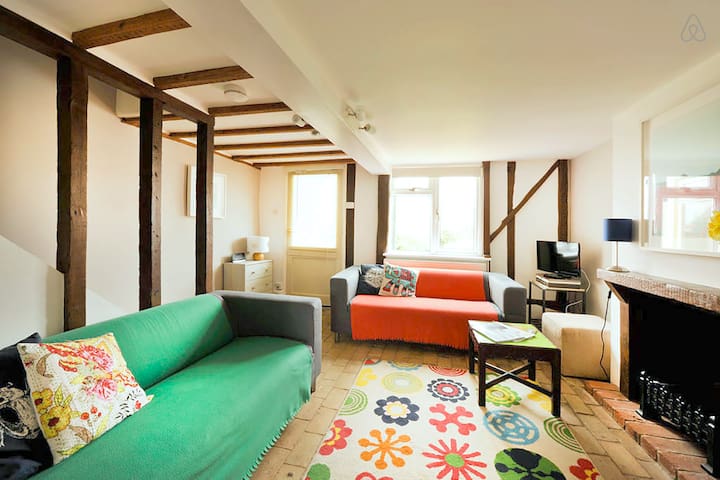 On the edge of the centre of Woodbridge, the house has all modern conveniences and a real fire place. It has an enclosed courtyard garden two double beds and two singles, in four rooms. One private parking space immediately behind the house.
The house is like a Tardis, with more space than it seems at first look with four bedrooms, two doubles, and two singles, one of which is on the ground floor.
Our house has easy walking access to the river and a range of excellent shops, pubs and restaurants with great food. The town has its own cinema and swimming pool and has good links to the coast by bus and train. Woodbridge has recently been described as one of the 10 best foodie towns in England by Country Life Magazine and has one of the top 10 High Streets according to the Sunday Times. Top place to live in the East according to the Sunday Times, March 2017.
The house was easy to find - the direction being clear and concise. It is very well located within walking distance of a bustling small town with all the amenities we needed. On a wider scale it was an easy drive to Southwold, Aldeburgh and a brisk walk to Sutton Hoo. We spent a very comfortable new year with friends and found this an ideal house for two couples - it would also be ideal for a family of four. The house is well equipped - TVs and video player, all the kitchen amenities needed along with a selection of dishwasher tablets etc. It was a shame we did not have more time to explore Woodbridge - a really charming and interesting town. We also did not have a chance to try the beer - but we will put that right soon. Hard to think of how it could be made better. We really enjoyed our stay here, thanks.
Robert
2017-01-02T00:00:00Z
This is a very conveniently located property, although do be aware that the road outside is a little noisy. Great for getting to the town, local pub and park. We enjoyed staying at this house in Woodbridge and feel that it offered good value for money. Thanks for the little welcome pack as well.
Michelle
2016-08-13T00:00:00Z
Great welcome at short notice, fabulous accommodation which was well suited to our family for a short post-Christmas getaway. Plenty of space throughoput the house and we walked from the house to almost everywhere. We normally holiday right next to a beach, but found Woodbridge a great town to explore with pubs, coffee shops, sweet shop and swimming pool and cinema just right for our family.
Martin
2016-01-02T00:00:00Z
Dear Helen. Thank you for your wonderful welcome hamper, especially the wine and card - so thoughtful. Your home was perfect for us, great location, heaps of space and very clean. Loved the courtyard and of course the car park too! Thank you for the ease of us checking ourselves in and out - loved that! And appreciated your follow up call making sure we we were sorted and settled. Take care and all the best to you and your future visitors, Tess and family
Tess
2016-07-10T00:00:00Z
Wonderful house in a great location. Very clean and tidy. Helen our host left a lovely welcome hamper. We ate at The Table and The Anchor. It's a great base for seeing Suffolk. Would recommend Southwold, Aldeburgh and Snape Maltings to name a few. Would definitely recommend.
Alison
2016-08-01T00:00:00Z
Lovely place, really bright and clean. It couldn't be much closer to the high street that has a great range of shops and cafes. Enjoyed the local area as well, 10 mins from Sutton Hoo and 30 mins from a beach.
Ben
2016-04-06T00:00:00Z
Lovely house that was perfect for our family stay in Woodbridge. Perfect location close to the shops and restaurants. The house was well equipped, very comfortable, and warm. Will definitely look to stay again next time we visit.
Mike
2015-10-27T00:00:00Z
Great place to stay - well located right you high street, 5 mins to river. Lots of space and everything we needed.
Conor
2016-05-31T00:00:00Z
Woodbridge, 英國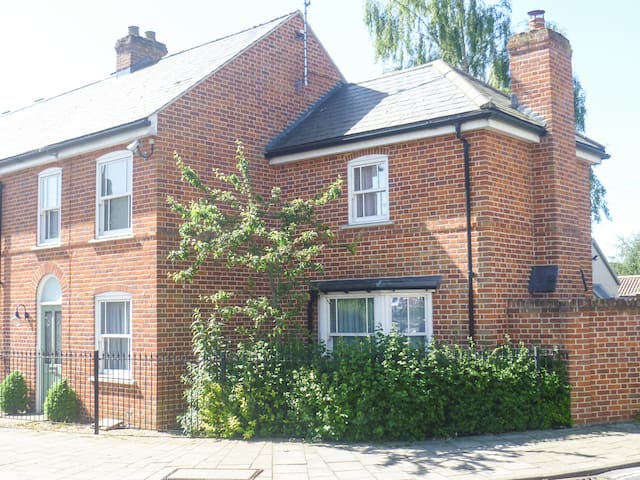 Our very nice relaxing and friendly house Situated in private road,with lots of parking, Sky TV,with WiFi, and shower and bath,great walking in nearby woods and forest,and woodbridge town centre only 15 min away for coffee and restaurants.
We are very near to Snape Maltings and Aldeburgh seaside,there are also some amazing walks in nearby locations.
We live in a very quite neighborhood, very friendly people who live next door to us,there is also a small gym on the park premises opposite our house and its free to use as its outdoors.
Rendlesham, 英格蘭, 英國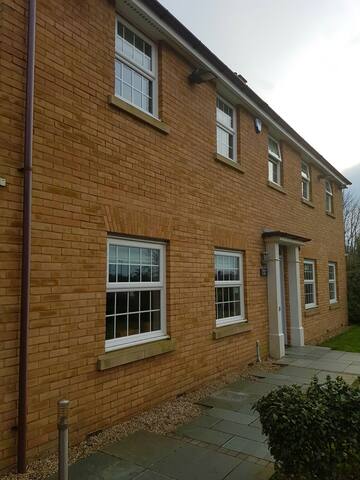 Our home is close to Framlingham and is good for couples, solo adventurers and business travellers. We are one mile from historic Framlingham Castle, ten miles from Snape Maltings Concert Hall, and 15 miles from Minsmere and the Suffolk Heritage Coast. We love cooking and own a cookshop in Framlingham, where guests may have a 10% reduction on purchases. NOTE: Our room is accessed by a fairly steep, original, spiral staircase and would be unsuitable for anyone with restricted movement.
By making us a cup of tea on our arrival, providing us with local directions and a nice room and good breakfast.
Cheryl
2016-11-12T00:00:00Z
Chris and Trisha couldn't have been more helpful or welcoming for my visit to their home. Chris was even kind enough to drop me off at the nearby Bruisyard Hall so that I could attend a wedding, which was the reason for my stay.
Nick
2016-09-18T00:00:00Z
What a fantastic stay. The hosts were lovely, and made me very welcome and truly at home. My room was very clean and full of character. Breakfast was fabulous, nice and hot and tasty, all cooked on the Aga in the kitchen. I will not hesitate to stay again. Thanks Chris!
Andy
2016-09-06T00:00:00Z
Great hosts, breakfast and comfortable bedroom.
Natalia
2017-03-17T00:00:00Z
Great place clean worm and welcoming
Jamie
2016-10-28T00:00:00Z
Made us feel very welcome. Loved their dogs and their house. Lovely area to live in. Framlingham village was very nice.
Joe
2016-10-17T00:00:00Z
Chris & Trisha made me feel very welcome with a real "home from home" feel! The accommodation was just as described including a very interesting staircase leading to the bedroom! The shower was one of the best I've ever had, very simple to use. Chris took me into Framlingham in order for me to eat an evening meal & even volunteered to collect me once I called him!! The full English breakfast was superb with locally sourced produced including there own free range eggs & home grown tomatoes! Secure parking for cyclist. Lovely location in the heart of the quiet Suffolk countryside. I would definitely visit again!! Paul
Paul
2016-10-02T00:00:00Z
Such lovely hosts, helpful in every way. Capped with a full blown English breakfasy
joel
2016-09-23T00:00:00Z
Framlingham, 英格蘭, 英國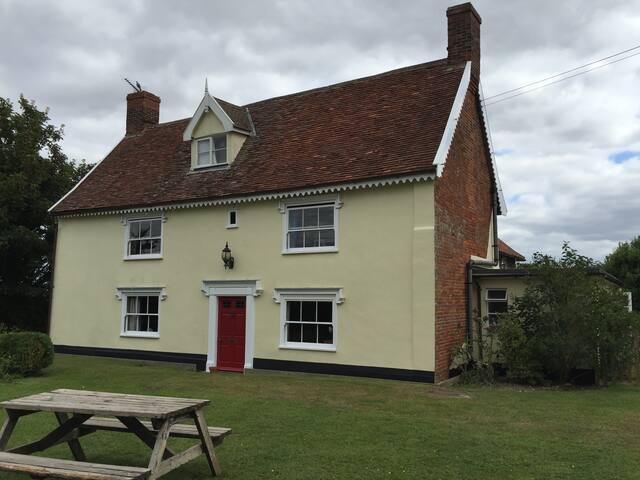 The house is a converted coach house set in beautiful gardens and an ideal base from which to explore the area's many attractions. There are two double rooms (one of which can be converted to a twin) both with ensuites. Fully furnished galley kitchen and cozzy living area.
We are less than a mile from the picturesque market town of Woodbridge, a 5 minute walk from the railway station and short stroll from the River Deben. Ideal for families or friends looking for a self catering holiday home that has all the amenities of town, but with easy access to the Suffolk coast.
Very amazing, charming and lovely place. I recommend strongly to stay at the coach house. The garden is beautiful. House is well decorated with a lot of taste. I want to thank warmly Julia for receiving us and for the welcome gifts (british specialities like cakes, marmelades, wine...). It was a great pleasure. Merci beaucoup Julia. Cédric and Carole
Carole et Cédric
2016-11-07T00:00:00Z
In the last days my daughter Elettra and me have spent 10 days at the Coach House and our stay has been really gorgeous. The house has just been refurbished, it is very comfortable, clean and furnished with utter good taste: photographs totally reflect reality. Julia and Charles are excellent hosts, they warmly welcomed us making we feel completely comfortable and their support and suggestions have been really precious. Thanks to them and their charming estate we have been able to experience the beauty of Suffolk. We strongly recommend the Coach House which has been an excellent and elegant accommodation for us. Thank you Julia! Anna.
Elettra
2016-06-20T00:00:00Z
We had a lovely time here. The Coach House was perfect for our family - we all enjoyed the gardens which had more than enough space for the children to burn off any excess energy after a day on the beach. Handily placed for the local town, sights and beaches with a nice pub across the road (not noisy). Julia was very welcoming and a great source of information. We hope to return soon.
Carl
2016-08-25T00:00:00Z
Thank you Julia so much for a wonderful welcome. The Coach House is a brilliant base for exploring Suffolk. We thoroughly enjoyed our relaxed evenings under the gazebo -a great surprise and extended living room. We have already been spreading the word about our wonderful stay and your generous hospitality.
Linda
2016-09-11T00:00:00Z
We had a lovely family break at the Coach House - which is newly refurbished and really comfortable - especially the bedrooms which were lovely and full of extras like pretty lights and nice soaps that made us feel really welcome. Julia and Charles went out of their way to make us feel at home. They were really welcoming and friendly. They gave us lots of advice and lent us waterproofs and crabbing gear. The beautiful garden, which we were encouraged to make the most of, was a real treat, especially for our active urban boy - a huge area to play football and an enormous trampoline. Delicious fresh eggs from the chickens were an added bonus. Our daughter, who is normally scared of dogs, loved the hosts' extremely calm black Labrador The galley kitchen is well equipped although not really big enough for cooking big meals - but the pub opposite is welcoming, kid friendly and has great food. There are lots of great gastropubs in an around the area. The final day was wet but the children really enjoyed Sutton Hoo which is free if your a National Trust member, has lots of good activities and is very close. We love Suffolk and there is lots to do in Aldeburgh, Thorpeness, Orford. Great walks and pubs. We wouldn't hesitate to recommend The Coach House and we think Julia is a fantastic host who was incredibly welcoming and couldn't do enough to make our stay really enjoyable.
Abigail
2016-06-01T00:00:00Z
Julia made me feel very welcome on arrival. She spent time showing me around The Coach House and explaining where everything was and how things worked. She also showed me around the very impressive large garden; which includes a very large wooden gazebo. She encouraged me to make use of the grounds and the gazebo without any restrictions during my stay. The welcome pack in The Coach House (which included a bottle of Prosecco) was much very much appreciated. During my stay Julia made sure that everything was in order on a regular basis. A great setup and managed very well by Julia.
Dave
2016-09-23T00:00:00Z
Had an excellent time and I would highly recommend a stay here. It's clean, has everything you need and the garden is absolutely perfect for sunny afternoons with children and dogs. We frequented the pub over the road which was also great and easy distance to Woodbridge, Dunwich, Southwold etc.
Laura
2016-08-15T00:00:00Z
I can't recommend this place high enough. Julia is a fantastic host who is welcoming and informative, and I loved the little touches like cold beer in the fridge on arrival. The place is immaculate with large beautifully decorated bedrooms both with lovely bathrooms. The coach house is also set in amazingly well kept grounds with lots of room for kids to run around too. The location is another great factor, just minutes walk into Woodbridge or there's a great pub just across the road. I'd have no hesitation in recommending the coach house to anyone!
Matt
2016-06-28T00:00:00Z
Melton, Suffolk, 英國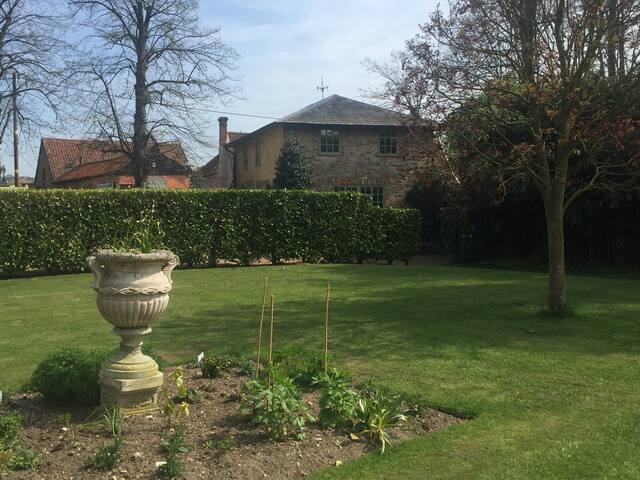 輸入日期以查看總價格,包括其他費用,可能會加收稅費。