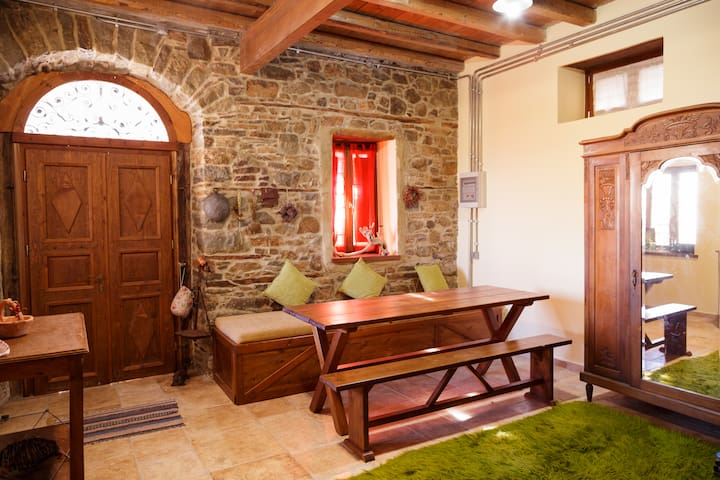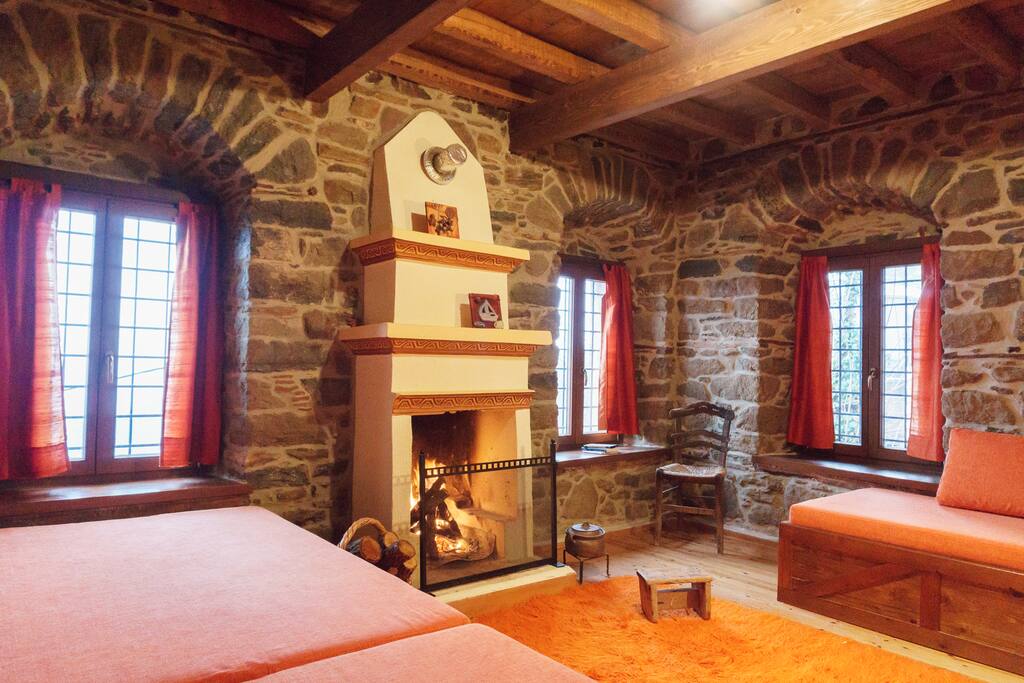 Cottage House Lasda is an old mansion (1896) in the wonderful village ''Kanalia''. Its special elements are the unique house design and the strategic location close to impressive places of Greece! (Meteora, Plastiras Lake, Pertouli/ Elati)
房源
Stone, wood, and nature's green color are dominant in the house and they are all harmonically combined in order to agree with the aesthetics of an old traditional mansion!

Accommodates 4 persons
A bedroom with a double bed and a single bed: 3 persons
A sofa: 1 person
60m2: Living room, dining table, fully equipped kitchen, bedroom, bathroom.
AMENITIES
- central heating (calorifer), fireplace, blankets, bed linen, towels, soap and shampoo, hair dryer, clothes hangers, washing machine, vacuum cleaner, iron, ironing board, kitchen (Plates, Cutlery, Glasses, Cooking Utensils, Fridge, Freezer, Oven, Toaster, Coffee Maker), Pantry items (Staple items, spices, condiments, paper goods), books, TV.
- Guests provide their own meals
- Free parking

THE SIGHTS – ACTIVITIES
Cottage house Lasda is an ideal starting point for excursions as it is in the center of the main attractions in Thessaly - Central Greece like Plastiras Lake and geological formation of Meteora!
Meteora (UNESKO 1989), the famous huge rocks that tower imposingly are 45km away. Monasteries are built on their steep peaks and their view is breathtaking!
Famous Plastiras lake (20kms distance from the house) is a place of dreamlike beauty which attracts thousands of visitors in all seasons! It has a number of impressive sights (monasteries, the dam, the botanical garden, arched bridges, waterfalls, caves, impressive viewpoints) and it is surrounded by many hospitable villages with traditional architecture. Furthermore, it offers a variety of activities such as hiking, climbing, horseback riding, cycling, canoeing, swimming.
In Kanalia and in the surrounding villages the high nutritional value meets the delicacy!
Nearby, the Agrafa sierra is a land of unexplored natural beauty and of traditional villages with preserved architecture and hospitality. All around forests, canyons, rivers and gravel roads invite you to explore them!
Pertouli and Elati (40 km away from the house), of the most favorite mountain resorts of Greece, are wonderful villages with picturesque stone houses, ski center and good tourist infrastructure. Their environment is a highlands paradise surrounded by mountains with dense forests, lush meadows and streams!
Very near (25 km) is the beautiful city of Trikala in the green banks of the river Lethaeos with numerous historical monuments, excellent street layout, spacious squares, picturesque neighborhoods, parks and walkways. Trikala is a city full of surprises!
Almost next to the village, is the city of Karditsa (10 km) known for its many traditional stone houses, the squares and the pedestrian streets around the big park ''Pafsilipo''. It is the economic, commercial and cultural center of the county with several nightlife options.
與房客互動
- Upon your booking, please provide us with a mobile number that you might have with you during your stay and your arrival details.
- Our staff will be expecting you at the house in order to deliver the keys and show you around the property.
---
Η γειτονιά ήταν ιδανική! Δίπλα από την πλατεία του χωριού!Η θέα εξαιρετική!Όλος ο κάμπος ''πιάτο''!Το σπίτι μέσα απλ(URL HIDDEN)Σε μεταφέρει σε μια άλλη εποχή , αλλά με την πολυτέλεια και τις ανέσεις της σημερινής εποχή! Σα να επισκέφτεσαι το με σεβασμό στην παράδοση ανακαινισμένο σπίτι της γιαγιάς!Τα παιδιά έκαναν τα πάντα για να νιώσουμε άνετα και να μη μας λείψει τίποτα!Στα ντουλάπια υπήρχαν σχεδόν τα πάντα: δε μας έλλειψε τίποτα!Ήταν ονειρικά να πέφτει έξω το χιόνι και μέσα το τζάκι να καίει.....Η μικρή σκυλίτσα μας το λάτρεψε, επίσης!Πολύ cosy φάση....!Χρειάζεται λίγη περιποίηση ο αύλειος χώρος μόνο.... Λίγο περισσότερο πράσινο...Ευχαριστούμε για όλα! Εις το επανιδείν!
---
Το σπίτι ήταν ζεστό , παραδοσιακό, τέλεια διακοσμημένο μέχρι και την παραμικρή λεπτομέρεια . Η κουζίνα ήταν πλήρως εξοπλισμένη και γενικά δεν έλειπε τίποτα από το χώρο, γεγονός που έκανε την διαμονή μας άνετη και πολύ ευχάριστη. Το χωριό ήταν πολύ κοντά στην Καρδίτσα (λιγότερο από 15 λεπτά) , στα Τρίκαλα (λιγότερο από 30 λεπτά) και σε άλλους προορισμούς όπως Λίμνη Πλαστήρα, Ελάτη , Περτούλι . Το συστήνουμε ανεπιφύλακτα !!!!
---